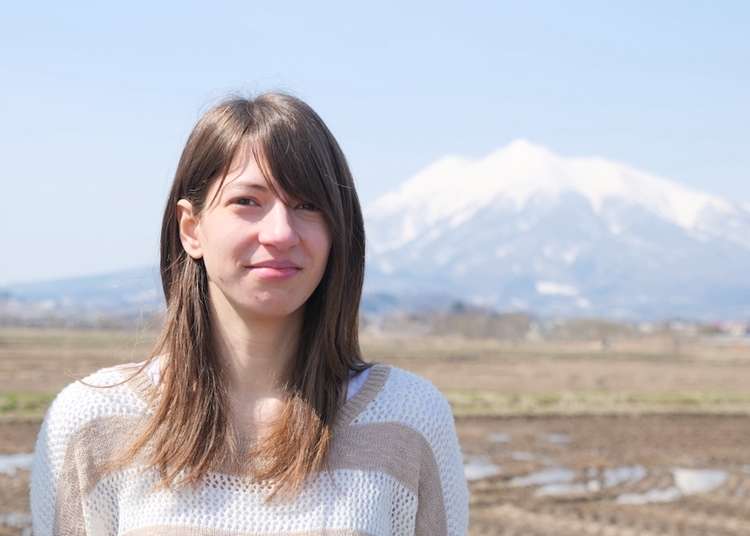 Located in the northernmost part of Honshu, Aomori Prefecture is blessed with abundant nature, a culture full of tradition, and fresh produce. But how do non-Japanese feel about the best places to visit in Aomori? We talked to Sandra from Germany and asked her to rank her top 10 sightseeing spots. (The following comments are her personal opinions.)
Sandra, who moved to Hirosaki City in 2016
Sandra Kreuß from Düsseldorf, Germany, moved to Hirosaki in 2016 as a university student.

"I happened to live in Hirosaki, where I was studying abroad, and I was surprised by how kind all the locals were. The Tsugaru dialect was cute (laughs). I like nature, and there are many places with beautiful scenery. This is the charm of Aomori Prefecture. There are many spots I would like to recommend to others from abroad."

Sandra is fluent in Japanese and can speak the Tsugaru dialect. She attended a Japanese language school throughout her childhood in Germany, so she could speak even before studying abroad.

We've asked Sandra, who loves Japan and has served as a guide to her friends and family, to rank her 10 most recommended Aomori sightseeing destinations.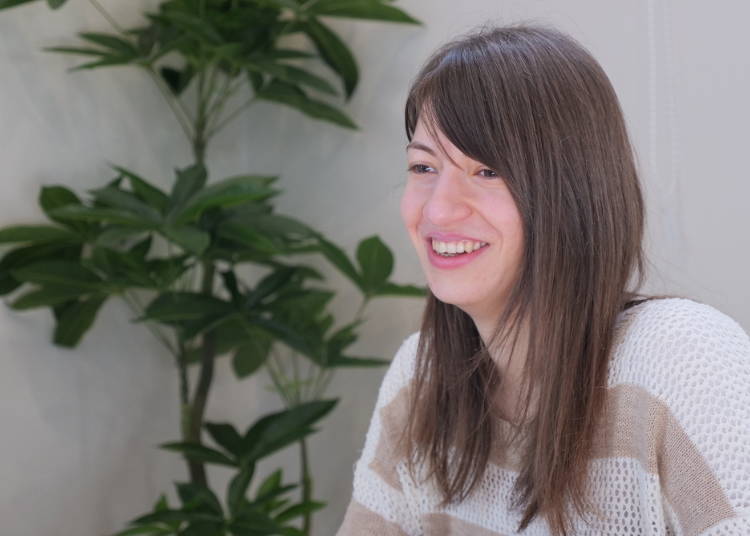 Sandra, who currently works in webpage design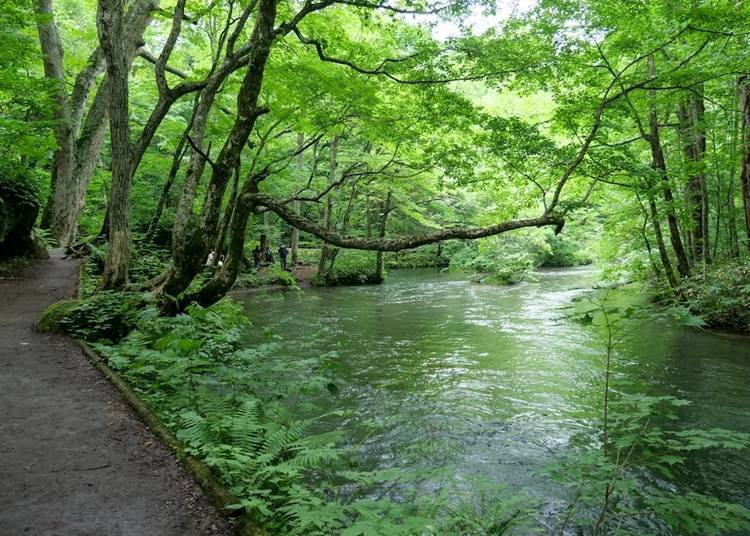 Promenade along the beautiful river
Sandra ranks Oirase Keiryu in Towada, surrounded by a deep natural forest, at 10th. The walking path along the mountain stream looks different with each season, and Sandra has visited in summer and winter.

"I remember sitting near a fallen tree and eating a lunch box near a waterfall I found while walking with a friend. It's a place with a wonderful view, and I'd like to go next autumn."

Oirase Gorge is a wonderful place to take a walk and enjoy nature and an outdoor lunch.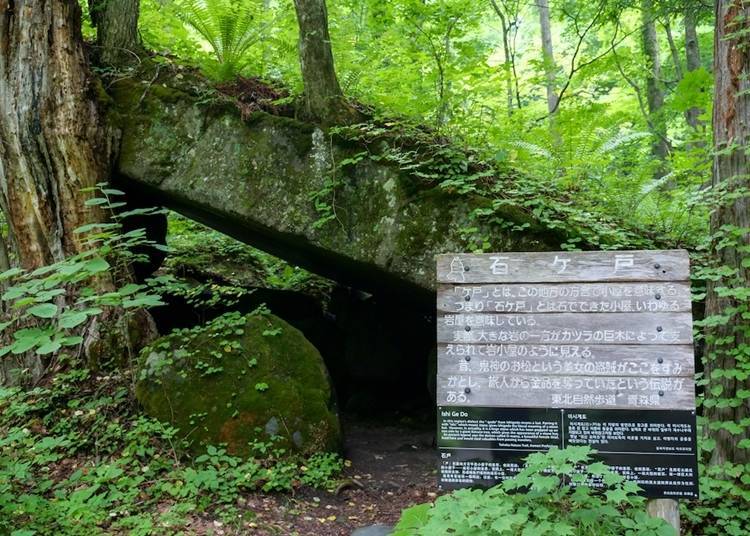 Information signs about notable points along the trail is available in English, Chinese, and other languages.
Address

Okuse, Towada-shi, Aomori, 034-0301
View Map

Nearest Station

Hachinohe Station (Hachinohe Line / Tohoku Shinkansen / Hokkaido Shinkansen / Aoimori Tetsudo)
90 minutes by bus


Phone Number

0176-75-2425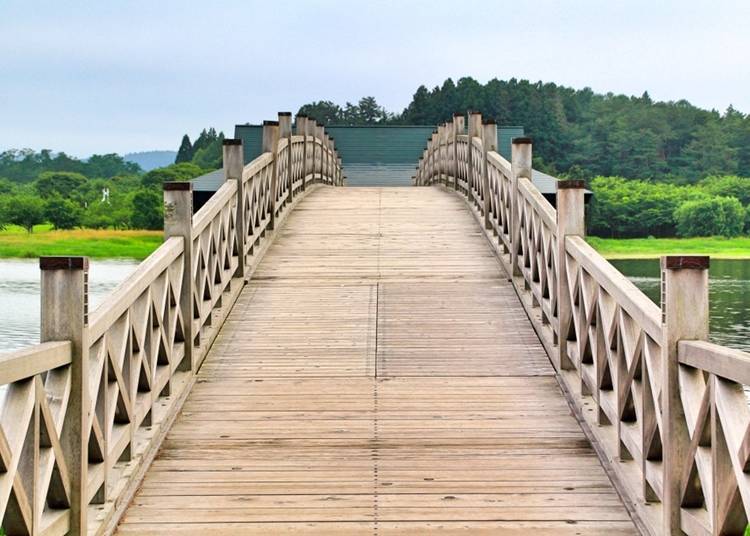 Wooden triple arch bridge made using Hiba wood from Aomori prefecture
In 9th place is Tsuru no Maihashi in Tsuruta. Japan's longest wooden three-arched bridge with a total length of 300 meters, spans Lake Tsugaru Fujimi, and the sight of the gentle arches floating above the surface of the lake is fantastic.

"Not only is the bridge beautiful, but so is the nearby park (Fujimiko Park), where you can relax. I especially like the cherry blossom season," Sandra says.

The sunsets are particularly beautiful, so be sure to visit on a sunny day.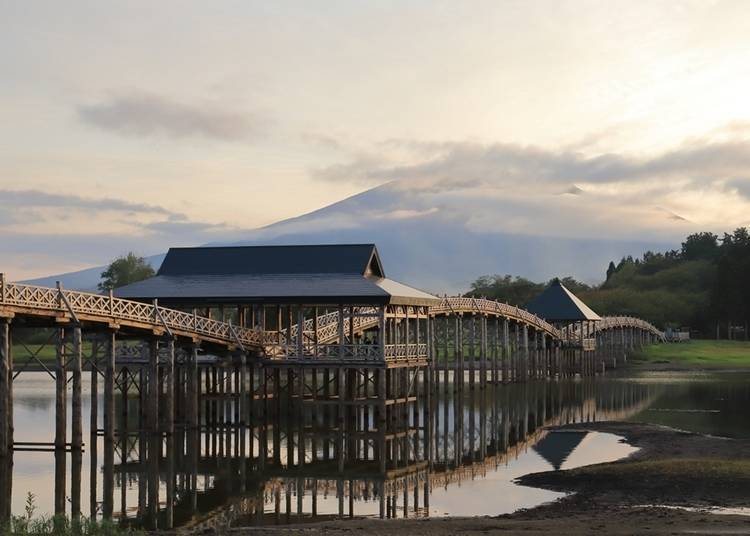 Tsuru no Maihashi floating above the surface of the lake
鶴の舞橋

Address

Oosawa, Mawarizeki, Tsuruta-machi, Kitatsugaru-gun, Aomori-ken, 038-3542

Access: About 10 minutes by taxi from JR Mutsu-Tsuruda Station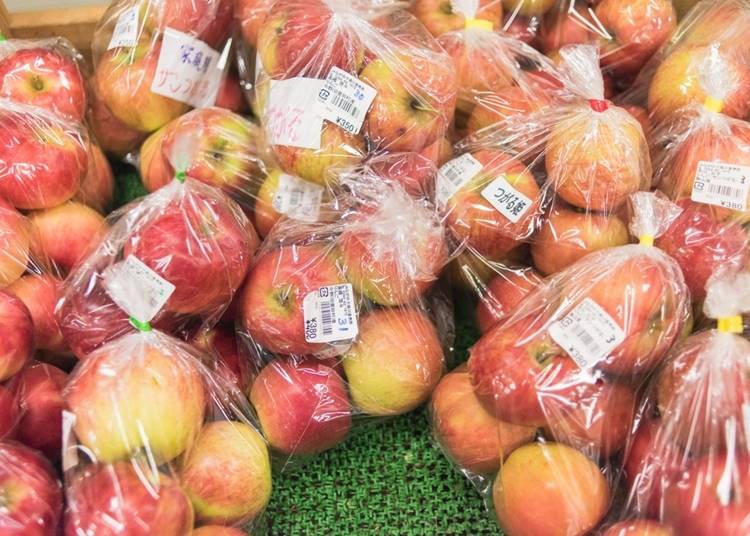 Apples tagged with their place of origin and the grower's name (Stephane BDC / Shutterstock.com)
"They're fun just to look at it," says Sandra in reference to "Roadside Stations," which sell agricultural products. There are various roadside stations throughout Aomori Prefecture, selling not only agricultural goods but also popular local foods like bread and rice cakes as well as handicrafts and feature restaurants that make use of local ingredients.

Some even have hot springs inside, and when you stop by, you'll make all kinds of interesting discoveries.

"You can't buy these foods at ordinary supermarkets, and it's also attractive that they are fresh and cheap. I'm happy to be able to buy foods made by people in the area," says Sandra. Fresh produce sells out quickly, so it's best to visit during the morning hours.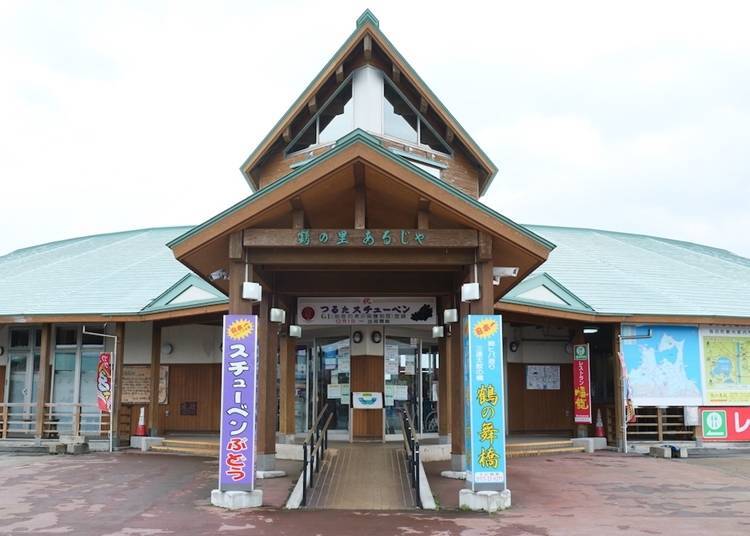 "Roadside Station Tsuruta Tsuro-no-Sato Aruja" (in Tsuruta), which sells souvenirs and special products, is one example.
7. Shirakami Mountains (Anmon Falls)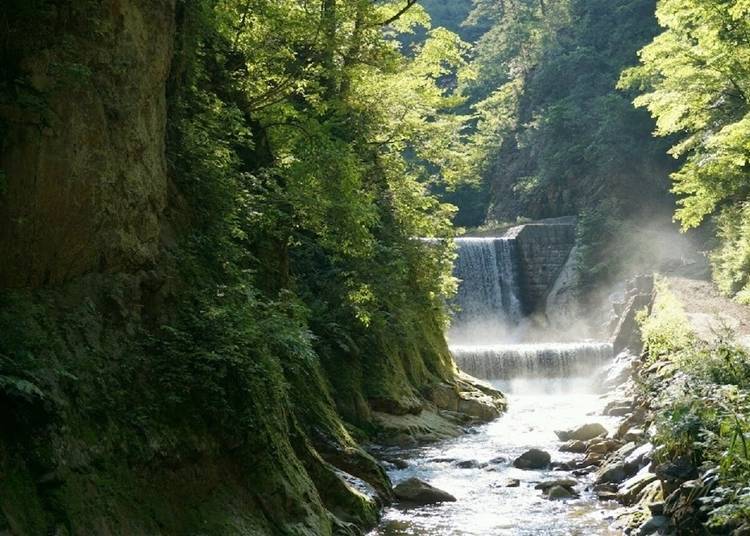 For the most part, the hike is on a well-maintained road, but there are some steep points along the way. (Photo taken by Sandra)
The Shirakami Mountains straddle Aomori and Akita prefectures and are covered with virgin beech forests. The area is Sandra's 7th-ranked destination. It is a famous Natural World Heritage Site, and she likes trekking to Anmon Falls in Nishimeya Village.

"It takes a while to get to the waterfall, but I enjoy walking and looking at nature, so it doesn't bother me. Beautiful clear streams, waterfalls, and rich beech forests are such wonderful spots," Sandra says.

When trekking, be sure to submit a "passage notice" at the reception desk at the entrance of the Anmon Valley route and wear a helmet (100 yen rental, tax included).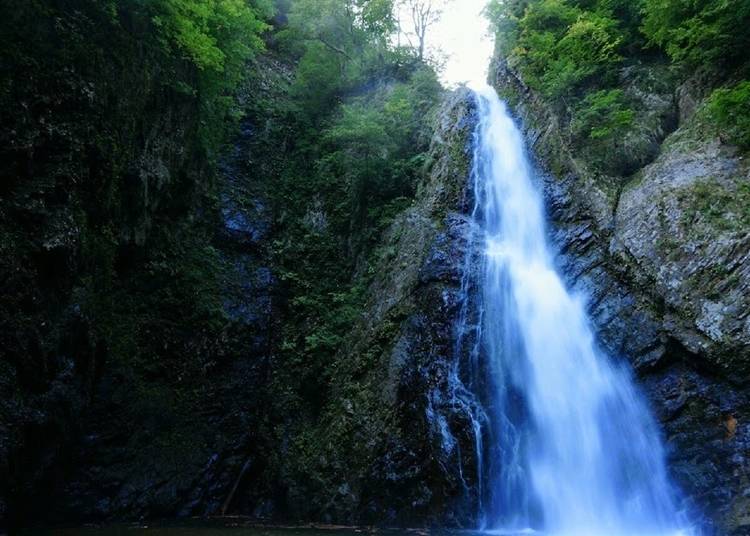 Anmon Falls (Photo taken by Sandra)
Shirakami Sanchi (Aqua Green Village Anmon)

白神山地(アクアグリーンビレッジANMON)

Address

Ookawazoe 417, Kawaratai, Nishimeya-mura, Nakatsugaru-gun, Aomori-ken, 036-1424

Phone Number

0172-85-3021

Access:
By train: from JR Hirosaki Station, take the Konan Bus and get off at Tashiro bus stop (in front of Nishimeya Village Office).
By taxi: About 30 minutes from Nishimeya Village Office.
By bus: In summer there is a direct bus from Hirosaki Station.
By car: Get off the Tohoku Expressway at Owani Hirosaki IC (interchange), then drive about 60 minutes.
6. Johoku Sakura Zutsumi Park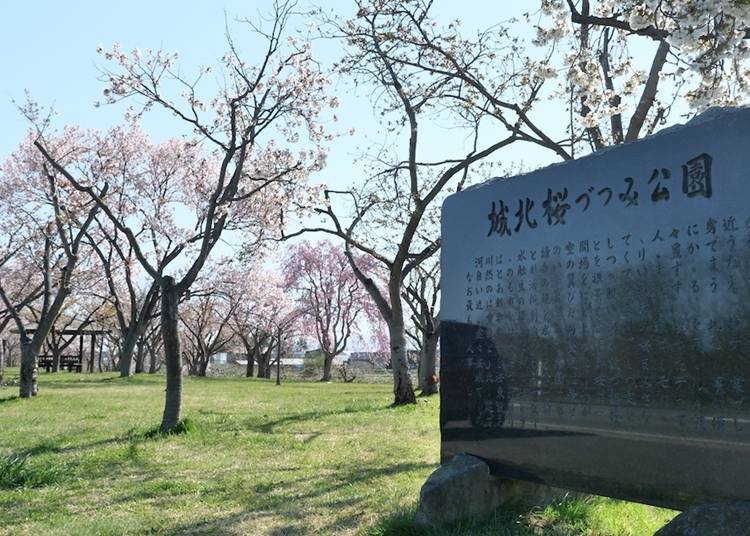 Johoku Sakura Zutsumi Park, where varieties not found in Hirosaki Park grow
When speaking of cherry blossom spots in Aomori Prefecture, Hirosaki Park is always mentioned, but Sandra says, "Sakura should be appreciated slowly in places where there are few people."

She recommends Johoku Sakura Zutsumi Park in Hirosaki City, which is a "hidden" spot where 226 cherry trees from 34 varieties grow.

Sandra knows how to enjoy the blossoms and says, "There are late bloomers, and you can enjoy various kinds of cherry blossoms. I like to take a leisurely stroll along the promenade and enjoy the cherry blossoms."

It's the perfect blossom-viewing location for people who don't like crowds.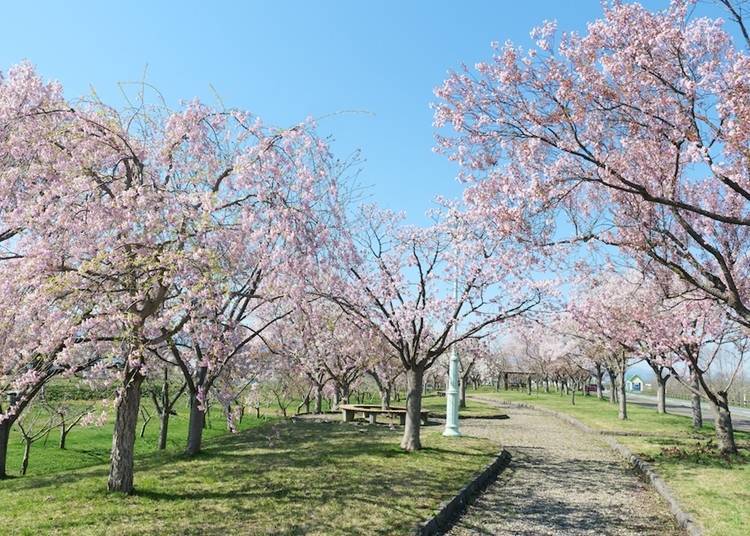 Just walking along the cherry blossom promenade is a great feeling
Johoku Sakura Zutsumi Park

城北桜づつみ公園

Address

Tonose, Hirosaki-shi, Aomori-ken, 036-8317

Access: Approximately 20 minutes by taxi from JR Hirosaki Station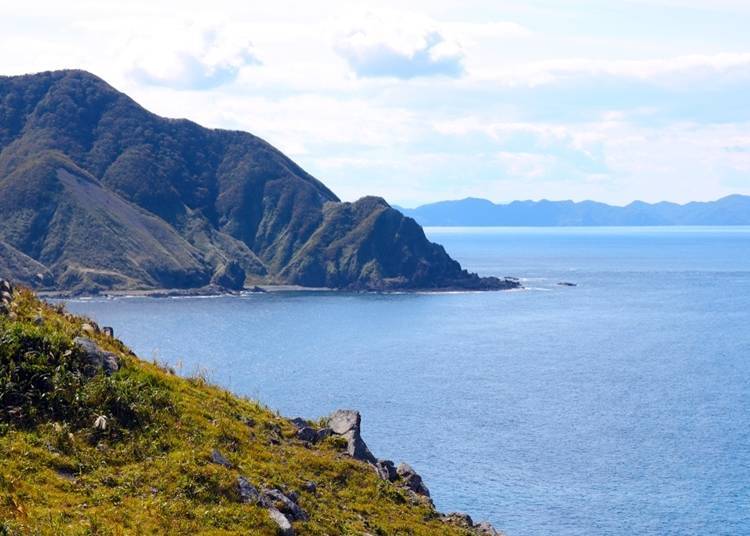 You can see Hokkaido from Cape Tappizaki on a sunny day
Cape Tappizaki (Tappimisaki) in Sotogahama is located on the Tsugaru Peninsula, the northernmost tip of Honshu. "I like the blue color of the sea, which is unique to the Tsugaru Straits," says Sandra, in reference to a very distinct point of attraction.

When the weather is nice, you can see Hokkaido on the other side and marvel at the magnificent beauty of the sea. "When I went to Hakodate, I also went to see the Tsugaru Peninsula from the other side," said Sandra.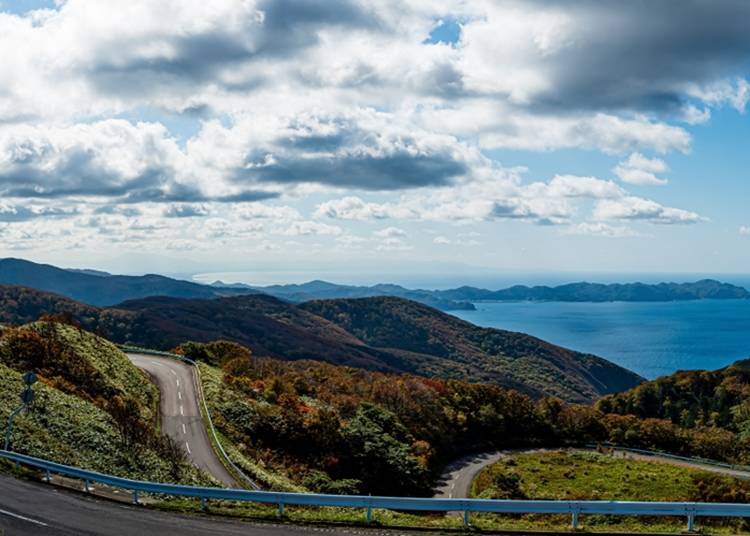 The Tatsudomari Line national highway is a spectacular drive
龍飛崎

Address

Mimmaya Tatsuhama, Sotogahama-machi, Higashitsugaru-gun, Aomori-ken, 030-1711

Access: Take the Sotogahamamachi Circuit Bus from JR Minmaya Station and get off at the last stop.
Lake Towada seen from an observation point
In 4th place is Towada City's caldera lake -- Lake Towada. Tour boats offering a close-up view of the lake are popular, but Sandra recommends taking in the expanse of the lake from the road that goes around it.

She says, "I like to enjoy the scenery of Lake Towada while driving and spend time relaxing at the observatories scattered around," in appreciation of the bird's-eye view of the magnificent scenery on sunny days.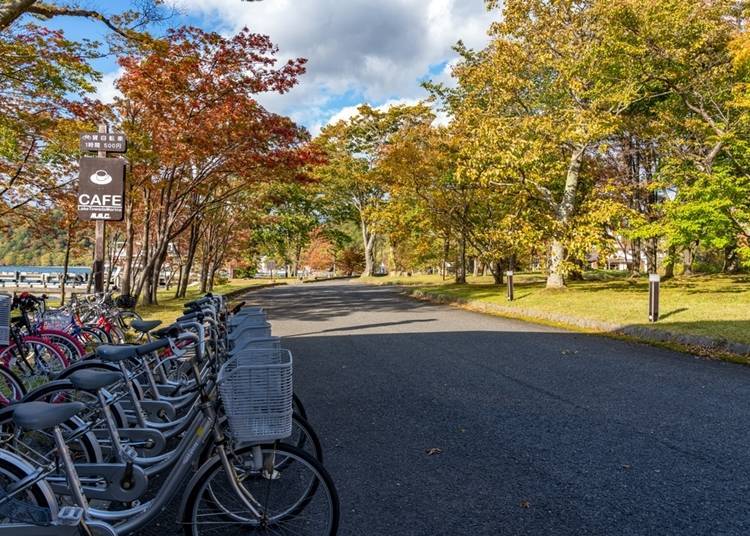 There are also lakeside bicycle rentals, great for exploring the surrounding area.
十和田湖(休屋)

Address

486 Towadakohanyasumiya, Okuse, Towada-shi, Aomori-ken, 034-0301

Access: Approximately 50 minutes by JR Bus Tohoku "Mizuumi" from JR Aomori Station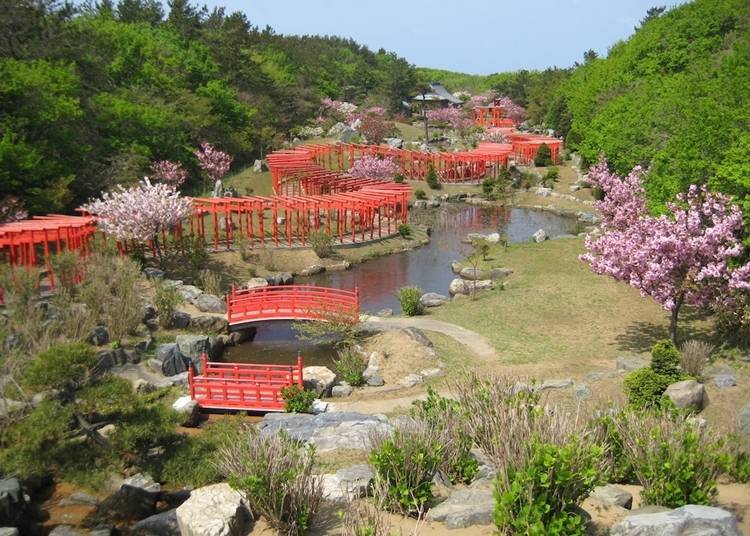 Takayama Inari Shrine with its impressive torii (Photo courtesy of Tsugaru City)
Takayama Inari Shrine in Tsugaru City begins Sandra's top three. The shrine is dedicated to gods of fertility, maritime safety, and business prosperity, but it's also known for its beautiful scenery. The collaboration between the vermilion torii gates and the Japanese garden creates a spectacular scene.

Sandra says, "It has a Japanese feel like Kyoto, and the calm atmosphere is wonderful. You can fully enjoy nature because the sea is nearby."

It's a moving site where you can enjoy the beautiful torii and gardens unique to Japan and lush nature all at once.
高山稲荷神社

Address

147-1 Wasinozawa, Ushigata-cho, Tsugaru-shi, Aomori-ken, 038-3305

Access: From JR Goshogawara Station, take the Konan Bus and get off at Takayama Jinja Iriguchi Shrine Entrance bus stop (about 40 minutes), then take a taxi for about 5 minutes.
Mt. Iwaki in spring as seen from the Iwaki area
Mt. Iwaki in Hirosaki City, also known as Tsugaru Fuji, is a "can't miss" landscape in Aomori. An iconic sight for locals, it is the highest peak in the prefecture and a symbol of the Tsugaru area.

Simply gazing upon its magnificent appearance that changes from season to season is impressive, but we also recommend climbing, suitable for beginners, from the 9th station to the summit.

"I climbed with a friend in early summer and was surprised that there was still snow on the mountaintop. The view from the top is wonderful, and it's fun to climb," says Sandra.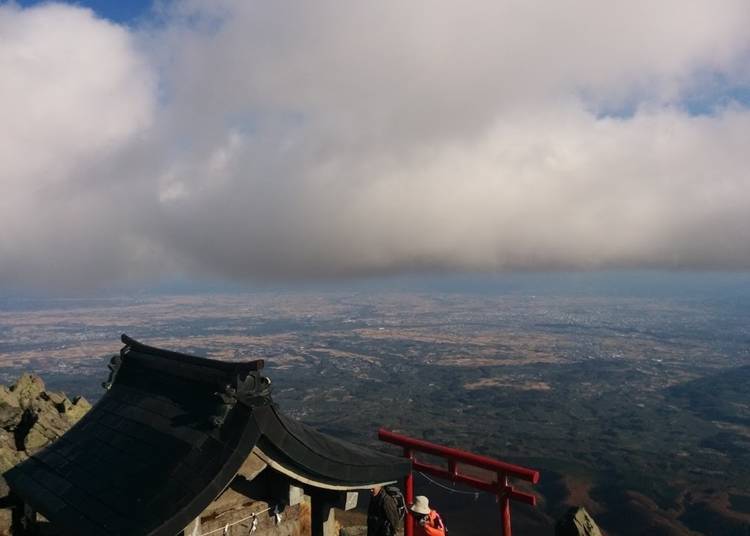 The view from the mountaintop (Photo taken by Sandra)
Address

Iwakisan, Hirosaki-shi, Aomori, 036-0000
View Map

Nearest Station

Hirosaki Station (Ou Line)


Phone Number

0172-83-3000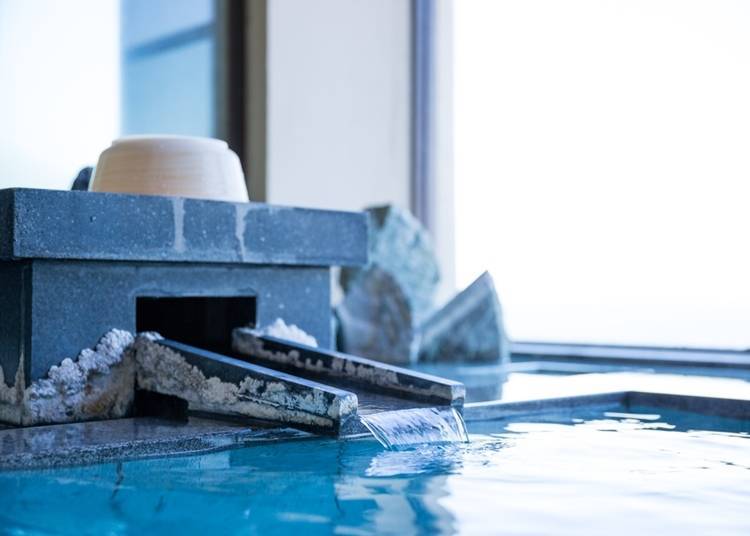 You can enjoy springs that flow directly from the source
First place goes to a hot spring about which Sandra says, "I've already visited more than 50 times."

When she first came to Aomori, she was reluctant to visit hot springs and wouldn't even think about going. Still, after following the recommendation of a friend she met while studying abroad, Sandra says she became addicted to them.

"I especially like places with a rotenburo open-air bath, and I love the hot springs throughout the prefecture. There is a great selection of hot springs around Hirosaki City, where I live, so it's nice to drop in when you're tired." Sandra seems captivated by Aomori Prefecture, a hot spring paradise in Tohoku.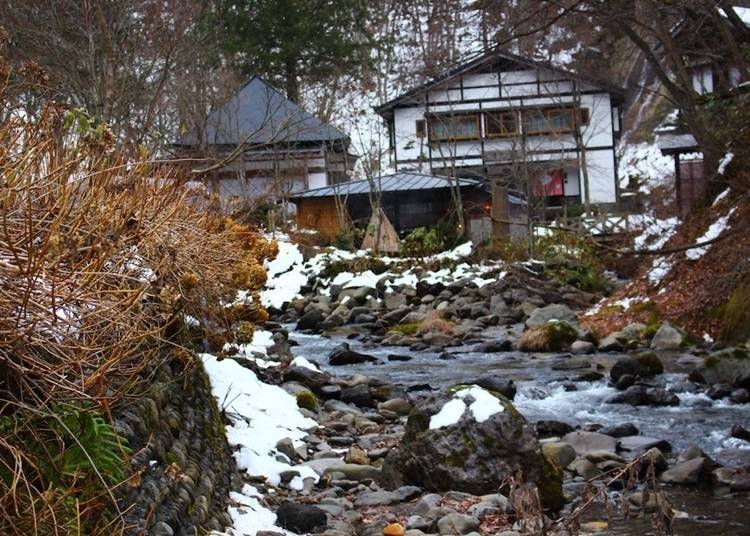 "One of my favorite hot springs is 'Lamp no Yado Aoni Onsen' in Kuroishi." (Photo taken by Sandra)
Address

Okiura Aonisawa Takinoue 1-7, Kuroishi, Aomori, 036-0402
View Map

Nearest Station

Nagamine Station (Ou Line)


Vacancy search, reservation

from

22,000JPY

1room, 2adults

Check with our partner site as the latest rates, rate details, and guest room requirements may vary.
Sandra's top ten list covers everything from popular sightseeing spots to more obscure locations known only to locals. They're all great choices, so try to visit at least a few when you come to Aomori!

Text by: Tsubasa Shimoda
* The information in this article is accurate as of June 2021. Please check official websites for the latest information.

English translation by Gabriel Wilkinson
*This information is from the time of this article's publication.
*Prices and options mentioned are subject to change.
*Unless stated otherwise, all prices include tax.