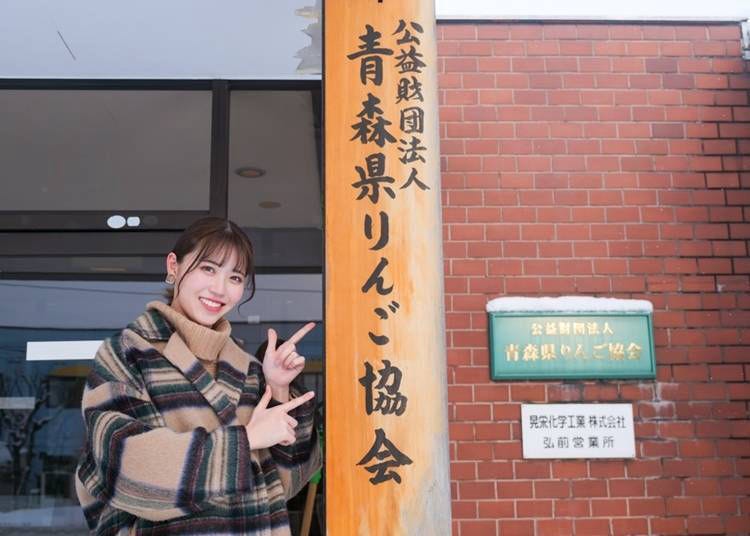 Aomori Prefecture accounts for about 60% of Japan's apple production and boasts the largest cultivation area in the country. But it's not only about scale and volume.

The taste, aroma, texture, and appearance of Aomori apples give the prefecture a strong international reputation for producing excellent apples. By getting to know the kinds of delicious apples produced in the region, you'll get even more out of your Aomori trip.

Saika from Aomori Prefecture's agricultural pop music group "RINGOMUSUME" spoke with Mr. Takahisa Kudo, an engineer for the Aomori Prefecture Apple Association, and will introduce the history and types of apples grown in Aomori. We'll also share recommended apple sweets and info about places where you can go apple picking yourself!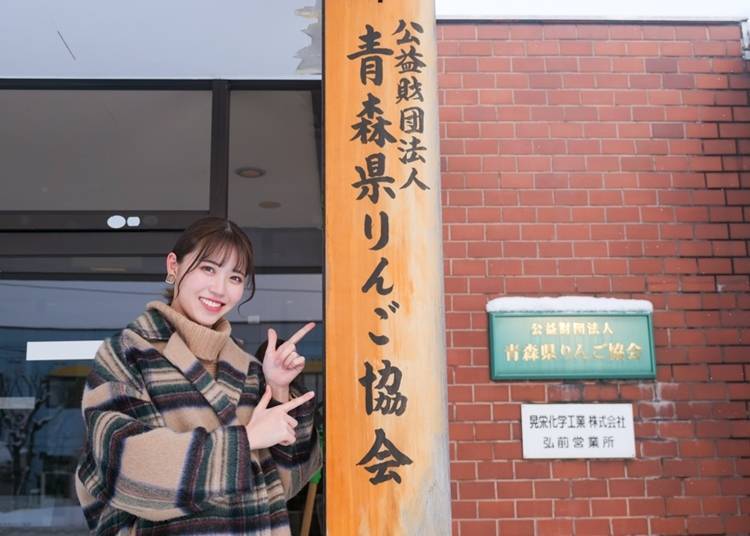 We again interviewed the Aomori Apple Association.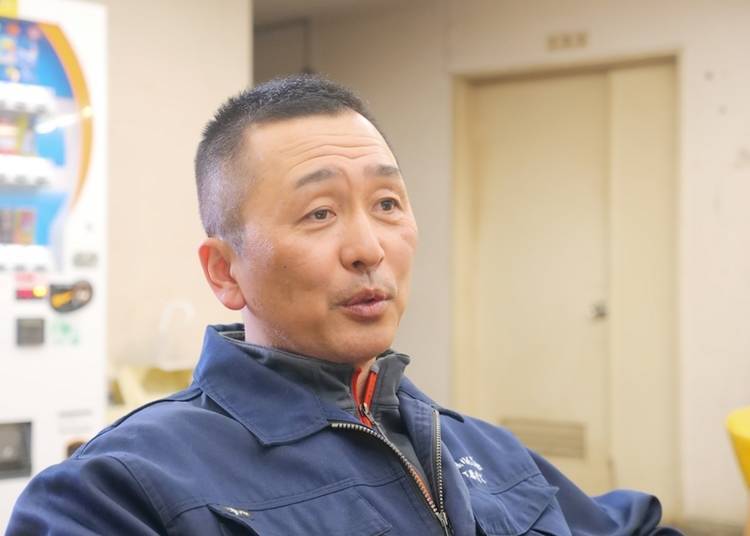 Takahisa Kudo, an engineer with the Aomori Apple Association, also runs an apple orchard.
Until Aomori became the largest apple producer in Japan, was the environment actually unsuitable for cultivation?
The history of apples in Aomori Prefecture goes back about 150 years. At the end of the Warring States period and the dawn of the Meiji era (1868-), fruit cultivation was planned nationwide to avoid unemployment among former samurai.

In 1875, the Japanese government provided fruit saplings to its prefectures, with three western apple saplings said to be the beginning of Aomori apples.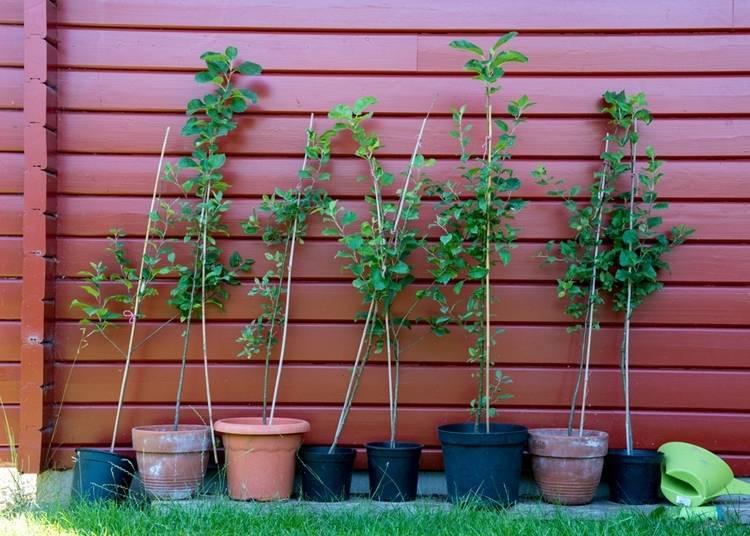 The saplings provided included peaches and pears, but apple saplings were said to have grown best.
At that time, apples were a valuable rarity, with a single tree producing an income comparable to that of a rice field (330 tsubo; about 1090 square meters).

The samurai of Aomori Prefecture, who were unemployed due to the massive political and social shift, decided to replace their iconic swords with pruning saws and scissors and started to grow apples as their livelihood.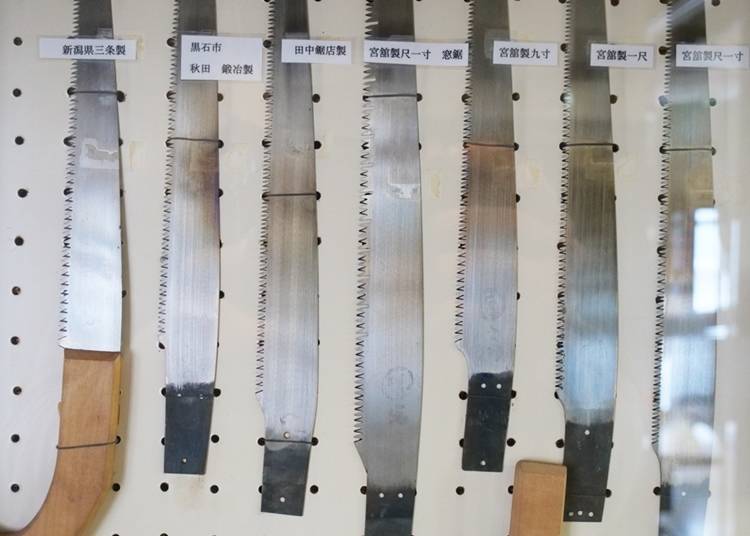 Various pruning saws
However, Aomori, which is located in the northernmost part of Honshu, is subject to heavy snowfall, making it one of the most difficult environments in the world for growing apples in terms of weather conditions.

Apparently, there were even some years that were so cold the trees failed to produce fruit. So how did apple cultivation, which is considered difficult in the first place, succeed and take root in the harsh environment of Aomori?

"One reason is that the apple saplings that were first distributed were not given to peasants but samurai," says Kudo. Because of the pride and responsibility of the samurai, they thought, "I want to make something second to none," and the Tsugaru region's "stubborn soul," drove them to continue growing apples even if they made repeated mistakes.

Tireless efforts and outstanding technology have been handed down through the years, and Aomori has become famous as Japan's "apple kingdom" in both production volume and cultivation area.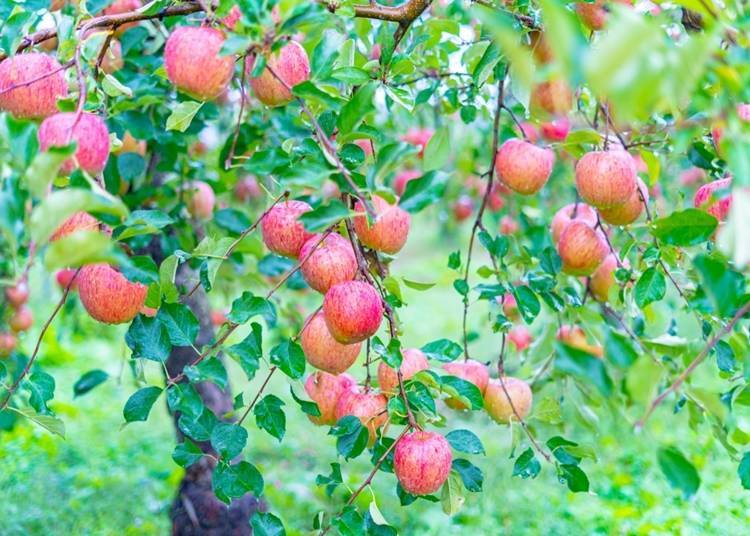 Aomori apples have grown into a large industry through a history of struggles.
Types of Aomori apples, both popular and unusual varieties
It's estimated that there are about 2,400 apple varieties in Japan, and stemming from this rich history, about 50 are currently produced in Aomori Prefecture. Among them, both popular and largely unheard of varieties are grown. Here are a few:
"Fuji" is a world-famous variety that accounts for about 50% of Aomori's apple production. Their harvest season is from late October to early November, and they have a pleasant texture, a good balance of sweetness and tartness, and a long shelf life, making them a common sight on many a table. The "Sun Fuji" variety, which is grown without the use of protective bags, grows in the sun, giving them their characteristic sweetness and juiciness.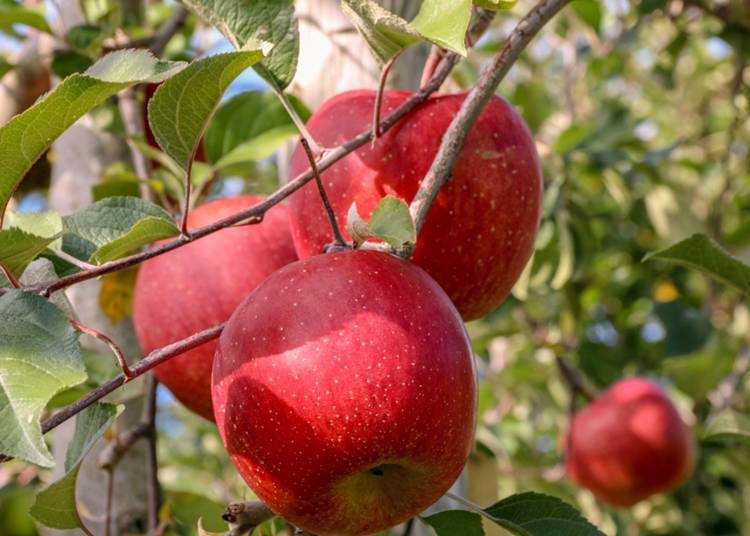 "Sun Fuji" grown in plenty of sun
"Tsugaru" are harvested in early September. Early-maturing apples (varieties with an early harvest) tend to have a strong tartness, but Tsugaru are sweet and juicy. If you visit Aomori in September, you'll find them in markets and supermarkets across the prefecture, and this is an apple that you should definitely try.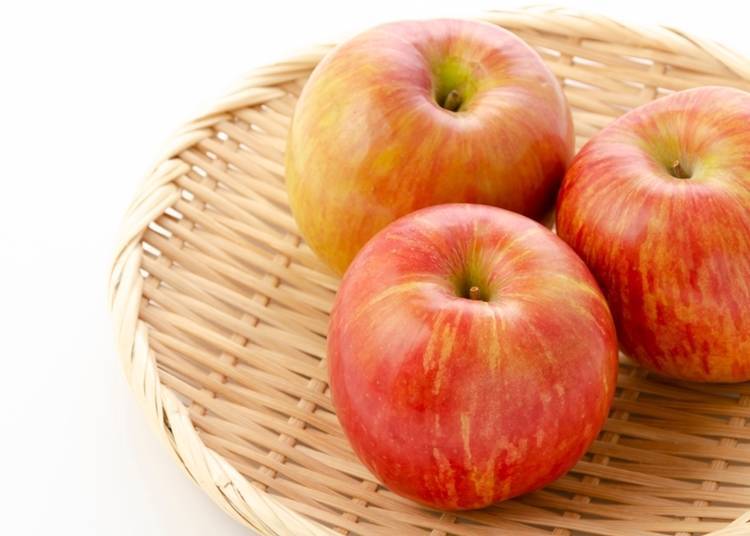 "Tsugaru" with its thin-striped pattern
"Orin" has almost the same production volume as Tsugaru and is a yellow apple "pioneer." Their harvest season is early November, and this popular variety has almost no acidity, a bold sweetness, and a mellow aroma. Orin is recognized around the world and is very popular, especially in Hong Kong.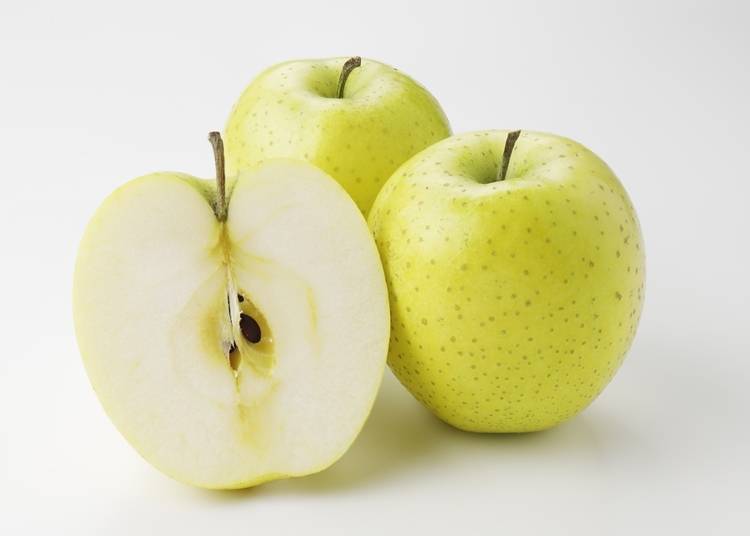 "Orin" is popular for its aroma and sweetness
"Kogyoku" is a variety harvested in early October and was representative of Aomori apples before Fuji took over that distinction. Characterized by their strong tart flavor, they are often used in cooking and sweets. The flesh is harder to break up even when cooked, so they're perfect for apple pie. Fresh Kogyoku are great for making your own desserts!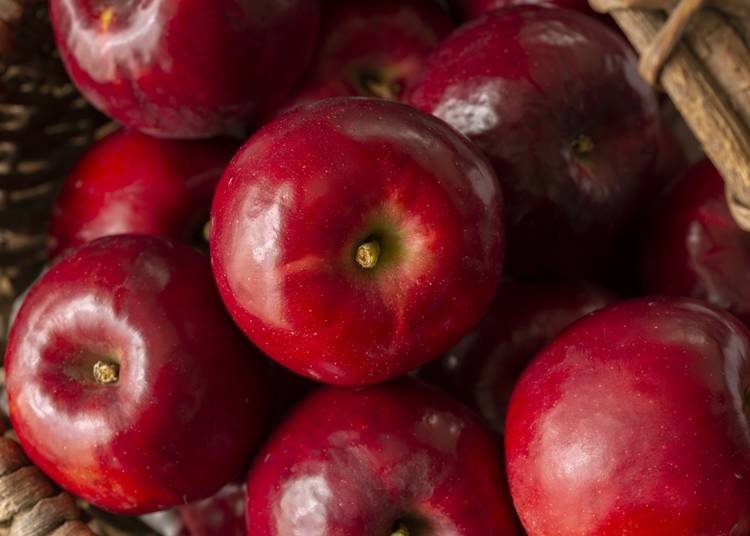 "Kogyoku," that turn bright red
Heavy, red "Sekai Ichi" are harvested in mid-October, and their name comes from having been declared the "the largest apple in the world," each weighing about 500g, with some larger ones weighing more than 1kg. However, size isn't their only appeal, but also their mildly tart, sweet flavor. These apples make an outstanding impression, and you'll certainly want to try one!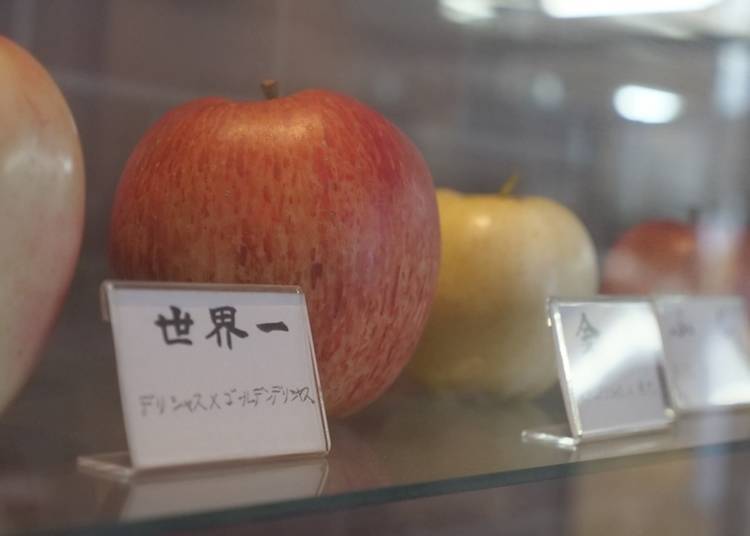 "Sekai Ichi," with its outstanding size
6. Other varieties with interesting names
Aomori produces other unique varieties like the refreshingly sweet "Miki Life," sweet and crisp "Toki," and pleasantly tart "Jonagold." There are many other varieties with mysterious and interesting names like "Hoshi no Kinka," "Hatsukoi Green," and "Kimi ga Sode."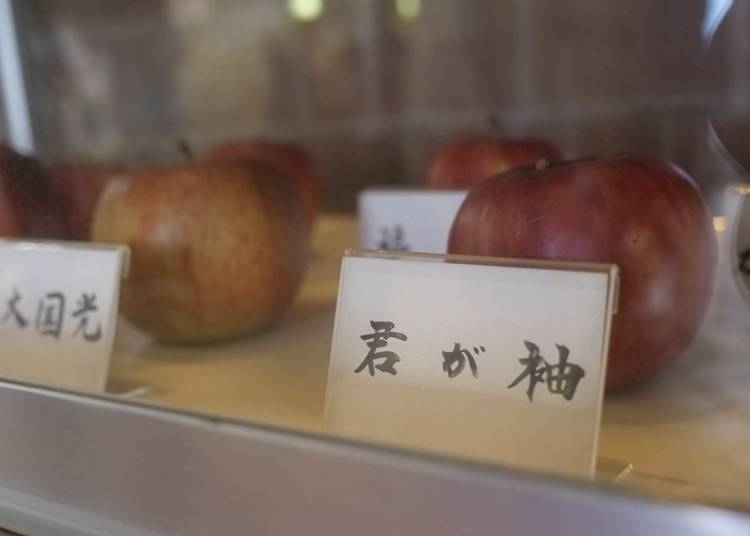 "Kimi ga Sode" an old variety developed in the West
Where can I buy Aomori apples? Tsugaru is an autumn treasure trove of apples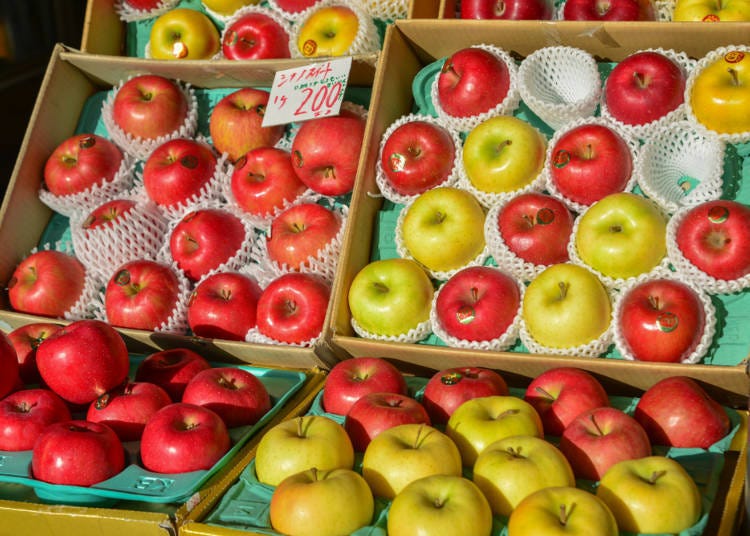 Aomori apples sold at supermarkets (Phuong D. Nguyen / Shutterstock.com)
Fresh apples are easily found during harvest season at supermarkets, farmers' markets at roadside stations, fruit shops, and souvenir shops in Hirosaki, the Tsugaru area, and throughout Aomori.

With their particularly long shelf life, you can buy Fuji all year round, but if you want to sample them at their freshest, visit in autumn. A wide variety of apples are available for any purpose or budget, sold individually or in packs, and are great for gift giving.

Many stores offer domestic delivery, but please note that overseas shipments are generally not possible.
Aomori apple sweets recommended as souvenirs
Not only great when eaten fresh, processed apples are delicious too. Many souvenirs and desserts use Aomori apples, but here are some recommended sweets found exclusively in Aomori Prefecture itself.
1. Patissier's Apple Stick
The "Patissier's Apple Stick" from Ragueneau is, as the name suggests, a stick-shaped apple pie that's compact, easy to eat, and individually packaged, making it convenient to take home. The moist crust contains large, tasty apple pieces, and the sticks are even better when warmed in the oven to make them crispy.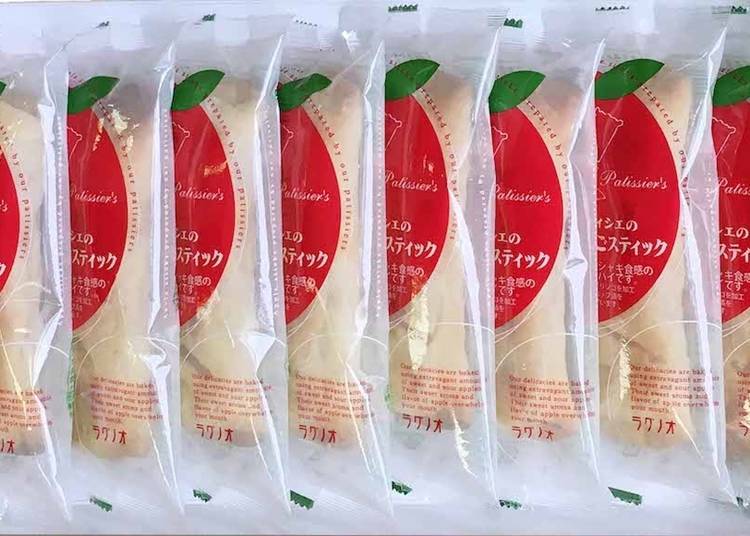 "Patissier's Apple Stick" (Photo courtesy of Ragueneau Sasaki)
We also recommend another Ragueneau product, the "Curious Apple." This apple pie is made by pickling a whole Fuji apple in syrup, wrapping it in pie crust, and baking it. Retaining the apple's original crispness and making a strong visual impact, it's a perfect souvenir.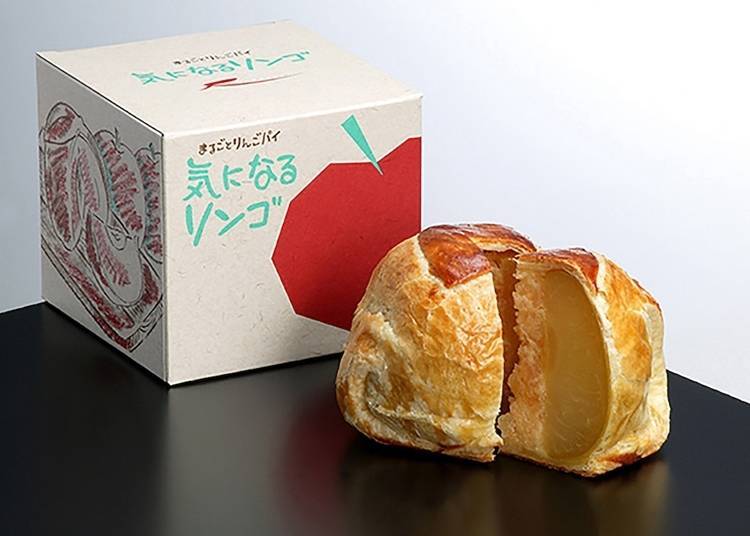 "Curious Apple" (Photo courtesy of Ragueneau Sasaki)
"Apple Snacks" from Apple and Snack are also great souvenirs. These deep-fried apple chips are a long-selling product loved by children and adults alike. Their perfect balance of sweetness and sourness makes them an addictive snack. There are different flavors made from different apple varieties, so try them all!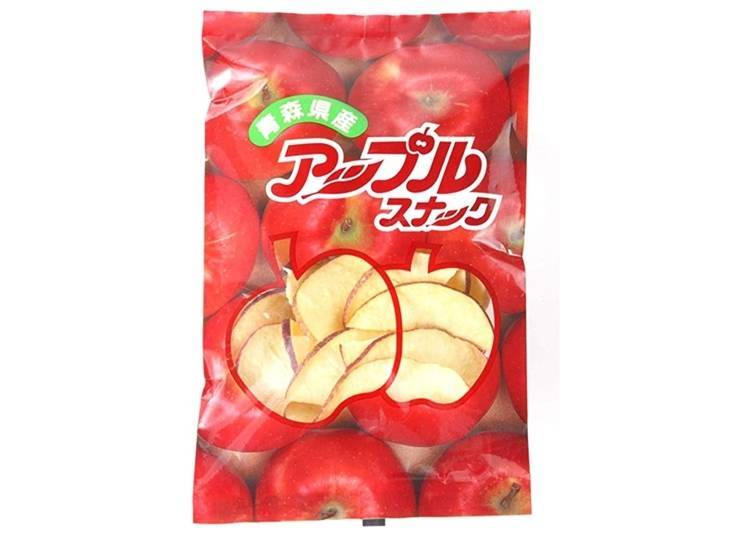 "Apple Snack Red" (Photo courtesy of Apple and Snacks)
4. Freshly Picked Jonathan Apple Pie
When it comes to apple sweets, you can't ignore apple pie! There are many shops in Hirosaki that sell apple pies, but the author's recommendation is Tamura Farm's "Freshly Picked Jonathan Apple Pie."

The umami flavor of the Jonathan apples is complemented by a crisp pie crust, but no cinnamon is used, giving the pies a mild taste suitable for those who prefer less spice. They are sold at Aomori Airport, Hirosaki Apple Park, the Hirosaki City Tourist Center, etc.
Tamura Farm's "Freshly Picked Jonathan Apple Pie" (Photo courtesy of Tamura Farm)
A-FACTORY, a market complex in Aomori City, also sells sweets made with local apples. Among them, the "Apple Sherbet" from the specialty gelato shop "Gelato Natura Due" is especially recommended. The available flavors change seasonally, so you can try something different each time you visit. The sherbet is packaged in convenient cups that make it easy to take back to your hotel to enjoy.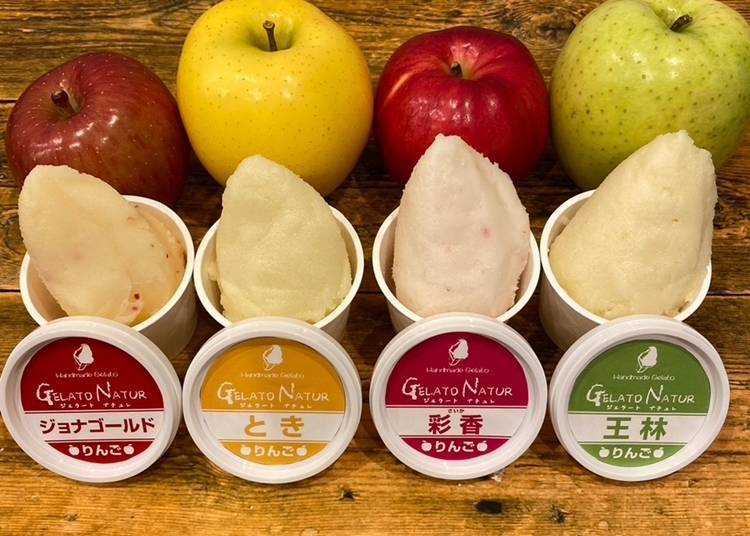 "Apple Sherbet" made with Aomori apples (Photo courtesy of A-FACTORY)
Apple harvesting experience – take home freshly picked apples!
An apple harvesting experience is recommended for anyone who wants to pick and eat their own fresh apples. At Hirosaki Apple Park, about a 20-minute bus ride from JR Hirosaki Station, apple picking happens every year from early August to mid-November.

It's a special season in the large orchard where about 2,300 apple trees from 80 species grow. After learning the proper picking technique from park employees, visitors can enjoy picking and taking home fresh apples.

Apple picking experience
Open season: Early August to mid-November
Hours: 9:00 - 16:00 (last entry) *30-minute picking sessions
Admission: Paid admission
Information is also available in English, Chinese, Korean, etc. (Photo courtesy of Hirosaki Apple Park)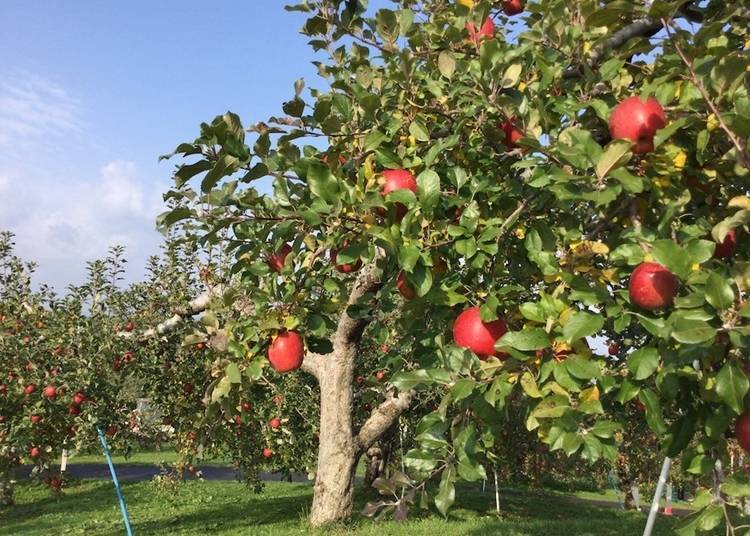 "Sun Fuji" in the park can be harvested from early November (Photo courtesy of Hirosaki Apple Park)
弘前市りんご公園

Address

125 Terasawa, Shimizutomita, Hirosaki, Aomori 036-8262

Phone Number

0172-36-7439

Hours: Open daily, 9:00 - 17:00 (*Subject to temporary closures. Visitors can walk in the park even after hours.)
Admission: Free
Aomori Prefecture's modern-day farmers, the heirs of samurai, are part of a 150-year history resulting in apples that have become the best in Japan. In addition to those found here, there are still many other excellent varieties and desserts, so if you come to Aomori, be sure to get your fill of apple goodness!
Text by: Saika (RINGOMUSUME)
Edited by: Tsubasa Shimoda

*The information in this article is accurate as of June 2021.

English translation by Gabriel Wilkinson
*This information is from the time of this article's publication.
*Prices and options mentioned are subject to change.
*Unless stated otherwise, all prices include tax.