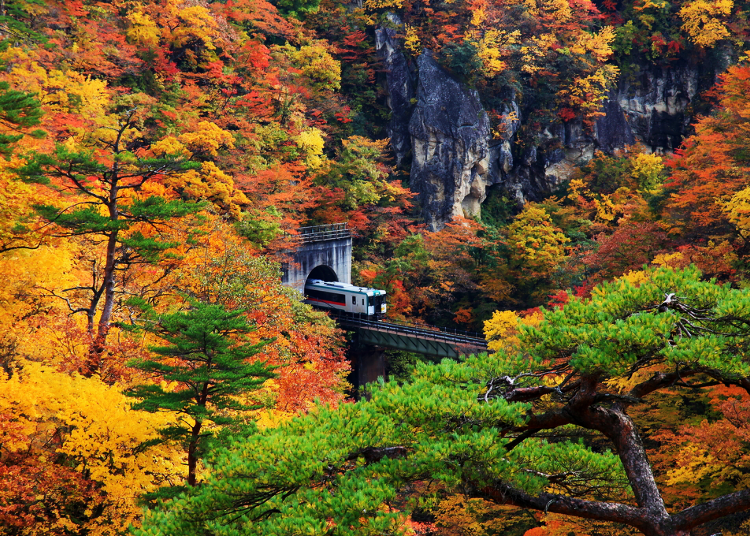 Autumn in Tohoku starts in late September, when fall foliage season starts. From the red-and-yellow dyed mountaintops to the incredible autumn scenery passing by as you drive around, there are many ways to enjoy the sights of these beautifully changing leaves.

Here, we will introduce ten best places to visit in Tohoku for autumn foliage, as well as the best time to see the leaves changing.
Best Time for Autumn Leaves in Tohoku
There are six prefectures stretching out longitudinally across the Tohoku Region. In Tohoku, the trees begin to change color gradually, beginning in the north and moving down south.

The best time for autumn leaves in the northernmost prefecture of Aomori is in early October, while late November is best to see fall leaves in Fukushima in the south.

There are also areas where you can see autumn colors for about a month and a half before they start to show in Tokyo. If you plan to visit multiple areas for foliage viewing, the best time to do so would be between early and late October.
1. Hakkoda Mountain Range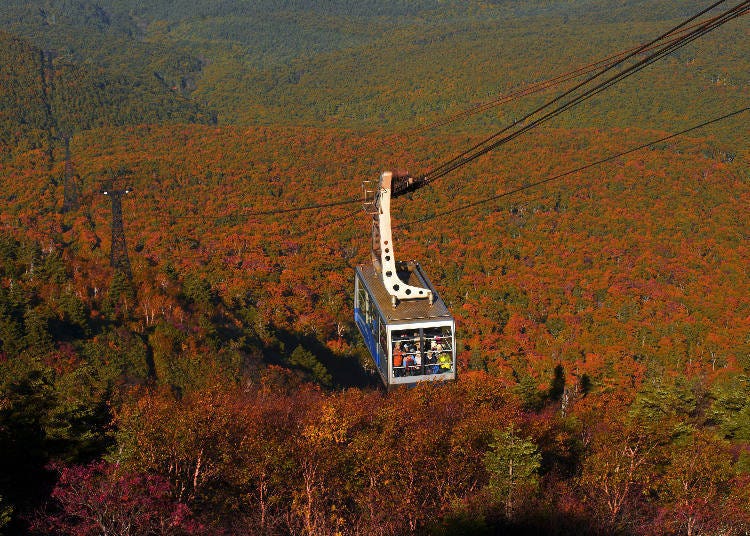 Best Time for Autumn Leaves at Hakkoda Mountain Range: Late September to Mid-October

The Hakkoda Mountain Range is the general name given to the approximately 20 mountains that make it up, including Hakkoda Ootake, a mountain located in the center of Aomori Prefecture with an altitude of 1585 meters. Most of the mountains have a beautiful conical shape with a sharp peak and a foot extending at the base.

The foliage you see along the Hakkoda Mountain Range are mostly yellow beech and red maple trees, with mixed alpines such as Aomori-todomatsu and Haimatsu (Japanese creeping pine) towards the summit. Because the temperature, as well as the type of trees, differ depending on altitude, the changing autumn leaves begin around the end of September near the summit and end around mid-October at the foot.

One of the best ways to enjoy this famous Tohoku autumn view of the Hakkoda Mountain Range, is to take a ride on the 100-person ropeway. Or you can get a beautiful ground view while soaking in one of the hot springs that dot the vicinity. It's one of the best places to visit in Tohoku!
八甲田ロープウェー

Address

1-12 Kansuizawa, Arakawa, Aomori-shi, Aomori-ken

Phone: 017-738-0343 (Hakkoda Ropeway)
Business Hours: 9:00AM~4:20PM (winter until 3:40PM)
Fee: Ropeway: One-way 1250 yen, Round-trip 2000 yen
2. Oirase Gorge Mountain Streams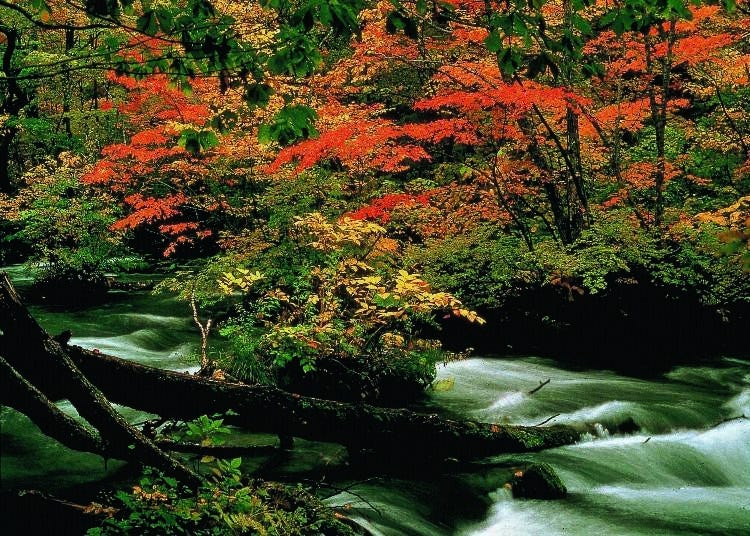 Best Time for Autumn Leaves at Oirase Gorge: Mid-Late October

The Oirase Gorge Mountain Stream in Towada City, Aomori Prefecture, is a scenic spot with views of beautiful mountain streams and colorful leaves in the same area. Another of the best places to visit in Tohoku, there are many famous places with many different views and features, such as the 14 km long footpath, seven-meter-high Choshio Falls, Ashura no Nagare, which flows powerfully through the trees, and Ishigedonose with its gentle breeze.

The autumn leaves around the Oirase Moutain Stream are a stunning beauty, vividly colored from the very start of autumn. The thickly growing beech and maple trees over the streams cast deep shadows, creating depth in the landscape. A walk through these colorful leaves and clean mountain air is sure to refresh your body and soul.
奥入瀬渓流

Address

Oirase Gorge, Towada-shi, Aomori-ken

Phone Number

0176-75-1531

Business Hours: View anytime
Fee: Free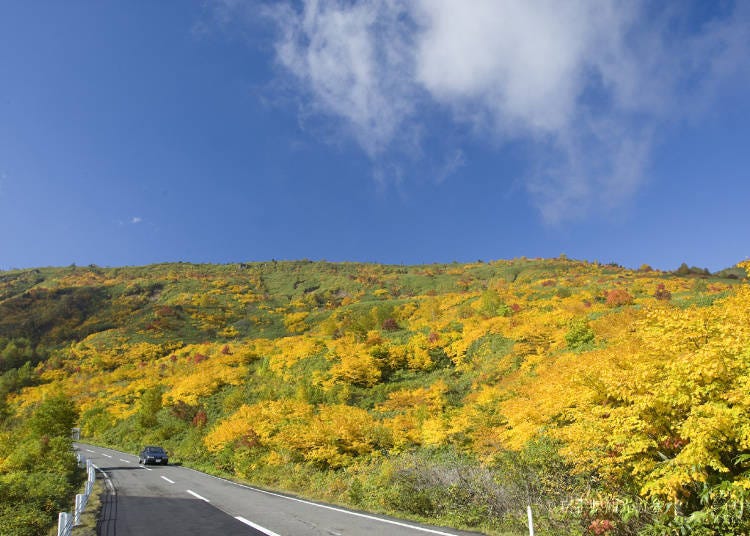 Best Time for Autumn Leaves at Hachimantai: Late September to Late-October

The autumn leaves of Hachimantai span Akita and Iwate Prefectures and gradually change in color from the summit to the foot of the mountains in the course of one month. The mountain peaks begin turning red around mid-September, the earliest in all of Tohoku. In late September, you can see a beautiful contrast between the red and yellow maples and the green conifers.

The most popular and highly recommended spot in Hachimantai is the Hachimantai Aspite Line, a driveway that extends approximately 27 km with various viewpoints dotting the way. You can also get a nice view of the colorful scenery of Mt. Iwate and Kumanuma in the distance from the car window as you drive along.
八幡平

Address

Towada-Hachimantai National Park, Hachimantai-shi, Iwate-ken

Phone: 0195-78-3500 (Hachimantai City Tourism Association)
Business Hours: View anytime
Fee: Free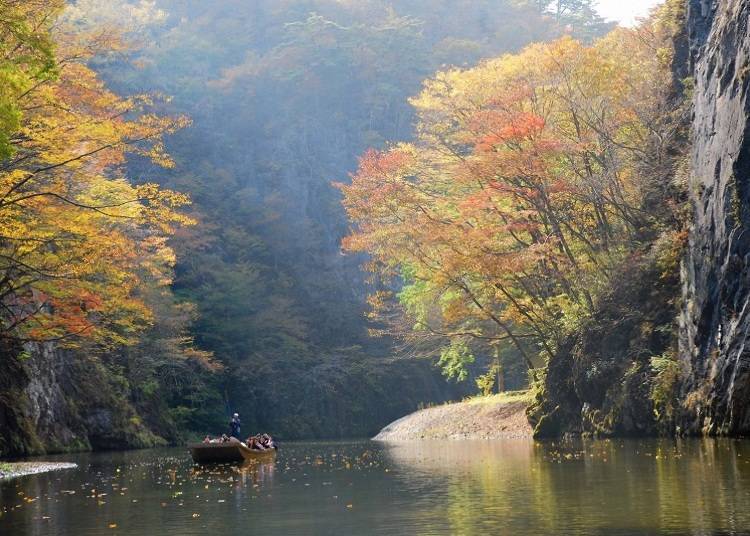 Best Time for Autumn Leaves at Geibikei Gorge: Mid-October to Early November

Located in Iwate Prefecture, Geibikei Gorge is one of Japan's top 100 scenic viewpoints. It boasts a powerful landscape of 100-meter-high cliffs stretching for two kilometers on both sides of the quietly flowing Satetsu River. It is a famous spot where you can try "funakudari," a downstream boat ride navigated by rather skilled boatmen.

You can enjoy this downstream trip for about 90 minutes while taking in the breathtaking views of the cliffs and the colorful, and the red-and-yellow leaves of the maples and Japanese zelkovas reflected on the river's surface. As you go, you'll soon know why it's one of the best places to visit in Tohoku.

Enjoy the view and the sound of the boatman as he sings the traditional river song, "Geibi Oiwake," a song sure to find a place in your heart right beside the gorgeous downstream landscapes.
猊鼻渓

Address

467, Machi, Higashiyamacho Nagasaka, Ichinoseki Shi, Iwate Ken, 029-0302, Japan

Phone: 0191-47-2341 (Geibikei Tourism Center)
Business Hours: 8:30AM~4:00PM (may vary by season)
Fee: Funa-kudari Boat Ride, Round-trip, 1600 yen
Regular Holidays: None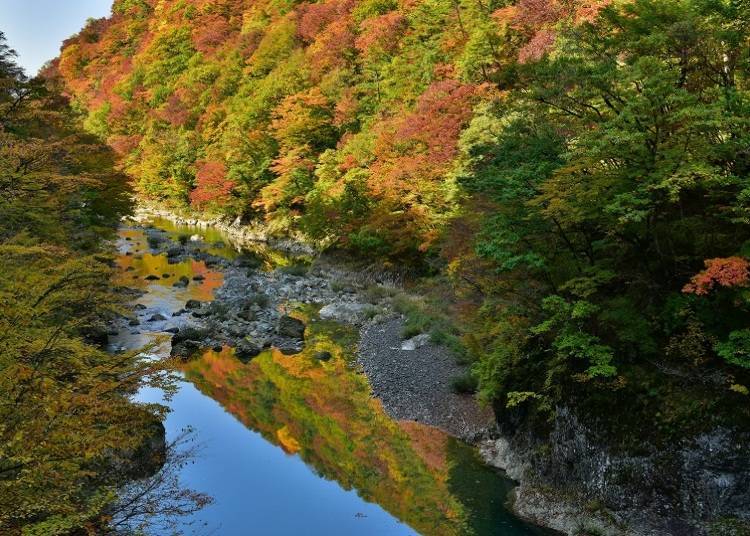 Best Time for Autumn Leaves: Mid-October~Early November

Dakigaeri Gorge, located near Lake Tazawako in the eastern part of Akita, boasts an artistic landscape created by the blue mountain stream running through the dense, old-growth forests and waterfalls gushing down on both sides of the riverbanks. The waterfalls are said to be the valley's number-one landmark and are a sight you will want to view over and over again.

The trees of the old-growth forest turn red and yellow in the fall, creating a stunning scenery in which the leaves are clearly reflected off the water's surface, just like a mirror.
抱返り渓谷

Address

Tazawako Sotsuda, Semboku-shi, Akita-ken ~ Kakunodatemachi Hirokunai, Semboku-shi, Akita-ken

Phone: 0187-43-2111 (Tazawako Tourist Information Center "Folake")
Business Hours: View anytime
Fee: Free
Regular Holidays: None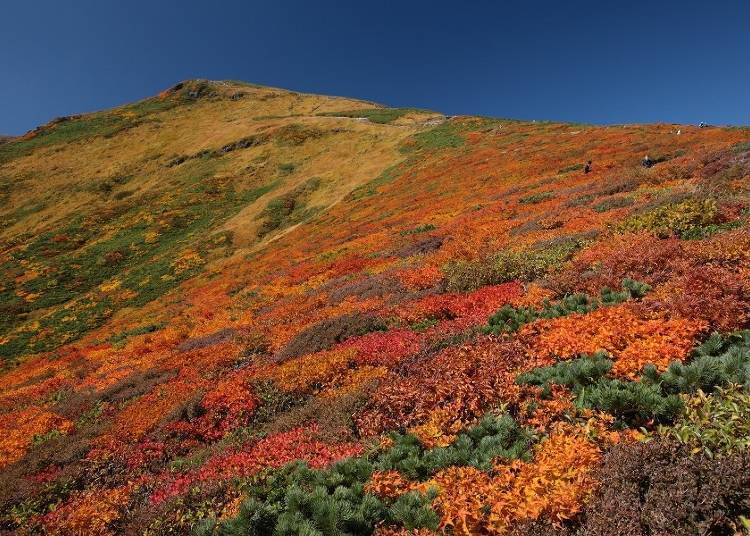 photo: Kurihara City Tourist Association
Best Time for Autumn Leaves at Mt. Kurikoma: Late September to Early October

Mt. Kurikoma is located in the middle of the Tohoku Region and spans three prefectures: Miyagi, Iwate, and Akita. From the summit at the mountain, which stands about 1,626 meters tall, you can see the northeastern mountains such as Mt. Gassan and Mt. Hayachine, as well as the Pacific Ocean. This mountain is known for its abundant nature which includes about 150 species of alpine plants and old-growth beech forests. It is also a popular mountain climbing spot for hikers year-round.

In the fall, the entire mountain of Kurikoma becomes dyed in a variety of reds, oranges, and yellows, with shades of the deep green of the alpine trees. It is said to be a beautiful color scheme born from the climate conditions, with temperatures varying greatly between day and night. There are mountain trails for both beginners as well as advanced hikers in which you can enjoy a scenic walk surrounded by colorful autumn leaves.
栗駒レストハウス

Address

Koeinaka Kurikomanumakura, Kurihara-shi, Miyagi-ken

Phone: 0228-25-4166 (Kurihara City Tourist Association)
Business Hours: View anytime
Fee: Free
Best Time for Autumn Leaves at Naruko Gorge: Mid-October to Early November

The Naruko Gorge, with a depth of about 100 meters, has been carved over a long period of years. The reds and oranges of beech, oak, and maple trees dot the cliffs, accented by the deep green hues of the conifers that have grown amongst them.

We recommend heading to the Naruko Gorge Rest House, where you can stroll along the Ofukasawa Promenade surrounded by the colorful leaves. From the observatory, you can see the Ofukasawa Bridge stretching between the trees, a scene right out of a painting!

You can also sometimes spot trains running along the iron bridge inside the gorge from the top of the Ofukasawa Bridge. The train runs slowly as it blares its horn, giving you the perfect opportunity to capture a gorgeous photo of the passing train surrounded by the colorful Tohoku autumn leaves.
鳴子峡

Address

Shitomae, Naruko Onsen, Osaki-shi, Miyagi-ken

Phone: 0229-87-2050 (Naruko Gorge Rest House)
Business Hours: View anytime (Walkway Hours: Late April through Late November, 9:00AM~4:00PM)
Fee: Free
Regular Holidays: None (Walkway may close in the event of bad weather)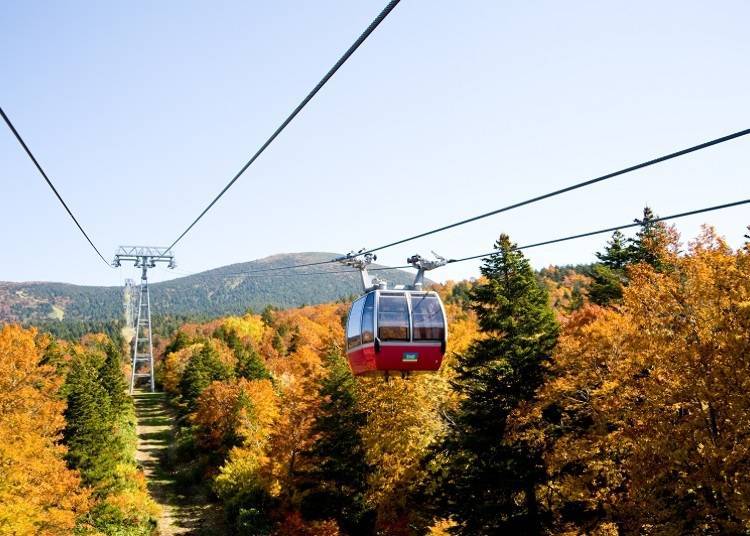 Best Time for Autumn Leaves at Yamagata Zao: Late September to Late October

Yamagata Zao is famous for Zao Onsen, the largest hot springs resort in the Tohoku Region. Enjoy a walk through this hot springs town surrounded by rich nature and beautifully colored autumn leaves.

To see the views of the summit, we recommend taking the ropeway. Yamagata Zao is dyed in beautiful oranges and reds, as seen in the photo. At the summit, you can enjoy these views even more by walking along one of the many trekking courses.

You can visit the Zao Natural Botanical Garden and Jizosan Excursion Course for first-timers, which will take you around the Botanical Gardens and to the Jizosan Summit in about two hours.
山形蔵王

Address

Zao Onsen, Yamagata-shi, Yamagata-ken

Phone: 023-694-9328 (Zao Onsen Tourist Association Information Center)
Business Hours: View anytime
Fee: Free (Ropeway to Jizo-Sancho Station, 1500 yen one-way)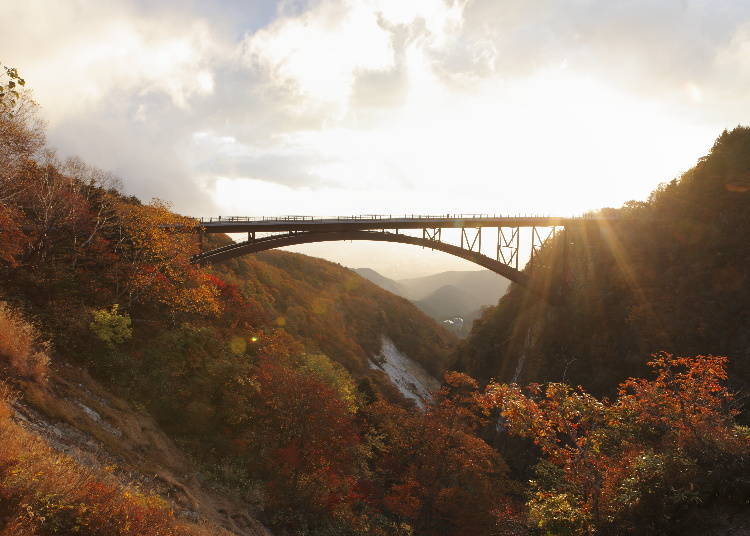 Best Time for Autumn Leaves at Bandai-Azuma Skyline: Late September to Late October

This spot is a winding mountain road in the northern part of Fukushima Prefecture, and a 1-hour long driving course full of curves, weaving through the Azuma Mountain Range. The altitude reaches as high as 1622 meters.

Along the course, viewing spots dot the road, such as Shirakaba Summit, overgrown with white birch, and Tengu-no-Niwa, with views of the mountain foliage. The leaves of Tsubakuro Valley are another stunning sight of reds, oranges, and greens, of which you can see an amazing panoramic view from the Fudosawa Bridge.

Umimi Pass is another must-see view spot in Tohoku in autumn, where you can get a view of the autumn leaves of Mount Bandai, along with the four lakes, Lake Inawashiro, Lake Akimoto, Lake Onogawa and Lake Hibara.
磐梯吾妻スカイライン

Address

Washikurayama Tsuchiyu-Onsen-Machi, Fukushima-shi, Fukushima-ken

Phone: 0242-64-3478 (Fukushima-ken Kita Construction Office, Azuma-Tsuchiyu Road Management)
Business Hours: View anytime (may vary depending on weather conditions)
Fee: Free
Regular Holidays: Late November through Early April
10. Shingu Kumano Shrine's Massive Gingko Tree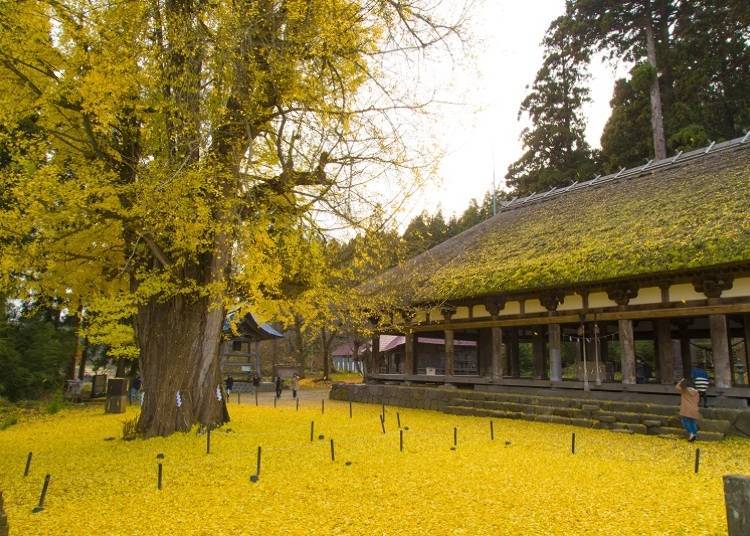 Best Time for Autumn Leaves at Shingu Kumano Shrine: Mid to Late November

The Nagatoko of Shingu Kumano Shrine has been designated as an Important Cultural Property of Japan, and refers to the wall-less, open-air structure that is the worship hall.

In the autumn, the large ginkgo tree in front of Nagatoko, with a height of about 30 meters and a trunk about 7.73 meters wide, is dyed a beautiful yellow. The ground, completely covered in ginkgo leaves, looks like a carpet of gold. You may also want to go up the Nagatoko for a view of the giant ginkgo from between the pillars and the roof. In mid-November, for one week only, there is a light-up display at night, creating an even more stunning atmosphere.
Shingu Kumano Shrine Nagatoko

新宮熊野神社 長床

Address

2258-Kumano, Keitokumachi Shingu, Kitakata-shi, Fukushima-ken

Phone: 0241-23-0775 (Shingu Important Cultural Property Preservation Society)
Business Hours: 8:30AM~5:00PM (open only on weekends & holidays from December through March); Light-Up from 5:30PM~7:30PM
Fee: 300 yen
Regular Holidays: None
Text by: SHOE PRESs
*This information is from the time of this article's publication.
*Prices and options mentioned are subject to change.
*Unless stated otherwise, all prices include tax.
Limited time offer: 10% discount coupons available now!