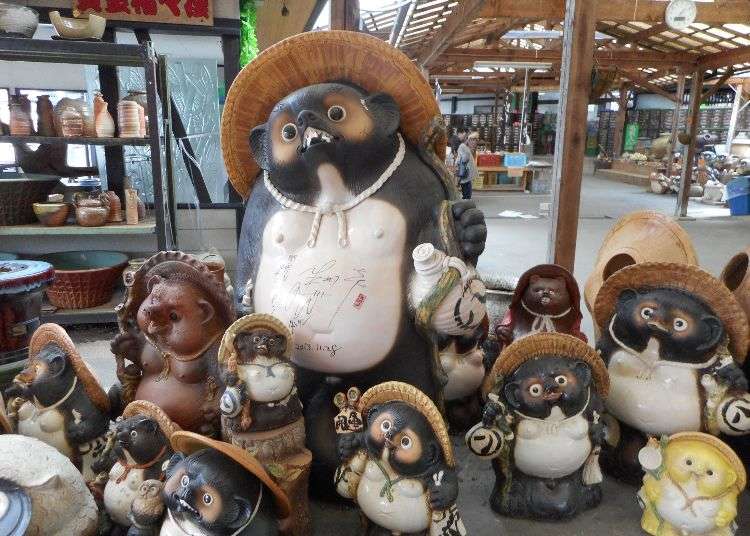 With their large, round bellies and big, circular eyes, these adorable (or weird?) guys are called tanuki. They are a beloved icon of Japan, and popularly crafted as Shigaraki ceramic wares in the pottery capital of Shiga Prefecture, Japan. The tanuki is a symbol of good luck and fortune. One of the reasons for this is because the word "tanuki" is said to mean "lucky."

There are all kinds of cute ceramic products in the town of Shigaraki, Koga City, Shiga Prefecture. There are a number of pottery kilns, all lined with plenty of unique tanuki figures. Shigaraki Toen Tanuki Village is a place where you can see the works of different ceramic artists, as well as learn about and experience Shigaraki ceramics for yourself. Set out on a journey, and while you're at it, you might even find a favorite tanuki.
What Exactly is a Tanuki?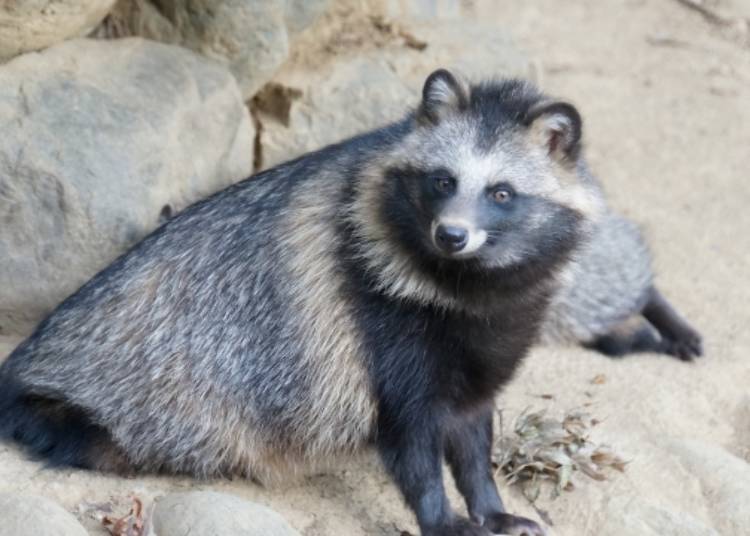 Tanuki, or raccoon dogs, are small, canine mammals that live in parts of Asia and Europe. They average about 50 cm in length and weigh about 8kg, with a short torso length. Their bodies are generally grey-brown, with black legs and eyes.

Tanuki are timid creatures that are often surprised by loud noises.

They have been a familiar part of Japanese culture for a long time. They are even found in certain Japanese expressions, such as "tanuki neiri," which literally translates to "tanuki sleep" and means "to feign sleep."

It is also part of what are called the "satoyama" animals, which is a concept in which people live in harmony with nature, appearing in many Japanese folk tales. Tanuki are creatures that have been loved by Japanese people for a long time.
Why Are Shigaraki Tanuki Decorations So Popular?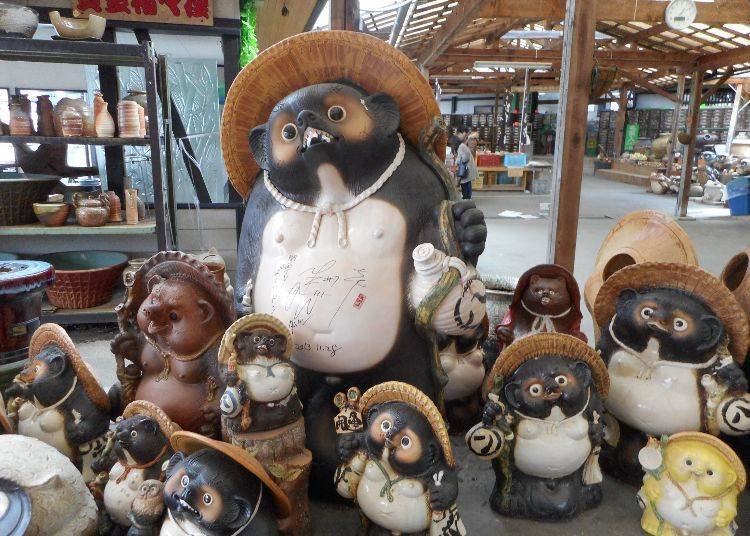 Tanuki figurines became popular throughout Japan during a visit to Shigaraki by Emperor Showa in 1951. He was so delighted by the Shigaraki tanuki arranged by the roadside holding Japanese flags to welcome him that he dedicated a poem to the town. This anecdote quickly made headlines nationwide, and tanuki have been adored ever since.
Lucky Tanuki Figures: What do they Mean?
Each individual tanuki, along with its belongings, has its own meaning:
・The traditional Kasa hat is said to prevent unexpected calamities and misfortunes
・The large eyes are for making sound decisions; the smile denotes amiability
・The sake flask represents virtue
・The bank book represents a worldly trust
・The big belly represent calm and boldness in decision making
・The large scrotum (called "money bags") represent good fortune
・The large tail represents perseverance to the end.
Getting to Shigaraki Toen Tanuki Village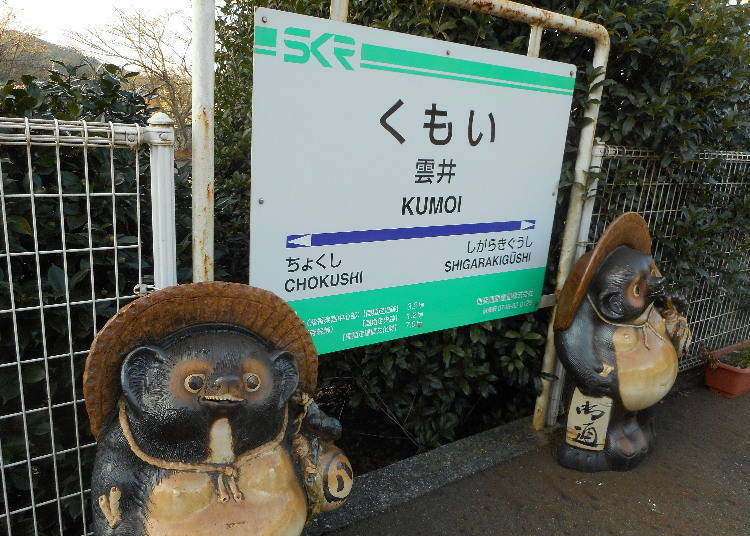 Shigaraki Toen Tanuki Village is about one hour from JR Kyoto Station. Transfer at Kibukawa Station to the Shigaraki Kogen Railway (bound for Shigaraki Station), and ride for about 16 minutes to Kumoi Station. As soon as you get off, you will be greeted by the adorable Shigaraki tanuki figures.
Japan's Largest Tanuki Welcome You!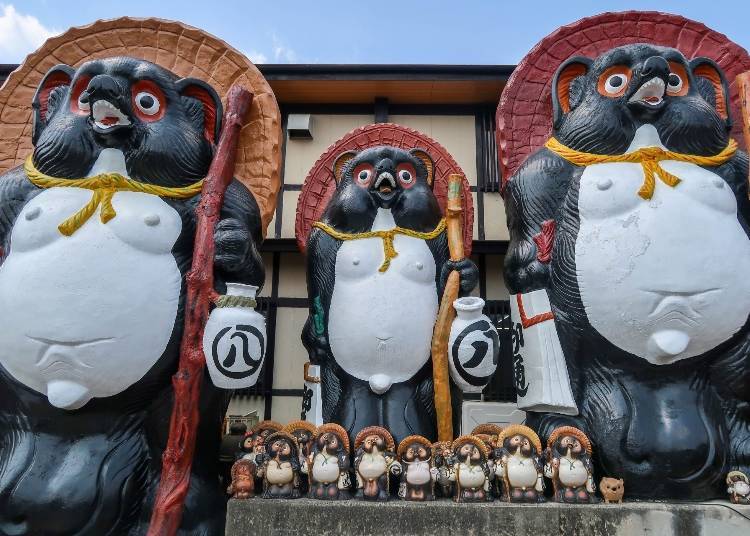 Once you arrive at Shigaraki Toen Tanuki Village, you will be greeted by some of the largest tanuki figures in Japan. There are a variety of cute tanuki figures, large and small, stationed everywhere... and this is just the entrance!
The Symbolic Tanuki Village Otorii Gate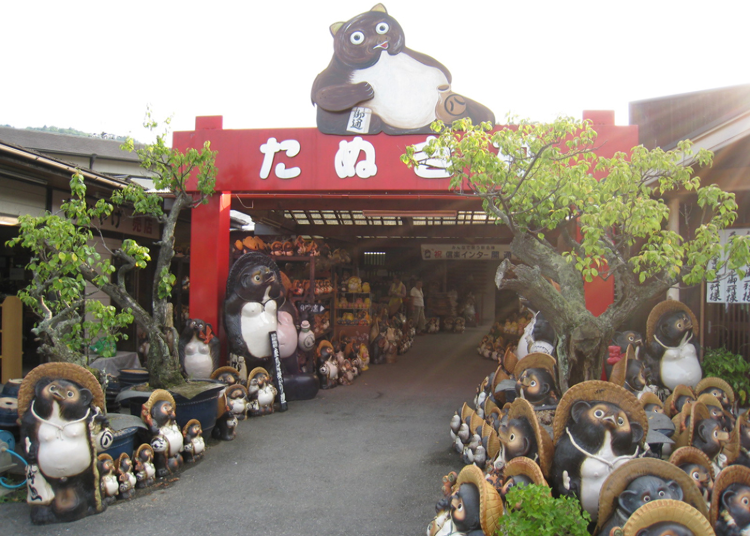 The Tanuki Village Otorii Gate is home to the largest tanuki figures in Japan! In fact, there is a huge one just relaxing right on top of the gate. You will be greeted by tanuki, tanuki, and more tanuki, each wearing a different expression, as you approach the entrance. The tanuki lead the way as they invite you further along the path...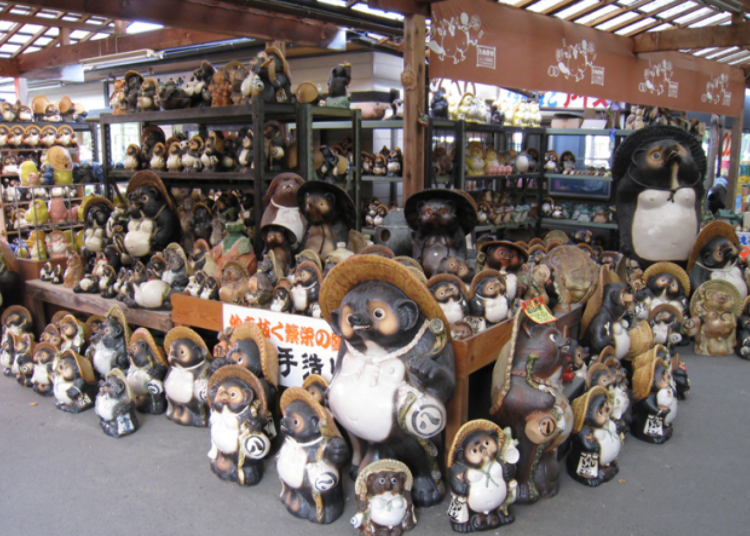 The 10,000 Tanuki Square is lined with tons of tanuki, right and left. It's like a huge tanuki family gathering! From tanuki that fit in the palm of your hand, to tanuki that stand just as tall as you, it is quite a random yet masterful arrangement.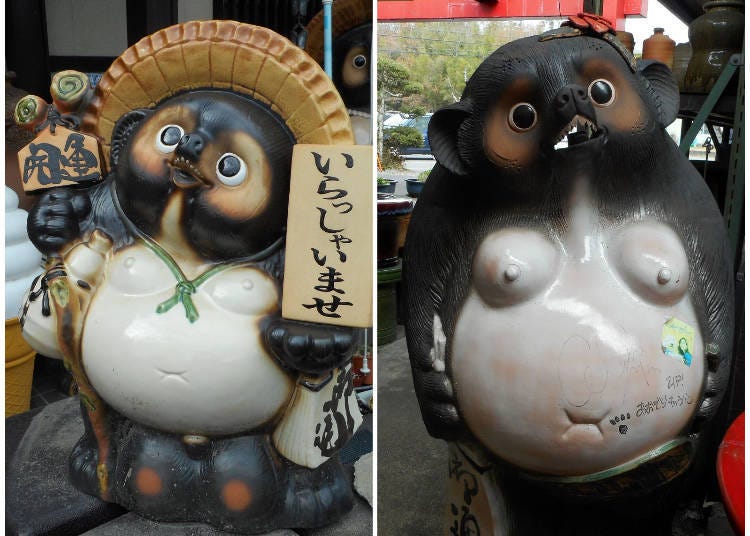 All the various expressions and styles are different yet similar at the same time. Despite being mere ceramic figures, the familiar faces almost make you want to call them by name like an old friend. Rub their bellies, and give their head a pat. As a Japanese national myself, I find that Tanuki are quite cute, indeed! But where exactly are all these cute tanuki figures made? Let's head to the Shigaraki kilns next to find out!
Visiting the Shigaraki Noborigama and Anagama Kilns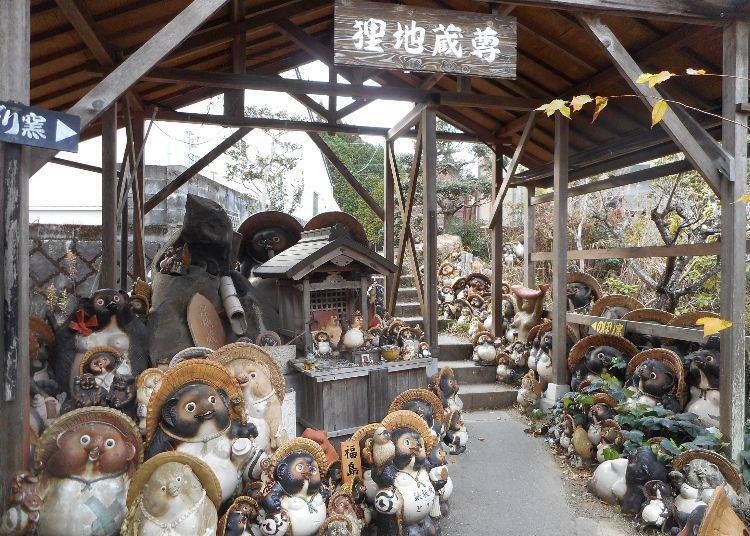 Tanuki Jizo Statues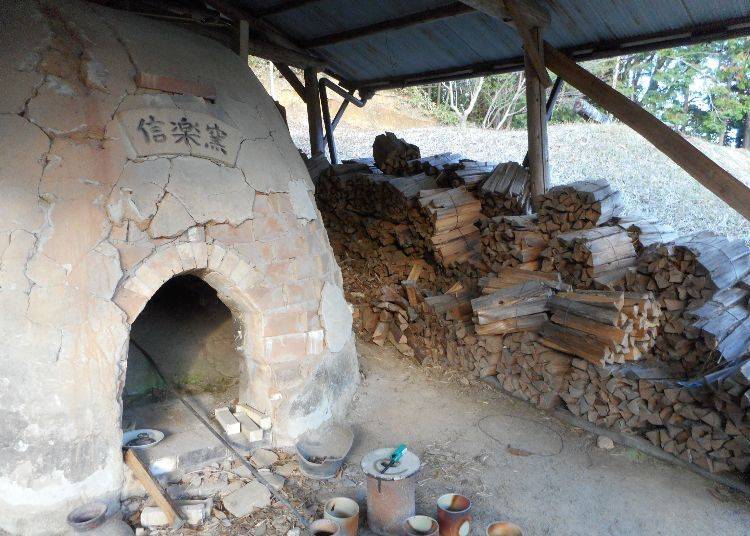 The Noborigama Ascending Kiln
When you enter the shop, you will be greeted by the Tanuki Jizo statues. From there, climb the noborigama, or ascending kiln, long used for firing Shigaraki ware. An ascending kiln is a kiln connected to a long and narrow firing chamber along the slope of the mountain. You can put a large amount of wares in from the entrance, and the fire will ascend to each of the upper levels. There are not many Shigaraki noborigama kilns left, so it is a worthwhile experience to see them while they still remain.
Anagama Kiln
These primitive anagama kilns, which only have one firing room, are also sometimes still employed. Both are free to tour, with guided tours possible by advanced reservation (Japanese only).
Homemade Ceramics Experience! Make Your Own Tanuki!
If you've ventured all the way out to a ceramics town like Shigaraki, then its only natural to want to make some for yourself! Why not try a paid ceramics making class? You can experience ceramics-making using both a pottery wheel or by hand, ceramics painting, and even make your own tanuki. The process is explained in full in a video as well, so even a first timer can do it!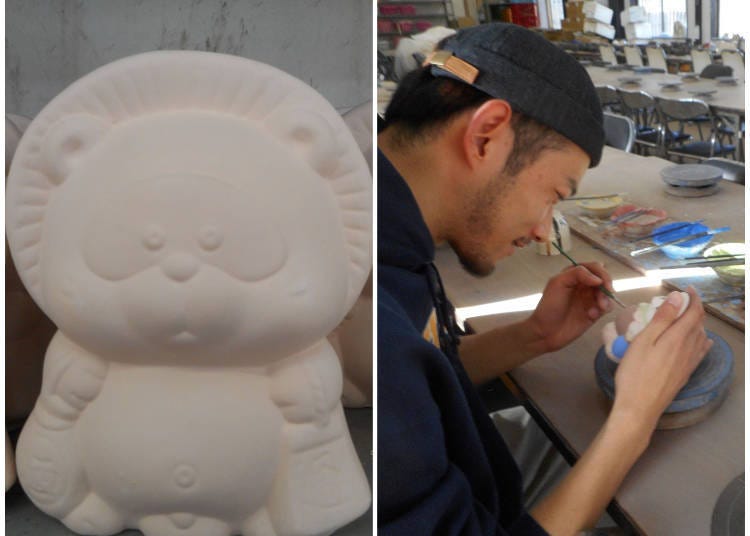 1. Painting Experience Course: Same-day Take-home Possible!
The Painting Experience Course (800 yen, plus tax) is a class where you can paint unglazed ceramics. By painting free-hand, you can even add in your own tanuki ornaments. Your creations in this class will dry in as little as 30 minutes, which also mean you can bring them home with you on the same day you complete it.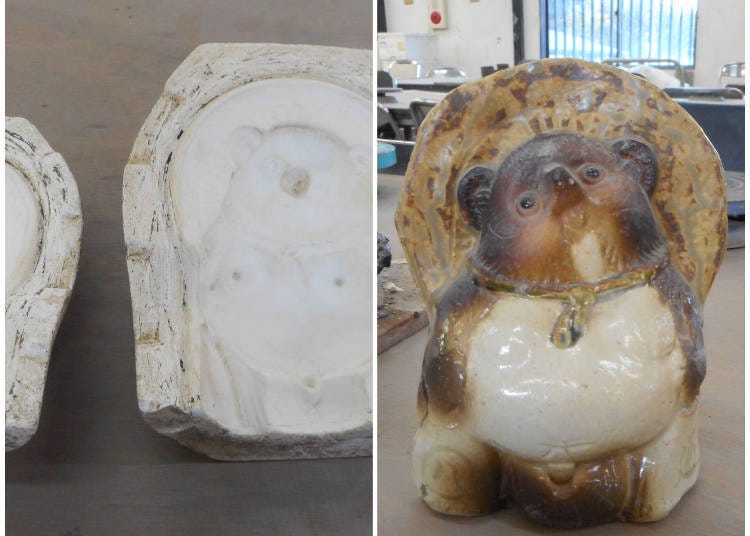 2. Tanuki Making Course: Make Your Own Shigaraki Ware Tanuki
The Tanuki Making Course (2,000 yen, plus tax) lets you take on the challenge of making your very own tanuki figures from scratch using a traditional Shigaraki-yaki tanuki mold. Place the soil into the tanuki mold and shape it to perfection. It's size after baking is about 18 cm.
*Please note this creation will take up to 60 days to complete.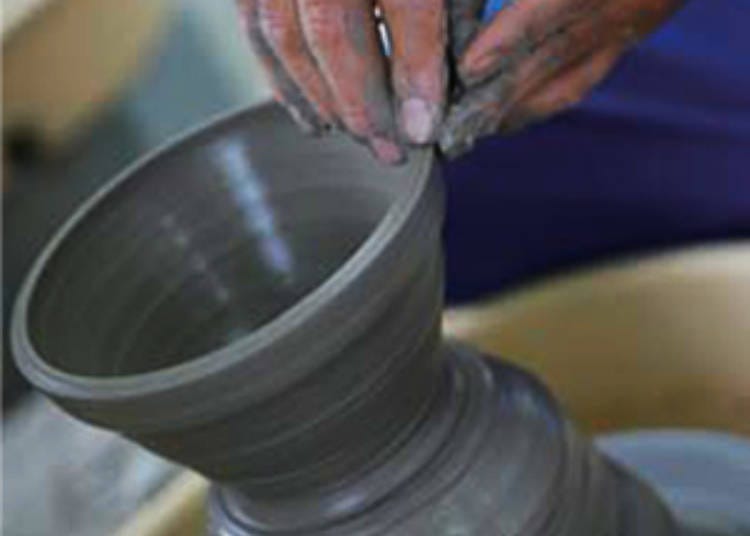 3. Pottery Wheel Course: Complete Ceramics Experience
For those who want to get the full experience of ceramics crafting, the popular Pottery Wheel Course is for you (1,500 yen plus tax). Start with a straight cylindrical shape, and using the wheel, mold into the shape of your choice. It can be a bit challenging, but you can start over if you mess up. Many overseas travelers also come to enjoy the experience, even though they cannot bring their work home.
*There are other ceramics experience courses that can take over 1-2 months to be fired from the time of crafting. Because of this, overseas deliveries are not offered at this time. (Postal delivery available within Japan only).
*Advance reservations required for ceramics experience.
Delicious Local Delicacies from Nature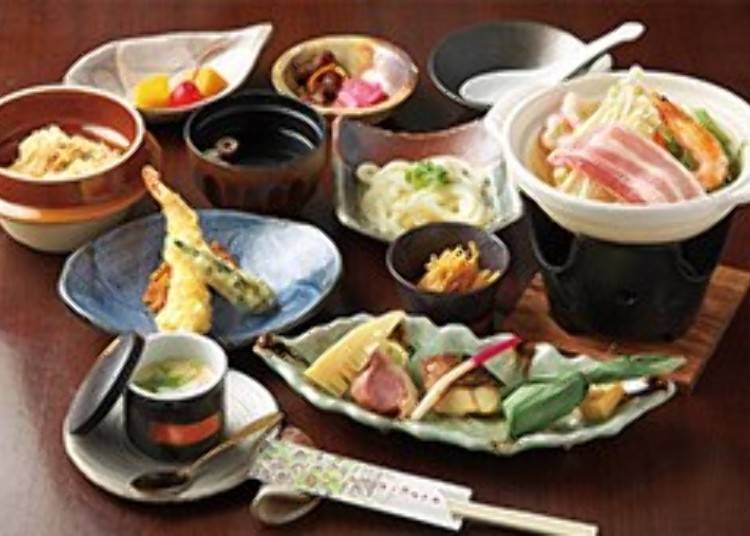 Tanuki Nabe Set
The on-site restaurant Chatsumi-tei offers dishes made with local ingredients from Shigaraki and surrounding areas. The most popular items are the Tanuki Nabe Set (1,500 yen), the Beef Sukiyaki Set (1,200 yen), and the Children's Set (1,000 yen). (Advanced reservations required for meals).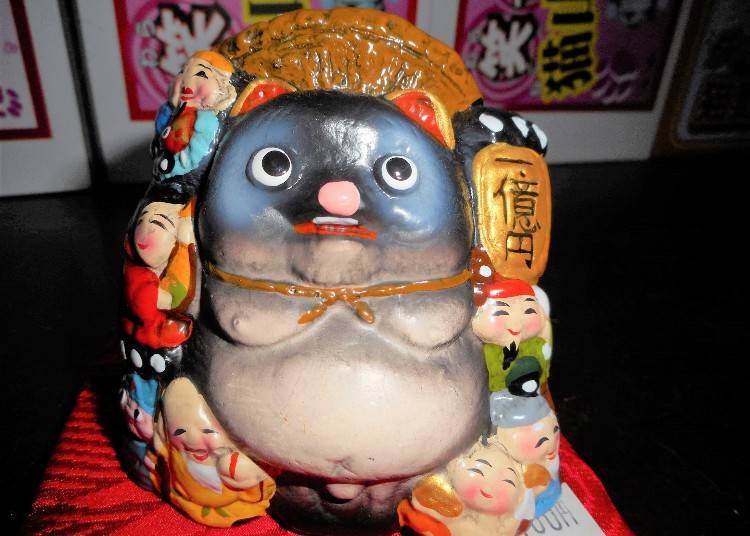 Shigaraki ceramic tanuki figures make great souvenirs because of the good luck they promise and the expressions and styles that vary by creator. Here are some recommended tanuki souvenirs.

1. 1 Million Yen Shichifuku Tanuki
This tanuki is surrounded by the Shichifuku, or seven deities of good fortune, and is bound to bring good fortune to you just by sitting in your home (1,700 yen plus tax). This popular figure is cute, colorful, and small in size (8.5x9x7cm), making it easy to display wherever you like.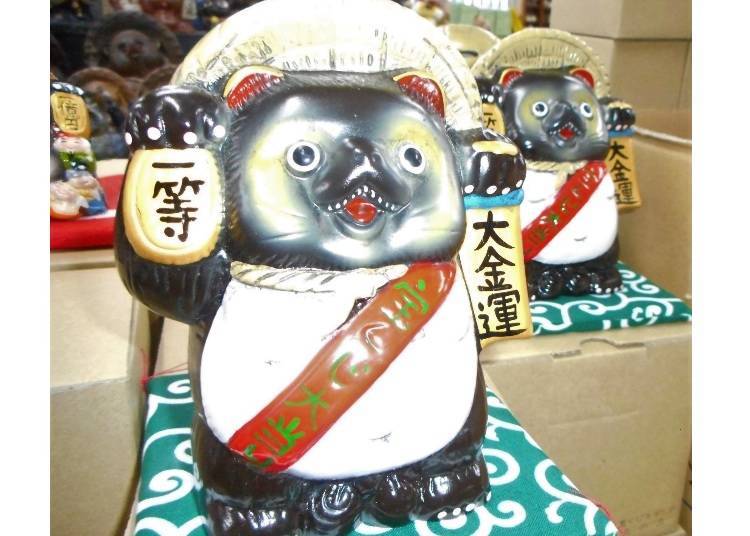 2. Lottery Jackpot Tanuki
This lottery jackpot tanuki will pray with you for your big lottery win! (1,500 yen plus tax). He is actually a piggy bank, and 13×12×12cm in size. Perhaps it is a good idea to buy a lottery ticket with the money he helps you save!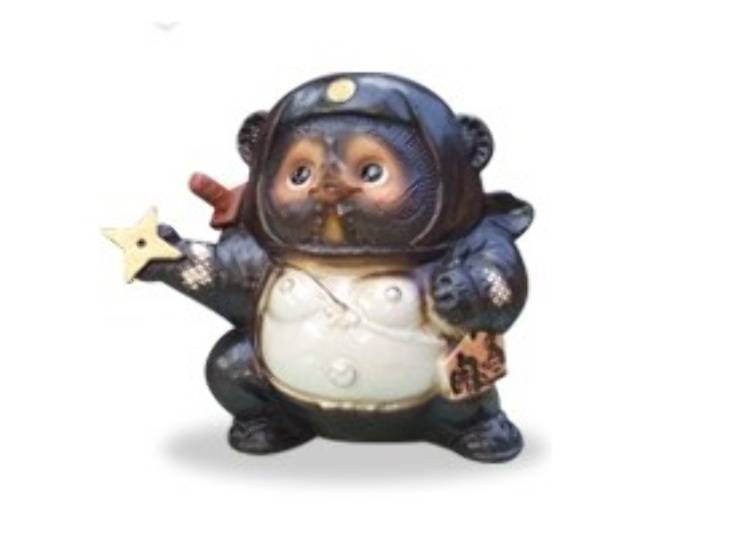 3. Ninja Tanuki
Koga City, Shiga Prefecture, is also famous as a ninja town, which is why Ninja Tanuki is here to represent. (Starting from 4,000 yen, plus tax). This tanuki figure is quite the cute one!
There are plenty more great ceramic items besides Tanuki figures!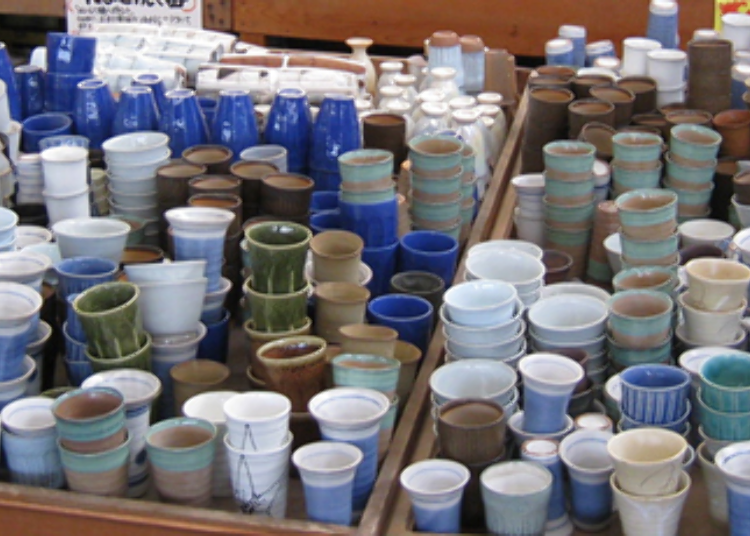 There are plenty of other Shigaraki ceramic wares besides the tanuki figures you see all over. Other popular items are teacups, vases, jars, and lucky pottery owls. Please handle with care as you browse. You just might be lucky to find some bargains.

Shigaraki ceramic tanuki come with a variety of expressions. Born in a historical ceramics town, each tanuki is made by hand and very unique. Take some time to search for your favorite tanuki. Before you know it, you may find yourself snapping photos of every tanuki you meet!
信楽陶苑 たぬき村

Address

1293-2 Shigarakichomaki, Koka, Shiga 529-1803

Phone Number

0748-83-0126

Hours: 9:00AM-5:00PM
Holidays: January 1-5
Access: Ride the JR Biwako Line via Kusatsu Station or JR Kusatsu Line to Kibukawa Station; transfer to Shigaraki Kogen Railway and get off at Kumoi Station; 7-minute walk
Text by:WESTPLAN
*This information is from the time of this article's publication.
*Prices and options mentioned are subject to change.
*Unless stated otherwise, all prices include tax.