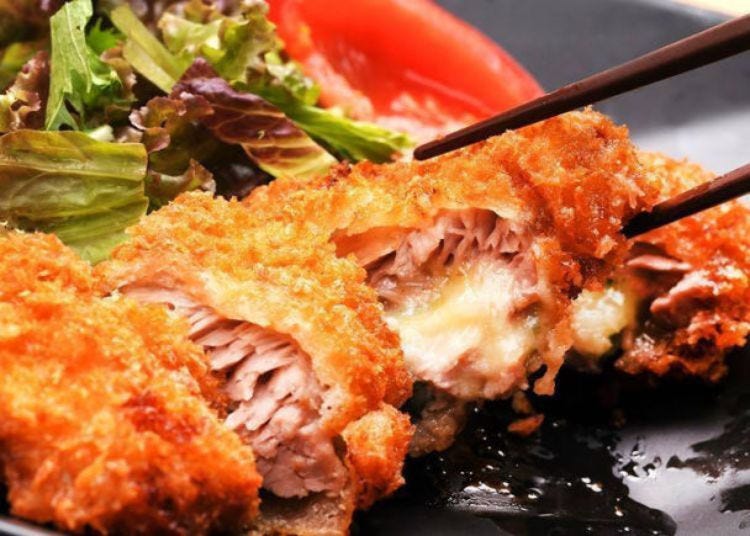 Chicken Cheese Katsu is a very popular dish in Japan, consisting of melted cheese sandwiched between two slices of chicken cutlet.

This chicken cheese katsu recipe uses ingredients that are readily available overseas (like chicken breast and cheese) so that you can enjoy this Japanese dish no matter where you may be!

The recipe is designed by cooking instructor, Toshihiro Minami, and includes an instructional cooking video so that you, too, can easily cook it yourself.
Chicken Cheese Katsu: A Plump, Popular, Cheese-Filled Chicken Dish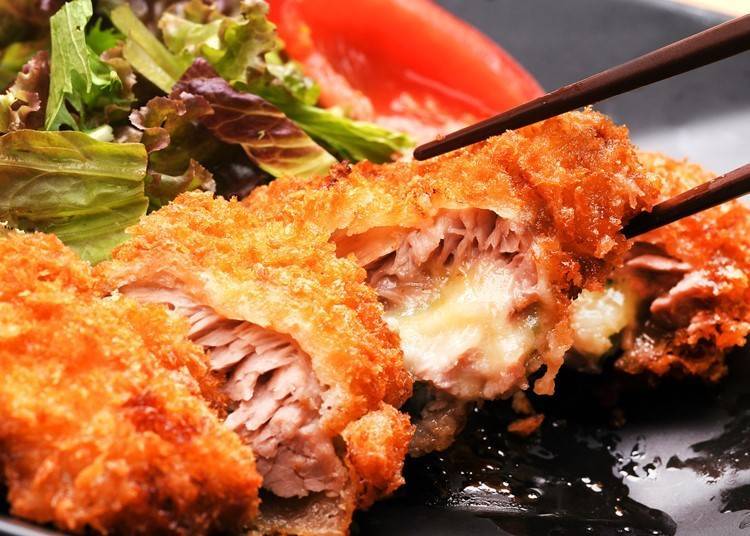 Chicken Cheese Katsu is a delicious chicken cutlet coated with flour, egg, and panko bread crumbs, and fried in oil. Meat dishes were imported from various foreign cultures into Japan around 1870. Recipes expanded from beef to pork, and finally chicken. Soon, Japan's chicken katsu was born.

Most chicken dishes are made from thigh meat, breast meat, or fillets. Today's chicken cheese katsu recipe calls for 'sasami katsu' (chicken tenders in English), with soft, melted cheese sandwiched between each piece for a plump, cheesy texture.
How to Make the Perfect Sauce For Your Chicken Cheese Katsu!
Sauce Ingredients (serves 4)
・Ketchup (40g)
・Soy sauce (40mL)
・Sugar (20g)
・Vinegar (20mL)
・Dash of pepper

How to Make the Sauce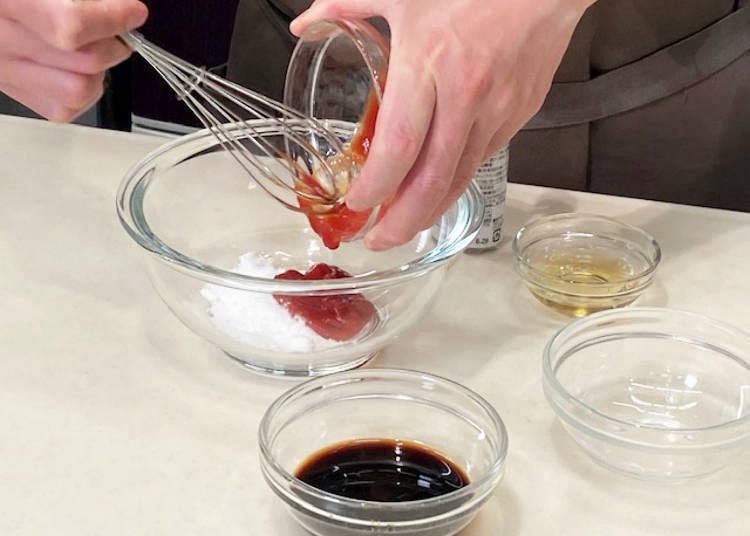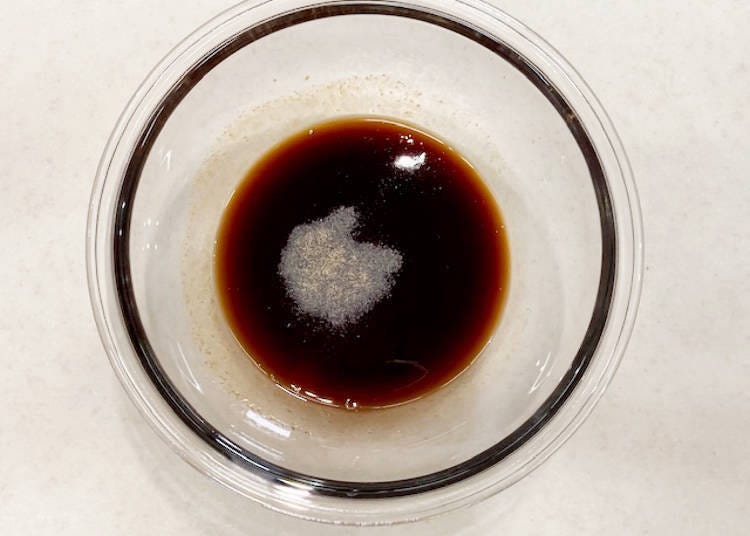 Thoroughly mix the ketchup, soy sauce, sugar, and vinegar together, and add a dash of pepper. (Do not mix pepper!)
How to Make the Perfect Chicken Cheese Katsu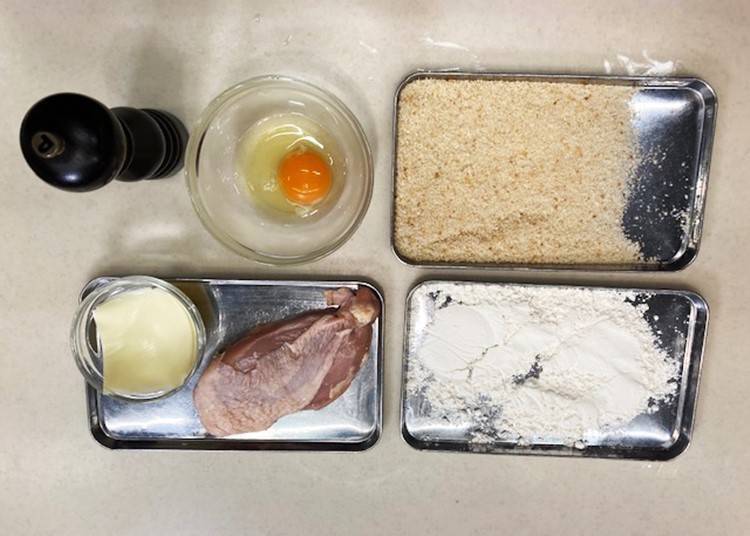 Chicken Cheese Katsu Ingredients (Serves 2)
・Chicken breast (300g)
・2 slices of cheese (we recommend cheddar)
・Cake flour (as needed)
・Bread crumbs (as needed)
・Eggs (as needed)
・Vegetable oil (as needed)
・Pinch of pepper
・Sauce (as needed)

How to Make Chicken Cheese Katsu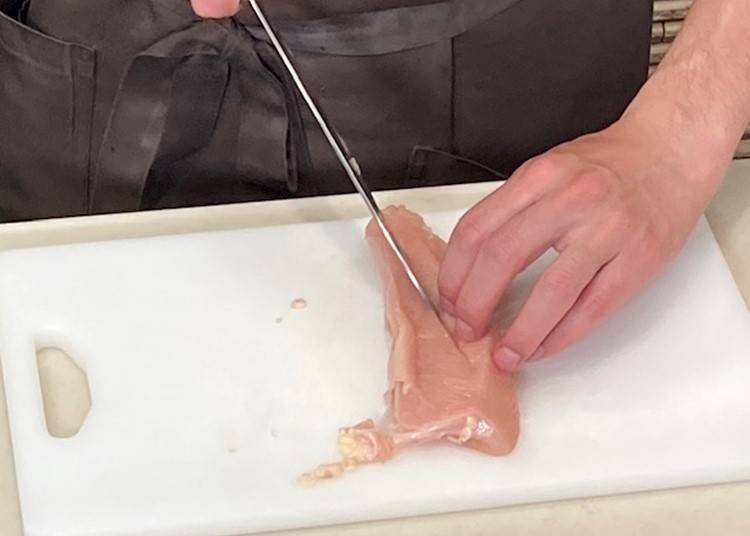 1) First, cut chicken breast into halves. Make a pocket-shaped cut in the center of each piece and sprinkle with pepper.
2) Place a slice of cheese (sized slightly smaller than the chicken breast) into the pocket and press shut firmly with your hand. But be careful! If the cheese slice is too big, it'll ooze out when frying.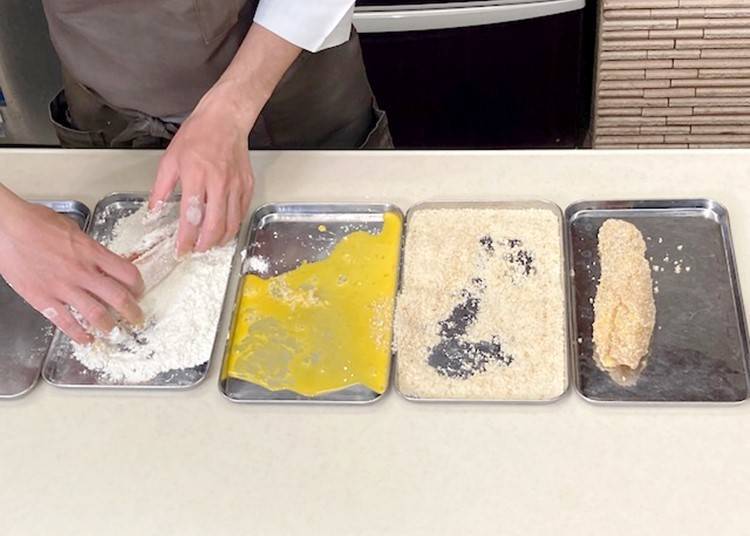 3) Batter chicken breast with flour, beaten egg, and bread crumbs (in that order).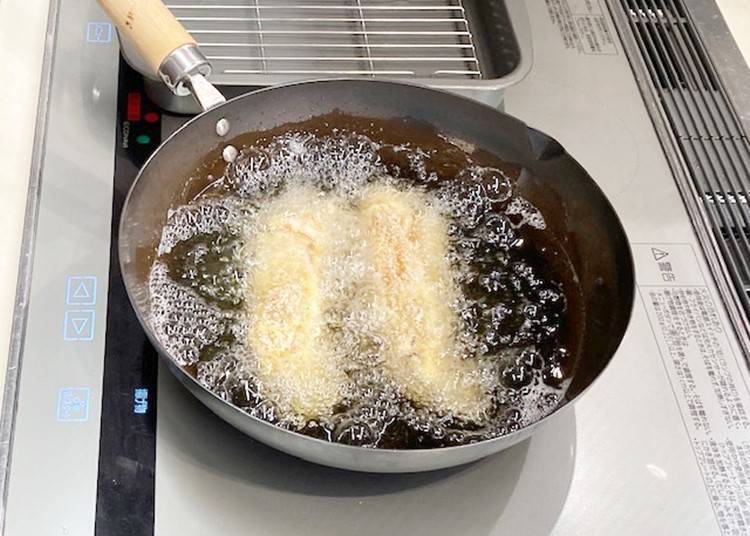 4) Add vegetable oil to the pan, heat to 170℃, and fry the chicken until golden brown.
5) After frying, place on a cutting board and cut into bite-sized pieces. Drizzle with sauce if you like.

Savor the thick, melted cheese as it oozes from the juicy, tender chicken! In Japan, many enjoy this dish with rice; however, it also makes the perfect accompaniment for beer and wine.

Chef Profile: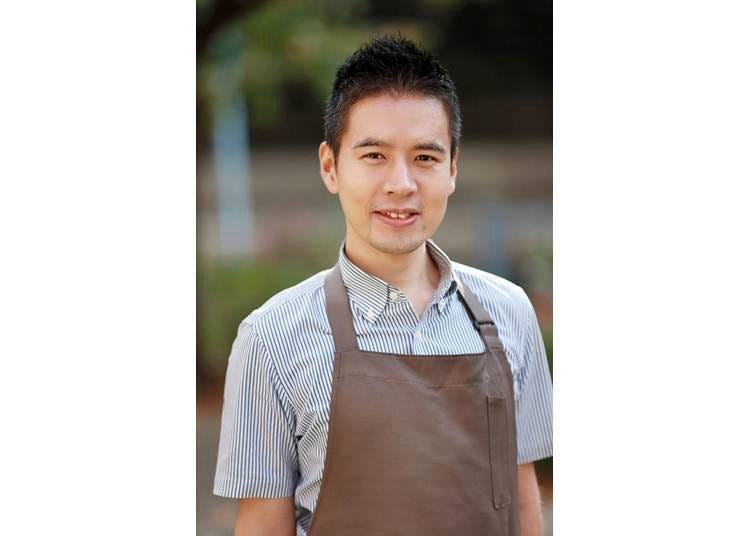 Toshihiro Minami, manager of cooking studio Osaka Delicious. After entering the work force, he returned to school and changed careers to become a cooking instructor. He serves as a lecturer at cooking studio Osaka Delicious, while concurrently working on recipe development, as a cooking assistant, and on making TV appearances. In addition to general Japanese dishes, he can prepare a wide variety of foods, including Western and Chinese cuisine.


Osaka Delicious Official Homepage

Text by: Efeel Co., Ltd.
*Information in article as of February 2022.

Translated by: Krys Suzuki

▼More Easy Japanese Recipes You Can Make At Home!▼
*This information is from the time of this article's publication.
*Prices and options mentioned are subject to change.
*Unless stated otherwise, all prices include tax.