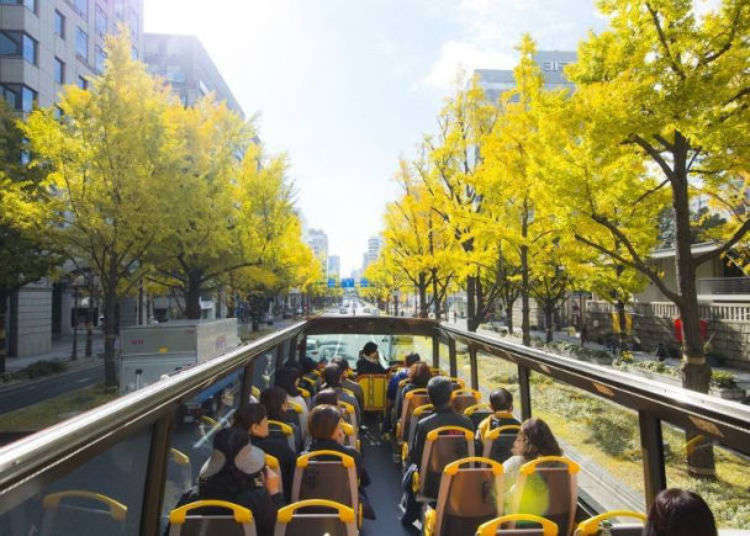 Osaka City features many attractions, both old and new, such as Osaka Castle, Tsutenkaku, Dotonbori, and Umeda. Today we will introduce a tour bus that will take you to all of Osaka's greatest highlights, as well as a sightseeing loop bus which you can conveniently hop on and hop off. With an open-top bus ride, you can enjoy sightseeing around Osaka in a different way than usual.

*Due to Coronavirus, both OSAKA SKY VISTA and Osaka Wonder Loop Bus are currently out of service. Please see the official websites for the latest updates and information.
What are Japan's Sightseeing Buses Like?
Sightseeing buses are mainly used for sightseeing trips and are generally operated by a bus driver as well as a tour guide. There are two main types: one that you can freely hop on and off at the various attractions along the way, and one where you cannot, remaining on board to see the sights from the bus.

Both types have attraction information and support available in English, a great perk that you wouldn't get when visiting by public transportation.
1. OSAKA SKY VISTA: A 360-Degree Panoramic View of the Sights of Osaka!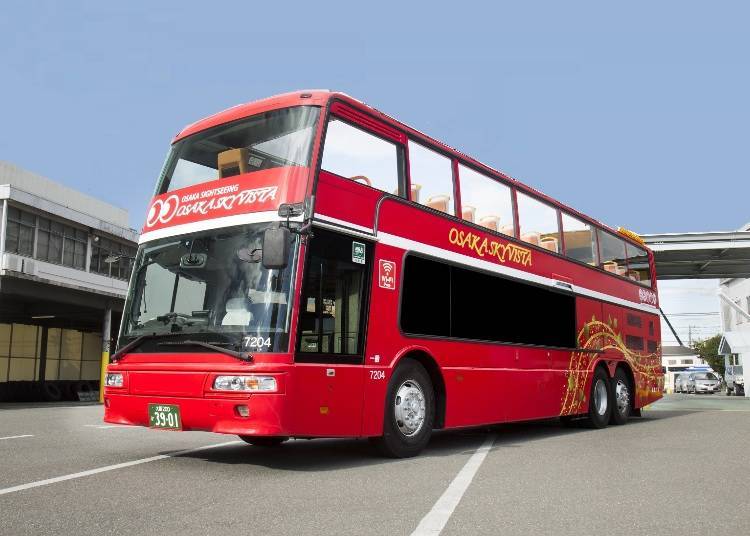 OSAKA SKY VISTA is a double-decker, open-roof bus that allows you to fully enjoy the highlights of Osaka on a 60-minute ride. You can select from the Umeda Route or the Namba Route. You can't hop on or hop off this bus once it is en route, but you can see some great sights such as Dotonbori, Osaka Castle, and beautiful illuminations from the dynamic open-top bus while enjoying the closeness of the roadside trees and the feel of the breeze.
Tickets on the day and easy Hop-on Hop-off system!
Departure and arrival is at the easily-accessible JR Osaka Station Expressway Bus Terminal. Tickets can be booked online (no foreign language support available at this time), or you can purchase tickets on the day of (English support available).

On the Umeda Route, you can enjoy the beautiful castle tower of Osaka Castle and the cherry blossoms of the Mint Bureau. On the Namba Route, enjoy the various streets of Osaka from the bus, including Dotonbori and Nihonbashi, as you drive along Midosuji, the main street of Osaka.

Each route is about 60 minutes long, so it is a good way to spend your free time while checking out the highlights before your main Osaka sightseeing trip!
So many traveler-friendly services!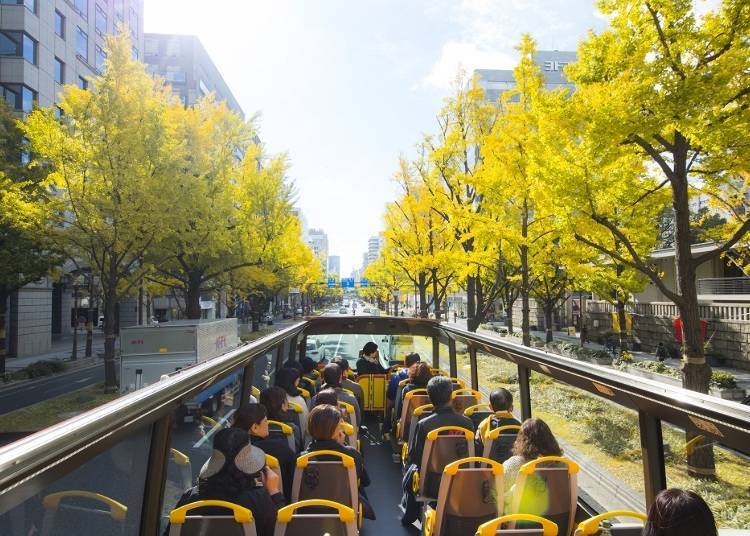 During the tour, the guide will explain the history of the tourist spots and the origin of their place names. Here you can discover many new charms of Osaka. However, as the bus guide will only conduct the tour in Japanese, you will be given a multilingual translation guide that uses GPS when you board (available in English, Chinese, Korean). There is also free Wifi, and large bags and suitcases are permitted, so it is very popular with foreign tourists!
Beautiful seasonal scenery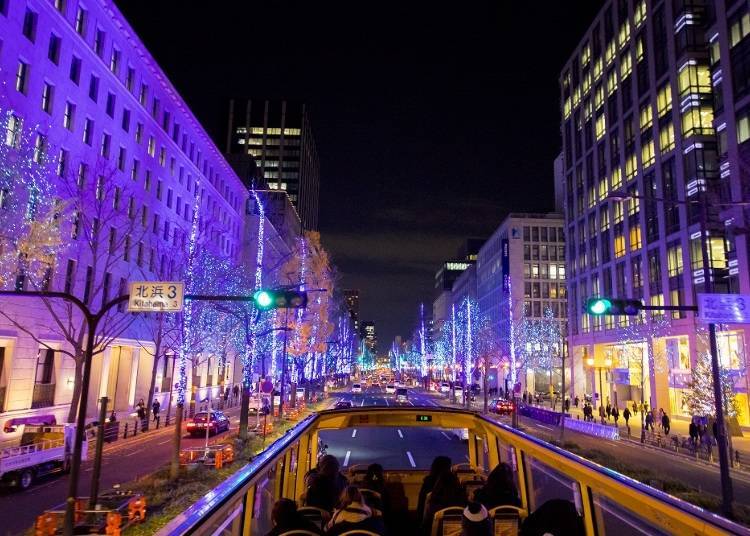 When you take the special night-view ride, available from early November to December, you will find yourself passing through the beautiful lights of the Midosuji Illumination! In the spring, the Umeda Route offers a great view of the cherry blossoms of the Japan Mint and Sakuranomiya Park. From the Namba Route, you can even enjoy the neon lights of Dotonbori at night.

OSAKA SKY VISTA
Phone: 0570-00-2424 (West Japan JR Bus Reservation Center)
Hours of Operation: 9:30AM-6:20PM
Price: Adults: 1,500 yen
Regular Holidays: None
*Tickets can be purchased online, by phone via the West Japan JR Bus Reservation Center, or at the Osaka Station JR Expressway Bus Terminal Ticket Center
OSAKA SKY VISTA
2. Osaka Wonder Loop Bus: The Only Hop-On, Hop-Off Osaka Sightseeing Loop Bus Connecting 14 Attractions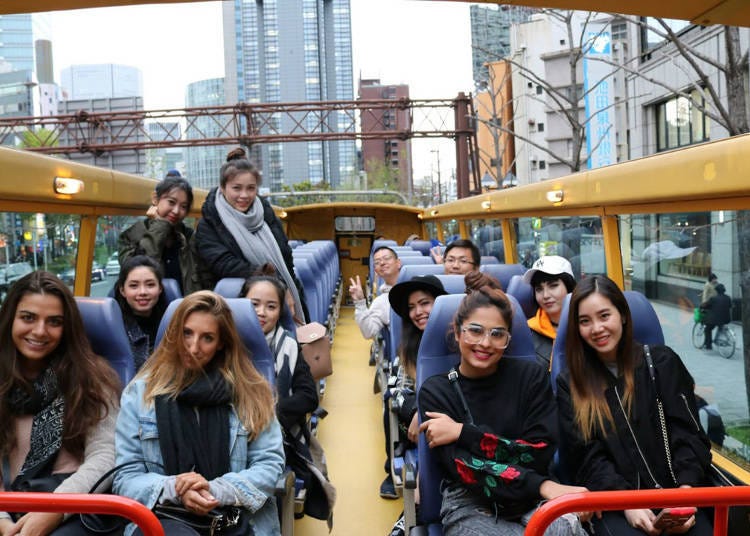 The Osaka Wonder Loop Bus is a looper that connects 14 sightseeing attractions, including Osaka Castle, Dotonbori, and Shinsaibashi. It is the only bus in Osaka that allows you to get on and off at any stop, as often as you like, and it runs daily from 9:00AM to 8:09PM. The open-top roof of the bus offers a powerful feeling of freedom that you would not experience riding any other ordinary bus!
No worries on rainy days!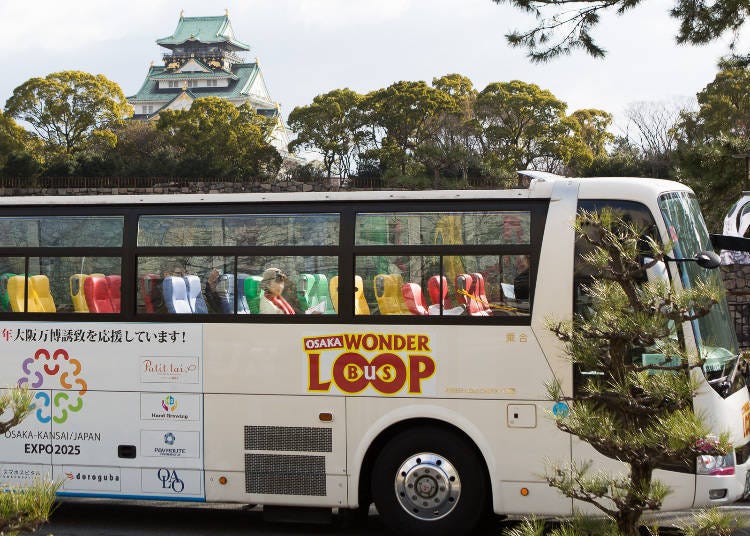 Buses run from Umeda Sky Building in the northern area to Abeno Harukas in the south, stopping at 14 different attractions centered around Namba Parks. In addition to open-top buses, there are comfortable, covered buses with air conditioning in the summer and heating in winter. In the summer, cooling packs and fans are distributed and chilled mineral water is sold. In winter, blankets and heat packs are distributed, and there is even a bench coat rental service for free!
English-speaking "tourism concierge" on-board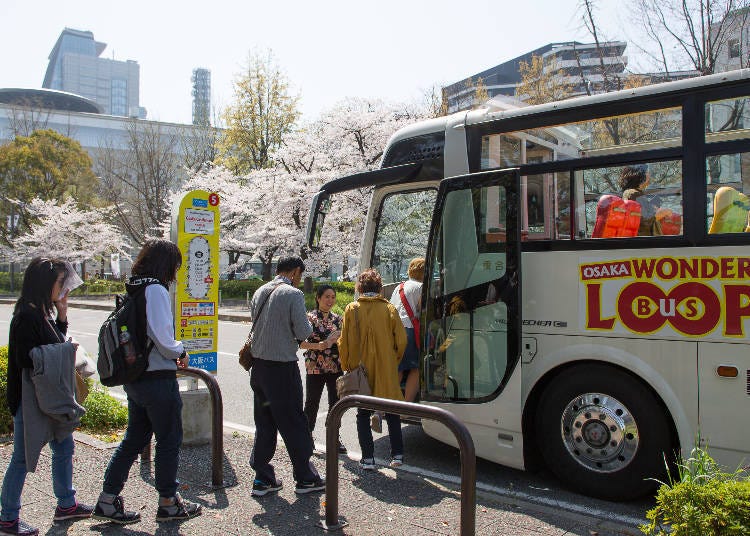 An English-speaking concierge will also board the Osaka Wonder Loop Bus and guide you through Osaka. This live guide in Osaka is unlike a regular tour guide, and will introduce city attractions, seasonal information, and recommended spots along the route. You can learn lesser-known information that even Kansai locals might not know. This trip is recommended not only for tourists, but Osaka residents as well!
Combine Your Trip with a Cruise Ship or the Osaka Metro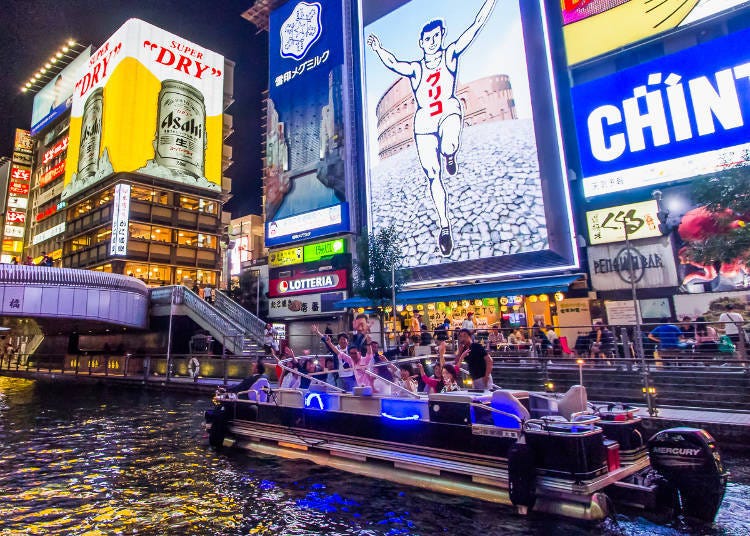 Although there are tickets to ride the Osaka Wonder Loop Bus alone, we recommend the Osaka City Pass, which also allows you to ride the Osaka Wonder Cruise, which connects to three Osaka City attractions, and the Osaka Metro, New Tram, and Osaka City Bus, in addition to the Osaka Wonder Loop. With the Osaka City Pass, you can get on and off any Osaka city bus. There are 1-day and 2-day passes available, so you can select the best option for your travel schedule.

Osaka Wonder Loop Bus
Phone: 06-6147-7763
Hours of Operation: 9:00AM-8:09PM
Prices:
Osaka Wonder Loop Bus 1-Day Ticket: 2,500 yen; 2-Day Ticket: 3,000 yen
Osaka City Pass: Osaka Wonder Loop Bus Ticket+Osaka Wonder Cruise 1 Ride Ticket + Osaka Metro/New Tram/Osaka City Bus (freely get on and off all lines) 1-Day Ticket: 3,000 yen; 2-Day Ticket: 3,500 yen
Regular Holidays: Irregular
*Tickets are purchased when boarding the bus. You can also buy them at travel agencies, Hotel New Otani Osaka, and at Osaka Tourist Information Center.
The OSAKA SKY VISTA is a great way to see all the highlights of Osaka City in a single ride in a short amount of time. For a more leisurely tour which you can get on and off as you like, the Osaka Wonder Loop Bus is another great choice. Both are comfortable and convenient for sightseeing, so be sure to take advantage of both if you can!

*The above article is based on information from May 2020
*This information is from the time of this article's publication.
*Prices and options mentioned are subject to change.
*Unless stated otherwise, all prices include tax.
Search for International flights