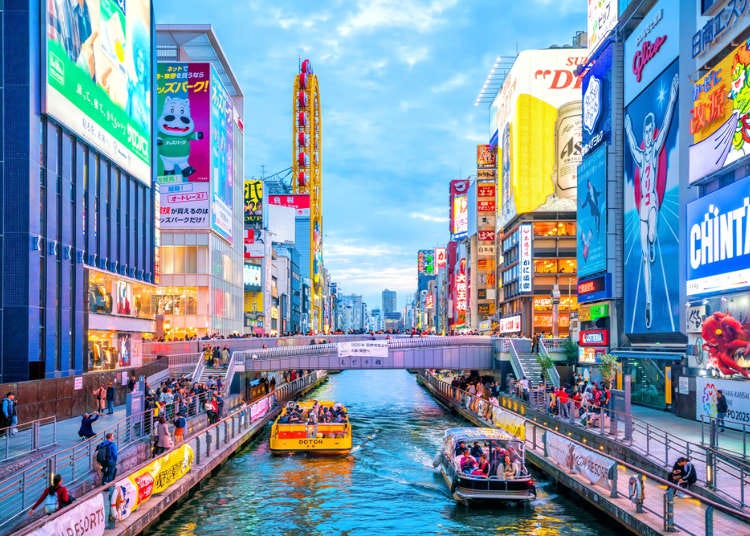 Here we share the perfect Osaka itinerary, packing all the highlights into two days.

Osaka has been enjoying a sharp increase in popularity among foreign visitors. As one of Japan's major urban areas it has attractions that can rival those of Kyoto and Tokyo.

From the time you arrive at Kansai International Airport this itinerary will guide you to such major sightseeing spots as Osaka Castle, Universal Studios Japan, Dotombori, and other popular areas and spots.

f11photo / Shutterstock.com
Day One 10:00 a.m. - visit historical Osaka Castle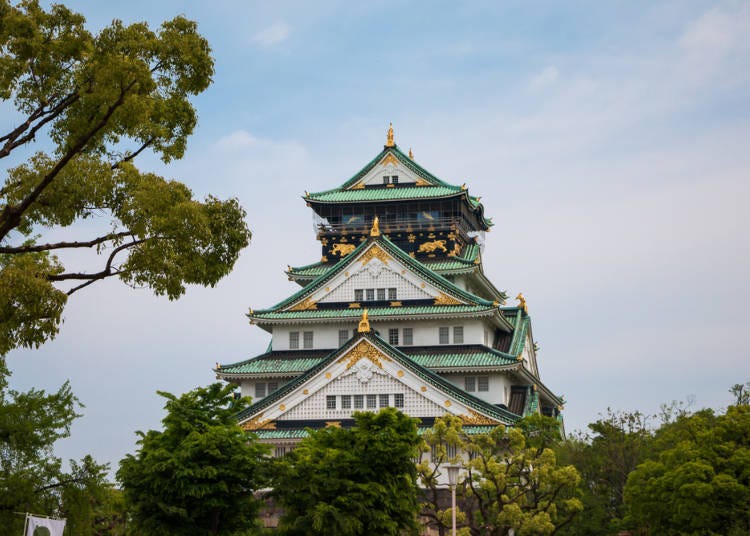 Visiting this famous landmark is the best way to start your sightseeing. It was built as the main castle of one of Japan's most famous warlords, Toyotomi Hideyoshi, in 1585. It was the largest structure at the time, a gigantic castle comprised of 5 stories and 8 floors, symbolizing the authority the Toyotomi Family had over all of Japan. The castle tower was twice destroyed by fire, once through warfare and once by lightning, the current tower being the third which was constructed in 1931. Being a faithful recreation of the original it has become a symbol of Osaka well known to its citizens and tourists alike.
The castle tower now serves as a historical museum and is open to the public. You can learn more about the history of Osaka Castle, including the famous battle Osaka no Jin which took place at Osaka Castle. The corner in the castle where you can try on replicas of helmets and garments worn by Sengoku era warlords is also popular.
Address

1-1, Osakajo, Chuo-ku, Osaka-shi, Osaka, 540-0002
View Map

Nearest Station

Osakajokoen Station (JR Osaka Loop Line)


Phone Number

06-6941-3044
Day One 11:30 a.m. - have lunch at a ramen shop in the old castle town!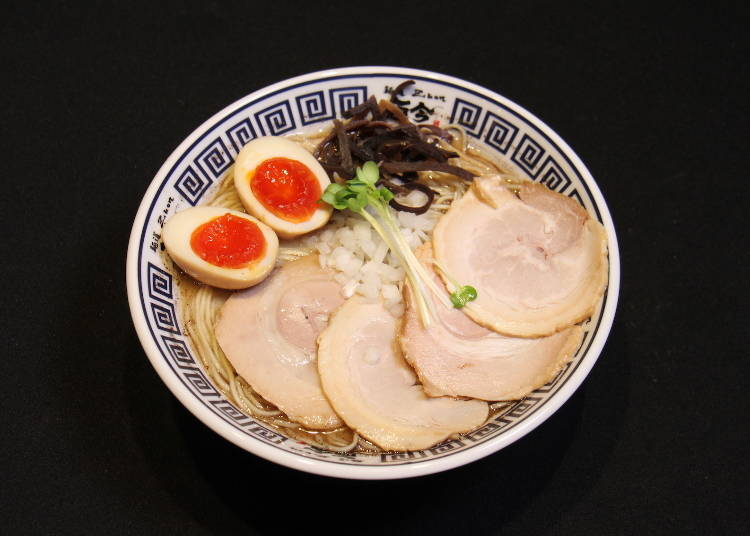 Head to JO-TERRACE OSAKA that is near Osaka Castle for lunch. Enjoy typical Japanese ramen on the Osaka Jokamachi floor with its traditional Japanese atmosphere and which opened in May 2019. Here there are seven shops representative of various regions in Japan where you can select a type of ramen of your preference.
The most popular is the famous Osaka shop Mendo Jikon. The 1,100-yen Special Natural Salt Superior Littleneck Clam Soba, the soup of which is made with whole chicken and pork bones seasoned with natural salt, is popular for its refined taste.
There is also a shop in Osaka Jokamachi [Osaka Castle Town] where you can enjoy wagyu teppanyaki and sample quality sake. This is a good place to enjoy a leisurely lunch.
大阪城下町

Address

3-1, Osakajo, Osaka Shi Chuo Ku, Osaka Fu, 540-0002, Japan (JO-TERRACE OSAKA E TERRACE 2F)

Telephone: 080-3756-3948 (Reception 10:00 a.m. ~ 5:00 p.m.)
Hours of operation: 11:00 a.m. ~ 9:00 p.m.
Admission: free
Closed: always open
Day One 1:00 p.m. - Enjoy yourself at Universal Studios Japan into the night!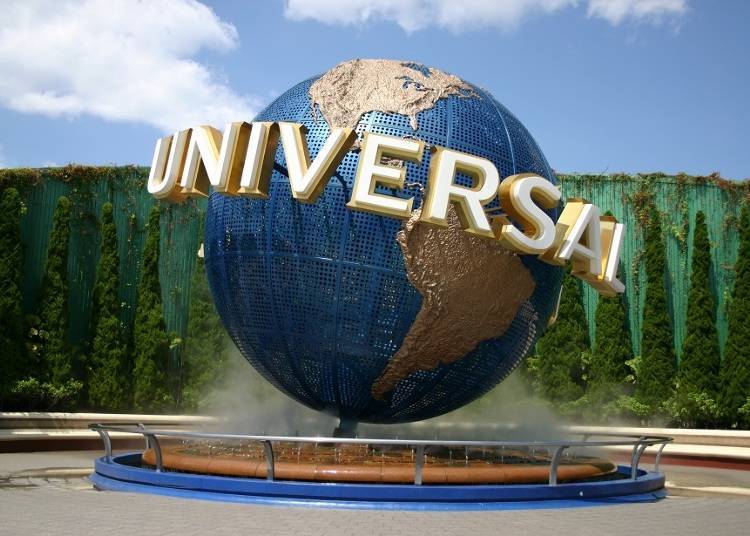 Image provided by Universal Studios Japan
After lunch head over to the Universal Studios Japan theme park for a day of fun! The park has the world's largest Minion Park and other popular attractions such as the Wizarding World of Harry Potter and the classic Jurassic Park Ride, popular ever since its debut. There are lots of exciting attractions awaiting you here. The park also has several good restaurants with excellent dinner menus, all of which are recommended.

As night envelops the park don't miss the Universal Spectacle Night Parade! You will be drawn into the world of films recreated by floats and projection mapping.
ユニバーサル・スタジオ・ジャパン

Address

2-1-33, Sakurajima, Osaka Shi Konohana Ku, Osaka Fu, 554-0031, Japan

Telephone: 0570-20-0606 (Information Center)
Hours: varies according to the day and time
Admission: varies according to the day and time
Closed: always open
* Please check the official website for details. https://www.usj.co.jp/
Day One 10:00 p.m. - Check in at the hotel in Umeda. Admire the night view of the city.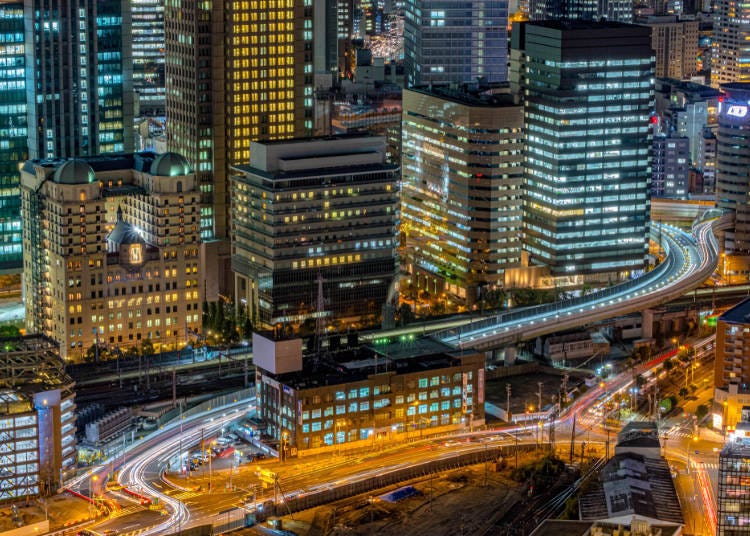 While savoring the memories of your time in the park move on to the Umeda area. Check-in at your hotel. Enjoy the beautiful night view unique to the city. If your room is on one of the upper floors of the hotel you will be afforded an excellent view of the many high-rise hotels around the JR Osaka Station.

Umeda is in the center of Osaka. It's fun to visit the downtown area and explore the bustling night life. After enjoying the city at night, get a good night's sleep and rest up for the second day.
Review of the first day's Osaka itinerary and methods of access
8:30 a.m. - Kansai International Airport
↓ Take the Kansai Airport Rapid Service from JR Kansai Airport Station, change to the Osaka Loop Line at Tennoji Station (going towards Tsuruhashi / Kyobashi) and get off at Osaka Castle Park Station
10:00 a.m. - Osaka Castle
↓ 5-minute walk.
11:30 a.m. - Osaka Jokamachi
↓ From JR Osaka Castle Park Station, take the Osaka Loop Line (for Tsuruhashi and Kyobashi), change to the Yumesaki Line at Nishikujo Station and get off at Universal City Station
1::00 p.m. - Universal Studios Japan
↓ Take the Yumesaki Line from JR Universal City Station, and change to the Osaka Loop Line (going toward Osaka / Kyobashi) at Nishikujo Station and get off at Osaka Station
10:00 p.m. - hotel in Umeda
Day Two 10:00 a.m. - View Osaka City from Umeda Sky Building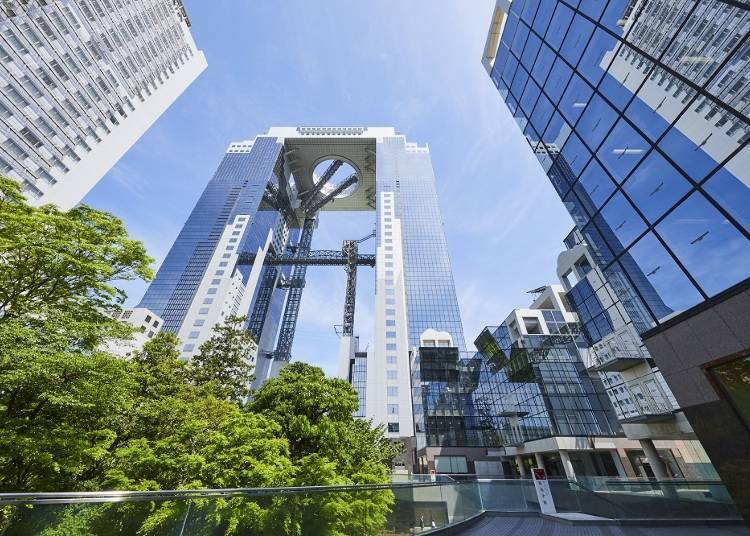 On the morning of the second day, start from the Umeda Sky Building, a landmark in the Osaka Kita area. The Floating Garden Observatory is located on the 39th and 40th floors and roof of the 173-meter tall building.

In particular, the roof of the corridor is open under the sky so you can enjoy a 360-degree panorama of the city. The see-through escalator, which connects the 35th to 39th floors, as well as the view from the observation floor, is acclaimed for creating the illusion of it feeling as though it were connected to the sky.

Also check the exterior of the building. This unique structure that connects the two high-rise buildings has also received worldwide acclaim.
Address

1-1, Oyodonaka, Kita-ku, Osaka-shi, Osaka, 531-0076
View Map

Nearest Station

Osaka Station (JR Kansai Main Line / JR Tokaido Line / JR Kyoto Line / JR Osaka Loop Line / JR Kobe Line / JR Takarazuka Line / JR Osaka East Line)
6 minutes on foot


Phone Number

06-6440-3855
Day Two 12:00 p.m. - What better way to enjoy lunch than by having Osaka classical okonomiyaki in Namba!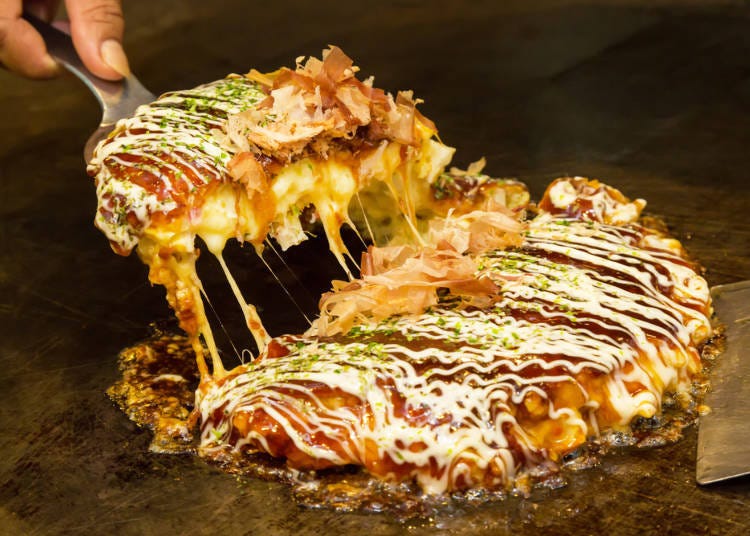 Head over to Namba in the center of the Minami area to enjoy a delicious okonomiyaki lunch. In the vicinity of the Sennichimae shopping area there are many famous shops so popular that lines of eager customers form outside them. The moment you set foot in a shop, the sound of food cooking on the grill and the savory smell of the sauce will stimulate your appetite. In practically all okonomiyaki shops the staff will carefully do the cooking, so you can just sit back and relax until it is ready to eat. Be sure not to touch the okonomiyaki until it has finished cooking at which time the staff will let you know that it is ready to eat!
The standard version is the Buta Tama which includes pork. In addition, there is a wide variety of other types, such as those with seafood ingredients like squid and octopus, and others that use lots of cheese. Try whichever type picks your fancy!
Day Two 2:00 p.m. - Take a leisurely sightseeing boat ride down Dotombori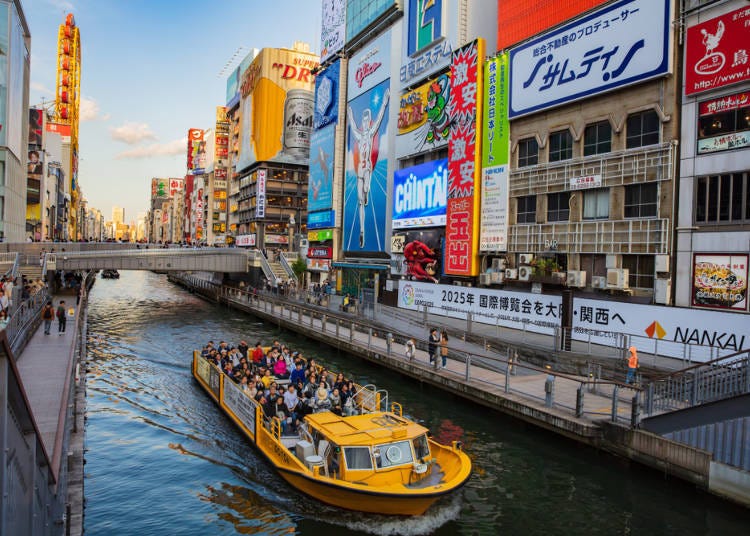 Yellow Cat / Shutterstock.com
After your meal, head to Dotombori, a tourist spot where you can get a feel of the "real Osaka". The scenery along the Dotombori, which flows east to west, and is lined with huge signboards is an impressive one-of-a-kind sight. The best way to get a good view of this area is to take the highly recommended Tombori River Cruise down the Dotombori River. You'll be amazed at the size of the Glico sign when viewed from the boat!
This cruise lasts about 20 minutes during which time the crew on the boat will tell you about the history of Dotombori and other anecdotes in English.
Address

7-13, Soemoncho, Chuo-ku, Osaka-shi, Osaka, 542-0084
View Map

Nearest Station

Namba Station (Midosuji Line / Yotsubashi Line / Sen-nichimae Line)
0 minute on foot


Phone Number

06-6441-0532
Day Two 2:30 p.m. - Strolling and shopping in Dotombori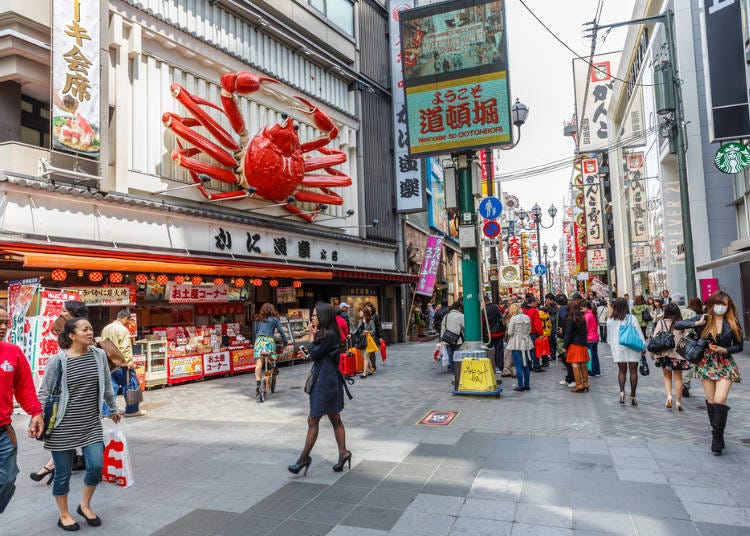 Tooykrub / Shutterstock.com
The last activity on our Osaka itinerary is a walk in the Dotombori shopping area to get a firsthand feeling of the vibrant atmosphere of Osaka. Like along the Dotonbori River, the flashy signs that line this street are its trademark. It is a real pleasure to take commemorative photos in front of these unique signs featuring giant crabs, octopus, and dragons while walking about this area. Along the street you will see takoyaki being cooked in front of shops and these make great snacks hot off the grill, something you really should try.
Many of the shops also sell local gift products. Unique sweets and small items, such as those using the motif of Dotombori signboard characters, line the shops. These make wonderful souvenirs to help remind you of your visit to Osaka after you return home.
Review of the second day's Osaka itinerary and methods of access
10:00 a.m. - Umeda Sky Building
↓ Take the Midosuji Line from Osaka Metro Umeda Station and get off at Namba Station
12;00 p.m. - Okonomiyaki shop (Namba)
↓ About 5-minute walk.
2:00 p.m. - Tombori River Cruise (Dotombori)
↓ Within short walking distance
2:30 p.m. - Dotombori Shopping Area
↓ Take the Nankai Line Airport Express from Nankai Namba Station and get off at Kansai Airport Station'
4:00 p.m. - Kansai International Airport

Text by: Bitakumi
*This information is from the time of this article's publication.
*Prices and options mentioned are subject to change.
*Unless stated otherwise, all prices include tax.
Limited time offer: 10% discount coupons available now!