Colors is a notoriously cheap outlet shop in with branches located throughout Osaka. With brand-new clothing, from both casual to more upper-class brands, found from as little as 100 yen, it has become a trending topic throughout Japan. Some prices have been noted to be marked as low as 95% off! If you find something in your size and favorite design, it will certainly be much cheaper than you'd find at any other outlet.

Today, we will introduce some amazing discount items found at the Colors Kitasenri shop, located just off Hankyu-Kitasenri Station!
Station Basement Shop: Directly Connected from Subway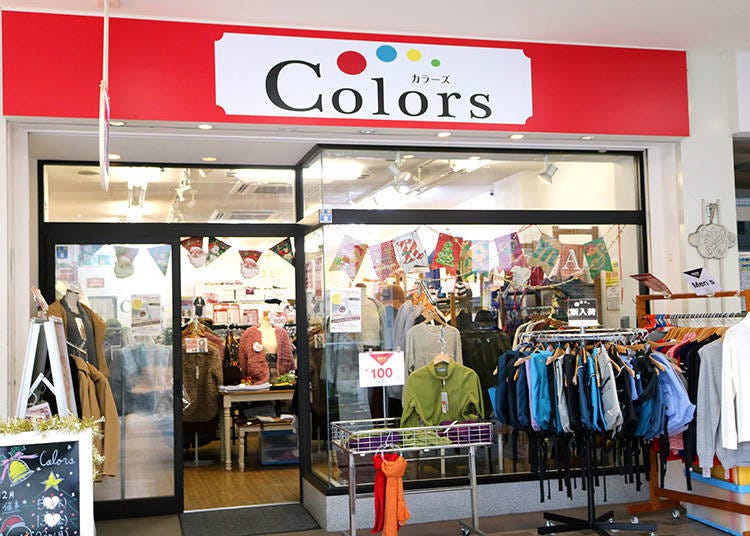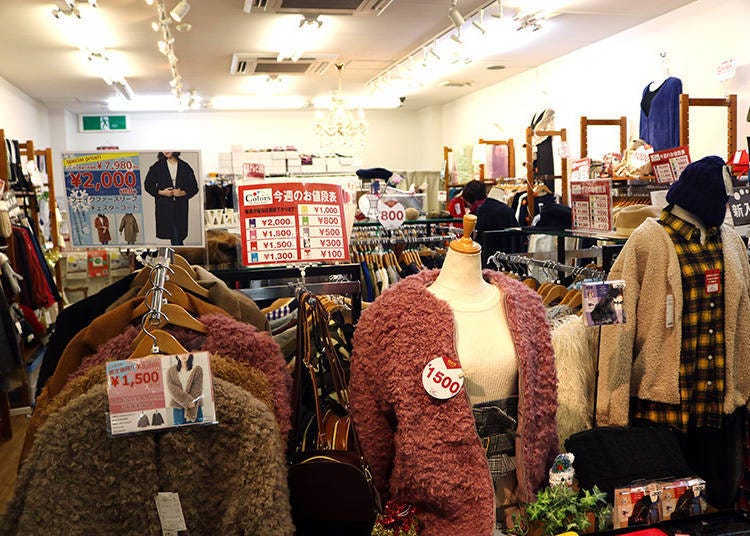 Colors Kitasenri is located near Kitasenri Station along the Hankyu-Senri Line, which crosses the Osaka Metro Sakaisuji Line. It can be reached by riding a single Osaka Metro Sakai Line train bound for Kitasenri, so it's pretty convenient!

Nearby there are many large supermarkets, apartments, schools, hospitals, and more, therefore there are also many local customers. Although the shop itself is quite small, inside you can find about 1,000 clothing items, 500 accessories, and even a fitting room.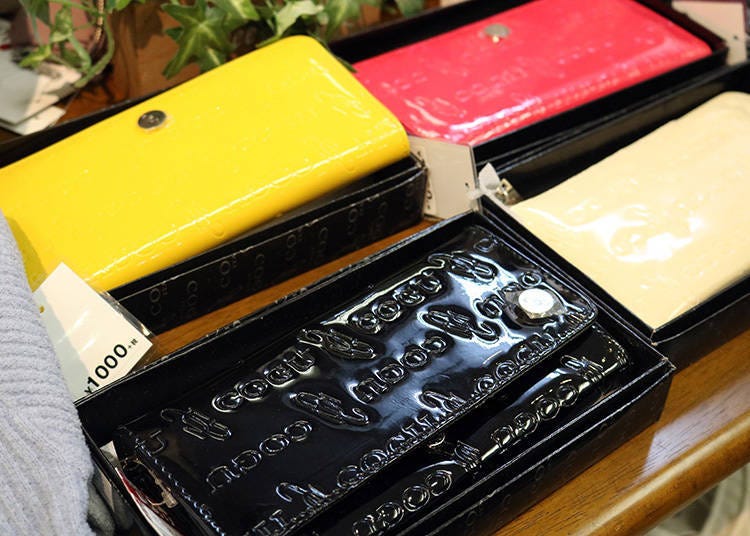 There are four Colors branches in Osaka, as well as a few overseas. However, small items such as some accessories, shoes, and small lot items are only found in the Japan locations. Some items can only be found specifically in Osaka's Colors Kitasenri branch, for the simple reason that the main brand shops are also nearby.
The least expensive items in the shop sell for 100 yen. We couldn't believe that was the price of a brand new clothing item!

There are plenty of amazing bargains at incredible prices, and while item availability and prices may change according to season, please feel free to use this as a reference for shopping. Items may not always come with the original price tags, but you will still find yourself shocked at the discounts applied.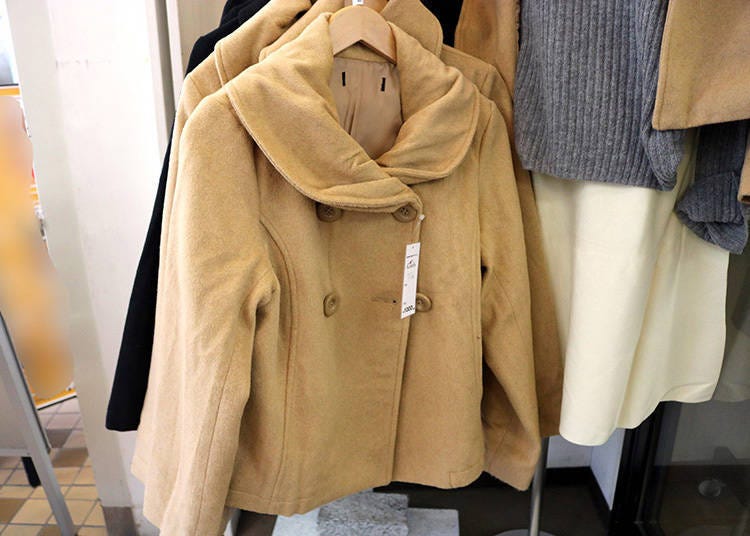 1. Deformed Collar Short Coat: High Quality Tag-Cut Item
Our first item is this Deformed Collar Short Coat (1,000 yen), a fluffy, cute, and eye-catching piece. Most clothing at this shop is usually sold with its basic brand tag still attached. However if you look closely, you will notice that the inside tag is cut off.

Tag-cut items are sold to hide the original brand name of the piece, many of which are rather high-quality. A number of customers come to the shop in search of these items in particular. You do not want to miss out on these great bargains. All you need is to hope your find it in your size.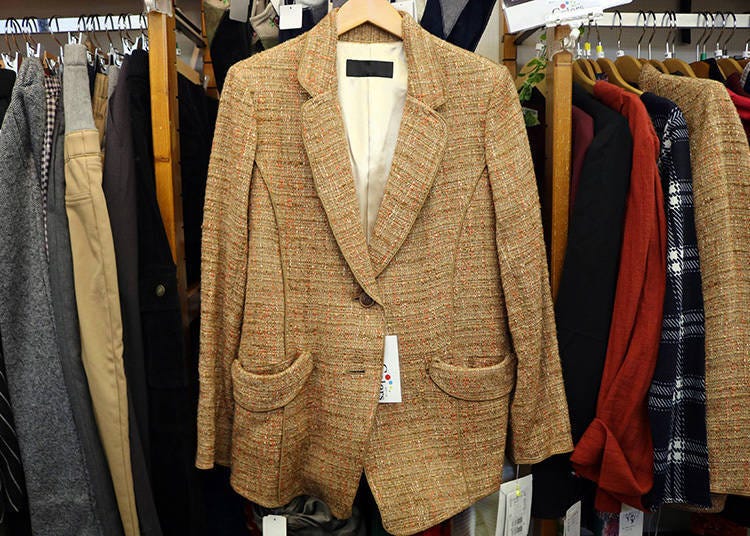 2. A 47,000 Yen Jacket... for Only 1,000 Yen!
Next up is this jacket we found for only 1,000 yen, which originally retailed at... 47,000 yen! Who would have expected such an incredibly high-quality item at such a steal? I myself had to double-take at the price. However, unfortunately, it was an XL, and not my size.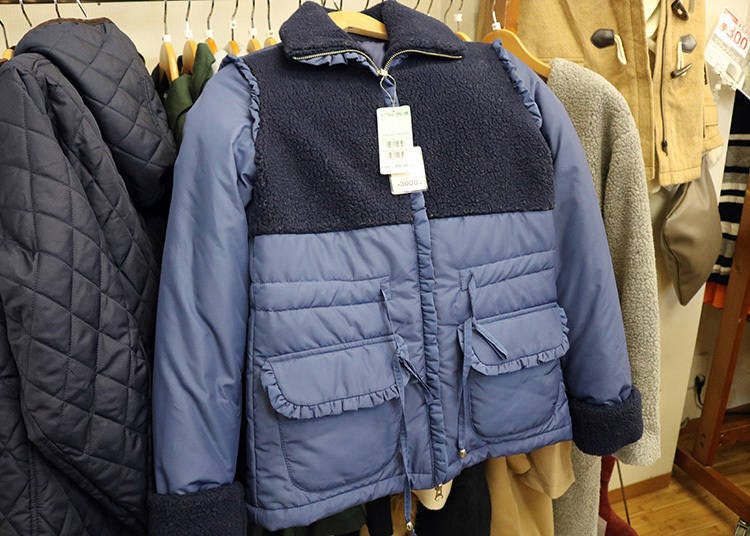 3. 34,000 Yen Jumper for 3,000 Yen
Our third item is this jacket/jumper, originally priced at 34,000 yen, but found here for only 3,000 yen. This item was recommended to us by the staff. It was said to be a new arrival from a popular brand, and the last one left. Items in this shop are always first come, first serve.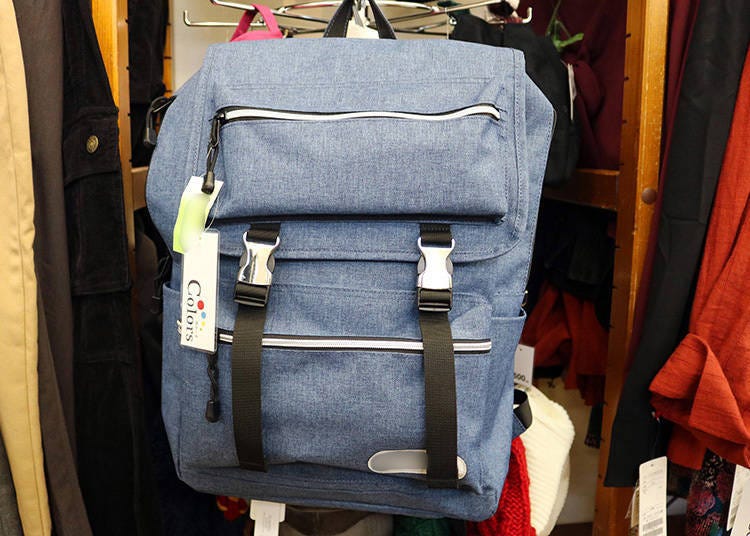 4. 6,800 Yen Backpack for 3,000 Yen
The fourth item is this solid, easy-to-use backpack, originally listed for 6,800 yen. There are other accessories such as bags and hats in the shop, including a fashionable gray "Clutchback Bonbon" bag for only 300 yen, originally priced at 5,990 yen.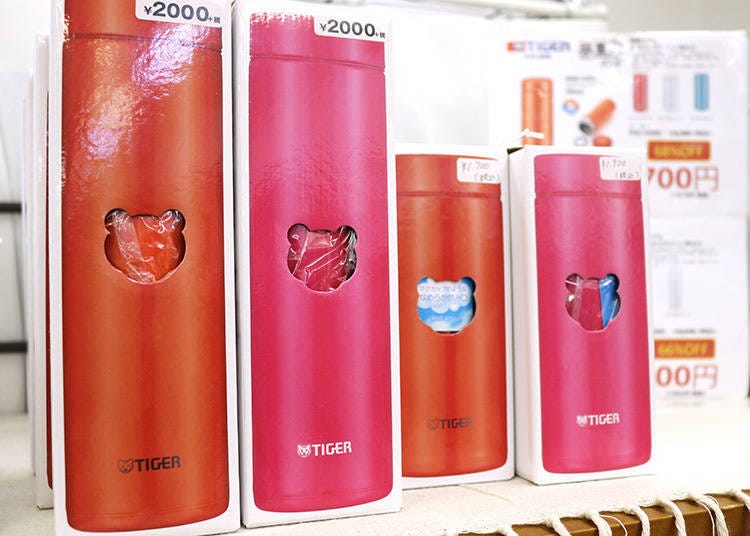 5. Stainless Steel Bottle: 70% Off Original Price
The fifth item was this Stainless Steel Bottle by Tiger, found at the miscellaneous corner inside the shop. They were available in two sizes: 0.35L for 1,700 yen (68% off list price) and 0.5L for 2,000 yen (66% off list price). Perhaps the colors were too vivid, and they didn't sell? Though usability is the same as any other regular product, at least we could get it less than half the original price.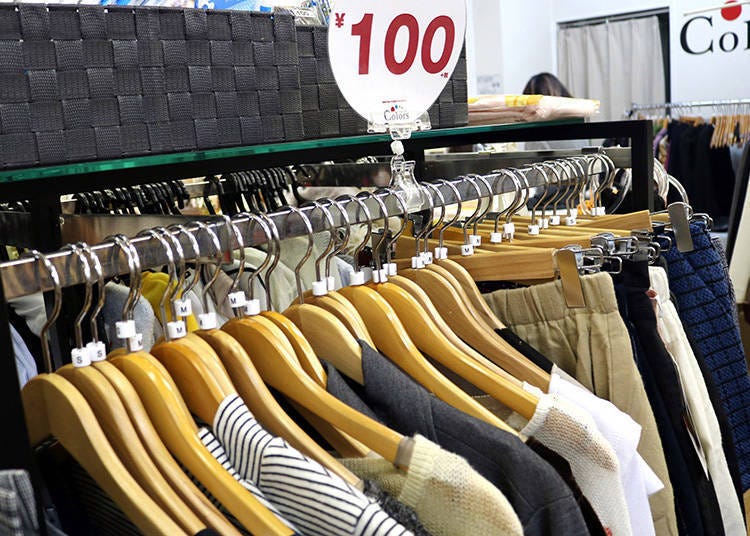 6. Super 100 Yen Corner
The sixth thing to check out during your visit is the amazing 100 Yen Corner, a clothing rack in the back of the store with basic blouses and pants that are easy to wear. For just one coin, and a cheaper price than a can of juice, you just might find something fresh to add to your style.
7. Popular Beauty Goods, While Supplies Last!
The seventh thing to check is the beauty goods section. There are popular items such as eye shadows and makeup sponges that usually sell out soon after arrival due to small quantities.
Better Bargain Wednesdays!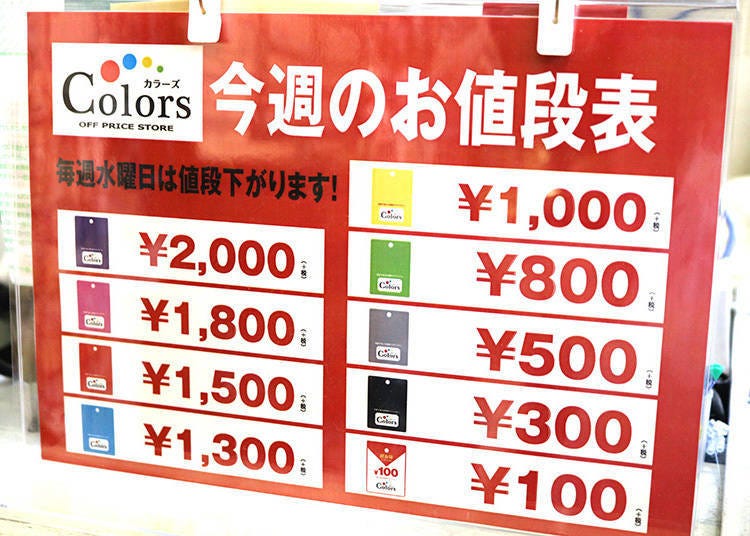 While all the items here are already cheap, Colors has special deals every Wednesday. You will see specially marked price tags in addition to the regularly colored tags indicating the additional price drop anywhere from 100 to 2,000 yen. Any unsold items that fall in the price range of 300 yen further drop to the 100 yen corner. It is a very attractive system!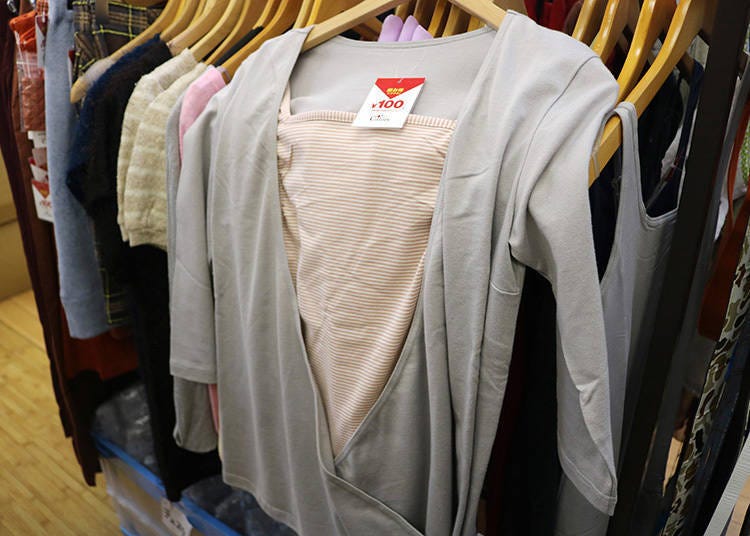 There are also events held at the plaza in front of Kita-Senri Station where you can sometimes find products even cheaper than seen in-store. Events are generally are held three times a month, usually on Wednesdays or Thursdays. Dates are only announced on the signboard in-store and at the station, however, so if you happen to make it, consider yourself lucky!

When you visit, do consider using LINE app. By registering as a LINE friend, you can receive one item of clothing, up to 1,000 yen in value!
The Reason for these Crazy Bargains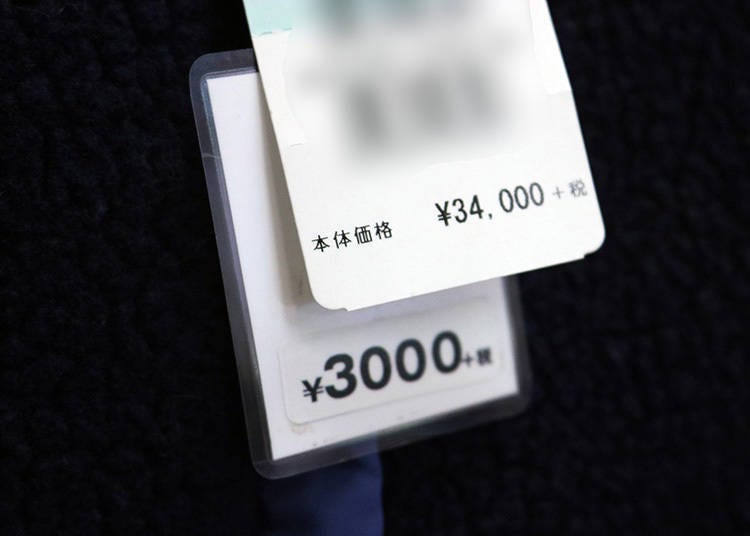 Why are these brand-new items so cheap? The secret lies in how they are purchased. Colors buys overstocked items from shops and brands in bulk. It is this bulk-buying of already over-produced supply that allows them to sell them so cheaply.

At other bargain outlets, you will commonly find a mix of lesser-quality items sold along with great deals, but at Colors, all of the items are always brand-new and unused.

So where does all this extra clothing inventory come from? One might not expect to find such quality items available at a bargain store. However, there are several reasons why a high-quality brand could develop surplus stock of their inventory. Here are four main reasons why some brands experience overstock.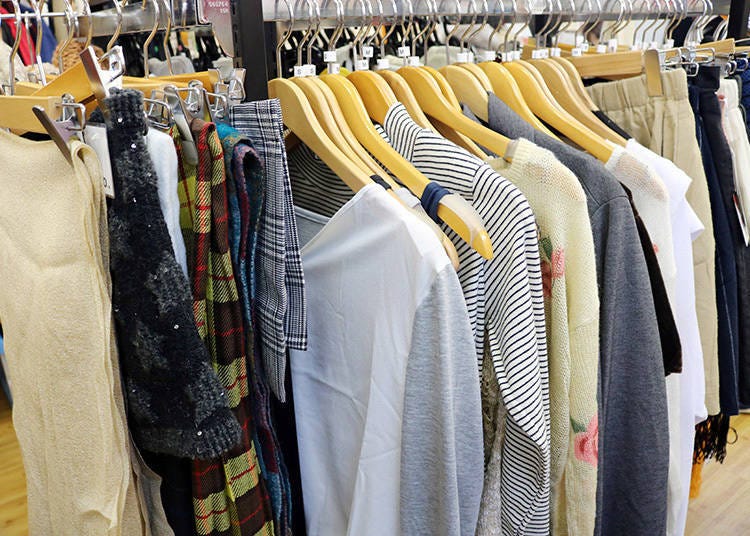 The first is from clearance sale items, which are usually tossed in order to make room for new design releases, get rid of over-produced inventory of popular products, and dispose of leftovers from account settlements and warehouse consolidations. Items may be out of season, however if you can find a favorite brand at a good price, it'll be worth it.

Second are "tag-cut" items. These are items from brands and shops that did not sell while in season. They are purchased without revealing the original brand name, and sold with the inner tags cut out. But don't worry - you can't see the tags when you wear them, so it won't affect the appearance. It's worth it for the super low prices you can find these quality items.

Third are items that have been either canceled or returned from the supplier due to reasons such as delays in delivery, or discrepancies in product orders.

Forth are products that are sold cheap due to low remaining stock. Because the purpose of the shop is to sell out of each item, getting rid of them is a higher priority than profiting from them, therefore prices can be very low.

Despite the varying reasons for all these items being priced super cheaply, there are no actual problems with the quality. And if you do encounter the occasional scratched or slightly damaged item, the price tag will always clearly reflect its condition, and the staff will also bring it to your attention before purchasing.
Bargain Hunting in Osaka!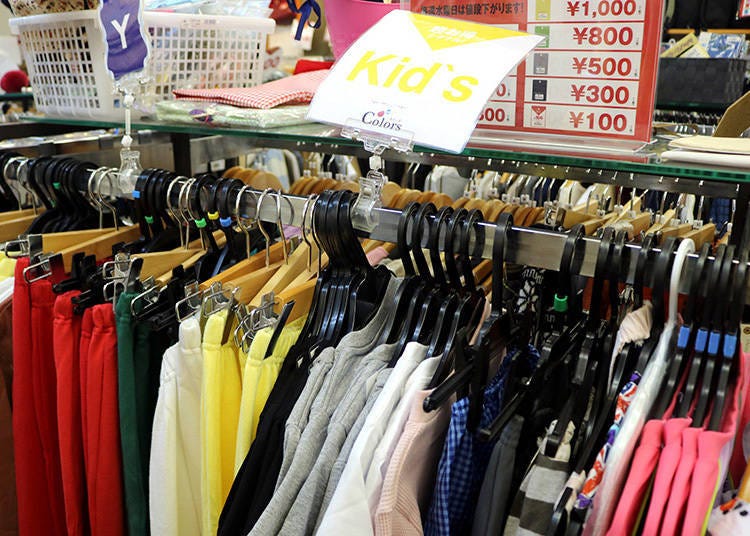 This shop also has a full lineup of men's and children's products. Because many products are made in Japanese sizes, the shop attracts plenty of customers from Asian countries. However, there is usually not much size difference when it comes to children's wear, so customers from Europe and the United States buy them, as well. Unfortunately, they do not offer multilingual support, however totals are displayed clearly on calculators, and they make it easy for foreigner shoppers to get by using numbers and gestures. Please note that payments are currently cash only.

Rieko Okamoto of the Colors Sales Department also shops here herself. She tells us, "Customers often say that they thought it was a used clothing shop because it's so cheap. But all our items are brand new and unused, and in many cases, even cheaper than a used clothing store." So if you come to Japan, be sure to pay a visit to Colors in Osaka, and search for your own favorite bargain items yourself!

*All prices in the article are tax exclusive.
*Products and prices shown reflect availability at the time of visit and are subject to change without notice.
Colors(カラーズ)

Address

Dios Kita-Senri 3-Bankan Bldg. 1F, 4-119 Furuedai, Suita City, Osaka, 565-0874

Phone Number

080-5555-5999

Hours: 10:00AM-7:00PM
Regular Holidays: None
*This information is from the time of this article's publication.
*Prices and options mentioned are subject to change.
*Unless stated otherwise, all prices include tax.