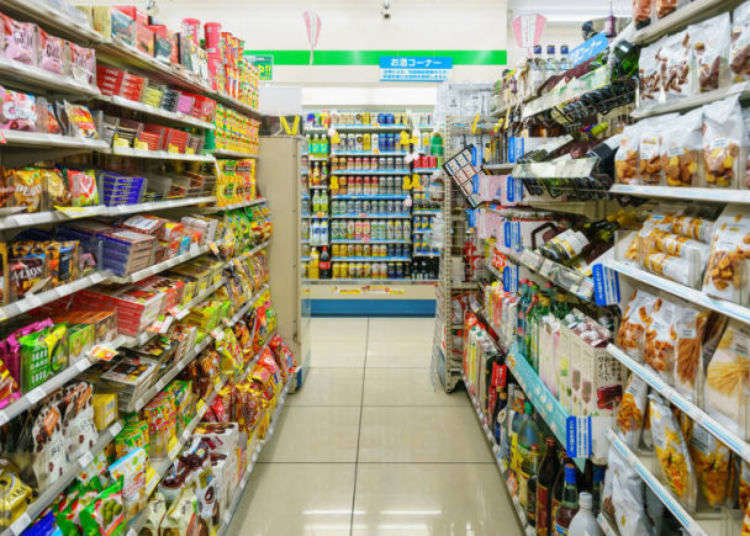 What are your memories of traveling to Japan? You may be surprised to know that many people answer, "The convenience stores (conbini) were impressive!"

The variety of products ranging from lunch boxes, sweets, and cup noodles to shampoo, toothbrushes, and other daily necessities, as well as being open 24 hours a day often leave an impression on foreign travelers.

These are the top 5 Japanese convenience store foods that are especially popular in the Kansai region!
There are so many regionally exclusive Japanese convenience store foods!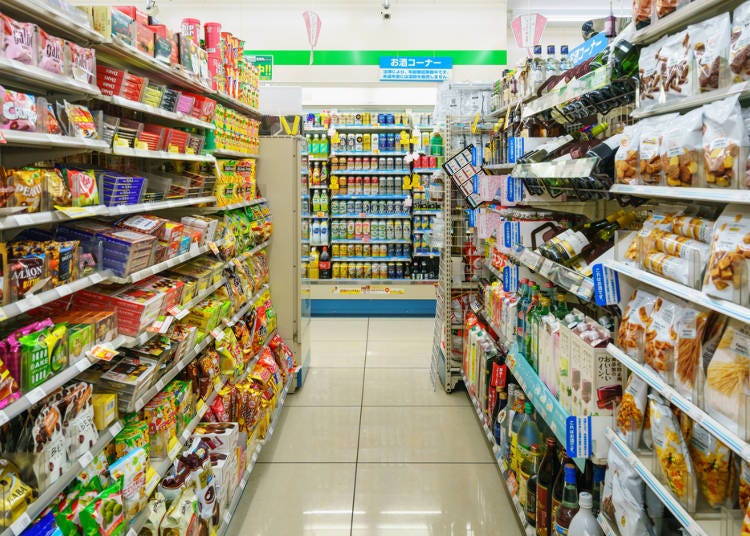 Tooykrub / Shutterstock.com
For the most part, convenience stores will offer the same basic product lineup at every store. That's why you can be sure to find the same quality wherever you go, making the chains truly convenient.

However, if you look closely, you'll find "limited" items in each region, as well as seasonal products that are preferred by local customers.

Various Kansai-limited products are available throughout Osaka, Kyoto, and Hyogo, and we've asked local writers to recommend some of their favorites. Here are five carefully selected Japanese convenience store foods you should definitely try when in the Kansai region.
1. Nissin Foods' Donbei Cup Noodles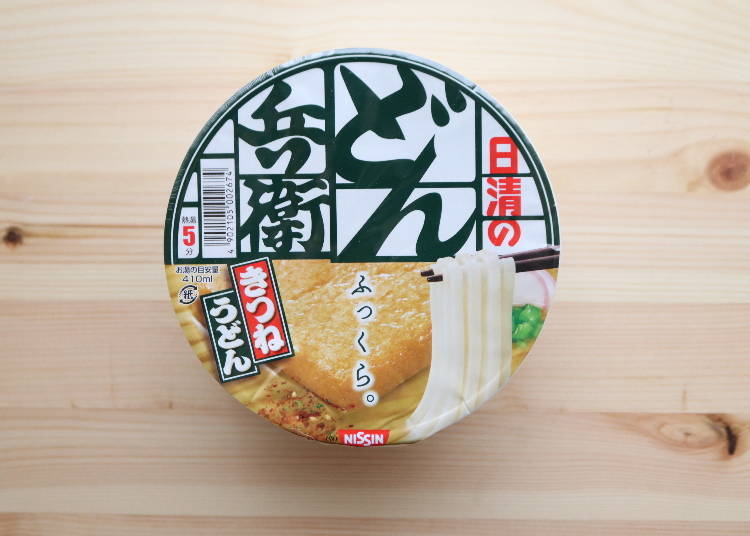 Easy to eat cup noodles are classic Japanese convenience store food. Store shelves are lined with seemingly unlimited flavors, and the price is reasonable.

Nissin Foods' "Donbei" is particularly popular. Although it's available throughout Japan, the taste of the soup in East Japan Donbei and West Japan Donbei is slightly different.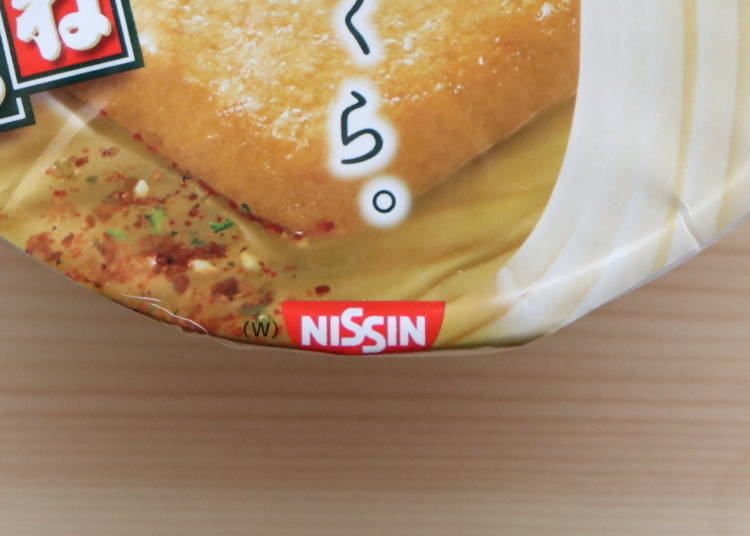 Because the packaging is almost identical, determining if it's the East or West version at first glance can be difficult. To find out, look to the left of the Nissin logo on each package, and you'll see a "W" for "West" (pictured above) or an "E" for "East."
East Japan Donbei has a richly seasoned soy sauce, while West Japan Donbei features a fragrant soy sauce "dashi" with kelp flavor. The attached packet of Shichimi (pepper seasoning) also has a gentle, savory flavor. If you like delicately seasoned Japanese food, you'll definitely enjoy the western Donbei!
2. Seasoned seaweed rice balls (onigiri)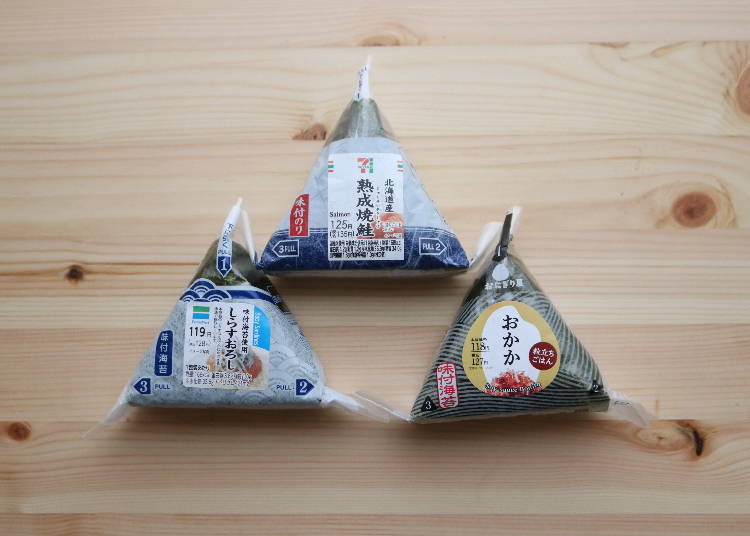 Rice balls wrapped in crispy seaweed are another Japanese convenience store food standard. Commonly called "onigiri", they come in a variety of flavors, but let's focus on the seaweed wraps themselves.

Osaka and other Kansai onigiri often use "seasoned seaweed" with a sweet and sour flavor. In other areas, simple unseasoned "baked seaweed" is common. While there are many seasoned seaweed rice balls on the shelves of convenience stores in Kansai, they are noticeably harder to find in Kanto.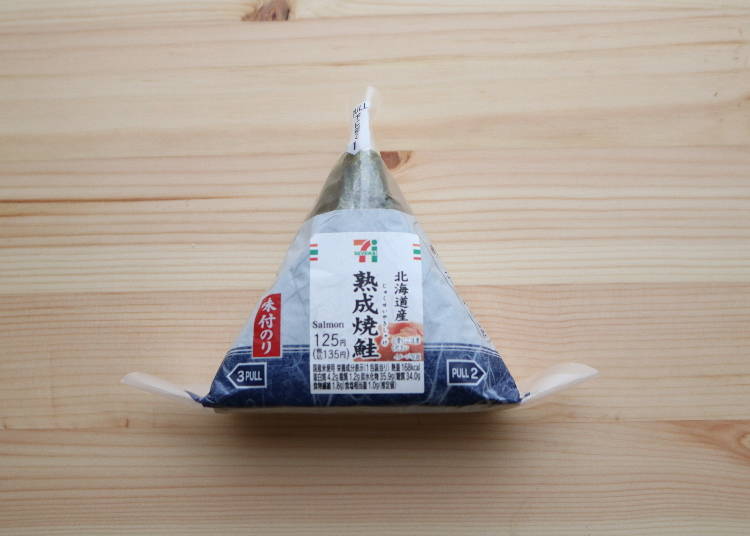 Look at the bottom left of the rice ball package to see if it uses seasoned seaweed. Written as 味付のりor 味付海苔, both mean "ajitsunori" – seasoned seaweed.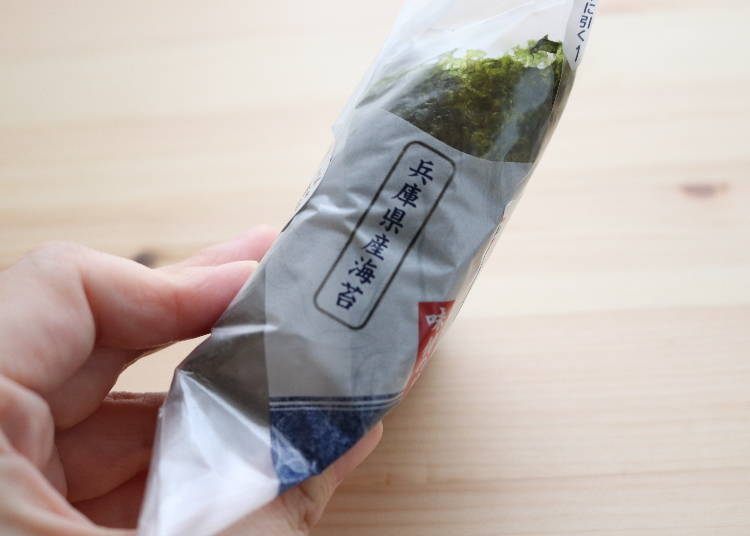 Seven-Eleven uses seasoned seaweed from Hyogo Prefecture
Seasoned mainly with soy sauce and sugar, seasoned seaweed has a much fuller taste than the grilled variety, and can make a rice ball even more delicious and satisfying. If you like Korean seaweed seasoned with salt and sesame oil, you might find Japanese seasoned seaweed irresistible!
"Sanmy" is a confection found only in Kansai. Much-loved by those born and raised in the area, this tasty treat is a cream-filled Danish drizzled with chocolate.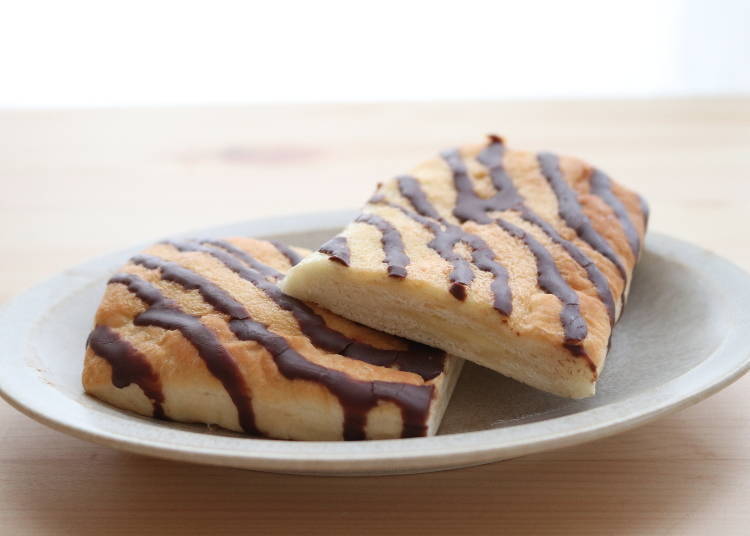 The cream has a milky flavor that's a perfect match for the soft Danish. You'll be delighted by their combination with the exceptionally sweet chocolate.

Representative of the tastes of Kansai, this nostalgic dessert is readily available at convenience stores and supermarkets across the region.
4. Calbee's Kansai Soy Sauce potato chips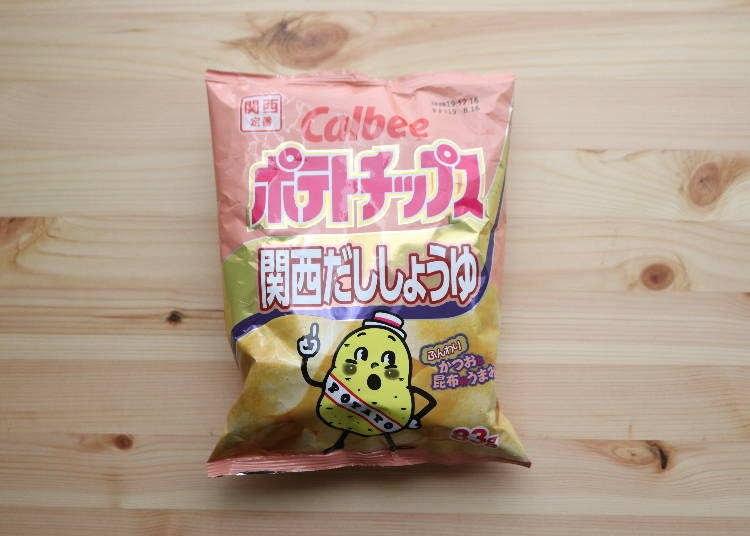 Enjoyed by customers of all ages, potato chips are a staple of convenience stores. In addition to the classic "Usushio" and "Consomme" flavors, there are numerous types of sour, spicy, and slightly sweet snacks on hand.

With the abundance of chips to choose from, it might be tough to decide which bag to grab, but you can't go wrong with Calbee's "Kansai Dashi Shoyu" potato chips in their distinct pink packaging.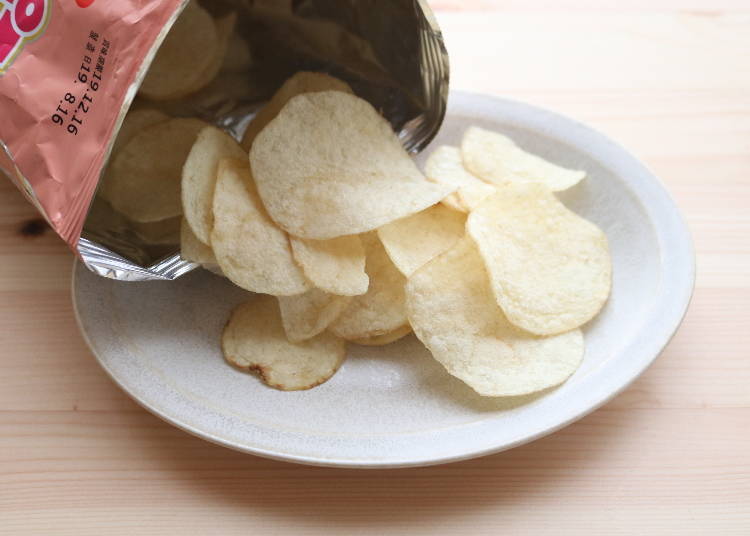 Similar to Donbei, Kansai Dashi Shoyu chips feature the kelp dashi flavor popular in the region. The light taste of soup stock is countered by rich soy sauce flavoring, creating a wonderful balance.

Interestingly, Kansai Dashi Shoyu potato chips can also be found in Toyama, Ishikawa, and Fukui prefectures.
5. JA Kinan's Kiyomi Orange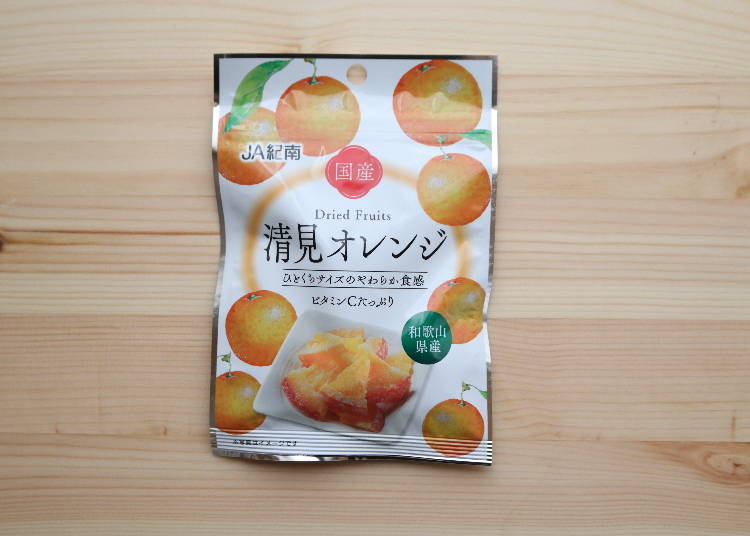 The previous four products can be found at any konbini, but "Kiyomi Orange" may be a little more difficult to find. We found this delicious snack at Lawson.

Produced by JA Kinan, an agricultural cooperative found in the southern part of Wakayama Prefecture, these dried oranges are carefully prepared to retain a moist, soft texture.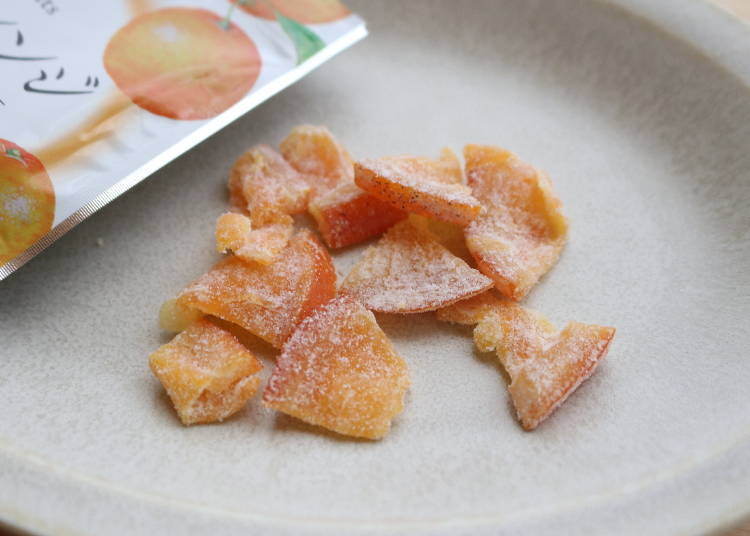 Kiyomi oranges are boiled at low temperature to draw out and concentrate their flavor. Even the bitter taste of the peel is exquisite!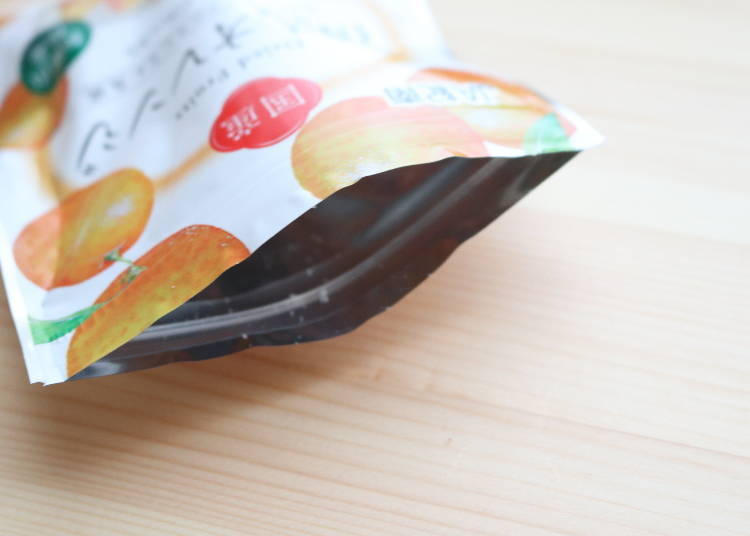 Sold in a pouch a little smaller than the palm of your hand, this snack is easy to carry in your bag and makes a good souvenir.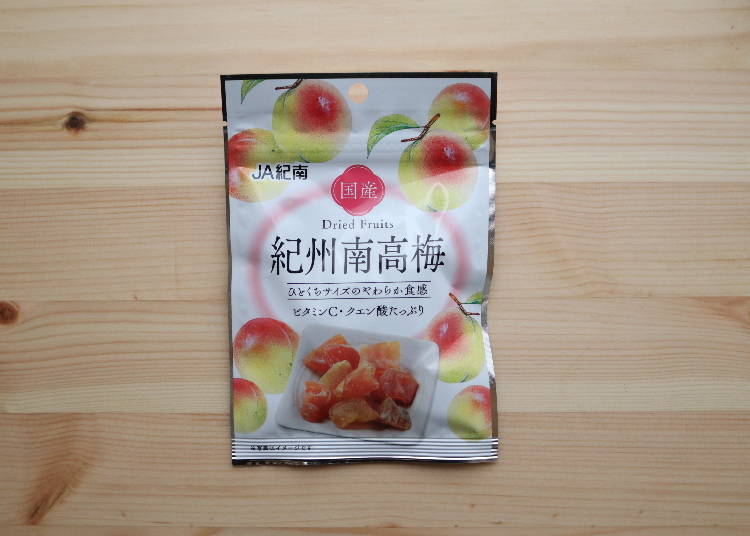 Part of the same product line, "Kishu Minamitaka Ume" are refreshingly tart dried plums also worth trying.
Conbini are the perfect pit-stop on your travels!
Convenience stores can be found throughout any city, often near hotels, and offer many intriguing products. In addition to the five snacks we've introduced, there are many lunch boxes exclusive to Kansai, so be sure to try them, too, and take full advantage of the convenience of the Japanese konbini!

Text by:WESTPLAN
*This information is from the time of this article's publication.
*Prices and options mentioned are subject to change.
*Unless stated otherwise, all prices include tax.