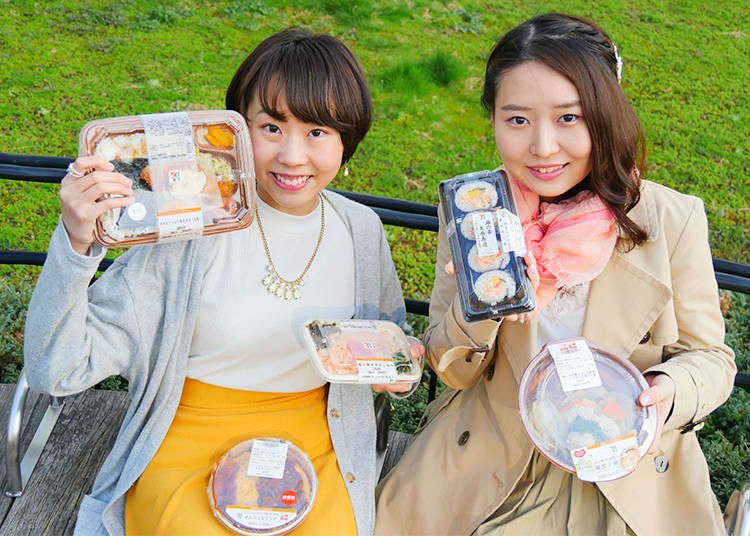 Japanese convenience stores offer a surprisingly large selection of sweets, snacks, and proper dishes, including boxed lunches, called bento. From sushi to spaghetti, there's a diverse selection that caters to pretty much every taste. Every time you buy one of them, the staff at the cashier will ask if they should heat it right up for you. If the convenience store has an eat-in counter, you can pretty much just sit down and enjoy a hot meal within minutes.

Especially 7-Eleven's bento seem popular among a lot of Japanese people, enjoying a reputation of being particularly delicious. On the other hand, a lot of us don't necessarily associate convenience store food with amazing tastiness, so we asked two female college students from Tokyo about their honest opinion. Ami and Anna, who eat convenience store bento fairly regularly, are going to take you on a culinary journey to the world of Japan's convenience store lunches!

"If we can't be bothered to cook or don't have time to go to a restaurant, convenience stores are our saviors!"
Hashed Beef Omurice Doria, 467 Yen (498 Yen with Tax)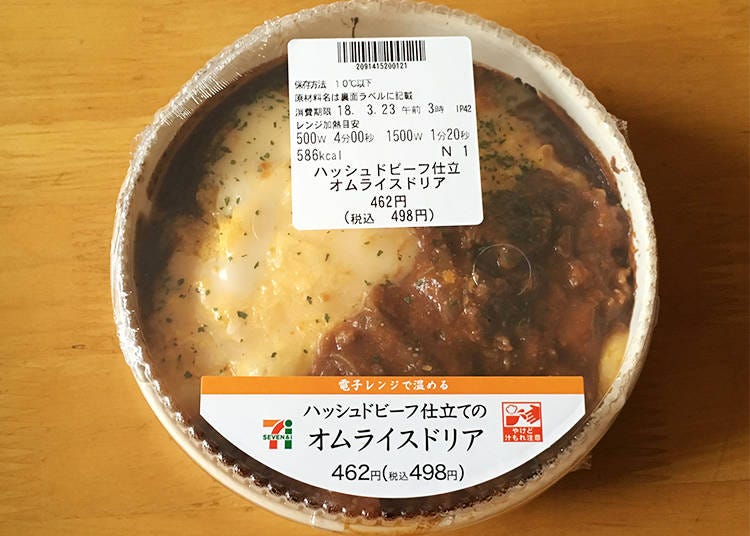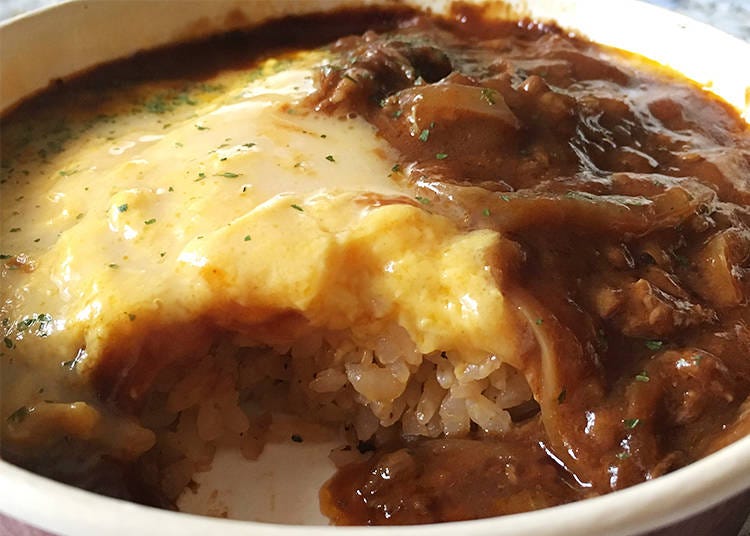 This bento unites several Japanese favorites. Hashed beef is a popular Western-style dish of beef, onion, and thick demi-glace sauce, while omurice is ketchup-flavored rice covered in a fluffy omelet. Both dishes are united in a doria, similar to gratin but with rice instead.

Appearance
"That looks tasty!" say both Ami and Anna, noting that it seems like a dish that fancy female office workers would buy. The egg looks fluffy, the cheese is melting, and it immediately makes one's mouth water.

Aroma
The demi-glace sauce and the butter in the omurice smell really nice.

Taste
An authentic taste that you'd expect at a restaurant!
Both beef and onions are soft, and the egg has a nice and fluffy mouthfeel.
The rice is seasoned with a bit of black pepper, making for a surprising kick.

Price
With a yummy taste and a large size, it's great value!

Calories
586 kcal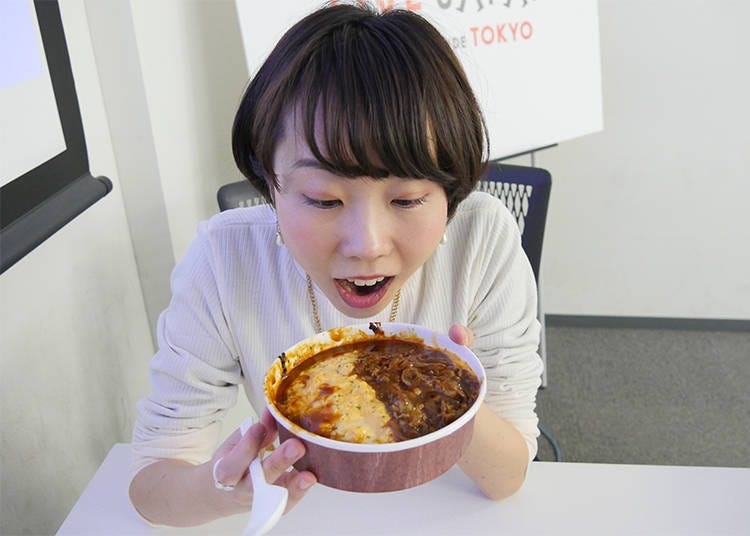 Yummy~!
Overall Rating: ☆☆☆☆☆
The omurice doria takes both of our food testers to gourmet heaven, earning it 5 out of 5 stars! It's a great choice if you're craving for a Western-style taste. The generously sized bento works well for both lunch and dinner. Enjoy some vegetable juice along with it and you have a nice nutritional balance.
Salmon and Spicy Cod Roe on Rice, 276 Yen (276 Yen with Tax)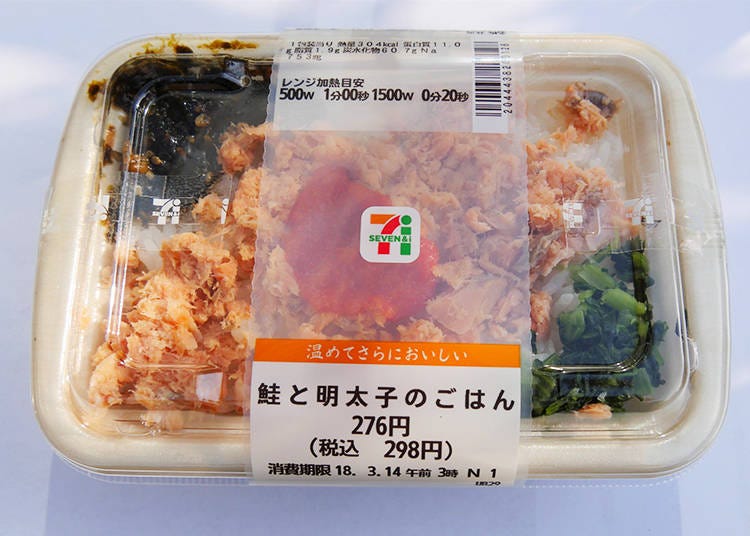 This bento is made with domestic rice and serves you both grilled salmon and mentaiko, spicy cod roe. Soy sauce-boiled kelp and pickled nozawana (Japanese mustard leaf) are also part of this bento, providing a nice harmony of different flavors.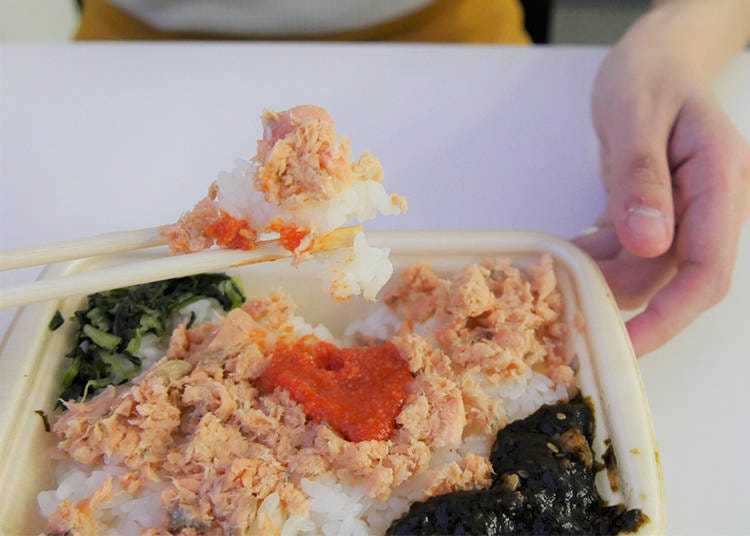 Appearance
The contrast of the pink salmon and the vivid orange of the cod roe is interesting. It feels very "spring." It's small, so probably made for people who don't have much appetite or are on a diet.

Aroma
Salmon, kelp, and nozawana have a nice savory aroma, sprinkled with white sesame. That sesame oil's smell is especially appetizing.

Taste
A thoroughly Japanese taste, much like an onigiri. A somewhat rustic deliciousness. The rice is also good.

Price
It costs as much as 2 to 3 onigiri rice balls but includes four ingredients. Great value!

Calories
339 kcal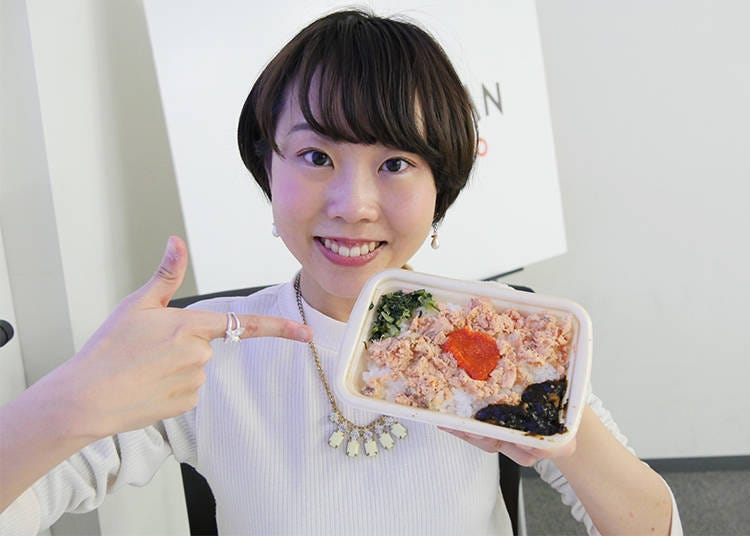 Perfect as a snack and for in-between meal cravings!
Overall Rating: ☆☆☆
This bento is great if you just want a light meal or snack. With some soup and salad, it also works as a proper lunch or dinner. It's a dish that you'll want to enjoy alongside something else.
Chicken Dumpling Hot Pot with Half a Day's Worth of Essential Vegetables, 399 Yen (430 Yen with Taxes)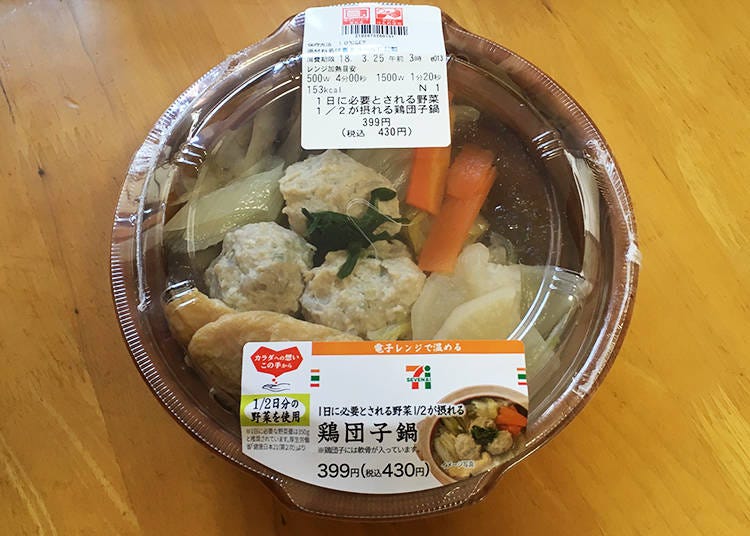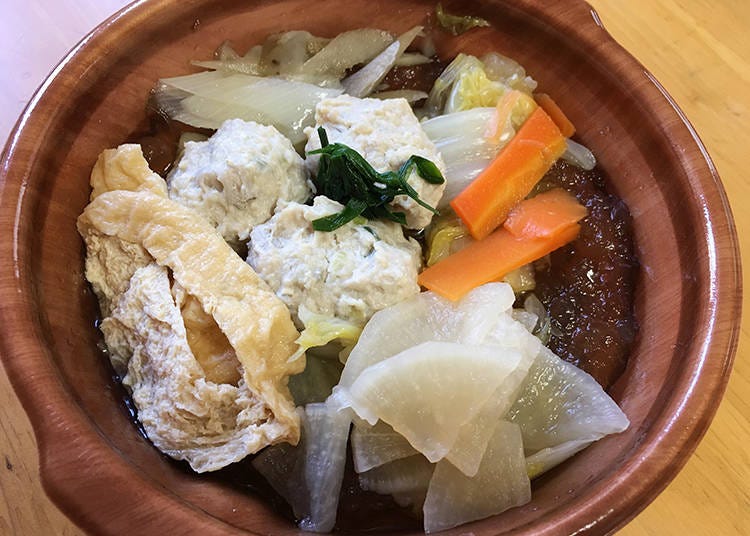 When cold, the soup looks like jelly.
Once hot, it's a proper hot pot dish!
Hot pot dishes are popular in Japan and this one features three chicken dumplings (with some gristle, which is quite liked in Japan). It also features radish, carrot, cabbage, burdock, green onion, chive, and some fried veggies. This chicken dumpling hot pot promises half a day's worth of all the vegetables you should be eating daily, based on the recommendation by Japan's Ministry of Health, Labor and Welfare. In this case, that means 350g of vegetables!

Appearance
Seeing the jelly turn into soup is fun! The many different vegetables are appetizing and it's a dish that'll surely warm you up on a cool evening.

Aroma
A pleasant and gentle fragrance of vegetables. The chicken dumplings have a subtle aroma of yuzu pepper.

Taste
The soup is delicious! The chicken dumplings contain finely chopped lotus root, giving them a great texture.

Price
The dumplings are large and tasty, there are various kinds of vegetables, and this dish is a great deal all around.

Calories
153 cal

Overall Rating: ☆☆☆☆
A dish with high volume but low in calories. If you add an onigiri, it becomes a proper meal. By itself, the bento is great for any veggie cravings or as a late-night snack. It's also a recommendation for people who want something gentle to their stomach.
Seafood Futomakizushi (with Salmon Trout), 352 Yen (380 Yen with Tax)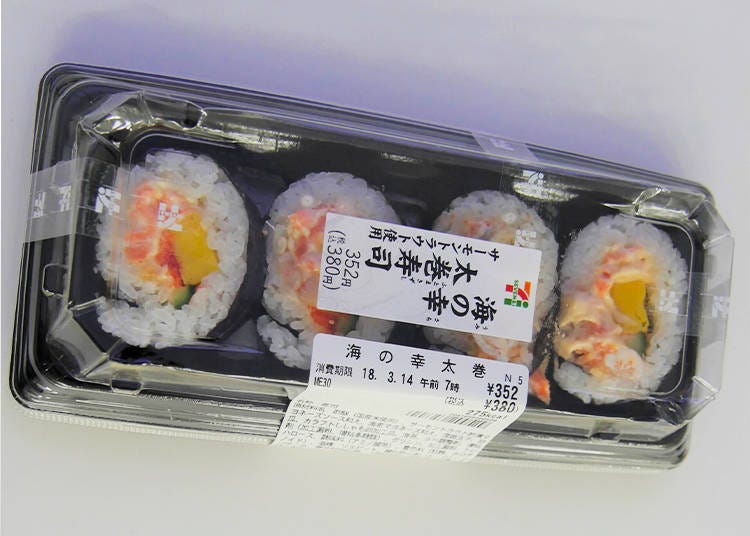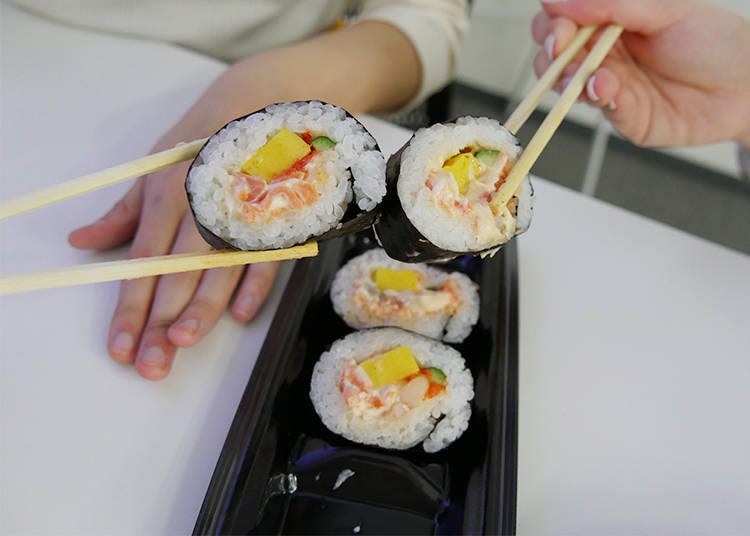 These fat sushi rolls include flavorful salmon trout. Stuffed with both salmon and shrimp mayonnaise, capelin roe, fried egg, and cucumber – a colorful assortment!

Appearance
The different, generously used ingredients look great! Colorful, appealing sushi rolls.

Aroma
The vinegared rice boasts a nice aroma. "Ooh, tasty!"

Taste
There's a nice balance between the mild mayonnaise and the spicy capelin roe, making it easy to eat. The flavor of shrimp and salmon also doesn't fall short and the roe has a bubbly texture!

Price
There are plenty of ingredients and the taste is delicious. Just looking at these sushi rolls is fun, so they're a real steal!

Calories
275 kcal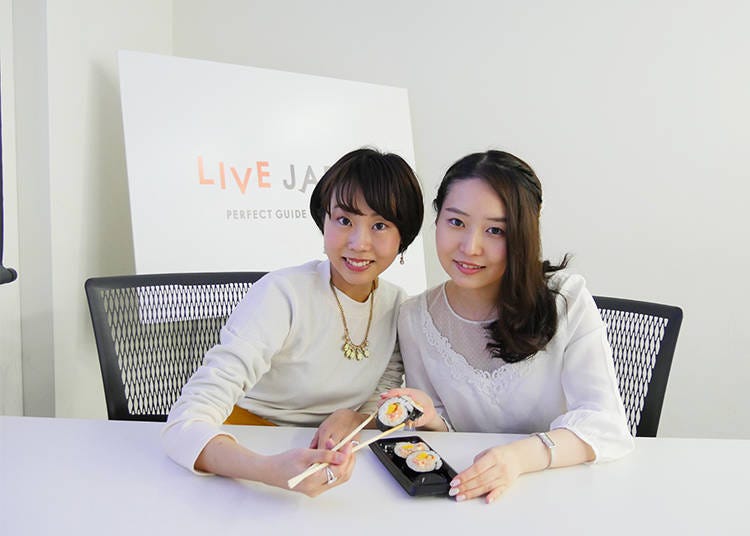 Colorful and photogenic!
Overall Rating: ☆☆☆☆
It's a great bento if you feel like eating sushi but don't want to go to a restaurant. Because there's mayonnaise in it, it's sure to match almost everyone's taste, especially if you're a sushi beginner. The vinegared rice has a refreshing taste, so this is a great choice if you don't have much of an appetite or want to recharge your energy.
Seaweed and Bonito Flakes Bento (Barley Rice), 369 Yen (398 Yen with Tax)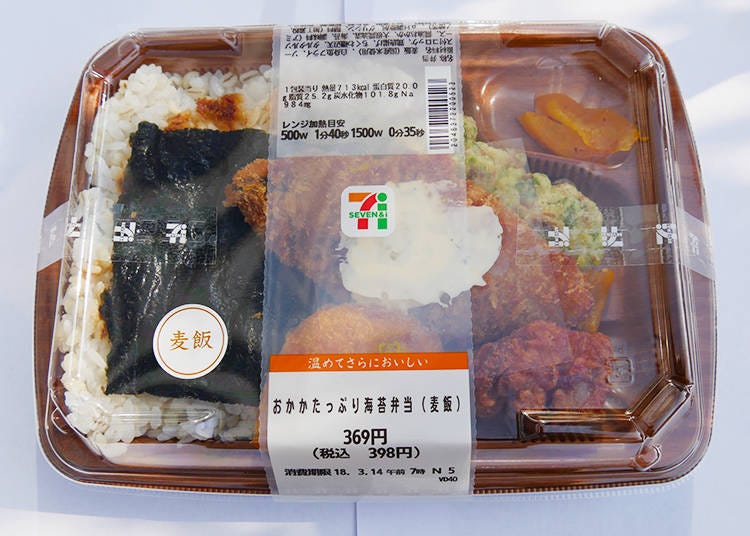 Seaweed bento is a staple among Japanese boxed lunches, featuring plenty of rice and okaka, chopped bonito flakes with soy sauce. This version is made with healthy barley rice and comes with croquette, fried chicken, fried white fish, fried chikuwa (a kind of surimi), and pickles as side dishes.

Appearance
Looks delicious, plenty of volume! This bento seems like a favorite of many company workers and the healthy barley rice is a nice extra.

Aroma
Bonito and seaweed blend to a pleasant aroma, matching the rice nicely.

Taste
The barley rice tastes amazing and the tartar sauce goes great with the fried white fish.

Price
For less than 400 yen, this is a bento with plenty of volume and taste – what a deal!

Calories
713 kcal

Overall Rating: ☆☆☆
This bento boasts plenty of volume and the taste is amazing! Some people might be concerned about the high calorie count, however, and it doesn't look especially appetizing either, so that's why it only gets three stars. It's recommended for people who enjoy various different side dishes and big eaters.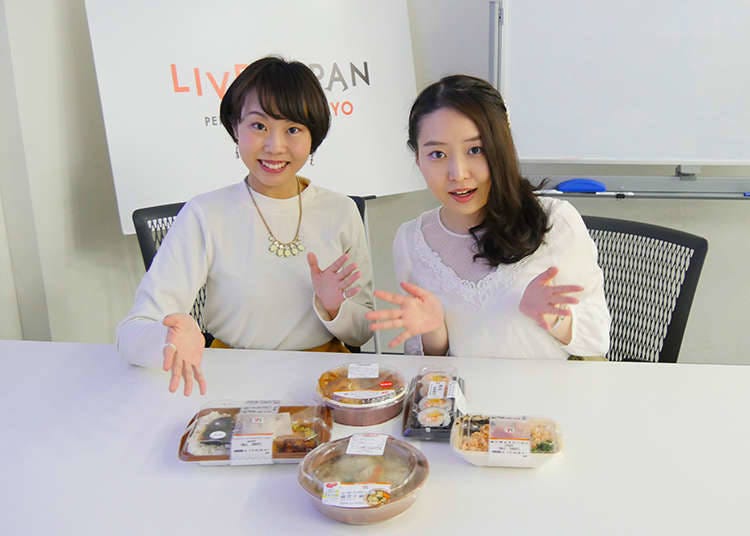 Healthy choices, bento for big eaters, and healthy snacks for in between – 7-Eleven's selection really does cater to all kinds of gourmet needs and cravings! Everything the two students tried tasted good, offering tastes from Western, Japanese, and Chinese cuisine. Some boxed lunches were even rated as having restaurant quality, so don't hesitate to stop by a convenience store if you want to experience Japan's gourmet wonders. It's not just a treat for your taste buds but also for your wallet!
*This information is from the time of this article's publication.
*Prices and options mentioned are subject to change.
*Unless stated otherwise, all prices include tax.
Limited time offer: 10% discount coupons available now!