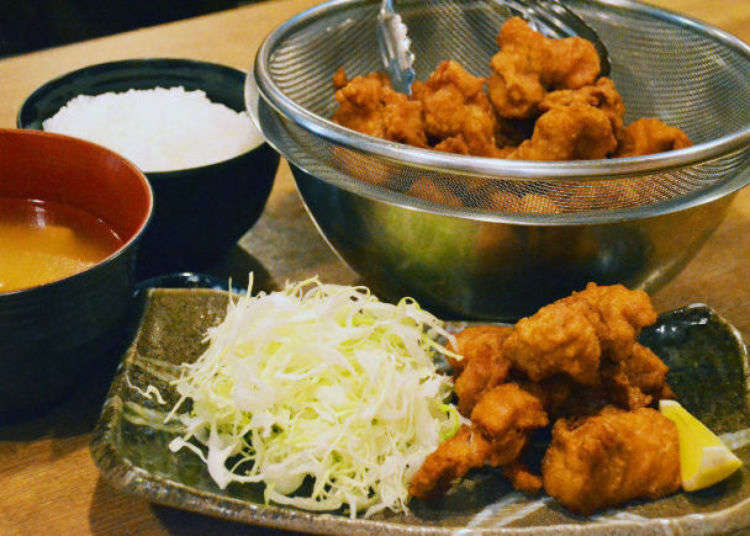 There are so many delicious places for lunch in Osaka, known as the city of "Eat Till You Drop"! In this incredible city of food, many people go out for lunch, which means the area became somewhat competitive. But that's good news for us because now there are so many places offering amazing food for under 500 yen!

Today we will look at three shops where you can enjoy lunch in Osaka for only 500 yen. Not only are they cheap, but the meals are full of flavor, enjoyed by many regulars, and offer great side dishes and free rice refills. The locations are easily accessible from the station, so they're super convenient. Prices are easy on the pockets, perfect for making you full without leaving your wallet empty in its wake.
1. Lunch for 380 Yen! Izakaya 1969's Popular Super-Discount Menu and Unique Atmosphere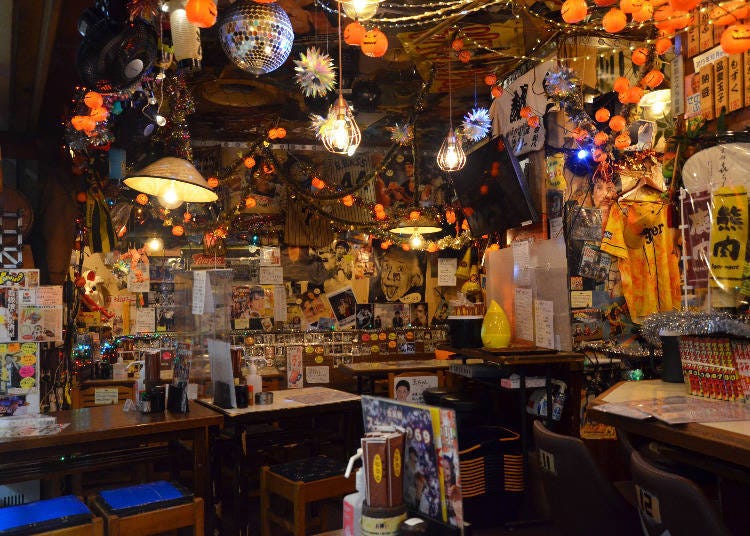 Izakaya 1969 is located on the B1F of Osaka Station 3rd Building. It is easily accessible from JR Kita-shinchi Station, and a 10-min walk from Umeda Station on each line. It is run by the Sawai family, made up of 13 siblings - 7 men and 6 women. There are three adjacent shops with the 1969 signboard. The same lunch menu is available at two of these shops, lined with posters and toys reminiscent of 1969, and a lively yet casual cafe-like atmosphere. Prices start at 380 yen (tax included) in this prime Umeda location, advertised by word of mouth as a perfect izakaya to visit at night.
Most Popular! Chicken Nanban: Delicious Handmade Tartar Sauce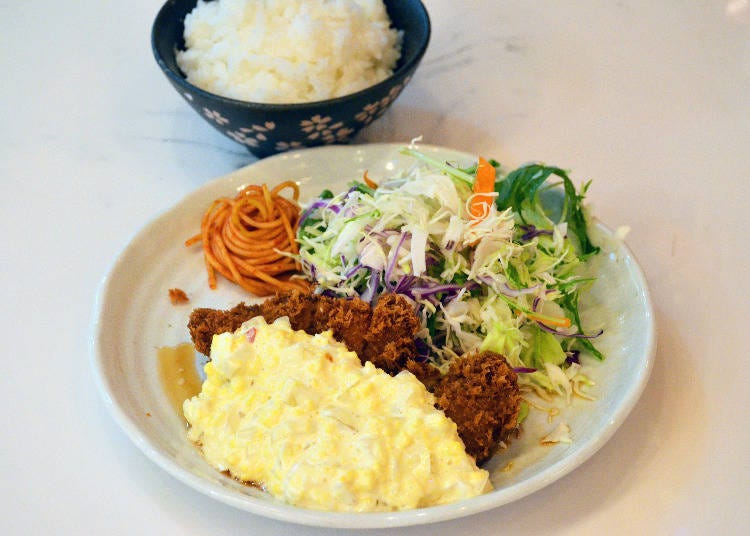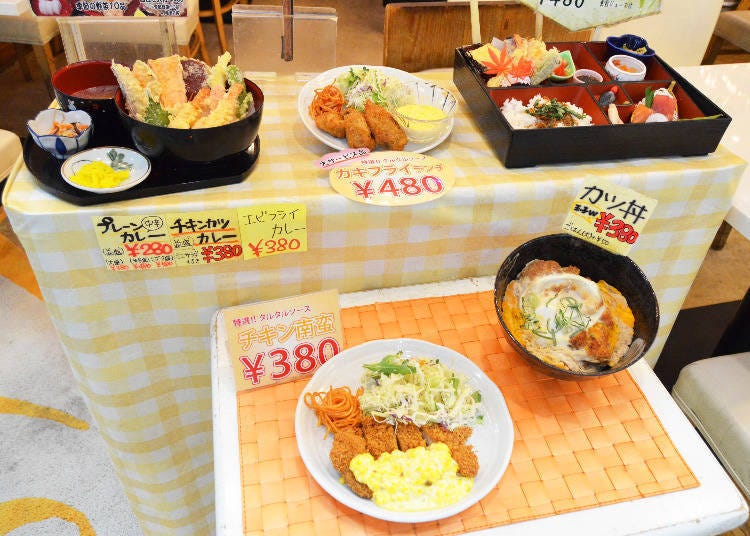 Among the fried dishes, tempura bowls, and curries, the most popular item is the Chicken Nanban, at 380 yen (tax included). The juicy chicken thigh is crisp-fried and topped with the shop's prided homemade tartar sauce. The tartar, made with crushed boiled eggs and onions, has a gentle taste and is made without pickles. It goes perfectly with the rice and chicken katsu. All lunch items include rice, and you can add miso soup for 50 yen (tax included) or chicken katsu (1 piece) for 100 yen (tax included). The lunch samples lining the shop are another special feature of this shop.
Healthy Gozen: Loved by Men and Women of All Ages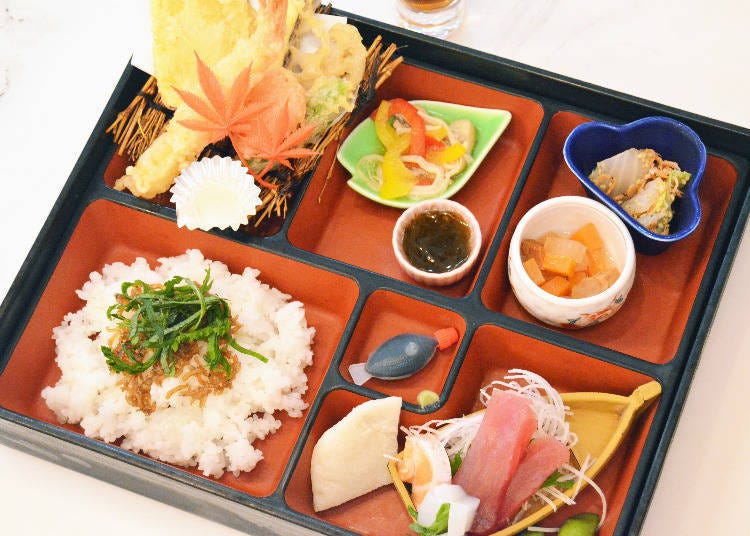 Healthy Gozen is a 480-yen meal (tax included) that is popular with a wide range of people. It's a bento-style, in-store menu item including sashimi, shrimp and vegetable tempura, and small bowls of vegetables. It is popular with people who like to eat little by little. The meal includes rice dishes that change daily, such as shiso rice, and an apéritif of your choice, such as mellow apple vinegar and honey black vinegar (five flavors available).

In the evening, there are about 200 kinds of items you can order, including sashimi, Japanese black beef steak, gratin, and pizza. This shop is highly praised not only for their lunches, but for holding events, as well as great customer service provided by people in business suits. It is recommended to visit not only for lunch, but as an Osaka sightseeing spot.

Currently, disinfectant is available at each table, and all staff members are required to wear masks. Some shop assistants wear face shields.
居酒屋1969

Address

Osaka Station 3rd Building B1F, 1-1-3 Umeda, Kita, Osaka, 530-0001

Nearest Station

5 min walk from JR Kita-shinchi Station


Phone Number

06-6343-6688

Hours: 11:30AM-11:00PM, Lunch 11:30AM-4:00PM
Closed: Sundays and holidays
2. Deep-fried Lunch at Kitchen Motoya, Loved for 20 Years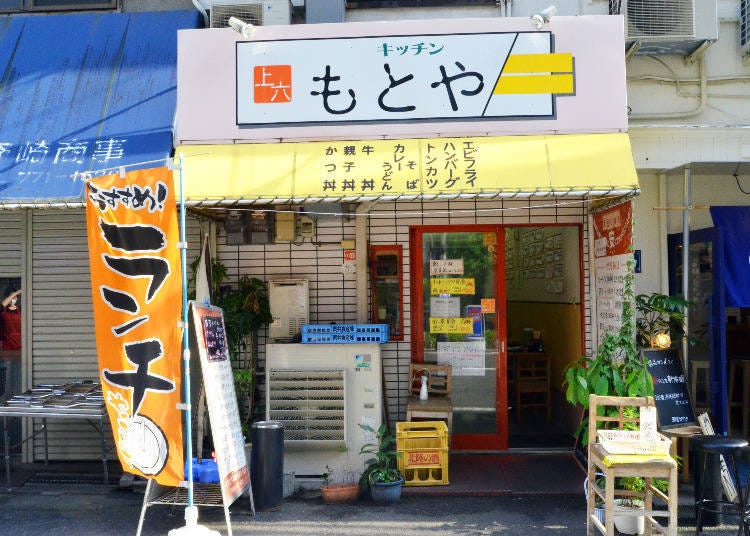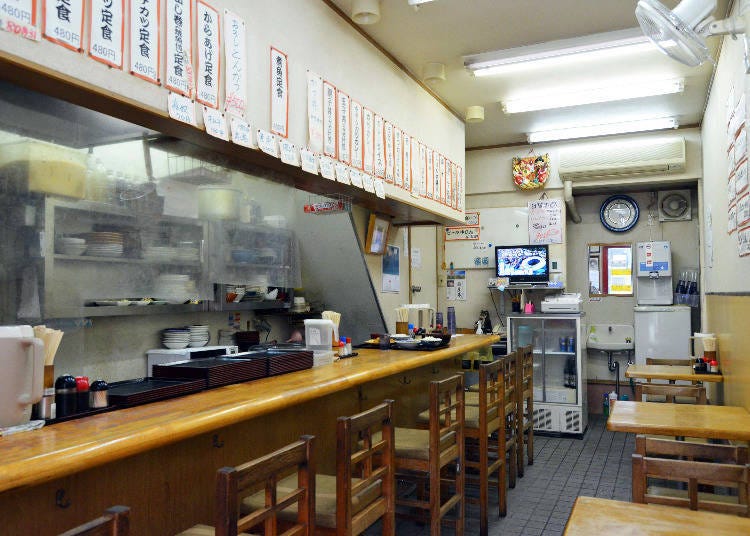 The Kitchen Motoya Uehon Shop offers lunch at exceptional prices, starting from 150 yen (tax included) for udon and soba, and 400 yen (tax included) for teishoku set meals. It is a teishoku restaurant loved by locals, and is often crowded at lunch. The main dishes are voluminous fried foods, sure to fill you up at a cheap price. Even with the tax increase in 2019, they have maintained their 400 yen price (tax included) by removing the small bowls and free pickles. Regardless, there has been no compromise in taste.

Meals are carefully prepared one cup at a time, and you can enjoy pork soup with crisp vegetables, and ramen made with udon dashi, sesame oil, and pepper. It is easily accessible from both Osaka-Uehonmachi Station and Tanimachi Kyuchome Station, so it is very easy to visit.
Most customers order the Higawari Teishoku (daily set meal)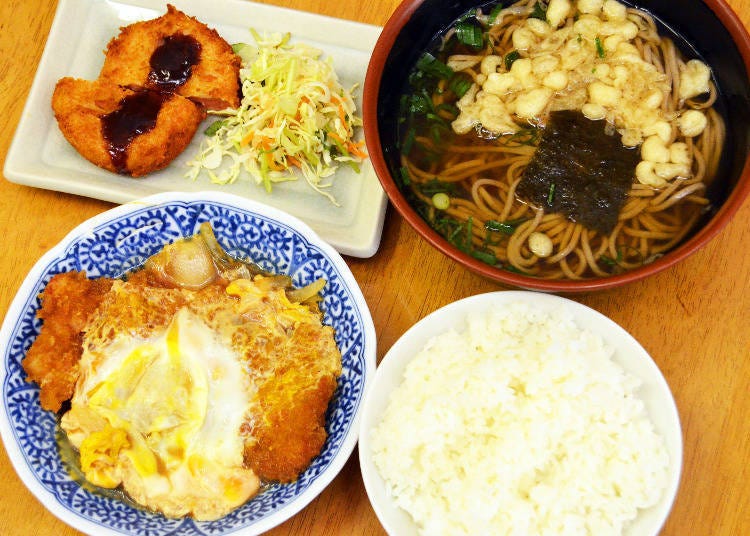 About 70-80% of customers order the Higawari Teishoku (daily set meal), which is 450 yen (tax included). It is a large set meal and includes side dishes that change daily, rice, salad, and miso soup. The side dishes are mostly fried foods. At the time of our visit there were two types that came in a small plate: katsu-tama (chicken fried with egg) and ham katsu.

You can choose from four types of soup: kakesoba, ramen, udon, and pork. In addition to the soba noodles in the photo, the ramen and udon noodles are voluminous and filling. The gently-fragrant broth is freshly prepared from 5:30PM.
Delicious, freshly fried Chicken Katsu Teishoku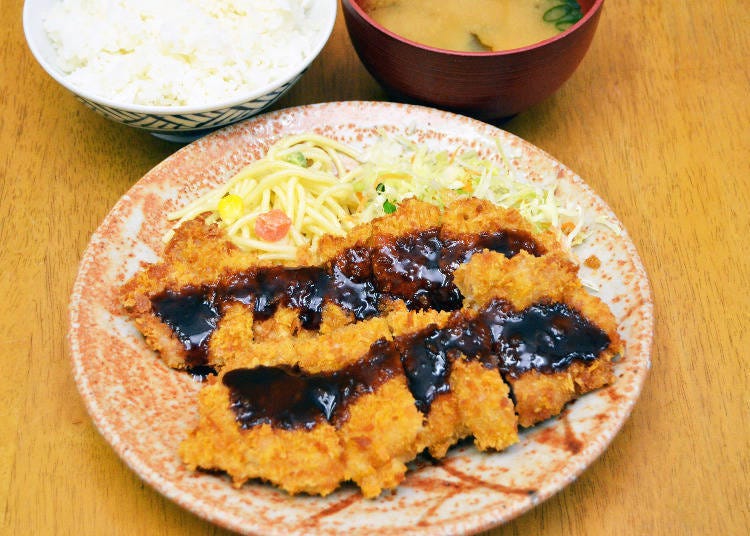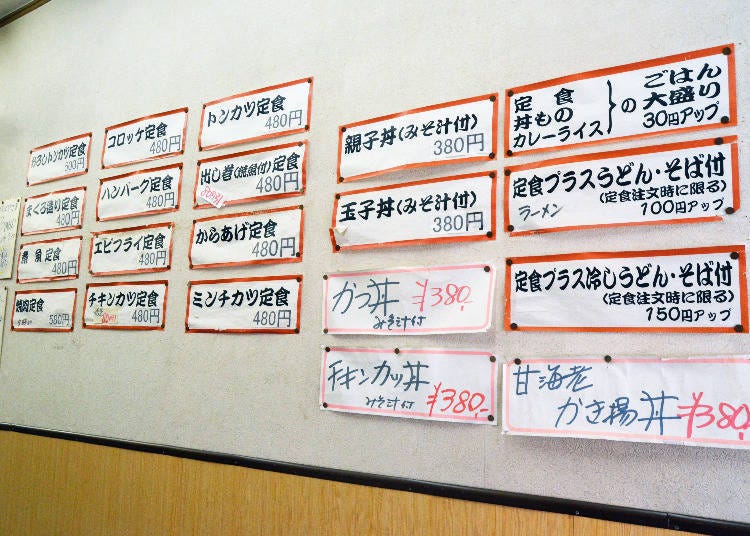 Another set meal popular with the regulars is the Chicken Katsu Teishoku (400 yen, tax included). Two pieces of soft, slightly sweetened chicken thighs are served freshly fried, the juicy meat coated in a crispy batter. This set includes rice and miso soup.

In addition, there are over 10 other kinds of set meals such, including sushi rolls and grilled fish, also at 400 yen (tax included). When the shop is full, orders are taken while you are waiting outside, so you can be served within minutes after sitting down. It is a perfect spot for a quick lunch during your sightseeing trip.

As a measure against coronavirus, disinfectant is used at the entrance and ventilation is carefully maintained at all times.
キッチンもとや 上六店

Address

3-7-15 Ueshio, Tennoji, Osaka 543-0002

Nearest Station

3 min walk from Osaka Uehonmachi Station on the Kintetsu Line, and Tanimachi Kyuchome Station on the Subway Tanimachi Line and Sennichimae Line


Phone Number

06-6771-1520

Hours: 11:00AM-3:30PM, 5:00PM-9:00PM (Last order: 8:40PM), Saturdays: 3:00PM
Closed: Sundays and holidays
3. Tachibokoro Heso: A Bargain Izakaya Lunch on Tenjinbashisuji Shopping Street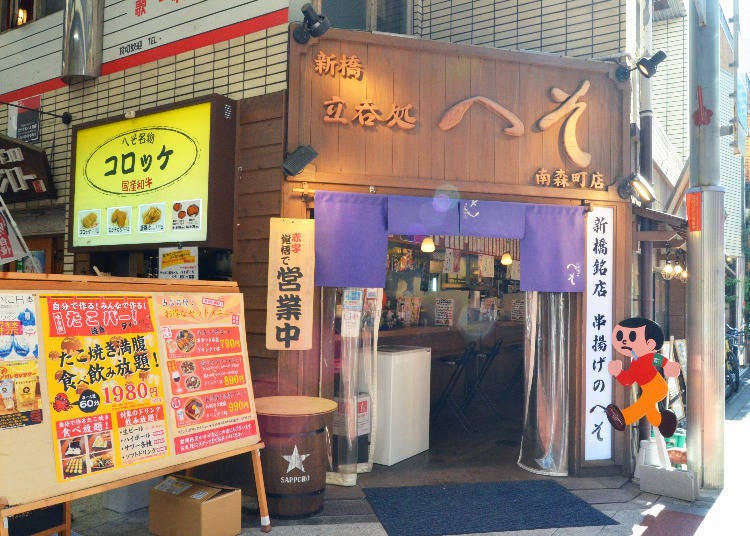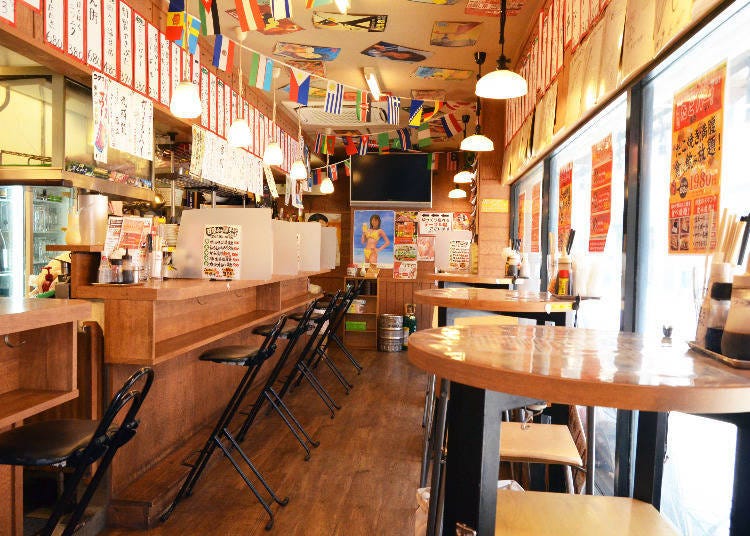 Tachibokoro Heso is a shop whose main branch is located in Shimbashi, Tokyo. At night, this is a standing bar with a lively atmosphere where you can enjoy skewered cutlets, steak, oden, and more. At lunch time, however, you can sit in a chair and comfortably enjoy your meal. The branch in Tenjinbashisuji Shopping Street, the longest shopping street in Japan, is easy to access and very popular with tourists. They also sell croquettes from the Yao, Osaka meat shop, Niku Hatakeshima, which are perfect snacks to eat while walking around.
Daily lunches served with free refills on rice and miso soup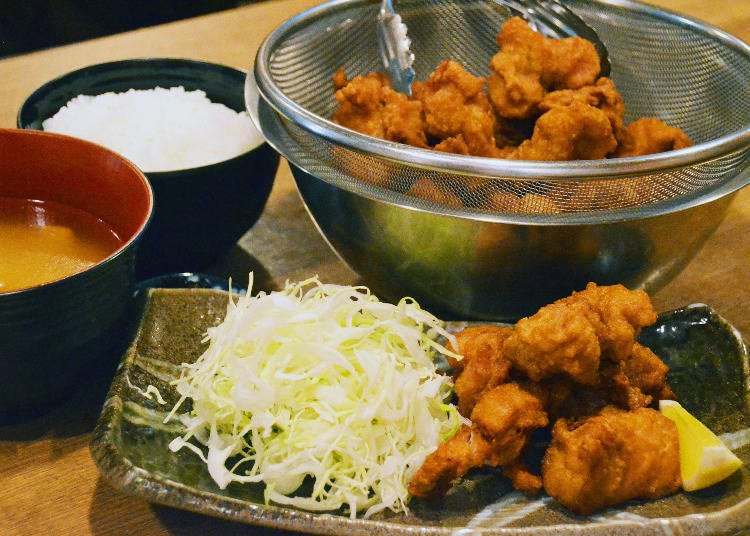 Lunch is served from 11:30AM to 2:00PM on weekdays. In addition to the daily menu, such as the Grilled Horumon Teishoku on Mondays and a Hamburger Steak Teishoku on Tuesdays, you can also enjoy two types of B-set meals, such as Chicken Nanban and Kaisendon, for 500 yen (tax included).

For the low price of 500 yen, you can also get refills on your rice, miso soup, and cabbage for free. They are also very particular about their ingredients. The rice used is Omi rice from Shiga, the cabbage comes from contracted farmers, and the miso soup contains plenty of seasonal vegetables and lightly fried ingredients.
Popular all-you-can-eat fried chicken, only available on Wednesdays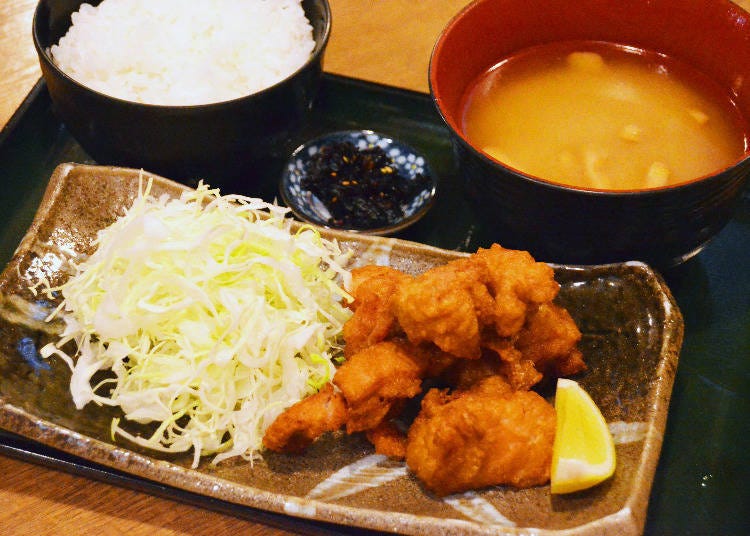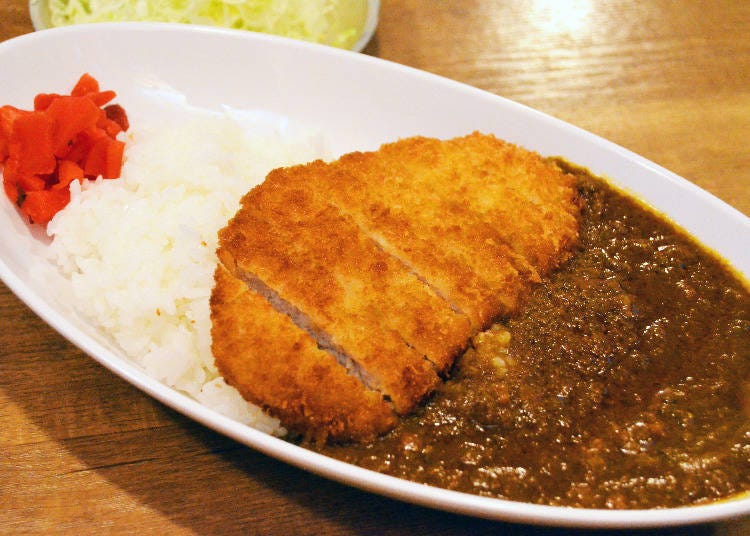 The most popular dish is the all-you-can-eat fried chicken, only available on Wednesdays. Unlike other set meals, no matter how much fried chicken you eat, it remains at the exceptional price of 500 yen (tax included). You are started off with 5 pieces of fried chicken, and you can ask for more one piece at a time after that. The chicken thighs are fried in a crisp batter and soaked in a special sauce, and go great with the rice. Some people eat as many as 30 of them. Of course, you can also get refills on the rice, miso soup, and cabbage.

The Friday Katsu Curry Teishoku 500 yen (tax included) is also popular. The curry is mostly a demi-glace sauce and has a very mild spiciness, with a flavor that is loved by men and women of all ages. The crispy fried pork loin is thin and light, and compliments the curry well.

In the evening, there is also a takoyaki menu that you can enjoy by yourself and experience Osaka culture.

As a measure against coronavirus, there are two hospital-grade hypochlorous acid air purifiers installed, as well as acrylic plate partitions between seats. Shop employees are required to wear masks, and tables are thoroughly disinfected after each use. The entrance is open for ventilation, and disinfectant is also available.
Tachinomidokoro Heso Minamimorimachiten

立呑処 へそ 南森町店

Address

3-3-17 Tenjinbashi, Kita, Osaka, 530-0041 530-0041

Nearest Station

5 min walk from Minamimorimachi Station on the Sakaisuji Subway Line


Phone Number

06-6882-1310

Hours: 11:30AM-2:00PM, 5:00PM-11:30PM (Last order: 11:00PM)
Closed: Irregular holidays
There are plenty of great places for lunch in Osaka offering budget-priced meals that satisfy. After filling yourself up on the surprising cheapness and delicious flavors of Osaka, you will be ready to enjoy sightseeing. Also, if you enjoyed any of these restaurants for lunch, be sure to check them out at night, as well.

*Due to the spread of coronavirus, there may be differences in operating hours and services. Please check with the establishment directly for further details.

Text by:Efeel

*The above article is based on information from June 2020
*This information is from the time of this article's publication.
*Prices and options mentioned are subject to change.
*Unless stated otherwise, all prices include tax.