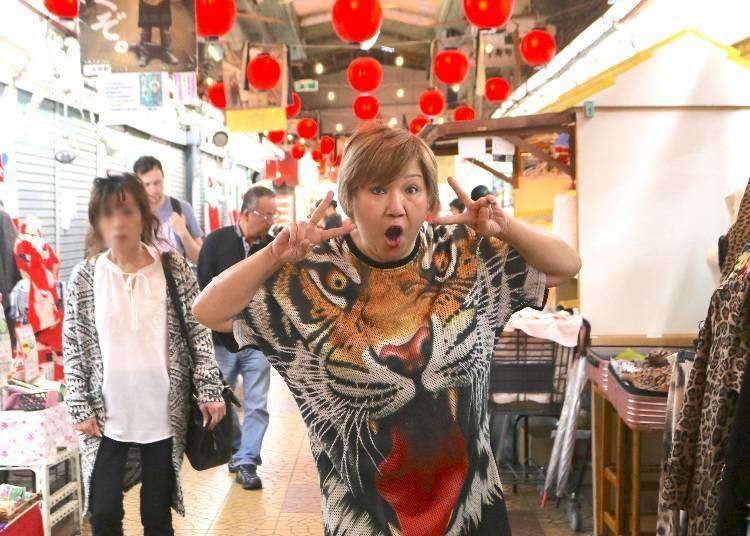 The W-Market (Weekend Priceless Market) is held every Sunday at the Shinsekai Market shopping arcade in Osaka. It's a great place to shop with a lively flea market atmosphere where vendors sell sundries, clothes, food, and many other things. At the W-Market, you'll hear "Kore wa nanbo?" which is Osaka dialect for "How much is this?"

But here it's the magic phrase. It's actually the prelude to an enjoyable exchange of haggling with vendors. So we asked an Osaka auntie, a veteran haggler, to tell us how best to get the best shopping deals at the W-Market.
What sort of place is the W-Market (Weekend Priceless Market)?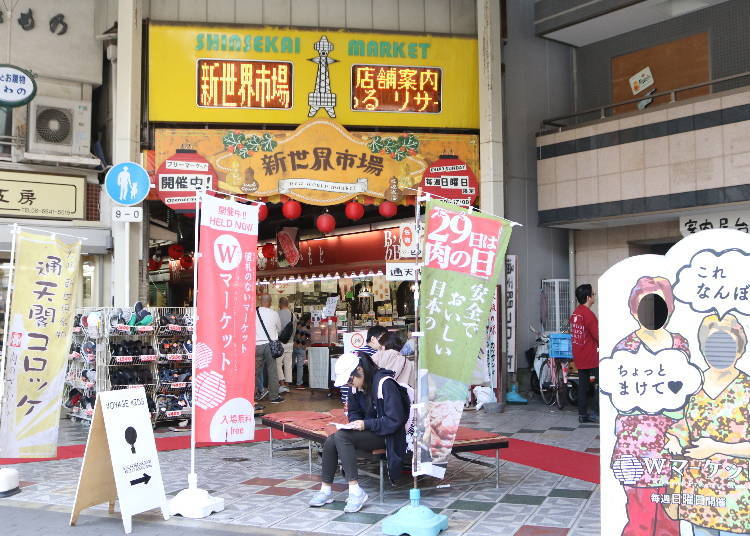 The glittering neon lights of Shinsekai in Osaka have become somewhat iconic. Tsutenkaku typifies that image and symbolizes the flashy signs of eating and drinking establishments in a lively area which is a popular spot with many tourists.

The W-Market, sitting at the base of Tsutenkaku, is a market held only on Sundays at the Shinsekai Market shopping arcade. More than half of the stores in the arcade were closed, making it look like a lonely shuttered street, but after the W-Market began operating here, it brought life back into the arcade by attracting many customers.

The entrance to the W-Market is about a 30-second walk from the Osaka Metro Ebisucho Station No. 3 Exit. Look for the red banners at the yellow entrance!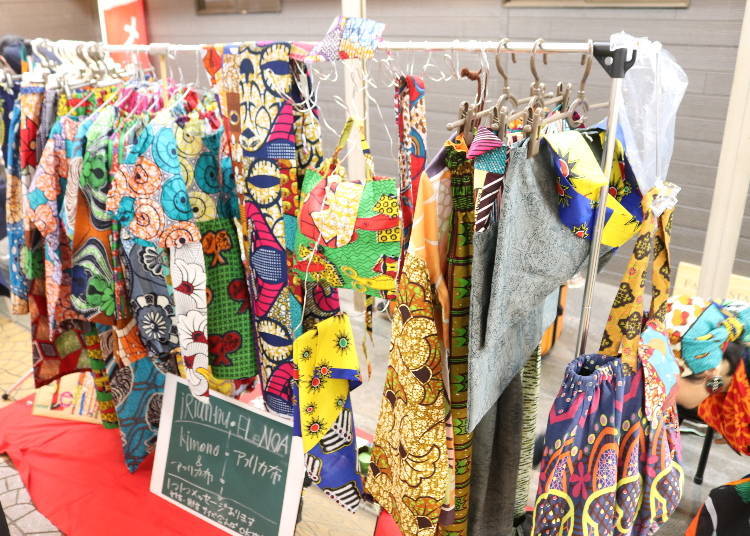 As most of the items offered for sale do not have price tags, you need to bargain with the vendor! When you haggle in the market, it is important to do it good-naturedly with a smile on your face.

Our Osaka auntie, a pro in these matters, often begins by saying in an Osaka dialect, "I won't be able to go home if I can't buy it for a lower price!" That sort of light humor sets the mood for an enjoyable round of haggling.
But keep in mind that there are some places where you cannot haggle in Japan!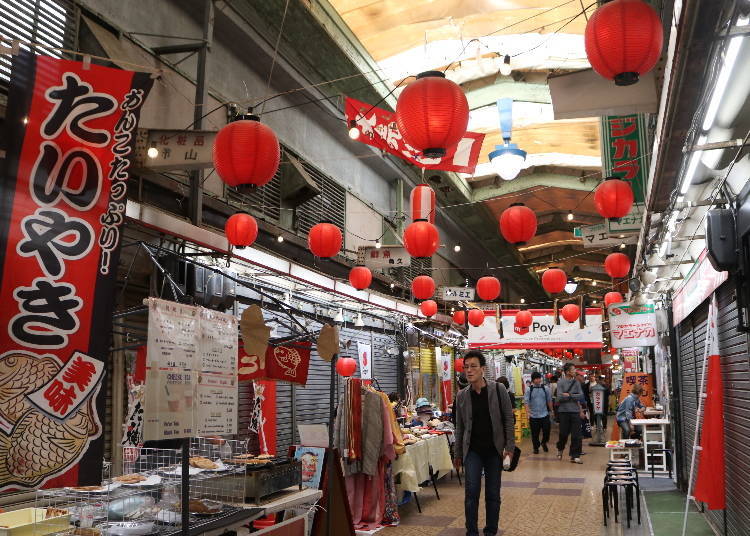 Generally, these are usually shops inside the Shinsekai Market where the merchandise does have price tags. So, if you see price tags on merchandise, the chances of talking down the price are almost nil.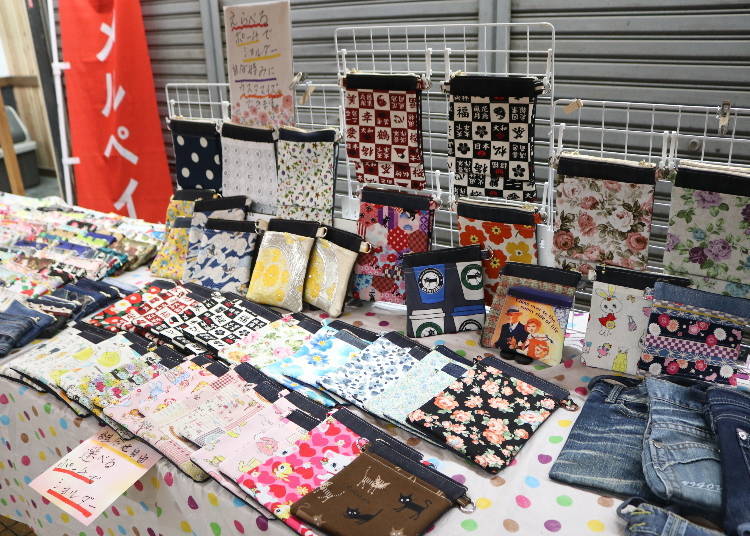 An example of a place where you can haggle
It is possible to haggle at a vendor that looks like an outdoor vendor whose wares are spread out on a sheet.

If you are uncertain whether you can haggle here or not and you are met with a "we don't haggle here" (uchi wa negiri wa shitenai desu) response when you try, then you should not persist in trying to get the vendor to lower the price but instead pay the price being asked.
How to haggle in Japan, Osaka style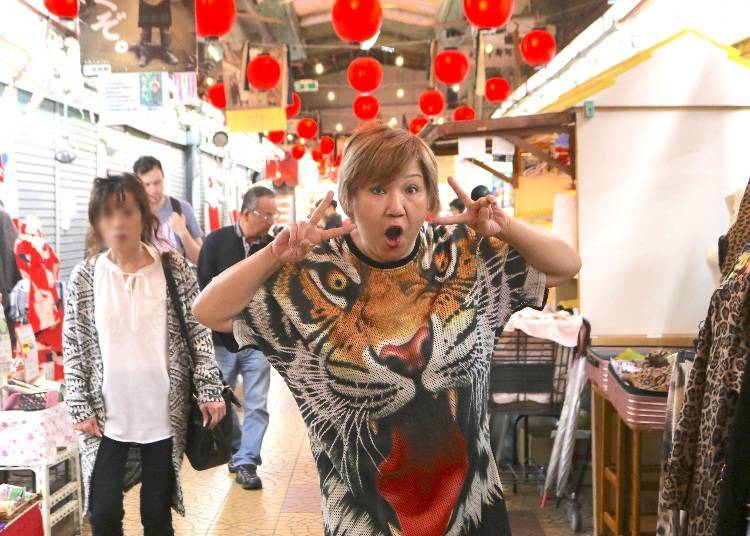 This leopard-pattern T-shirt is really flashy!
This is Ms. Takahashi, proprietor of the Naniwa Komachi shop specializing in selling gaudy leopard-pattern apparel, which is a favorite among Osaka aunties. Naniwa Komachi is a popular shop that has been operating in the Shinsekai Market for many years.

Ms. Takahashi is a famous Osaka auntie who has often appeared in various media. At a glance, it is easy to tell that the Naniwa Komachi run by Ms. Takahashi gets many visitors every day.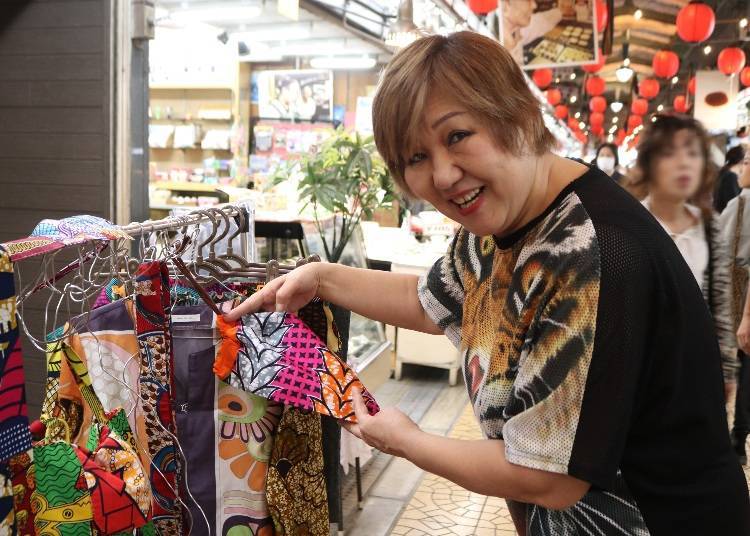 "This is pretty nice!"
Walking around the W-Market, Ms. Takahashi spotted something that caught her eye. It was a pochette in the apparel shop ELeNOA that uses African fabrics. The gorgeous pochette with its bright primary colors certainly suits Ms. Takahashi.

Right away, she set about haggling. The list price of this item was 6,500 yen. "6,500 yen? Can't you come down a little bit?"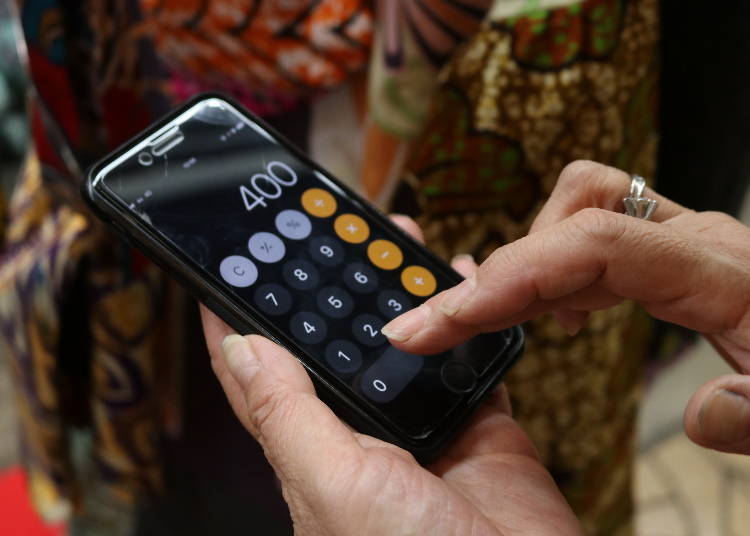 She takes out her smartphone and quickly brings up the calculator app.
On this, she enters the price she would like to pay. In this case, it was 4,000 yen. That's 2,500 yen off the asking price, which is pretty bold!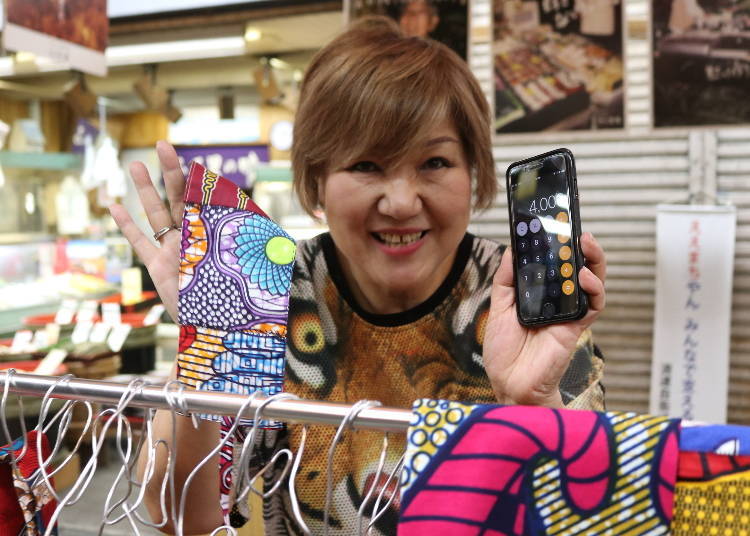 "How about this?"
She begins the bartering in a friendly manner which is very important! If you want to barter a price down, you must never be arrogant or insolent but instead always remember to smile.

The shop owner responded in kind by countering with an offer of 5,000 yen, 1,500 yen below the asking price. It was not the 4,000 yen price she has asked for but probably low enough for Ms. Takahashi to accept.

Or so you would think.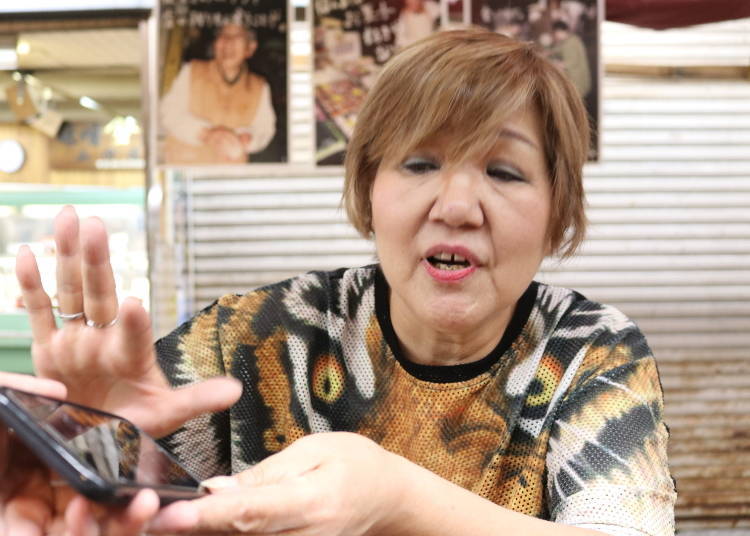 "Well, can't you come down just a bit more?"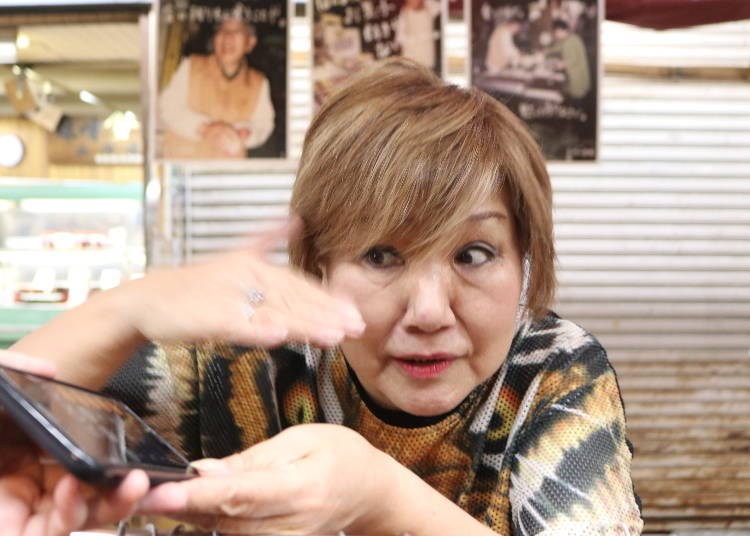 "This will be a good day for you, Sweetie! Just a bit more! How about it?"
You have to admire the bartering skill of this Osaka auntie! There is a tendency among some to believe that Japanese are not very forceful, but using a combination of good humor and affection, the Osaka auntie sets the tone and pace that the other person succumbs to.

This store owner likewise did so!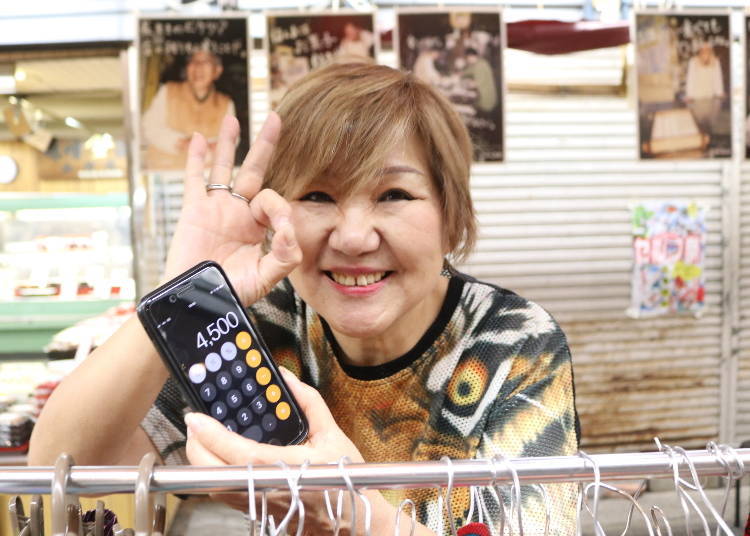 "Batchigu!" [That's perfect!]
She could get the pochette for 4,500 yen, which was slightly more than the 4,000 yen she had sought. It was probably a hard bargain for the shop owner, but as she said, "Ms. Takahashi is famous here. I had no choice but to give it to her for that price!" So, in the end, she gave in.

Osaka aunties are skilled in the patter they use when haggling, but for a foreigner who knows little or no Japanese and because most vendors do not know English, it might not be possible to carry on a conversation very well. In that case, it is best to use the calculator function on a smartphone as Ms. Takahashi did by showing the vendor the price you would like to pay.

You have a better chance of getting a lower price if you buy 2 or 3 items at one time and not just one. And never forget to smile and be friendly! That is the advice of Ms. Takahashi. In a friendly way, just say, "How much?" If you do that, you should be able to haggle successfully!
Among the vendors in the W-Market, there are a number that are very popular with foreign tourists. Here are some of our favorites.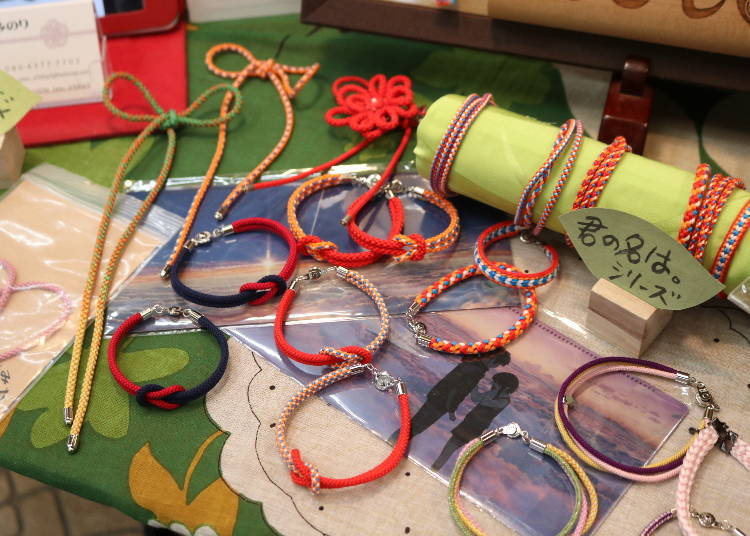 Kuhimo Miyabi is a shop that sells pop accessories made with kumihimo, the braided cord used to hold the obi [sash] in place on a kimono. These bracelets, with their bright colors and patterns, make great accessories. The prices of the bracelets start at 500 yen.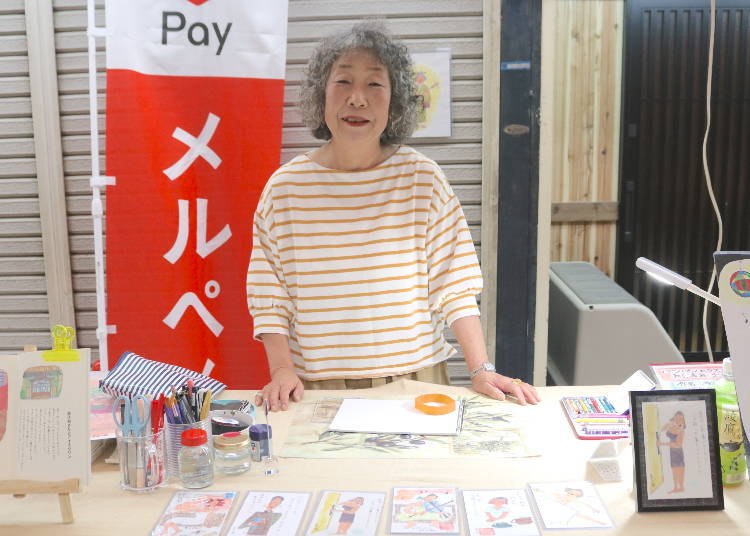 The picture book author Arare Nagasawa's portrait shop is also very popular. She entered Osaka University of Arts at the age of 62 and published her picture book "The Tale of Panpan House" in 2014.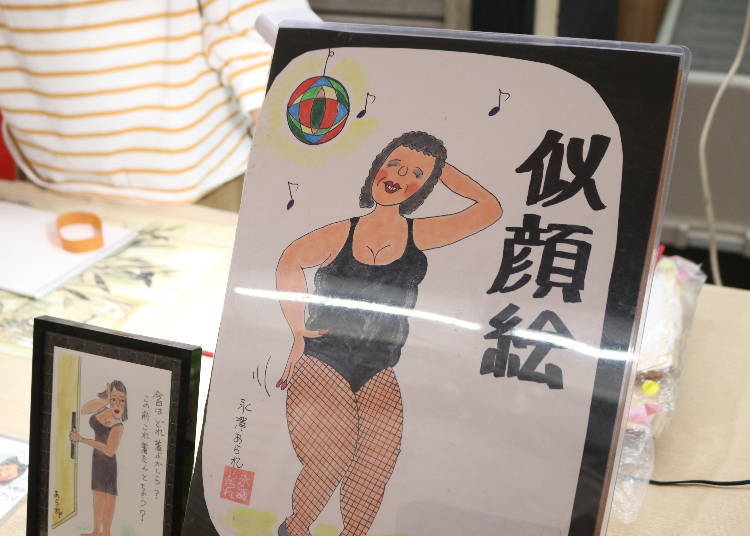 Her humorous caricatures are not merely portraits but also works of art reflecting a unique style using rich colors. One of these portraits takes about 30 minutes to make and costs 2,000 yen.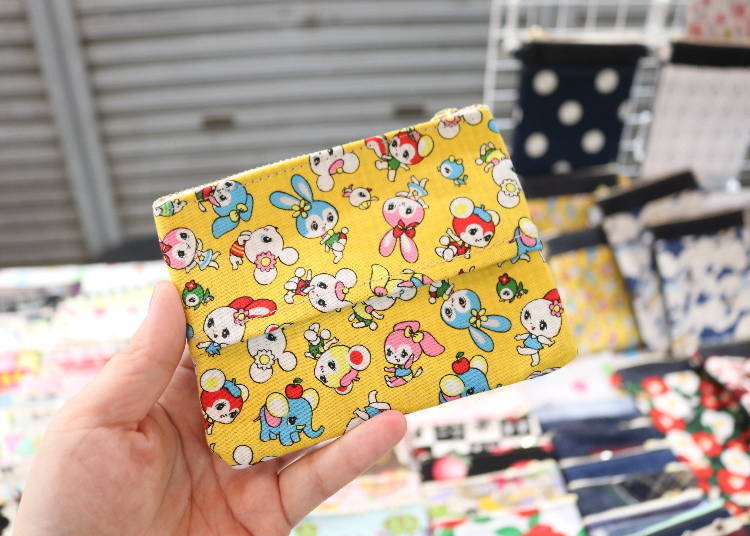 Kirara is a shop that sells original pouches made with colorful fabrics. You are likely to find a tissue case or accessory case among the wide selection of those offered here that come in various patterns and designs. There is something nostalgic about the design of these pouches, which are especially popular with tourists from Taiwan. The prices of the pouches start at 300 yen.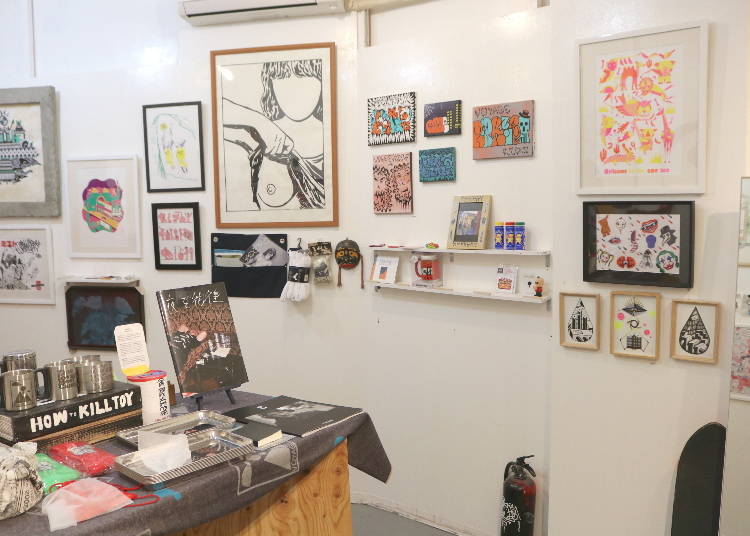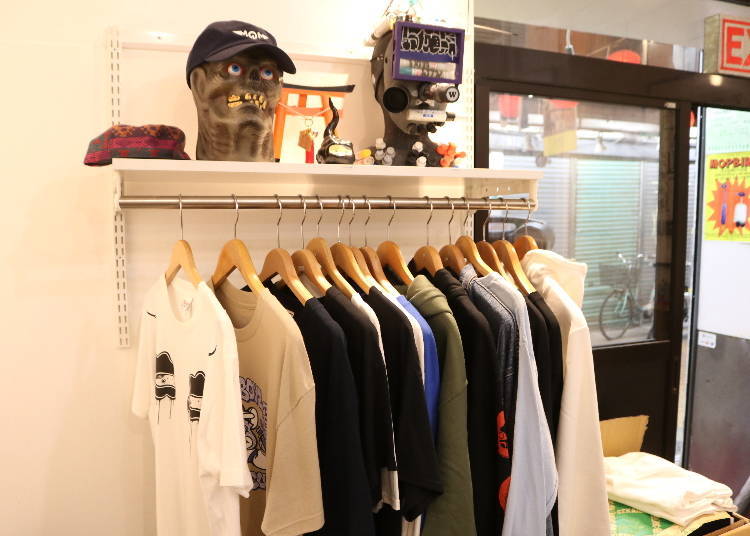 VOYAGE KIDS, which handles domestic and foreign art, sells T-shirts and hats, the magazine ZIN made by individuals, as well as pictures and lithographs. All reasonably priced, they are ideal for easily incorporating art into your lifestyle. A collection of attractive works with an edge!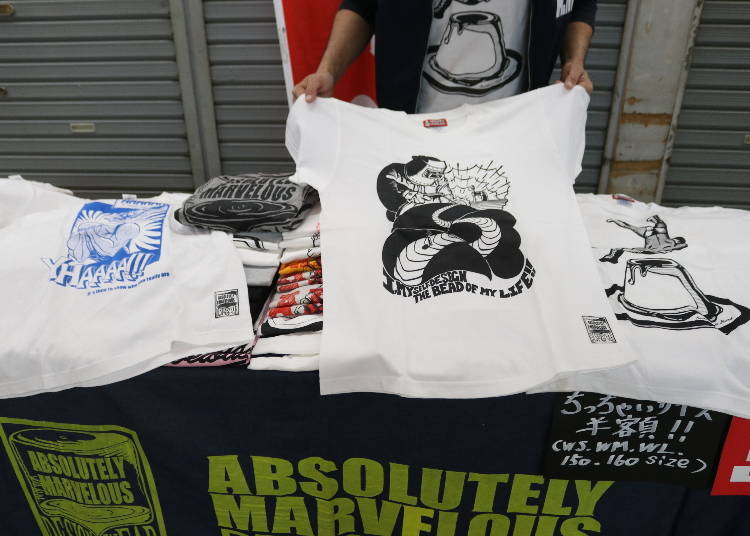 T-shirt specialty store ABSOLUTELY MARVELOUS sells silkscreen printed original T-shirts. Pop illustrations like American comics are cool!
If you had a good time toss in some coins!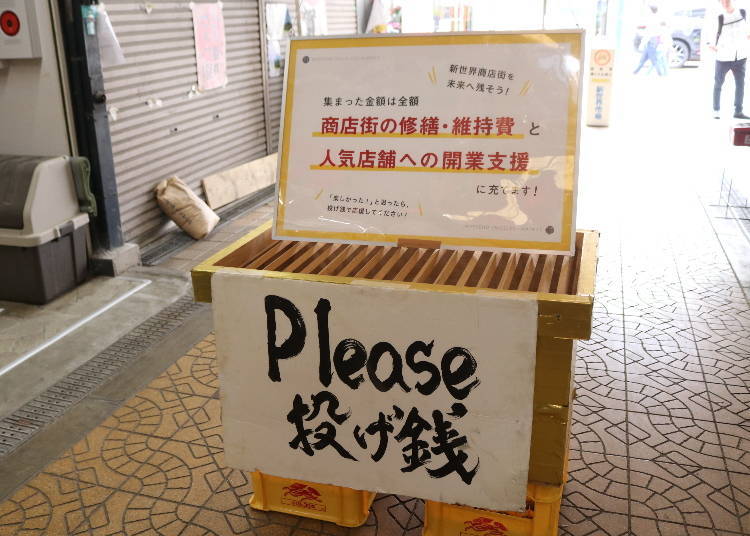 This nostalgic space lit by red lanterns is very Japanese and is truly photogenic. This is a market that is fun just to walk around and look at, too.

There is no entrance fee, and you can walk freely among the vendors shopping if you wish. There is a nagesen (offering box) outside the market where you can put in monetary offerings to contribute to the support of the market if you had a good time, bought something you liked, and took some good photos.

If you're heading to Shinsekai, W-Market is an experience in itself, so we definitely recommend putting it in your itinerary!
Wマーケット

Address

1-chome-21-12 Ebisuhigashi, Naniwa-ku, Osaka, 556-0002

Telephone: 06- -6537-7322 (Trick Design Co., Ltd.)
Open: every Sunday 11:00 a.m. ~ 5:00 p.m.
Admission Fee: None
Closed: Monday ~ Saturday
Text by:WESTPLAN
*This information is from the time of this article's publication.
*Prices and options mentioned are subject to change.
*Unless stated otherwise, all prices include tax.