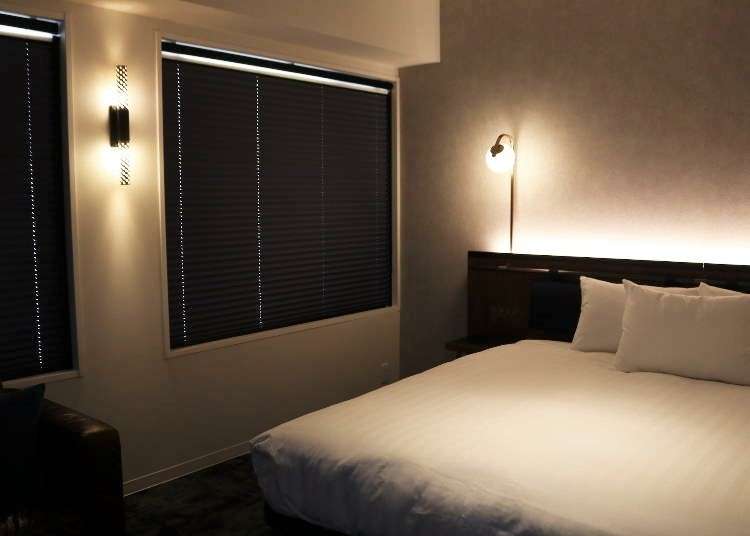 Since opening, THE LIVELY Osaka Honmachi has been a hotel that's regularly fully booked. And we want to tell you why it is that you should hurry up and make your reservations too.

One of the first steps to the perfect holiday is deciding which hotel to stay at. It can take some time to find the perfect spot – closest to all the areas you want to visit, but not too pricey, it's a fine balance!

So, instead of bombarding you with a never-ending sea of choice that you can find all over the internet, we're here to make your decision easy.
Located right by Osaka Metro Sakaisuji-Hommachi Station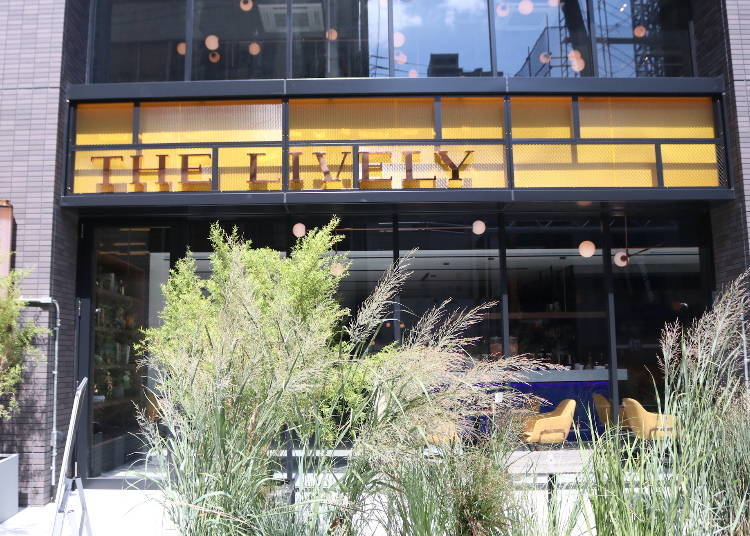 THE LIVELY Osaka Honmachi opened in August 2019 in Osaka Sakaisuji-Hommachi. It's in a great location about a 2-minute walk from Osaka Metro Sakaisuji-Hommachi Station.

It's a business area, which gives convenient access to major sightseeing spots like Umeda and Nanba, but it also has a calmer atmosphere at night which is perfect for relaxing in your room.

The theme of the hotel is "a gathering of people and information from around the world". To give you a good idea of what to expect, we've put together a list of the top 5 reasons you need to visit!
1: A Deliberately Non-Japanese Atmosphere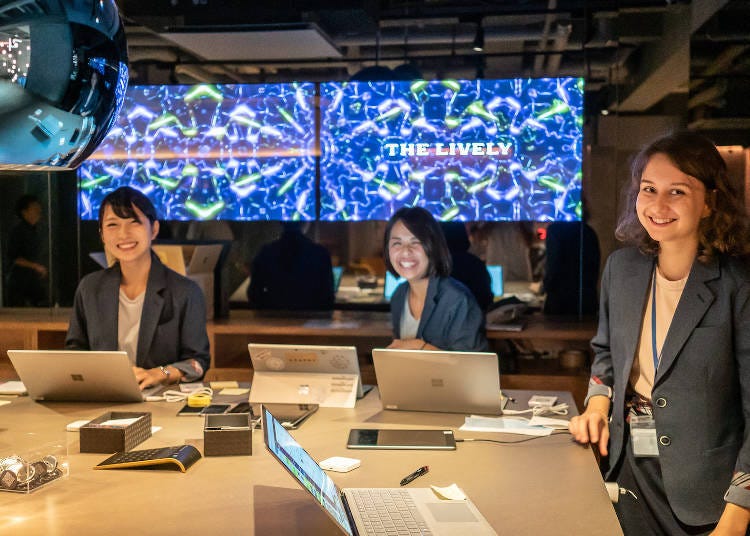 It's always nice becoming fully immersed in a foreign culture when traveling; however many prefer an atmosphere where you can relax and not be overwhelmed by everything new at night. THE LIVELY Osaka Honmachi is a Japanese hotel but doesn't focus too much on Japanese culture. It doesn't have many oriental aspects and has an atmosphere of a classy foreign hotel.

The reception staff can also speak various foreign languages such as English, Chinese, Korea, and Spanish.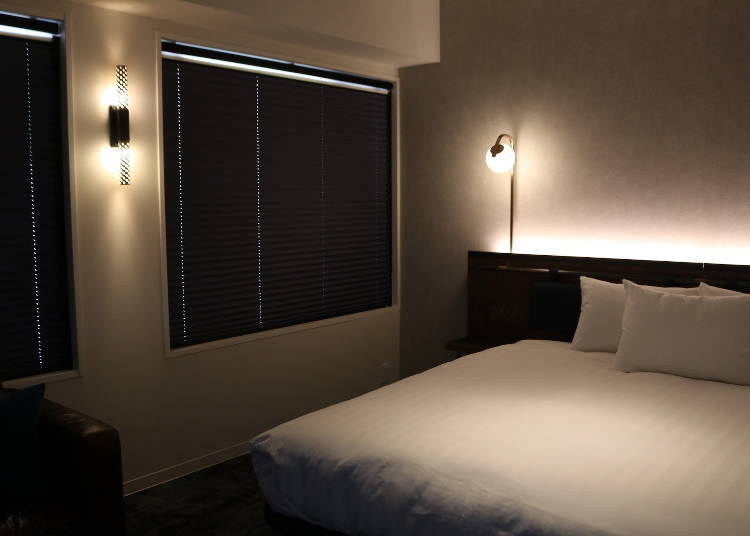 The rooms are chic with a modern atmosphere. The indirect lighting makes for a warm atmosphere. The beds feel like heaven too! Along with Serta mattresses, highly popular in the US, they also had the idea to put a type of gel foam on top, which makes for a truly exceptional sleeping experience. Perfect preparation for the day of travelling ahead.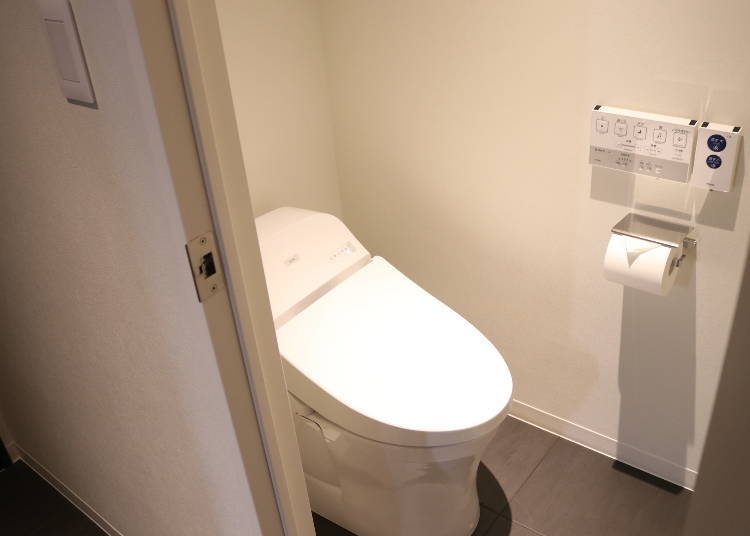 Of course the bathroom experience is of the usual high-quality you can find in Japan. The toilet and bathroom are separated for maximum hygeine, and it's fully equipped with the famous variety of buttons for a modern toilet experience. However, only the corner room "Premium King" comes with bathtubs.

There are five room types of "Standard Double" with a double bed, the "Superior Double" which is more spacious than the standard, "Superior Twin" which comes with two 120cm beds, and the "Superior Twin & Bunk" which comes with two twin beds and a bunk bed. The rooms are equipped with toothbrush and toothpaste amenities that you can take home. Also, they have one set of bath towels and hand towels per person, and the shampoo, conditioner, and body soap are all THE LIVELY's original brand. It has a botanical scent that was so relaxing it sent us straight to sleep.
2: Easy to get to know other travelers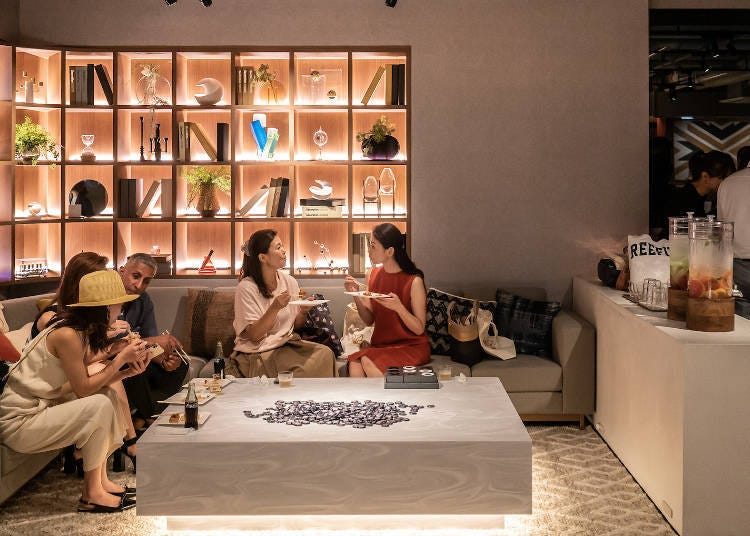 Next to THE LIVELY Osaka Honmachi's reception on the second floor is a lounge space where you can sit and chat whenever you like. Also, there are loads of comfy chairs and stylish tables spread around the second floor that provide an atmosphere for hotel guests to get to know each other.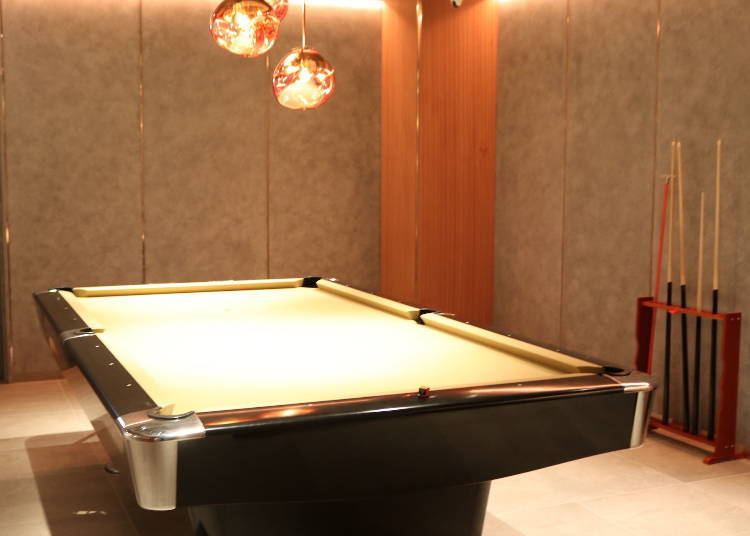 There's a pool table in the back that you can use at your leisure. We're told that guests often get together in the evening play pool with drink in hand, perfect to spark up a conversation.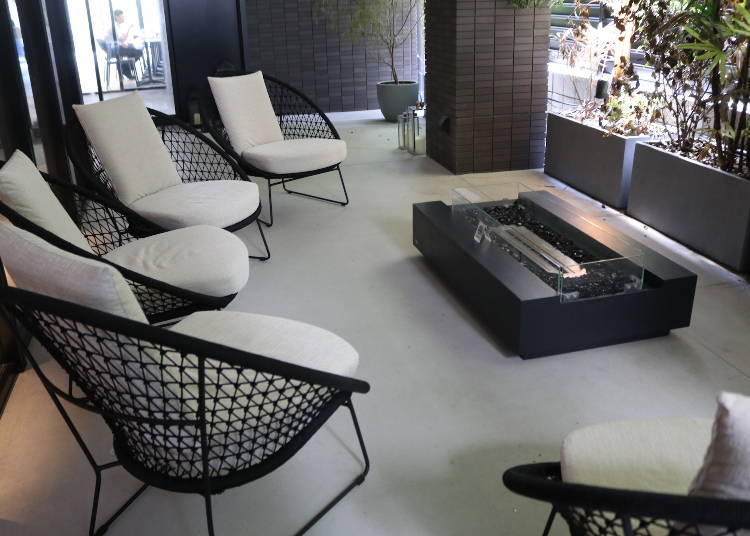 On the first floor, there is a terrace that provides a camp-like atmosphere, which is perfect for conversations. Once the sun sets, they light candles to create a truly magical atmosphere. It's quite rare to experience such a calming space in the city center.
3: Rooftop Bar and Urban Atmosphere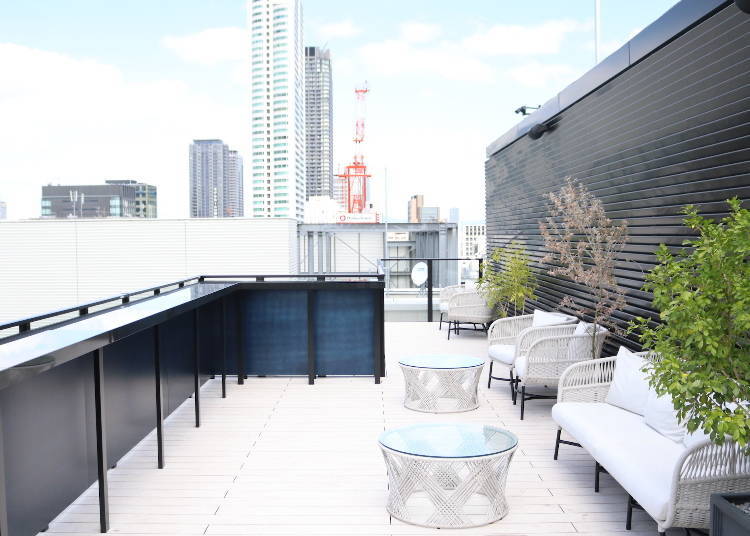 I'm sure many of us would love to enjoy the view of the city when staying in a hotel in the middle of a city. Well, from the rooftop of THE LIVELY Osaka Honmachi you can! Enjoy the beautiful contrast of the sky and buildings from up high. You can reach the rooftop using the designated elevator for gorgeous day views or romantic evening views, as you please.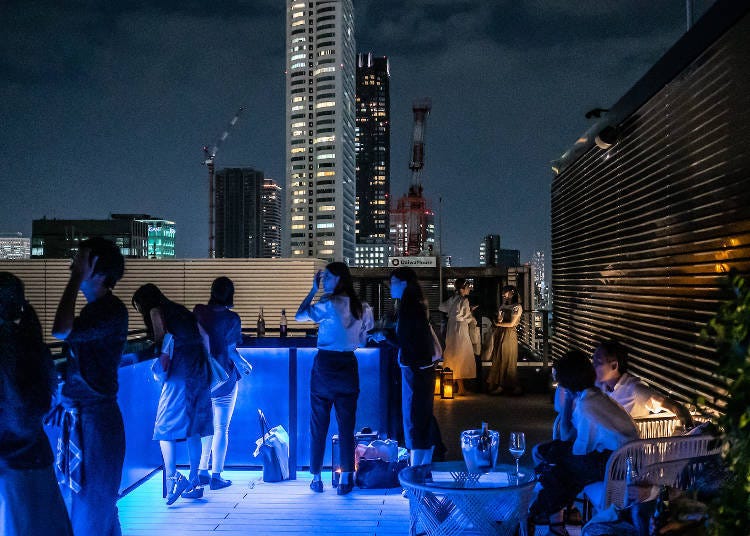 At night the pool lights and building lights create an urban atmosphere. They play up-tempo music that creates a party-like atmosphere. The atmosphere and vibe of the rooftop make it hard to resist getting out your dance moves!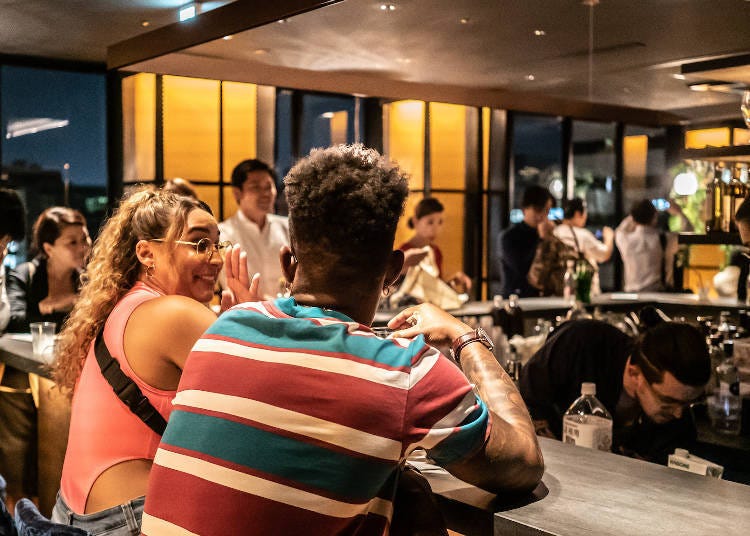 Next, we head downstairs to THE LIVELY BAR. The huge windows provide a great night view of Osaka City and a nice open ambiance. The bar offers various drinks, such as their original cocktails. Even though it is a hotel bar it has a casual atmosphere and friendly staff.

(Bar is open from 6:00 pm - 11:00 pm)
4: The Breakfast is Delicious!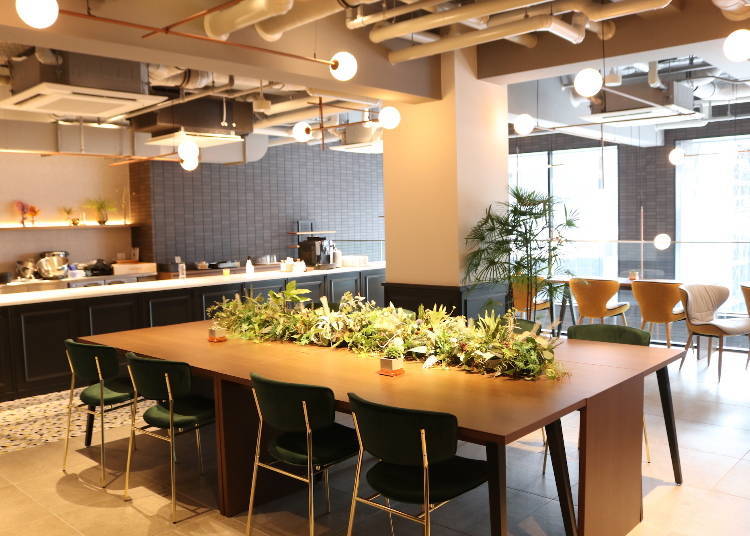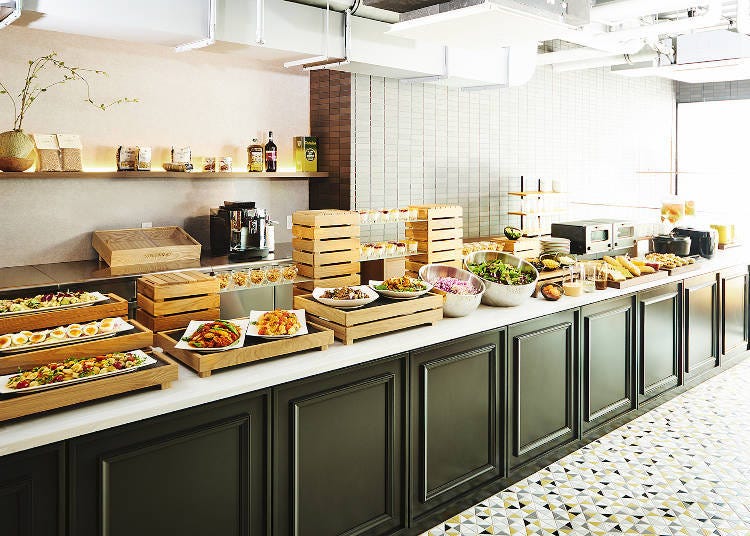 A hearty breakfast will get you ready for a full day. And at this hotel, that is certainly the case. They have a mix of Japanese and Western cuisine - On the buffet, there are original menus lined up, such as okara konjac sweet vinegar mix, pork with saikyo miso coriander flavor, five types of bean pasta salad, salmon and broccoli quiche.

At the breakfast room "LIVERALLY" there is a large window where the morning light beams in, so you can start your day with a smile.
The breakfast makes use of lots of vegetables, which will give you the nutrients to go out and enjoy your day. The dishes look gorgeous and make for great photos, too!

During the day, "LIVERRALLY" is a co-working space that hotel guests can use for free. They have high-speed Wi-Fi, and it is relatively quiet during the day so that you can work on whatever you need to without distractions.
5: Can't Forget about the Deli on the First Floor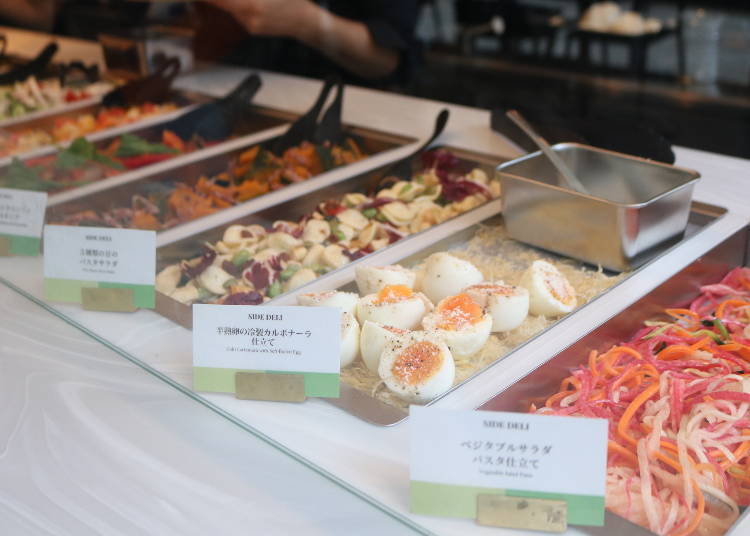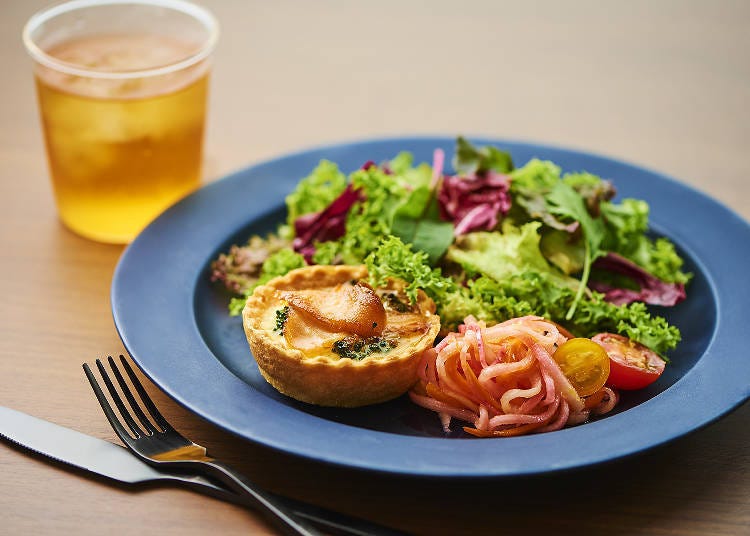 On the first floor is "The Lively Kitchen" and here they offer a variety of delicious deli items. For the lunch menu "DELI PLATE," you can choose 2 types of side deli out of the 9 lined up on the counter, 1 type of the main deli out of 3, and either rice or quiche, all for 1,000 yen (tax excluded). For dinner there is additional pasta to the 1,000 yen (tax excluded) set. You can eat at the deli or order takeout and eat in your room.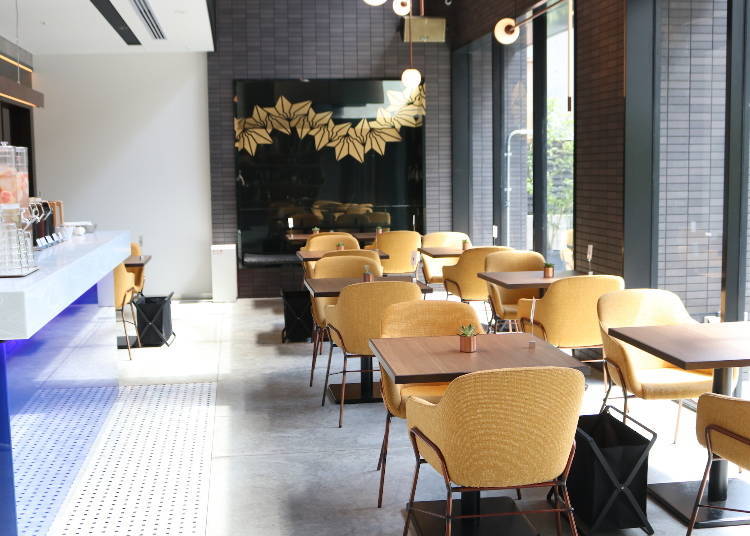 Also, did we mention? One of the great things about their evening service is that from 5:30 pm - 6:30 pm, they are offering an all you can drink beer service for hotel guests! This is a popular time for most guests to "THE LIVELY KITCHEN" and it becomes a place where guests naturally spark up a conversation with each other.
Asking the Staff About the Attraction of THE LIVELY Osaka Honmachi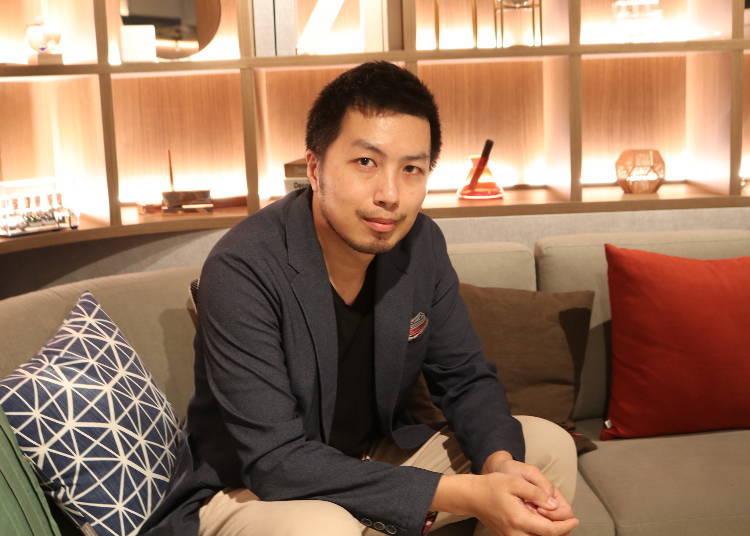 Taiwanese staff Shu Yilun
Mr. Shu from Taiwan has been working as a reception staff since the hotel opened, he can speak Chinese, Japanese and English and answer requests from international guests.

He stated, "One of the charms of the hotel is the close interaction between guests and hotel staff. If you have a question or traveling alone and feel uneasy, please stop by the reception. Also the hotel has a charming interior and decorations. My favorite is the decoration in front of the first-floor hotel. It's very beautiful!"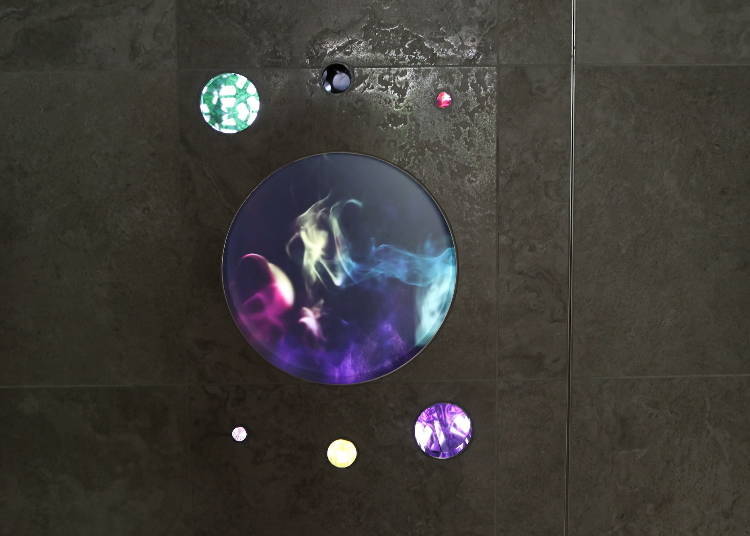 Mr. Shu's favorite. A kaleidoscope hotel decoration
THE LIVELY Osaka Honmachi has plenty of common space, and the interior is very stylish. The staff are friendly and many have an international background so that you can feel free to ask questions easily. Also, the standard double room at about 12,000 yen a night (price will vary depending on the season); you can understand why it's popular with foreign visitors!

So there you have it, the perfect base for your Osaka sightseeing.
THE LIVELY HONMACHI OSAKA

ザ ライブリー大阪本町

Address

1-chome-5-11 Minamihonmachi, Chuo-ku, Osaka, 541-0054

Phone Number

06-6484-8644

Price: Standard Double 12,000 yen per person per night (excluding tax, the price may vary depending on the season)
Closed: None

Vacancy search, reservation

from

9,000JPY

1room, 2adults

Check with our partner site as the latest rates, rate details, and guest room requirements may vary.
Text by:WESTPLAN
*This information is from the time of this article's publication.
*Prices and options mentioned are subject to change.
*Unless stated otherwise, all prices include tax.