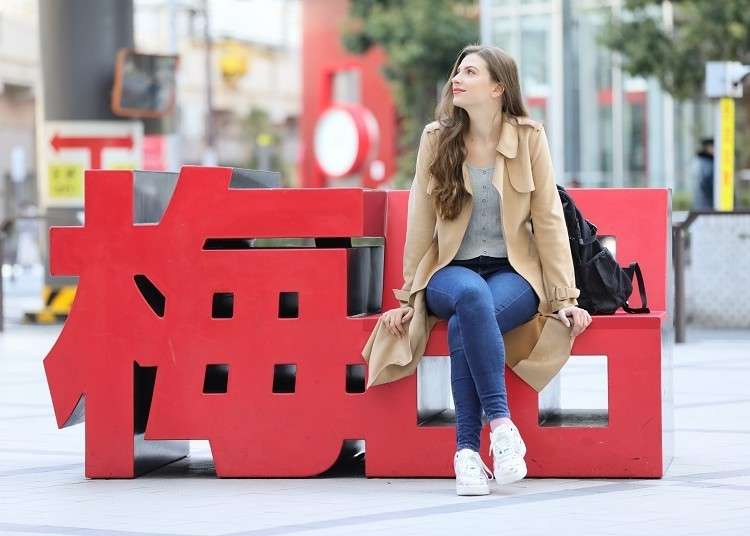 Osaka's Umeda district is the perfect place for venturing out into West Japan's best area for tourism, the Kansai region. In particular, its high-class urban cityscape lends a sophisticated feeling that travelers will appreciate.
With plenty of popular shopping spots and memorable, tantalizing cuisine for visitors to Japan to enjoy, it's a perfect travel destination even by itself. The ever-talkative Osakans are very neighborly to travelers, too. Friendly shop staff will be there to help you get around and form happy memories of your trip.
Here, we'll share a one-day plan for enjoying all the shopping and cuisine the Umeda-Osaka area has to offer. Enjoy your stay in Umeda to its fullest!
Traveling to Osaka? Go to Umeda!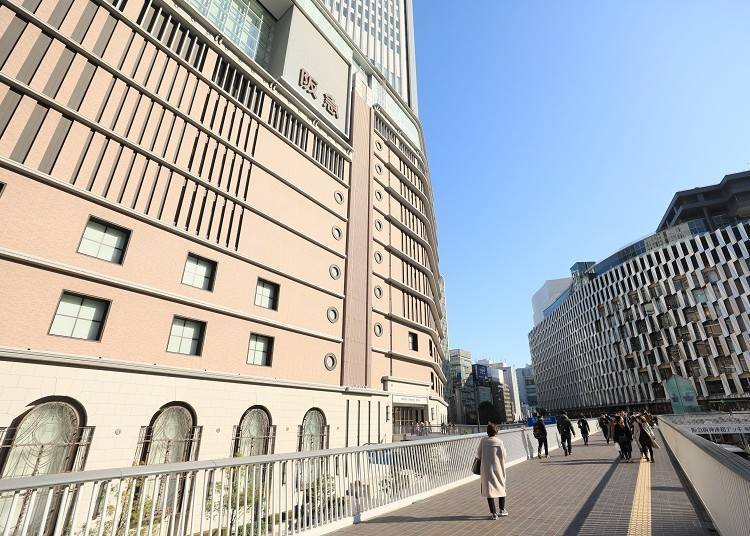 In recent years, Osaka has been gathering popularity as a destination for tourists traveling to Japan. The rise began around 2011, and now tourists are a common sight in the area. Osaka's fame comes mostly from its convenient position between famous sightseeing locations in the Kansai region, like Kyoto, Nara, and Kobe. For instance, it's only about 43 minutes to get to the heart of Kyoto at Kyoto-Kawaramachi Station, via the express train from Hankyu Osaka-Umeda Station. This makes Osaka your perfect sightseeing base.

That's not to say there aren't plenty of exceptional destinations within the city of Osaka. Osaka has two distinct areas: Umeda centered on Osaka-Umeda Station, and Namba centered on Namba Station. These two areas will check all the boxes you need to get the most out of Osaka and have a satisfying trip.
For shopping and food, Umeda's grand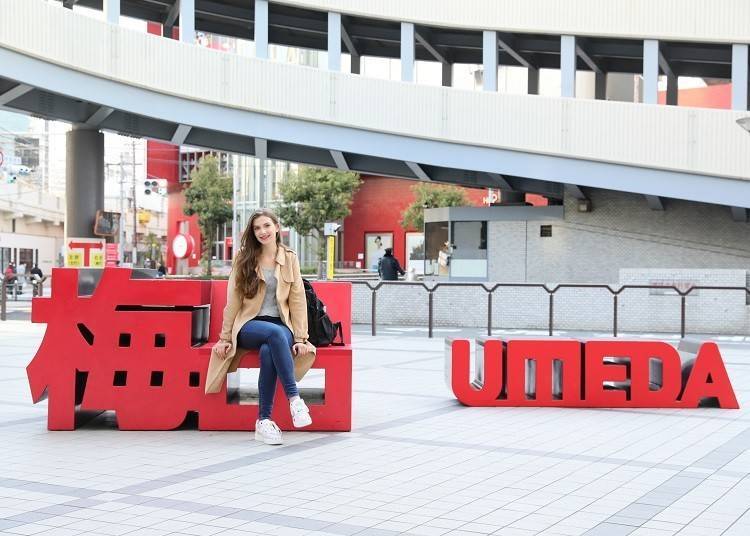 Discover monuments perfect for pictures in Hankyu Sun Hiroba
Even in Kansai, Umeda is an excellent place to enjoy shopping or fine food. You'll find many malls in the area around Osaka-Umeda Station with everything from thrifty stores to extravagant select shops and high-end brand outlets, convenient for any visitor. These malls also feature cuisine, like the Osaka classics okonomiyaki and takoyaki.
In fact, Umeda has famous restaurants from around all of Japan. A walk around most any building can take you on a shopping/culinary adventure. That is to say, walking around Umeda area buildings make for a most efficient trip.
One-day plan out in the Umeda area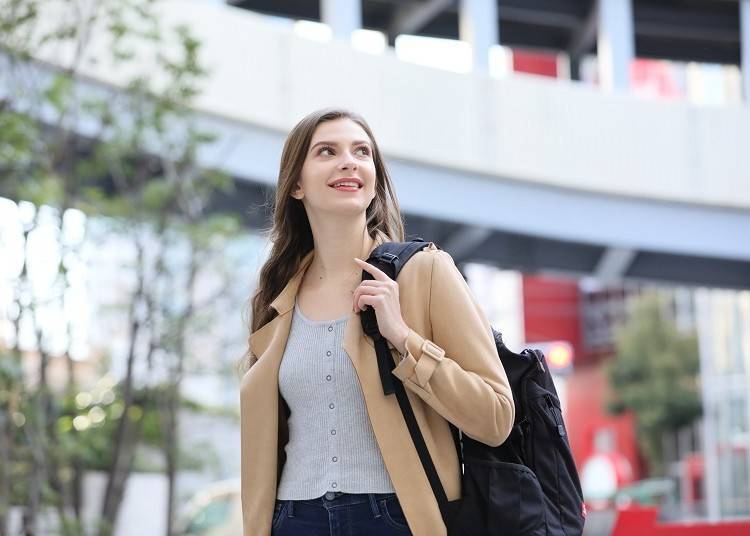 Now for that one-day shopping/cuisine plan in Umeda. Let's simulate the perfect one-day trip that includes shopping at the wildly popular MUJI, the melt-in-your-mouth deliciousness of Kobe beef sukiyaki, and a view of the Osaka nightscape.
1. Get all your shopping in at GRAND FRONT OSAKA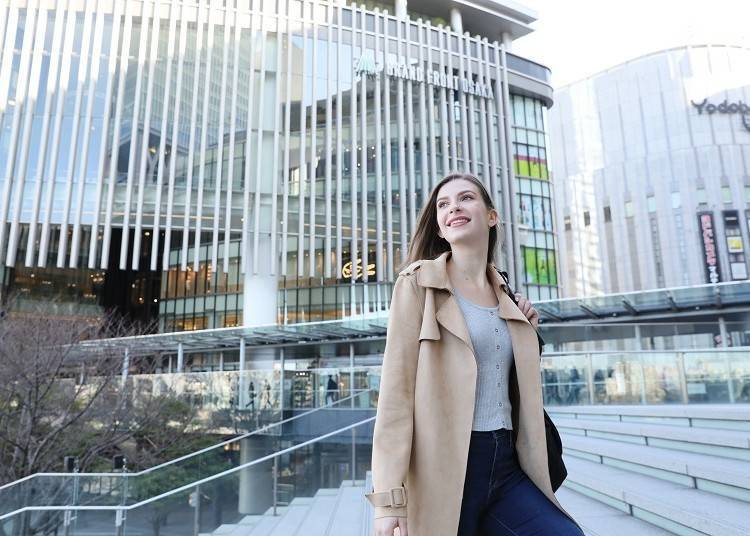 GRAND FRONT OSAKA is a mall that encapsulates the Osaka experience. The massive complex contains shops for fashion, variety goods, tableware, interior decoration, and more. Below the first floor is a wide variety of dining options. You could find everything you'd ever want to bring home from Japan right here.
■The biggest Mujirushi Ryohin in Osaka (North Building 4F)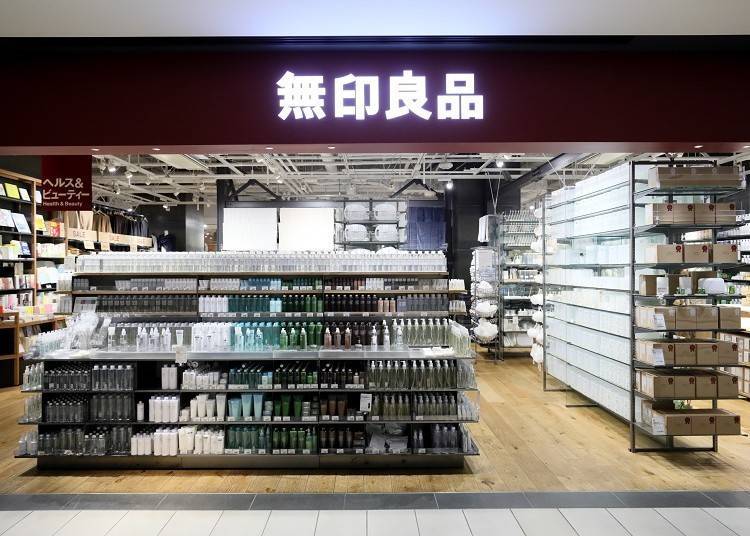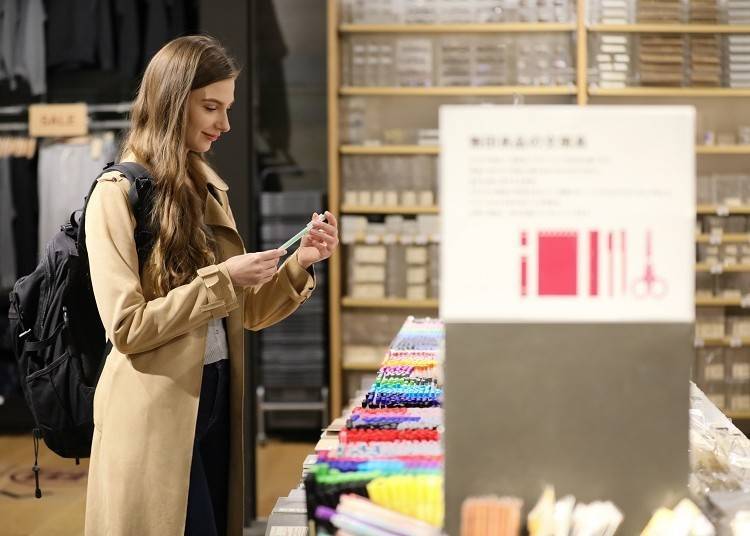 You'll find Mujirushi Ryohin all around Japan, but the Umeda MUJI may very well be the biggest MUJI in Osaka-- nay, Kansai! You'll find the entire MUJI catalog of fashion, cosmetics, stationery, lifestyle items, and more, plus selected literature, and a cafe great for having lunch and relaxing. Like a well-unified mall, you can enjoy shopping and dining here.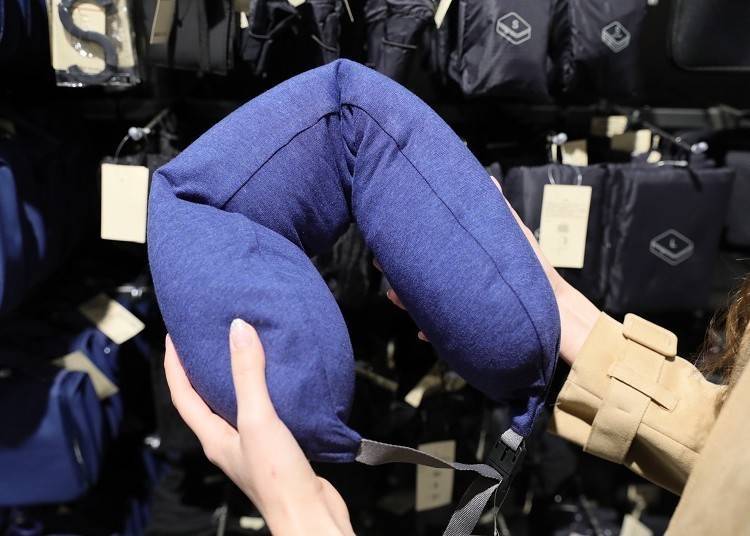 Plenty of travel goods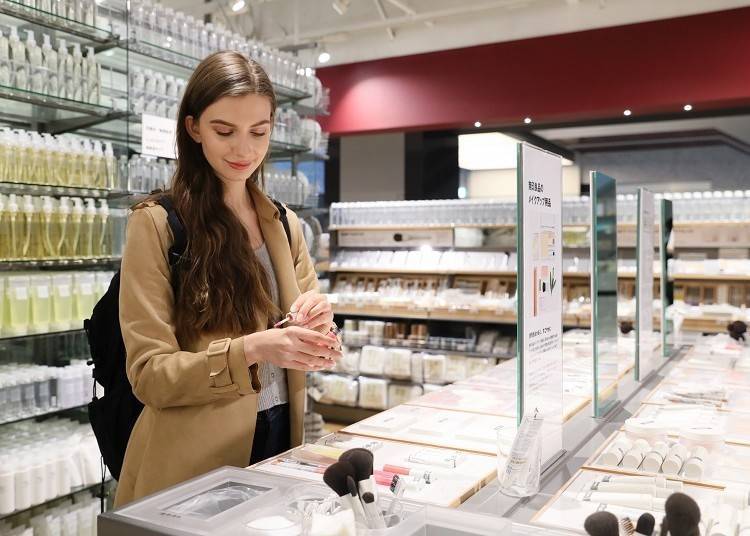 Cosmetics with appealingly minimalist packaging
All of Mujirushi Ryohin's most popular products can be found here, so you might be able to find things here that are sold out at other Mujirushi Ryohin locations. Their stock is extensive as well, so you could make purchases in bulk if you feel the need. They also feature products you won't find at other locations, like limited-edition products made with new materials. There is also a workshop for embroidering names or images on classic products.
■KANEKO OPTICAL( South Building 2F), inheriting Japan's tradition of craftsmanship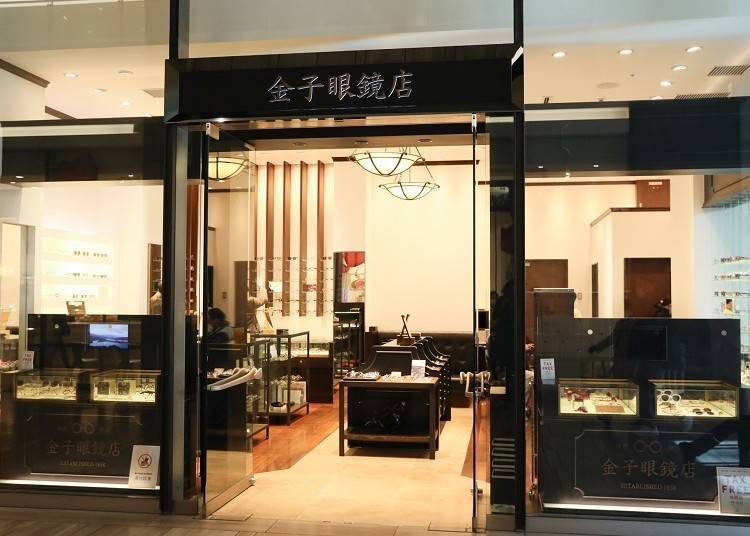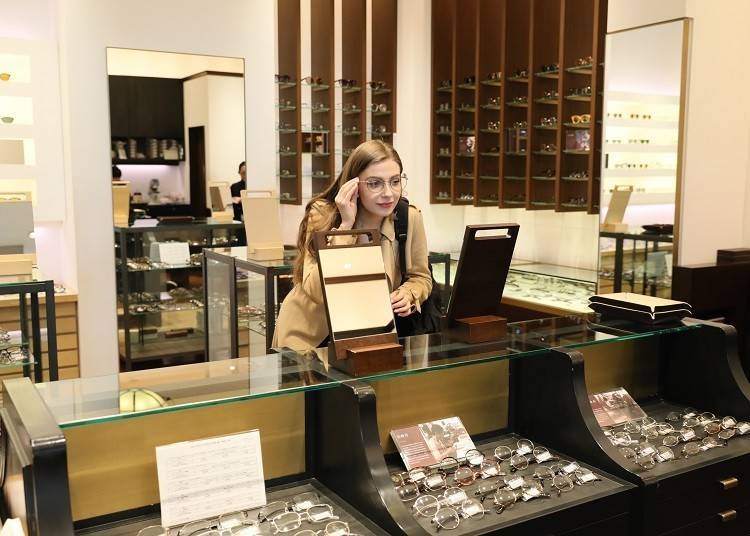 This optical shop got its start in 1958 over in Sabae, Fukui Prefecture. Their craftsmen use traditional techniques to form sturdy frames in trendy designs, creating a lineup of long-lasting made-in-Japan eyewear.
The personal touch one can feel from their products has earned them fans in and outside of Japan. They're frequented by visitors to Japan.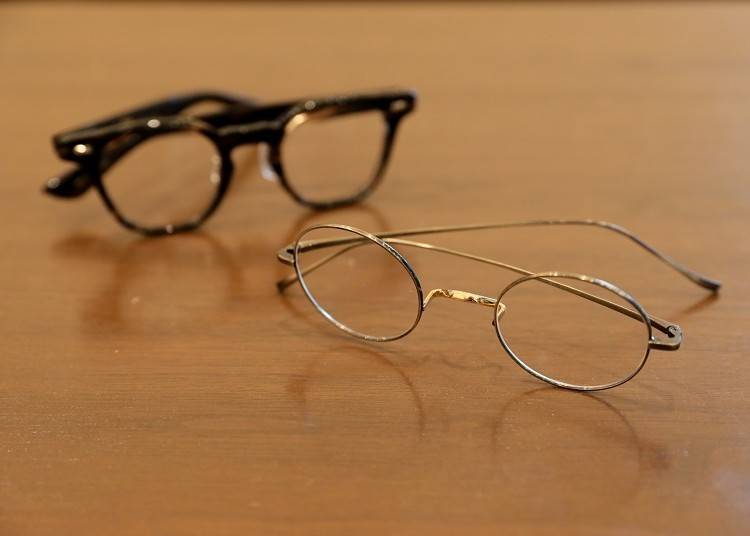 Foreground model: 99,000 yen, background model: 35,200 yen (frame only; tax included)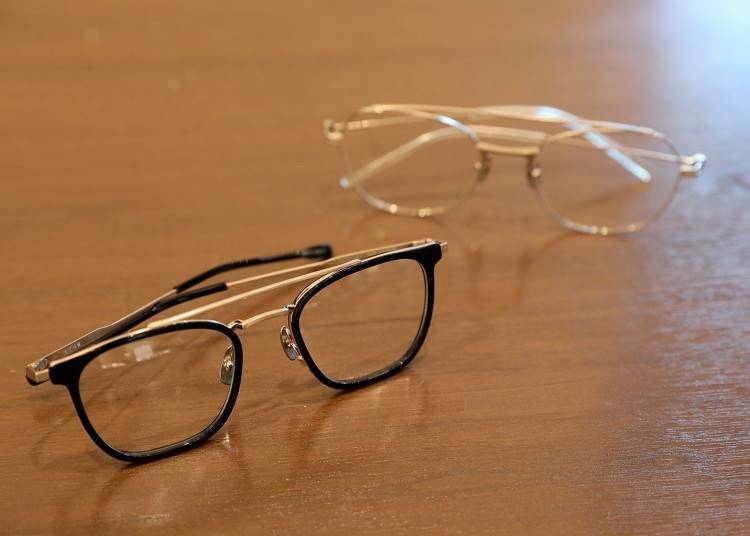 41,800 yen each (frame only; tax included)
You might get the impression KANEKO OPTICAL's forte is classical frames, but they have a wide selection of trendy eyewear, so you're sure to find something you'll like.
They can match lenses to the glasses you're currently wearing or measure your eyesight on the spot. The price of the lens changes based on their type, but begin at 15,400 yen (including tax) for a two-lens set. Each order can take one week to 10 days to finish, but they can mail the finished product to locations outside of Japan.
Address

4-20 Ofukacho, Kita Ward, Osaka 530-0011, 530-0011
View Map

Nearest Station

Osaka-umeda Station (Hankyu-kyoto Main Line / Hankyu-kobe Main Line / Hankyu-takarazuka Main Line)


Phone Number

06-6372-6300
2. Treat yourself to a luxurious "HERBIS" lunch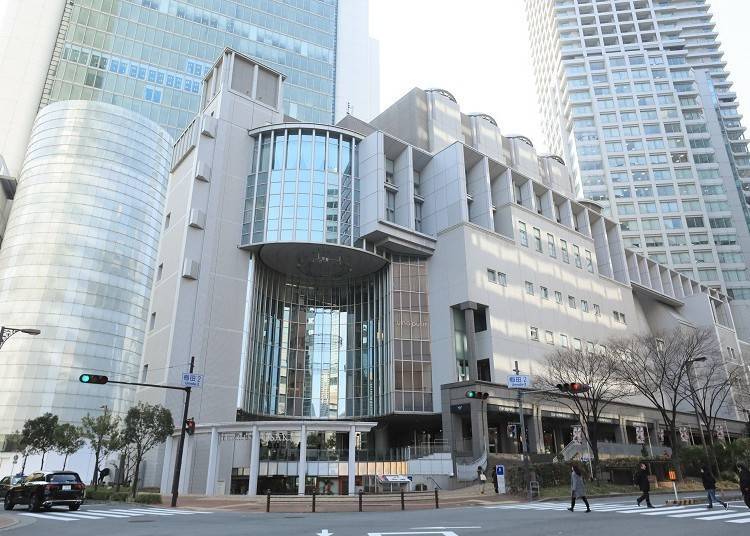 HERBIS, including "HERBIS PLAZA" and "HERBIS PLAZA ENT," is a commercial facility in Umeda, Osaka. You'll find flagship shops for luxury brands and popular select shops originated in Japan in a fun, urban environment. The B2 floor of HERBIS PLAZA is for restaurants, featuring attractive bars, cafes, and restaurants for Japanese cuisine, desserts, and more.
■ Enrich your palate with Kobe beef at "SUKIYAKI SHABUSHABU KOBE BEEF ISHIDA" (HERBIS PLAZA B2)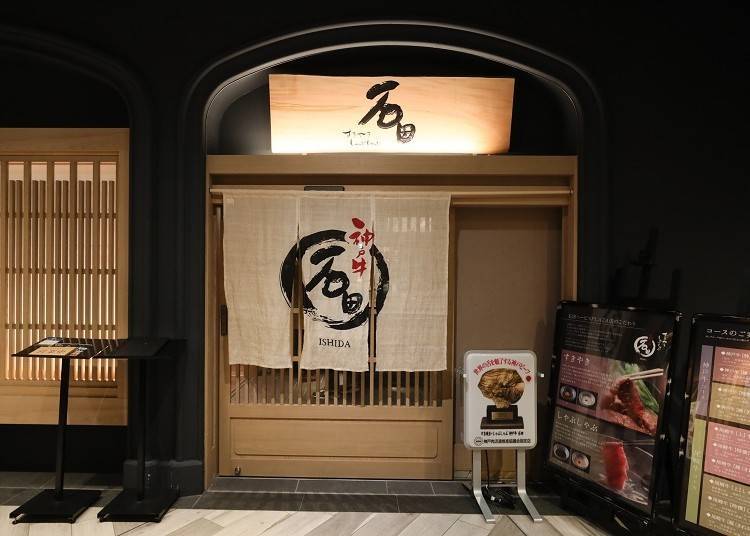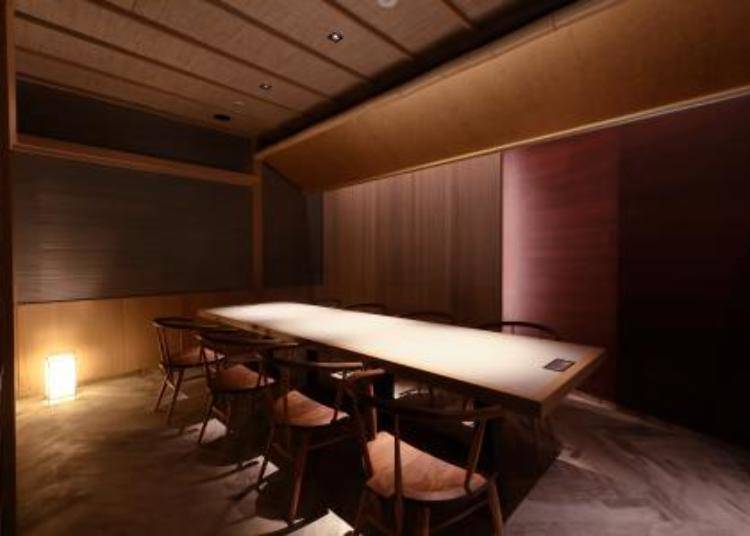 Kobe beef is a world-renowned Japanese brand. A great many people around the world, and even in Japan, merely hope to taste it someday. At "SUKIYAKI SHABUSHABU KOBE BEEF ISHIDA," you can eat that very same Kobe beef in shabu-shabu or sukiyaki form. The restaurant exudes high-class Japanese style; you'd be hard-pressed to find a better place to enjoy the flavors of Kobe beef.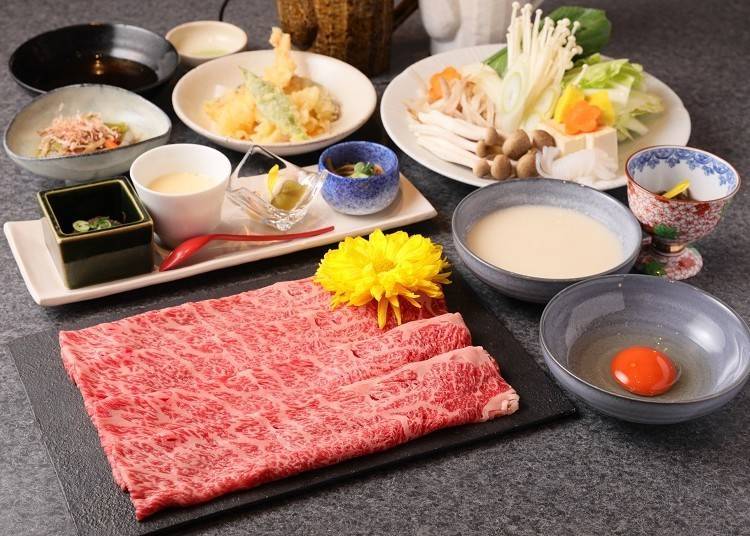 Kobe beef Ultimate Sukiyaki course: 13,200 yen (including tax)
At SUKIYAKI SHABUSHABU KOBE BEEF ISHIDA, you can take your pick between Kobe beef and Ozaki beef. Kobe beef is defined by its spectacularly rich flavor and soft texture, while Ozaki beef has a lighter flavor with the right balance of red meat and fat.
The sukiyaki course brings you sukiyaki with a parade of appetizers, tempura, and dessert. While technically a dinner course, you can also order it at lunchtime. Their lunch menu has items starting at 1,870 yen (with tax).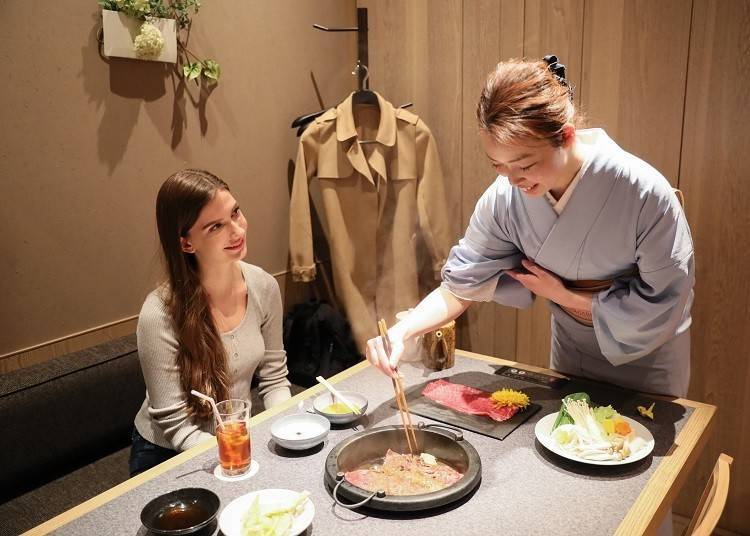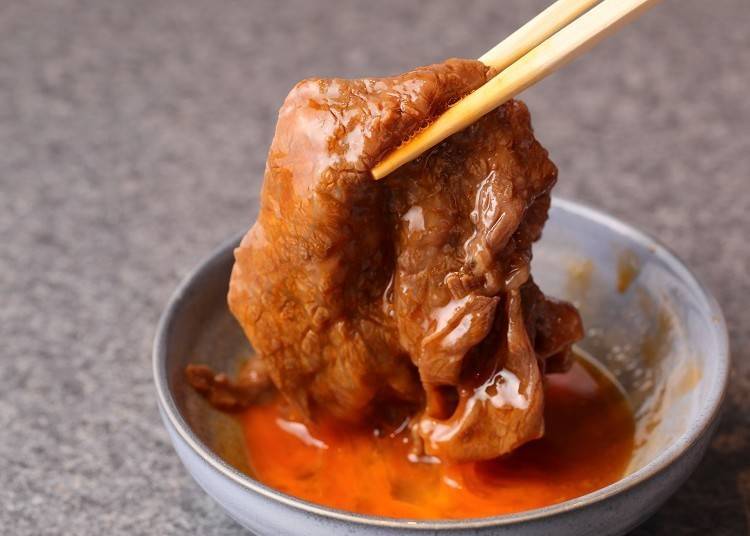 The sukiyaki is prepared right in front of you and brought to the perfect temperature before serving. It's served with a choice of rich-tasting whipped egg or grated yam. The soft and full-flavored beef mixes with the egg or grated yam to bring bliss to your mouth. Enjoy it in all its melt-in-your-mouth splendor.
Address

(HERBIS PLAZA ENT), 2-5-25, Umeda, Kita-ku, Osaka-shi, Osaka (HERBIS PLAZA)/2-2-22, Umeda, Kita-ku, Osaka-shi, 530-0001
View Map

Nearest Station

Osaka-Umeda Station (Hanshin Line)
1 minute on foot


Phone Number

06-6343-7500
3. Shopping and a cafe-stop at "HANKYU SANBAN GAI"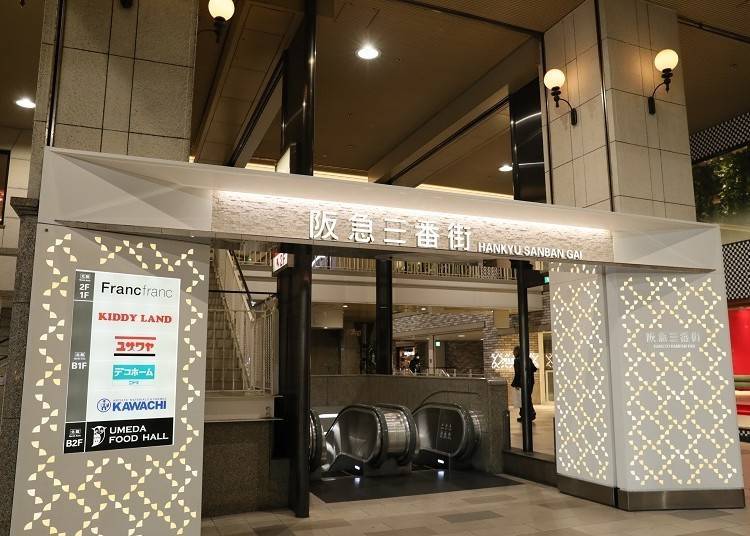 After relishing in Kobe beef at HERBIS, it's time to get back to shopping. "HANKYU SANBAN GAI" is a mall directly connected to Hankyu Osaka-Umeda Station. Here you'll find stores for fashion and an assortment of other goods which are visited by both tourists and locals alike.
■ Lose yourself in a kaleidoscope of popular character products at "KIDDY LAND" (North Area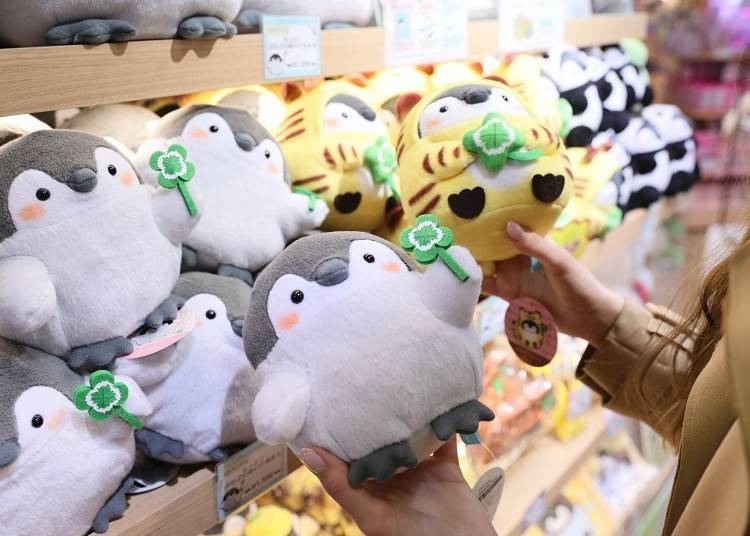 At KIDDY LAND, you can purchase products relating to around 150 cute characters. Characters from Studio Ghibli movies? Check. The laid-back and charming Rilakkuma? Present. Then there are Snoopy, Miffy, and... in any case, famous characters from around the world.
The characters' amusing expressions will bring a smile to any face! It's no wonder the store is popular with both kids and women in their 20s and 30s.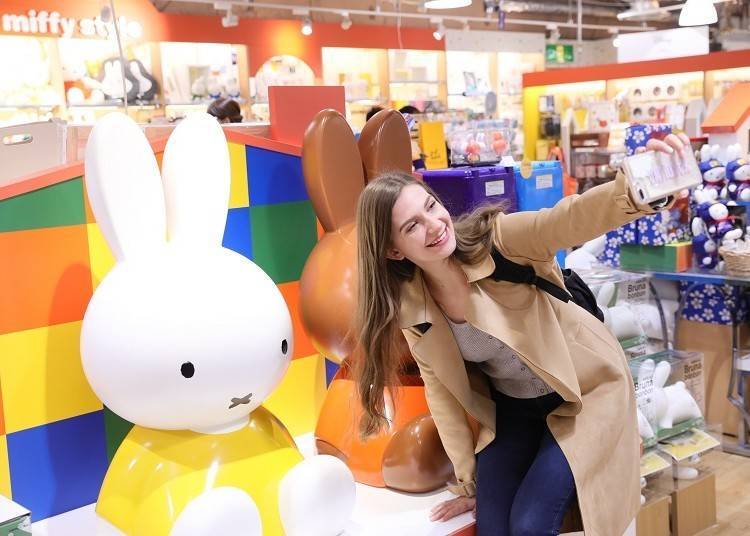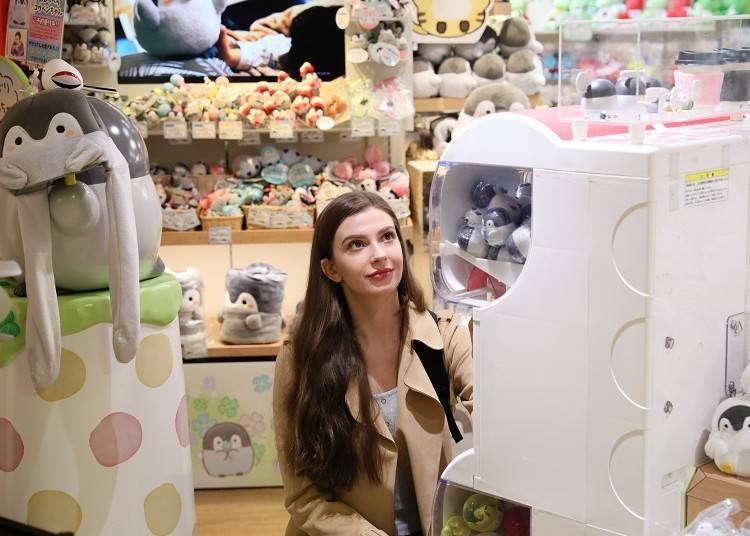 There's a photo spot in the store that would make for a good Osaka vacation memory. You'll see a lot of these "gacha" machines, which dispense capsule toys when you put in a coin and pull the lever. They're a hallmark of Japanese shopping complexes.
■Sit back and relax with a fluffy pancake at "BURN SIDE ST CAFE"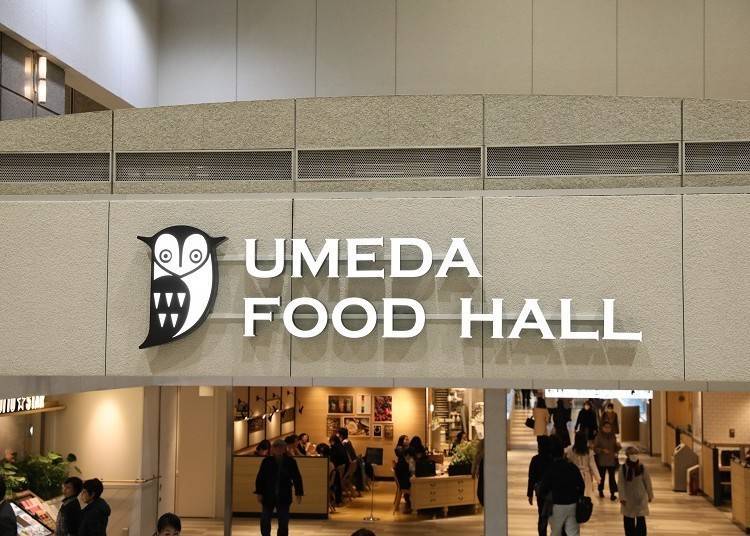 HANKYU SANBAN GAI's North Area B2F is their UMEDA FOOD HALL, a food court with around 1000 seats in its shared seating area and 18 establishments whose food you can try at your leisure. For this simulation, let's have a fluffy pancake from the popular BURN SIDE ST CAFE.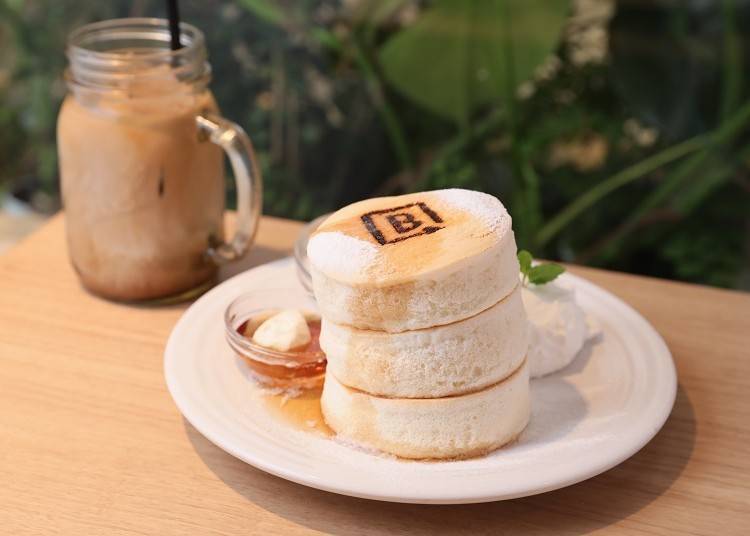 White Souffle Pancake: 1,280 yen, Cafe au Lait: 550 yen (both include tax)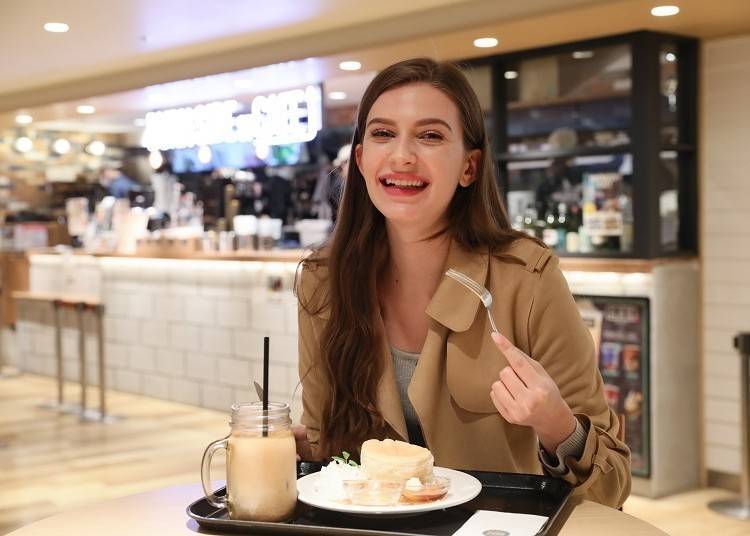 They use egg whites and soymilk to create their famous snowy-white fluffy pancake. Top it with your choice of honey or maple syrup. The pancake also comes with maple nut butter and whipped cream.
Enjoy the gentle flavor of soymilk in a satisfyingly large serving! As a relatively healthier treat, their white souffle pancake is favored by fans of Japanese cuisine, too.
Address

1-1-3, Shibata, Kita-ku, Osaka-shi, Osaka, 530-0012
View Map

Nearest Station

Osaka-umeda Station (Hankyu-kyoto Main Line / Hankyu-kobe Main Line / Hankyu-takarazuka Main Line)


Phone Number

06-6371-3303
4. The fun continues into the night at "HEP FIVE"!
Our trip has become a night out, and we'll make the most of it at "HEP FIVE"! HEP FIVE is a commercial complex with stores featuring fashion and various other goods aimed at younger crowds. Never a dull moment at HEP FIVE: it's great for shopping, but there are plenty of entertainment facilities.
■Jump into the virtual world at "VR ZONE OSAKA" (8-9F)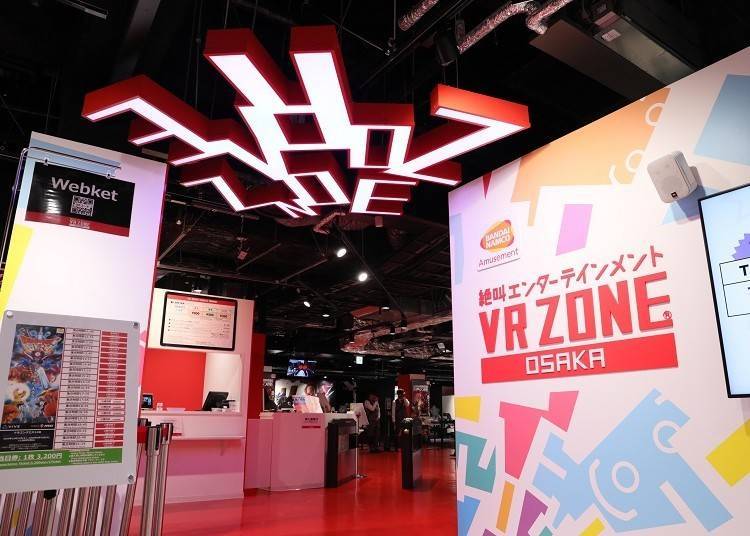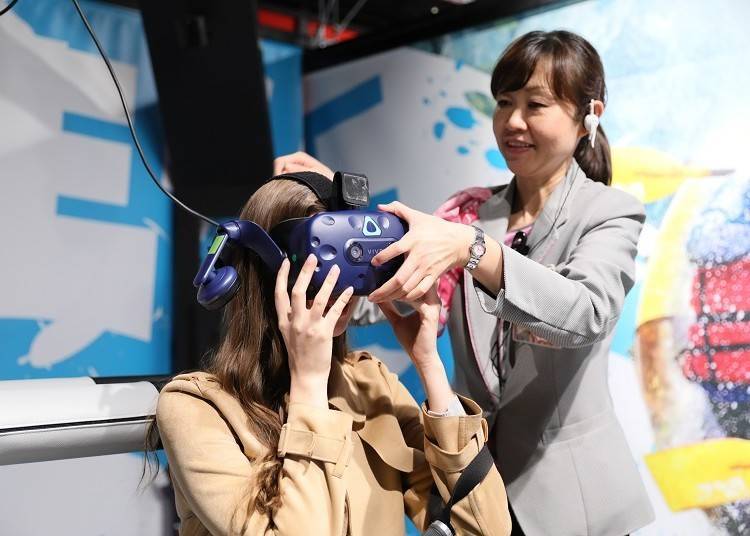 At VR ZONE OSAKA, you can put on a VR headset and explore everything the virtual world has to offer. Experience white-water rapids or flights in the sky as if you are truly there. Some of the attractions are themed on popular IPs like Evangelion, so we particularly recommend it to fans of anime.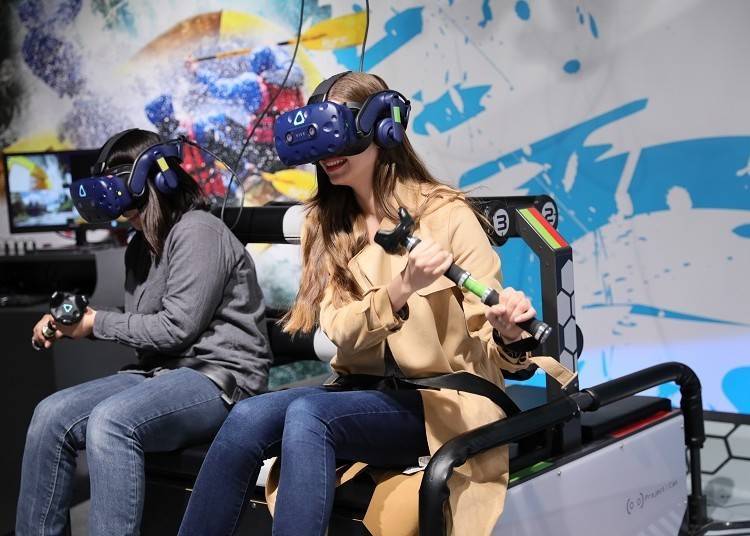 Some of the 16 attractions like "VR Adventure Rapid River" and "Hanechari (Winged Bicycle)" have English settings. Their "Free Pass" allows you to play certain activities an unlimited number of times. Weekday prices: 2,900 yen for kids, 3,200 yen for students, 3,500 yen for adults. Weekday and holiday prices: 3,800 yen for kids, 4,100 yen for students, 4,400 yen for adults. Prices after 6:00 PM for all days: 2,000 yen for kids, 2,300 yen for students, 2,600 yen for adults.
(©BANDAI NAMCO Amusement Inc.)
■ See the nighttime cityscape from Umeda's symbol, the Ferris wheel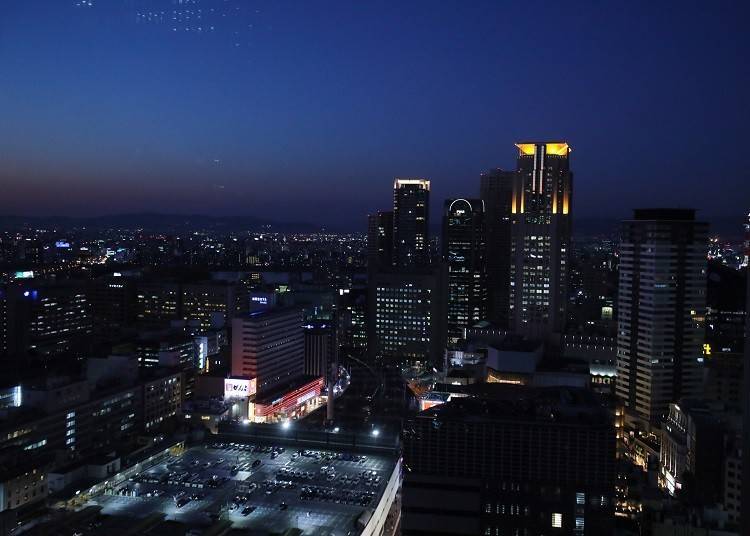 For a final touch on our Osakan night, we'll head up on the red Ferris wheel, which has become an Umeda landmark since its HEP FIVE first opened. From up high, you're treated to a light show only possible in the big city. The Ferris wheel cars are air-conditioned and kept at a comfortable temperature in both summer and winter! One trip around is only 15 minutes.
And it's only 600 yen (including tax) per person. Free for children five and under!
Address

5-15, Kakudacho, Kita-ku, Osaka, 530-0017
View Map

Nearest Station

Umeda Station (Midosuji Line)


Phone Number

06-6313-0501
A fulfilling Umeda-Osaka trip from morning to night!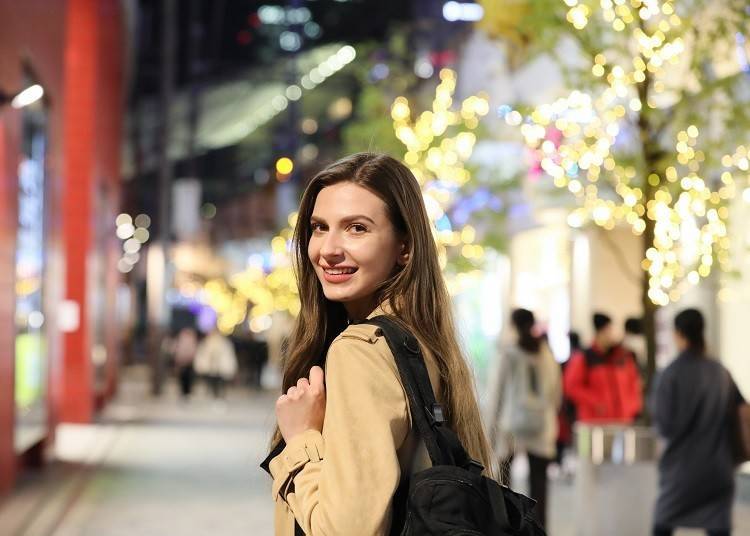 As you can see, Osaka's Umeda area has lots to do for shopping, dining, and entertainment. You're free to take in the city sights while dining on gourmet cuisine, get the most out of your yen shopping around and dining.
It's also a breeze to get to Kyoto, Nara, or Kobe from Umeda. Don't forget that Umeda has all kinds of establishments we haven't covered in this plan, so we encourage you to do a bit of research and come up with an Osaka-Umeda Trip that's just right for you!
Use these coupons at six malls!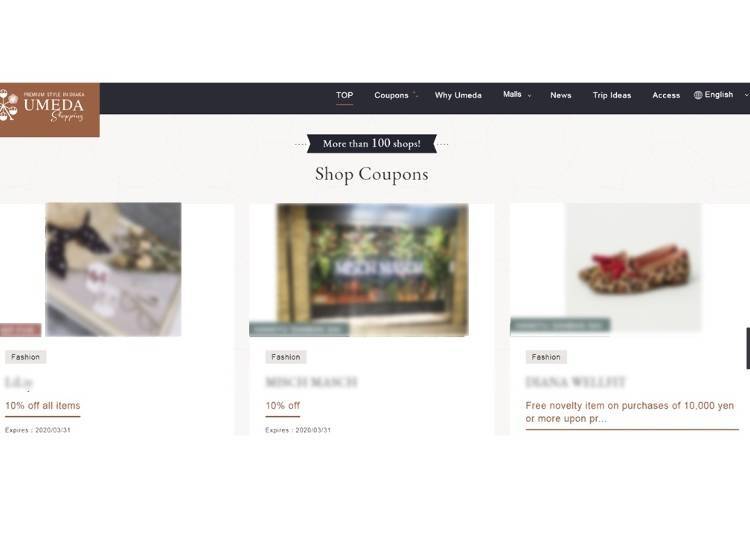 You can use them at any of the shopping malls introduced in this article, plus "NU Chayamachi / NU Chayamachi +" and "Diamor Osaka"! The coupons will get you sweet deals at more than 100 establishments.
*This information is from the time of this article's publication.
*Prices and options mentioned are subject to change.
*Unless stated otherwise, all prices include tax.
Limited time offer: 10% discount coupons available now!