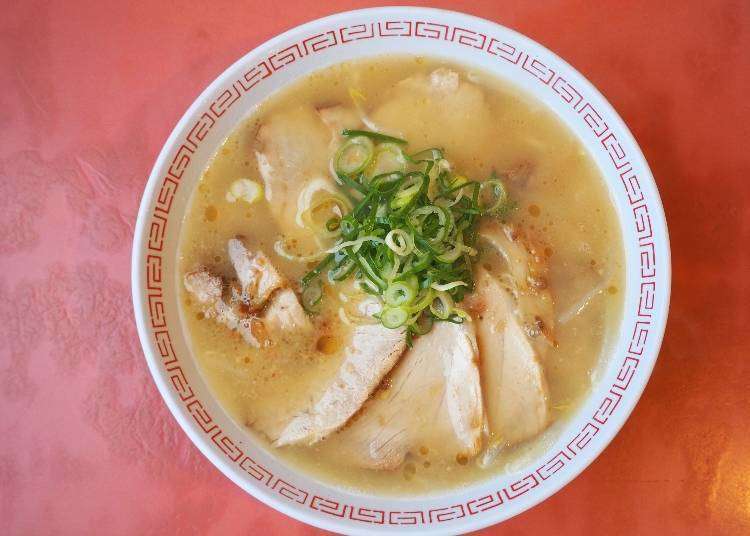 Famous for being Japan's foodie capital, Osaka is home to some of the best ramen in Japan! And in Namba, one of Osaka's most popular neighborhoods, you can find some of the city's finest ramen restaurants. Here, a local ramen reviewer from Osaka will share five of the best ramen spots in the area.
1. Kinryu Ramen Dotonbori: The veteran Osaka ramen chain - Look for the dragon!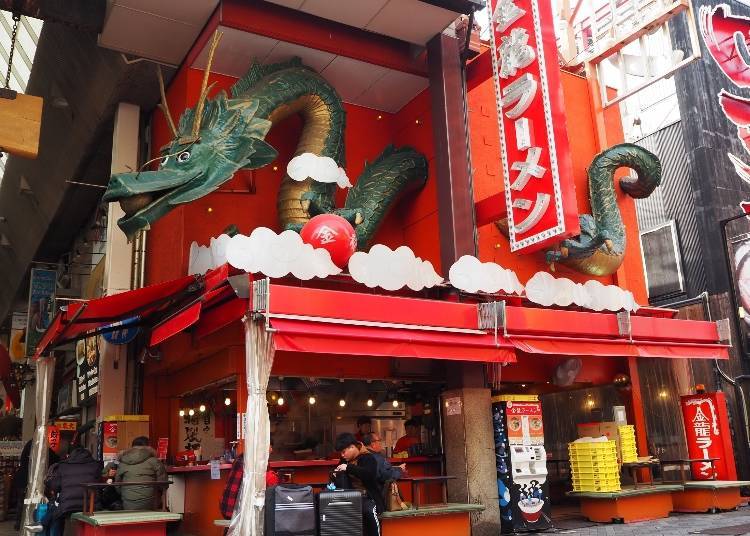 It's hard not to notice Kinryu Ramen's huge dragon sign in Dotonbori. Established in 1982, the chain brought then-rare tonkotsu pork-bone broth to Osaka as its focus. Nowadays, it's one of Osaka's biggest ramen chains. It only has two types of ramen on the menu: Tonkotsu and chashu ramen. Surprisingly, even though it constantly has a line to wait in, it moves pretty quickly, making this a perfect spot to stop at during a busy day of sightseeing.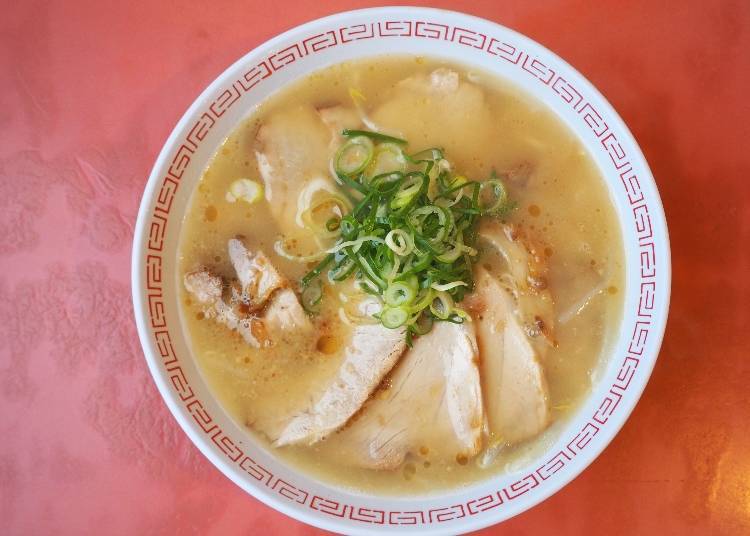 What do most tourists like to order? This chashu ramen, filled with chashu! (900 yen, tax included)
The chashu ramen, popular with tourists, is a lighter tonkotsu flavor made with broth from pork and chicken bones. The founder sought to make ramen that women could eat every day, resulting in the ramen's lighter flavor that foreign guests have also taken a liking to.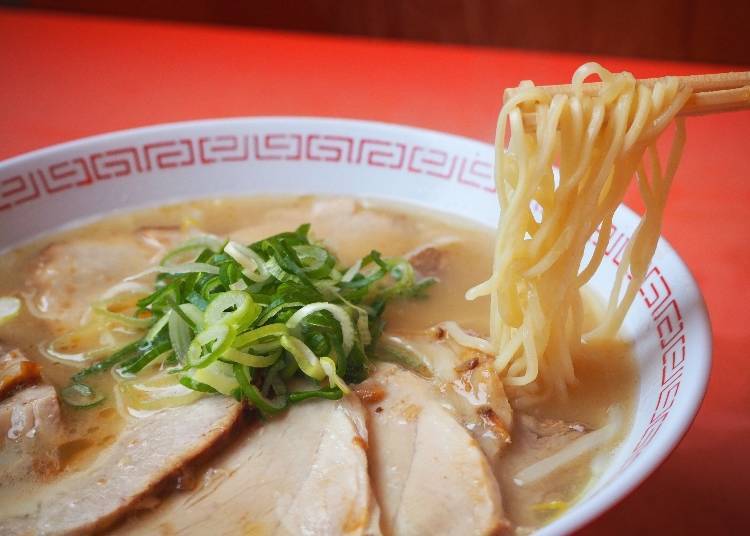 The noodles are straight and of medium thickness. The chashu is made from soft pork thigh that goes well with the soup, with a staggering eight slices in the bowl for a satisfying meal.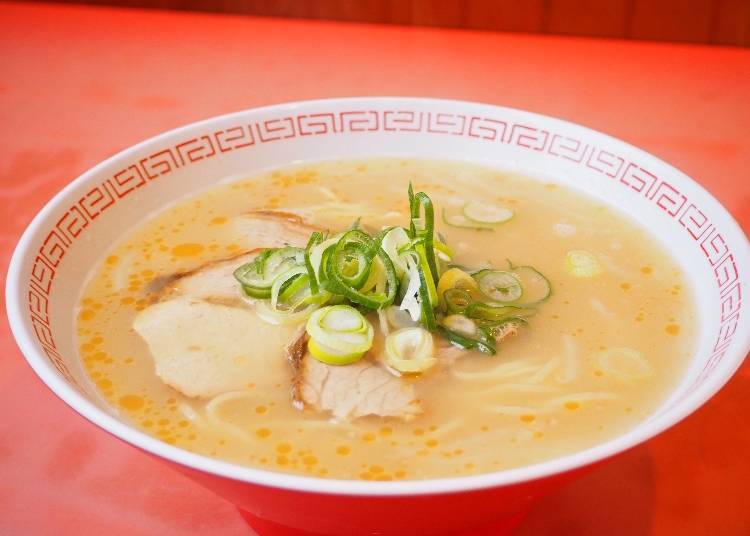 Even the regular ramen (600 yen, tax included) has three slices of chashu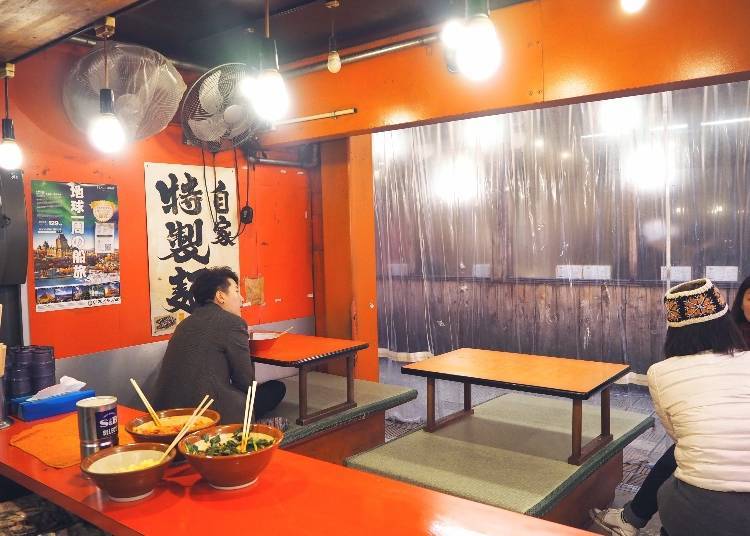 A unique interior with tatami seats
Kinryu Ramen's interior also stands out. Drawing inspiration from food stalls, the founder arranged for seats to be tatami mats guests would sit on in front of their tables. This gives it the appeal of being able to take your shoes off and rest as you enjoy some of the best ramen in Osaka.
Kinryu Ramen Dotonbori-ten

金龍ラーメン 道頓堀店

Address

1-7-26 Dotonbori, Chuo-ku, Osaka

Phone Number

06-6211-6202

Hours: Open 24 hours a day
Closed: Open Daily
2. Dotonbori Kamukura Dotonbori: Long-beloved, jealously-guarded Osaka ramen soup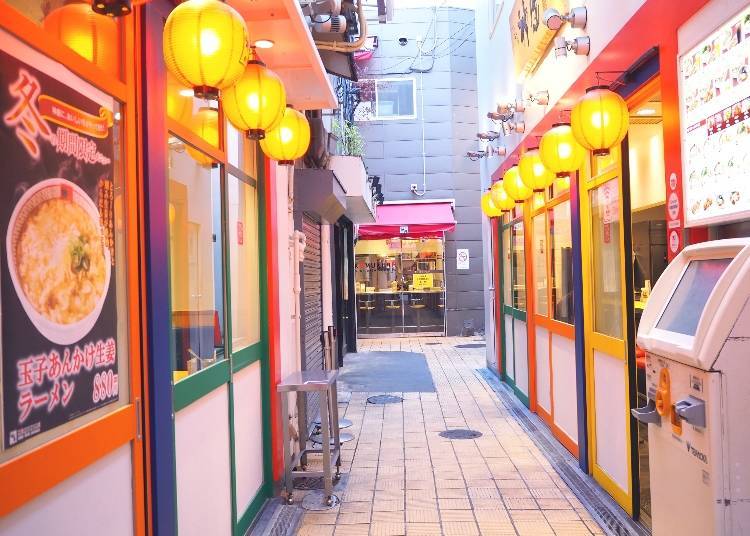 It's said that Kamukura's founder started the chain with a soup he developed from his chef days. In all of its 30 years of operation, it has sought to have the same flavor in every store, leading it to adopt a soup sommelier system, where the soup's flavor is maintained by a group of specialists.
Most popular bowl: Boiled Egg Ramen (810 yen, tax included)
This bowl has a light tasting soup complimented with thick cabbage leaves, creating a perfect balance. This is complemented by eggs boiled in a custom-made sauce and chashu made from dry-aged pork belly on top, forming a flavor that has catapulted this bowl to the shop's most popular - and among the best ramen in Osaka. I highly recommend it if you're not into heavy soups.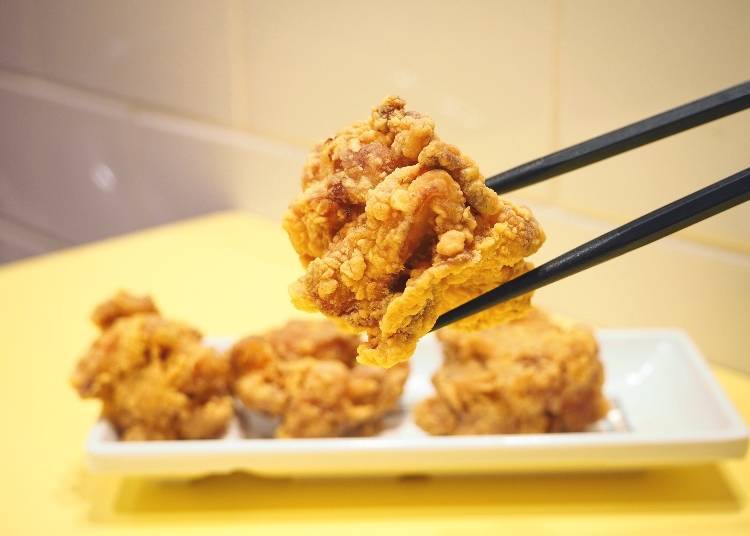 Karaage (330 yen, tax included)
The popular side dish karaage has been made to bring out the most of its chicken flavor. It goes well with ramen, and one can often see female diners sharing a dish.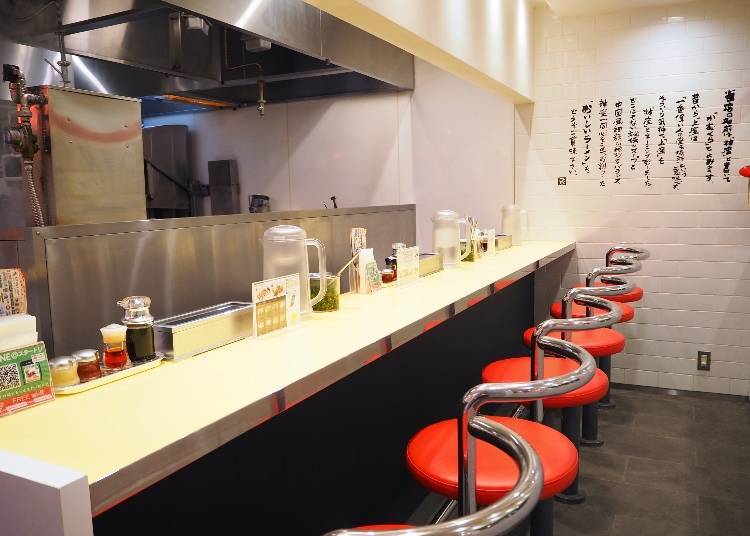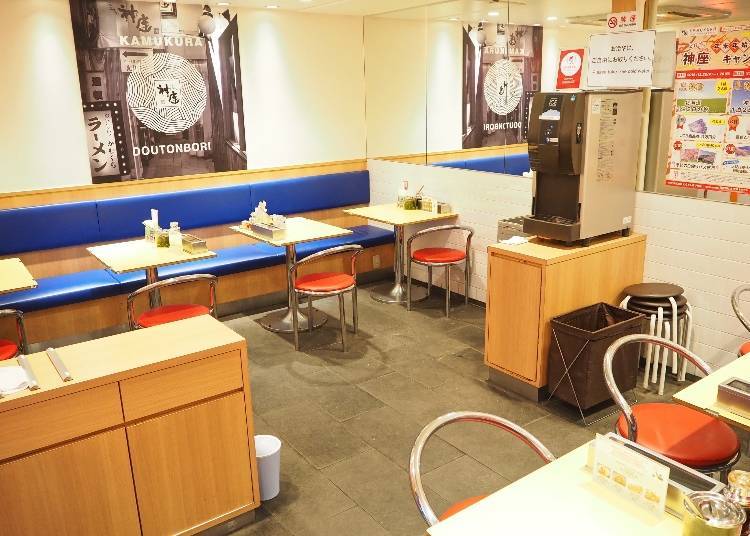 The Dotonbori Branch we covered here has 13 counter seats and 30 table seats. The yellow-themed, bright interior gives it a casual atmosphere that is inviting to families
Dotonbori Kamukura Dotonboriten

どうとんぼり神座 道頓堀店

Address

1-7-25 Dotonbori, Chuo-ku, Osaka

Phone Number

06-62111-3790

Hours: Sun-Thurs 11AM to 10PM, Fri/Sat/Before Holidays 11AM to 11PM
Closed: Open Daily
3. Kingemon Dotonbori Branch: Best shoyu ramen in Osaka?
Kingemon was founded to be the face of Osaka's shoyu ramen. Kansai is already well regarded by the nation's ramen fans, and this chain offers some of the best ramen in Osaka. The soy sauce that goes into the shoyu ramen is custom-made by a veteran maker, exclusively for this shop.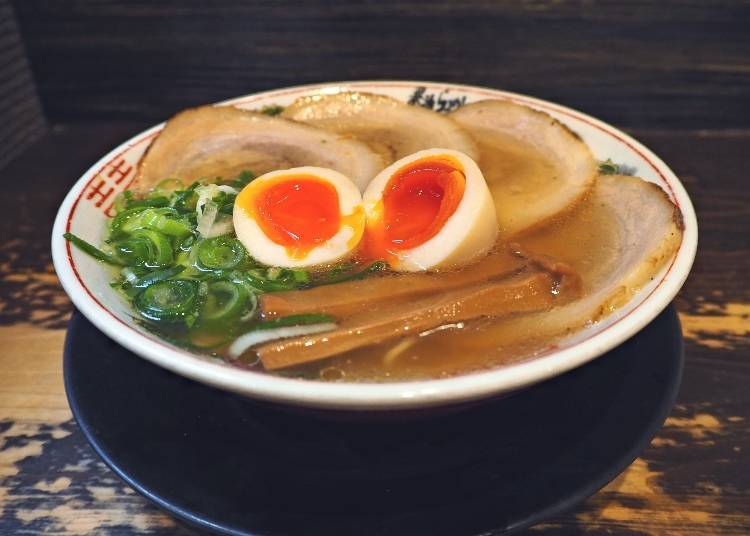 Dotonbori Kingemon exclusive "GOLD SPECIAL" (1,280 yen, tax included)
Kin shoyu ramen: A light soy sauce flavor on a soup based in chicken and pork bones, conferring a gentle, then truly deep flavor. A popular classic of the establishment to be sure, but if you want even more of it, you can order the Dotonbori branch's exclusive "GOLD SPECIAL." It boasts an impressive four slices of large chashu, and a rich boiled egg that adds even more flavor.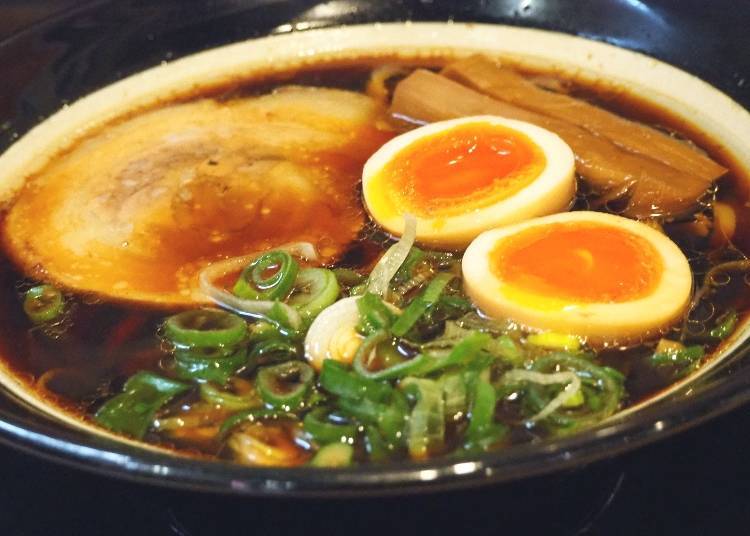 Osaka Black (950 yen, tax included)
Osaka Black, as the name suggests, has a strikingly black soup. The soup, enhanced by the flavorful black soy sauce, has a surprisingly smooth aftertaste. The hidden flavor uses oil with shrimp aroma, so you'll get a taste of seafood, as well.
The clean interior only consists of counter seats – 20 in all. It generally sees long lines around noon, so you want to be there in the morning, right before it opens. The gyoza (5 for 500 yen) are very popular, as well!
金久右衛門 道頓堀店

Address

1-4-17 Dotonbori, Chuo-ku, Osaka

Phone Number

06-6211-5502

Hours: Mon-Thurs 11AM to 8AM next day, Fri-Sun/Before Holidays: Open 24 hours
Closed: Irregularly
4. Ramen Bokkoshi: Excellent Osaka ramen soup made with local chicken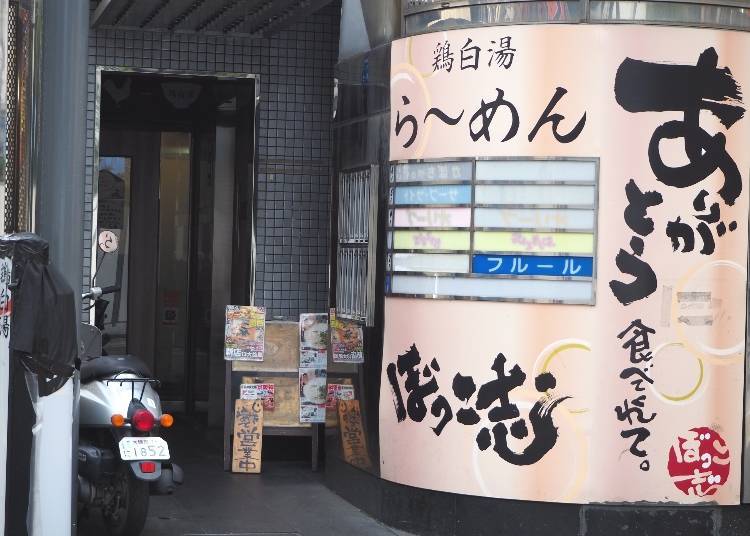 About a minute into a side street off of Midosuji, the main street that runs across Osaka from north to south, you'll find Ramen Bokkoshi. It's on the first floor of a building with its entrance a little deeper in. Its signature bowl is the tori paitan ramen. The ramen stands out with the rich flavor of Hyogo Tanba chicken to make a thick, creamy soup. Few purveyors of tori paitan ramen can boast their level of popularity, and we're sure you'll agree it's some of the best ramen in Osaka.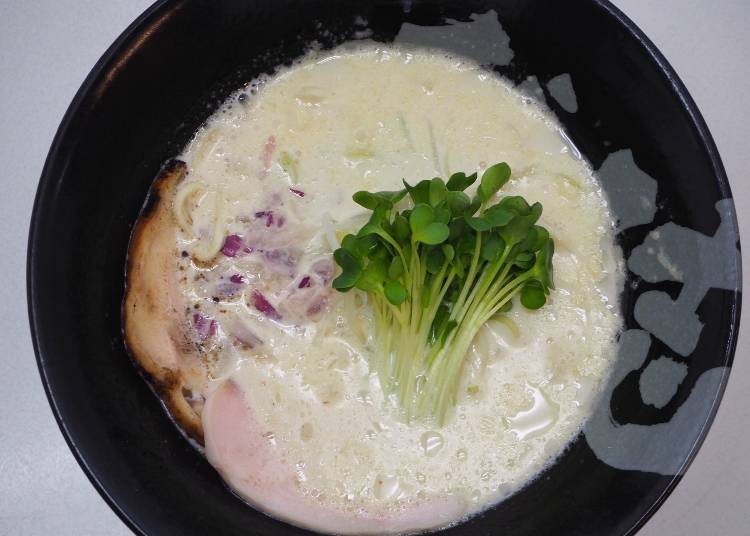 The signature dish: Tori paitan (750 yen, tax included)
The establishment's tori paitan broth makes generous use of Tanba chicken to make a thick, creamy soup. The soup is accented with an oil that makes use of chicken flakes, made in the same way bonito flakes are. As for the toppings, you can enjoy two types of chicken, both boiled and smoked.
The noodles are straight and absorb the soup well. Fluffy and with a pasta-like texture, they're popular with women. The Tanba chicken soup is very nutritious, as well. The radish sprouts and purple onion give it a bit of a spicy kick, as well.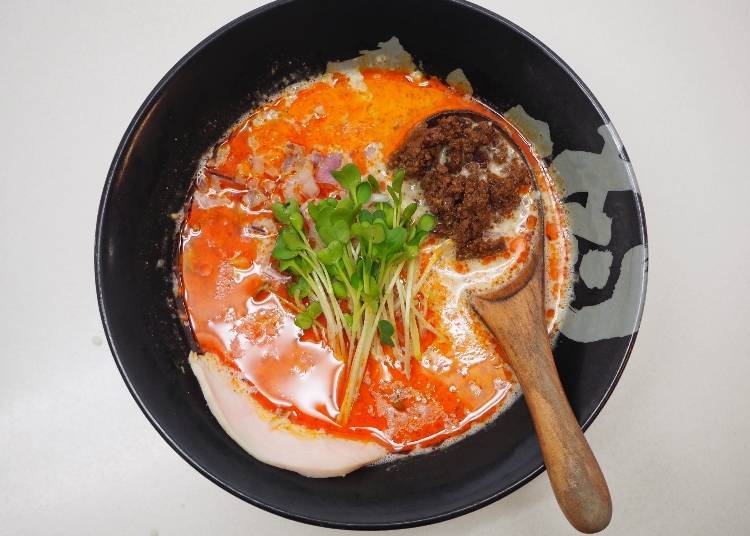 Spicy tan-tan men with tori paitan soup base (850 yen, tax included)
Tan-tan men is known for its rich sesame seed flavor. This establishment, however, makes a base of its tori paitan soup, giving the familiar bowl a completely different flavor. Finely minced pork grants extra-thick flavor. If you can't have pork, you can also have it replaced with smoked chicken.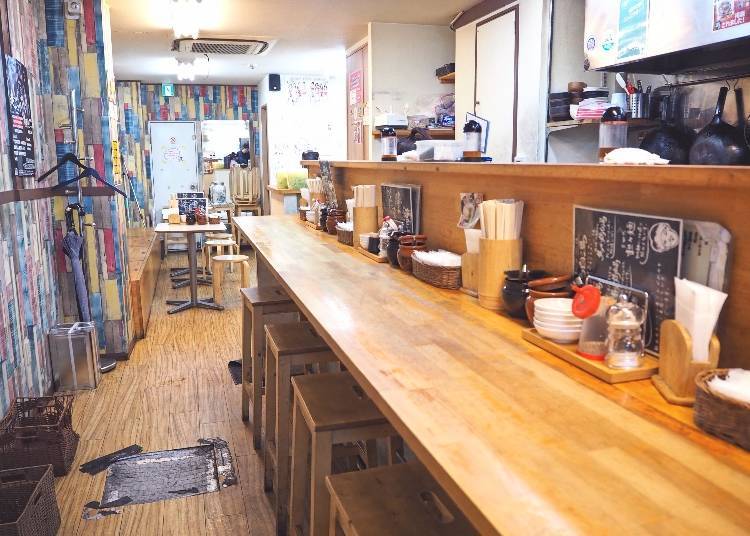 There's a counter with seats in the front and tables in the back for a total of 14 seats. It's a very colorful, wooden interior.
らーめん ぼっこ志

Address

2-6-10, Nishishinsaibashi, Chuo-ku, Osaka

Phone Number

06-6213-8570

Hours: 11:30AM to 2:30PM, 6PM to 1AM (last order 12:45AM)
Closed: Wednesdays
5. Ryukishin RIZE: Japan's first shio ramen specialty store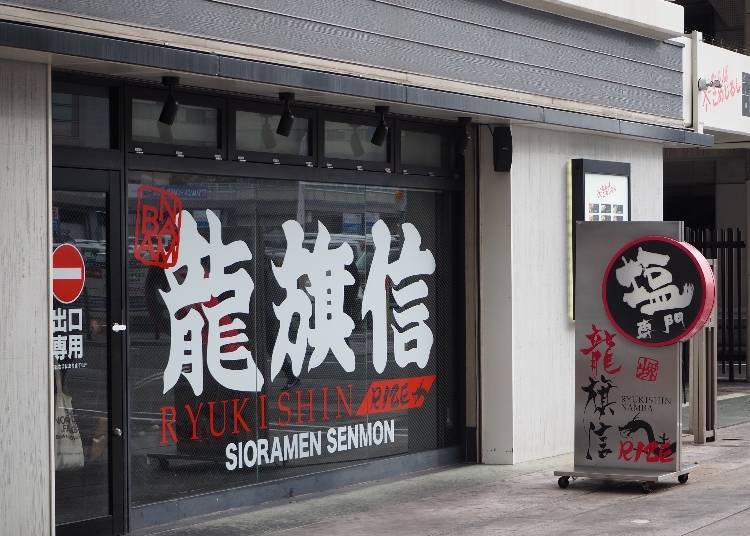 Ryukishin, at the southern edge of the shopping center Namba City, is a unique establishment with two themes: their shio ramen specialty, and the city of Sakai. It's gone so far as establishing branches in London and Paris, showing the world the wonder of Sakai's shio ramen. Its flavor is loved the world over.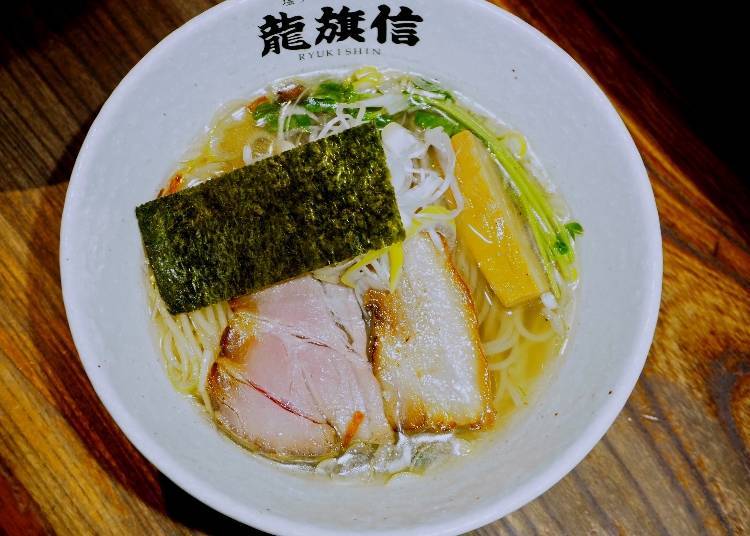 「塩そば」780円(税込)
If you're coming in from abroad or haven't tasted shio ramen before, I have to recommend the shio soba. The head of the store, being a stickler about salt, concluded it best to use mussels. The combination of mussel extract with a soup boiled over chicken, pork and vegetables has resulted in a fascinatingly hearty broth.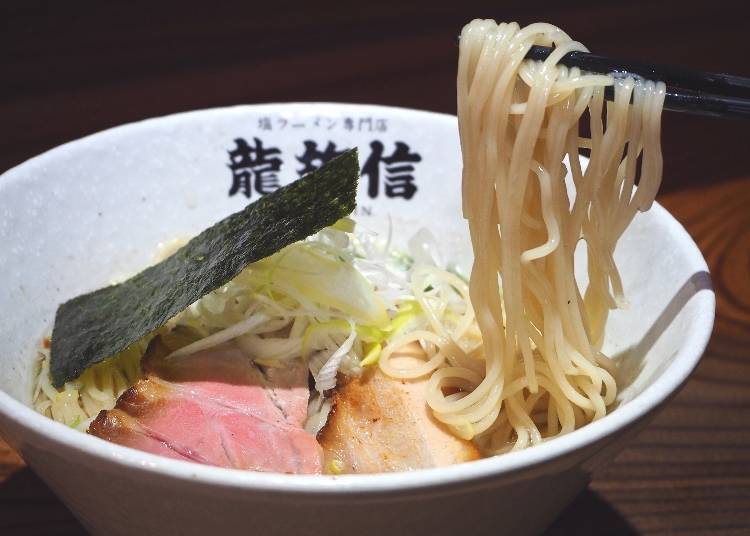 The noodles are specially ordered, thin, and straight. They bring out the flavor of the light, dignified shio soup, and they go down well. The noodles use the same Chinese rock salt that the soup does, giving the whole bowl a perfect sense of balance.

Shio soba has two types of chashu as toppings. The soft, chewy pork shoulder and the fatty pork intestine give the light shio ramen a different flavor.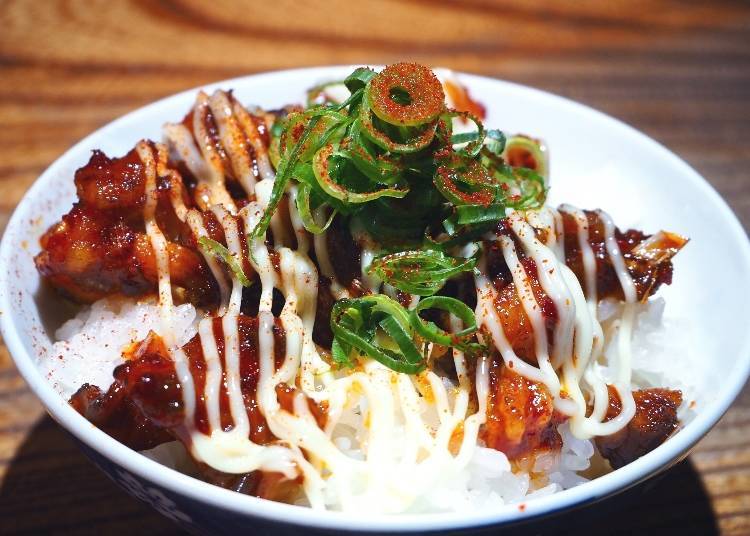 Suji-mayo gohan (300 yen, tax included)
The suji-mayo gohan, tendon with mayonnaise over rice, is a rather popular side dish. The crunch of the sweetly boiled domestic tendon meat is to die for, and it makes for a perfect side to your shio ramen, making it all the more satisfying!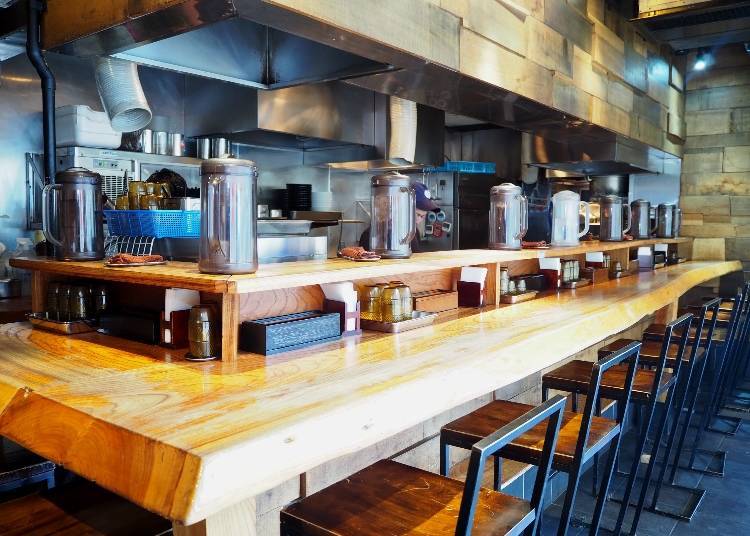 This establishment only has counter seats, 10 in total. There are plenty of shops in the area, so there are plenty of female patrons who dine while out shopping.
Siosenmon Namba Ryukishin RiZE

塩専門 なんば 龍旗信RIZE

Address

Namba Comejirushi 1F, Namba CITY, Nambanaka, Naniwa-ku, Osaka

Phone Number

06-6644-2523

Hours: Mon to Fri 11:30AM – 4PM, 6PM to last order 11:30PM, Sat/Sun/Holidays 11:30AM to last order 11:30PM
Closed: January 1st
Text by:copyz
*This information is from the time of this article's publication.
*Prices and options mentioned are subject to change.
*Unless stated otherwise, all prices include tax.