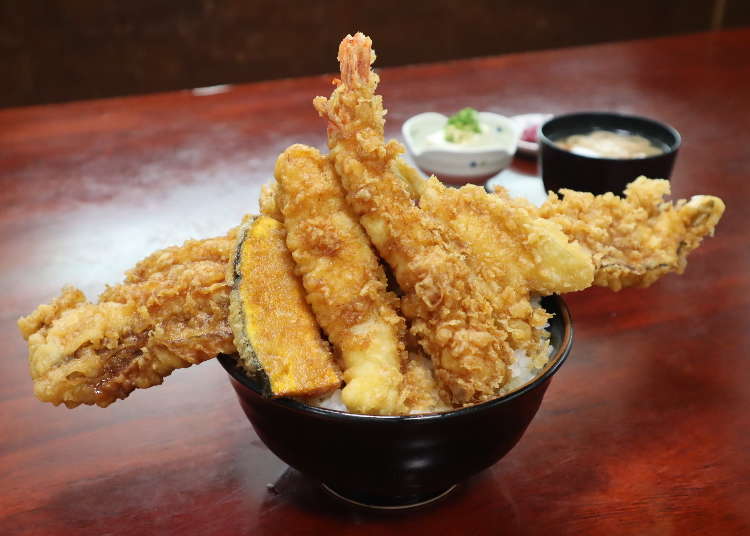 Tokyo is packed with all kinds of gourmet shops, many of those packed with surprisingly large servings of donburi, or rice bowl dishes. Here we will introduce some donburi recommendations from Ms. Ito, director of the All Japan Donburi Union (全国丼連盟). These super-sized dishes boast some of the greatest volume, value, and flavor in all of Tokyo!

Ms. Ito, director of the All Japan Donburi Union, explains.
"If you want one of the best super-sized tendon [tempura donburi] dishes in Tokyo, you have to go to Fukagawa Tsuribune. All of their donburi are famous for their overwhelming size.Anago Tendon has won the gold medal in the mega-heaping category of the All Japan Donburi Grand Prix seven times.In addition to that gigantic eel dish, you'll also want to try their most popular dish, Jogai Tendon, which is packed with seafood and vegetables."

Without further ado, let's try the recommended Mega Tendon Bowl, the best donburi in Tokyo!
Fukagawa Tsuribune in Kunitachi, Tokyo - home to jaw-droppingly gigantic donburi!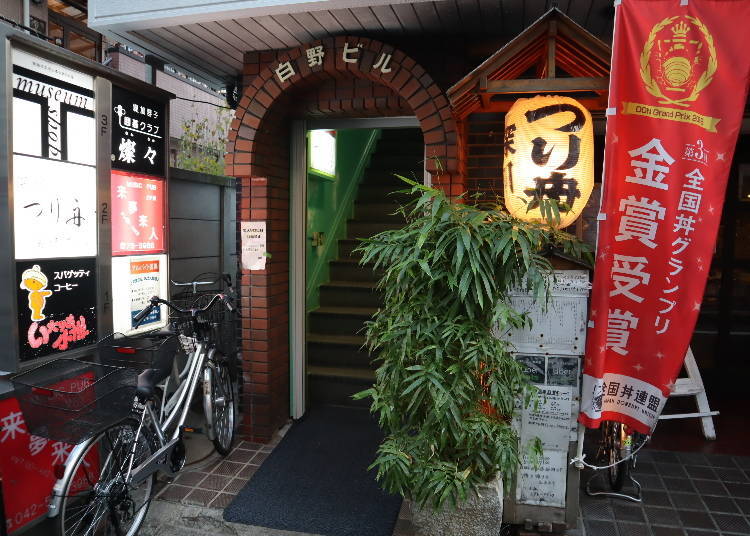 The shop is located about 30 minutes from Shinjuku and 3 minutes from Kunitachi Station on foot, in a quiet residential area surrounded by universities. Fukagawa Tsuribune is on the 2nd floor of the building, where you will find the outstandingly large Mega Tendon Donburi dishes!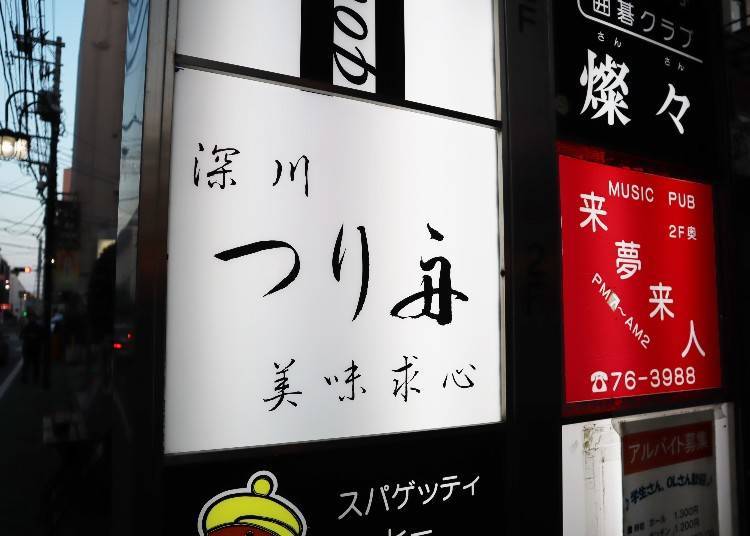 When the shop first opened, Fukagawa Tsuribune offered authentic Japanese food, such as sushi and kaiseki-ryori (a traditional Japanese meal). Around 2007, it changed into its current style, a dining hall with a focus on set meals.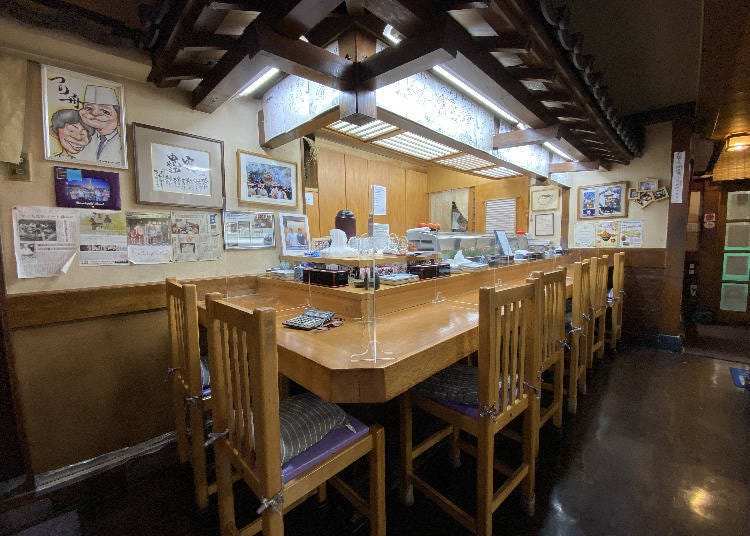 Students of nearby universities have praised this shop as a particularly cheap and delicious spot, with hearty set meals and rice bowls. Many students have enjoyed this shop's food for years.
Jogai Tendon: Mega donburi with 9 different ingredients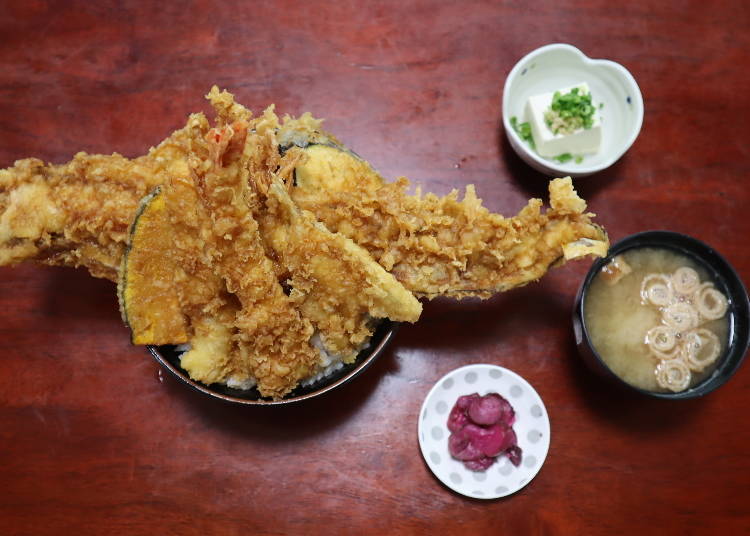 This is the popular Jogai Tendon (2,000 yen), overflowing with nine different gorgeous ingredients! The miso soup, small dish (tofu), and pickled vegetables are included in the set.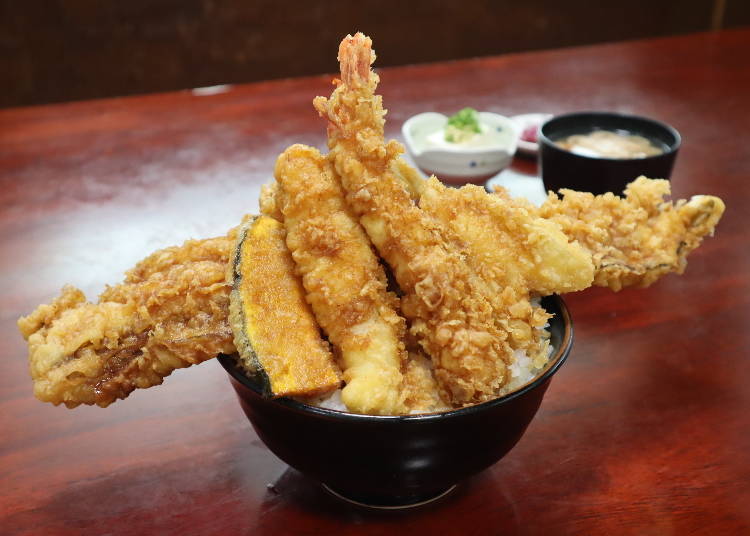 Once it arrives, you'll be taken aback by the presentation alone. The name Jogai Tendon (literally "outer market rice bowl") comes from the idea that here, you can fill up on food that's as delicious and filling as the food in Tsukiji Market, without going to the market itself!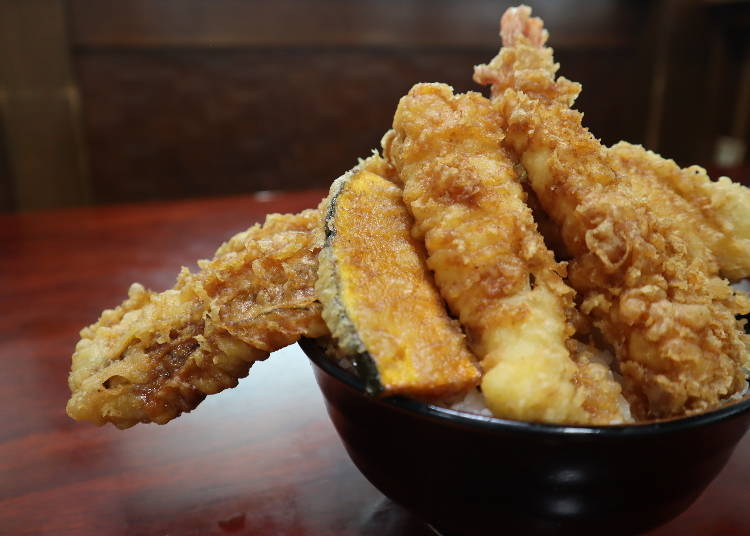 The eel protruding from the bowl is about 30cm long. Many other ingredients are stacked up against the eel.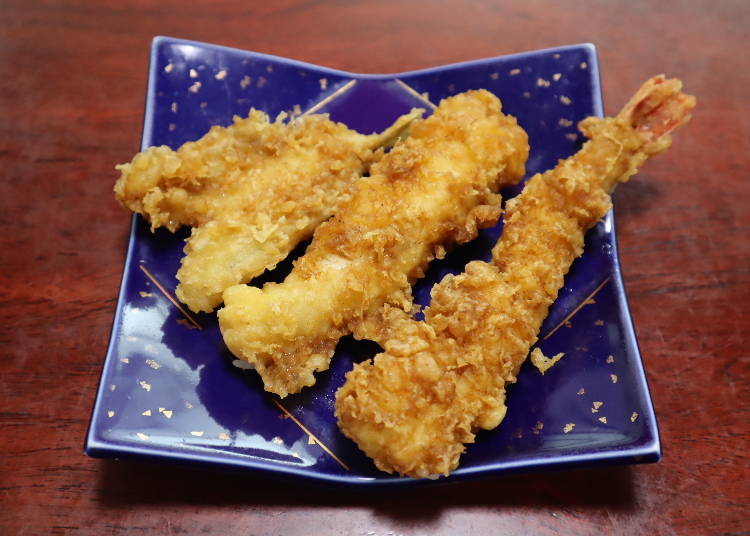 There are four pieces of fish, including shrimp, squid, and whitefish.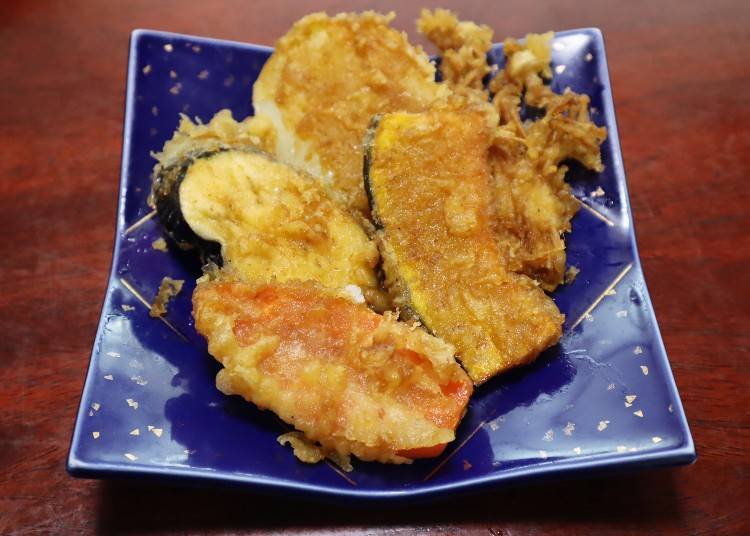 The five vegetables seen here are carrot, pumpkin, eggplant, potato, and enoki mushrooms.
When you separate them, it becomes a sizable meal that couldn't possibly fit on one plate.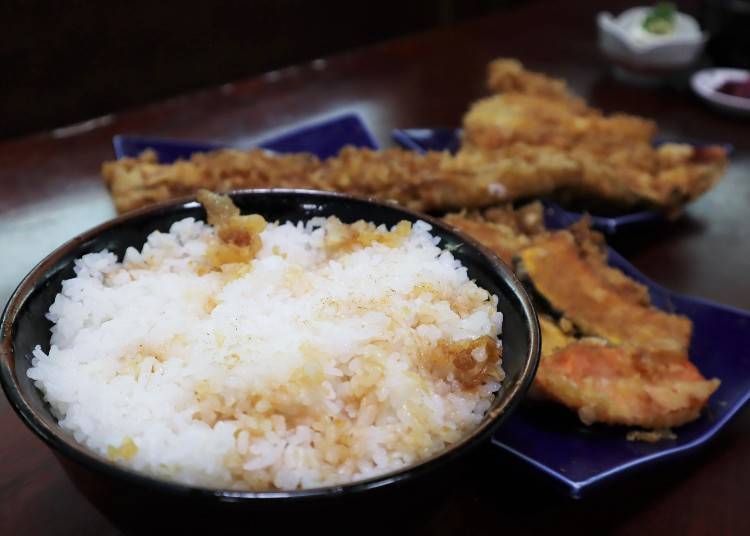 Even more surprising is the amount of rice. It's the equivalent of three regular bowls!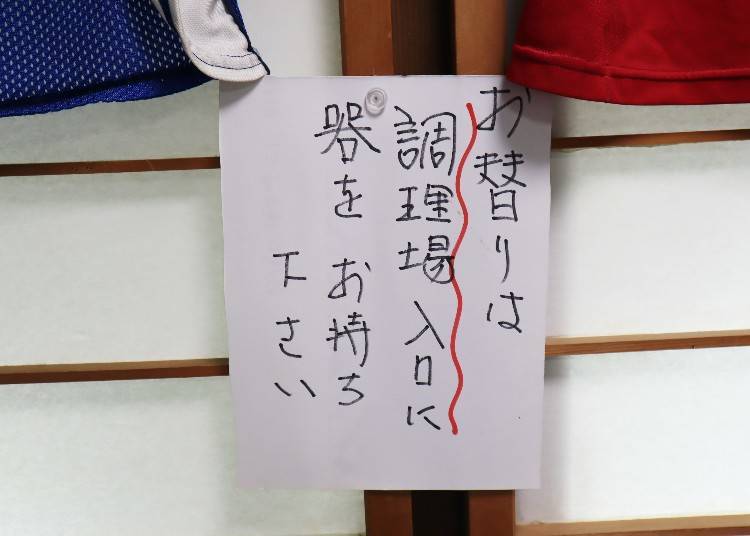 As an added bonus, if you bring your empty bowl to the counter, you can get as many rice refills as you like, free! Considering how much rice the bowl originally includes, that's what you call a strong commitment to good service!
Time to feast! Mega Donburi Jogai Tendon!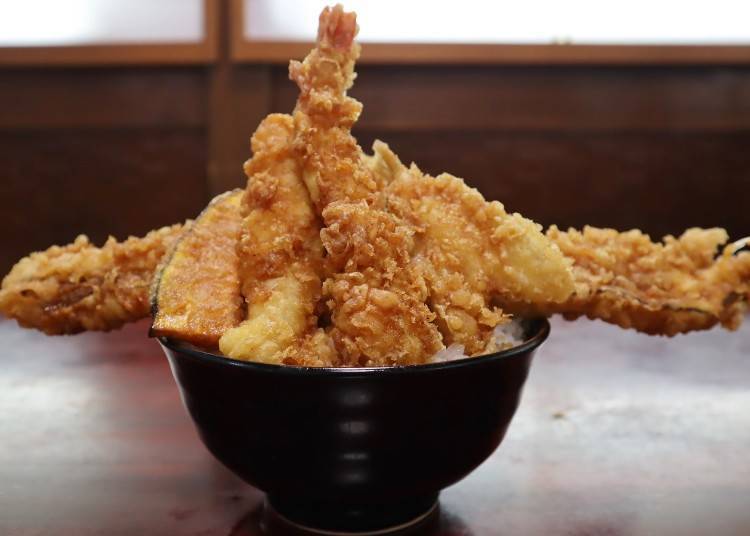 And now, it's time to stop admiring this artistic presentation of towering tempura. It's time to eat!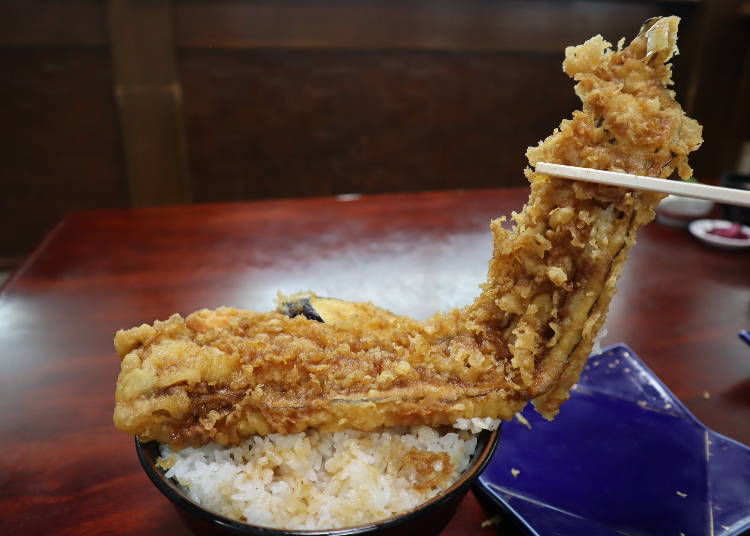 First up is the gigantic eel. This single piece is so heavy, your hands will tremble when you try to pick it up with chopsticks. Take your first bite - the inside is plump and juicy!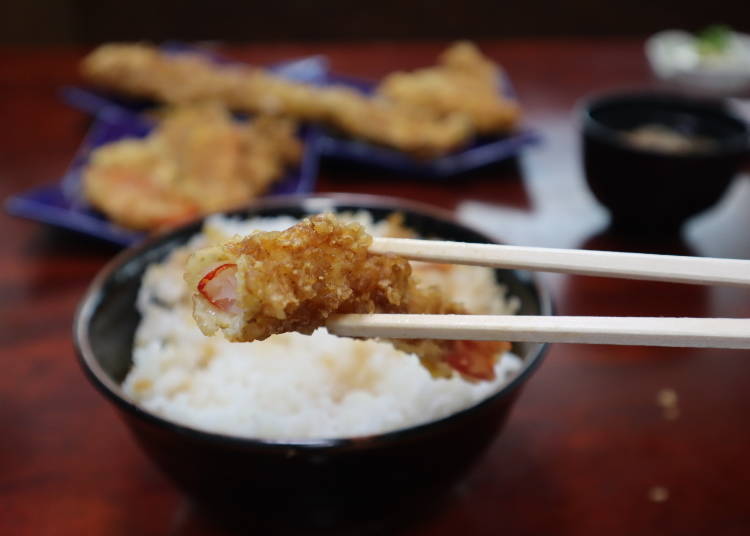 When you think of tendon dishes, you know there has to be shrimp. Here's a rather large one. So large, in fact, that one is all you need! Its sweet and sour flavor goes well with the sauce made from rich dashi stock.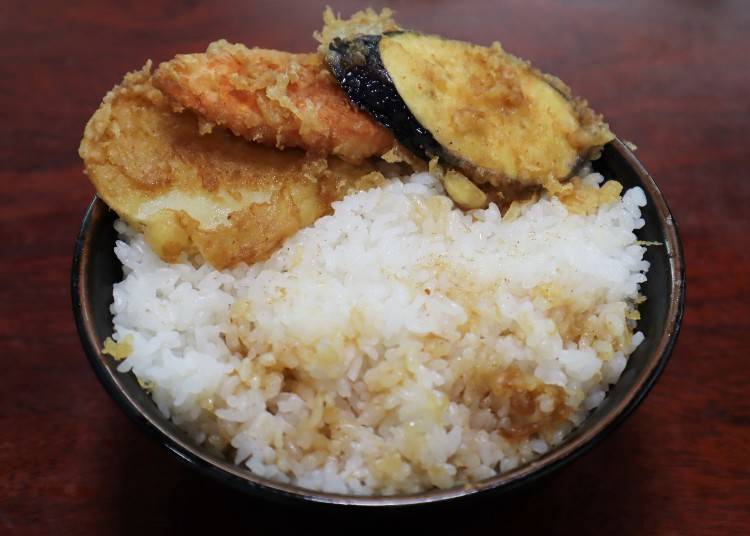 Potato is a rather uncommon ingredient in vegetable tempura. But with its seasoning, sauce, and unique tempura texture, this potato is much better than fries!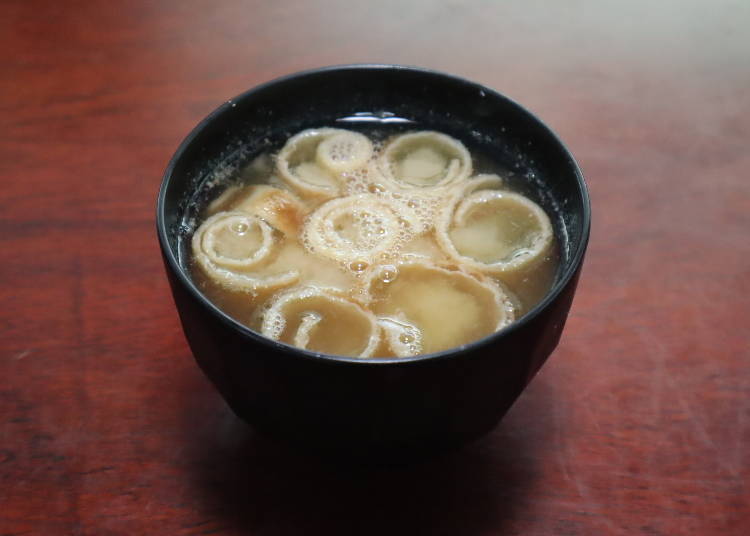 The miso soup is another fine dish, with its rich crab stock flavor. This dish is a delicacy one could only expect from an owner trained at a Japanese restaurant. Like the rice, refills are free.
Why are they so huge? The birth of the Mega Tendon
Shop owner Mr. Minato is a chef who has trained at Japanese restaurants in Tokyo after quitting his job at the age of 30. We asked why he created such a large dish.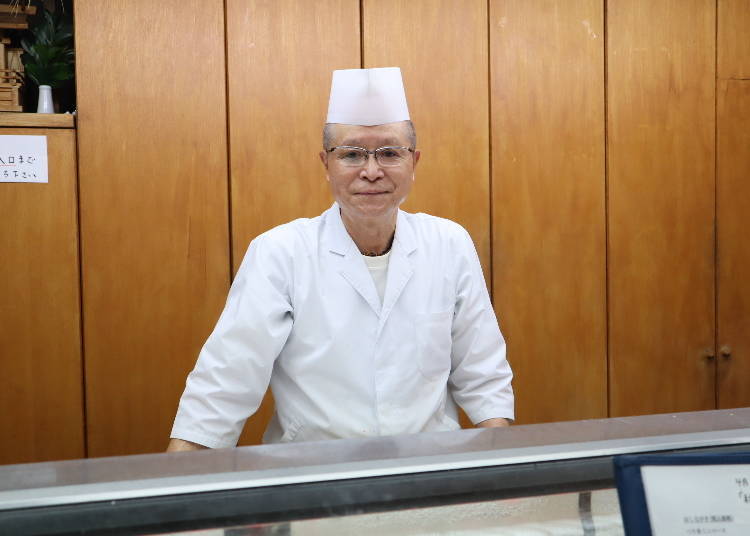 ―What made you create such a large dish?

"Many of my customers were students from athletic clubs. They all had really healthy appetites, so I didn't mind giving them three extra bowls of rice. Then I thought, what if I just put some side dishes on top of a three-bowl portion of rice? With that, I ended up creating the huge rice bowls dishes you see here now (laughs)."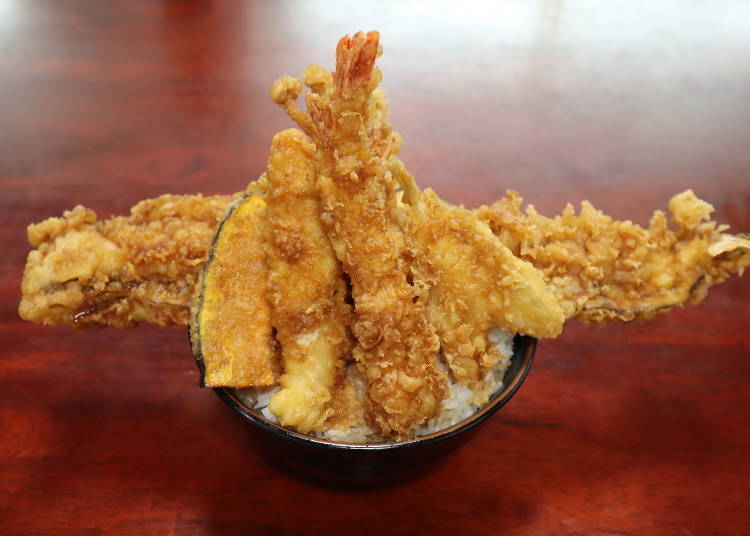 ―So your tendon dishes were born from the desire to let the students eat their fill. Is there anything you are particular about with your dishes?

"The food is fried lightly in salad oil to make it easier to eat such big portions. The sauce is made with roasted fish and chicken bone dashi stock. Then I add vegetables, fruit, soy sauce, and brown sugar. It takes about two days to make."

―Is there a recommended way to eat it?

"You won't be able to see the rice, so just move the ingredients around and start eating (laughs). Begin with whatever you like. You can get refills of rice and miso soup, so please enjoy to your heart's content."
Thanks to foreign students, there's an English menu, too!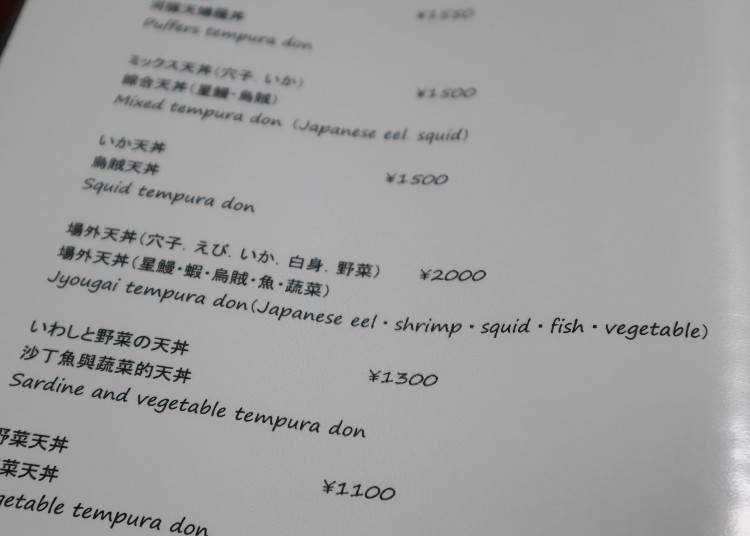 Many international students at nearby universities also frequent the shop, so their multilingual menu is perfect! It seems that this menu was made by a student who worked there part-time.

"All part-time staff can speak English, too, so don't hesitate to stop by!"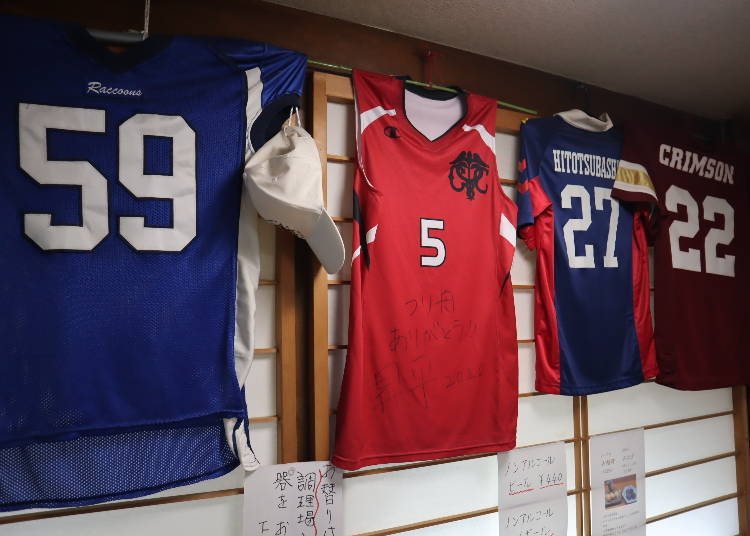 Countless students have worked here part-time, and uniforms presented at graduation are displayed all over the walls.

"I feel like I have a lot of sons and daughters," says Mr. Minato. With the shop's mega-sized bowls and unique, cozy atmosphere, you will feel right at home!
More than the Jogai Tendon! Prize-winning Anago Donburi and Seafood Donburi!
There's much more to enjoy than the Jogai Tendon introduced here today. Everything on Fukagawa Tsuribune's menu is high in volume.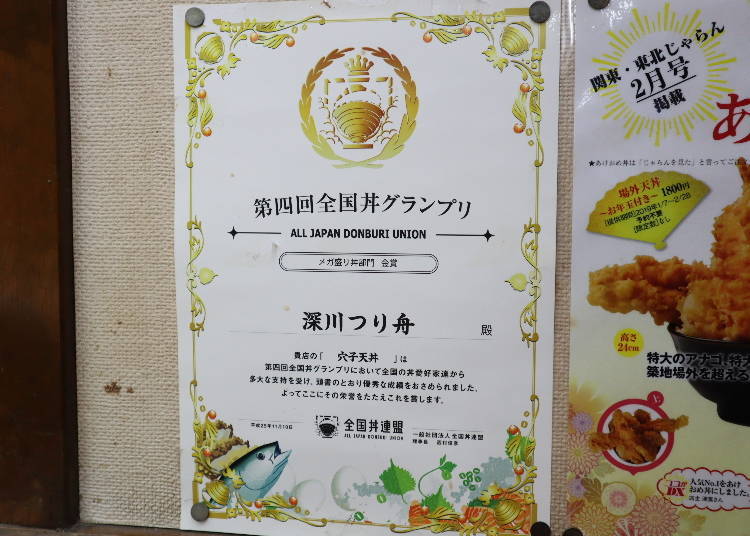 Anago Tendon (1,500 yen), the dish that took the gold medal in the All Japan Donburi Grand Prix's Mega-Size Donburi Category. This dish has one more eel piece than the Jogai Tendon, for a total of two pieces.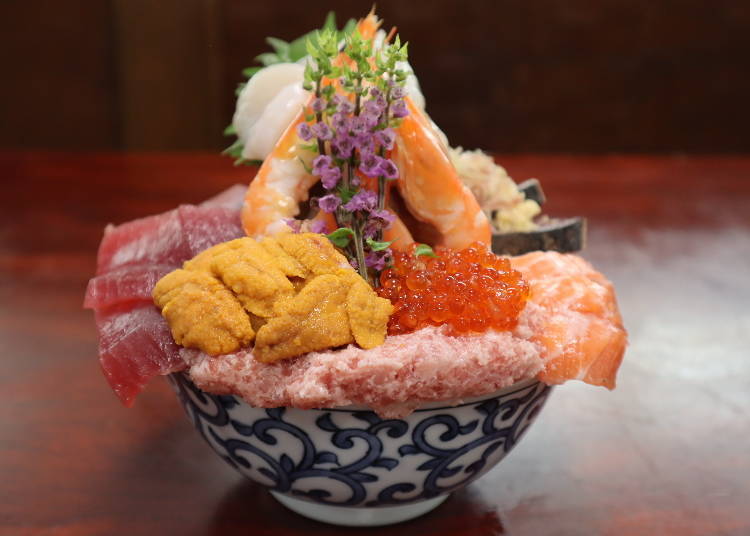 There's plenty of fresh seafood on the menu, especially the restaurant's recommended special, Kaisendon (2,900 yen). The bowl is packed with colorful and delicious fatty tuna, salmon roe, sea urchin, salmon, and scallops. Rice dishes such as these, with such thick, juicy slices of sashimi, are special delicacies unique to Japan.

The Mega Donburi menu also includes donburi dishes towering with tempura pieces!
Dishes you won't find anywhere else! These must-try tendon bowls will satisfy your heart and stomach!
If you want to enjoy delicious, hearty bowls as well as heartwarming customer service, you definitely want to visit Fukagawa Tsuribune. Stop by and enjoy a delicious tendon bowl full of volume, value, and tremendous taste.

By the way, the shop name Fukagawa Tsuribune comes from the name of a shop the owner himself has always loved and frequented. But please be careful not to mistake this location for the Fukagawa in Koto-ku, Tokyo!


Translated by: Krys Suzuki
Health & Safety Measures

Indoor disinfection measures taken - Sanitizer installed - Disinfected after each guest leaves - Ventilation measures in place - Coin trays used - Plastic partitions installed - Staff wear masks, gargle, wash hands regularly, and monitor body temperature - Limited capacity/increased space between seats - Entry declined to anyone who is feeling unwell - Masks required/temperature check enforced
深川つり舟

Address

Sirano Bld.2F, 1-15-18, Higashi, Kunitachi Shi, Tokyo, 186-0002

Phone Number

0425-76-9910

・Hours: 11:00 a.m. - 2:30 p.m.; 5:00 p.m. - 9:30 p.m.
・Closed: Wednesday nights and Sundays
While working as a company employee, she has been serving as a director of All Japan Donburi Union, an association established in 2014 for the purpose of organizing donburi fans and revitalizing local communities through rice bowls. She has eaten over 600 kinds of donburi mainly in Tokyo.

All Japan Donburi Union (http://don.or.jp/)
An organization of donburi lovers from all over Japan, which exchanges information on rice bowls on Facebook and organizes the annual Don Grand Prix to promote donburi and develop the donburi industry.
Written by:
*This information is from the time of this article's publication.
*Prices and options mentioned are subject to change.
*Unless stated otherwise, all prices include tax.