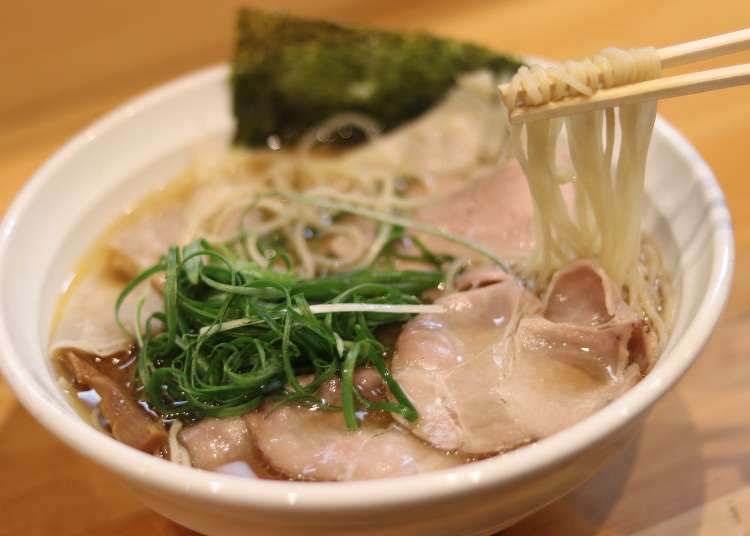 The Umeda, Osaka area is jam-packed with popular ramen restaurants. From big-name shops to those with a more niche following, you can eat dozens of various kinds of ramen.

This article will introduce five of the best ramen shops highly recommended by food writers working in Kansai, so you too can enjoy the harmony of the complex taste of soup and perfected ingredients and noodles to your heart's content.
1. Kotan: Savory and Robust Soy Sauce-Based Ramen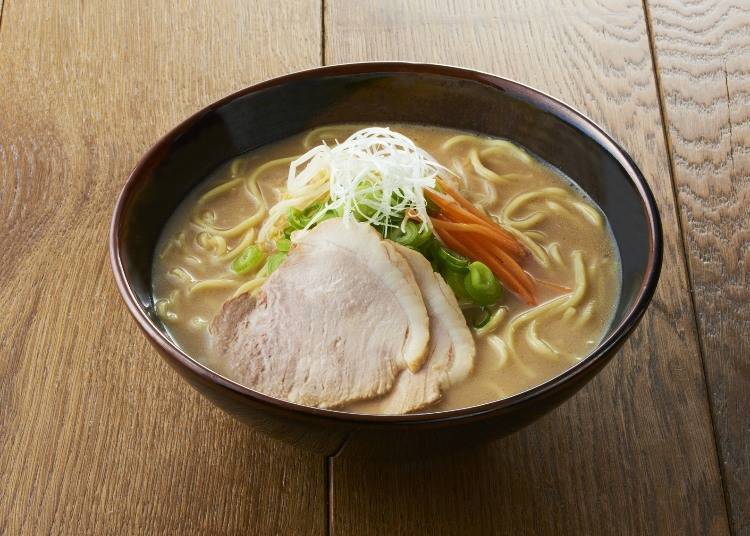 Kotan Ramen - Soy Sauce, 650 yen (tax included)
Kotan's ramen comes in three flavors - soy sauce, miso and salt. Each variety uses the same carefully crafted soup as the basis of their flavor, a recipe that remains unchanged since the shop's establishment in 1968.

Pork and chicken bones are slowly boiled along with vegetables to create the light yet robust and flavorful soup. The collagen-rich soup is a perfect match for the shop's medium-thick, high-moisture noodles with a chewy texture. The toppings are simple, starting with slices of soft, roasted pork loin, along with bean sprouts, green onion, and carrots. The ramen's colorful appearance alone will stimulate your appetite.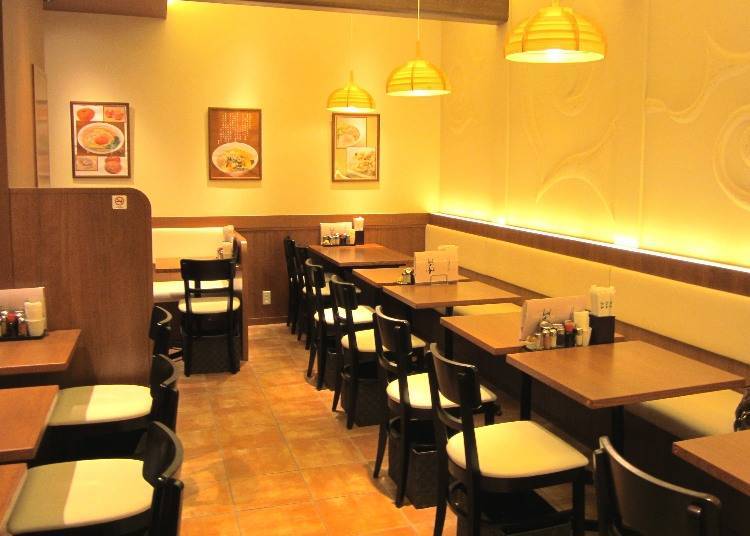 "Kotan" has expanded with shops throughout the Kinki region, centered around Osaka, and each shop features slight differences in interior design and menu options. For example, since the San-Hiroba shop researched for this article gets a lot of female customers, the shop thoughtfully offers menu items such as tea sets, and they also offer the option to choose a small-sized ramen with meal sets.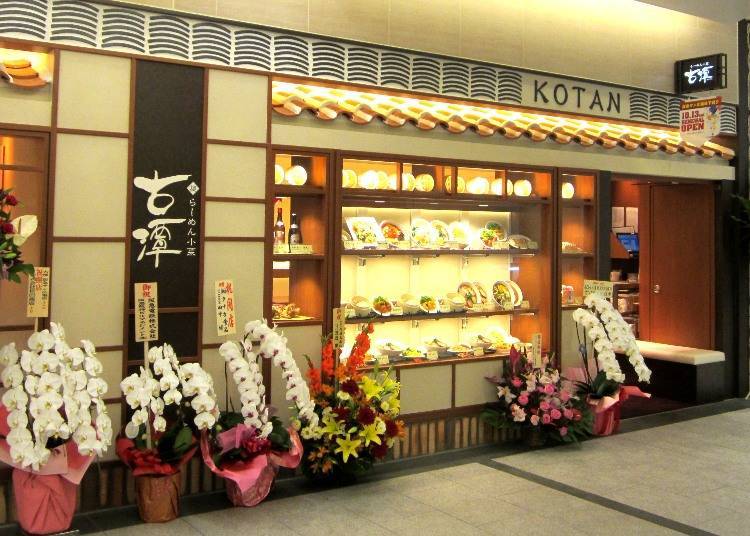 The Hankyu Sun Hiroba underground street where this shop is located is on the north side of the 1st basement floor of Hankyu Umeda Department Store. This passageway connects Osaka Metro Midosuji Line's Umeda Station to the Whity Umeda underground shopping center, making it extremely convenient. Many people come here to grab a bite to eat on their way home from shopping or during a commute.
らーめん古譚 阪急グランドビル サン広場店

Address

Hankyu Grand Building B1F, 8-47 Kakuda-cho, Kita-ku, Osaka

Phone Number

06-6311-2335

Hours: 11:00 AM - 10:30 PM (last order 9:30 PM)
Closed: Open Daily
2. Yosuko Ramen: Clear Ramen Soup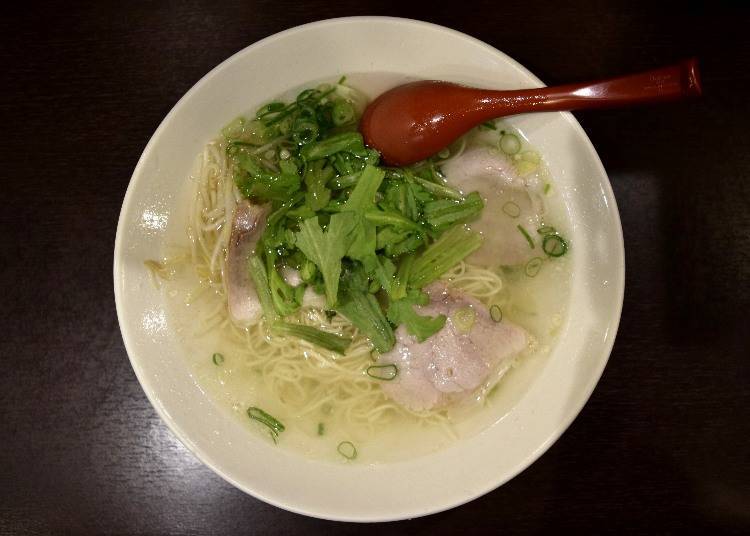 Ramen 670 yen (tax included)
"Yosuko Ramen" was established in 1964. The restaurant's light soup and thin noodles have remained popular for the last 50 years. The soup is made a with chicken and pork bone broth base. It is seasoned with salt that's high in minerals, giving the soup its rich taste. For toppings, the ramen comes with salad shungiku, home-made roasted sliced pork, bean sprouts, and green onions. Additionally, there is deep-fried red onion available at the tables for you to add a spoonful yourself.

When you eat it, you'll find the chewy noodles take on the flavor of the soup and slide easily into your mouth. Both the crisp salad shungiku and the elegant sweetness of the Yamagata pork chashu add to the indescribable deliciousness. With the shop getting many visitors stopping by after a drink, it's a famous fixture in the Umeda, Osaka area.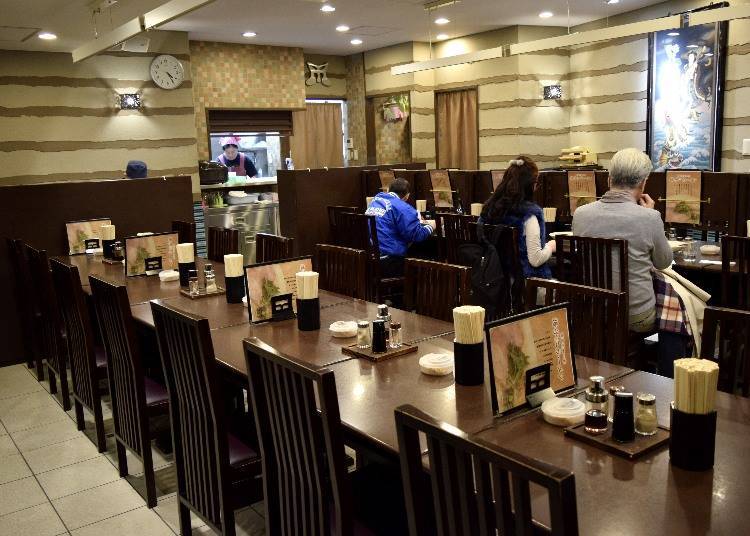 After you pass through the shop curtain, you'll see plastic replications of the menu items in a display case. At a glance you can get an idea of what kind of dish the chashu ramen, wonton ramen, gyoza, and other choices are. Descend the stairs to enter the bright and cheery shop with single seating in the front and tables in the back. This shop also gets a lot of female customers.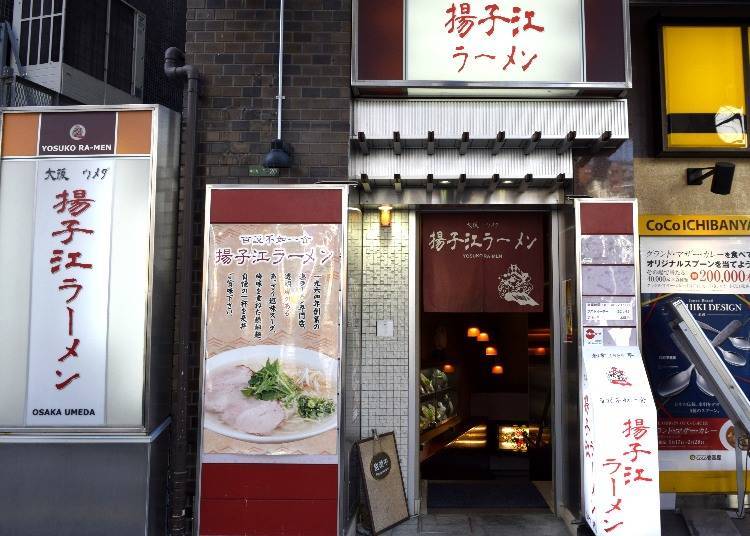 The restaurant is located on the northwest corner of Doyama-cho intersection. It's about a 5-minute walk from Hankyu Umeda Station or Osaka Metro Higashi-Umeda Station, along which you'll pass through a busy shopping center, so even making your way to the restaurant will be fun and interesting.
Yosuko Ramen (Main Branch)

揚子江ラーメン総本店

Address

Fukiya Building B1F, 1-20 Kakuda-cho, Kita-ku, Osaka

Phone Number

06-6312-6700

Hours: 10:30 AM - 11:00 PM (last order 10:45 PM)
Closed: every Thursday
3. Mitsuka Bose Kamoshi: Enjoy the Flavors of Vegetables and Miso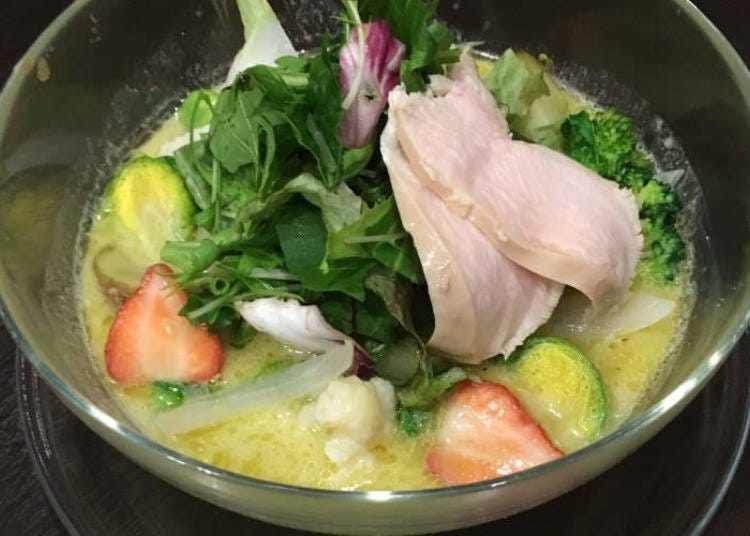 Veggie Miso Ramen, 1200 yen (without steamed chicken, tax included) / 1380 yen (with steamed chicken, tax included)
At "Mitsuka Bose Kamoshi", you can sit at the bar counter and slowly savor a bowl of veggie-heavy miso ramen. The soup is a blend of vegetable paste and 5 or 6 varieties of Kyoto white miso, and is delicious for its prominent natural sweetness.

The standard "Veggie Miso Ramen" is exceptionally filling, with its thick soup and abundance of vegetable toppings. The toppings change seasonally, for instance cabbage and freshly harvested onions in the spring and savory root vegetables in winter. The thick yet mild taste makes for a bowl of ramen that many people enjoy down to the last drop of soup.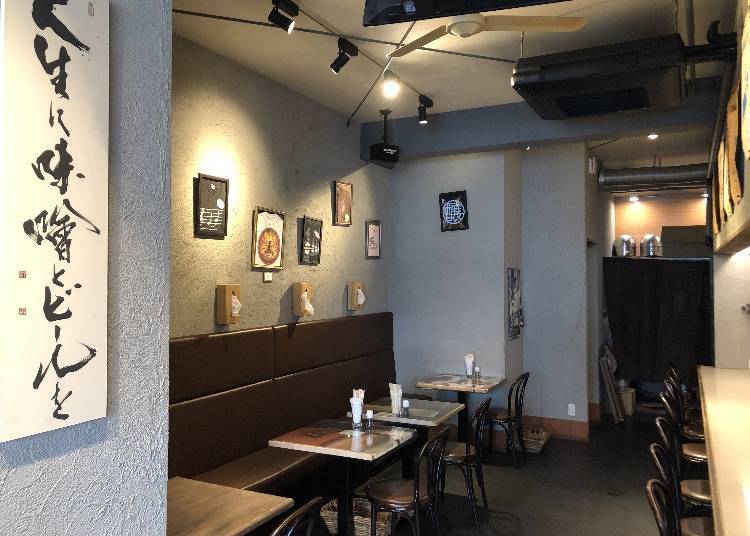 There are 28 seats available between the counter, high counter, and table seating. The spacious shop is a great place to rest and relax. Here customers order at their seats and pay at the register.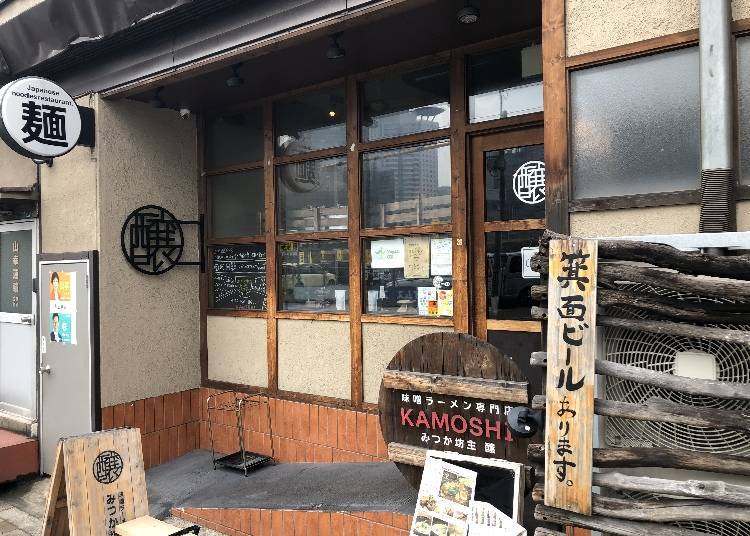 Just five minutes away from Umeda Sky Building near Osaka Station, the shop's easy access is another of its selling points. The shop also caters to vegan diets, offering an intricate-tasting ramen soup made with broth from ingredients like kelp and shiitake mushroom.
みつか坊主 醸

Address

1-2-16 Oyodominami, Kita-ku, Osaka

Phone Number

06-6442-1005

Hours: On weekdays and Saturdays, 11:30 AM - 2:30 PM and 6:30 PM - 11:00 PM; Sundays 11:30 AM - 2:30 PM and 5:30 PM - 10:00 PM *Also closes after ingredients run out
Closed: every Monday
4. Osaka Mentetsu: Taste Soup Bursting with Umami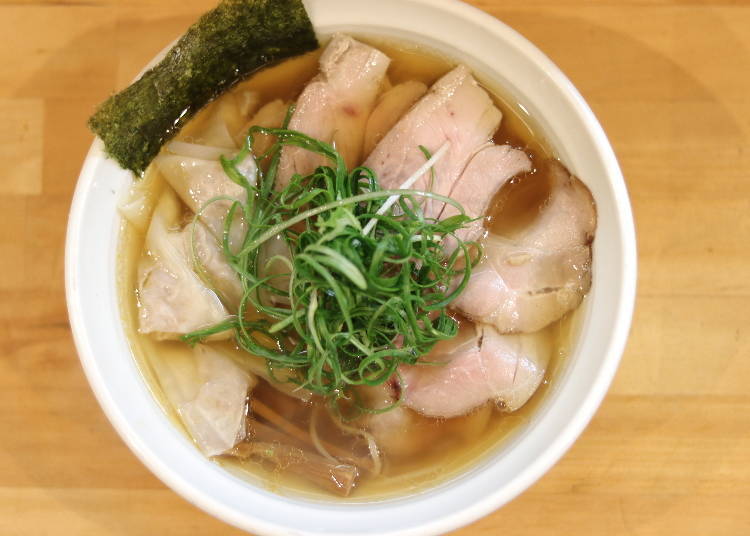 Meat Soy Sauce Wonton Ramen 1300 yen (tax included)
The soup at "Osaka Mentetsu" is a light soy sauce-based soup of broth full of savory umami flavor finished off with a touch of thin soy sauce. The flavor of konbu runs deep in the clear broth, creating a profound taste. The thin noodles, not bought from a factory but made in-house with the chefs' original knowledge and techniques, have a slick feel and robust texture with a pleasant chewiness. Mix the noodles with the soup and you've got a bowl of ramen you'll want seconds for.

The "Meat Soy Sauce Wonton Ramen" incorporates slices of roast pork shoulder, cooked slowly at low temperature until soft, roast pork thigh meat, ground beef tongue, and roughly ground pork, plus a topping of wontons. The various types of meat will keep your tastebuds intrigued, letting you enjoy your ramen to the last mouthful.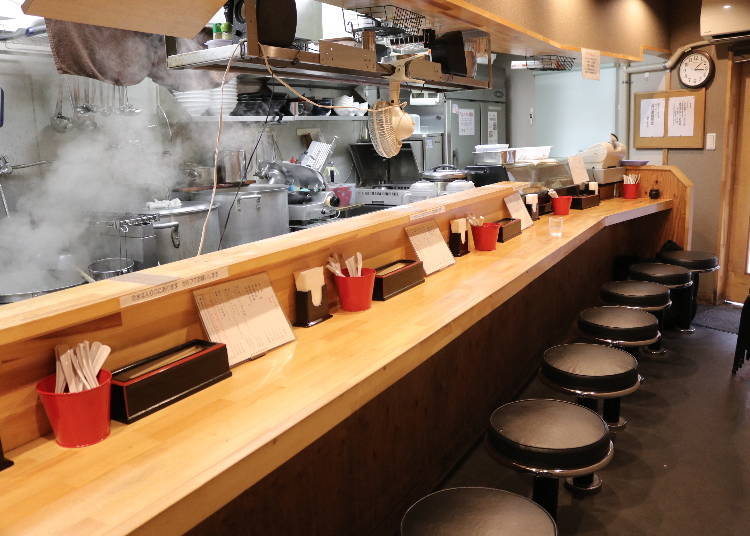 The shop is all counter seating. Having the ramen is made right before your eyes increases the anticipation. There is also an English menu available.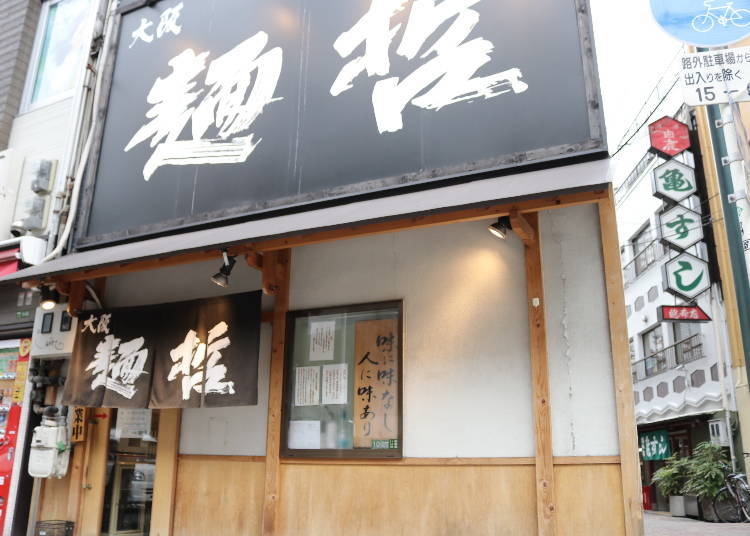 This ramen shop is very popular among businessmen and students in the area. Although there's a large lunchtime crowd, there's also a fast turnover, so even if its busy you shouldn't have to wait very long to eat.
大阪 麺哲

Address

2-10-27 Sonezaki, Kita-ku, Osaka

Phone Number

06-6232-8459

Hours: 11:30 AM - 2:30 PM, 5:30 PM - 10:00 PM *Saturdays and Sundays, until 9:00 PM
Closed: every Monday
5. Ippudo Osaka: Standard for Tonkotsu Ramen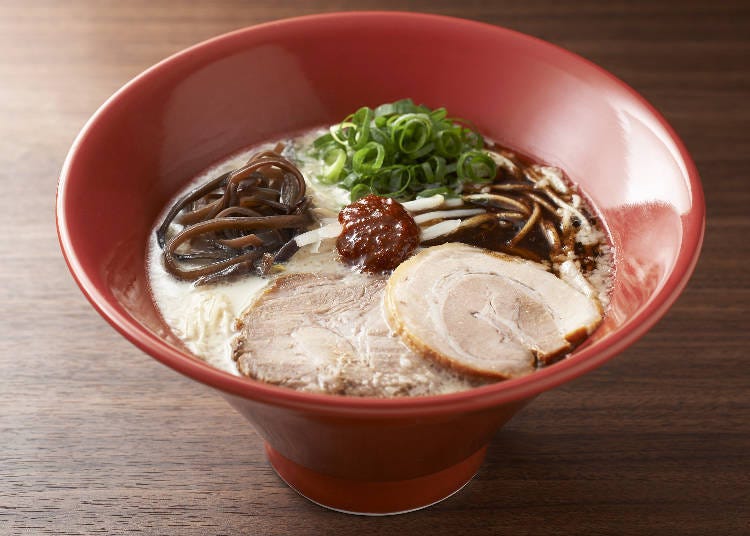 Akamaru Modern 820 yen (tax not included)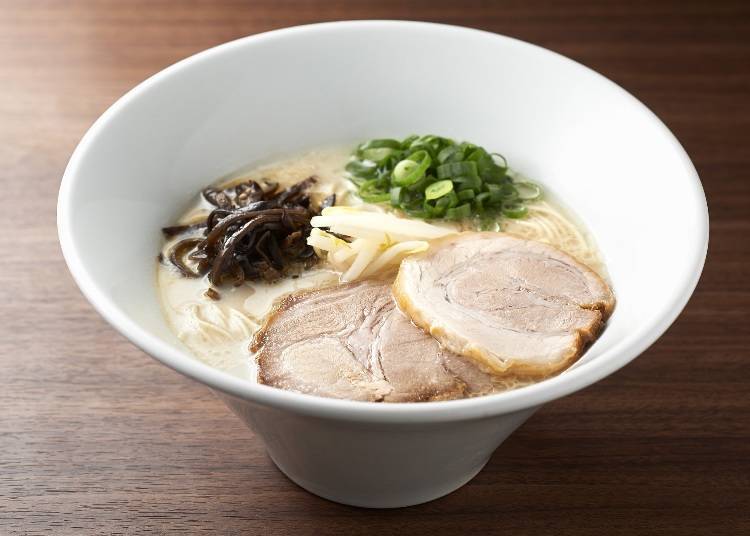 Shiromaru Classic 750 yen (tax not included)
Hakata ramen shop "Ippudo" is beloved not only in Japan but throughout the world. Umeda, Osaka is a place that's swarming with izakayas and bars. Ippudo Osaka is open until 3 AM on weekdays and 4 AM on Fridays, weekends, and holidays, so it's the perfect place to go for a late-night ramen snack after a night out drinking.

Ippudo's specialized tonkotsu soup (a thick, rich pork bone-based broth) is simmered in a custom pot for 18 hours and then allowed to mature for an entire day at low temperature, resulting in its distinctive smooth and rich flavor. The noodles are made with a blend of several different types of flour, including special ramen flour. Their soft and chewy yet crisp texture is outstanding, and you'll find yourself quickly slurping them down.

The most standard and popular menu choices are the "Shiromaru Classic" ramen, preserving the original taste passed down from the time of the restaurant's beginning, and the "Akamaru Modern", with which you can enjoy the richness and depth of the restaurant's original seasoned oil and spicy miso.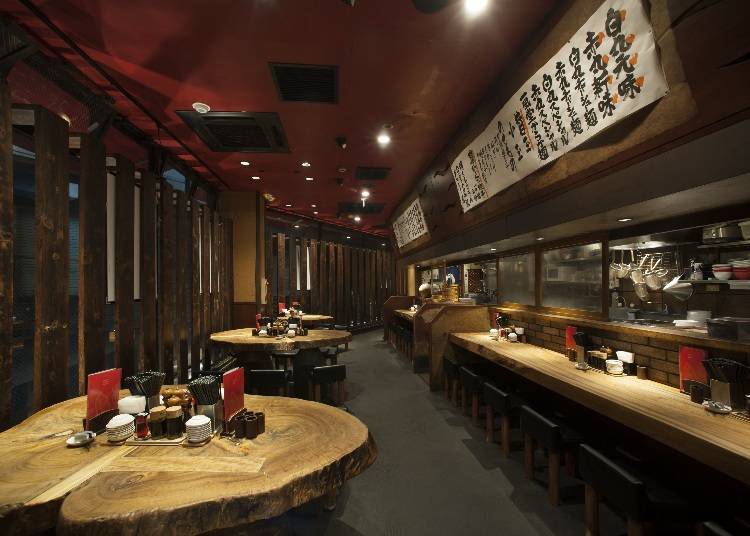 The shop's chic and relaxing atmosphere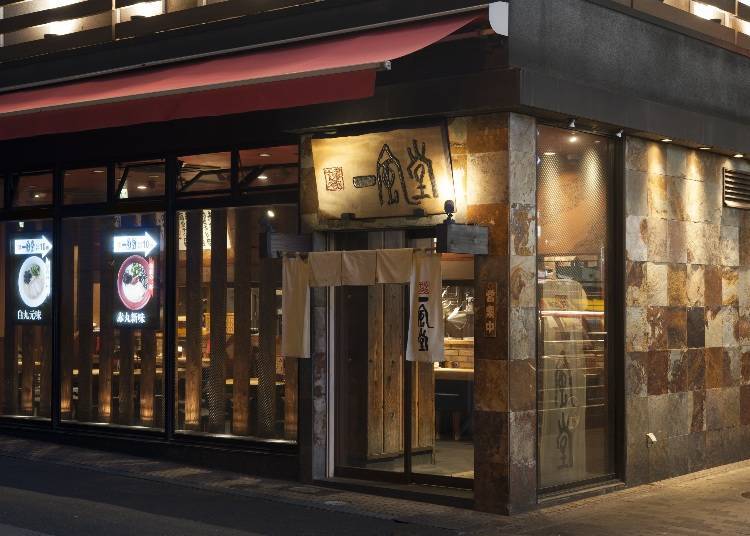 The shop is spacious and open with table seating available, so this is a recommended choice for those visiting in groups of 4-5 people. There are multilingual menus available so it's easy to order, making Ippudo a popular ramen restaurant among international tourists.
一風堂 梅田店

Address

Kakuda-cho Building 1F, 6-7 Kakuda-cho, Kita-ku, Osaka

Phone Number

06-6363-3777

Hours: 11:00 AM - next day 3:00 AM; Fridays and the day before national holidays, open until 4:00 AM; Saturdays 10:30 AM - next day 4:00 AM; Sundays and holidays 10:30 AM - next day 3:00 AM
Closed: Open Daily
Text by:WEST PLAN
*This information is from the time of this article's publication.
*Prices and options mentioned are subject to change.
*Unless stated otherwise, all prices include tax.
Limited time offer: 10% discount coupons available now!