Easily accessible from Osaka and Kyoto, Nara is an attraction-filled prefecture. Here you can enjoy famous old shrines and temples such as Todaiji Temple, tourist spots that offer the refined elegance of an ancient capital, as well as beautiful views of fall foliage. What's more, you can also enjoy the unique experience of watching wild deer roam around on a carpet of colorful fall leaves in Nara Park!

Here we will introduce three hotels and traditional Japanese inns perfect for sightseeing in Nara during the fall. Each of these facilities keeps you away from crowds and enables you to take in the beauty of fall foliage from the comforts of a private room.
1. Nara Hotel (Nara City): Admire Fall Foliage from Kansai's Prefectural Guest House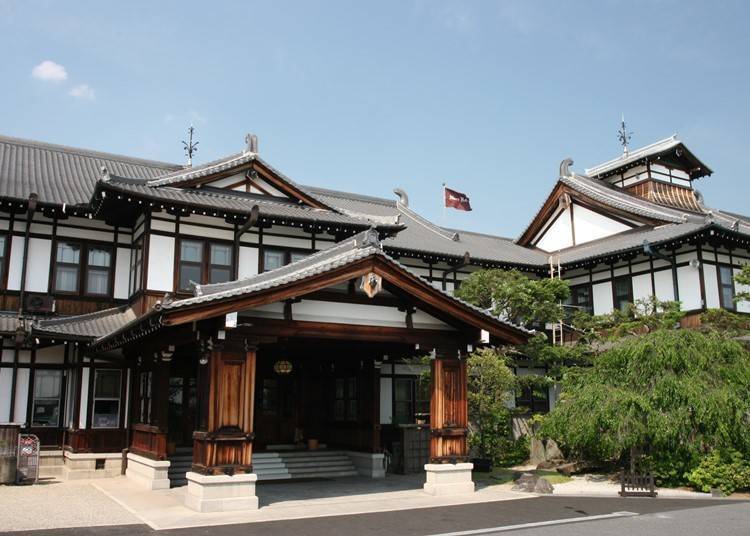 The main building, which is completely made of cypress, is reminiscent of Momoyama Palace with its classic Japanese-Western eclectic architecture.
In 1909, Nara Hotel opened as Kansai's prefectural guest house. It's tucked away inside Nara Park, a 15-minute walk from Kintetsu Railway's Nara Station.

This hotel is conveniently located close to many popular tourist sites such as Kofukukiji Temple, Todaiji Temple, Kasuga Taisha Shrine, and Naramachi. The hotel also has staff who speak English and Chinese, so you can enjoy your stay comfortably without worrying about language barriers.

The main building was designed by the architect Tatsuno Kingo, who also designed Tokyo Station. You will find a grand staircase with deep red carpeting, a torii gate, and a mantlepiece inside the building. Combining Japanese and German aesthetics, this piece of Japanese-Western eclectic architecture is so beautiful, it's also been described as museum-like.
The hotel's lobby, Sakura no Ma, has a retro clock and piano.
Also on the hotel's grounds is a courtyard where the reds and yellows of fall foliage can be found. You can enjoy this view from the lobby, otherwise known as Sakura no Ma. The best time to view the fall leaves is from mid-November to early December.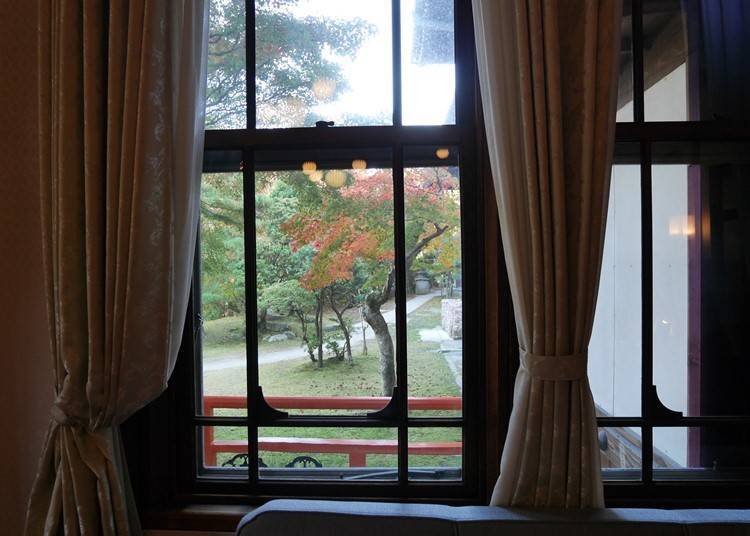 The view from Sakura no Ma's window.
Accommodation units can be found in both the main and new buildings. Facing either the park or the courtyard, the rooms in the main building allow you to enjoy a classic aesthetic.

A recommended room to book if you want to enjoy views of fall leaves from the main building is the Standard Twin Parkside. Nara Park offers beautiful and colorful fall foliage scenery with its many cherry blossom trees, ginkgo trees, and Japanese maples. Nara's wild deer, designated as natural monuments of Japan, can be found grazing on the park's grounds.

In the past, foreign guests who booked overnight stays have commented, "It's located in a naturally abundant area, so I was able to relax during my stay. I was also surprised to see deer from the hotel." Rooms are available to reserve from the official website online.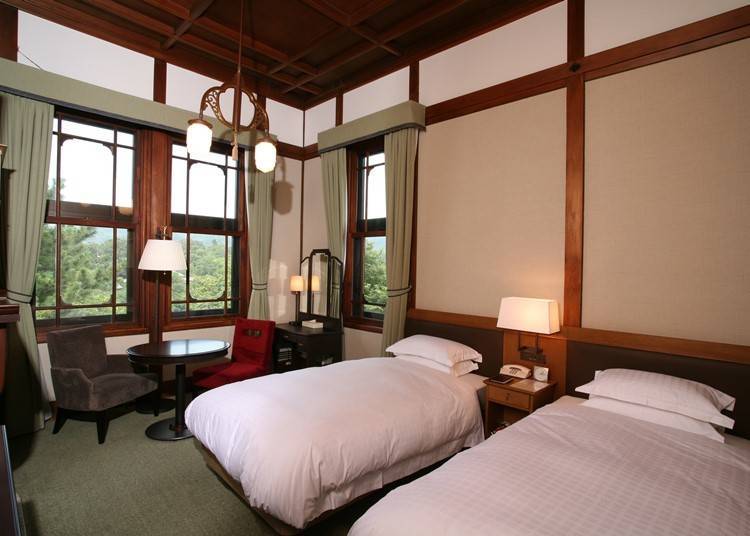 Main Building, The Standard Twin Parkside
The new building is built in an architectural style known as yoshino-date - a commonly used style in the region of Yoshino where stones are used to support houses built on hilly landscapes. The rooms have a modern interior and face the courtyard, where you can also enjoy fall foliage scenery.

In addition to this, the new room offers tatami mat flooring made from woven straw. Why not enjoy a collaboration between traditional Japanese design and autumn leaves?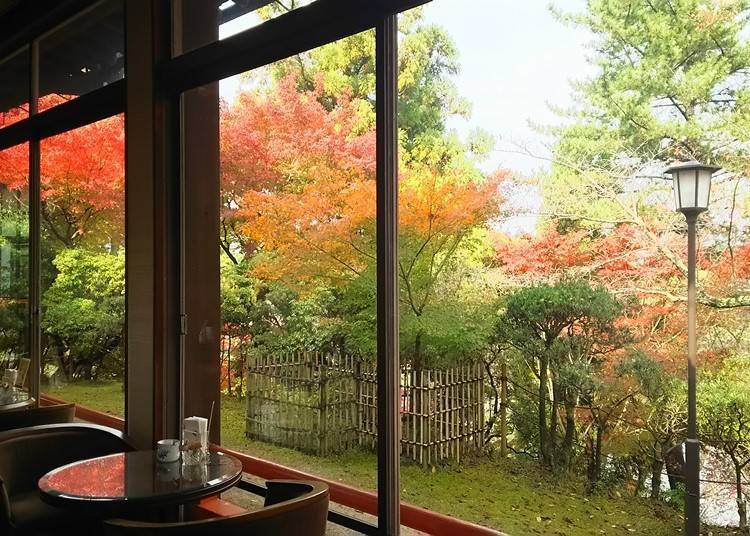 The view from the Tea Lounge.
The Tea Lounge, located on the main building's first floor, is another area where you can admire the fall leaves. Here you can also try the classic dessert apple pie a la mode.

With only a limited number of slices available per day, the hotel has a history of serving this popular dessert to several famous guests. There's also the option to blissfully delight in some of the special cakes of the season.

Nara Hotel has free Wi-Fi and a gift shop with duty-free items. What's more, if mentioned in advance, the facility's restaurant will prepare your meal with any diet or food allergies in mind.
Address

Takabatake-cho 1096, Nara, Nara, 630-8301
View Map

Nearest Station

Kintetsunara Station (Kintetsu-nara Line)
18 minutes on foot


Vacancy search, reservation

from

21,000JPY

1room, 2adults

Check with our partner site as the latest rates, rate details, and guest room requirements may vary.
2. Okuyama Nara Kasuga Tsukihitei (Nara City): Enjoy a Traditional Japanese Atmosphere and Fall Foliage at a Peaceful Inn
Okuyama Nara Kasuga Tsukihitei is a ten-minute drive from Kintetsu-Nara Station. You can find it tucked away in the designated UNESCO World Heritage Site known as the Kasugayama Primeval Forest.

With its serene atmosphere and verdant greenery, it's also known as a facility where the governor of Nara entertains guests. It's the perfect location for sightseers, only 400 meters away from Kasuga Taisha Shrine and a 15-minute walk from Todaiji Temple.

Tsukihitei has limited the number of guests who stay at their facility to three groups per day. A short walk from the main building is where you can find the guest rooms Yanagi and Hagi.

These rooms are designed in a traditional Japanese style with shoji doors made from a wooden frame with translucent paper stretched over. These rooms also offer a view of beautiful fall leaves.

Overnight guests can enjoy the facility's private baths for free. Located in two areas, the private bath facilities are decorated in stained glass. What's more, the baths are made from umbrella pine, allowing you to unwind while taking in the scent of fresh wood completely.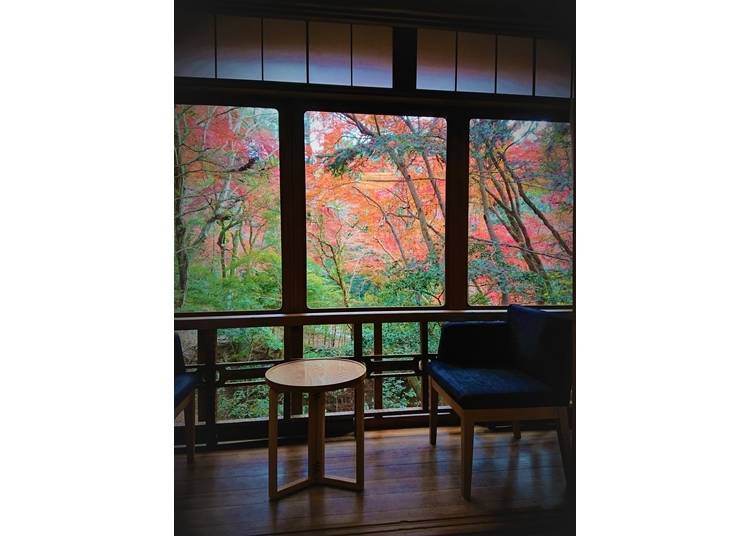 A view from the Yanagi guest room.
The rooms are surrounded by greenery and are very peaceful. With birds chirping as background music, all the worries of daily life will melt away, creating an environment where you can completely decompress. In the tokonoma - a traditional Japanese alcove, you will find an authentic Japanese atmosphere decorated with flowers and hanging scrolls.

Traditional Japanese futon bedding is laid out on tatami mat flooring for you to sleep on. Being able to experience truly authentic Japanese tastes is a beautiful part of this inn.

The best time to see fall foliage at the inn is from mid-November onwards. From the entrance to the hallways, you can enjoy colorful fall leaves everywhere you look. During this season, you might even get a surprise visit from a wild deer coming down the mountain in search of food.

Also, a carpet of bright red Japanese maple leaves covers the garden's grounds, enabling you to enjoy the scenery of fall leaves that's a bit different from the usual.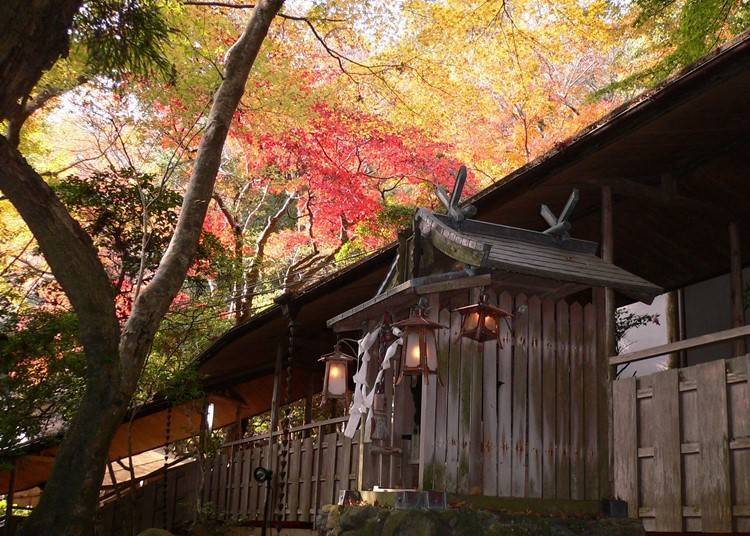 A view of fall foliage from the facility's connecting corridor.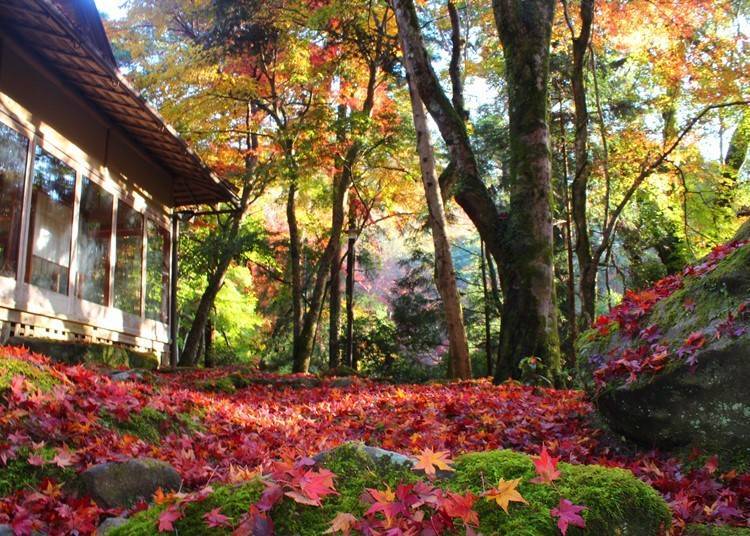 Fall leaves falling onto the garden's grounds.
Meals offered include a traditional Japanese breakfast and a multi-course Kaiseki cuisine, made by a Japanese chef. These visually pleasing meals filled with seasonal ingredients will leave your heart and belly full. If notified in advance, the chef also caters to arranging meals for vegans, vegetarians, and anyone with certain food allergies.

Additionally, the inn has received the following comment from one of their previous lodgers. "I was surrounded by nature and didn't bump into anyone because only three groups of guests can reserve a room per day. My stay allowed me to rest my body and mind in a serene environment. Also, I was more than satisfied with the food. It spoke to all five of my senses, and I was touched by how thorough the service was."

This inn also has English-speaking staff and free Wi-Fi. What's more, payments made with credit cards, including UnionPay, are accepted. Here you can experience the beauty of fall foliage and spectacular Japanese service to your heart's content.
Address

Kasugano-cho 158, Nara, Nara, 630-8212
View Map

Nearest Station

Kintetsunara Station (Kintetsu-nara Line)
36 minutes on foot


Vacancy search, reservation

from

88,000JPY

1room, 2adults

Check with our partner site as the latest rates, rate details, and guest room requirements may vary.
3. Chikurin-in Gumpoen (Mount Yoshino): Surround Yourself with Fall Foliage in this Famous Inn Found in Japan's Michelin Guide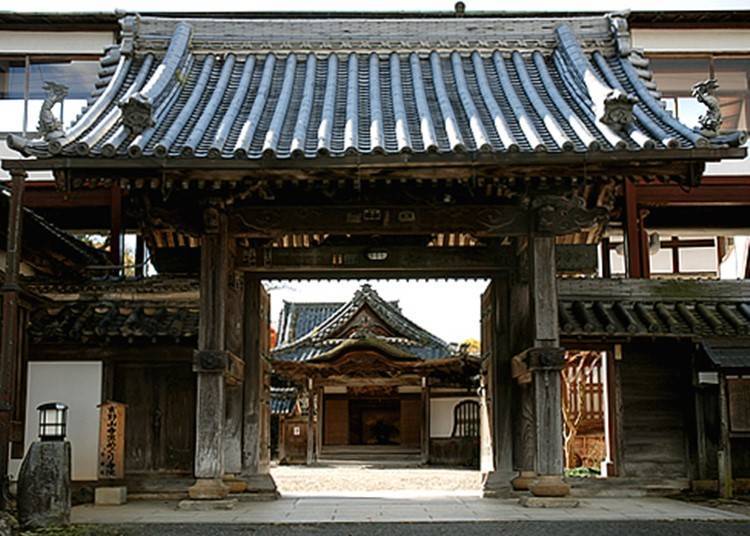 An entrance with a dignified atmosphere
Chikurin-in Gumpoen is a ten-minute drive from Yoshino Station on the Kintetsu Railway. You can find the facility in an area mid-slope of Mount Yoshino called Naka-Senbon - middle of a thousand trees.

This area and the whole of Mount Yoshino are designated as a UNESCO World Heritage Site. With the main building being built approximately 270 years ago, Chikurin-in Gumpoen is a famous inn that appeared in the MICHELIN Guide Kyoto Osaka Kobe Nara 2013. Free shuttle buses also take you from the station to the inn (reservations are required for a party of two or more.)

On the grounds spanning approximately 10,000 tsubo (about 33,057 square meters) is Chikurin-in Temple. This temple has a history of over 1,000 years.

Also on the temple grounds is the traditional Japanese garden, Gunpoen. This garden has approximately 50 types of trees, including camellia and Japanese cherry blossoms.

In the fall, you can enjoy the color gradient of leaves from yellow to red against the backdrop of Mount Yoshino. The garden is open to the general public for a small entrance fee, but those who book an overnight stay at the temple's inn get to enter for free. We recommend taking a stroll around the garden once you get to your accommodation.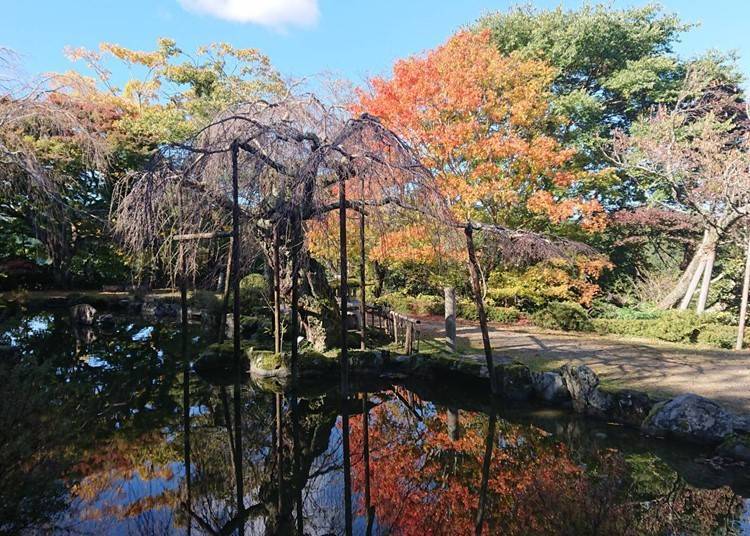 The Japanese garden Gunpoen found on the temple's grounds. In the fall, you will find it covered in different colored leaves.
Although Mount Yoshino is famous for its cherry blossoms, you also can't miss out on the views of fall foliage! The best time to go and see the leaves is around late November. Here you will find approximately 200 types of trees, such as cherry blossoms and Japanese maples. Totaling in approximately 30,000 trees altogether, the fall leaves surround the mountain like a burning flame.

The inn's entrance and lobby are solidly made out of the aromatic Yoshino cedar. When booking a guest room, you can choose from two types.

In the main building, you will find rooms that embody traditional Japanese beauty, and in the new building, you will find rooms with convenient modern facilities. In addition to the views of fall foliage from the main building's corridor, you also get a view from all of the guest rooms.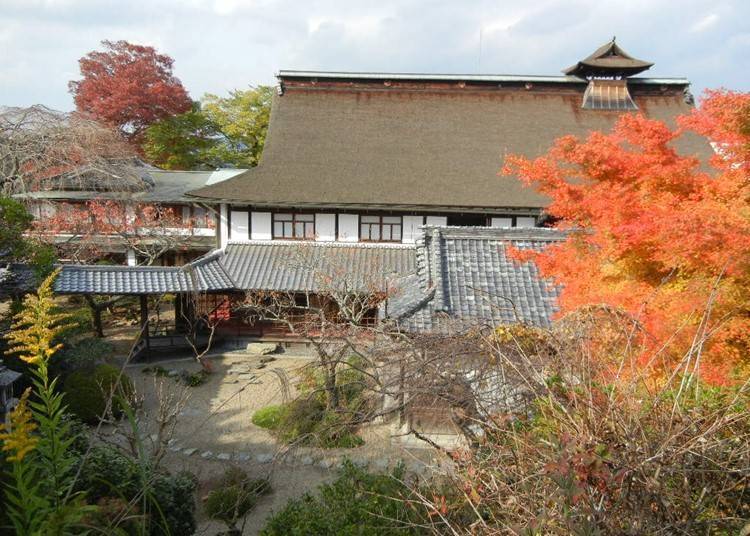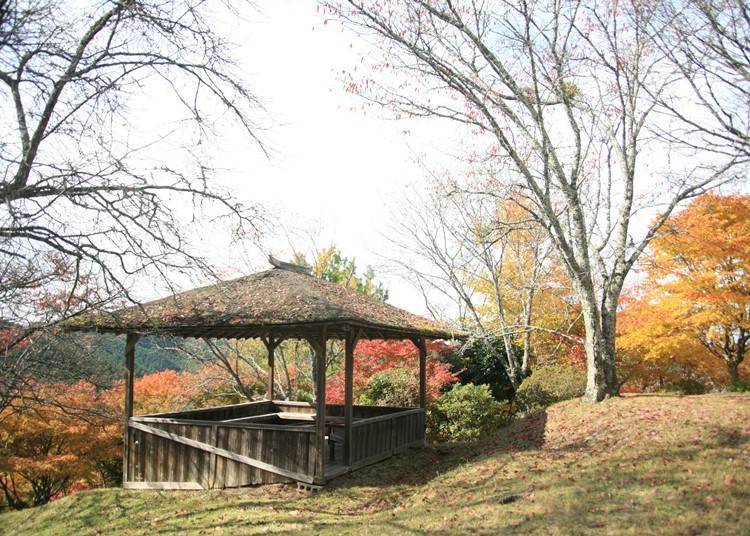 The Japanese Garden, Gunpoen
All rooms are traditional Japanese, and the new building even offers two rooms with a private bath. For those who want to experience the facility's history, the main building has some rooms you can stay in that are used to accommodate the temple's monks.

Furthermore, this inn has many options for bathing facilities. If you pay a fee, you can enjoy a completely private bath made out of Japanese cypress. There's also the large communal bath Kamoshika no Yu - antelope bath, as well as an outdoor bath where you can enjoy fall foliage known as Musasabi no Yu - giant flying squirrel bath.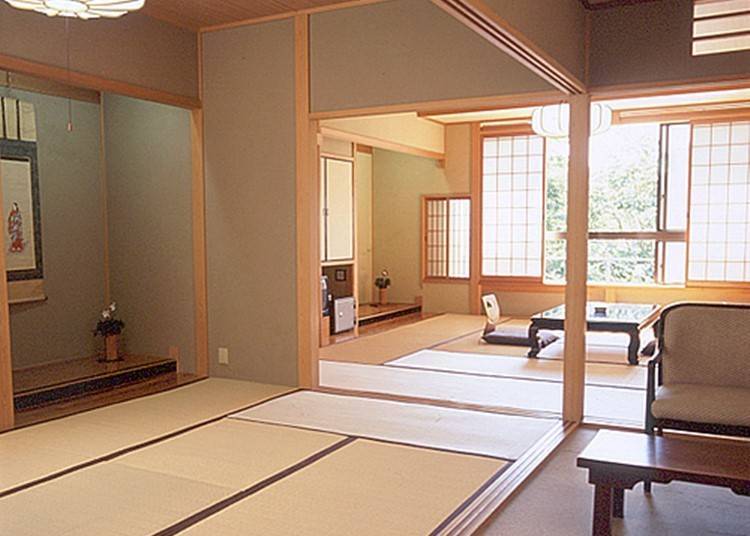 West Wing, Guest Room
Also, throughout the inn are artworks that enable you to feel its history. This includes a byoubu - decorative partition that also acts as a piece of furniture, as well as art pieces that have a connection to the Japanese warrior commander, Toyotomi Hideyoshi.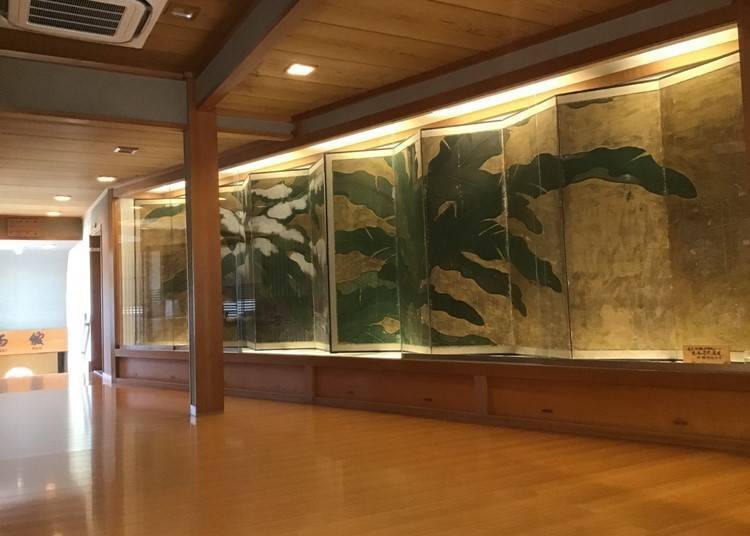 For meals, you can enjoy Kaiseki cuisine that uses fresh seasonal ingredients in addition to the inn's original hot pot dish called Rikyu-nabe. This dish was conceived by the Japanese master of tea, Sen no Rikyu. Although changes cannot be made to meals the day of, the inn will try to accommodate those with any food allergies or religious dietary restrictions when notified in advance.

Being the popular inn it is, it has received the following comment from one of its prior guests. "This is a good way to get away from the chaos of the city. It's a lovely inn with lots of fresh air. I enjoyed the view from the outdoor bath, and the beautiful garden was also perfect for practicing some meditation. Most of all, the food was delicious, and all of the staff were friendly. I was able to have a truly authentic traditional Japanese experience."

Also inside the inn is a shop selling the region's local specialties. Besides UnionPay and some other Chinese payment methods, most credit cards are accepted. In addition to offering free wi-fi, both the facility and the main website offer English guidance.

For other languages, it's possible to use translation apps to communicate, but phone calls can only be made in either Japanese or English. For inquires made on the inn's website, please keep in mind that there must be at least part of the text in Japanese, or it will not be accepted.

What's more, the inn is only a 15-minute walk from other popular fall foliage sites, including Yoshimizu Shrine and Kinpusenji Temple. These historical spots are also designated as UNESCO World Heritage Sites.

At Kinpusenji Temple's Zaodo Hall, there are certain days when visitors staying at nearby accommodation facilities can visit at night. Here you can create a special memory of entering the usually closed temple in the nighttime.
Address

Yoshinoyama 2142, Yoshino, Nara, 639-3115
View Map

Nearest Station

Yoshino Station (Kintetsu-yoshino Line)
47 minutes on foot


Vacancy search, reservation

from

33,000JPY

1room, 2adults

Check with our partner site as the latest rates, rate details, and guest room requirements may vary.
Each accommodation is attractive with its spectacular locations and unique views of beautiful fall foliage. In Japan, going to see the fall leaves is as popular as going to see the cherry blossoms in the spring. Why not enjoy views limited to the fall season while experiencing a refined traditional Japanese atmosphere?

Text by: Shigemi Niki
*This article was originally published in October 2021 and updated in August 2023. Please check official websites for the latest information.
*This information is from the time of this article's publication.
*Prices and options mentioned are subject to change.
*Unless stated otherwise, all prices include tax.
Limited time offer: 10% discount coupons available now!