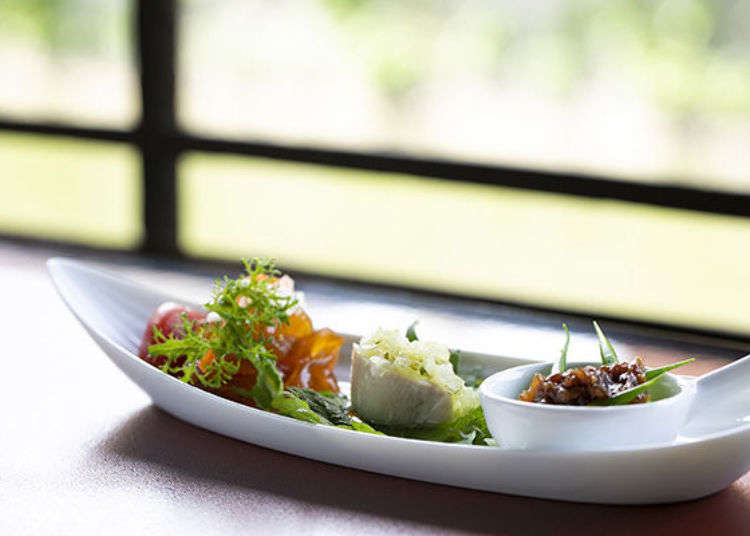 Ichi no Hunairi sits near a historical site which was once the dock for Takase boats. This is reflected in the name of the famous Kyoto-style Chinese restaurant, Ichi no Hunairi, where Chef Gi Yoshiyuki, who is certified as one of the finest chefs of Chinese cuisine, creates his Kyoto-style dishes.

His Kyoto-style Chinese dishes, which are not only pleasing to the eye but also incorporate the belief of Ishoku Dogen (medicine and food have the same origin), are popular not only with local residents but tourists as well, so we decided to do an article on it!
Dishes served in a charming, 80-year old merchant house
The Kyoto-style Chinese dishes he prepares are loved by Kyoto residents because he makes them with fewer spices and oils which brings out the flavor of the soup stock used giving the dishes a milder flavor. Ichi no Hunairi is a pioneer among the many other similar establishments, its popularity evidenced by the many visitors who come from distant places as well. So exactly how are these dishes which can only be enjoyed here uniquely different?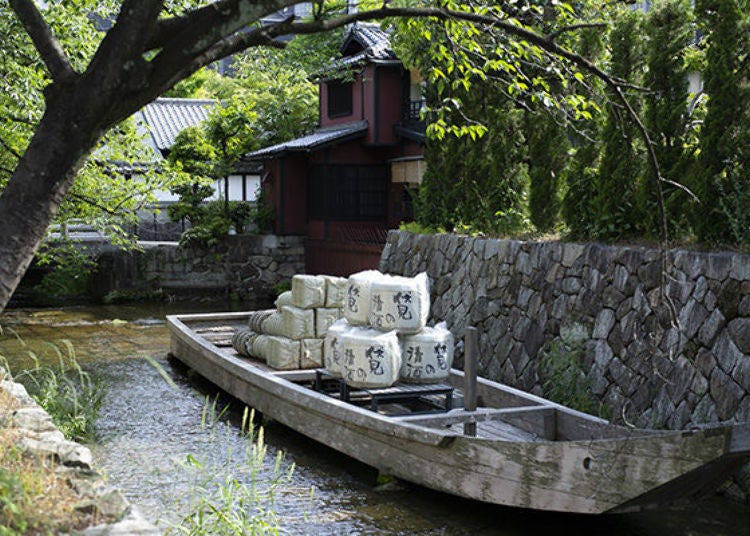 ▲ A replica of a Takase Boat is on display at the historic site of Ichi no Funairi
The Takase River flourished as a canal connecting Kyoto City and Fushimi. The Takase Boats that once plied this canal would dock here at Ichi no Funairi and the Ichi no Hunairi is located just behind this historical site.
Ichi no Hunairi, housed in a renovated tea house that was built more than 80 years ago, opened in 1996. The literary giant Mori Ogai, known for his novel Takasebune, is said to have written the novel at this place.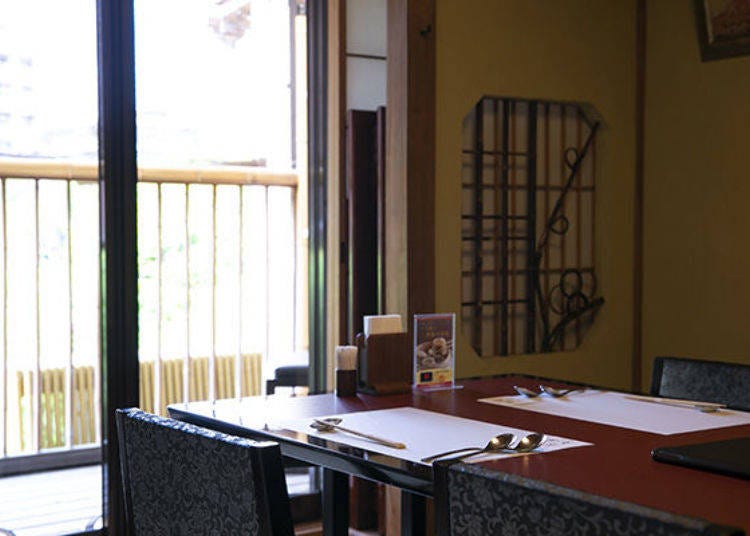 ▲ 2nd floor seating
The moment you step into the restaurant you can feel the rich history of Kyoto. I was shown to a room on the second floor. It was a private room with a table and chairs on a tatami mat floor.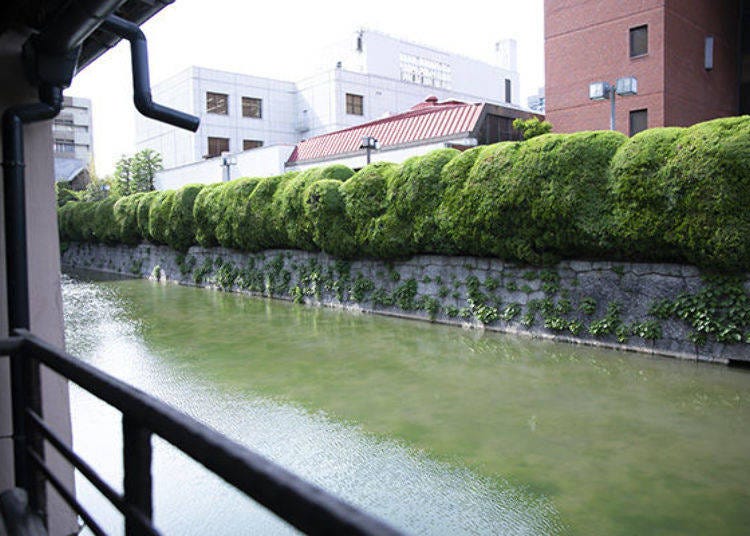 The room faced the Takase River affording a pleasant view of it. Although it is close to the Kyoto City Hall, it is surrounded by a wonderful tranquility.
Ishoku Doyo = delicious dishes for both body and mind
▲ Fuku Course
I visited at lunch time and had the choice of two types of lunch menus: the Fuku Course with 7 dishes (¥3,500) and the Gi Course (¥6,000). I selected the Fuku Course. Incidentally, there are four dinner courses offered ranging from 6,000 to 15,000 yen (excluding tax). (Reservations are required for the 15,000 yen course)

The dishes are prepared in a way that suits the tastes of Kyoto meaning that techniques and concepts used for Japanese traditional dishes are employed, the result being a gorgeous display of culinary treats that will take your breath away the moment they are served.

The ingredients are mainly organic vegetables that are pesticide-free, and one can "envision the face" of their provider. Only select ingredients are used based on consideration of balanced nutrition and carefully prepared to create dishes that are indeed sources of good health. It is this Kyoto-style Chinese cuisine created by Chef Gi that incorporates the idea of medicine and food both having the same beneficial effects.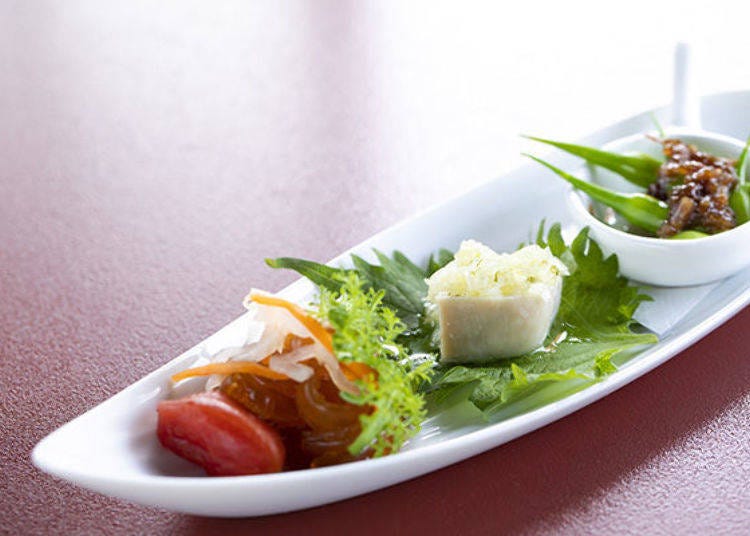 So without further ado, let's taste it!

The first dish was a mixed appetizer. From the left: vinegared jellyfish, steamed chicken in an onion sauce, and winter radish seed pods with onion miso sauce.

The vinegared jellyfish had a subdued, crunchy texture. The moderate sweetness and tartness of the small tomato soaked in plum syrup to its left perfectly matched the texture and taste of the jellyfish.

The savory flavor of the leek perfectly matched the juicy and tender steamed breast of chicken.

And what appears to be green beans is actually white radish seed pods. This was the first time for me to try it! It had a crisp texture and with each bite there was the feint flavor of radish which, together with the slightly charred leek and rich miso, went really well together.

The one word that would describe each of these appetizers is "delicate". I was impressed by the harmonious combination of such complex tastes.
The second dish was shrimp with mayonnaise sauce. The plump shrimp was covered in a rich mayonnaise sauce. Shrimp in mayonnaise is itself a basic Chinese dish, but when combined with wolfberry, nuts, and shredded lettuce, a rhythm is created in the blending of these textures, producing a uniquely different creative dish. I could clearly feel the skill of Chef Gi in this dish in which attention was paid to the basics as well as to creativity.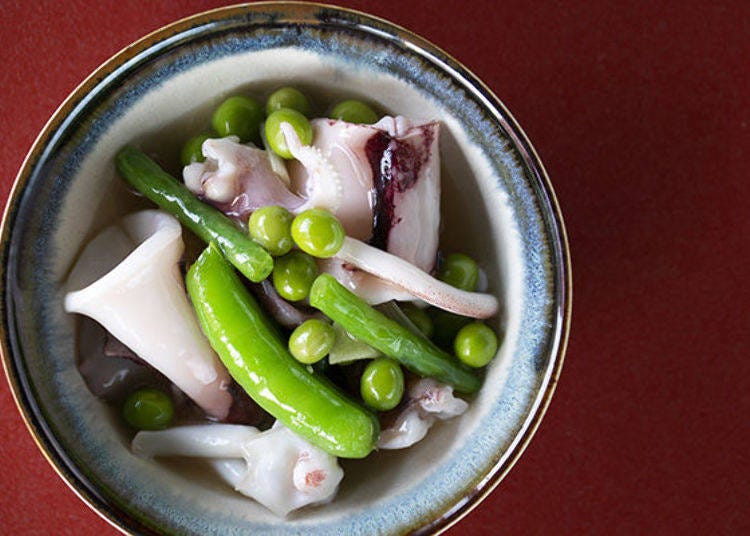 The third dish was lightly fried spear squid and seasonal beans. It was a colorfully beautiful combination of seasonal ingredients. The freshness of the spear squid was evident at first bite in its crunchy texture. The subtle hint of ginger in the flavorful spring-like beans infused my mouth as though it had been caressed by a refreshing breeze.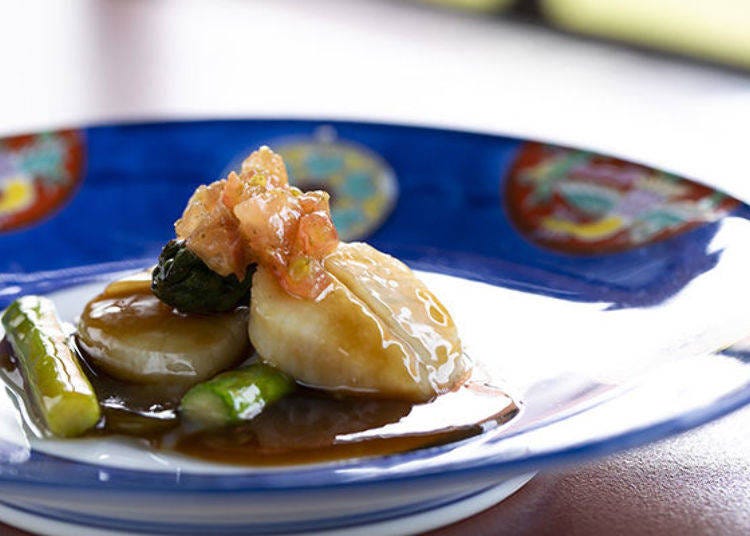 The fourth dish was live scallops and asparagus balsamic in a tomato and cilantro sauce. The flavor of the live scallop became more pronounced with each bite. I also enjoyed the crunchy texture of the asparagus. The elegant sweet and sour balsamic sauce gave the dish a fragrant, soft Chinese flavor.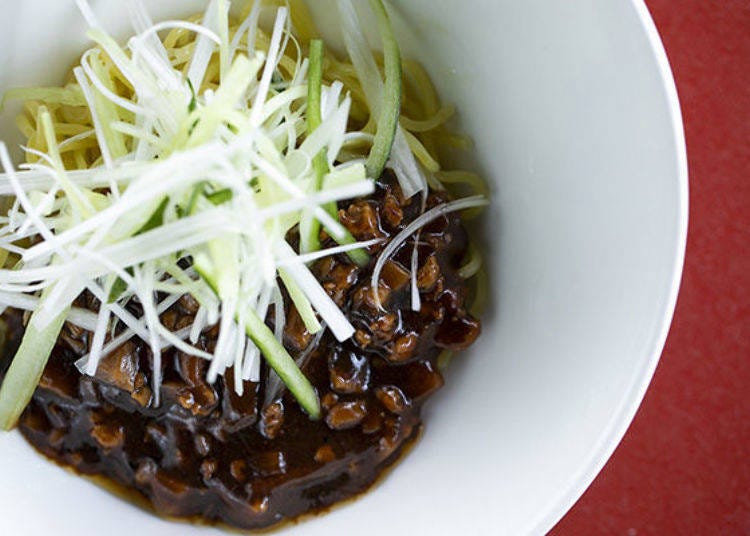 The fifth dish was Special Zhajiangmian [noodles with soybean paste]. The rich-flavored meat miso in contrast to the different textures of the minced meat, bamboo shoots, and shiitake mushrooms was a delight, and its slightly pungent taste was so tantalizing that it was difficult to put down my chopsticks. The contrast between the hot meat miso sauce on the cold noodles made it even more delicious. In spite of feeling contentedly full from the many delicious dishes, I had no trouble in eating every last morsel!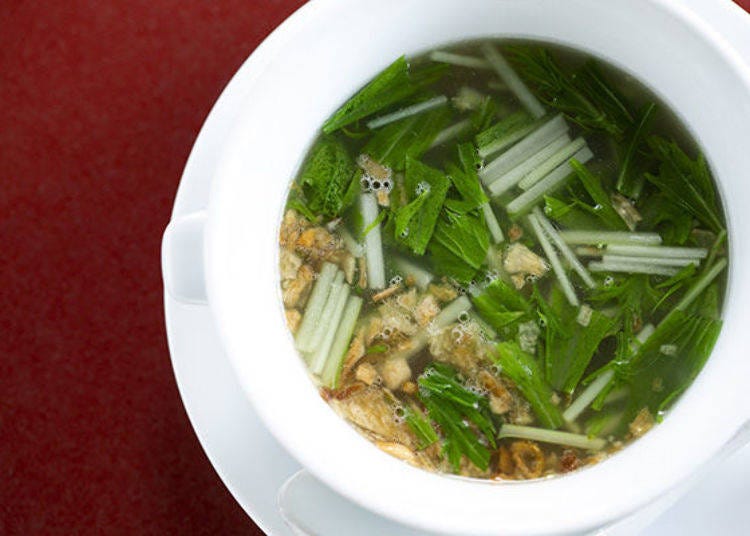 The sixth dish was dried shrimp and potherb mustard soup. The delicious dashi from the large dried shrimp was exquisite. The dried shrimp was also used as an ingredient and went well with the crispy potherb mustard.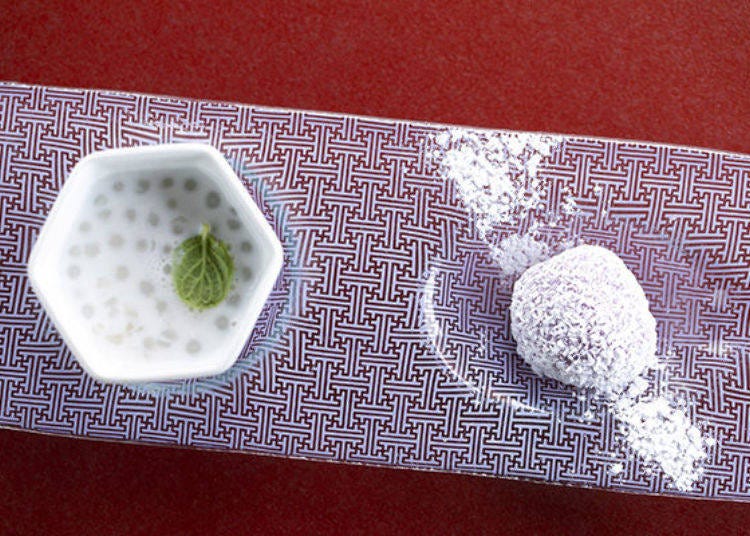 Last came the dessert. The tapioca (left) had a paste made with Jew's ear and dried fruit in the coconut milk that gave it a tropical flavor. The purple sweet potato dumpling (right) is an impressive concoction made with a soft dough and white coconut fine. This was the perfect ending to a sophisticated and refreshing Kyoto-style Chinese cuisine course.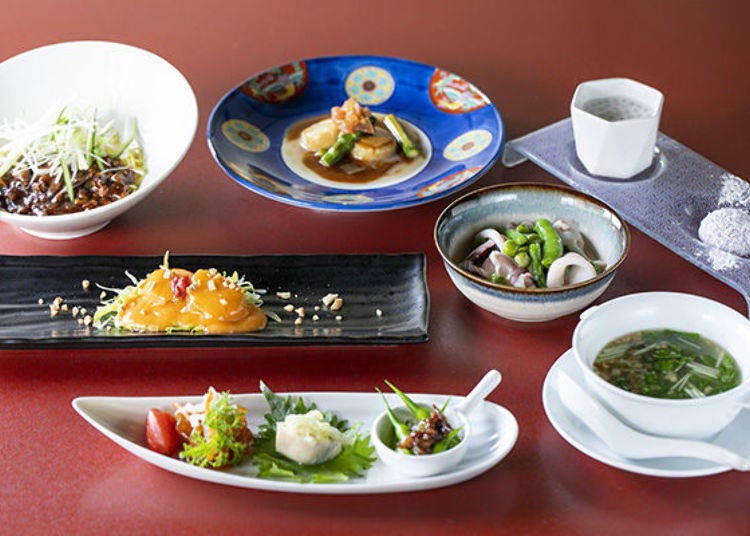 I felt that all the dishes were rich in contrast in their color, texture and taste. I was also pleasantly surprised that such quality and quantity could be so affordable at only 3,500 yen (excluding tax). It was a most satisfying lunch.
Chef Gi told us about his global activities!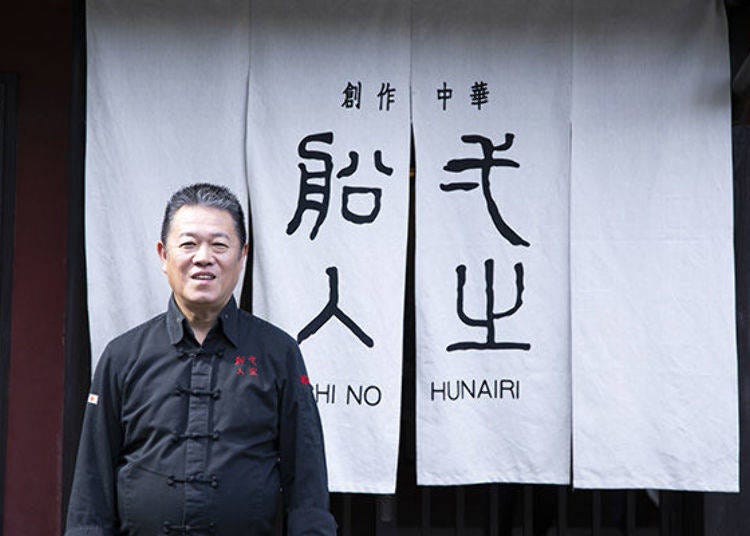 "I was 11 years old when I first held a kitchen knife."

Chef Gi said with smile. He was raised in Yokohama's Chinatown. He began by helping out in his parents' shop and then later further improved his skills by working in various Chinese restaurants. After that he traveled to mainland China and passed the national qualification test to become a certified Special Level Food Preparer. Afterwards he worked again in Yokohama and Okinawa before opening Ichi no Hunairi.

The restaurant was very popular from the moment it opened, but it was the strict advice from local regular customers in Kyoto that was so beneficial. From this he learned how to cook Kyoto-style and Japanese cuisine, and combined with his own research efforts, he created an original Kyoto-style Chinese cuisine.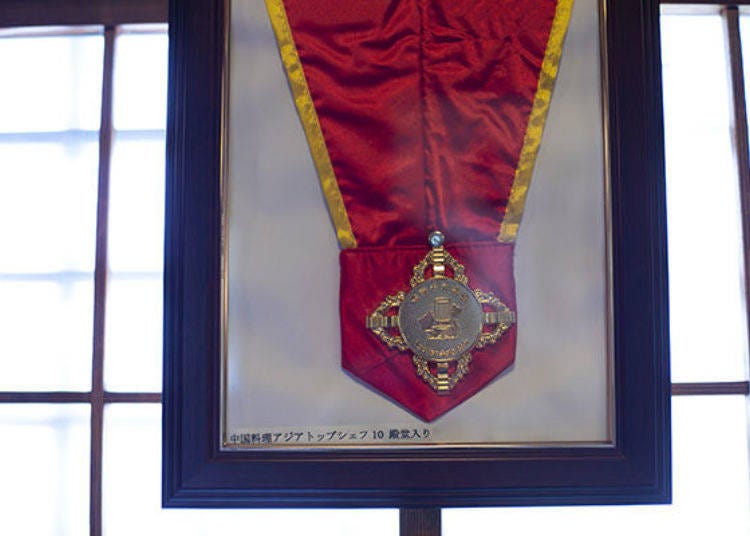 ▲ Chinese Cuisine Asian Top 10 Chefs Hall of Fame Medal
In 2005, he was awarded the qualification of the Highest Level Food Preparer in China and currently serves as president and director of various culinary associations in Japan and overseas.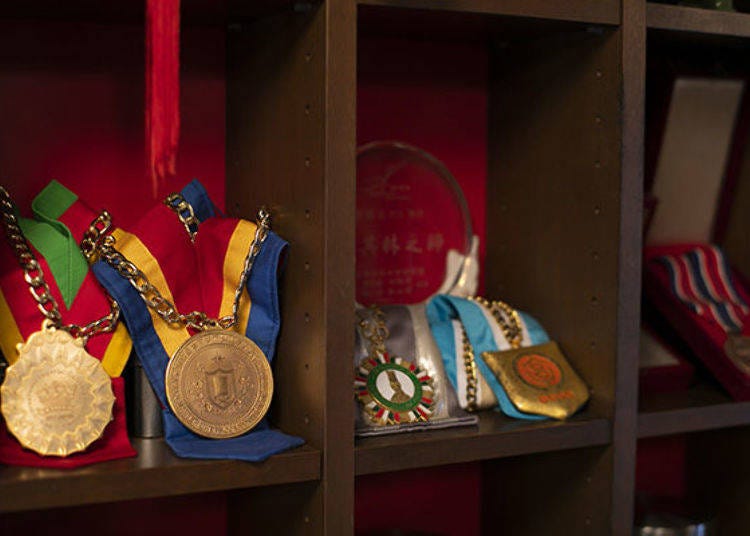 ▲ In addition, he has won numerous other awards in Japan and overseas.
The basics and inspiration are two qualities Chef Gi holds dear.

What he learned through repeated efforts from a very young age led to the development of culinary skills that he is continuing to hone. He says that by continuing to study humbly various new ideas come to him. Even now there are few other chefs of his caliber, yet his attitude towards constantly seeking to improve his skills was most impressive.

Here is a unique Kyoto-style Chinese cuisine that you can enjoy in a quiet old merchant-style house and feel the atmosphere of Kyoto. If you have an opportunity to visit Kyoto, I highly recommend visiting and sampling some of the many delicious dishes offered here.
一之船入

Address

537-50 Ichinofunairicho, Nijosagaru, Kawaramachi, Nakagyo-ku, Kyoto City, Kyoto Prefecture

Phone Number

075-256-1271

Hours: 11:30 a.m. ~ 2:00 p.m. (L.O. 1:30 p.m.); 5:30 p.m. ~ 20:00 p.m. (L.O. 9:00 p.m.)
Closed: Sunday; end and beginning of year
*This information is from the time of this article's publication.
*Prices and options mentioned are subject to change.
*Unless stated otherwise, all prices include tax.