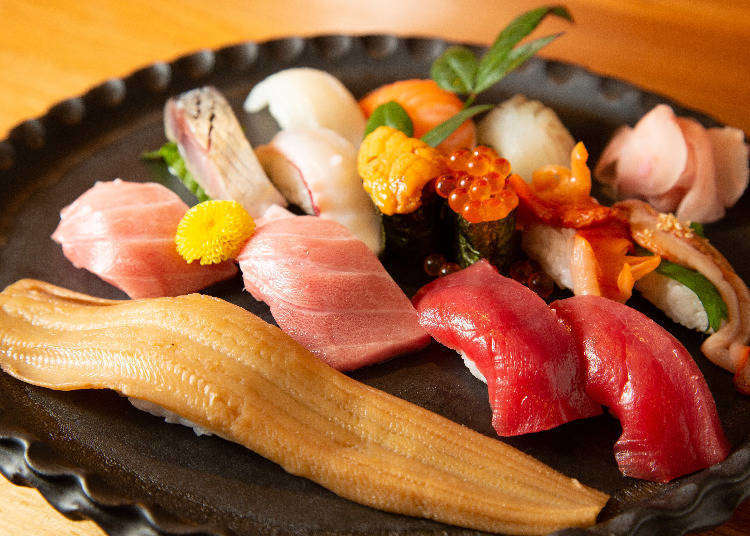 Where can you find the best sushi in Dotonbori? As one of Osaka's most famous, active areas, Dotonbori is well known for its excellent food, not the least of which is sushi. There are so many famous Dotonbori sushi restaurants that serve up fresh seafood loved by guests from all over the world.

Here, we had an editor who lives in Osaka and knows Dotonbori well recommend us some sushi spots for tourists. From the old shop in the alley to the conveyor sushi spot on the main street, check out the place that sounds most appealing to you and get ready to see why they say you'll eat yourself silly in Osaka.
1. Genrokuzushi Dotonbori: Now this is entertainment - where revolving sushi was born!
Found on the ever-busy Dotonbori main street
It's hard to miss the big nigiri sushi sign on Dotonbori's main street. It towers over the Dotonbori Branch of Genrokuzushi, the original kaiten-zushi restaurant.

Kaiten-zushi, tasty sushi rolling by your seat on a conveyor belt, is a sort of food-based entertainment that started in Japan. It's now popular worldwide.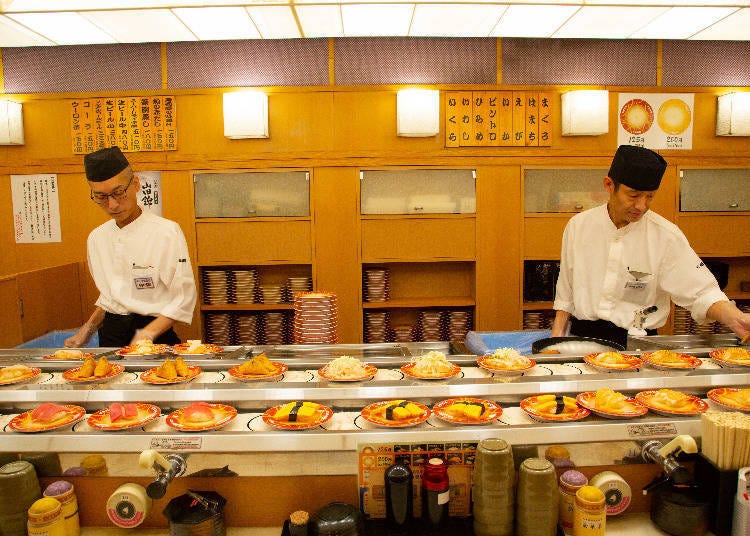 Tasty sushi travels along a conveyor belt
The conveyor belt sushi have clear prices. The ones on red plates are 135 yen, while the ones on yellow plates are 216 yen, tax included. With over 80 types including tuna and salmon, you're sure to find a variety at a reasonable price.

Tourists tend to like red or sweet shrimp and sushi with an added touch, like "aburi" seared sushi. You can also add cheese and mayonnaise to shrimp and salmon when you toast them, making for an even more tempting bite.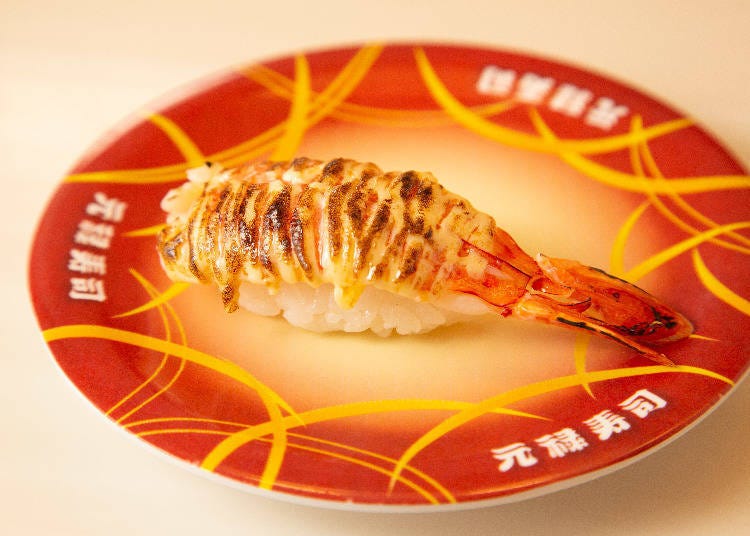 Aburi shrimp with mayonnaise (135 yen, tax included)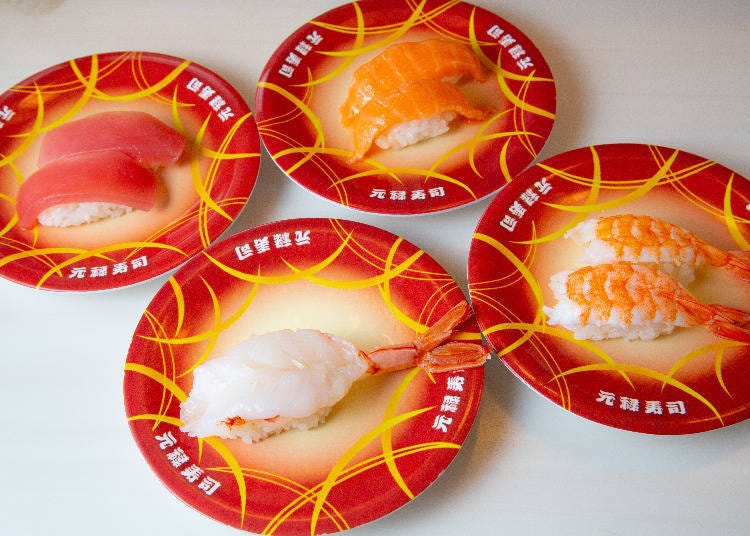 Red shrimp, tuna, salmon, shrimp (each 135 yen, tax included)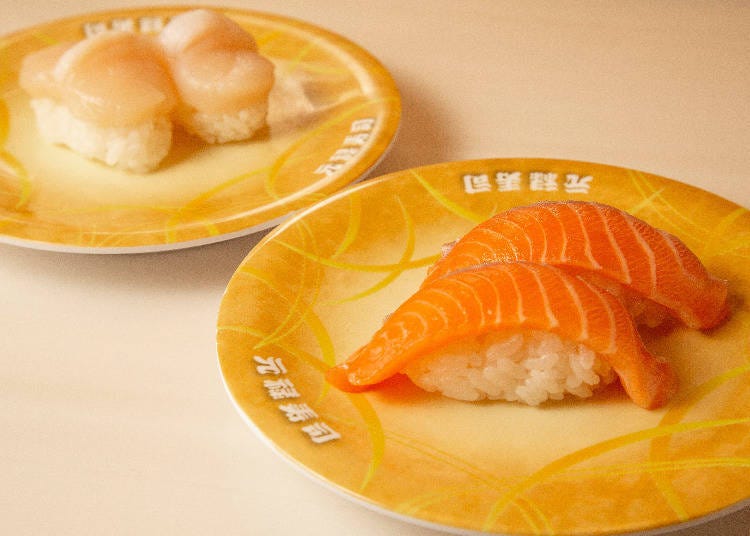 Raw salmon, Japanese scallop (each 216 yen, tax included)
If sushi on the menu isn't on the conveyor belt, ask the attendant behind the counter. If the item you're after isn't sold out, they'll make it for you right away and take out the wasabi if you ask. There are side dishes you can order as well, such as sushi chef miso soup, savory steamed egg custard, and drinks such as beer. Stop by and we're sure you'll agree: they still serve some of the best sushi in Dotonbori!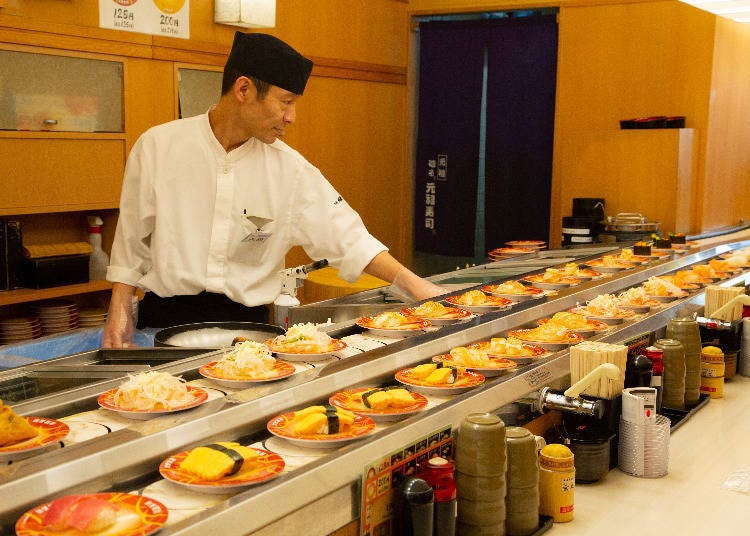 Order whatever sushi you like in any amount
元禄寿司 道頓堀店

Address

1-6-9, Dotonbori, Chuo-ku, Osaka

Phone Number

06-6211-8414

Hours: 11:15AM to 10:30PM (Sat/Sun/Holidays are 10:45AM to 22:45PM)
Closed: Open Daily
2. Seitaro: Some of the best sushi in Dotonbori is tucked away in this back street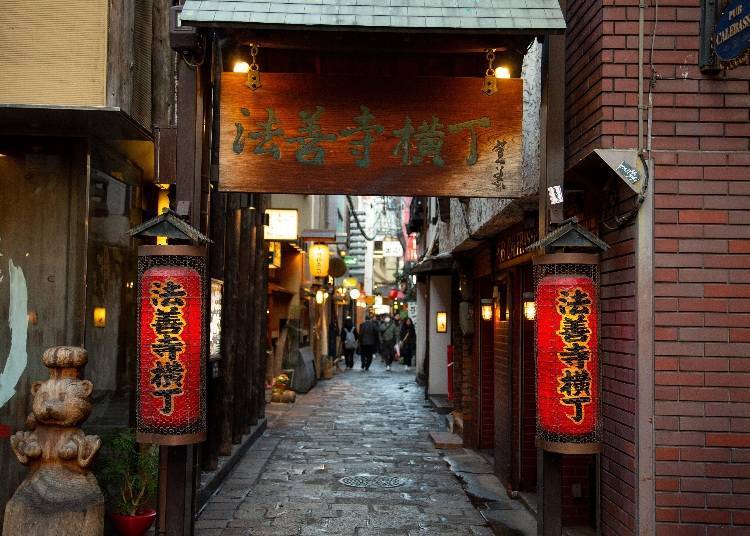 Red lanterns at the entrance to Hozenji Alley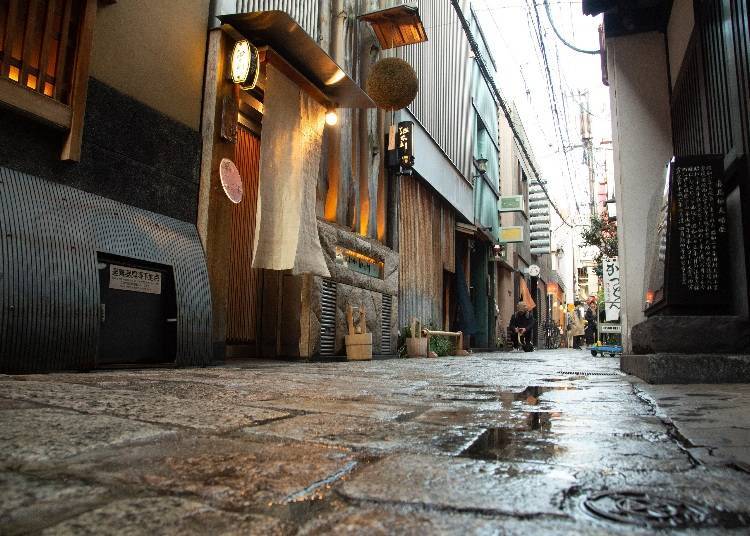 This old restaurant is in a stone-tiled back alley
Though part of bustling Dotonbori, Hozenji Alley is a relaxed, laid back place where you can enjoy a calm Japanese atmosphere. It's right next to Osaka Metro's Namba Station, and around the famous Hozenji Temple, you'll find plenty of old and excellent restaurants lining its stone-paved streets.

The place we'll be looking at is Seitaro, a 60-year-old restaurant serving some of the best sushi in Dotonbori. There, you'll find the finest seasonal ingredients imported from all over the country in its counter case, and the owner behind the counter. Special routes ensure high-quality stock.

The owner's father dealt in fish in the Kuromon Ichiba Market, a place famous as Osaka's main source of seafood, and those connections over many years have paid off in the form of the finest stock.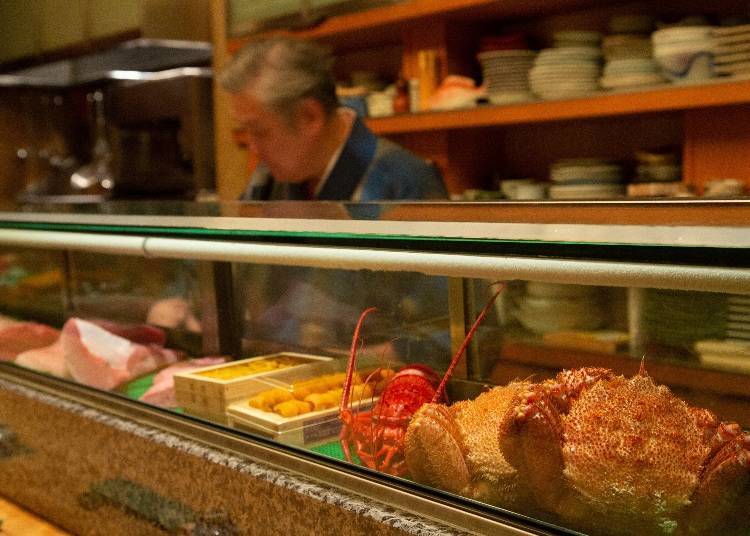 The recommended ingredients of the day are lined up in the counter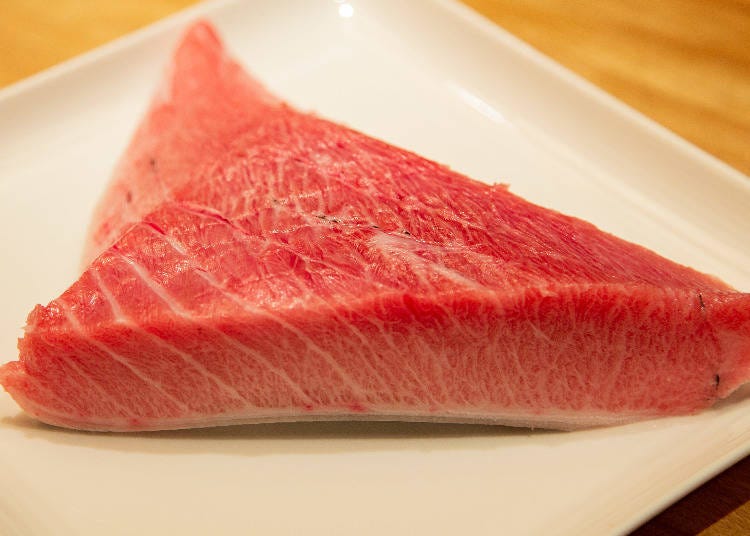 Rare sushi types are sometimes present, such as fatty tuna gill meat
The menu's selection is generally left to the owner's discretion. A course of Dotonbori sushi alone is 8,500 yen, while a course with sushi and Japanese-styled seafood starts at 10,000 yen.

The contents of the menu change based on the stock of the day, with this day's course starting with white shrimp from Toyama with caviar. The sweetness of the shrimp mixes well with the saltiness of the caviar.

Next came crab miso, salmon roe, and Hokkaido and Awaji sea urchin nigiri sushi. I had it without soy sauce in order to taste the most of what the ingredients had to offer. The fresh, high-quality ingredients and their masterful arrangement by an expert were truly impressive!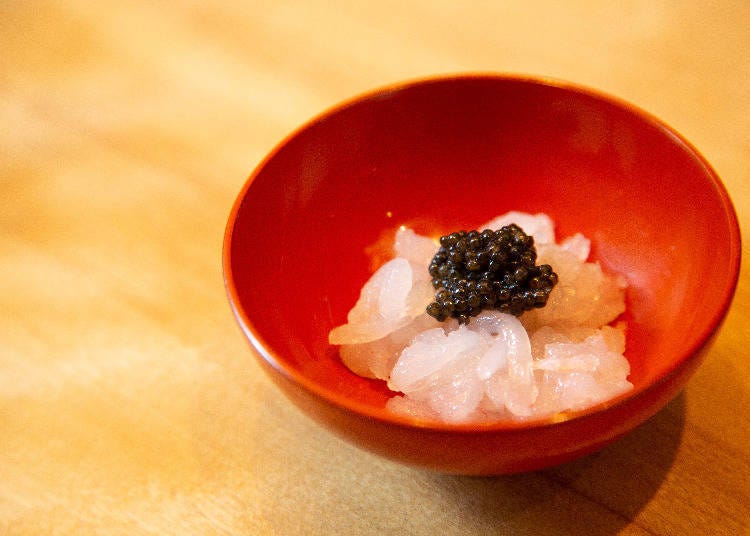 The non-sushi items are also excellent, such as the Toyama White Shrimp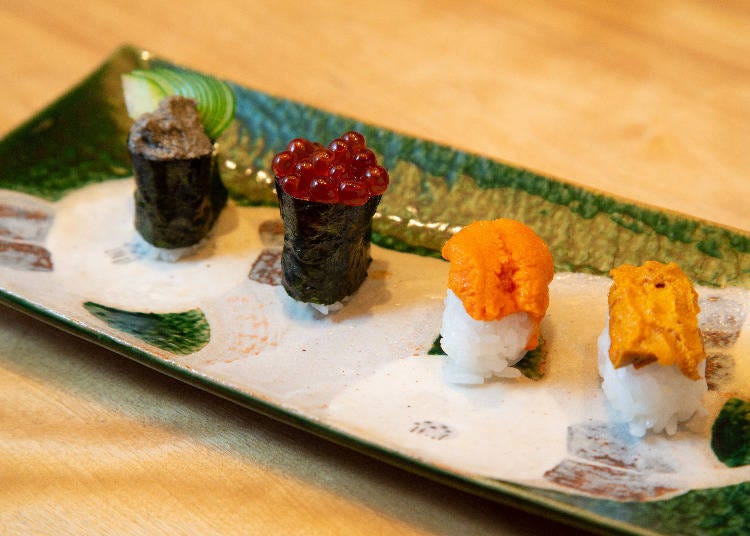 All of the items were confidently recommended by the owner
The food in a standard course is served piece by piece as the chef makes the sushi. There's an excitement to this style, a joy to eating a fantastic piece of sushi while wondering what the next one will be.

Also, though this venerable Dotonbori sushi restaurant may seem unapproachable, the owner is a man who truly, genuinely loves sushi and warmly welcomes all, so you need not worry.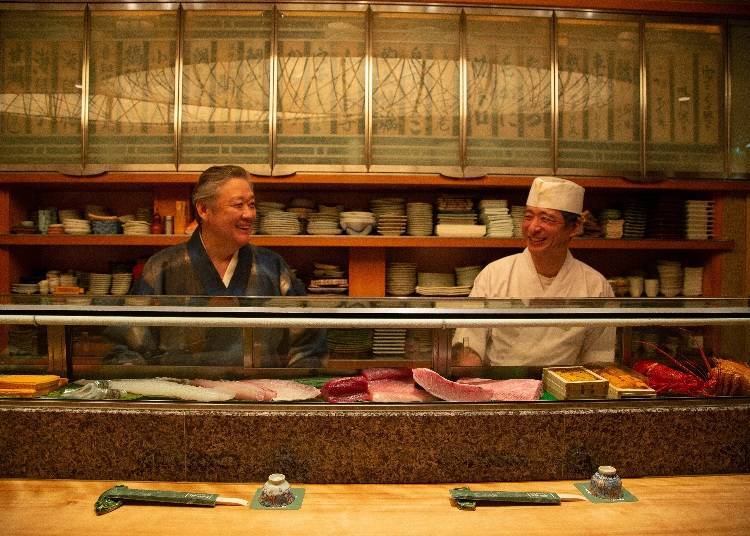 You can speak with the owner and chef at the counter while dining on their sushi
法善寺横丁 誠太郎

Address

1-7-11, Dotonbori, Chuo-ku, Osaka

Phone Number

06-6213-3174

Hours: 4PM to 10:30PM
Closed: Irregularly
3. Yumebouzu: Serving up superb sushi made with freshly cut fish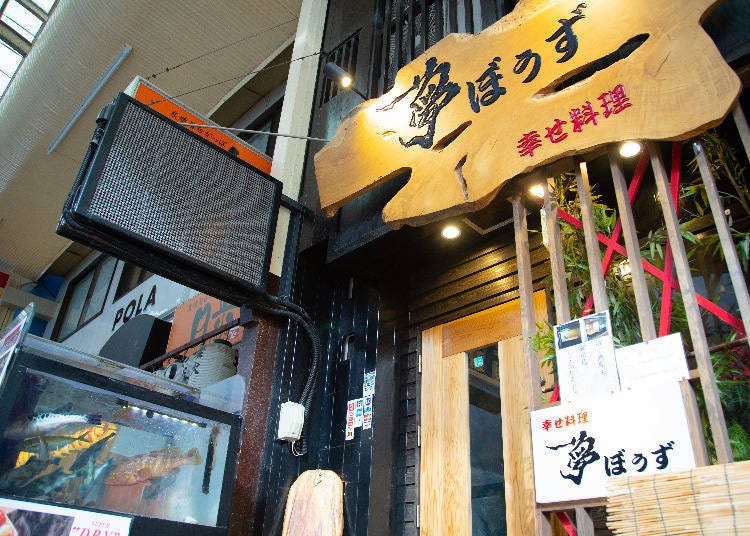 At a shopping street off Dotonbori's main street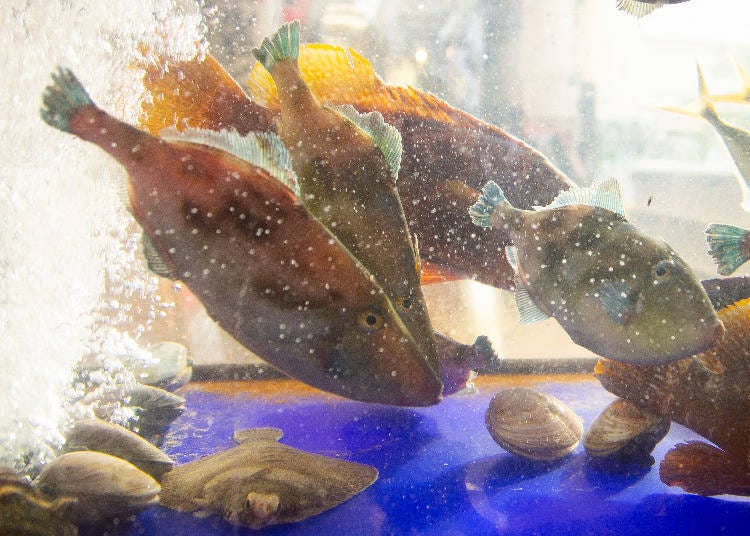 Today's fish tank had seasonal filefish and red rockfish
Dotonbori's Aiaubashisuji Shopping Street has a seafood restaurant called Yumebouzu. It has a variety of lively fish in the storefront tank proudly on display. There are energetic kuruma shrimp and seasonal fish such as pufferfish and longtooth groupers.

One reason for the restaurant's popularity is its willingness to comply with visitor's requests for certain fish in their tank.

Once inside, you'll find a variety of fresh seafood and vegetables lining the counter seats on the first floor that you can pick from for your order. The second floor also has tables and sitting areas perfect for larger groups.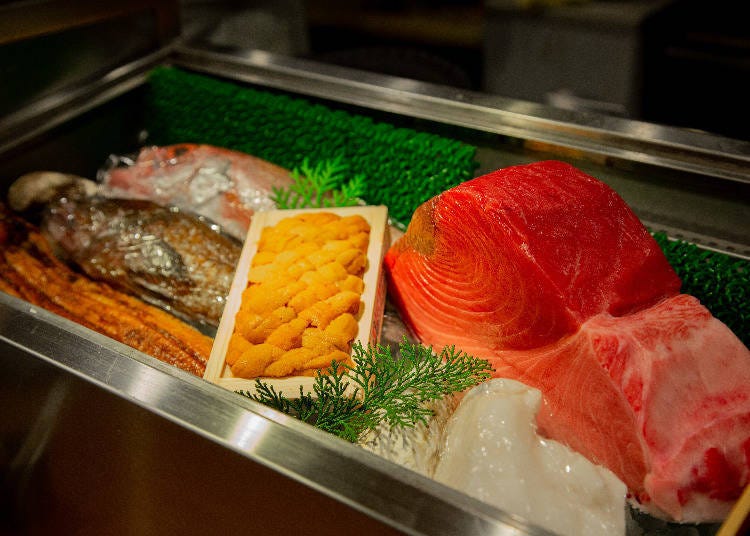 There are plenty of ingredients at the counter, such as tuna and sea urchins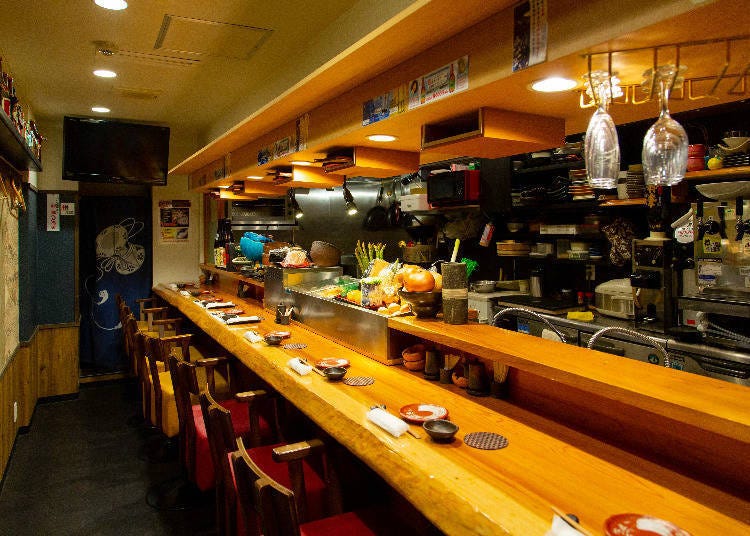 The first floor only has seats at the counter
Nigiri sushi made from wonderfully fresh ingredients starts at 140 yen apiece. Lean tuna meat goes for 200 yen, while the fatty meat goes for 350 yen – great prices! Even the more extravagant Dotonbori sushi, such as pieces that use an entire conger eel, only go for 490 yen.

There are all sorts of types, fresh from the central market in Osaka and fisheries all over the country, so enjoy to your heart's content! All prices include tax.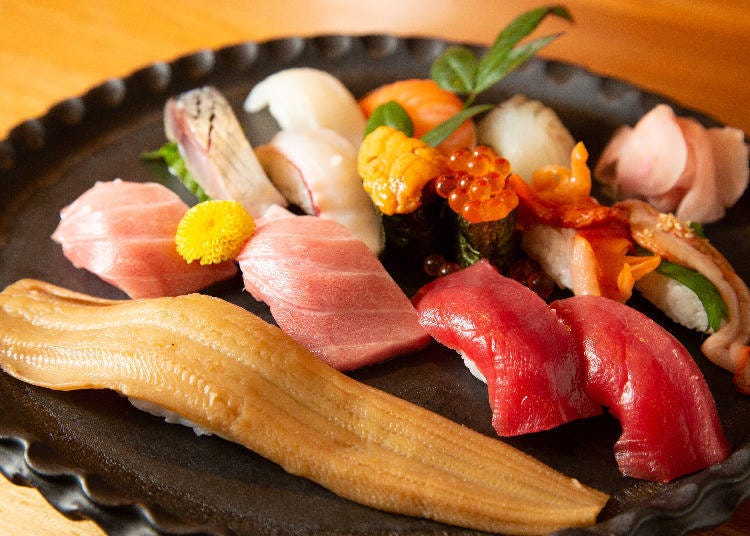 You order the nigiri sushi piece by piece. If you're unsure what to get, ask them for "omakase" for recommended sushi
Sushi isn't your only food option at Yumebozu. A variety of seafood dishes are on the menu, from sashimi to deep-fried items, and there are seasonal options as well, such as the wintertime Fugu Tsuchori Course (from 5,800 yen, tax included).

You can also order up something super fresh, like shortspine thornyhead or rockfish, which can be salt-grilled, simmered or otherwise served just the way you love it. They even have Japanese tiger prawn (780 yen each, tax included), which are particularly popular among foreign tourists, as well as nigiri sushi.

Don't miss their large sake selection, which is completed with Dassai and other famous brands - a perfect match for seafood dishes! Be sure to get a splash in your cup and enjoy it along with some of the best sushi in Dotonbori.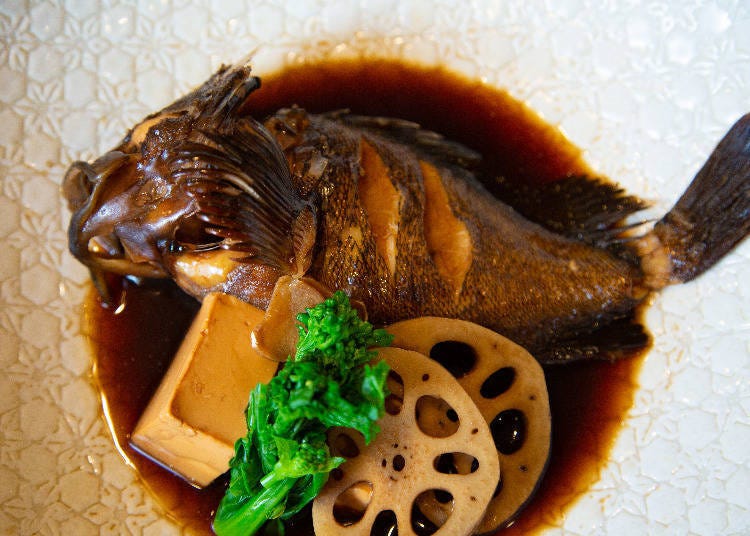 Simmered rockfish, 1980 yen (tax included)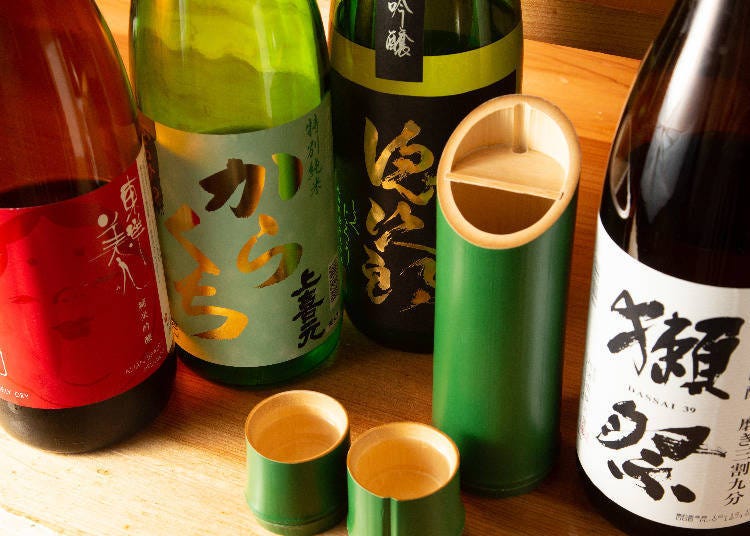 A refined style of serving sake, in bamboo vessels
夢ぼうず

Address

1-3-13, Dotonbori, Chuo-ku, Osaka

Phone Number

06-6214-3838

Hours: Weekdays 5PM to 1AM following day (Sat/Sun, Holidays 10AM to 11PM)
Closed: Wednesdays
Text by:copyz
We also recommend these restaurants in addition to those above. Save time and hassle - book your table online today!
Chunagon Osakaekimaedaisambiruten

中納言 大阪駅前第3ビル店

Address

Osaka station square third building 32F,1-1-3, Umeda, Kita-ku, Osaka-shi, Osaka, 530-0001


Nearest Station

Kitashinchi Station (Tozai Line)


Phone Number

06-6341-5460

* For business names, representatives or managers, and other information, please contact the store directly.
* Time of payment (Pre-paid: On confirmation of reservation. Other than pre-paid: At time of visit.)
Chunagon Sennichimaemirakukan

中納言 千日前味楽館

Address

1-4-4, Namba, Chuo-ku, Osaka-shi, Osaka, 542-0076


Nearest Station

Osakanamba Station (Kintetsu Namba Line / Hanshin-namba Line)


Phone Number

06-6212-9678
Book an unforgettable experience in Osaka!
Make your trip extra memorable by booking one of these recommended tours on our partner site, Voyagin!
*This information is from the time of this article's publication.
*Prices and options mentioned are subject to change.
*Unless stated otherwise, all prices include tax.
Limited time offer: 10% discount coupons available now!