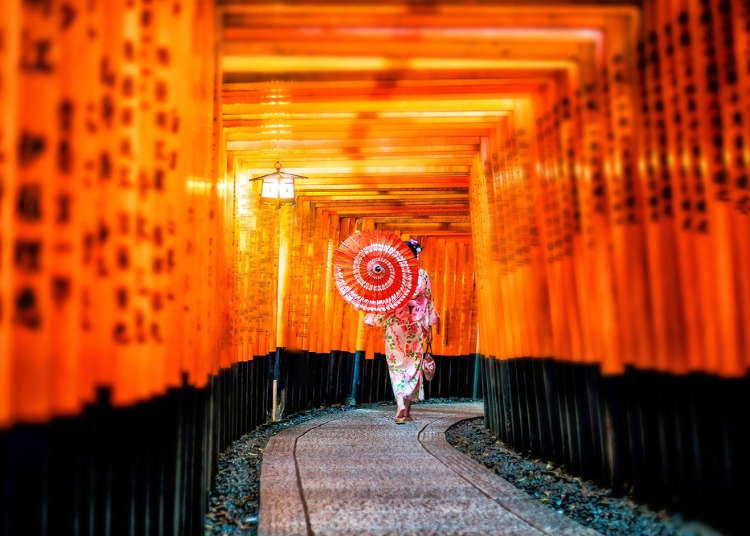 Kyoto City is located in a basin surrounded by mountains, and this makes the heat in summer very severe. Traditionally, people have hung wind chimes from the eaves of their homes in order to feel cooler. They don't make the temperature go down, but the sound of the chimes makes it seem like there is a nice cool breeze.

Even today, at washoku (traditional Japanese food) restaurants and elsewhere you can enjoy the calming sound of the chimes. In Kyoto in summer there are events which need to be seen at least once in your life, such as the Gion Matsuri in July, one of the 3 biggest festivals in Japan, and Gozan no Okuribi (mountain bonfires festival) which marks the return of the spirits of the dead, who visit the world of the living during this month, back to the spirit world.

In this article, we will cover 8 hot points to ensure that your trip to Kyoto in summer is a success.
1. Kyoto is extremely hot in summer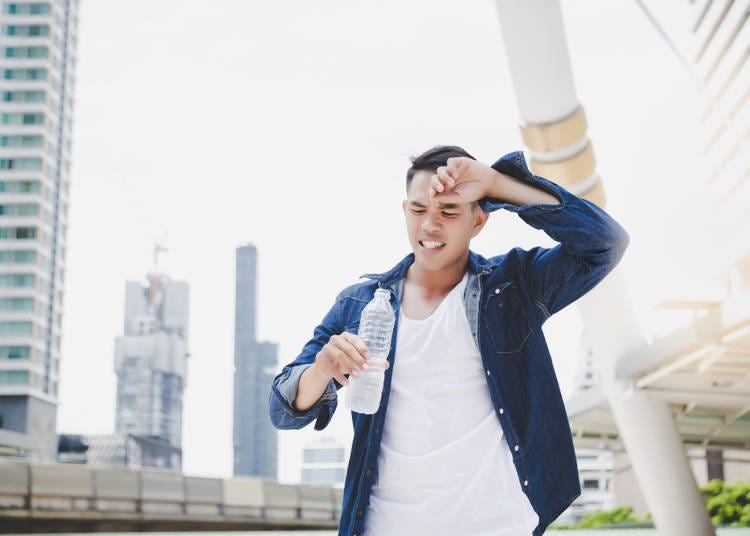 In Japan, if maximum temperatures exceed 30℃ then it is known as a hot summer day, but if temperatures go over 35℃ then it is known as an extremely hot day, which indicates that people need to take precautions against the heat.

However, in recent years the number of extremely hot days has been increasing, and Kyoto is not an exception to this. As Kyoto is located in a basin, this means that characteristically it has a humid climate, and when temperatures are over 35℃ it feels even hotter.

In addition, nights when temperatures are 25°C or higher are known as tropical nights, and according to the Japan Meteorological Agency (JMA) in 2019 there were 31 nights in Kyoto which were officially classified as being a tropical night. So be careful of extremely hot weather in the summer, and make sure to drink plenty of floods and to stay out of the sun.
2. Summer in Kyoto is humid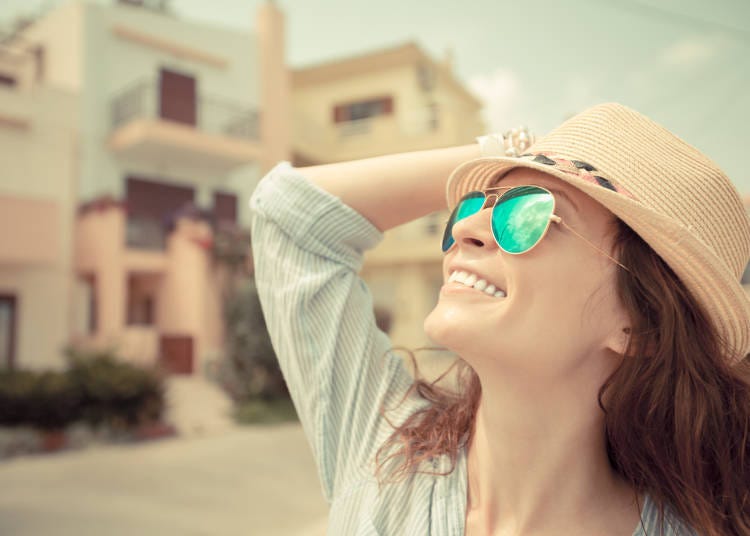 July marks the end of the rainy season, which is quite non-stop in June, and a Pacific anticyclone covers a lot of Japan. This leads to day after day of sunny weather, and with rising temperatures the real summer arrives.

As such it is best to be aware of how strong the sunlight is, and weather often tops 30℃, and to take action accordingly. Also, it can become very uncomfortable as even when night falls it stays humid, so staying somewhere where there is adequate air conditioning is an absolute must.

However, conversely, you need to be careful about air conditioning in public transport and inside buildings, such as department stores, as they often blow out very cold air.
3. Clothes with high breathability are recommended!
As a kind of countermeasure against the heat in Kyoto in Summer, more and more people have been wearing clothes with cool tech, or just dressing more casually with thinner and lighter clothes.

It can't be said enough that for people who are not used to extreme heat, that you will really notice a difference by wearing clothes made of materials that are comfortable to wear, especially breathable material such as cotton or linen blend.

This also means wearing tops that are half sleeves or sleeveless, and bottoms which are loose. You will also find that many people are wearing sandals, which really helps keep your feet from feeling too hot.
4. A parasol or hat is indispensable!
When walking around outside in the strong sun, you really need a parasol or cap to block out the strong sunlight. Although it is best to wear half-sleeve or sleeveless tops, a thin parka on top of this is really helpful to protect your skin from ultraviolet rays.

Clothes that are thin and easy to put on or take off are also very convenient when using public transport or going to department stores, as the air conditioning can be very cold.

Hats and clothes which have an inner layer of cold material to absorb and evaporate sweat are quite popular in recent times. Many manufacturers are also making products that have excellent breathability and quick-drying properties. The essential point is to wear clothes that are light, and to take action to protect your skin from the sunlight by using a parasol or hat.
5. Try wearing a yukata at the Gion Festival or Gozan no Okuribi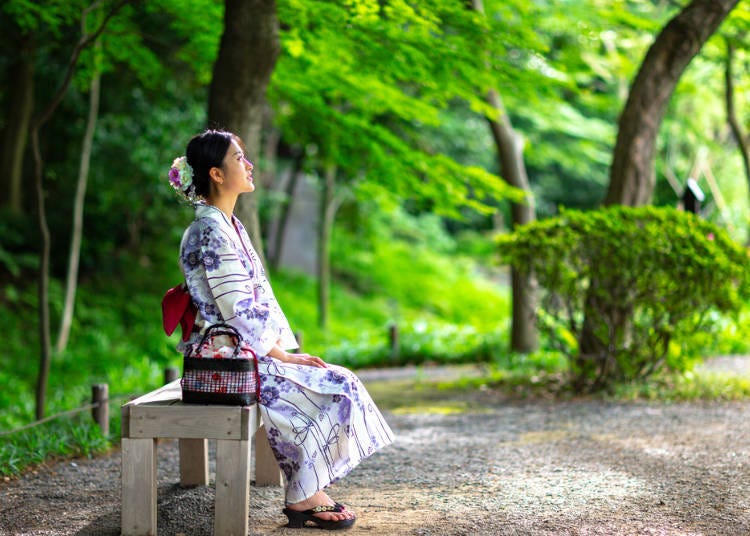 Traditionally, a yukata would be worn after taking a bath, but today it is worn as a type of stylish garment at summer and firework festivals. It is a casual type of Japanese clothing which isn't so different from a kimono, and women who have long hair tend to wear their hair up, which certainly makes one feel cooler in the humid air.

Stores can usually be found close to tourist attractions that rent yukatas for a fairly reasonable price, and they can even do your hair. At the Gion Festival and the Gozan no Okuribi you will see many locals walking around. By wearing a yukata you can really get a taste of the atmosphere, and experience the elegance of summer in Japan.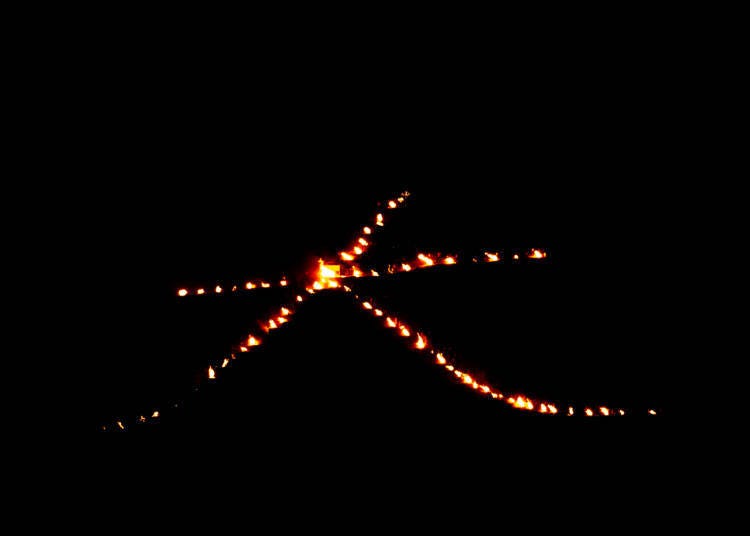 The Gion Festival is held by Yasaka Shrine as an expression of gratitude to the gods, and they hold various Shinto rituals from July 1st for the whole month. You can stroll around each street and check out the festival floats while listening to the famous Gion festival music.

The bonfires of Gozan no Okuribi are ignited from 8pm on August 16th every year. These fires are to send off the spirits of deceased ancestors who visit the land of the living during Obon.

There are five big bonfires which are each in the shape of either kanji characters or objects.

Even though this takes place at night it's still hot and humid, so make sure to stay well hydrated and to find a place to sit down if you feel like you are overheating.
6. Enjoy the Kyoto summer flavor of pike conger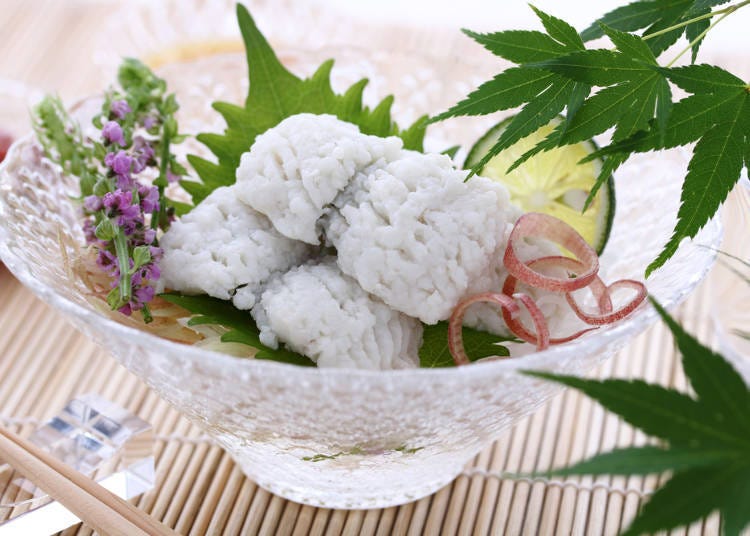 In the past, when there wasn't any refrigeration technology, fresh fish was a precious commodity in the center of Kyoto. As such the pike conger, which is seen as having a particularly strong life force, would be brought to Kyoto, and it became a staple of Kyoto in Summer.

Using a technique to finely cut the fish to remove its small bones, this delicacy is usually parboiled and the skin roasted and eaten with shredded dried plum. It is a dish which is particularly special to Kyoto in the summer, and is an absolute must try!
7. Roads can be quite busy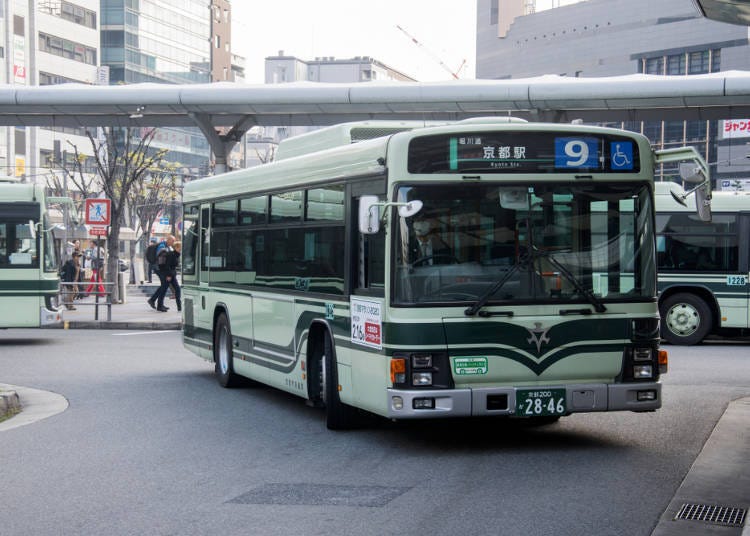 Tang Yan Song / Shutterstock.com
It goes without saying that during hot weather it is quite a relief to take a train, bus, or taxi as they all have air conditioning. In the summer, although there is less traffic compared to spring and fall, there are a lot of cars on Kyoto's main roads.

Kyoto has straight roads, like a chessboard, but there is a fair bit of traffic in urban areas, while side streets can be quite narrow. As such, it isn't recommended that people who are unfamiliar with Kyoto drive around in a rental car.

It is also better to avoid renting a bicycle just for the fact that it isn't good to be cycling under the strong sunlight.
8. The Kibifune and Kurama areas are known as summer resorts in Kyoto
The Kibune and Kurama areas, which are located to the north of Kyoto City, are in the mountains, and are thought of as summer resorts by the people of Kyoto. During the summer season, restaurants build a special deck over rivers known as a Kawadoko. Thanks to the river flowing underneath the floor there is cool air, and this creates a natural cooling effect.

On top of that, you can enjoy Japanese cuisine, so there is really nothing better than making a reservation at one of these restaurants. There are raised platforms on the banks of rivers, like the Kamogawa River, for enjoying the cooler air and getting away from the hot weather of the city. As such, the Kibifune and Kurama areas are really recommended not just for being cooler, but also for their beautiful nature.
It is still hot, but you can feel cooler while still enjoying Kyoto's special charms!
In recent years, even the smaller city of Kyoto has been experiencing the urban heat island phenomenon, but the widespread use of air conditioning in trains and buses, and hotels, makes a trip here that much more comfortable.

While you need to be careful of the heat, many shrines and temples are surrounded by forests or greenery, and traditional old buildings tend to have been built to create a natural breeze, so in these locations, you can escape from the heat. While it can be very hot, even in the summer the charms of Kyoto are unbeatable.

Written by West Plan
Book an unforgettable experience in Kyoto!
Make your trip extra memorable by booking one of these recommended tours.
*This information is from the time of this article's publication.
*Prices and options mentioned are subject to change.
*Unless stated otherwise, all prices include tax.
Limited time offer: 10% discount coupons available now!