The area around Kiyomizu Dera (Kyomizu Temple) in Kyoto is a classic sightseeing route. There are many Kimono rental shops, and you can see many tourists who enjoy walking in kimono. There are many shops in Shimizuzaka, San'nei saka and Ninenzaka, leading to Kiyomizu Dera, like yodofu stores, Japanese sweets shops, Japanese miscellaneous goods, and cafes and green tea houses.
1. Mare Blanche Shimizuzaka: If you want to buy typical Kyoto sweets as a souvenir, here's the spot!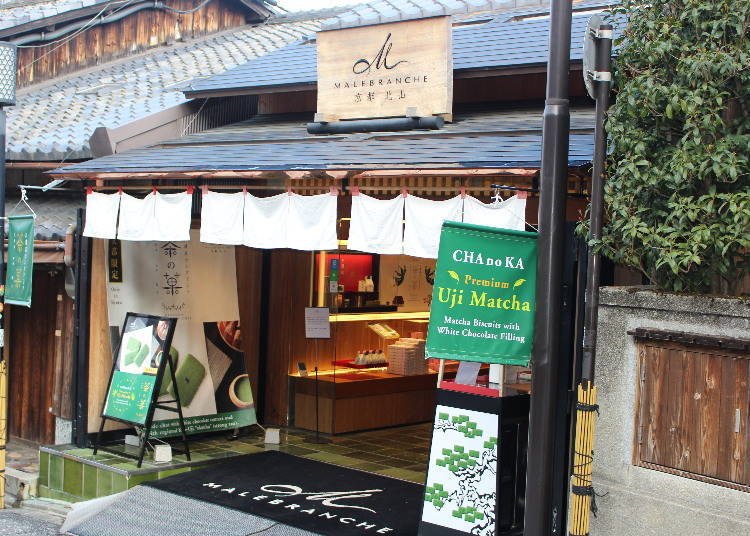 Mare Blanche Shimizuzaka is a very stylish store, just on the way to Kiyomizu Temple. Mare Blanche makes western-style confectionery using "koicha" made by selecting the best tea leaves in Uji City and other areas in Kyoto Prefecture. The leaves are then finely ground. In the center of the store there is a beautiful open courtyard.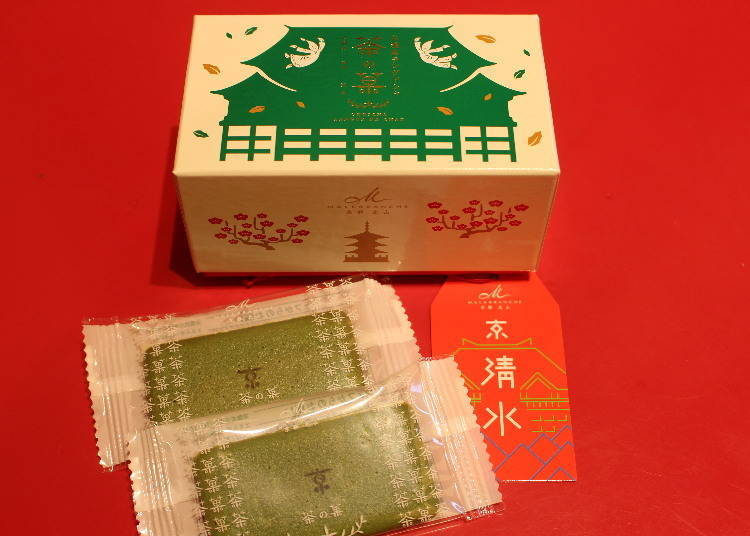 "Okoicha Langue de chat Chanoka (5 pieces, 751 yen) is made with a creamy white chocolate that complements the rich tea flavor in the langue de chat, made with a particular tea. This sweet is perfect with coffee, tea, or Japanese tea. The packaging is also an original one of the Shimizuzaka store, making it even more unique.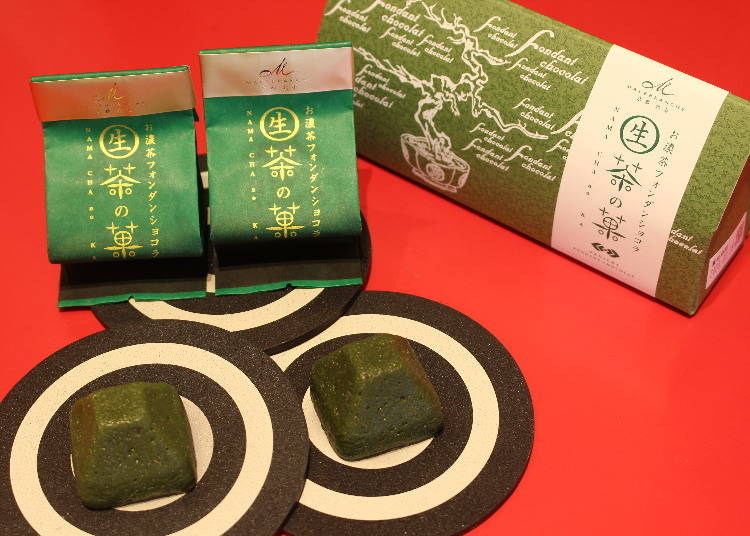 "Namacha no ka" (3 pcs 751 yen, 5 pcs 1,251 yen) is a strong tea fondant chocolate only found in Kyoto. Its strong and smooth texture is enhanced by cooling it before serving.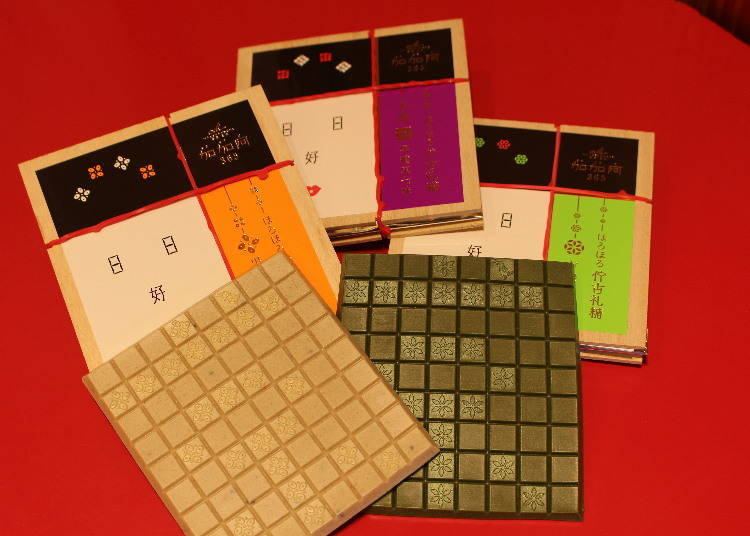 "Horotoro chocolate" (831 yen), shaped like a Go board, is a chocolate with a strong and rich texture that can be found in the streets of Kyoto. There are five kinds: brown sugar, kinako black beans, strong tea, citron, white sesame. The word "Kyo" of Kyoto appears on the packaging and the candy itself.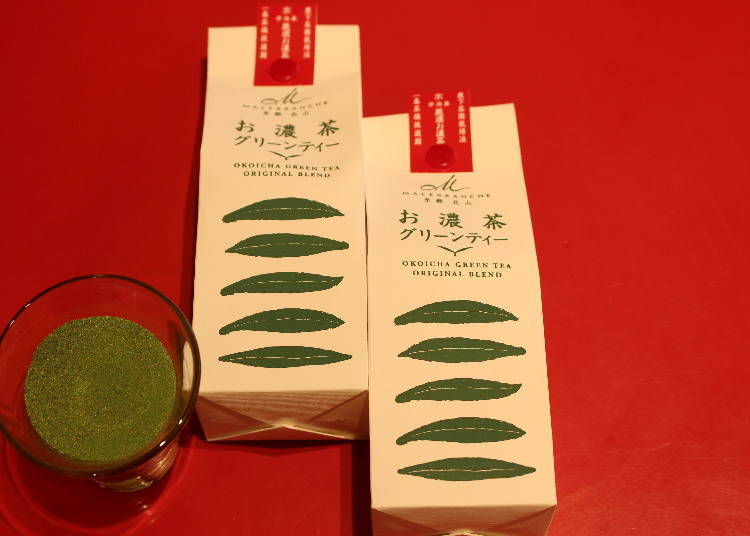 If you get Okoicha Green Tea (1,001 yen), powdered green tea is included, allowing you to enjoy a cup right away simply by pouring hot water. (In summer we recommend adding ice to make it into a refreshing drink.)

All prices include tax (tax exemption available)
MALEBRANCHE Kiyomizu Hill store

マールブランシュ清水坂店

Address

2-256 Kiyomizu, Higashiyama-ku, Kyoto, 605-0862

Phone Number

075-551-5885

Open: 9am-6pm
Business hours may change depending on the season (please check the website before visiting)
closed: always open
2. TEN: Recommended for different kinds of handmade original Japanese goods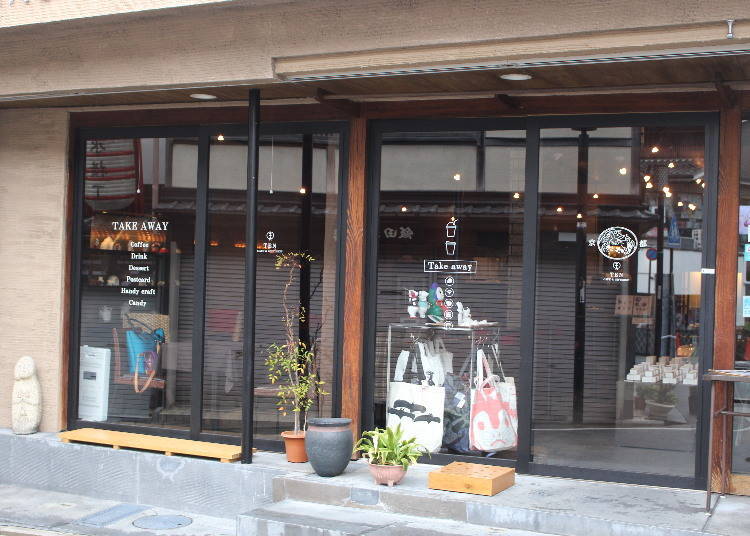 On the right side of the Futamata road, on the way to Kiyomizu Dera you will find Café & Gift Shop TEN, a gift shop that sells handmade miscellaneous goods and pottery that are designed and produced in the company's workshop and that are typical products of Kyoto.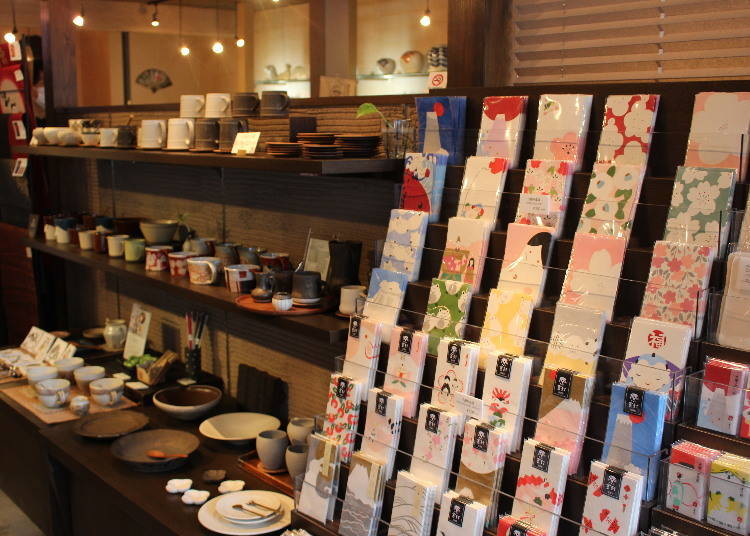 Looking inside the shop, you will find paper products with cute illustrations of animals, plants, characters, and of the city of Kyoto, appearing in and representing Japanese fairy tales and ancient legends. You will also find small bags, postcards, golden seals, small boxes containing sugar, candy, and more. All products that will give you a true sense of Japanese culture.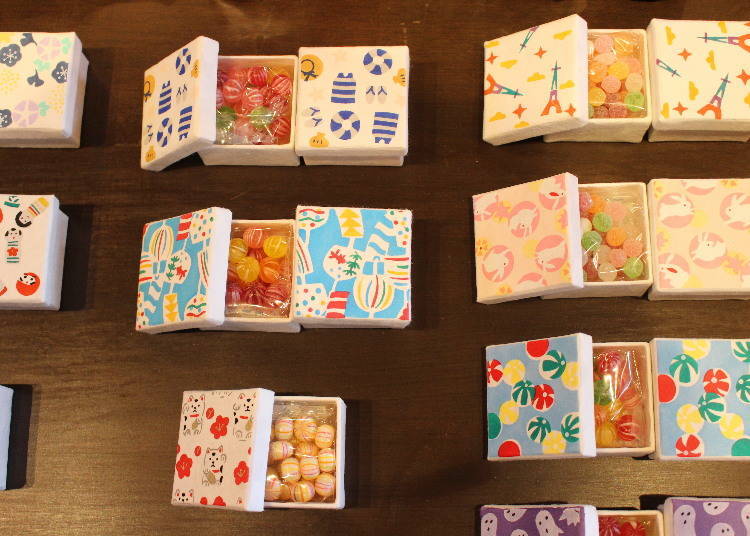 These small boxes with cute illustrations contain the colorful Konpeito and Kyoto candy. The box can later be used to store your jewelry, or as decoration. The Tezuri Kobako small box Konpeito candy set sells for 660 yen ea.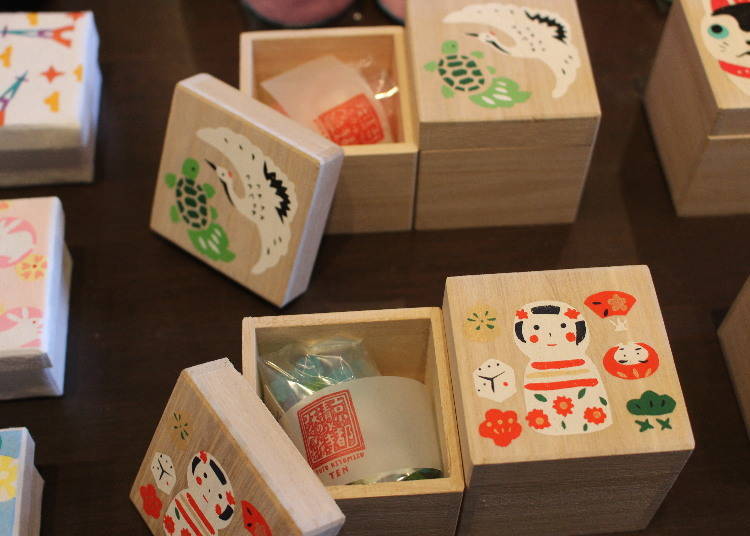 The Kiribako-iri "Tesuri Kiribako-iri Kyoto candy" (1,100 yen) is a solid box that you can feel safe carrying around even in your suitcase on the way back home. It can also be used as a watch or other accessories case.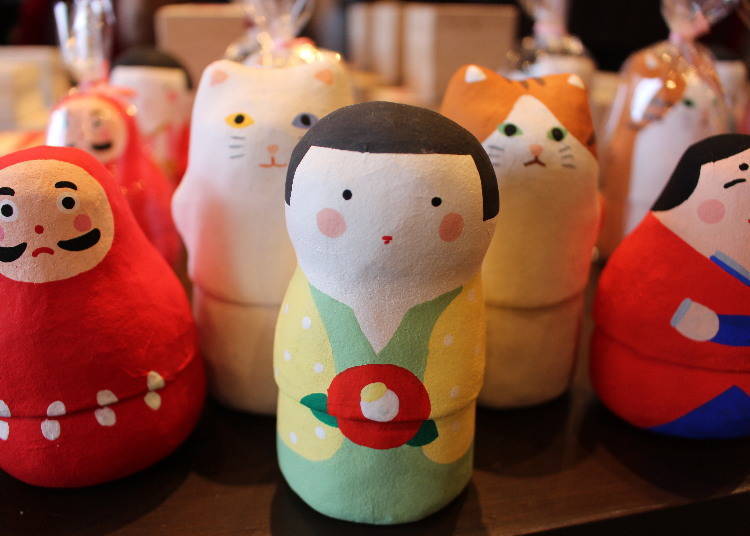 The handmade "Tezuri Riko Doll" (with Kyoto candy) (1,100 yen) is very cute. Riko is a product made from wood layered with paper and then glued. After the glue has dried, the wooden mold is removed. The hollow doll is then filled with Kyoto candy.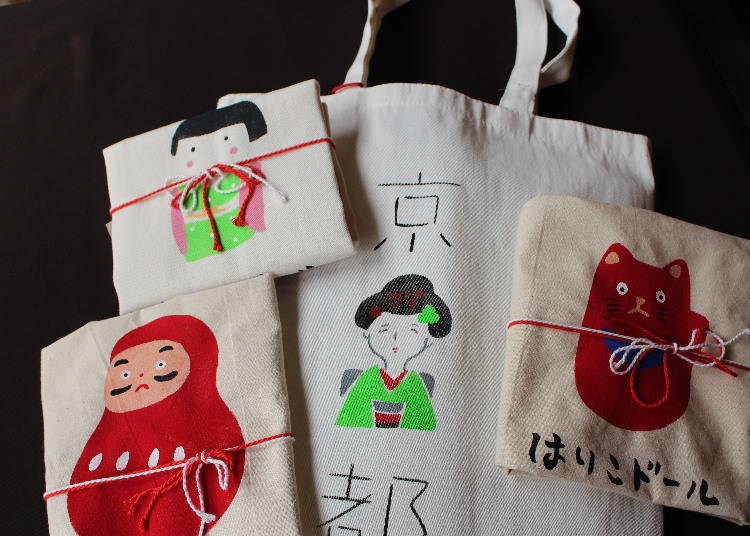 The tote bags (2,200-2,530 yen), made of cotton and decorated with original illustrations, are perfect souvenirs, as well as being ready to use and handy.

All prices include tax
天(TEN)

Address

2 Chome-208-10 Kiyomizu, Higashiyama-ku, Kyoto, 605-0862

Phone Number

075-533-6252

Open: 11am-6pm (café 11am-5pm)
       Opening hours may change depending on season and other circumstances (please check the website before visiting)
       As of April 1 2020, 12pm-6pm (café 12pm-5pm)
定休日:不定休
3. Honke Nishio Yatsuhashi: Prime shop for Kyoto's original yatsuhashi confection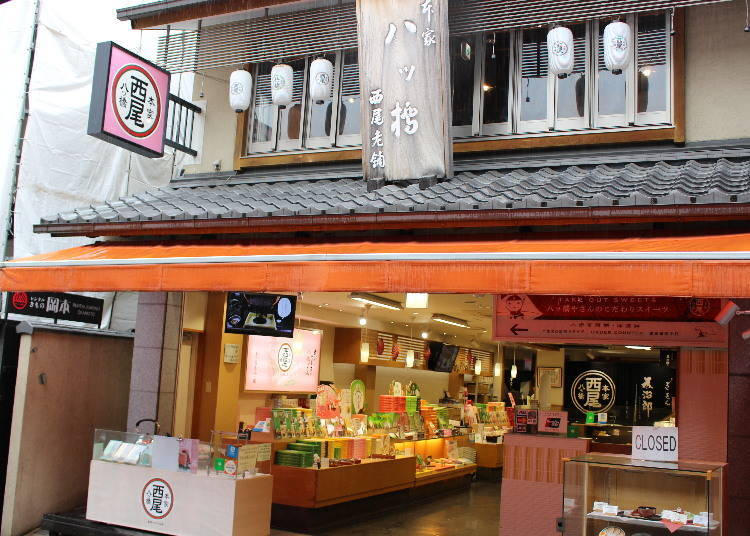 Honke Nishio Yatsunashi is famous for its souvenirs and for its Kyoto confectionery. Here is where the bridge-shaped senbei originated in the Yatsuhashiya Bairin tea shop in 1687. Founded in 1689, with its more tha 300 years of history, the Honke Nishio Yatsunashi Shimizuzaka store is located in the middle of the Simizuzaka area.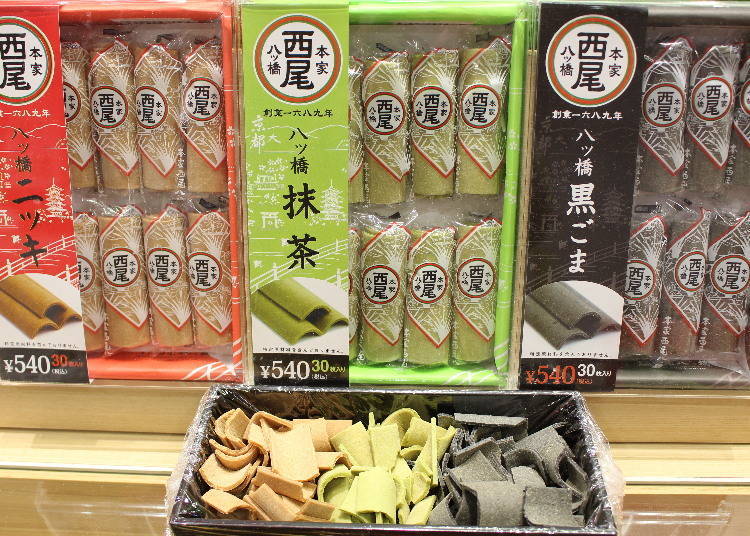 There are various flavors of "Yatsuhashi" (540 yen for 30 pieces), but the most popular among foreign tourists seem to be matcha and black sesame flavors. The candy has a shelf life of about two months, so it's a perfect souvenir to take home.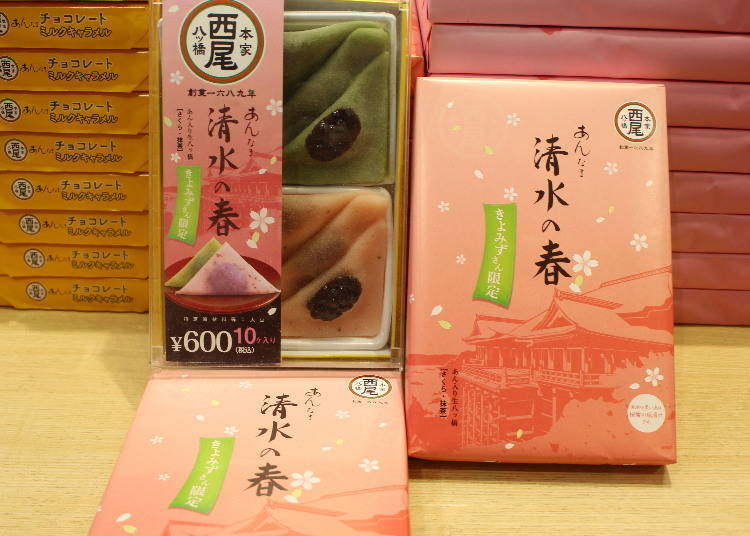 In contrast with the standard Yatsuhashi and its crispy texture, Nama-Yatsuhashi is moist and chewy. Nama-yatsuhashi is made with azuki bean paste and dough of various flavors and are eaten just as they are from the box. The store also offers products limited to spring that can only be found here (from March to mid-April, like the "Anna Shimizu Spring" (600 yen for 5 – green tea and cherry blossom), with a beautiful sakura flower package. The shelf life of this product is one week, at room temperature.
Yatsuhashi has a flavor for everyone to enjoy. "Annama white sesame" and "Annama black sesame" is made by kneading each pastry with white and black sesame paste. The chocolate banana strawberry version is carefully wrapped with chocolate paste instead of anko (red bean) paste. There is also black tea and lemon variety wrapped in white bean paste (600 yen ea).
"Chocolate Yatsuhashi" (400 yen 10 pcs, 870 yen 28 pcs) is a crunchy chocolate that can be enjoyed in three different flavors: cocoa, matcha, and strawberries. Its shelf life is 90 days.

All prices include tax
Honke Nishio Yatsuhashi Kiyomizuzaka Store

本家 西尾八ツ橋 清水坂店

Address

2 Chome-240-2 Kiyomizu, Higashiyama-ku, Kyoto, 605-0862

Phone Number

075-541-8284

Open: 8am-6pm (spring/fall when Kiyomizu Dera is open at night 8am-9pm)
Closed: always open
4. Senneizaka Marun: This colorful shop offers Kyoto sweets in adorable packaging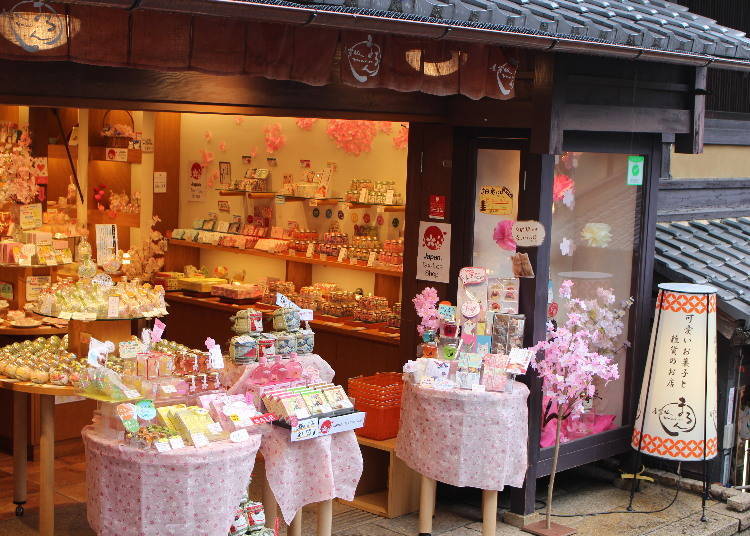 Senneizaka Marun is a shop selling colorful and cute sweets and other goods that synthesize the essence of Kyoto. They seem to be especially popular among women and children. As you enter, you will be greeted by beautiful pop-bottles with Konpeito and Kyoto candy, leaving you wondering which one to choose among the many great choices.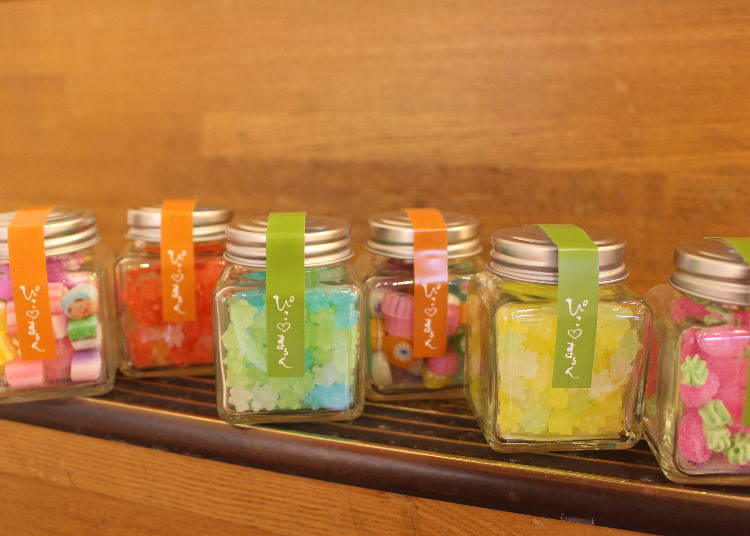 "Pico Marun" (454 yen) is a small cute square jar containing different kinds of candy, like Sakura, Fuji, Hydrangea, Maple, and many more.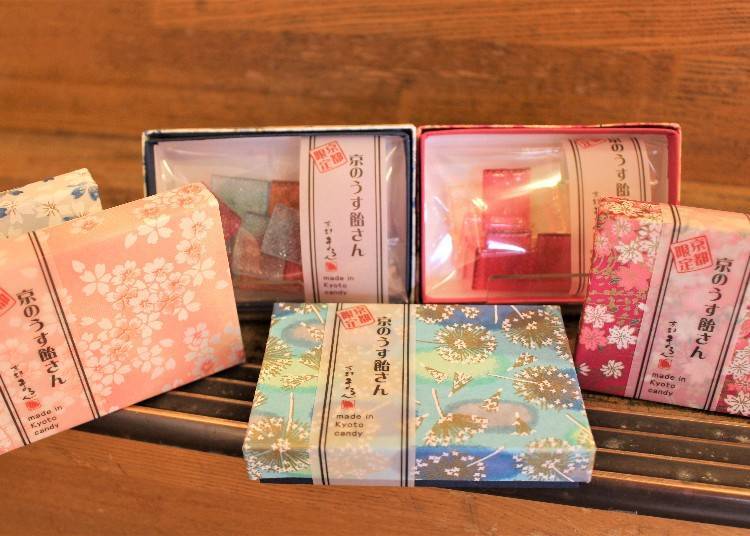 The colorful box that looks like a kimono is the "Kyoto no usu ame san" (486 yen) hiding colorful candy in a beautiful Japanese paper box. The box can later be used as a business-card case, or to store small accessories.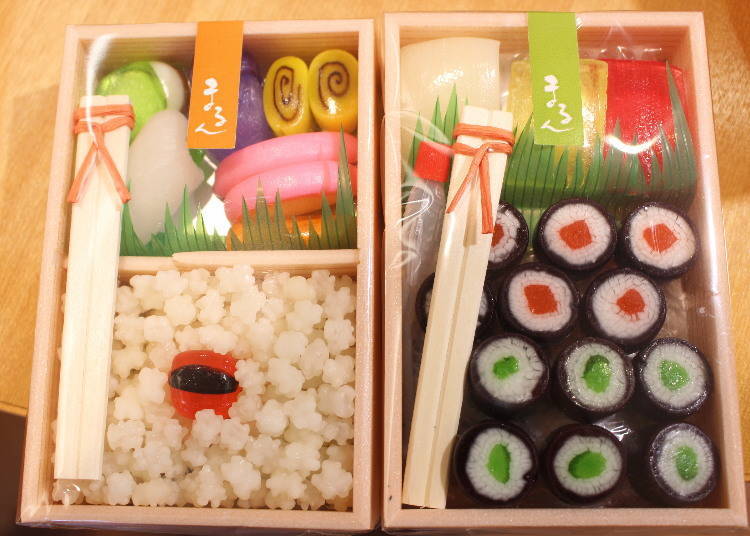 The "Handmade bento" (left) and "Sushi candy" (right) (832 yen each) are popular among overseas visitors. At glance, dude to the careful crafting, they could even be confused as the real thing.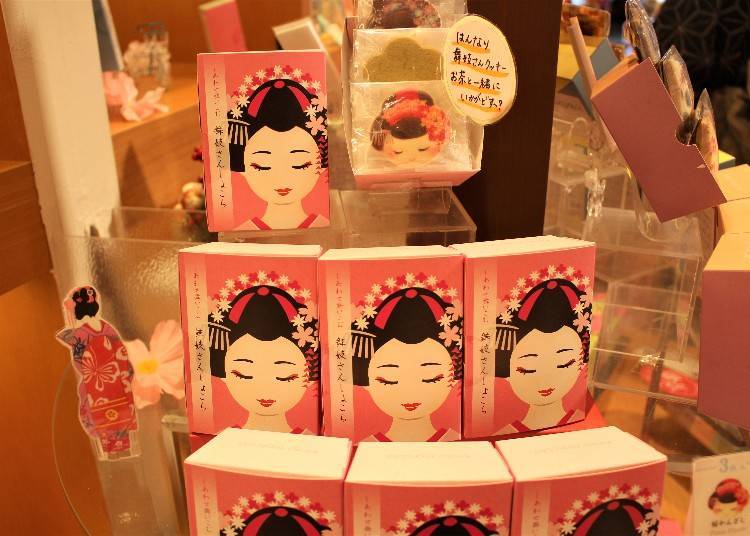 "Maru no Maiko" is a cookie with a cute Maiko package containing Maiko-san chocolate (594 yen 3pcs, 1,166 yen 6 pcs), made with white chocolate.

All prices include tax.
産寧坂 まるん

Address

3 Chome-317-1 Kiyomizu, Higashiyama-ku, Kyoto, 605-0862

Phone Number

075-533-2005

Open: 10am-6pm
Closed: irregular holidays
5. Uragu Hatch: For a touch of Japan in fashionable stationery and goods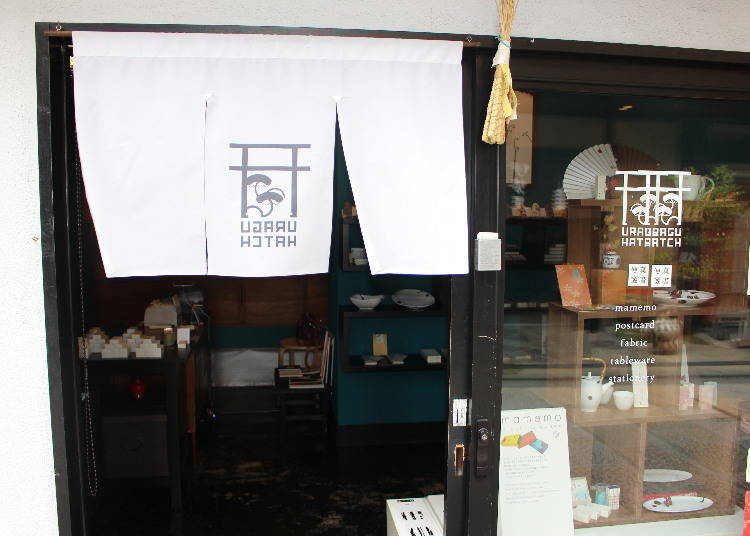 From Kiyomizu Dera, go down Saninzaka and Nienzaka, and walk towards the Yasaka Pagoda in Higashiyama, where you will come to Yasaka Dori. On the way to Higashioji Dori, with the Yasaka Pagoda on the back is Uragu Hatch. This is the "sister store" of Miyagawa-cho original stationery "Uragu", and it was named after the "hatch" (meaning the entrance) of Yasaka Pagoda. The store specialized in items that can convey feelings to one's loved ones. Inside the store, you will find items like tableware and towels, as well as paper stationery, like notebooks, message cards and postcards.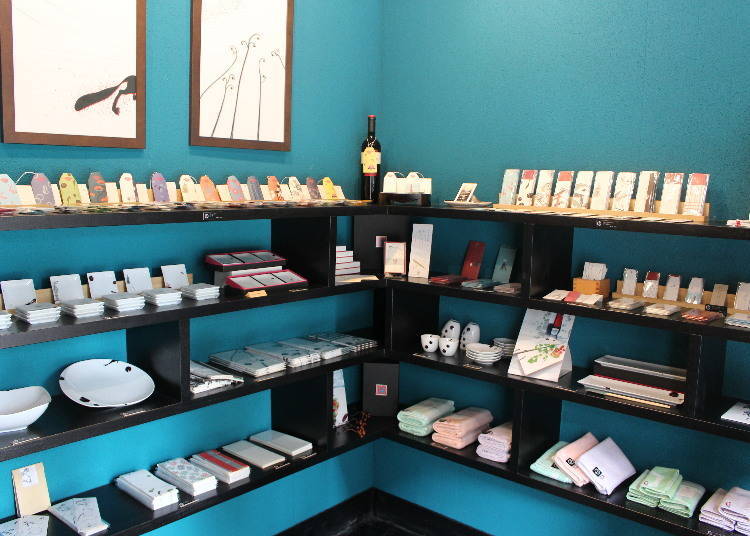 The interior of the store is of a distinguished light-green on the walls with black shelves, creating a modern Japanese atmosphere. The goods are designed in-house.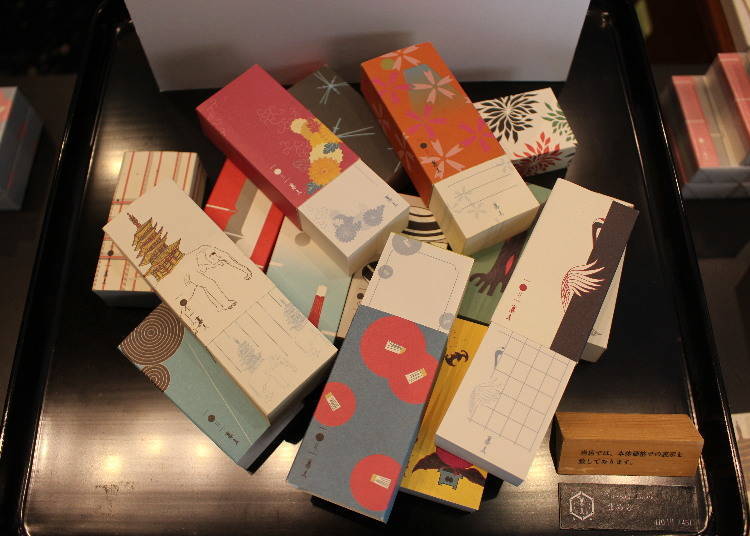 "Mamemo" (200 sheets for 451 yen), is a notebook perfect for writing quick messages or personal notes. Stored in a small paper case, it's cute and handy. The boxes are decorated with imagery recalling the spirit of Japan. The papers inside carry designs in vertical and horizontal Japanese writing, grids, or edges. Choose your favorite!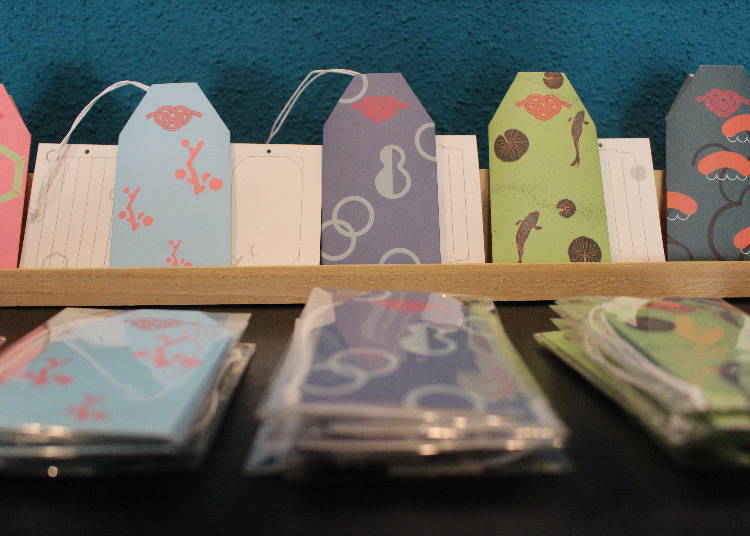 The amulet-like message card called "Kotomori" (330 yen) is created by gently pulling the card out of the case to write the message. The message card can be secured into the talisman by pulling on the upper string. It's a nice addition attached to a present wrapping, or around the neck of a bottle of wine.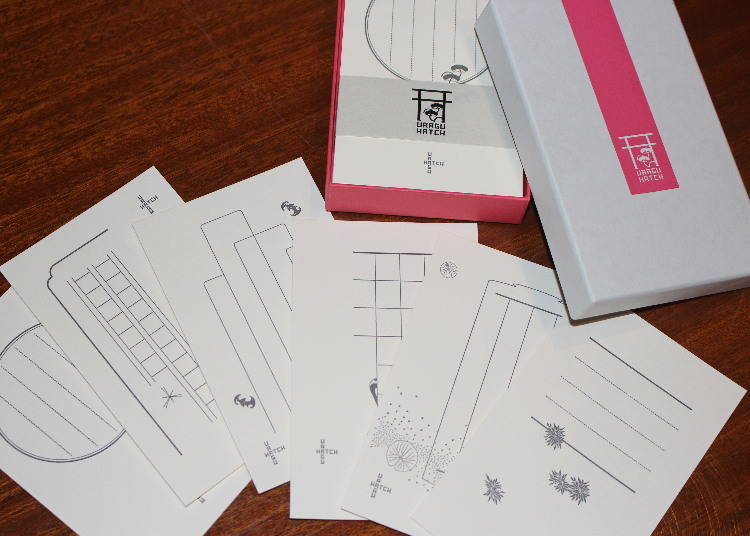 The message card Kotonoha (6 patterns x10 sheets each for a total of 60 sheets for 1,650 yen), is characterized by the gentle texture of letterpress printing, with a variety of decorative rulings for both horizontal and vertical writing.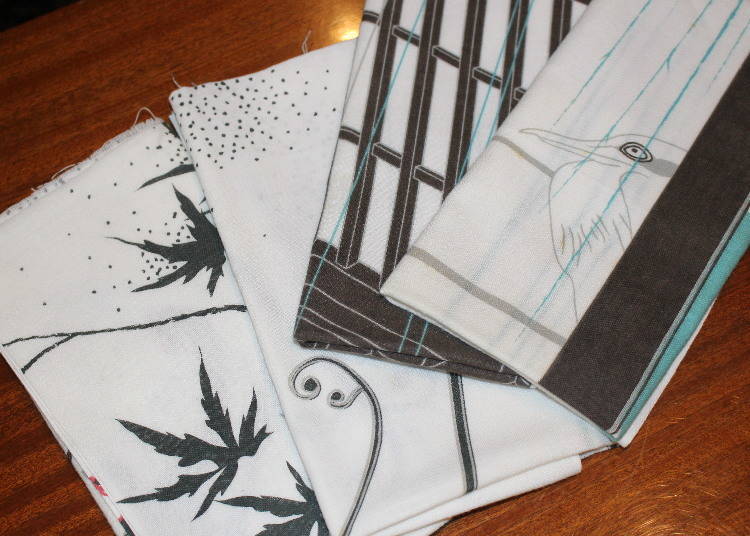 The Tenugui, is a small towel designed in collaboration with "Tachiyoshi" in Kyoto has patterns with flower, trees, birds, and animals, and it looks great also in a frame. There are also small plates with similar designs (935 yen) which can be coordinate along with the napkins to embelish your table.

All prices include tax
裏具ハッチ

Address

84-1 Yasakadoori Higashiooji higashiiru Uedacho, Higashiyama-ku, Kyoto, 605-0852

Phone Number

075-525-5166

Open: 11am-5pm
Closed: Wednesdays and Thursdays (or on the following day if Wednesdays or Thursdays fall on a holiday)
There are many souvenir shops around Kiyomizu Temple. From old-established stores to up and coming ones they are all fun to visit. After visiting Kiyomizu Dera, take another stroll in the area to see all the stores have to offer.

*The above article is based on information from April 2020
Address

1-294 Kiyomizu, Higashiyama-ku, Kyoto City, Kyoto Prefecture, 605-0862
View Map

Nearest Station

Gionshijo Station (Keihan Line)
25 minutes on foot


Phone Number

075-551-1234
*This information is from the time of this article's publication.
*Prices and options mentioned are subject to change.
*Unless stated otherwise, all prices include tax.