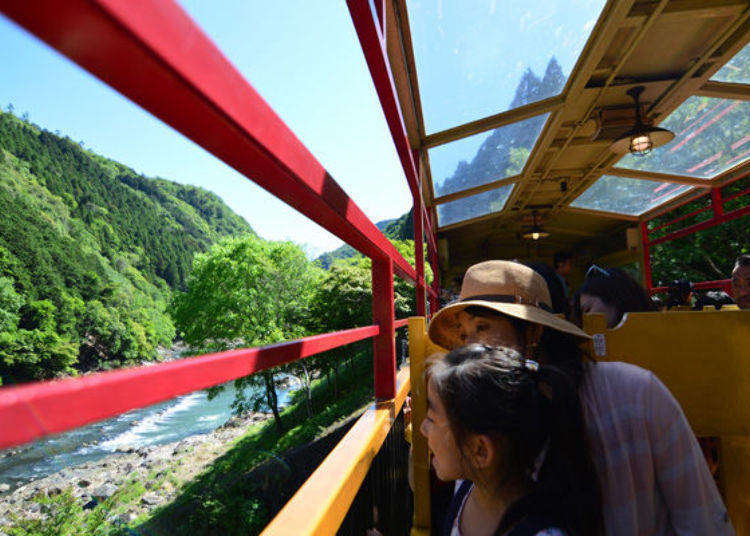 The Sagano Romantic Train is one of Kyoto's incredible scenic railways connecting the popular tourist locations of Sagano & Arashiyama to Kameoka. We enjoyed the great view of early summer as the train meandered through verdant tunnels.

Let's take a look at Hozukyo Ravine's magnificent views and beautiful fresh leaves wavering in the sunlight. See why it's one of the must-do activities in Kyoto!
25 Minutes One Way, the Sagano Romantic Train Runs Through Breathtaking Scenery
Arashiyama is one of Kyoto's prime sightseeing locations. The magnificent views of Arashiyama past Togetsukyo Bridge can be said to be so popular that almost everyone knows about it in Japan (and, recently, abroad as well!).

Upstream of this area, the Sagano Romantic Train runs along the Hozugawa River on a single track that had been abandoned by JR San'in Main Line due to its conversion to double tracks. Now the scenic train connects Sagano Torokko Station and Kameoka Torokko Station.

Along the way, you can see various scenery that Hozukyo Ravine provides throughout the four seasons such as cherry blossoms in spring, fresh green in summer, autumn foliage, and snowscape in winter.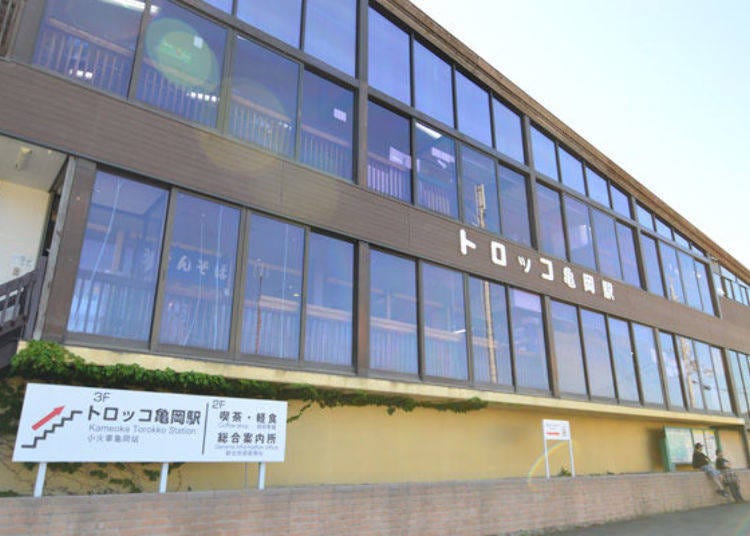 ▲Kameoka Torokko Station
The train goes back and forth on a single track and stops at Kameoka Torokko Station, Hozukyo Torokko Station, Arashiyama Torokko Station and Saga Torokko Station. The fare is all the same price regardless of where you get on.

This time for we went on a roundtrip train ride from Kameoka Torokko Station. To reach Kameoka Torokko Station it is about a 10-minute walk from JR Umahori Station, or about a 15-minute drive from Kyoto Jukan Expressway Shino Interchange.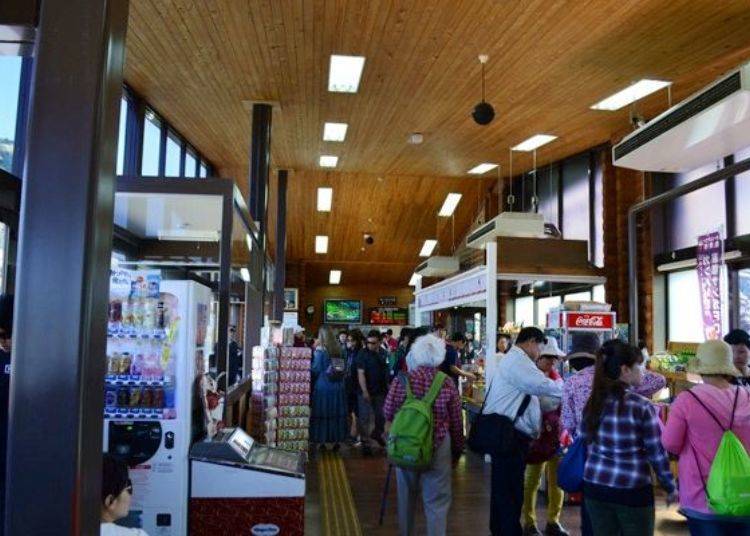 Inside Kameoka Torokko Station. Recently there has been an increase of foreign visitors and even though it was early in the morning on a week day the station was already full of visitors.
Across the station platform there were many Shigaraki-ware statues of tanuki raccoon dogs. Many people take pictures of these while waiting for the train.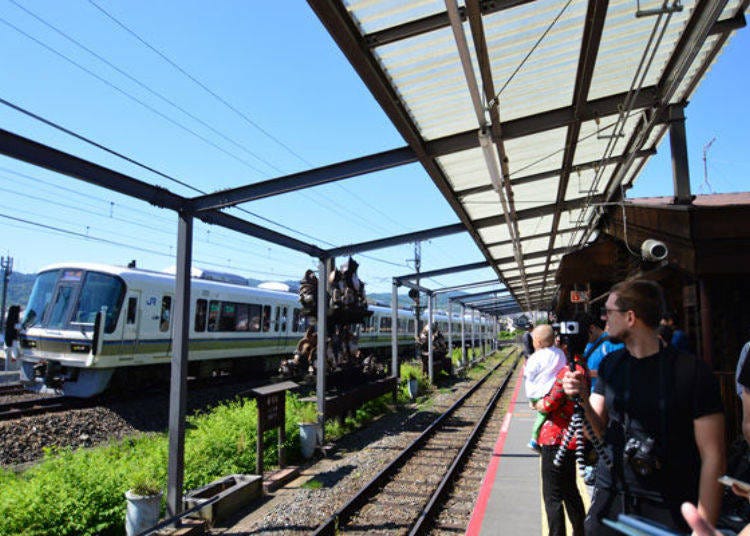 ▲A JR San'in Main Line train that runs parallel passing through
The majority of the people get on Saga Torokko Station and Arashiyama Torokko Station, which are near to key tourist spots, and then get off at Kameoka Torokko Station.

However in recent years with the opening of Kyoto Jukan Expressway, there are more tourist groups that drive to Torokko Kameoka Station to get on.

There are some that ride round trip, but the majority rides one-way and takes the JR San'in Main Line, which runs parallel to Sagano Romantic Train, on their way back.
After waiting for a little, the announcement "please stand behind the yellow blocks" goes off on the station. Through the green forest we see the red and orange wagon-style train pulling in.
Spectacular 'The Rich' without Windows!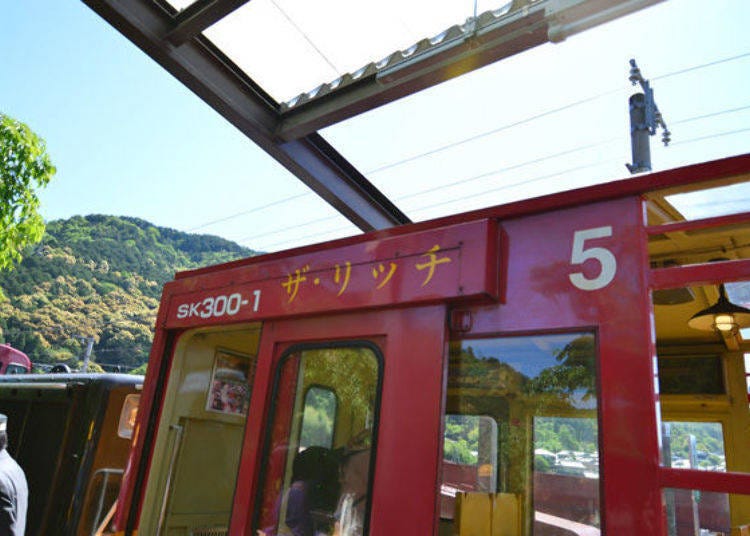 Each train is made up of 6 cars including the power car. This time we rode the special train 'The Rich (car No. 5)' that has see-through walls and floors. The Rich is only available as same-day tickets and are first-come-first serve.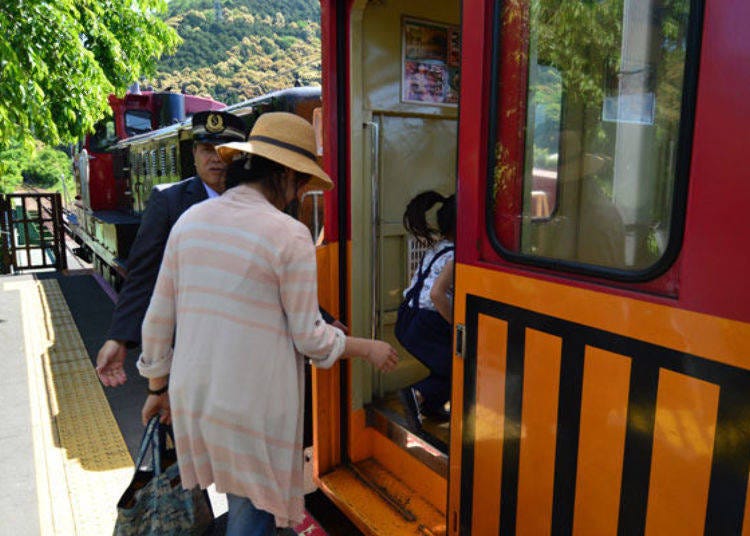 ▲Filled with excitement! Let's Get Going!
Finally its departure time. The train slowly moves towards Arashiyama. After passing through the peaceful area of Kameoka Torokko Station, the Hozugawa River comes into view.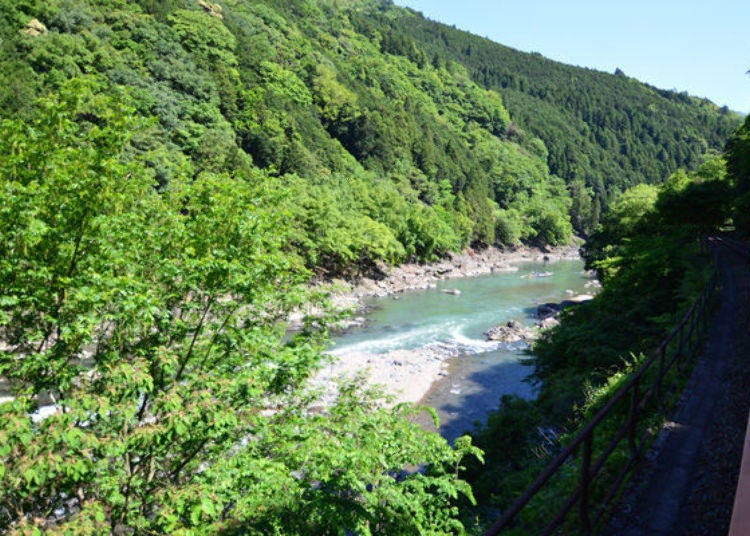 The Hozugawa River flows through the mountains of Tanba and was used to deliver lumber and other materials to Kyoto and Osaka. It is also known for the boat ride attraction Hozugawa-Kudari cruise which goes down the river.

In each season, the cruise shows different faces of the beautiful mountains, a valley with large curiously-shaped rocks and exciting currents.

During this period (mid-May) the trees are covered in beautiful green leaves. The green scenery can be seen from the end of the cherry blossom season to around September.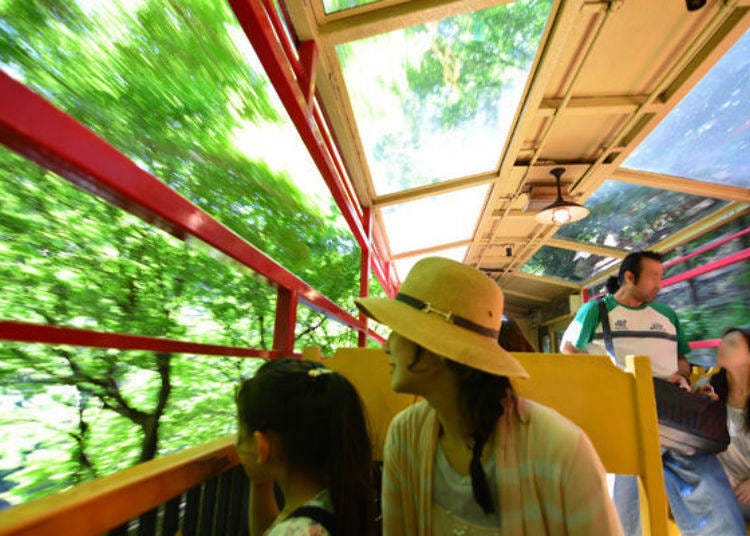 ▲Many areas where you go through verdant tunnels that are surrounded with light colors. You can also smell the young leaves as you go by.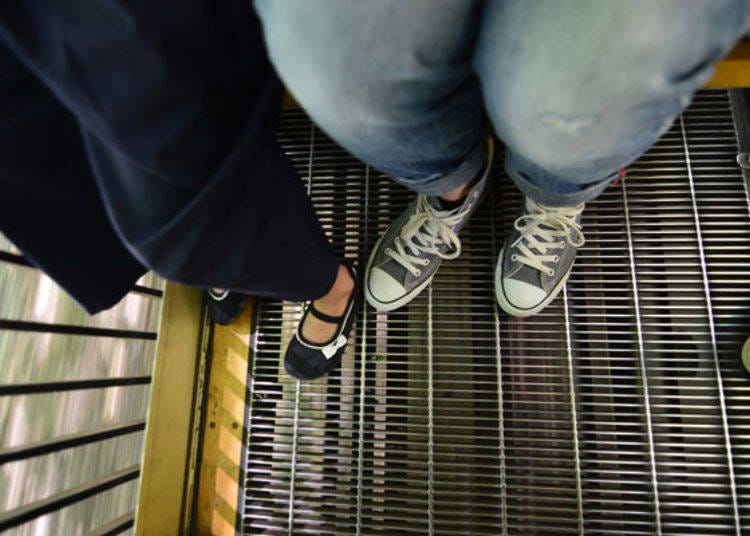 ▲With grated floors you can see the tracks and feel the power of the train directly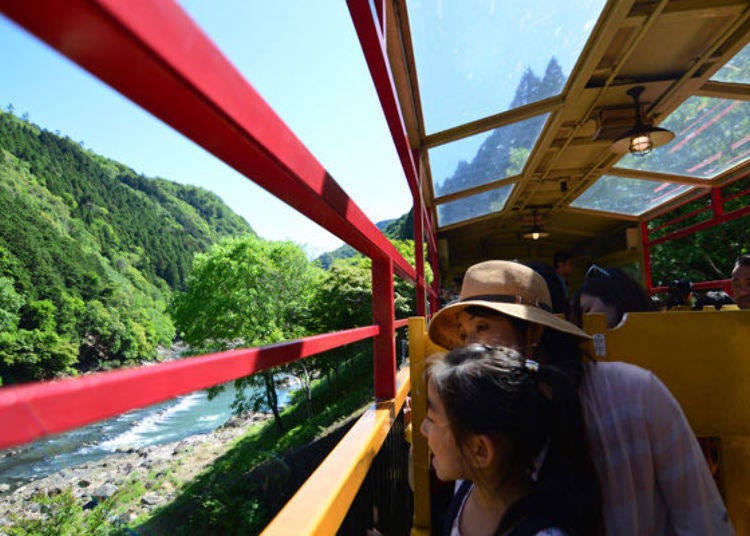 The Sagano Romantic Train goes about 25km/h on average, which is similar to a bicycle. It is the perfect speed to enjoy the refreshing breeze and view. At certain scenic points, the train slows down for photo opportunities.

Going from Kameoka to Arashiyama, during the first half of the trip you can see the dynamic Hozugawa Ravine to your left. After you pass Hozukyo Torokko Station the view shifts to the right side and vice versa when going from Arashiyama to Kameoka.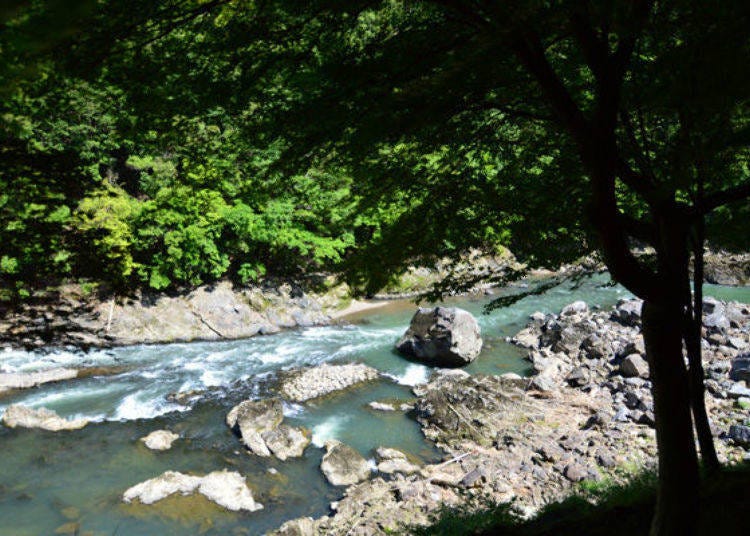 ▲The largest boulder on Hozugawa River, Magoroku Iwa. There are other curiously shaped rocks like the Lion Rock and Frog Rock.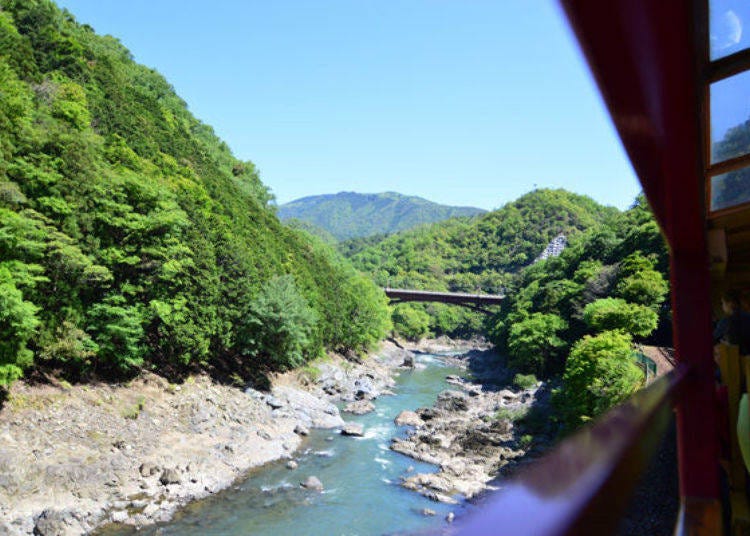 Stopping at Houzukyo Torokko Station. It is a rare station that is built on a bridge since it is in-between two tunnels. Past the bridge you can see Mt. Atago that gathered faith from people of Kyoto since ancient times.

The view from here is breath taking. After finish taking my pictures, the fresh breeze and the charming sight almost made me forget that I was here for work.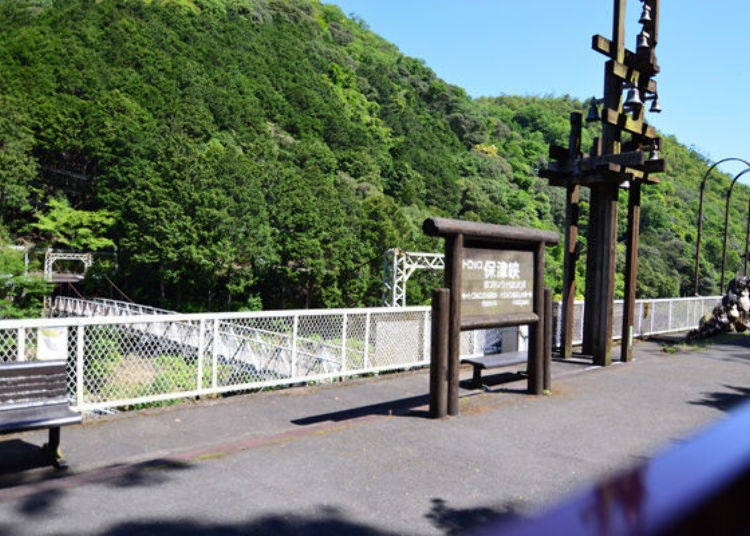 ▲Houzukyo Torokko Station. There are people who get off here to go hiking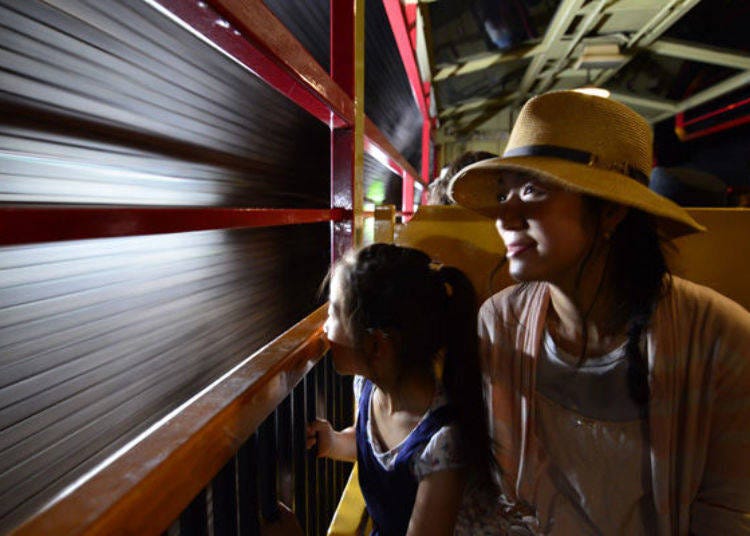 Once you pass Houzukyo Torokko Station you are halfway done. From here you will go through a few tunnels made with bricks. When we rode the train (May 15, 2017) the temperature was close to 30 degrees Celsius, however inside the tunnel, it becomes very cool. I kind of wished I had a jacket.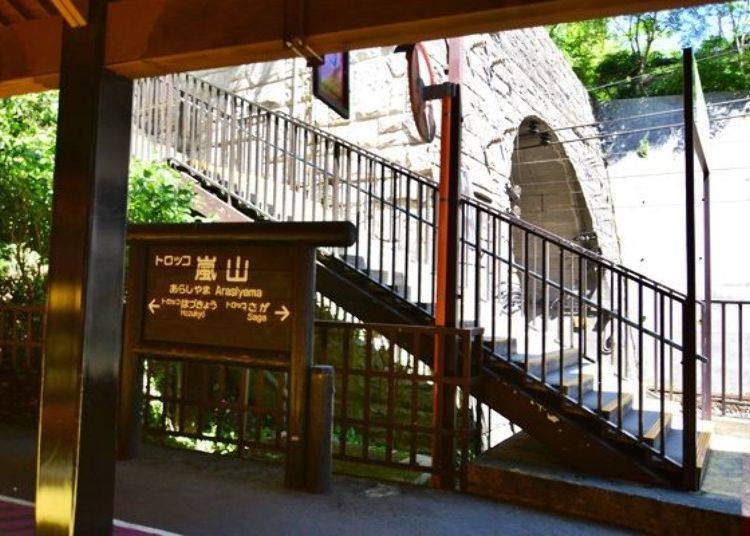 After passing through a few tunnels, we arrived at Arashiyama Torokko Station. Part of the train will remain in the tunnel, so you will have to navigate through the train to get off. As this area is known for Arashiyama's Bamboo Forest and famous temples, the majority of people got off here.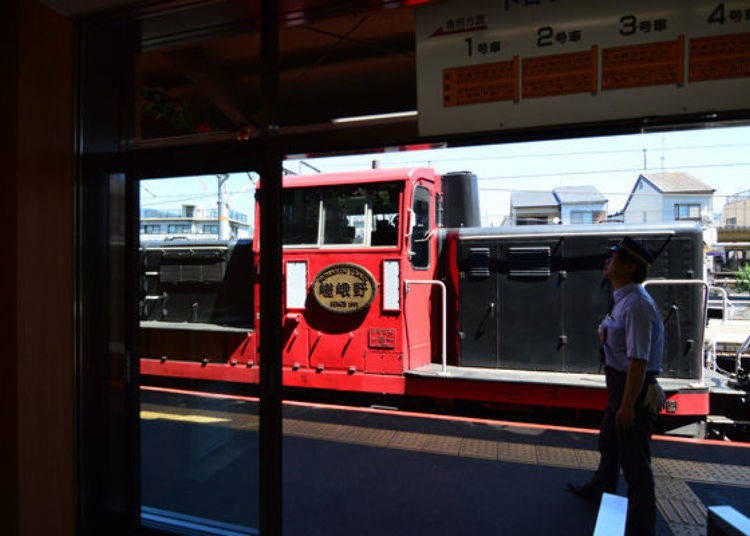 ▲The power car of the train
About three minutes after leaving Arashiyma Torokko Station, we arrived at Saga Torokko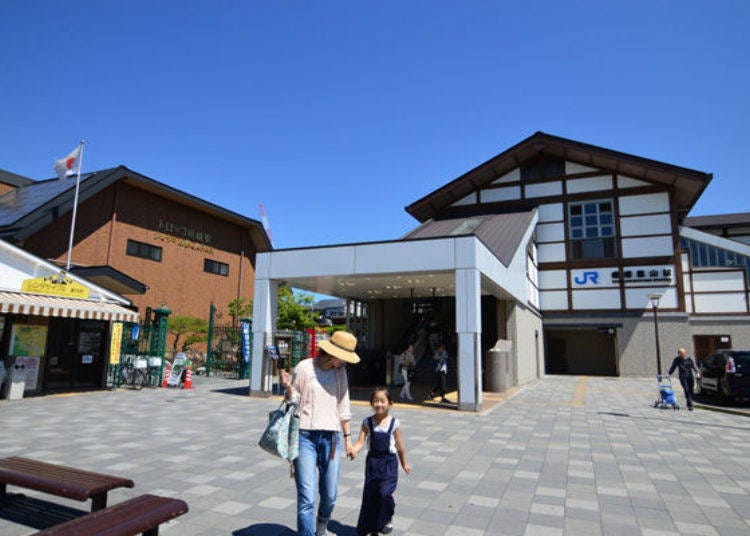 The Saga Torokko Station (left) is adjacent to JR Saga-Arashiyama Station. It is the base station for touring Arashiyama and Sagano because it is in a convenient location. You can reach Kyogetsukyo Bridge in about a 15-minute walk, and the Bamboo Forest in about 10-minute walk. Since we were here, we decided to walk to Arashiyama Torokko Station and look around the area.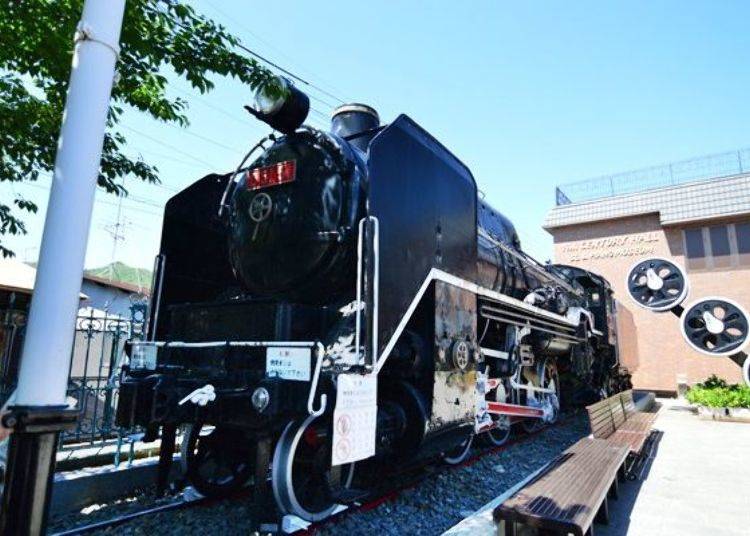 At SL Square (steam locomotive square) next to the station building, a JNR Class D51 steam locomotive is on display. Inside the station building they have one of the largest railway diorama museums in Japan, the Diorama Kyoto Japan. They also have the 19th Century Hall, with a theme of the industrial revolution and which sells drinks and gifts.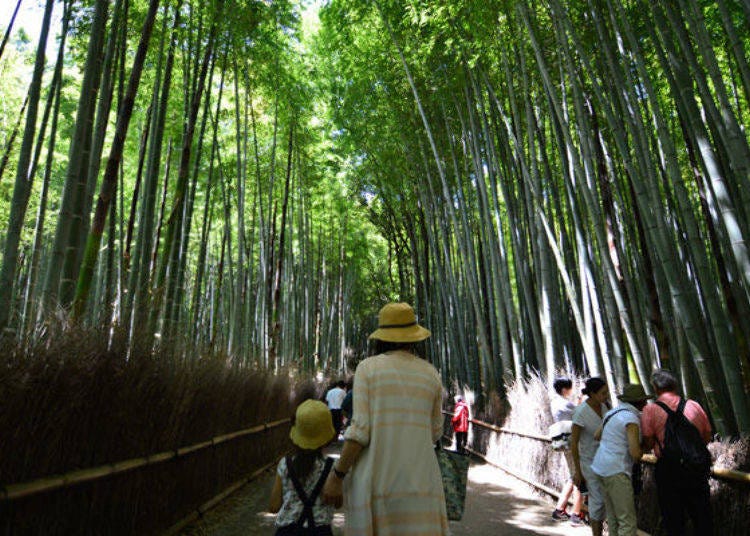 The Arashiyama Bamboo Forest of Sagano, which is even cool in summer! The most popular tourist spot of Arashiyama was packed with students and visitors from overseas.
▲A little past the Bamboo Forest is a peaceful view of Sagano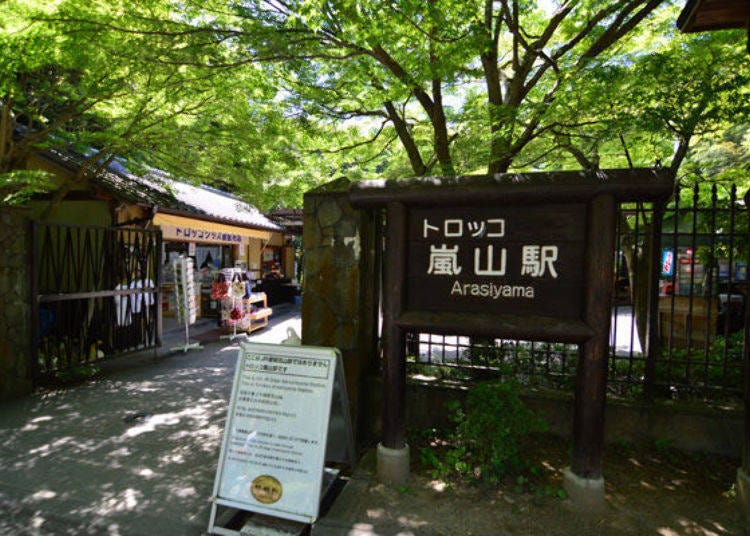 After enjoying the major tourist spots, we arrived at Arashiyama Torokko Station. From here we will return to Kameoka Torokko Station.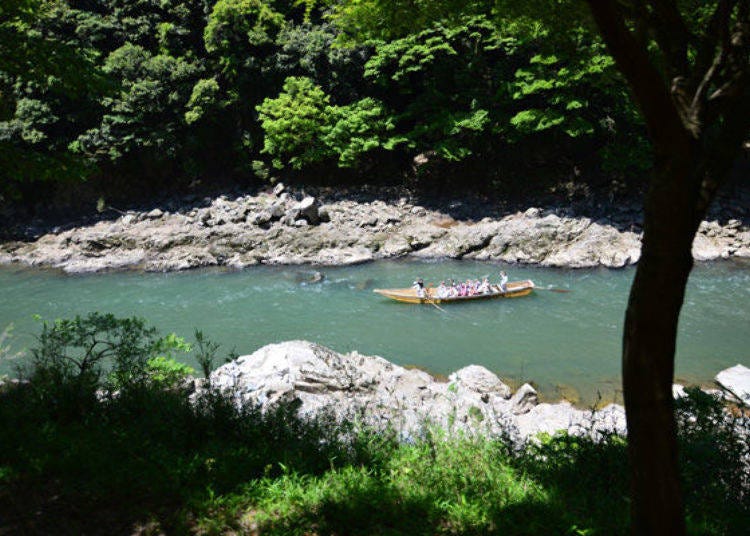 On the way back we sat on the left side again. We came across a boat going down the Hozugawa River and the passengers waved at each other.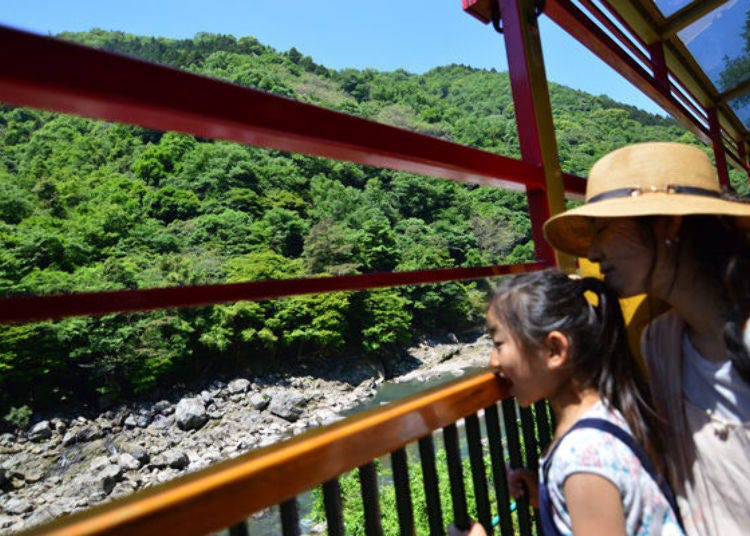 We hope you enjoyed the guide. For an exciting ride and a scenic view we strongly recommend the Sagano Romantic Train!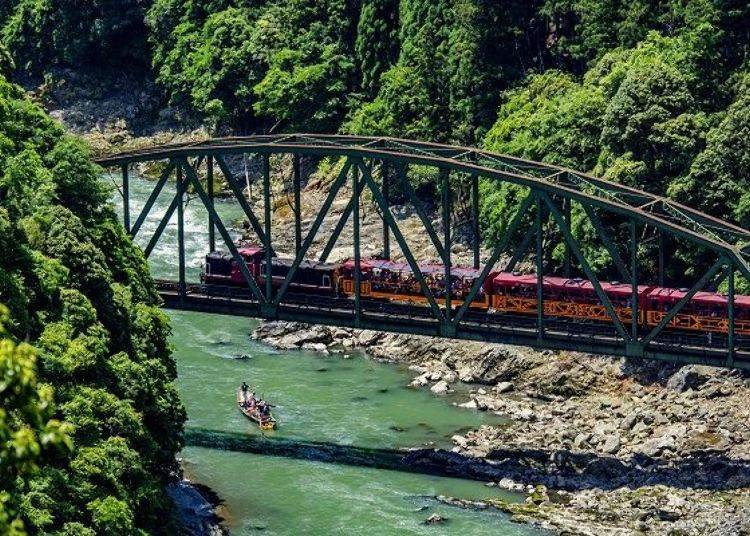 Finally, information about purchasing tickets.

All seats are reserved. You can purchase tickets from Midori-no-Madoguchi counters at major JR West stations and major domestic travel agencies at 10:00 AM on the day 1 month prior to your ride date. For day-of tickets you can purchase them on a first-served basis at each Torokko station. The sales time for each stations are the following

- Saga Torokko Station 8:35 AM
- Arashiyama Torokko Station around 8:40 AM
- Kameoka Torokko Station around 8:50 AM

The Rich (car #5) is available through day-of sales. Visitors with advanced-sale tickets can exchange them at station office. However the tickets can be sold out so we recommend going early. Also there are seasons that get crowded such as long vacations, spring and summer vacations.
Address

Kurumamichicho, Saga Tenryu-ji, Ukyo-ku, Kyoto-shi, Kyoto, 616-0000
View Map

Nearest Station

Torokkosaga Station (Sagano Sight-seeing Tram)
2 minutes on foot


Phone Number

075-861-7444
Text by:140B
*This information is from the time of this article's publication.
*Prices and options mentioned are subject to change.
*Unless stated otherwise, all prices include tax.
Limited time offer: 10% discount coupons available now!