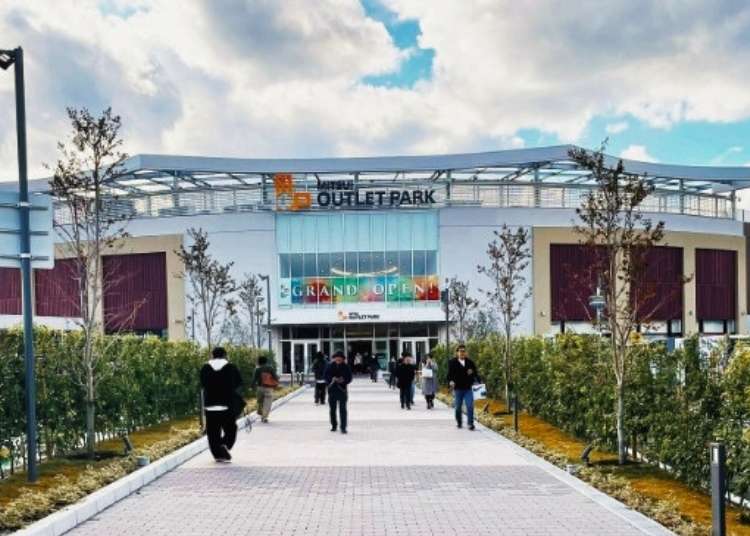 Want to go shopping and sightseeing at the same time? Head to Mitsui Outlet Park Marine PIA Kobe! This Kobe outlet is located near the world's longest suspension bridge, Akashi Kaikyo Bridge, and has around 140 stores.

The facility opened in 1999 and created to have an image of a cheerful port town of southern Europe with an open feeling. The mall has restaurants with great views and an observation space where you can feel like you are at a resort while shopping with great discounts. For foreign visitors, there is even a discount coupon.

・Jump to discount guide
Outlet Park Marine PIA Kobe: Discount Shopping at an Open Bayside Area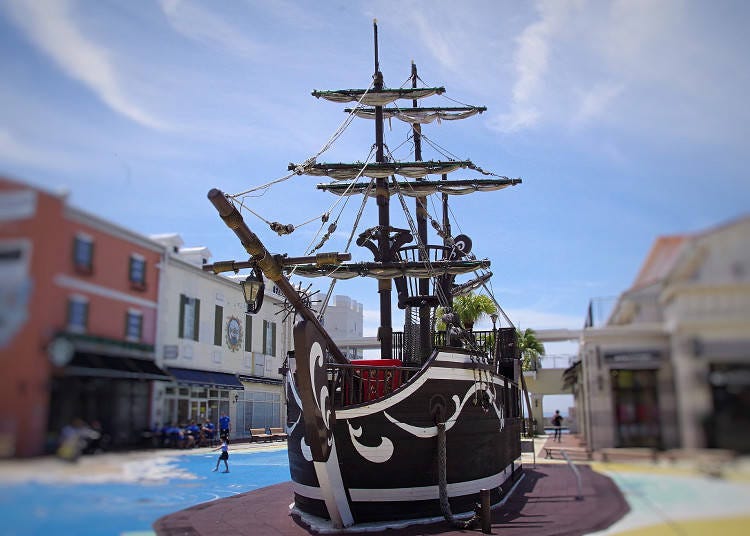 Mitsui Outlet Park Marine PIA Kobe is located in the bay area of Hyogo Prefecture Kobe City Tarumi. You can experience the atmosphere of the port city Kobe and in the facility there is a large sailing boat that is popular with kids.

The closest station is JR Tarumi Station and Sanyo Electric Railway's Sanyo Tarumi Station. From JR Sanomiya Station it takes about 17 minutes to JR Tarumi Station on the rapid train.

From Hanshin Main Line Kobe-Sannomiya Station it takes about 24 minutes on the non-stop express train. From the station it takes about 10 minutes to reach the Kobe outlet on foot, you will go through a park along the ocean and it feels nice.
We also recommend the free shuttle from Tarumi Station west exit. Please note that after exiting the station the free shuttle bus station is located on the mountain side (north side) and not the ocean side (south side) with the Kobe outlet mall.

Please take the shuttle bus on your way back with all your purchases. When driving from Osaka, take a left at Fukuta River crossing on Japan National Route 2.

The Kobe mall has a big parking lot and it costs 200 yen per hour. For every 3,000 yen or more spend at a store (tax included), they will validate your parking fee for an hour. This offer is available up to two stores, which means you can get 2 hours of free parking.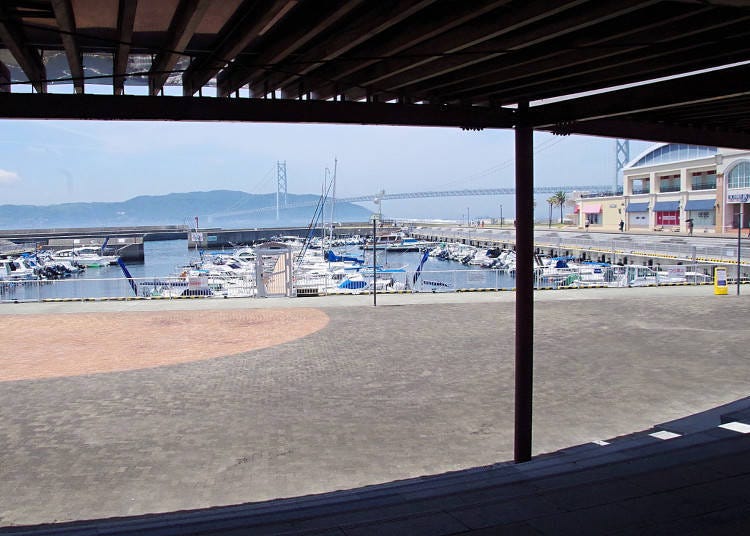 This Kobe outlet is next to a yacht harbor so it feels like you are at a resort. The best part is you can see the Akashi Kaikyo Bridge, the longest suspension bridge in the world that spans across the Seto Inland Sea! There are many restaurants and cafes where you can enjoy the wonderfully unique view.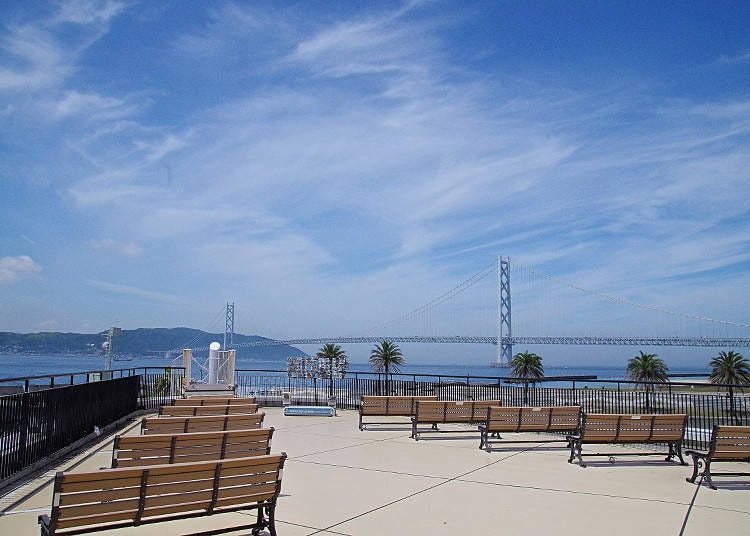 Also since it's a Kobe outlet mall, the discount is always nice. 20% to 30% is the norm. There are items with 70% discount, which makes shopping here exciting! Out of the 140 shops in Marine PIA Kobe, let's take a look at 5 shops and 1 restaurant that are popular with foreign visitors.

(Please note that the items and price in the pictures may have changed since we interviewed the stores.)
Great Lineup at BEAMS OUTLET
The outlet store of BEAMS, which is known for their wide range of goods such as casual, business, men's and woman's fashion. Their unique feature is they have many items including small goods. The interior is laid out so you can find items with ease. It is an impressive brand that attracts people who are interested in fashion.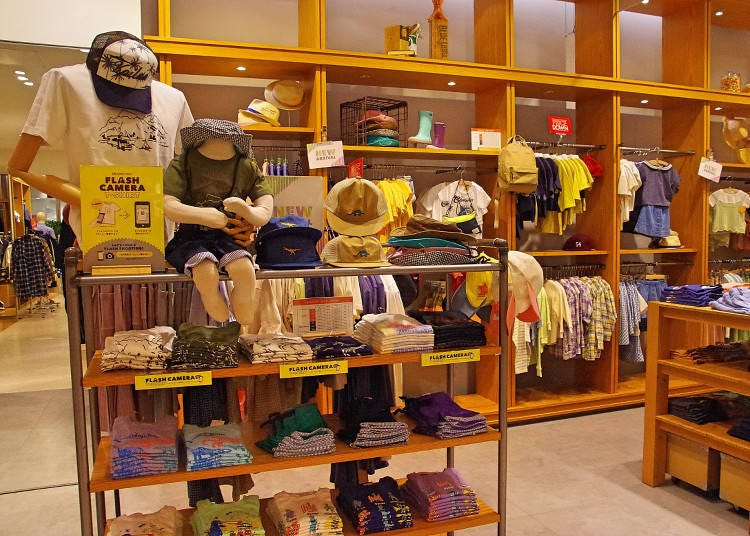 The popular items are BEAMS HEART and other outlet limited original items. BEAMS is popular due to their high quality and reasonable price. Many foreign visitors look for dress and suits. It's not surprising with its high quality, comfort and reasonable price.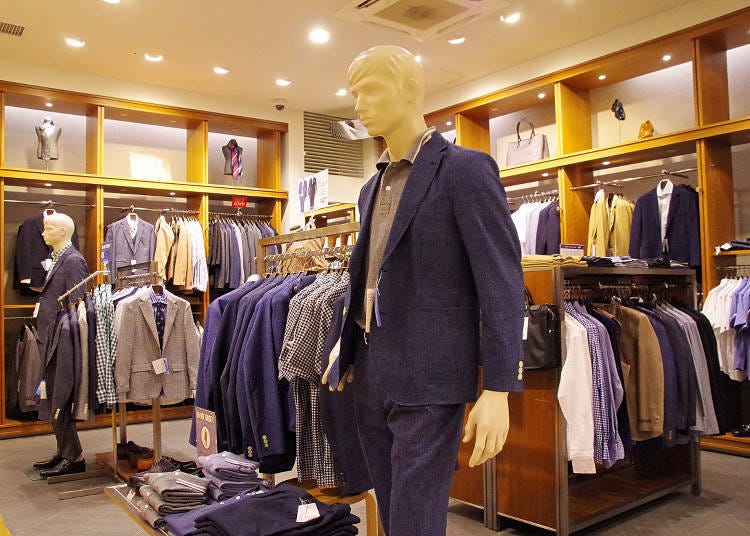 BEAMS OUTLET
Telephone: 078-704-2111
Infant to Adult Sizes at miki HOUSE REPRO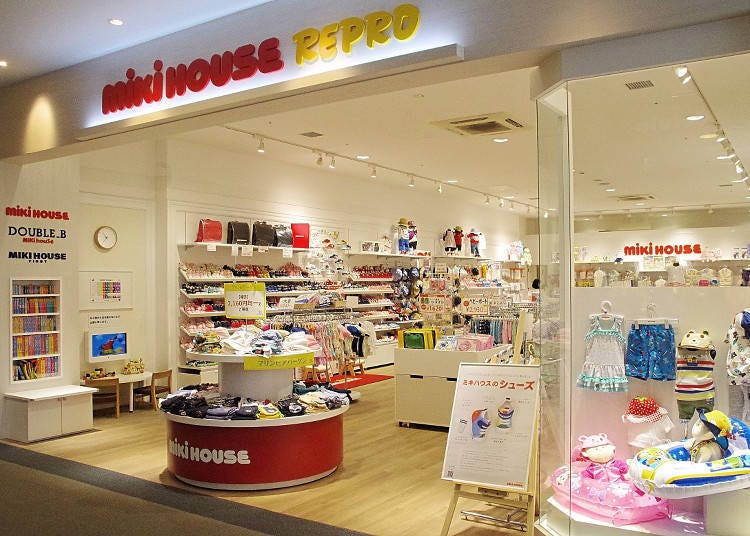 Baby and kids brand miki HOUSE's outlet shop miki HOUSE REPRO has many cute shoes and clothes on display. They have many bags, hats, socks to small goods and sundries. Being able to buy goods for your children or even as gifts at an outlet price adds to their popularity.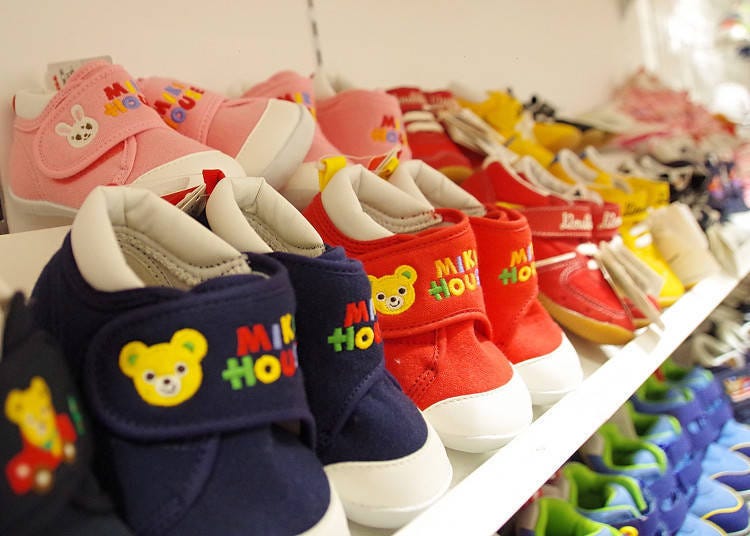 We were surprised at their selection of shoes. They have a great lineup and you will most likely find what you want. They focus on baby goods products so you just looking around the shop is enjoyable.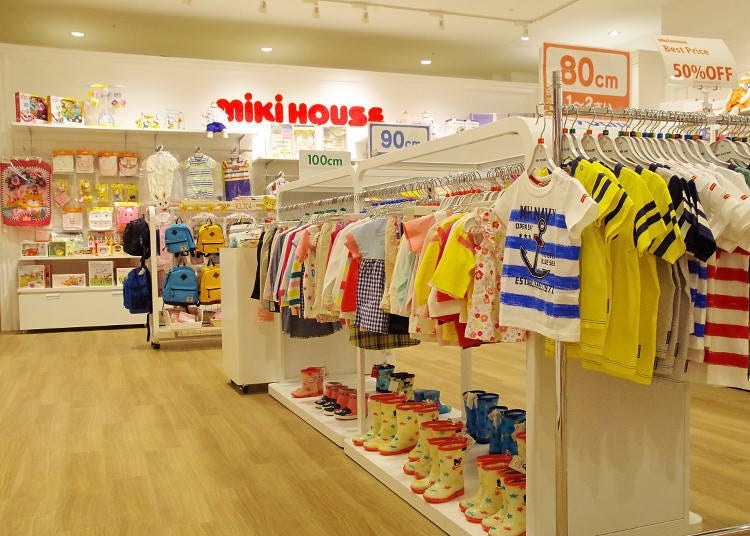 There are even matching outfits for families. If you are with children this is a place you will want to stop by.

miki HOUSE REPRO
Telephone: 078-708-3338
Ladies Shoes at ORiental TRaffic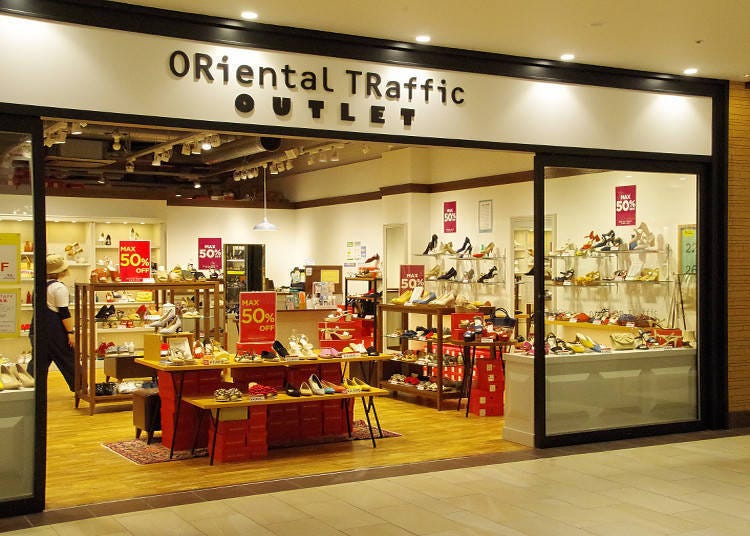 Ladies Shoes specialty shop ORiental TRaffic OUTLET, is a popular shop with a constant flow of customers. There are many ladies who stop by to look at the display with recommend items. The reason behind their popularity is probably the design that makes woman's feet look attractive with playful designs.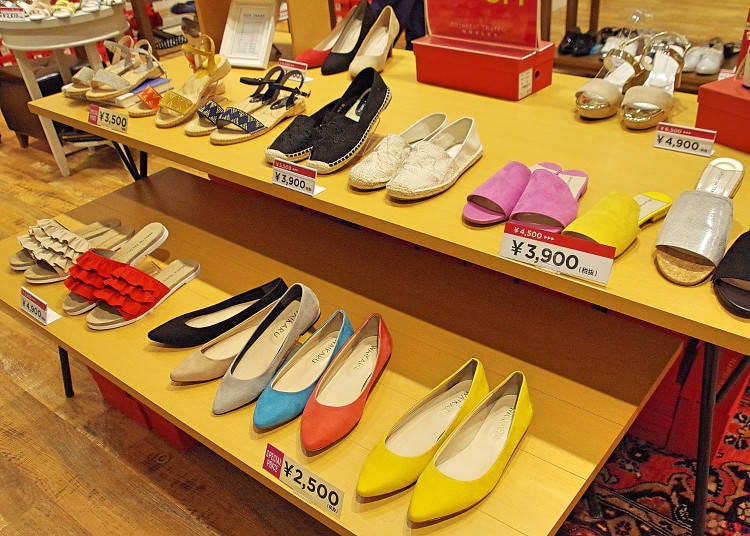 They have a wide range of products from basic designs to designs with the latest trend. Sizes range from 22cm to 26cm. The ease to use, plenty of variation, and outlet price makes it an ally for ladies fashion coordination.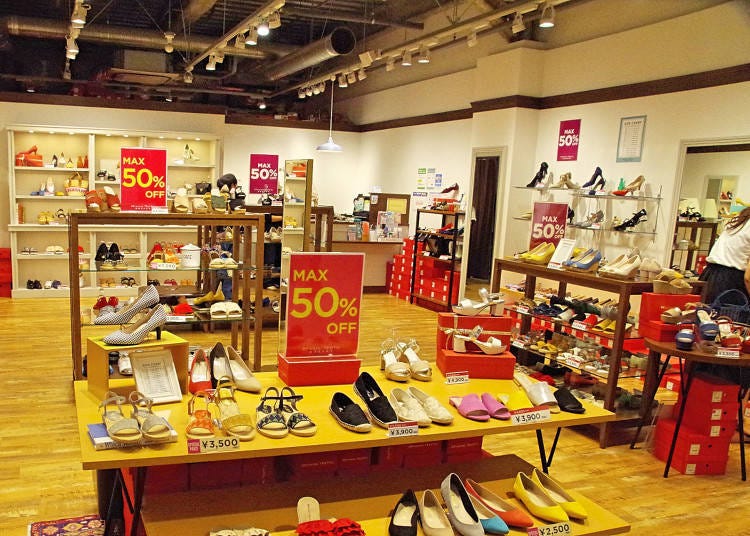 ORiental TRaffic OUTLET
Telephone: 078-742-7221
Affordable Shopping at the Long-Established Brand, LACOSTE OUTLET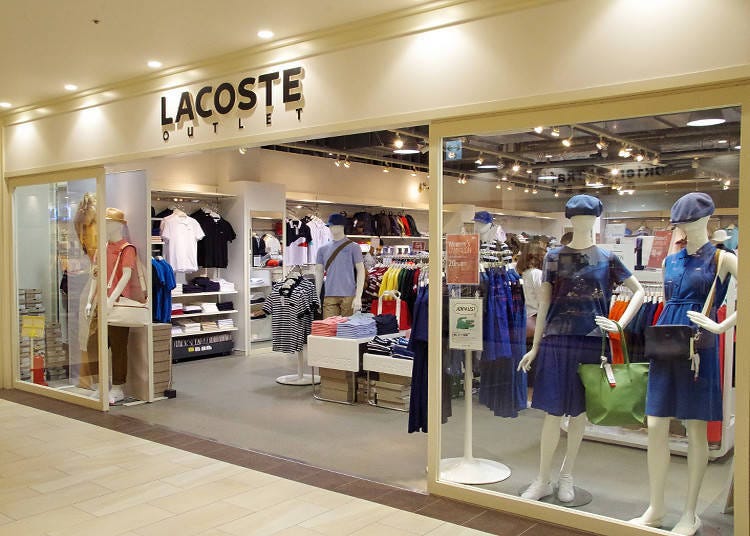 The world famous long-established fashion brand LACOSTE was founded 80 years ago. Their outlet store provide discount prices to out-of-date products. However since it's an established brand shop, everything looks fabulous and offered at a discounted price.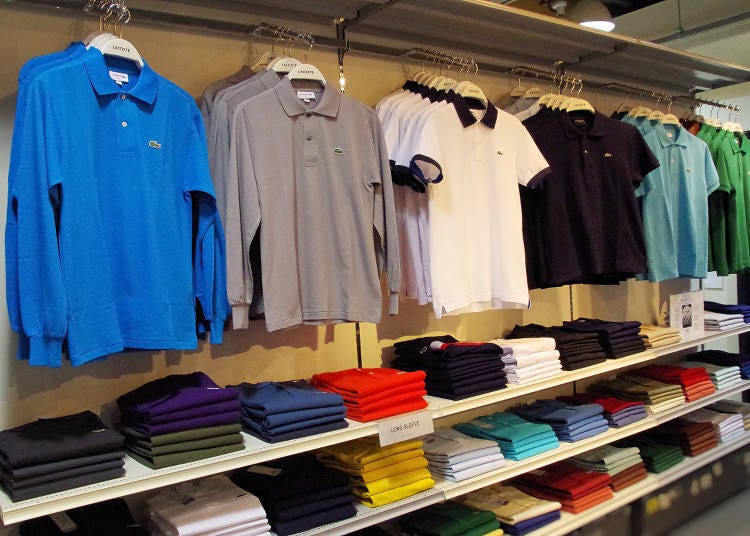 The most popular item is the polo shirt. Especially the made in Japan items that are made in their in-house factory. Also only at LACOSTE can you find plain shirts but in so many different color variations. The outlet shop has many items for sale. They also have caps, bags and other items for a fully coordinated fashion.

LACOSTE OUTLET
Telephone:078-704-4902
A Favorite for Shoppers Visiting Japan, ACE OUTLET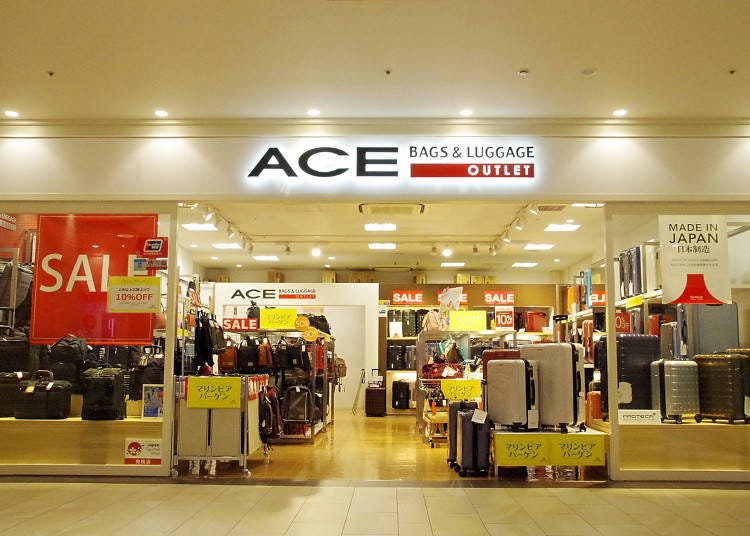 One thing that all visitors in Japan need is a suitcase. ACE provides bags with high performance, durability along with a big carry load to store you purchased gifts. At the Marine PIA Kobe store they have many brand bags with functionality and nice design such as the travel brand bag Proteca, business bag brand ACEGENE and ladies brand Kanana Project. They have a good variety of bags, so you can actually check them out before you make your purchase.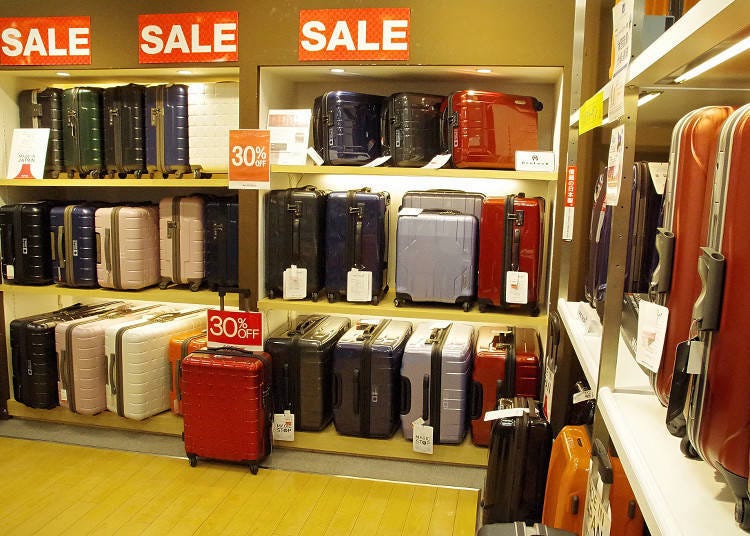 Also we can't forget about the outlet discount price. There are days where you won't believe the discount they offer.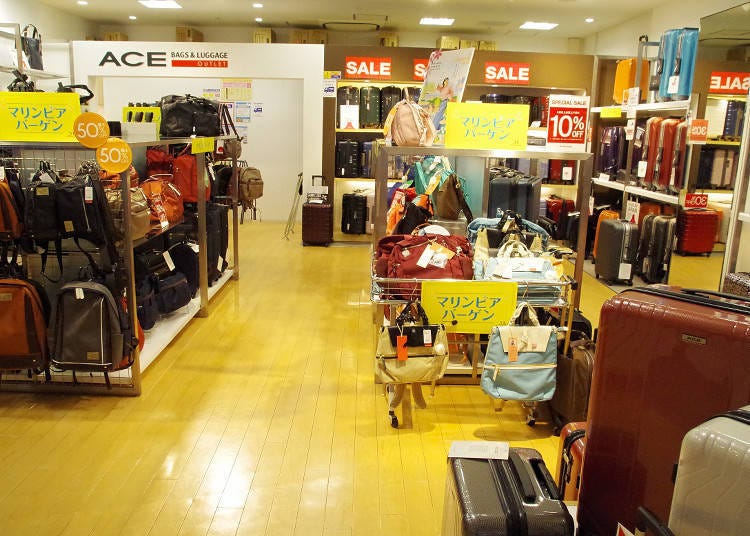 ACE OUTLET
Telephone:078-754-5760
Authentic Indian Restaurant that Supports Halal, INDIAN RESTAURANT GAYLORD
At Mitsui Outlet Park Marine PIA Kobe, there are around 20 dining facilities. With so many types of restaurants such as, restaurants that children enjoy, stores that have a strong Kansai feel and restaurant with great drinks, it's hard to pick one. This time we will cover INDIAN RESTAURAT GAYLORD. It is an authentic Indian restaurant with Indian chefs that also supports halal and has a beer garden, which makes it popular with foreign visitors.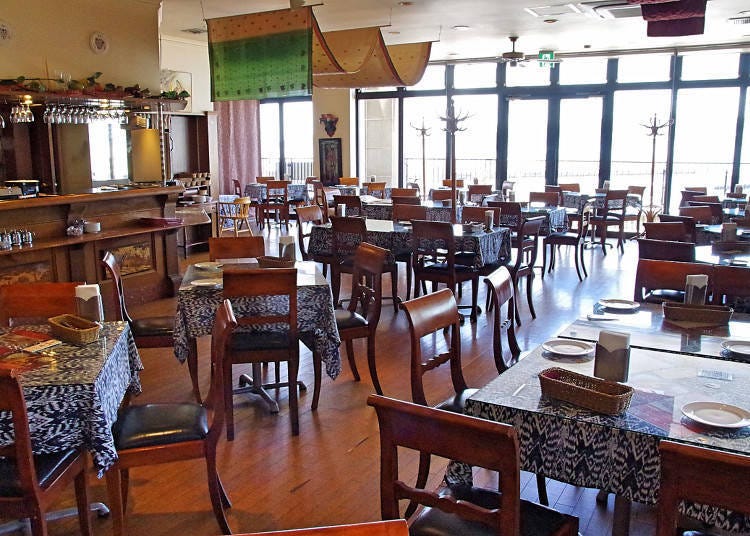 The most popular dish at the shop that has a nice fragrant of spice that intrigues your appetite, is the Lunch Set. The freshly cooked tandoor chicken and curry made only with spices is delicious. Also it's all you can eat naan. You can always select the spiciness of the curry so, people who don't like hot food can enjoy it. If you enjoy spicy food you might want to challenge yourself just a little with a bit more spiciness. You can get a view of the Akashi Kaikyo Bridge, and it's even great for a night view during dinner time. There are plenty of seats and they offer a great view. You can enjoy your meal in a relaxed environment.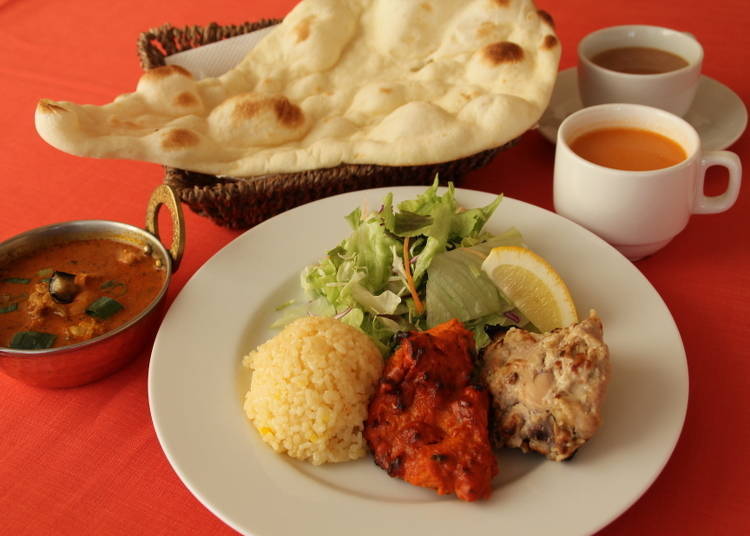 (Photo provided by INDIAN RESTAURANT GAYLORD)
INDIAN RESTAURANT GAYLORD
Telephone: 078-708-4359
Hours: 11:00 a.m. – 10:00 p.m. (last order 9:00 p.m.)
Discount Coupons Available at the Information Desk for Personal Travelers.
There are many discount goods at Mitsui Outlet Park Marine PIA Kobe, however there are more discounts for foreign visitors. Group travelers will receive discount coupons from their tour agency, however there are discount coupons for personal travelers. If you head over to the Information Desk and show your passport, you can get a discount using the "Outlet Special Coupon."The coupon works at many shops so make sure to get it. About half of the stores have duty free. Also most stores accept Union Pay cards, so you can shop without worry.
MITSUI OUTLET PARK MARINE PIA KOBE

三井アウトレットパーク マリンピア神戸

Address

12-2 Kaigandōri, Tarumi-ku, Kobe, Hyogo

Nearest Station

(car): About 4km from Second Shinmei Road Myodani IC
(train): 10 minute walk from JR Tarumi Station and Sanyo Electric Railway Sanyo Tarumi Station, a free shuttle available from Tarumi Station


Phone Number

078-709-4466

Hours: Shops 10:00 a.m. – 8:00 p.m., restaurants 11:00 a.m. – 10:00 p.m. *dining facility hours may vary depending on the shop
Closed: no scheduled holidays
Foreign Visitor Service: Multilingual display for floor guide, building signs and web site, Union Pay payment terminal (*not all shops), duty free (*not all shops)
Official Site: https://mitsui-shopping-park.com/mop/kobe/
Text by:Hifumi Isokazu
*This information is from the time of this article's publication.
*Prices and options mentioned are subject to change.
*Unless stated otherwise, all prices include tax.