When it comes to Kobe food and Hyogo Prefecture's cuisine, Kobe Beef is sure to come to mind, but there's plenty of other great food throughout the prefecture, including beloved local restaurants and regional dishes made with locally-caught octopus and seabream.

This article will share top picks of local cuisine you'll want to try when visiting Hyogo Prefecture.
Characteristics of Hyogo cuisine
With the Sea of Japan to the north, the Seto Inland Sea and Pacific Ocean to the south, and mountainous regions in its center, Hyogo Prefecture is able to cultivate a wide variety of food products. Its seabream and octopus from Akashi and Kobe Beef from Tajima in particular are renowned throughout the entire country.

Since you can relish in food using each season's freshest ingredients, you're bound to have an amazing culinary experience no matter when you visit.
1. Takomeshi: Experience the rich umami flavor of octopus!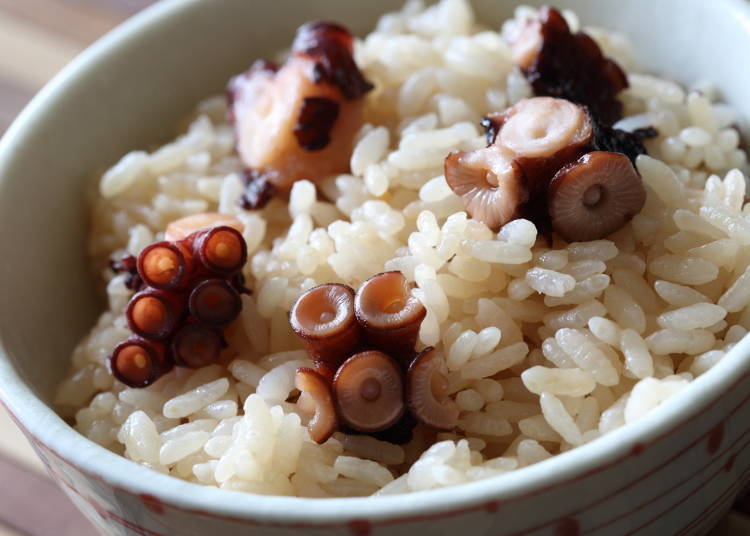 The octopus caught in Akashi have small, compact bodies and have long been renowned for their delicious taste. "Takomeshi", a local dish of Akashi City, consists of rice cooked with dried octopus. The dried octopus has a firm texture and gets even more flavorful the more you chew it. The way the umami flavor of the octopus is also absorbed into the rice makes for an exceptionally tasty meal.
2. Try fluffy Akashi-yaki dipped in broth!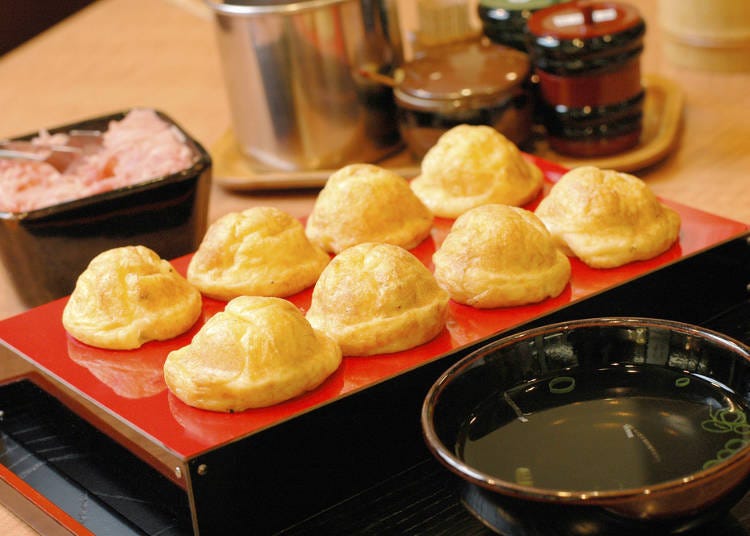 One more famous food that uses octopus is "Akashi-yaki". The batter uses eggs and broth to give it a soft texture, and the octopus inside adds an excellent chewy texture. In addition, Akashi-yaki is dipped not in sauce like takoyaki, but in a Japanese broth instead. The broth seeps into the crust, giving it a very light flavor. Akashi-yaki, said by some to be the origin of Osaka's takoyaki, is also called an "egg omelette" (tamagoyaki) by locals and is a beloved favorite.
3. Taimeshi: Packed with the deliciousness of Akashi's seabream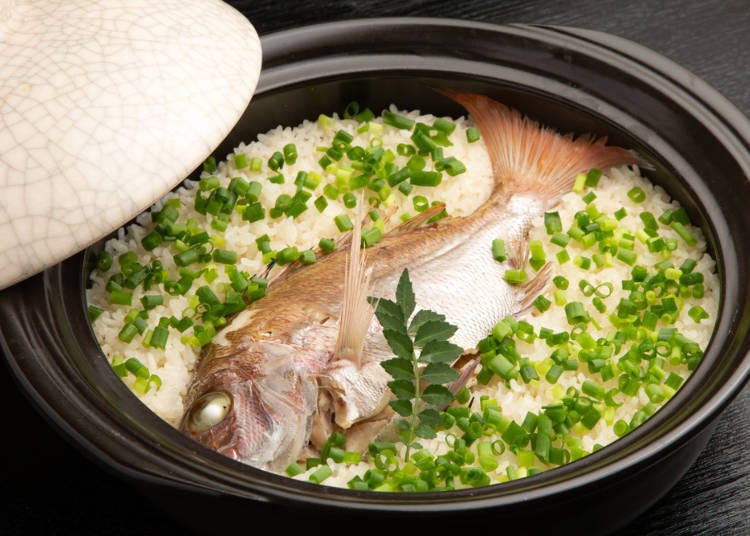 Alongside octopus, Akashi's most representative seafood is seabream, or "tai". One famous dish is "taimeshi", rice cooked with Akashi seabream, ginger, and kelp. The broth is absorbed by the rice as the fish cooks, making this one exquisite dish. Take a bite of the fluffily steamed fish along with rice, and you'll be able to taste every last bit of the seabream's savory umami flavor.
4. Kobe Beef: World-renowned, top-class Japanese beef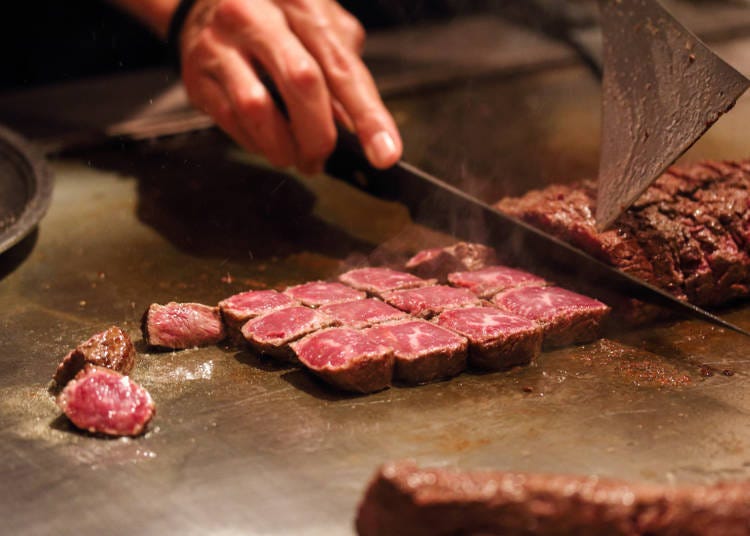 Hyogo Prefecture's Tajima Beef is said to be the origin of Japan's beef brands, such as Matsusaka and Omi Beef. Of all Tajima beef, only meat that passes the most stringent of standards receives the title of "Kobe Beef". This beef is characterized by thin stripes of fat in its fine-grained meat. The meat melts in your mouth so much it might surprise you, and the sweetness from the fat is addicting. If you really want to get a good taste of Kobe Beef's natural flavor, we recommend having it as steak.
5. Sobameshi: Kobe's most famous cheap-and-easy local dish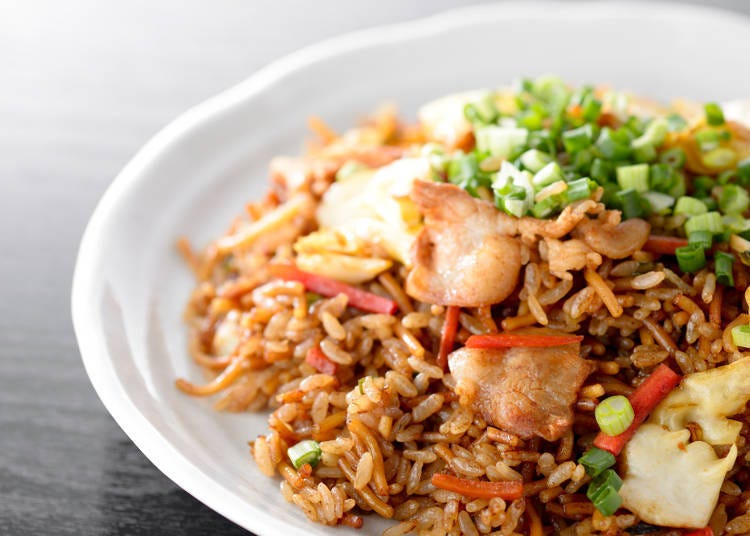 "Sobameshi" is a local dish that originated in downtown Kobe. It consists of rice and yakisoba stir-fried together and flavored with Japanese sauce. It's a real spectacle to watch the yakisoba being chopped up on an iron hot plate with metal spatulas. For toppings, you can enjoy a variety of flavors, like "bokkake" beef tendons and konjac jelly in a sweet and spicy stew mix, kimchi, organ meats, and others. Let the smell of the sauce stir your appetite and try a taste of this local tasty dish.
6. Himeji Oden Stew: Eaten with ginger soy sauce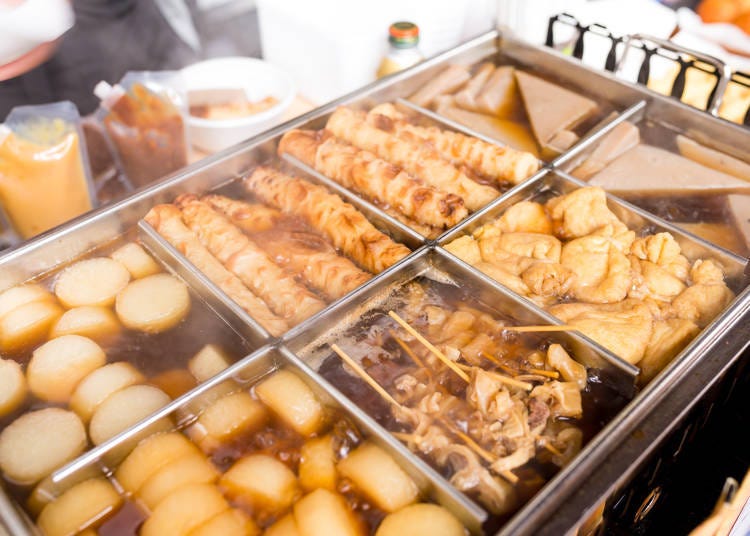 Oden, a food commonly eaten in the winter in Japan, is a stew that contains daikon radish, eggs, konjac jelly, and other ingredients. The most common condiment used is Japanese mustard, but in Himeji, oden-stewed ingredients are topped with, or dipped into, ginger soy sauce. Whenever the strongly-flavored Kanto version or lightly-flavored Kansai version of oden is eaten with ginger soy sauce, it's called "Himeji Oden". The ginger's flavor accents the oden, making it a refreshing meal.
7. Banshu Ramen: Characterized by its sweet soup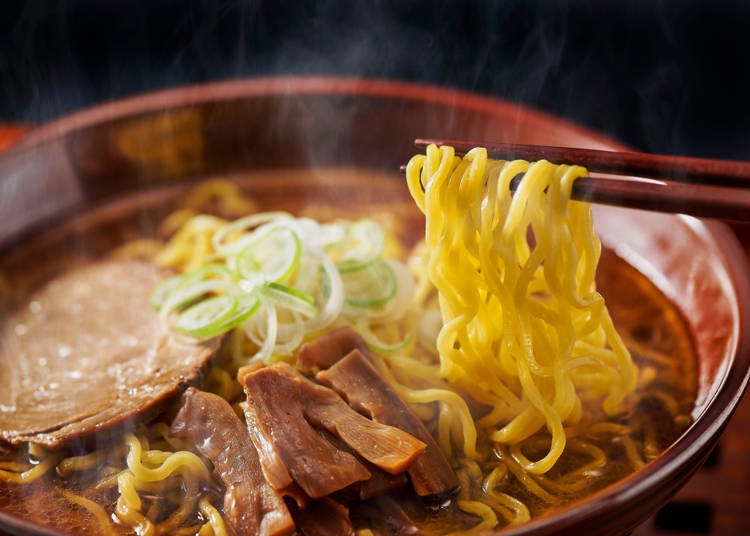 This is the local version of ramen from the Kita-Harima region, located in central Hyogo. Its most distinctive characteristic is its sweet, soy sauce-based soup. Since there are no other standard recipes or rules to Banshu ramen, you can enjoy elaborate flavors such as chicken, pork, or vegetable broths from various restaurants. The noodles are thin and wavy, and roasted pork, green onions, bean sprouts, and other simple ingredients are used as toppings. This richly flavored yet light and refreshing ramen has been a beloved local dish for over half a century. Be sure to give it a try.
Enjoy experiencing Kobe food and other local cuisines!
As you can see, there are many delicious foods in Hyogo Prefecture besides just Kobe Beef. Be sure to visit not only the sightseeing-capital, Kobe, but various other places as well, to enjoy all the local cuisine they have to offer.
Text by:Bikoo-System
*This information is from the time of this article's publication.
*Prices and options mentioned are subject to change.
*Unless stated otherwise, all prices include tax.