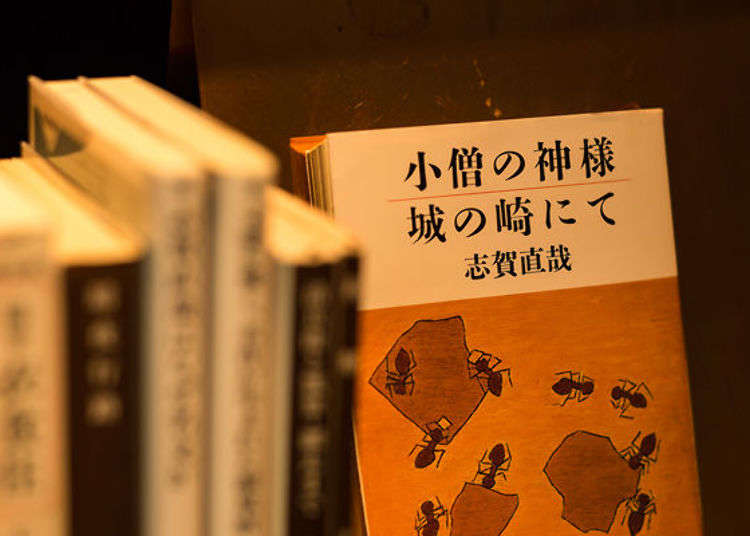 Mikiya is situated in Kinosaki Onsen in Hyogo Prefecture. This 300 year-old traditional Japanese inn (known as a ryokan) offers its guests comfort and hospitality while still retaining the atmosphere of ancient times. It was a favorite ryokan of the Japanese novelist, Naoya Shiga.
I first came across the name "Kinosaki" in a Japanese language class at school, I can't quite remember when. Kinosaki features in one of Naoya Shiga's most famous works, At Cape Kinosaki.

It is about a time when Shiga stayed at an inn in Kinosaki Onsen to rest and recuperate after a severe injury. It's a semi-autobiographical work in which the author ponders on his existence and the meaning of life. It is often mentioned in textbooks on Japanese studies.

I had various thoughts about this book:
"The name is written as 'Shirosaki' but pronounced as 'Kinosaki.' Isn't spending so much time in a ryokan a bit dull? Surely there are more exciting places you can go to on holiday than a hot springs? An amusement park, for instance..."

I was just a callow youth at the time who couldn't really appreciate the joys of relaxing and unwinding at a ryokan. My perspective on life was a bit naive, I have to say. I remember thinking, "Going to a ryokan is just a luxury for older people." "Naoya Shiga had it easy didn't he? Just staying at a nice ryokan..."

Today I'm going to Kinosaki Onsen which is the setting for At Cape Kinosaki. I'm visiting Mikiya, the old inn that Naoya Shiga stayed at. This is the ryokan that appears in his novel. It's still open today and you can even stay in the room that Naoya Shiga stayed in.
Reflect on Japanese history in Mikiya, a registered tangible cultural property
Mikiya is located in Toyooka in Hyogo Prefecture. It's right in the center of Kinosaki Onsen, where you can visit different outdoor hot springs on foot. It's well-known for the sound of geta (wooden clogs) as visitors stroll around.

The ryokan comes into view as you walk up Yunosato-dori past the array of elegant town shops. It's obvious just from its appearance that this is a place steeped in history.

"Welcome! Thank you for visiting today!"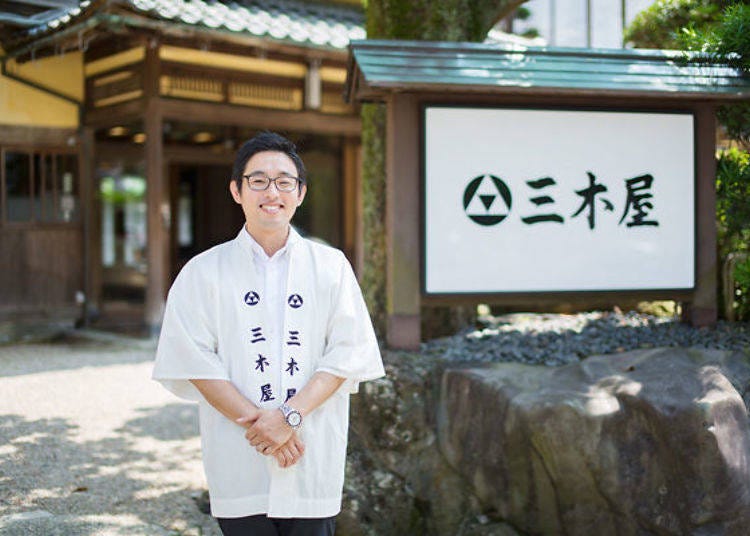 ▲Daisuke Kataoka is Mikiya's 10th generation young proprietor
Mr. Kataoka's enthusiastic smile greets me.
"It's nice to meet you. I am the 10th generation manager of Mikiya."
"10th generation, you say?!"
"Yes, that's right. This inn was first established in the early Edo period..."

Mikiya boasts a proud tradition going back 300 years. The original building collapsed in the Hokutan Earthquake of 1925 and was rebuilt in 1927. The three-story wooden building that is here today is a rare kind of structure that has been designated as a registered tangible cultural property.

The old columns and fittings show that the place is steeped in history and tradition. On the other hand, its dignified elegance makes you forget that it is such an old building. It's a beautiful structure. It's no exaggeration to say that it towers over me.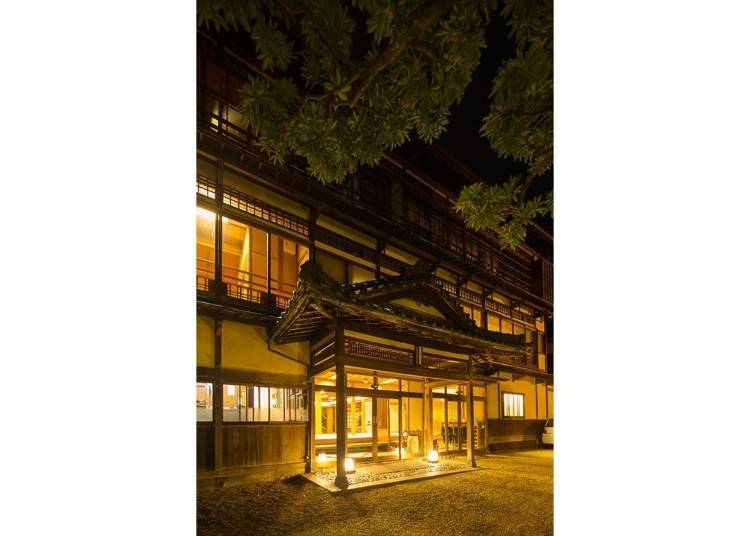 ▲Mikiya's entrance hall. The historic, atmospheric building takes on a magical appearance at dusk when it is illuminated with orange lights.
Past meets present: Mikiya's 300 years of history brought up to date
I enter eagerly...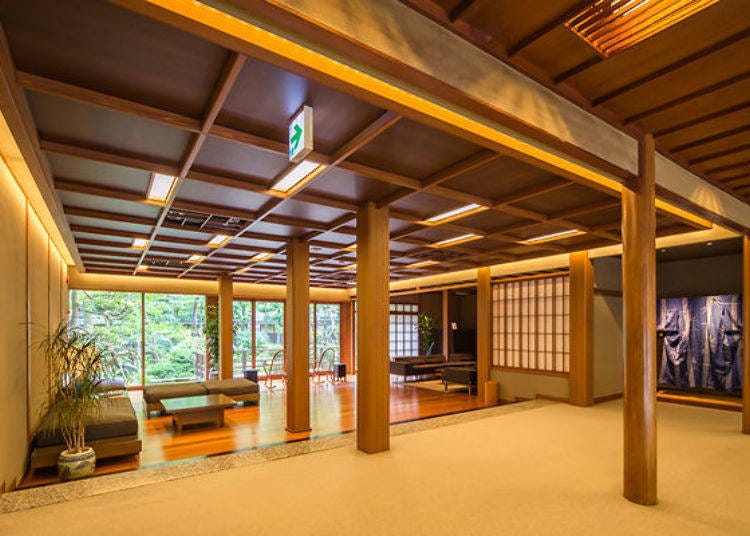 ▲The lobby
Wow!

In total contrast to the old fashioned exterior, the lobby is bright and spacious. It has a stylish and contemporary feel, with sofas and rocking chairs and sofas casually arranged around the room.
Naoya Shiga, the writer, first checked in here in 1913, a little over 100 years ago. The ryokan underwent a major renovation and refurbishment in 2013.

"We've tried to keep the old historic feel of the place as much as possible with the building and the gardens. We want our guests to feel comfortable and relaxed when they visit," says Mr. Kataoka.

The building itself and the elegant Japanese garden facing the lobby remain faithful to the spirit of times gone by, giving the ryokan its distinct feel and atmosphere. The interior decor and furniture are perfectly harmonized with this. The effect is stunning! Mikiya's refurbished lobby blends Eastern and Western decor, a gorgeous space where traditional and contemporary styling comes together in perfect harmony.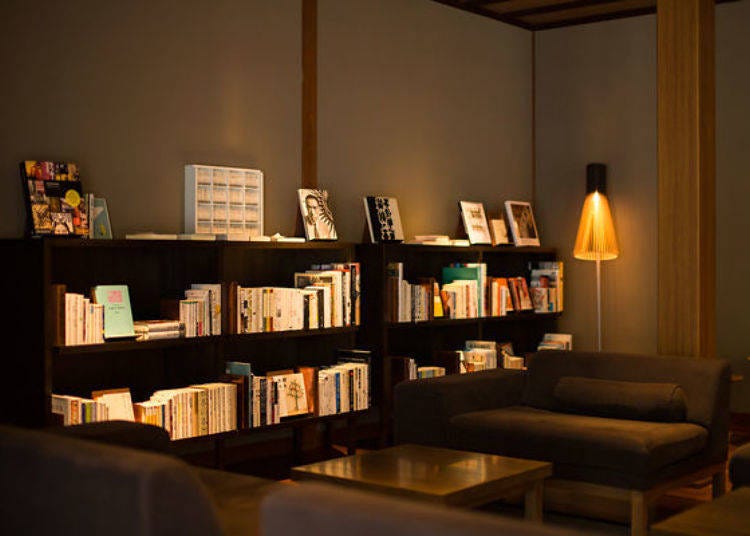 ▲Library lounge. The bookshelves feature a range of books, carefully selected by Mr. Yoshitaka Haba, the Book Director
At the back of the lobby is the library lounge. There are around 250 books here, mainly works of authors who have stayed at Kinosaki Onsen, such as Naoya Shiga. This is the perfect place to while away the time with an interesting book.

"This place has been created with the help of our book director, Yoshitaka Haba, and Tsuyoshi Matsuzawa, our design editor. It's the fine details that make the space what it is. The custom-made bookshelf with its lower row protruding out slightly, or the lighting which falls on the spine of the books," explains Mr. Kataoka.

After you've enjoyed a bath in the hot springs, leafing through a book before you retire for the evening is the perfect thing to do in a ryokan with such a strong literary tradition. It's a very grown-up pleasure! On the other side of the window, a traditional Japanese garden is laid out. The space occupies around 990 square meters in total.
Naoya Shiga stayed here several times between 1913 and 1955. The gardens that he loved are still laid out in the same way now that they were then. Their beauty changes with the seasons. You can enjoy the same scenery the author himself might have seen: rich greenery and the pond that the Otani River behind the inn flows into.
Mikiya's spirit shines through everywhere
After we've taken in the beautiful views of the garden, Mr. Kataoka shows me around the rest of the ryokan. First, we look at Hiiragi-no-Yu, the indoor bathroom made by converting what was originally a guest room on the second floor.

"An indoor bath?! I thought Kinosaki was all about the outdoor baths," you might say. This is true. Kinosaki is known as a place where you can walk around to visit the seven outdoor hot springs dotted around the town. When you visit Kinosaki, the usual thing to do is put on a yukata and go out to the onsen.

However, it can be nice to have a bath indoors before you go out or else when you come back. You might want a good all-over wash or else you might just want to bathe in peace without having to worry about the time. That's why Mikiya, among the other ryokan around here, installed an indoor bath for its guests in the 1950s.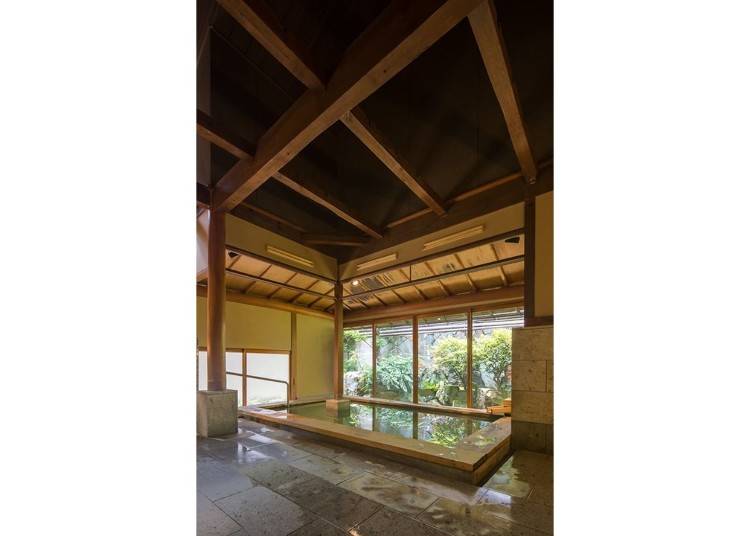 ▲Mikiya's indoor bath - Hiiragi-no-Yu
The bathroom has a modern and fresh feel to it, while still retaining many of the features of the original guestroom, such as the lintel, the upstairs porch, and the plaster walls. The bath itself is not unusually large, but the old beams give the room an airy and spacious feel. It's a perfect place to enjoy a quiet and relaxing bath.

"We've restricted the size of the indoor bath so as not to infringe on the outdoor bathing tradition at Kinosaki. We want you to be able to appreciate the merits of each type of bath: the outdoor baths are large and expansive, while the indoor bath is for quiet and relaxation," Mr. Kataoka tells me.

As well as Hiiragino no Yu, the Mikiya has two other bathrooms, the traditionally atmospheric Tsutsuji no Yu and Kazoku Furo (Family bath), which can be reserved for private bathing. These indoor baths complement the outdoor baths in Kinosaki, and using both of these together can make your stay more enjoyable. Next, we go to look at the dining room, Heihachiro, on the ground floor.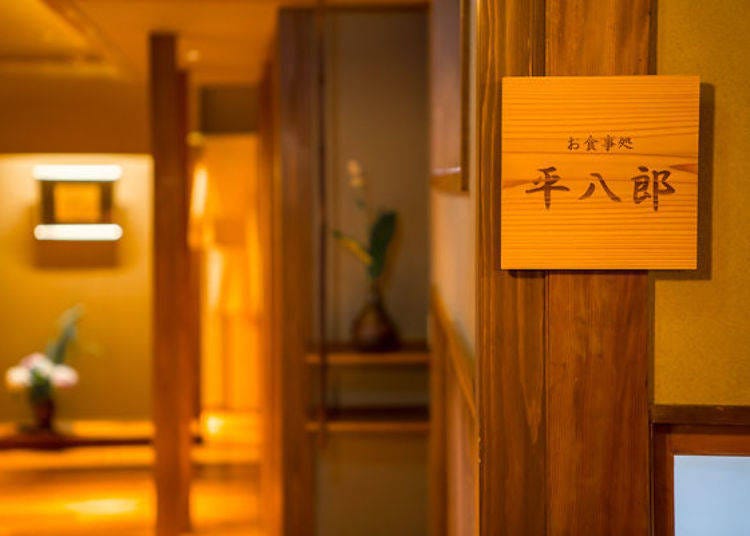 "People tend to think that you eat your meals in your room when you stay at a ryokan, but at Mikiya, dinner, and breakfast are served here in the dining room."

The idea is that the food should be brought to the table straight away while it's still warm. When the ryokan was refurbished, the owners decided to put a kitchen here so that the dishes can be served freshly prepared as soon as they are ready.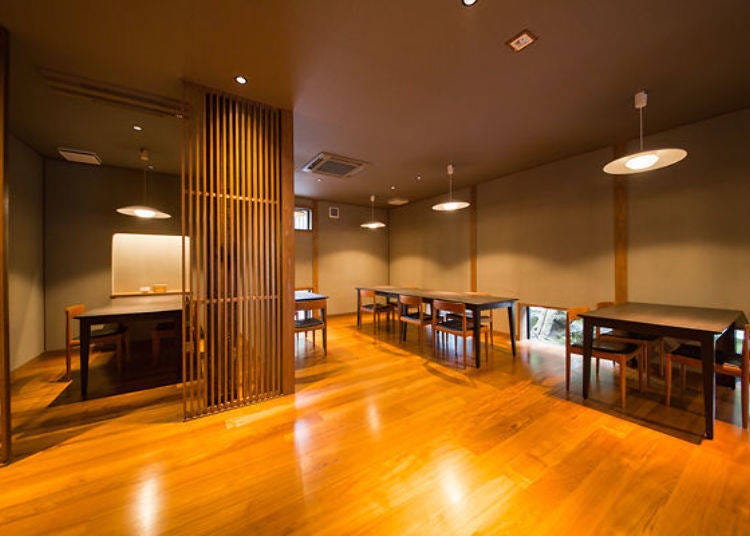 The decor is modest and understated. It's a calm and peaceful space, with the wood exuding a sense of comfort and warmth. There is also a private dining room available if you want to enjoy your meal slowly at your leisure.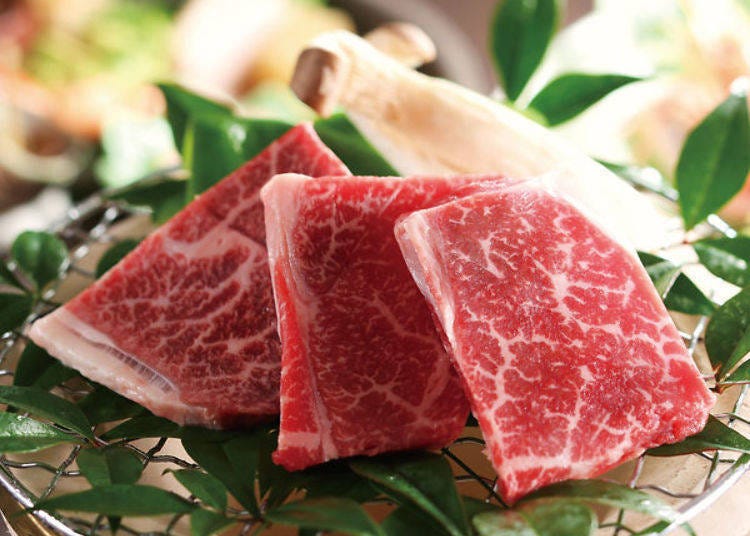 ▲Tajima beef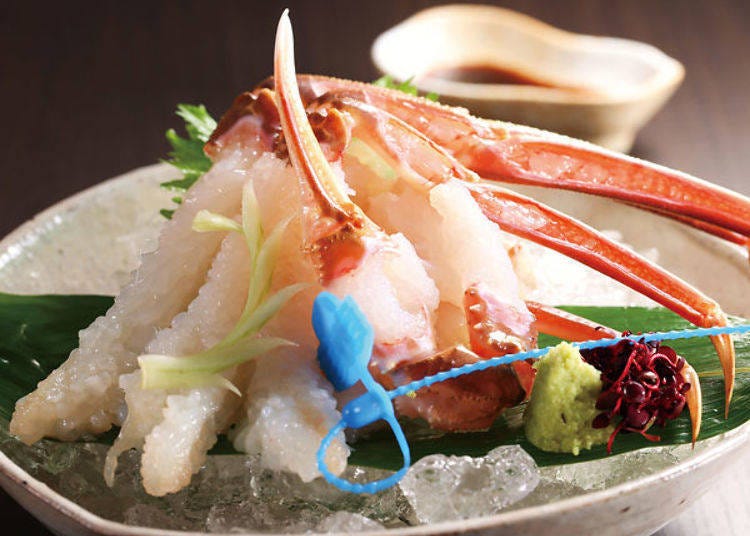 ▲Tsuiyama Crab is said to be the best quality snow crab
The cooking at Mikiya features a lavish variety of carefully selected seasonal ingredients, such as Tajima beef and Tsuiyama crab, renowned as a local delicacy. Fresh local ingredients are cooked to perfection and served in peak condition for diners' satisfaction.

The inn's commitment to comfort and hospitality is clearly evident in the bathrooms and the dining room, and throughout the ryokan.

The ryokan does not just trade on its proud past. It is clearly looking ahead to ensure that the Mikiya spirit endures for another hundred years as well.
Taking in the literary atmosphere of Naoya Shiga's room
After the bathrooms and the dining room, I am shown round the guest rooms. I'm especially interested to take a look at the room Naoya Shiga himself stayed in.

We go up quite a steep staircase, typical of Japanese architecture in the early 20th century. We walk along the corridor, which also has the elegance of that era.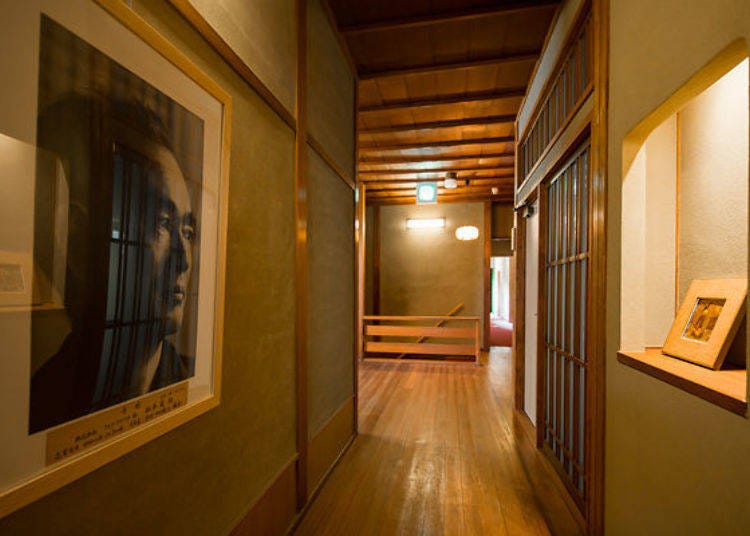 ▲A photograph of Naoya Shiga hangs in the corridor.
Finally...

"This is Naoya Shiga's room. The room you see now is pretty much the same as it was in those days."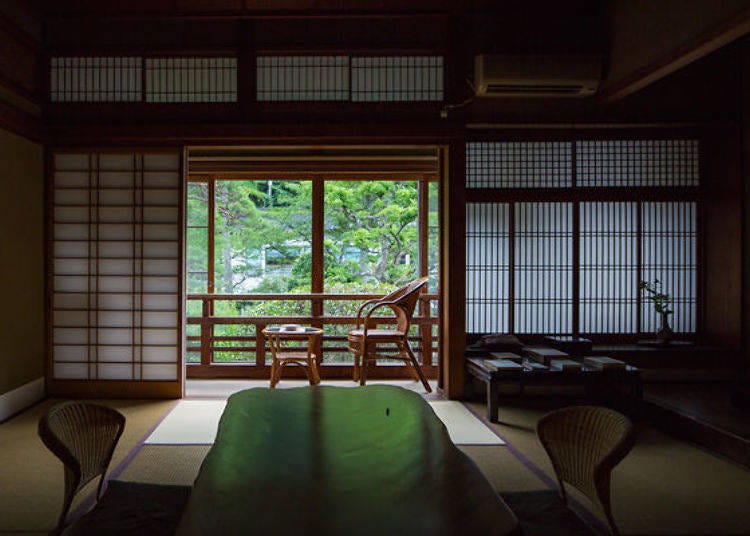 ▲ Naoya Shiga's favorite room was No. 26
The room is situated at the western end of the second floor of the inn. It's a simple room, typical of a Japanese ryokan. It has an air of dignity and refinement. I can smell the wood and the tatami. The balcony window gives out onto the Japanese gardens.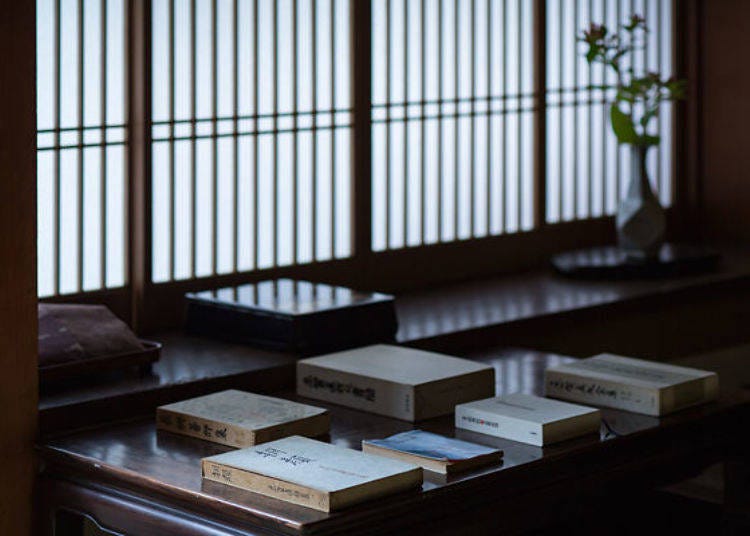 ▲Various first editions of Naoya Shiga's works are laid out on the desk
"I'm told that Shiga used to spend hours here lost in thought as he sat on the balcony and looked out at the garden," says Mr. Kataoka.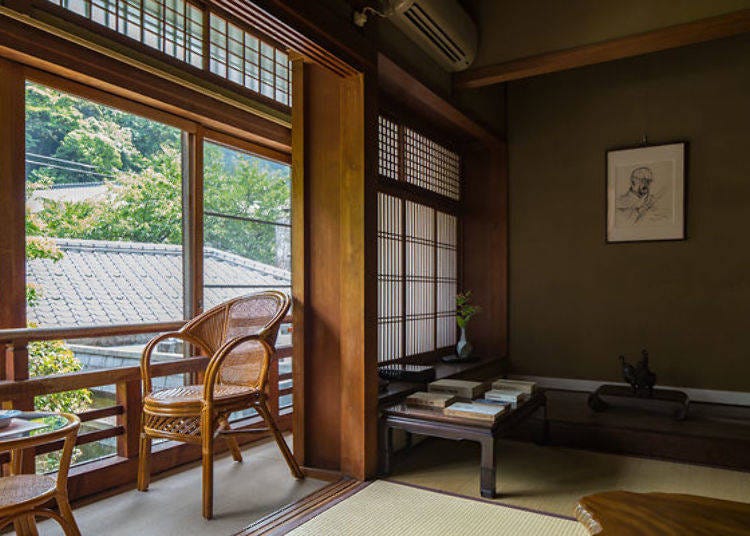 I'm sure that we are influenced by our surroundings. It may just be that I get carried away by my thoughts and what I see around me, but I was struck by the cultured literary atmosphere in that room.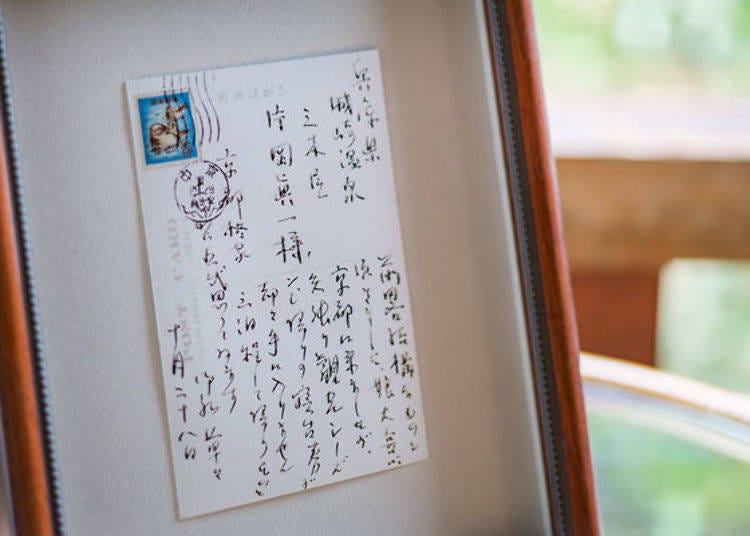 ▲The room is adorned with some of Shiga's handwritten letters to the ryokan proprietor
"Let's take look at some of the other rooms. This room is a mixed Japanese/Western-style room built when we renovated."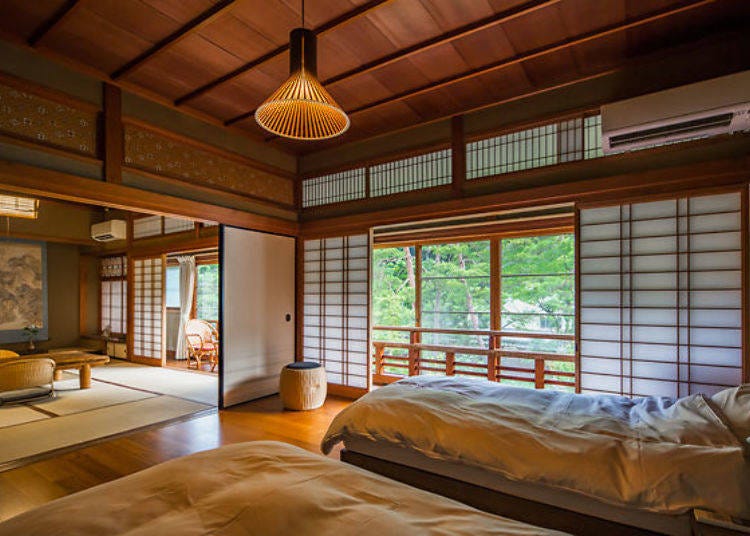 ▲Japanese/Western-style guest room
This spacious guest room features wooden floorboards in a comfortable and relaxing bedroom while still retaining the traditional feel of a Japanese ryokan. The walls and fixtures give you a sense of the history of this ryokan and are perfectly matched with contemporary furniture fittings such as the lamp shades.

In recent years, many overseas guests have visited Mikiya. Naturally foreign guests, but also Japanese guests who are not used to sleeping on futons, enjoy this Japanese-Western bedroom.

Mikiya has 14 rooms in total, including Naoya Shiga's room and the Japanese-Western bedroom. All the rooms are comfortable and relaxing, and all exude a sense of history and tradition.

Mr. Kataoka tells me, "We worry that any changes to these rooms, however slight, might upset some of our regular customers, who want Mikiya to stay just the way that it has always been. We wouldn't want them to stop coming just because of that. But anyway this is a ryokan. Our primary aim is to ensure that customers feel comfortable and relaxed when they come to stay here."

Respecting the history of this ryokan doesn't just mean that nothing should change.

Mikiya is in its 10th generation now and its 300 year history is a key feature of the ryokan. But I don't need to be reminded of that to see that this is a special place. Mikiya is a perfect example to us of how old and new can be combined to create something truly unique and special.

The evolution of the literary tradition of Mikiya is an attractive story and an integral part of this ryokan's distinguished 300 years of history. Over the next 100 to 200 years I'm sure that there will be many more interesting stories created and told about this wonderful ryokan.
三木屋

Address

487 Yushima, Kinosakicho, Toyooka City, Hyogo Prefecture

Phone Number

0796-32-2031

Room fee: 1 night 2 meals 16,200 yen per adult (Tax and service included)
Check in: 3:00-6:00PM Check out: 11:00AM
0796-32-2031 (Office hours 8:00AM - 8:00PM)
Text by:Advision
*This information is from the time of this article's publication.
*Prices and options mentioned are subject to change.
*Unless stated otherwise, all prices include tax.