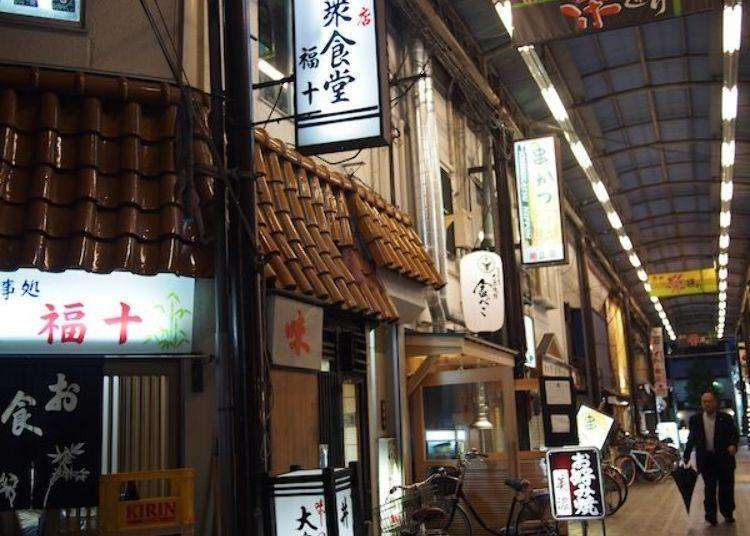 Japan has an amazing castle town down in Osaka, where the national treasure Himeji Castle became the first World Heritage Site in Japan.

It's here that a crazy number of "oden", one-pot restaurants have made a name for themselves as Himeji food.

Himeji Castle in particular and the area around Himeji City is the home territory for Himeji oden. Oden is a Japanese one-pot dish consisting of several ingredients such as boiled eggs, daikon, konjac, and processed fishcakes stewed in a light, soy-flavored dashi broth. What sets it apart from other types of oden is the use of ginger soy sauce.

In this article, we will introduce two local shops on Oden-dori that are very popular.
1. Noko: Nothing can surpass the carefully prepared beautiful Himeji oden
Noko is the most famous Himeji oden shop. It is located about a 5-minute walk from JR Himeji Station in the direction of Himeji Castle. It is in the Shiroganemachi area two blocks north of the Sanyo Himeji Station. The streets are laid out in a grid pattern typical of an old castle town. This area has been called Shiroganemachi since the middle of the Edo Period.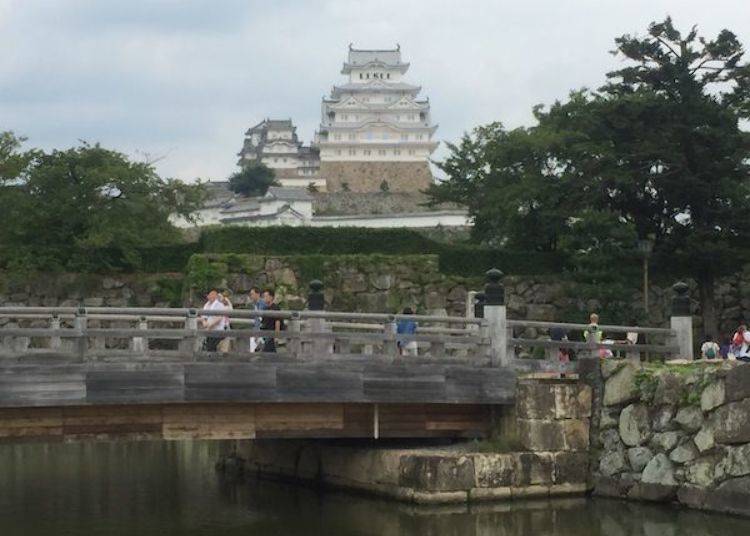 ▲ Beautiful Himeji Castle, also known as the White Egret.
The castle reopened to the public in 2015 after five years of restoration work and in that year was visited by 2.86 million people, significantly more than the 910,000 visitors in the previous year thus setting a new record.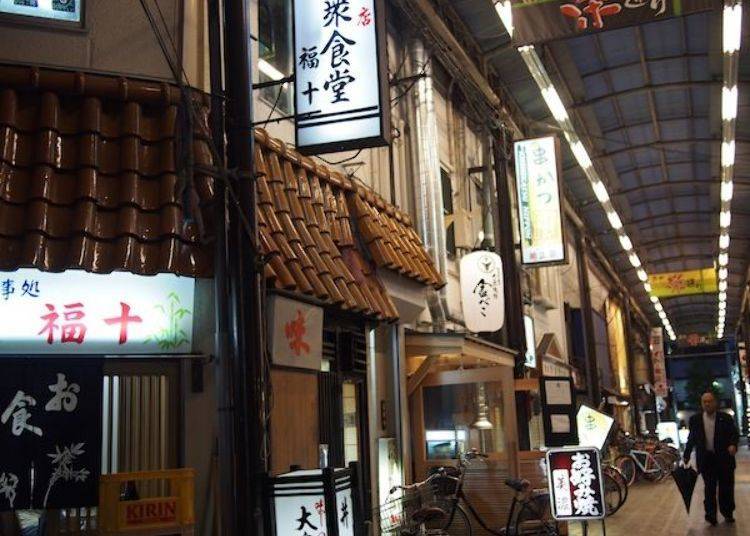 ▲ Minamimachi Sakae-dori that leads to the store. This area still retains the feeling of an old castle town.
Noko opened in 1997 and in 2007 moved to its current location. Today it is managed by the second-generation okamisan [proprietress] Ms. Hitomi Ohashi.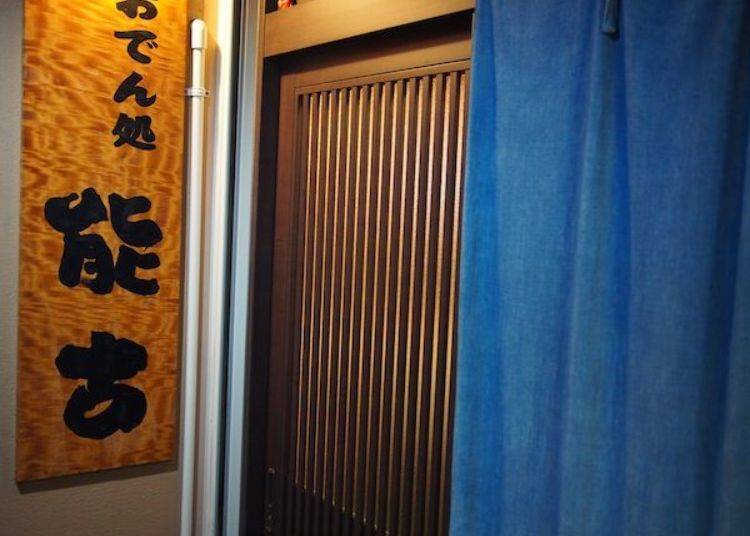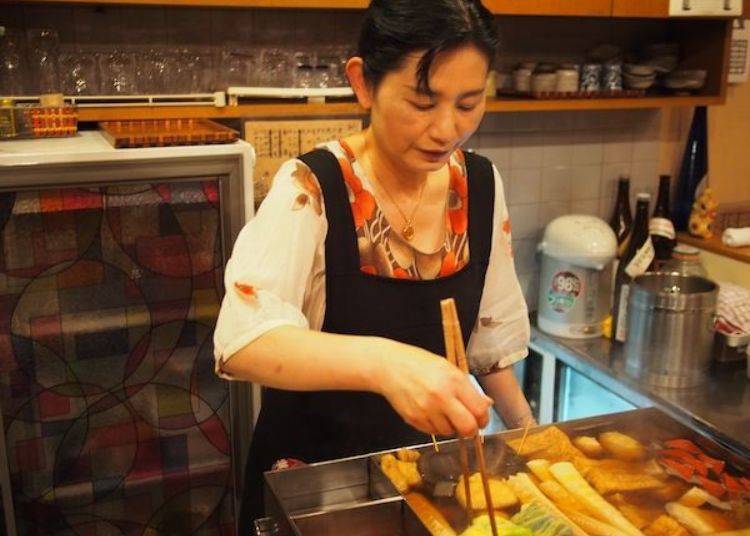 The oden pot is enclosed by an L-shaped counter that seats 9 and there is a table that seats four in the rear. The layout is ideal to enable her to keep a sharp eye on the oden and serve customers all within an arm's reach.
The oden here is really delicious. It has a fine selection of tane [oden ingredients] and a clear dashi [a class of soup and cooking stock used in Japanese cuisine]. It is interesting to note that all the Ontayaki tableware was made by the acclaimed British potter Bernard Leach when he lived in Hita City, Oita Prefecture.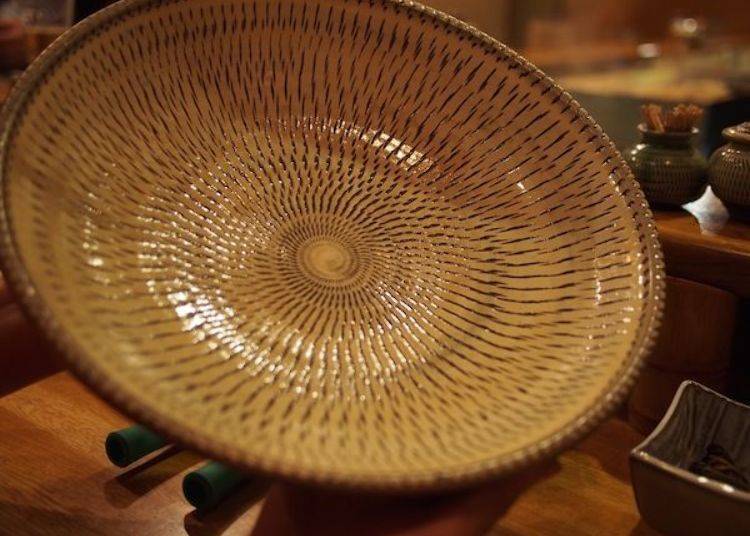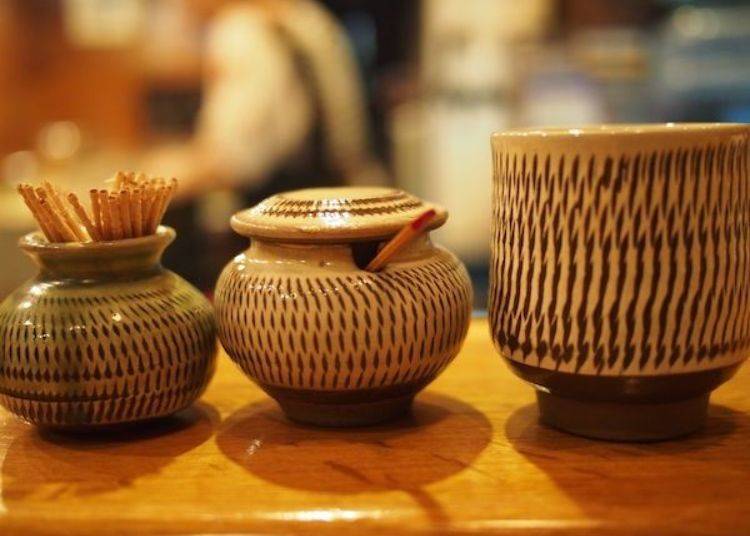 Ingredients for the oden include such familiar items as Japanese daikon radish and chikuwa [a Japanese jelly-like food product made from ingredients such as fish surimi (a paste made from fish or meat), salt, sugar, starch, MSG and egg white] and also octopus (this is the home territory of Akashi octopus), yuba [bean curd skin], and wheat gluten (prices are not posted).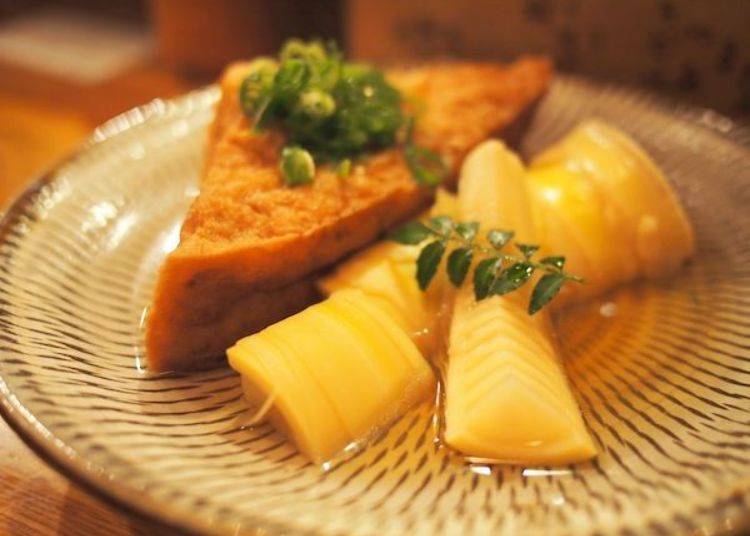 One of the items on the menu today was hachiku [Henon bamboo] which is in season; something almost all the customers ordered (350 yen).

I ordered that and also atsuage [deep fried tofu] (200 yen). The atsuage was really large and thick. The hachiku was neatly cut into easy-to-eat portions. These were then topped with finely chopped green onion. Then an ample portion of ginger soy sauce is added to the broth in the bowl.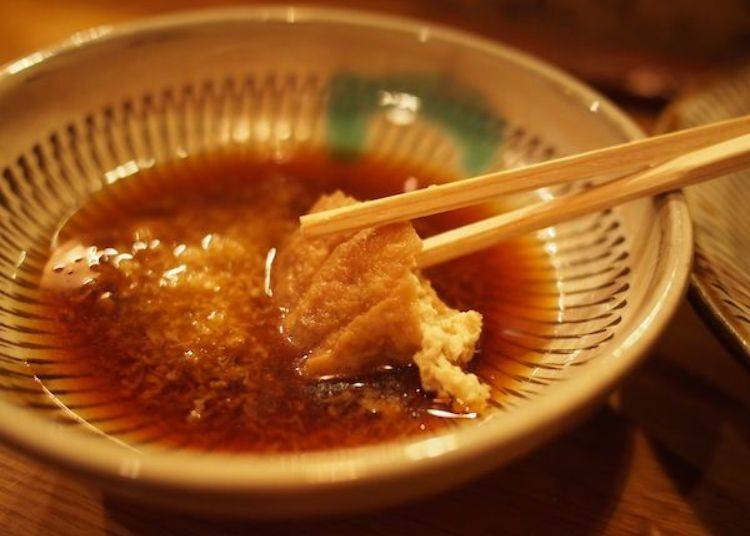 Next I tried the octopus (price depends on market). This consisted of one large, plump leg that had been cut into easy-to-eat portions. It was stewed to the right degree so that it retained a good texture and it went perfectly with the ginger soy sauce.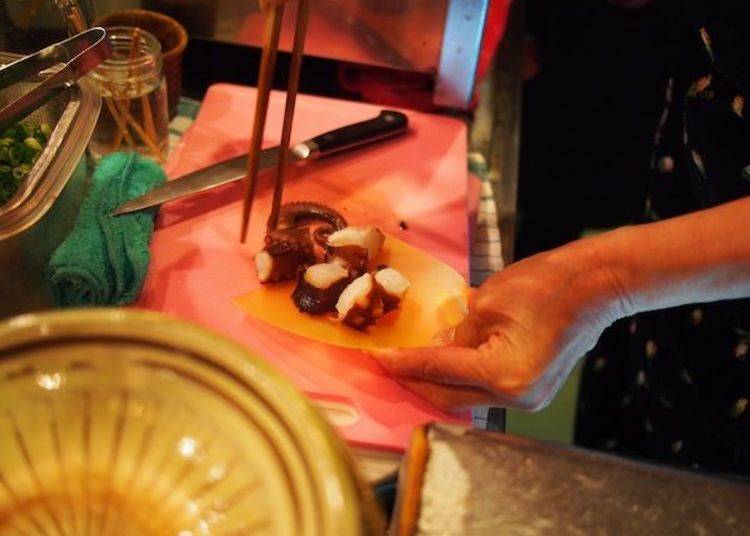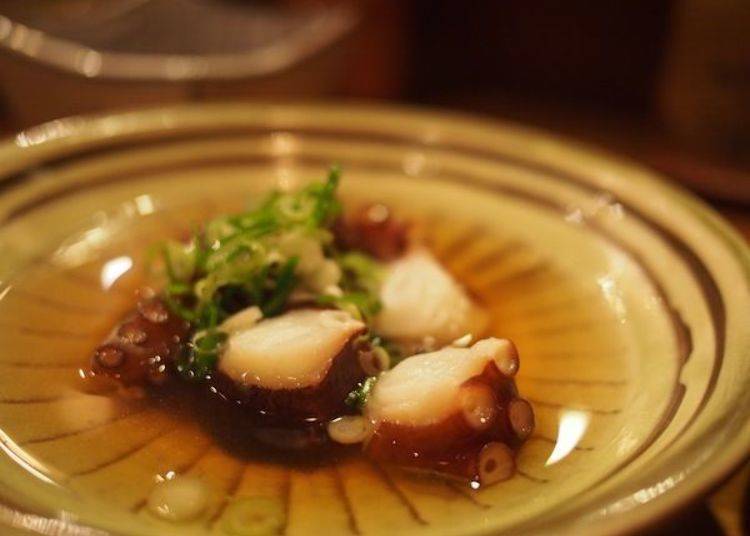 As for the chikuwa (200 yen), this is kept uncooked until it is ordered and then broth is added. In this way the full flavor of the ingredients is brought out. A group of friendly regulars who had been drinking since before the shop opened advised, "It's good with Japanese mustard." I tried it and had to agree with them.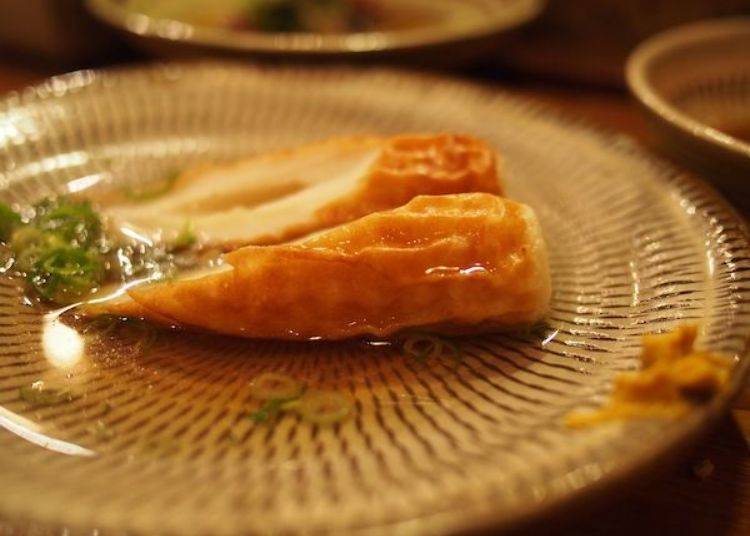 Akashi sea bream sashimi with salt and grilled conger eel (a specialty of the local Harimanada area) served with fresh wasabi and white radish sprouts which are then wrapped in nori [toasted and seasoned laver] before being eaten.

Although this restaurant is unmistakably an oden restaurant, to the regulars it seems more like a koryoriya [a small restaurant serving sake and simple à la carte Japanese dishes]. Since I was here I decided to sample several other ingredients. They were all delicious! The seafood from the Harimanada Sea was excellent.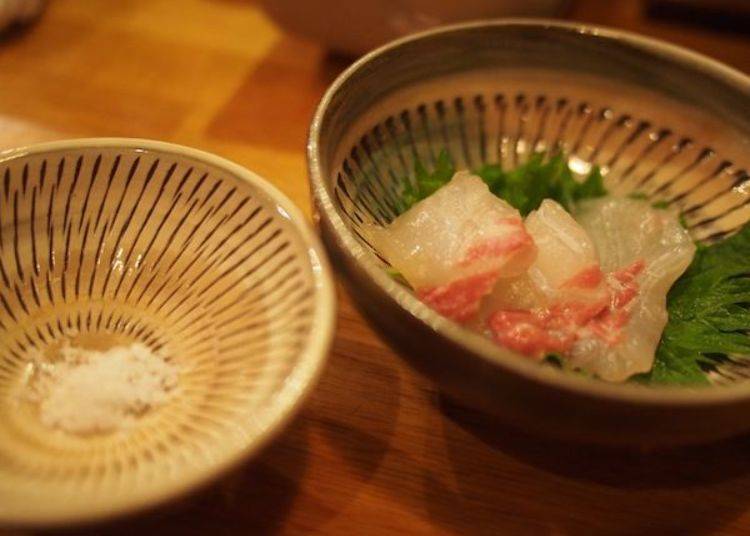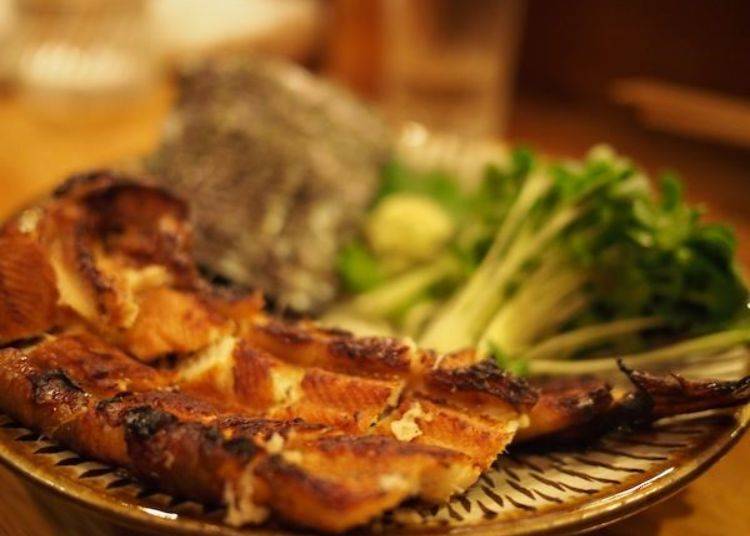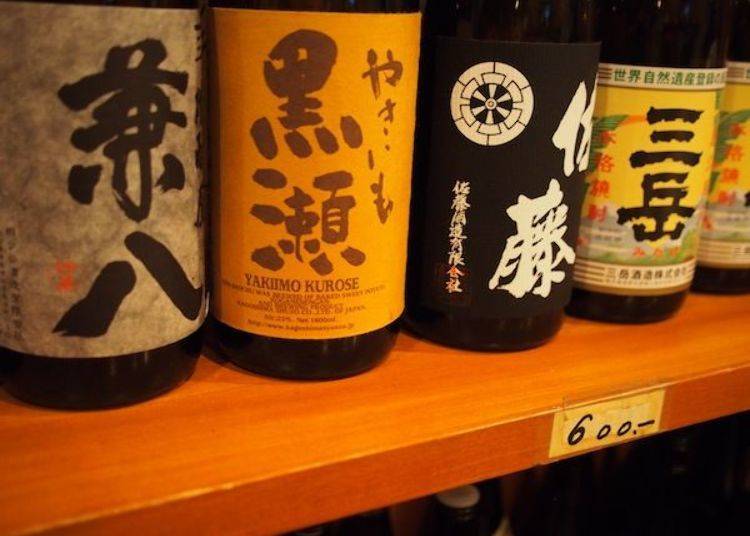 ▲Shochu [a Japanese distilled beverage less than 45% alcohol by volume. It is typically distilled from rice, barley, sweet potatoes, buckwheat, or brown sugar, though it is sometimes produced from other ingredients such as chestnut, sesame seeds, potatoes or even carrots] From 600 yen per glass.
I learned that the oden pot is heated in a way so that the dashi never boils and that the dashi is made entirely from katsuo [skipjack tuna shavings] and konbu [kelp]. It was certainly easy to see why the locals proudly say this is a "good shop"
能古

Address

Shirogane Bldg. 1F, 107 Shiroganemachi, Himeji City, Hyogo Prefecture

Phone Number

079-284-7345

Open: 5:00 p.m. ~ 10:00 p.m. (Closes when sold out)
Closed: Sundays and holidays
*All prices do not include tax. The prices mentioned are for reference as normally they are determined by current market costs.
2. Teishu: Popular izakaya serving up Himeji oden and Anago-don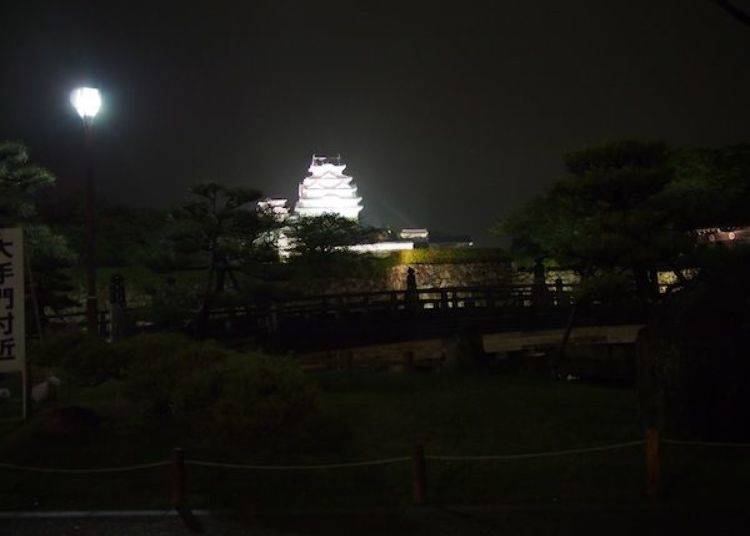 Teishu is located in Honmachi just south of Himeji Castle.
Himeji Castle beautifully illuminated as seen from the road in front.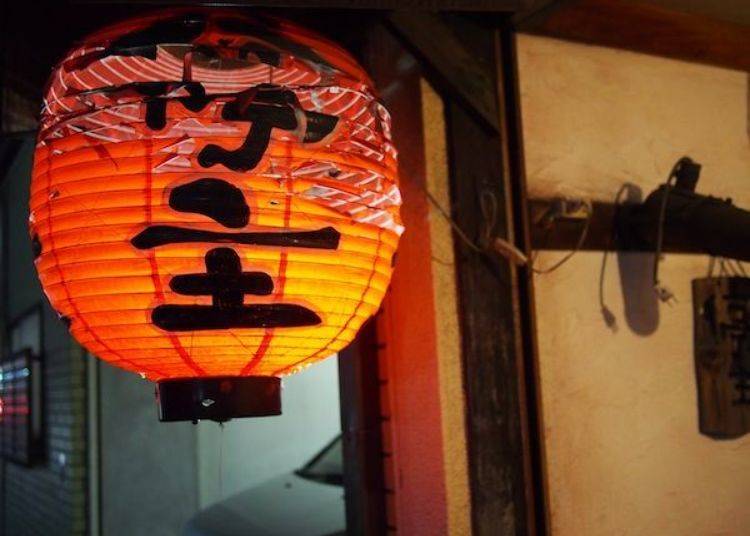 There is an unprepossessing paper lantern at the entrance, but to the side of the door is a large pop-style picture of Himeji Castle. It sets the right mood.
Entering the shop I sat at the counter enclosing the kitchen area. Mr. Yasunori Ikejiri, the owner (right), said that he has been serving Himeji oden for 60 years, 55 of them in this shop. Even though everyone was busy, the entire family greeted me.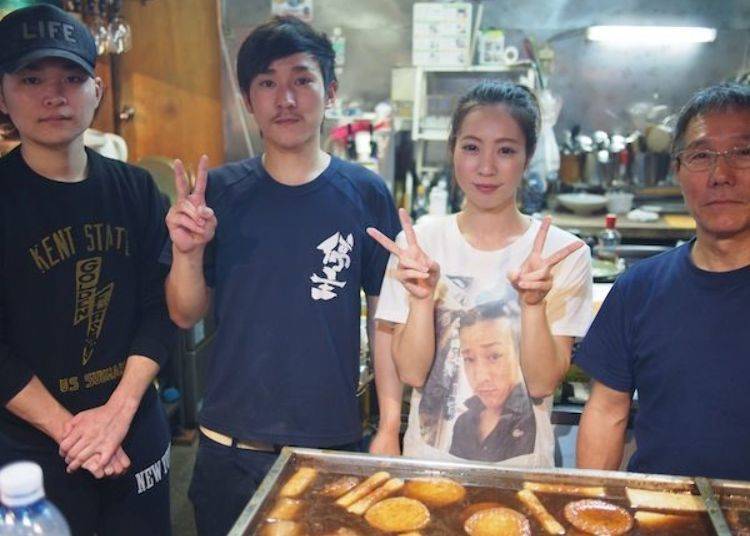 Oden ingredients are priced from 100 yen each. His daughter, serving behind the counter, said, "If you tell me how many pieces you can eat, I'll tell you what the most delicious ones are."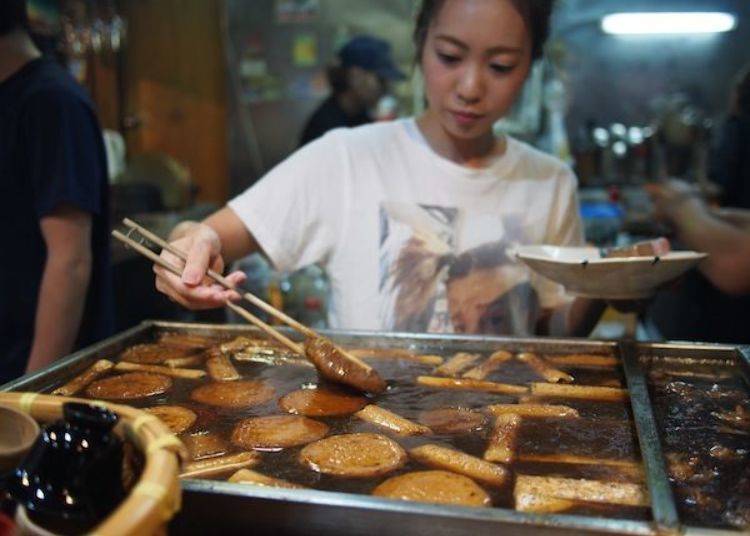 In the kitchen there is an oden pot, brazier for grilling yakitori, and a stove in the rear. A look at the menu also showed that there is a rich selection of hot pots and rice dishes offered, too. This izakaya appears to have everything. I began by ordering four types of oden.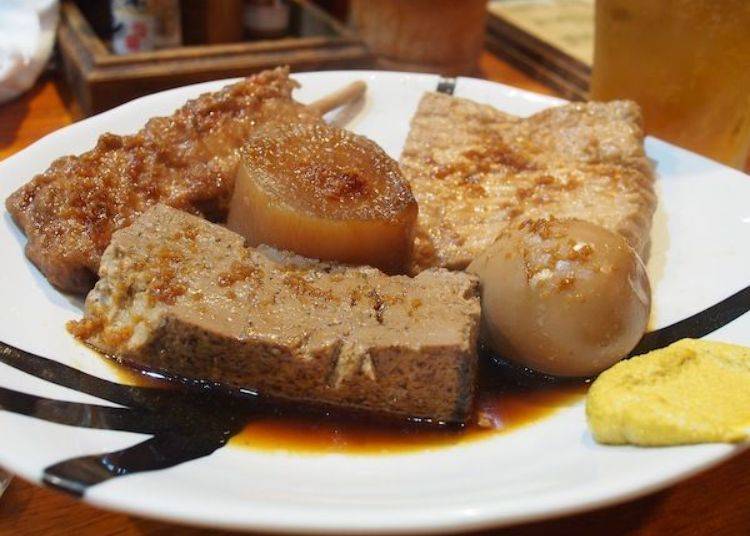 In clockwise beginning from the top these were atsuage, egg, tofu, daikon, and something on a stick I had never seen before. That item new to me was the renkon-bo [lotus root on a stick] for which Himeji is famous. Lotus root is a famous Himeji food product. Fish caught in the Harimanada Sea are ground into a paste and applied to the stick to make this renkon-bo; a great oden ingredient locally produced for local consumption.

An ample splash of ginger soy sauce appears to be added to each ingredient ahead of time. It also comes with a large serving of spicy mustard.

The owner says that it goes really well with his oden which is cooked on the sweet side. I first tasted the daikon. It definitely had a sweet taste which was kept in check by the ginger soy sauce. Japanese sake and beer are of course fine, but shochu actually goes better with the rich flavor of the oden infused with dashi, so I ordered a glass of Yuiyui made in collaboration with the local Yaegaki Brewery (450 yen a glass).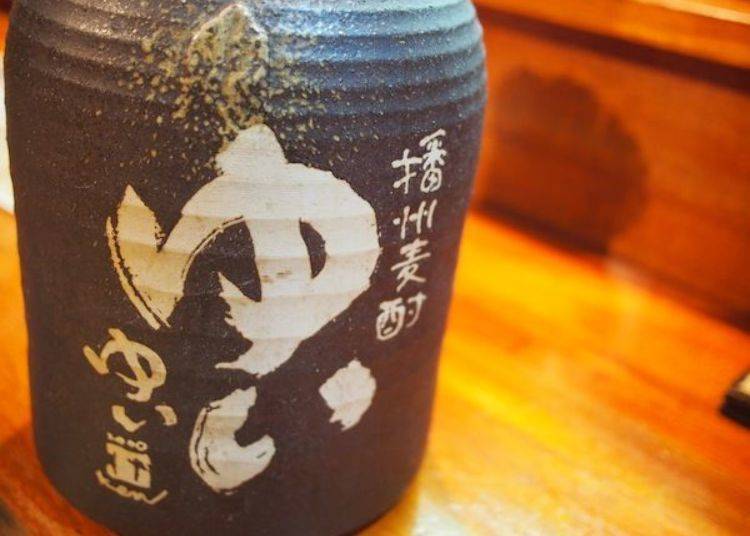 I ordered a mizuwari [shochu cut with water] and the shochu was served on the rocks in a solid porcelain cup with a glass of water on the side. That's just the way drinkers like to have it served, too.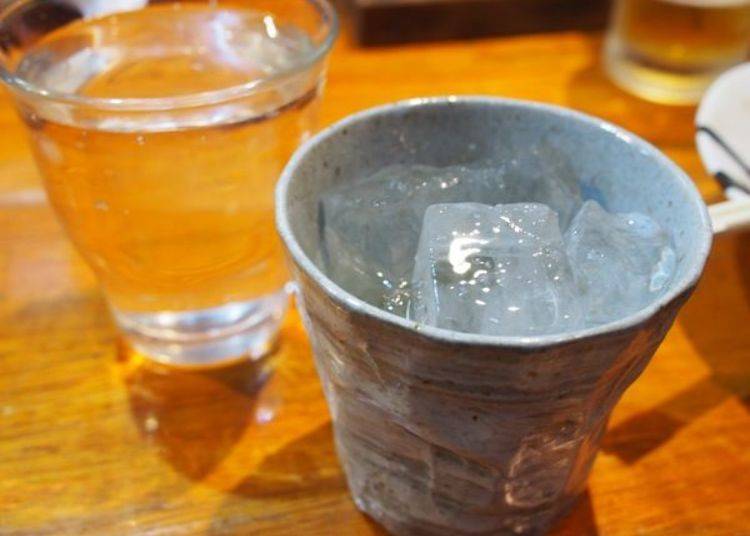 The renkon-bo had a nice texture and flavor.

After I ate the atsuage and egg I asked the owner about the anago-don made with local natural conger eel and he said it was delicious.

The conger eel caught in the Akashi Straits (the area from between Akashi and the Kakogawa Coast south to near Awaji Seidancho, and Osaka Bay), an area famous for it, is Whitespotted conger eel that has been certified by the Akashiura Fishery Cooperative, one of the best cooperatives in the Inland Sea. The catches of Whitespotted conger eel are certified by the Akashiura Fishery Cooperative so you know they are the real deal.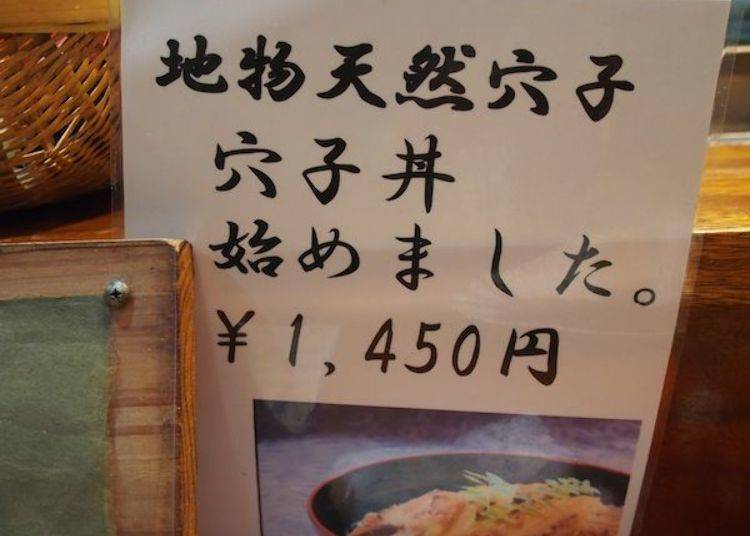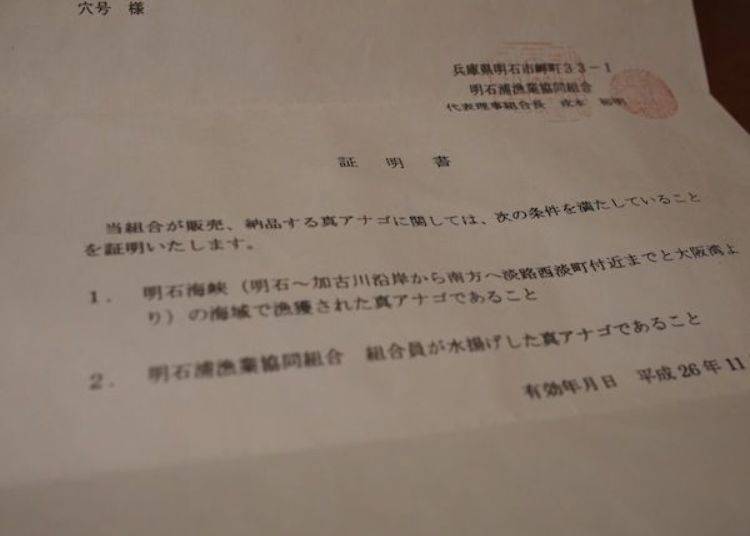 This is something you really need to try when you have the chance. He showed me a medium-sized flawlessly grilled conger eel grilled by a reliable conger eel specialty shop operated by a married couple.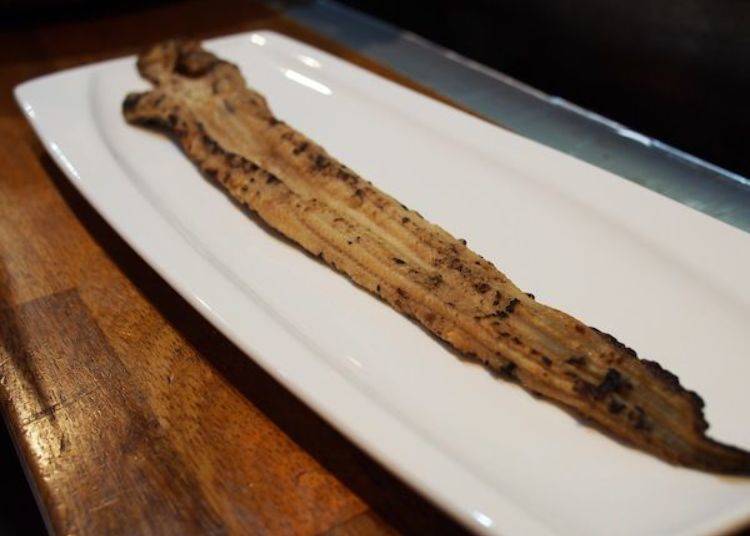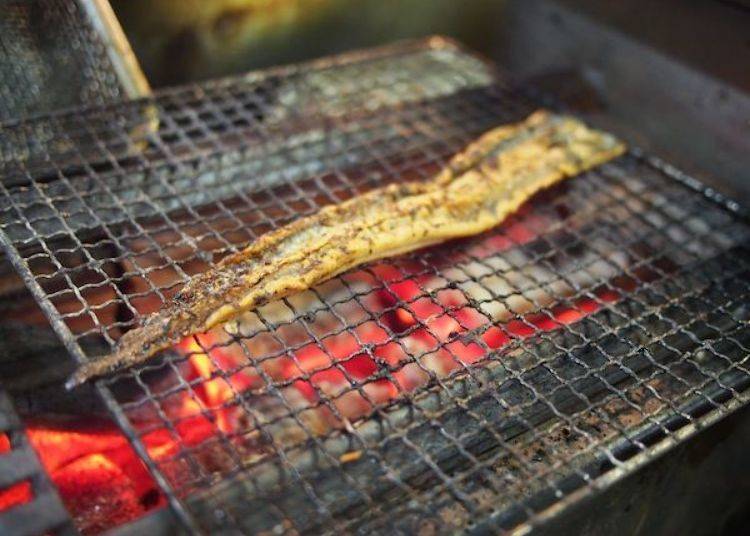 It is briefly roasted over charcoal then served on rice with thin strips of egg with strips of toasted and seasoned laver; this is the anago-don.
It's just perfect.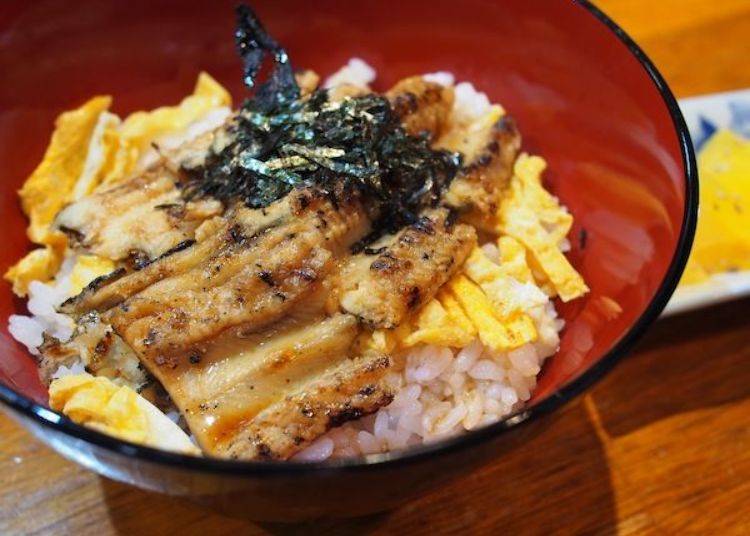 Delicious Himeji oden, local shochu, and to cap it all off, the best anago-don in Akashi. This is indeed a treat to be remembered.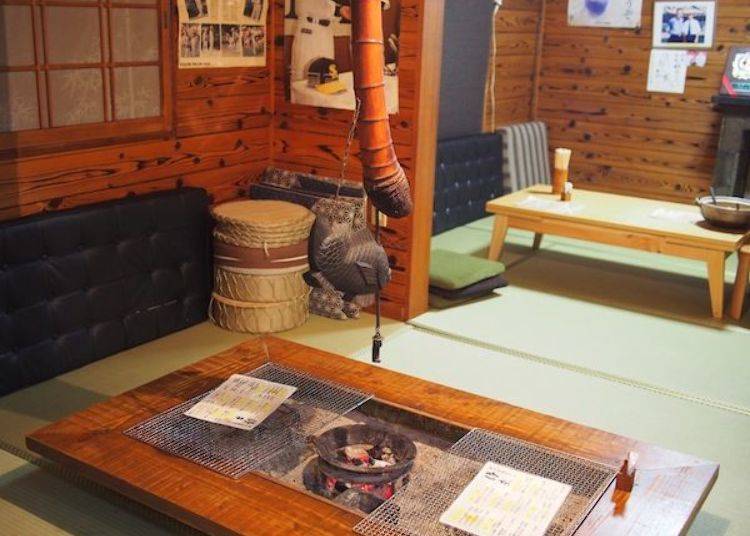 ▲ This popular local mega pub also has a seating area in the back around a hearth.
停主

Address

Shirosagicho, 68 Honmachi, Himeji City, Hyogo Prefecture

Phone Number

079-222-8592

Open: 6:00 p.m. ~ 11:00 p.m.
Closed: Mondays
*All prices do not include tax.
The unique feature of Himeji oden is the use of ginger soy sauce, but the individual character of each shop is an added attraction.
Text by:140B
We also recommend these restaurants in addition to those above. Save time and hassle - book your table online today!
Address

2, 3F,292, Ekimaecho, Himeji-shi, Hyogo, 670-0927
View Map

Nearest Station

Himeji Station (JR Kobe Line / JR Kishin Line / JR San-yo Line / JR Bantan Line)


Phone Number

079-283-0988
Book an unforgettable experience in Himeji!
Make your trip extra memorable by booking one of these recommended tours on our partner site, Voyagin!
*This information is from the time of this article's publication.
*Prices and options mentioned are subject to change.
*Unless stated otherwise, all prices include tax.