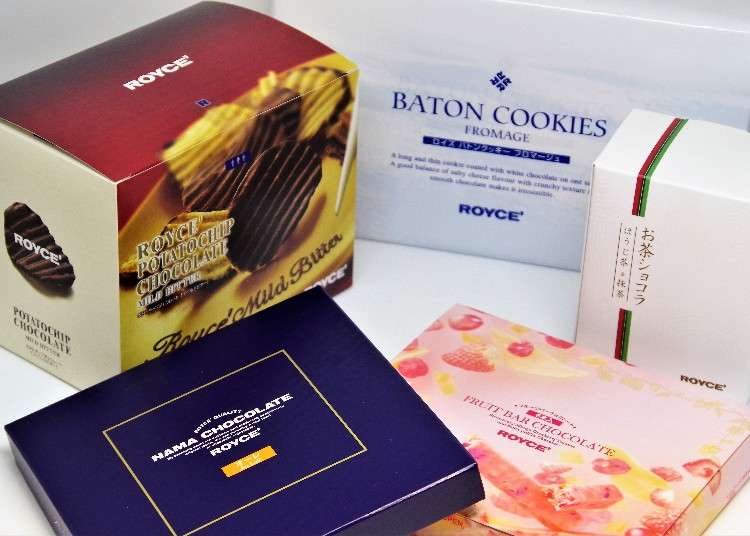 When it comes to choosing chocolate confections as souvenirs from your trip to Hokkaido, you can't go wrong with ROYCE'. The company offers a variety of chocolately confections, including their immensely popular Nama Chocolate, making it hard to find the right souvenirs.

Here, Nobuka Kawashima, seasoned travel creator well-versed in Hokkaido travel information, carefully handpicks five ROYCE' sweets that make the perfect souvenirs. She compares various ROYCE' confectionery products that are popular as Hokkaido souvenirs and introduces some of her top recommended products.
Nobuka Kawashima, a travel professional who has visited every city, town, and village in Hokkaido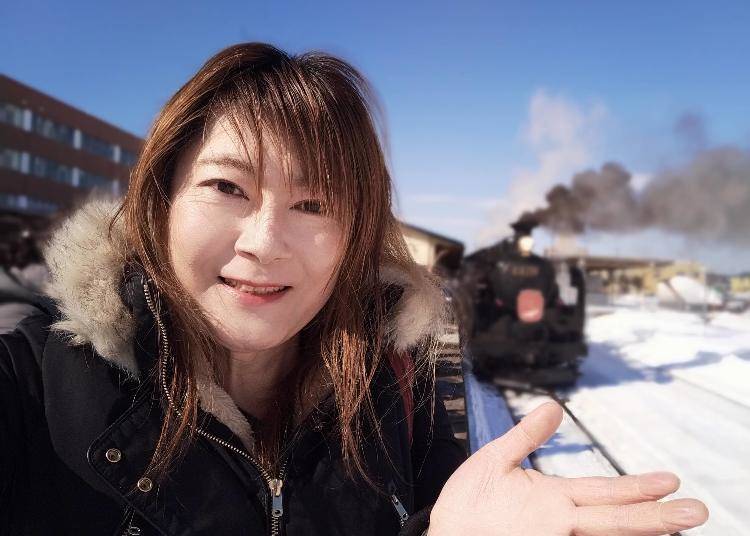 Nobuka Kawashima covers the SL Fuyu-no-Shitsugen Winter Train
Nobuka Kawashima is a travel creator based in Sapporo, Hokkaido, Japan. She has worked as a reporter, photographer, writer, and editor on Hokkaido-related travel and gourmet articles for LIVE JAPAN, as well as a number of other tourism websites and travel magazines, since 2009. She has worked on over 1,000 articles and is a true professional in the world of travel blogging.

She also boasts the title 'Hokkaido Tourism Master,' awarded to Hokkaido tourism experts by the Hokkaido Chamber of Commerce and Industry, as well as national qualifications as a 'Domestic Travel Service Supervisor,' allowing her to conduct tours in Japan. On top of that, she's also visited every one of the 179 cities, towns, and villages of Hokkaido in her own spare time, making her a true travel connoisseur of the region with her extensive first-hand knowledge.
ROYCE': Hokkaido's Signature Chocolate Confectioner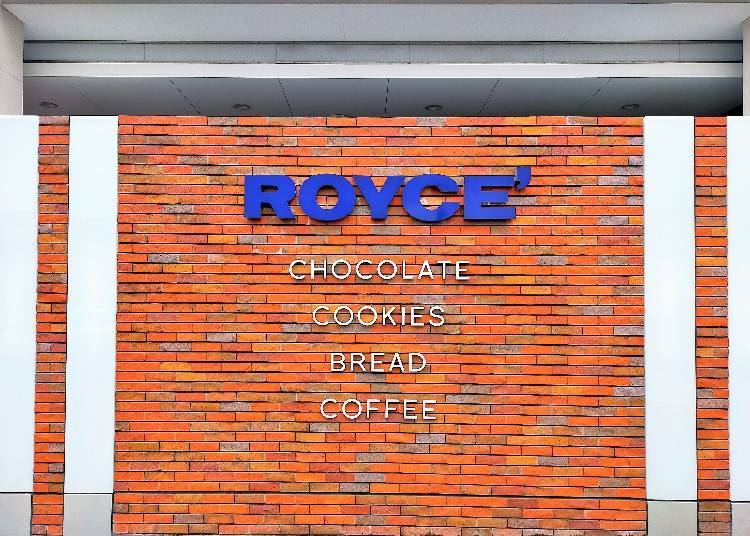 Some directly-operated ROYCE' stores go beyond confectionery sales with breads and cozy dining areas
ROYCE' is one of Hokkaido's largest and most well-known chocolate confectionery companies. Founded in 1983 in Sapporo, their mission was to "produce chocolates in Hokkaido that could rival those in Europe."

The company offers an extensive range of chocolatey treats, including their signature Nama Chocolate, plus many other creative combinations of chocolate with fruits, nuts, and even potato chips!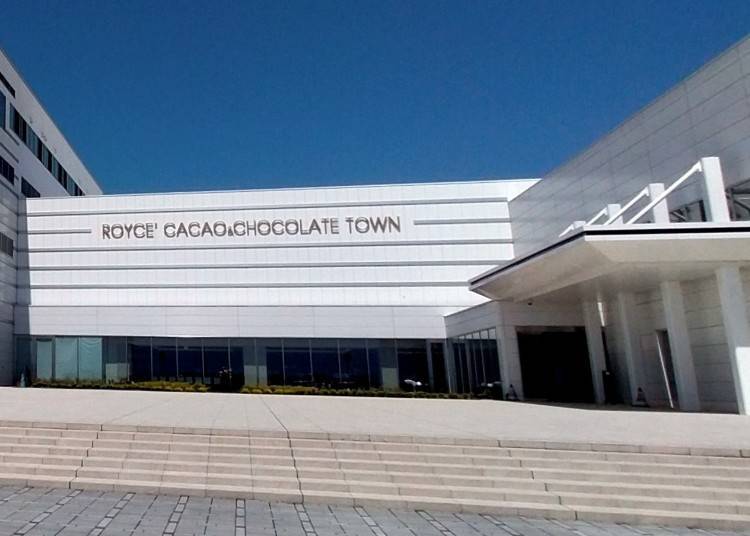 ROYCE' Cacao & Chocolate Town, opened in 2022
In addition to their directly-managed shops, you can also find ROYCE' confections at department stores and other shopping centers, as well as at souvenir shops in New Chitose Airport and other locations. However, only in their directly-managed shops will you discover the most expansive selection of products.

Their head factory is located in Tobetsu-cho, just north of Sapporo, with many other directly-managed branches throughout Sapporo, Tobetsu-cho, and New Chitose Airport. Amongst these, ROYCE' Cacao & Chocolate Town in Tobetsu-cho and ROYCE' Chocolate World in New Chitose Airport offer immersive experiences where you can learn all about cacao and the history of these chocolates.

Of course, you can also buy ROYCE' goodies here, and there is also a café. Visitors can immerse themselves in the world of ROYCE' as they learn about the chocolate's deep history, enjoy snacks like bread and soft cream, and shop for souvenirs.
Top 5 Recommended ROYCE' Sweets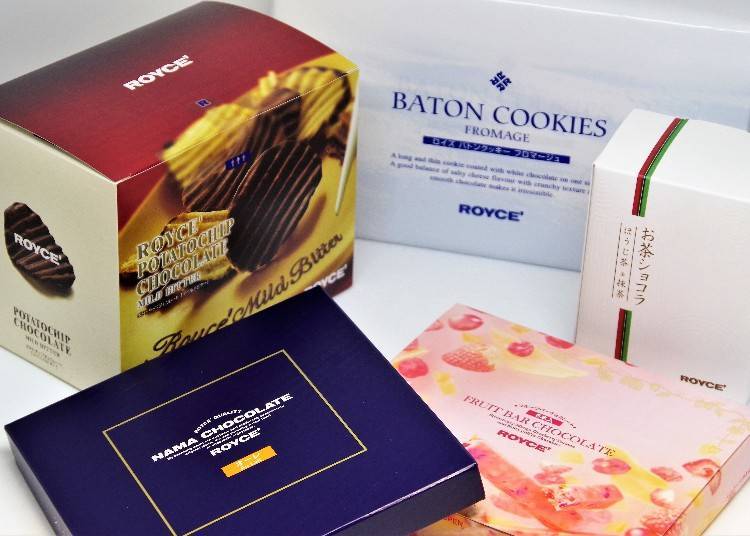 Top 5 Recommended Souvenirs from ROYCE'
Chocolate is the name of the game when it comes to ROYCE'! All items introduced here are delectable sweets that all incorporate their main ingredient... chocolate!

Although the focus may be solely on chocolates, ROYCE' boasts an extensive lineup of products, so there is a wide variety in appearance and taste. In this article, we will present five products frequently found in souvenir shops around Japan, including the ever-popular Nama Chocolate, the perfect snack for adults, both as a simple snack and an accompaniment to your evening drink.
1. Nama Chocolate Au Lait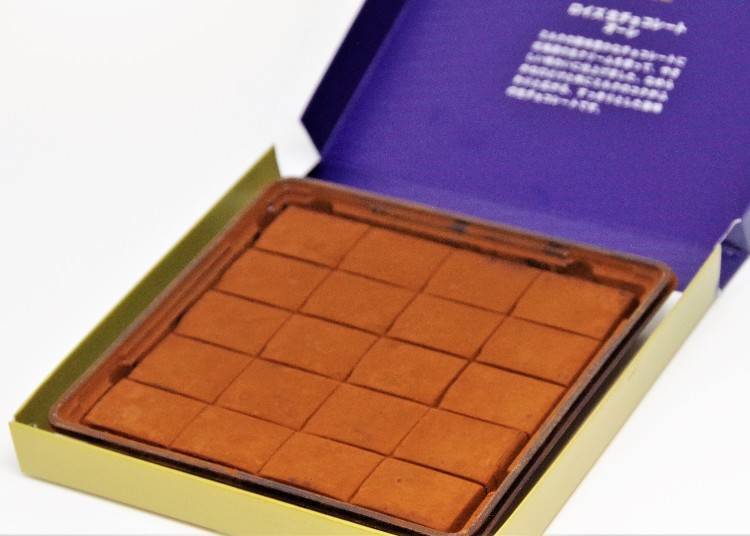 Nama Chocolate, 20 piece box
When it comes to ROYCE' confections, Nama Chocolate is an absolute must. It is surprisingly smooth because it is made with generous amounts of raw cream. Introduced in 1995, this has become ROYCE's signature product and has retained its popularity ever since.

ROYCE' Nama Chocolate is available in a variety of flavors, including the classic Au Lait, as well as Strawberry, Chocolate Banana, and Green Tea. Au Lait features a milk chocolate base blended with fresh cream, with a melt-in-your-mouth consistency and the perfect balance of sweetness and bitterness for that creamy, milky sensation.

The Strawberry and other flavors are also wonderfully smooth in texture and taste. However, you can never go wrong with Au Lait, the classic Nama Chocolate, guaranteed to treat you to an authentic ROYCE' experience.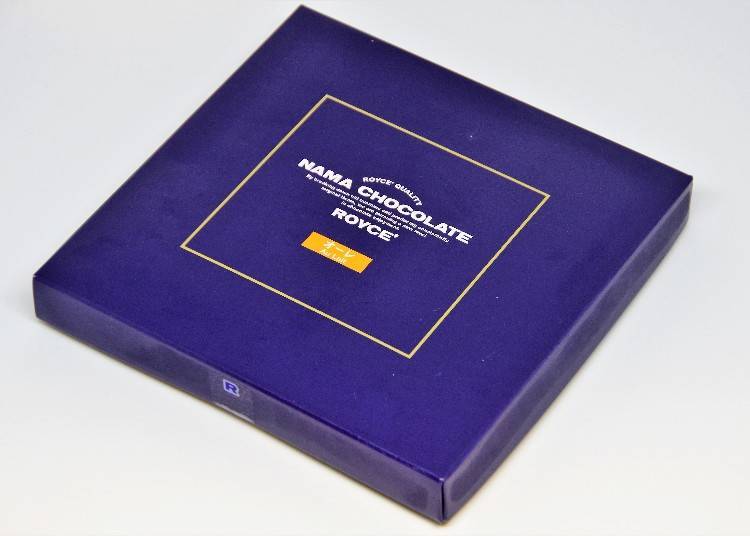 Blue packaging, true to the ROYCE' logo.
There is one point to note. For children and those who prefer to avoid alcohol, we recommend the Mild Milk, Mild White, and Ghana Bitter variations, also products of the Nama Chocolate series, as they do not contain alcohol.

The other Nama Chocolates, including Au Lait, contain trace amounts of alcohol for flavoring. However, the alcohol content is so minimal there's no need to worry about consuming them as daytime snacks unless you are particularly sensitive to alcohol.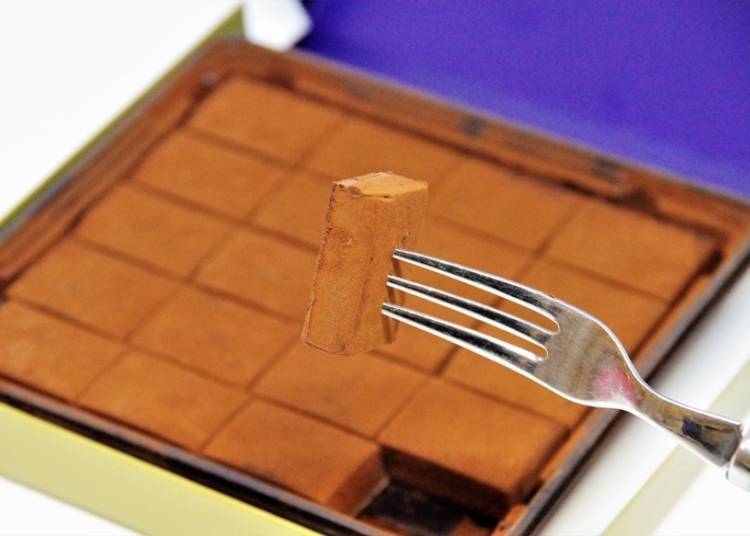 Indulge in the rich chocolatey flavor–but be careful not to scatter the cacao powder dusting!
Nama Chocolate requires refrigeration and can be shipped refrigerated within Japan. But for those visiting from overseas, we recommend enjoying them at your hotel.

These chocolates melt easily when exposed to high temperatures or when left in the car, so if you purchase them while out and about, we recommend asking the cashier for coolants and trying to minimize the time they spend unrefrigerated as much as possible.

The key to an exquisite chocolate experience is storing them in your hotel refrigerator until the moment you're ready to eat them. The cool, chunky Nama Chocolate will warm right up in your mouth, treating you to its irresistibly smooth, delicious texture.
2. Potatochip Chocolate Mild Bitter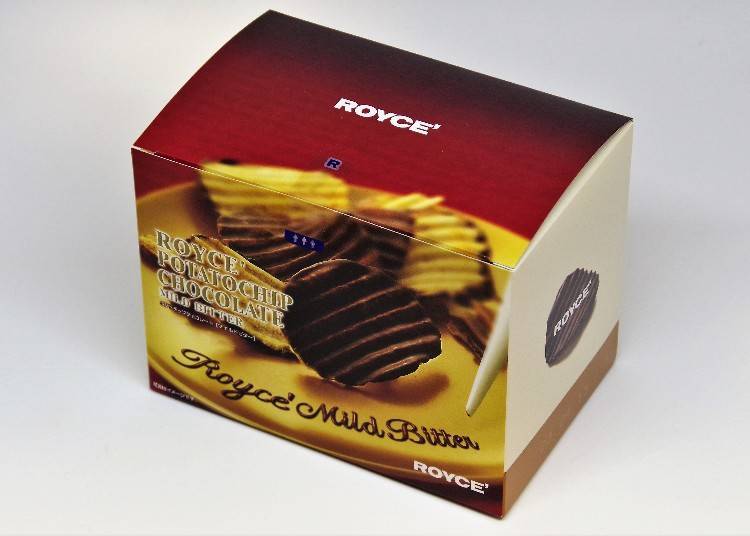 Potatochip Chocolate Mild Bitter. The box contains a bag of potato chips.
Potatochip Chocolate is another beloved snack from ROYCE', along with their Nama Chocolates. This novel snack features potato chips coated on one side with chocolate, characterized by the combination of moderate sweetness from the chocolate and the light salty taste from the chips.

Potatochip Chocolate uses sliced, deep-fried raw potatoes, so each shape is irregular, and slices may vary in size. However, they are all thickly sliced and satisfyingly crunchy.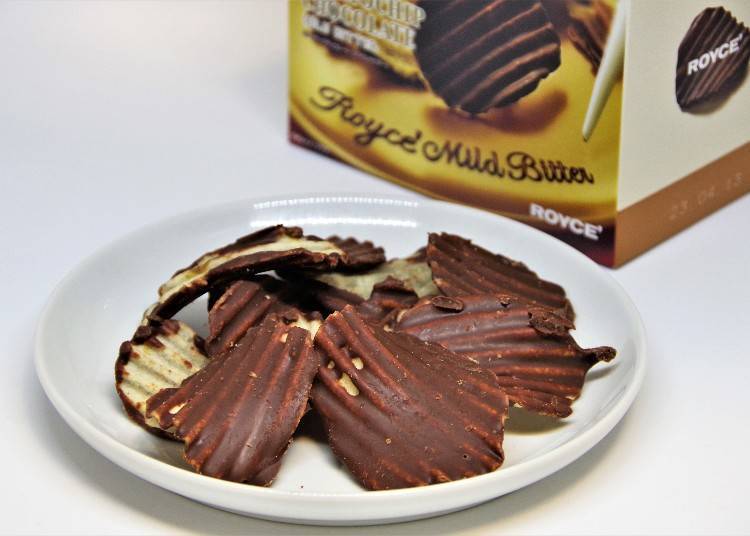 No two chips are the same! However, all of them are coated in chocolate on one side.
Potatochip Chocolate is available in several series, including the standard Original, Caramel, and Green Tea. While all the series are certainly delicious, our recommendation is the Mild Bitter series. It is less sweet and has a more robust cacao flavor than the other variations. It pairs well with coffee, and is also recommended as an accompaniment to refreshing beverages like whiskey drinks and highballs.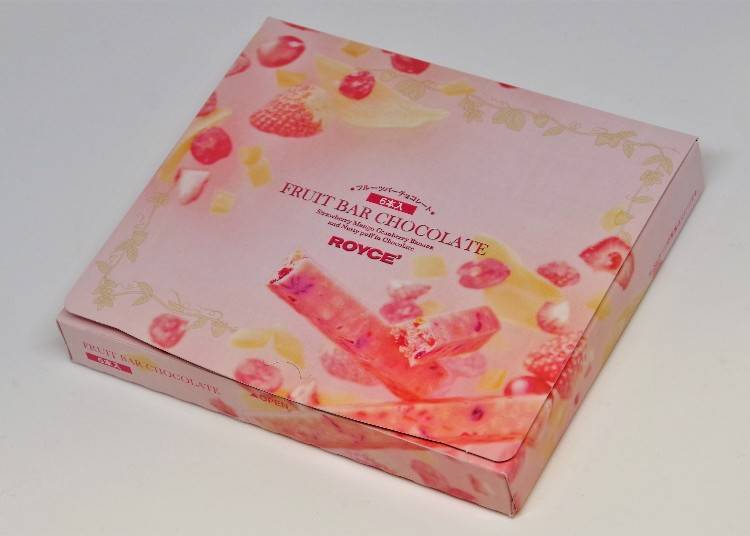 Adorably pink packaging!
Fruit Bar Chocolate is a delicious chocolate stick infused with fruity flavors. It has a white chocolate base kneaded with strawberry and banana powder, freeze-dried strawberries, dried mango, cranberries, and almond puffs.
Each box contains six bars. Also available in boxes of three.
Along with its satisfyingly crunchy texture, Fruit Bar Chocolate offers a delightful combination of chocolatey sweetness and refreshing fruity flavors. It's like eating a cereal bar packed with fruit! It pairs beautifully with coffee and tea, as well as wine and other alcoholic beverages.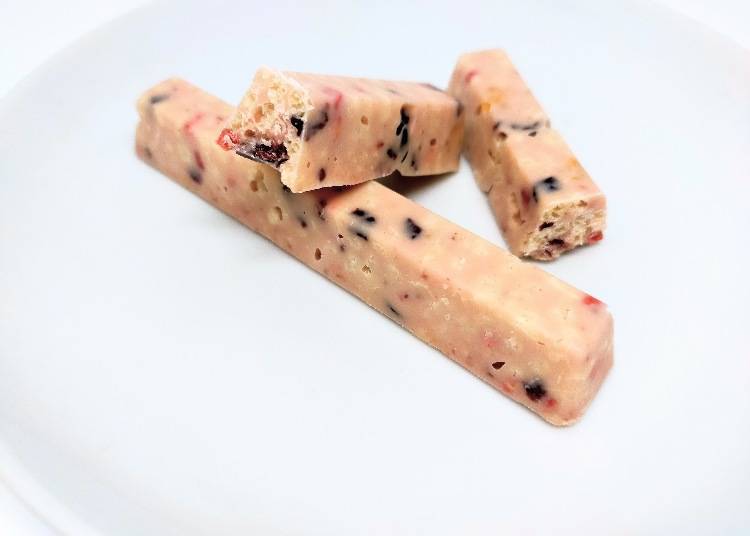 The bars are long and thin. Here you can see one cut in half.
Fruit Bar Chocolate is part of the ROYCE' Bar Chocolate series, featuring stick-type chocolates. In addition to the Fruit Bar Chocolate, other options include ROYCE' Bar Chocolate Pistachio and Nutty Bar Chocolate, both packed with a variety of nuts.

All of them are irresistibly delicious, and while individual tastes may vary, we highly recommend the Fruit Bar Chocolate for its balanced sweetness and the touch of sourness from strawberries. It's a must-try for lovers of all kinds of fruit and tangy treats!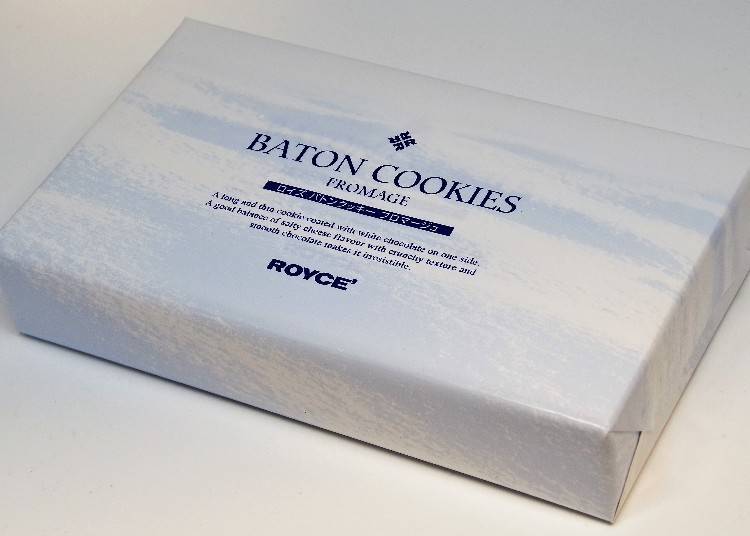 Baton Cookies come in boxes of 25. Photo shows Baton Cookie Fromage.
Baton Cookies are long, thin cookies coated with chocolate on one side. The lineup includes different variations of cookie doughs, such as Fromage, Coconut, and Hazel Cacao. While all of them make excellent choices, we especially recommend the Fromage!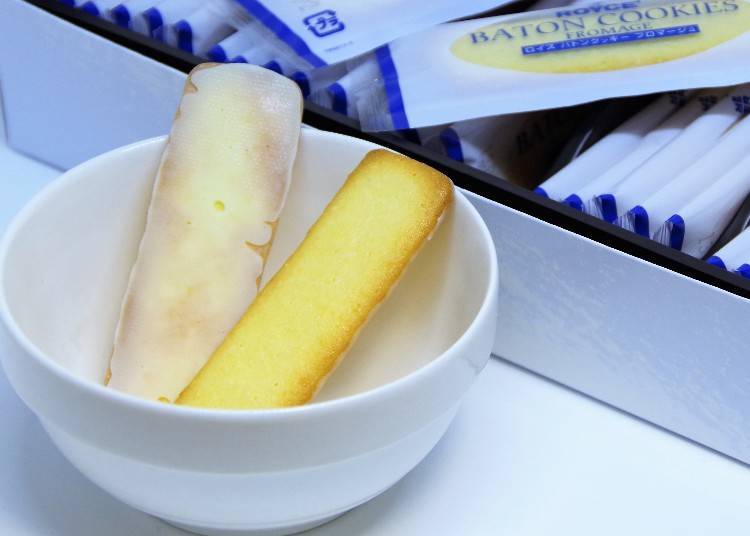 Fromage is covered on one side with pure white cheese chocolate!
Baton Cookie Fromage is made with Hokkaido Parmesan and Gouda cheese kneaded into the cookie dough. These cheese-infused treats are coated with milky white chocolate, boasting a rich cheese flavor that delights the tastebuds with every bite. The moderately-salty cheese and the sweet white chocolate intertwine wonderfully, creating the perfect balance of sweet and salty! These cookies are best enjoyed with coffee or wine.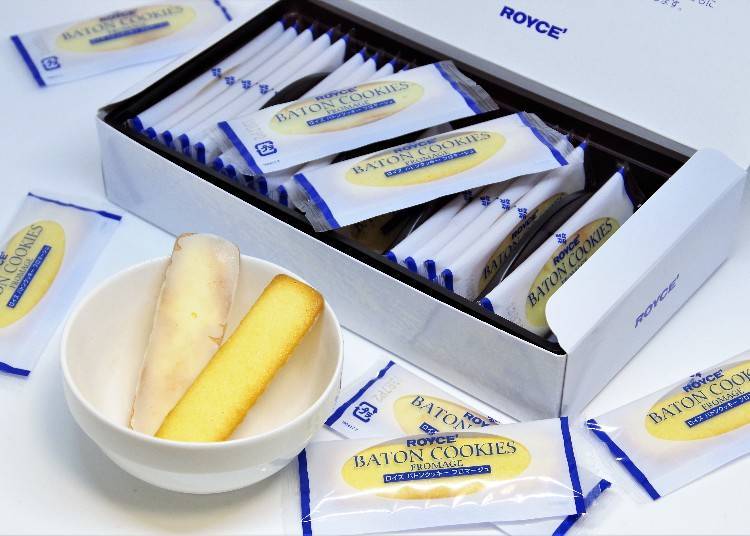 The cookies are not so large in size, but the cheese and white chocolate flavors are quite pronounced.
Baton Cookies come individually wrapped in box sets of 25, making it a great souvenir option for bringing back to your friends and family. They're cost-effective and convenient, making them the perfect practical present!
Matcha Chocolate and Hojicha Chocolate, sold as a box set
Tea Chocolat is a Japanese-style confection, available in sets of Matcha and Hojicha Chocolates. The Matcha Chocolate features a blend of matcha-infused chocolate covered with matcha cream, offering a subtly sweet, mildly bitter taste and an elegantly refined flavor profile.

The Hojicha Chocolate is made of milk chocolate blended with hojicha and enveloped in hojicha cream. This variety is characterized by its aroma and gentle astringency. The fragrant hojicha scent gracefully wafts through your senses, lingering in even your exhaled breaths. The subdued sweetness also allows you to savor the deep flavor of the tea.

Both the Matcha and Hojicha chocolates contain crunchy cookie bits, giving them a light, crispy texture that further enhances the indulgence found in every bite.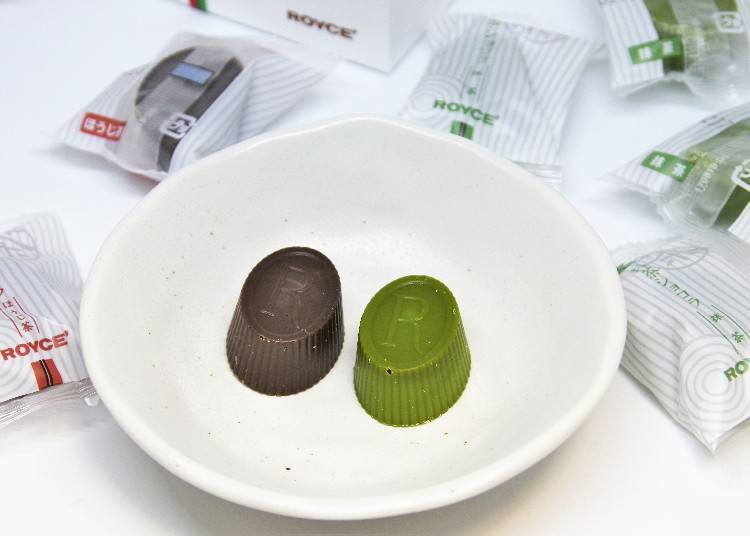 Each box contains five individually wrapped Hojicha (left) and Matcha (right) Chocolates.
When enjoying Tea Chocolat, we recommend opting for water over coffee or tea as your drink. This prevents the sublime aroma of the Matcha or Hojicha from being overpowered by that of the coffee or tea.

While matcha, green tea, or hojicha may sound like suitable alternatives, we personally do not recommend them due to the taste and aroma variations that differ with each tea. Simply moisten your mouth with water and take your time to savor the flavor of ROYCE''s Matcha and Hojicha teas!

With the variety of souvenirs available in Hokkaido, you may have a hard time deciding what to buy during your trip. However, for chocolate lovers, you'll surely find the finest confections at ROYCE'. There's such a variety of chocolate treats within ROYCE' alone, you may have a hard time selecting the right one. But don't worry, because there are no wrong choices! When shopping for superb souvenirs from Hokkaido, you can't go wrong with ROYCE'!


Text by: Nobuka Kawashima

*Information in article as of May 2023. Please see official websites for the latest updates and information.

English translation by: Krys Suzuki
*This information is from the time of this article's publication.
*Prices and options mentioned are subject to change.
*Unless stated otherwise, all prices include tax.
Limited time offer: 10% discount coupons available now!