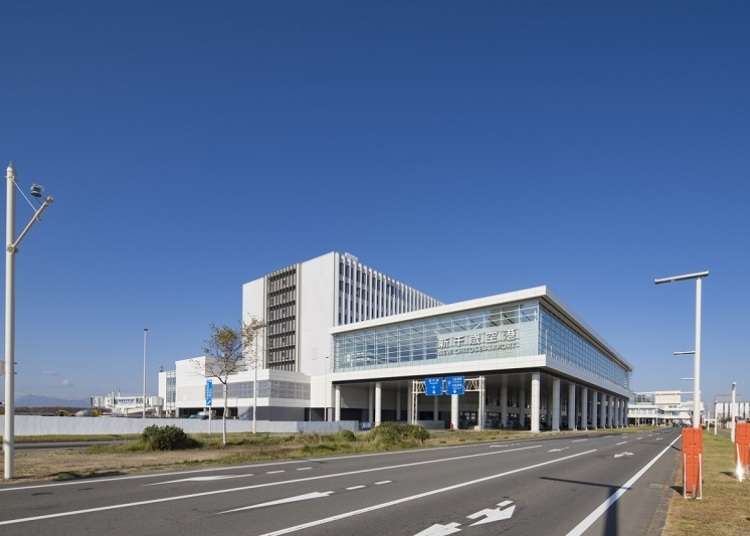 New Chitose Airport, in Hokkaido Prefecture, is the gateway to major tourist destinations such as Sapporo, Otaru, Niseko, Noboribetsu, and Asahikawa.

Entry into Japan from New Chitose Airport is expected to increase due to the reopening of borders and lifting of the ban on individual foreign travelers as of October 11, 2022.

Here we will provide information on New Chitose Airport's Covid-19 countermeasures, arrival procedures, and the latest services as of November 2022!
Arrival Procedures: from before your flight until arriving at New Chitose Airport
Japan's current border measures include a medical inspection upon arrival.

As of November 2022, all returnees and entrants to Japan are required to submit either a valid COVID-19 vaccination certificate (3 doses) that shows you've gotten a vaccine on the Emergency Use List released by the World Health Organization (WHO), or a Covid-19 Negative Test Result Certificate issued within 72 hours prior to departure.

If you're not able to present either of these documents, you generally won't be able to enter Japan.
Fast Track is highly recommended for smoothly completing procedures at airport quarantine stations, which include the checking of vaccine certificates.

The Fast Track feature was added on November 1, 2022, to Visit Japan Web, a service that enables you to complete immigration procedures and customs declarations online.

Using the service and Fast Track feature, you can register documents such as vaccine certificates, Covid-19 Negative Test Result Certificates, and questionnaires.

Create a Visit Japan Web account and follow the instructions to register your questionnaire, Covid-19 Negative Test Result Certificate, and vaccination certificate.

When the screening process is complete, the color of your screen will change from red to blue. A yellow screen indicates that you haven't registered a vaccination certificate and that your Covid-19 Negative Test Result Certificate is being verified, while red indicates that there was an issue during the registration process.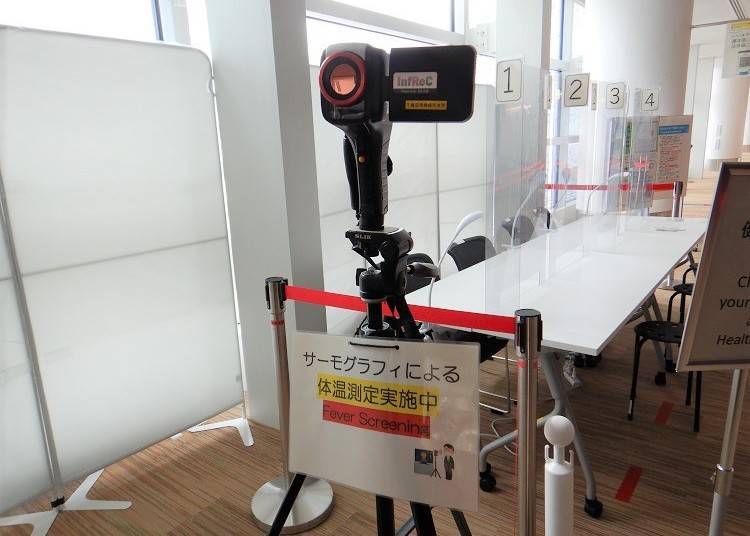 Thermographic cameras that measure your body temperature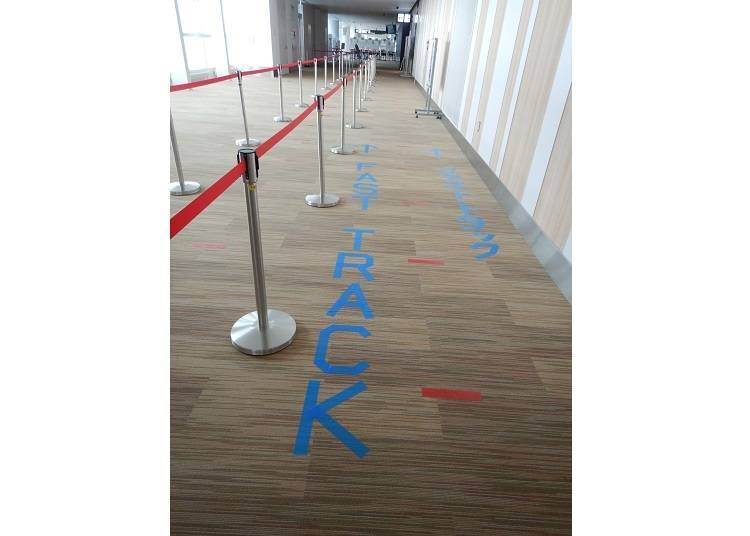 Once you arrive at New Chitose Airport, you must first have your body temperature checked by a thermographic camera before heading to the quarantine station.

The quarantine station is divided by color and instructions are currently available in Japanese, Simplified Chinese, and Korean.

If you're using Fast Track, you can follow the dedicated lane.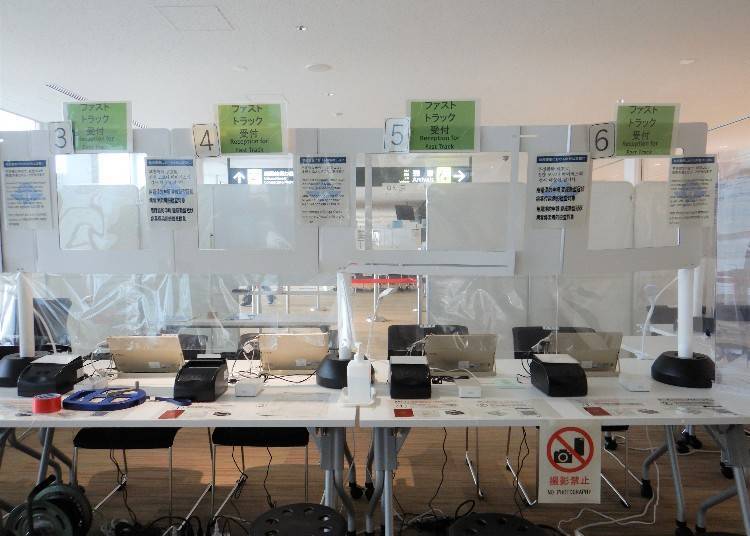 For Fast Trackers, if you've pre-registered the necessary information and documents, simply scan your QR code! Unless you're notified of any errors, your inspection is now complete.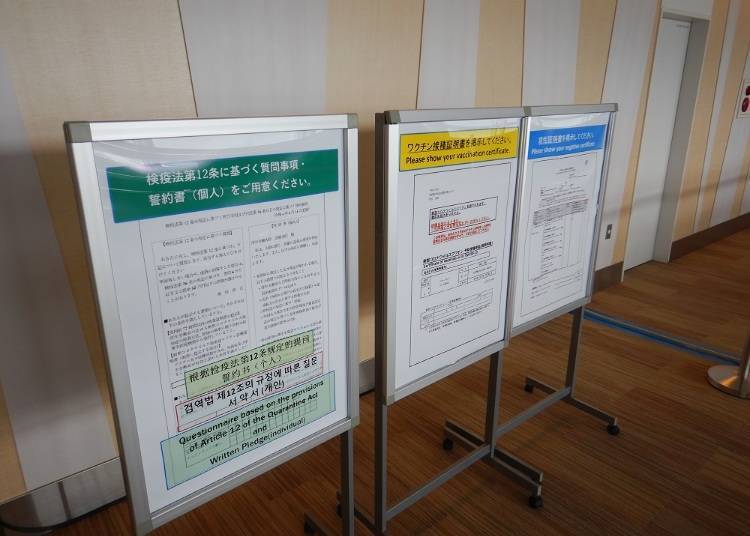 If you're not using Fast Track, please follow the instructions and submit the necessary certificates and questionnaires.

As of October 2022, with the exception of a few countries, on-arrival PCR testing is no longer required. In addition, entrants don't have to quarantine at home or at accommodation facilities. There are also no restrictions on using public transportation.

Once all inspections have been completed, you can proceed to immigration. Fast Trackers can get to immigration quickly by using their QR code, so it's highly recommended to create a "Visit Japan Web" account and register your information beforehand.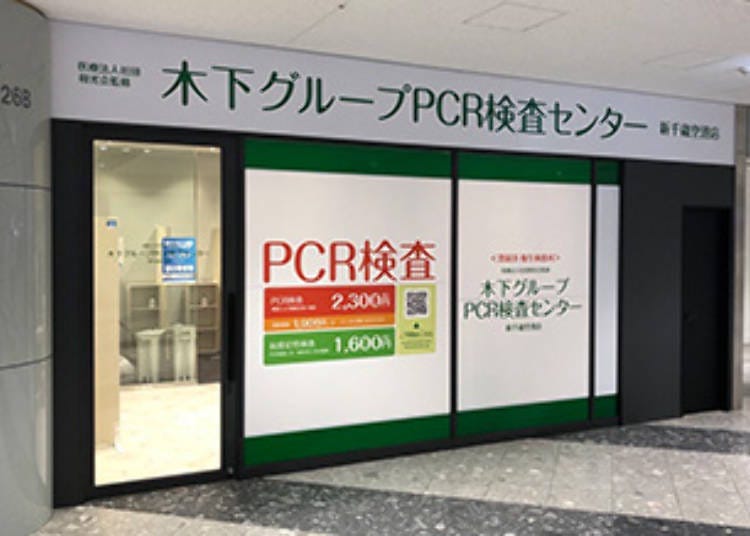 New Chitose Airport has set up a PCR test center. The results of the PCR test, which examine your saliva, are available as early as the next day.

What's more, it only takes around 30 minutes to get the results for an antigen test that uses nasal swabs. This is convenient for those who want to know test results right before leaving Japan. Reservations must be made in advance.
Stay Safe and Hygenic: New Chitose Airport's 2022 health & safety measures
New Chitose Airport has implemented thorough Covid countermeasures so that anyone can use facilities with ease.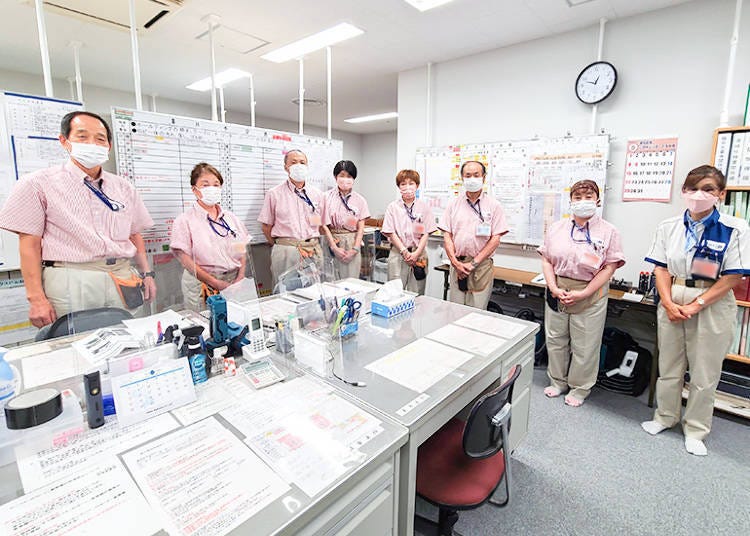 Cleaning systems at New Chitose Airport are very efficient. The Domestic Terminal Building alone has a total floor area of 180,000 square meters. Approximately 150 dedicated staff members clean the airport floors each day, walking about 20,000 steps throughout the airport to maintain its cleanliness.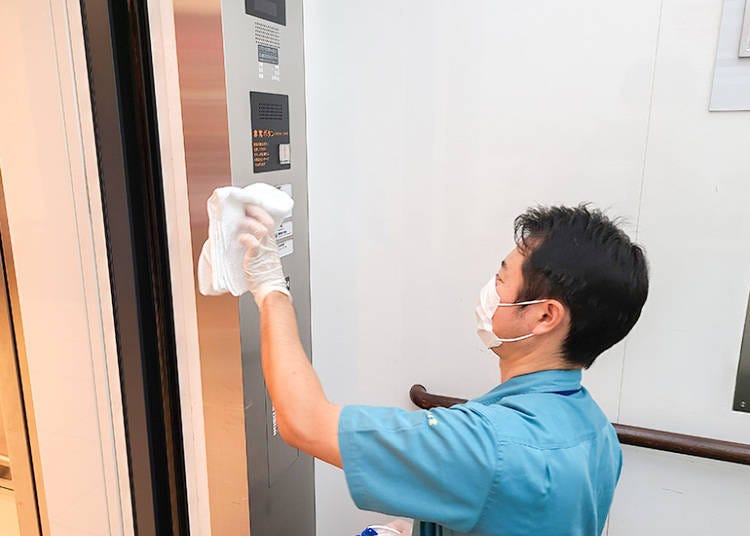 Elevator control panels, handrails, and baggage carts are areas of particular concern. Staff at New Chitose Airport regularly disinfect and clean areas that are most frequently used.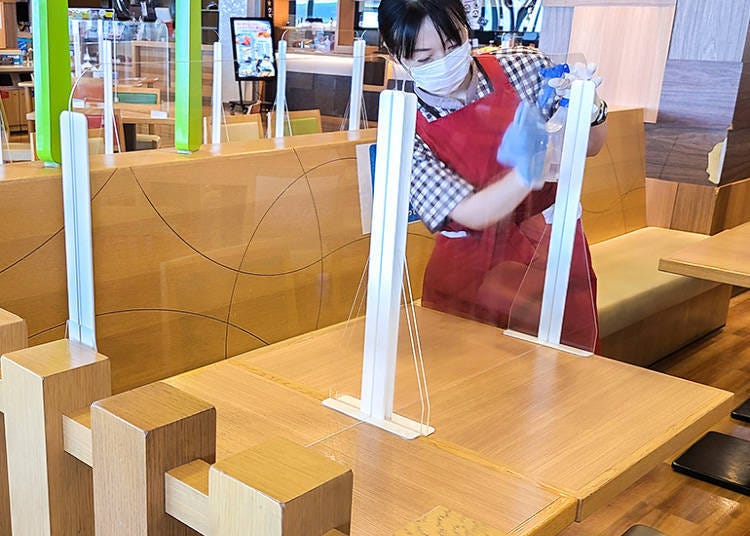 Dining areas are another tricky spot where Covid may spread. In addition to regular cleanings in the morning, afternoon, and evening, the dining areas are cleaned periodically after being used. Food left on tables are cleaned with a special dustpan, and chairs as well as acrylic panels are wiped down individually.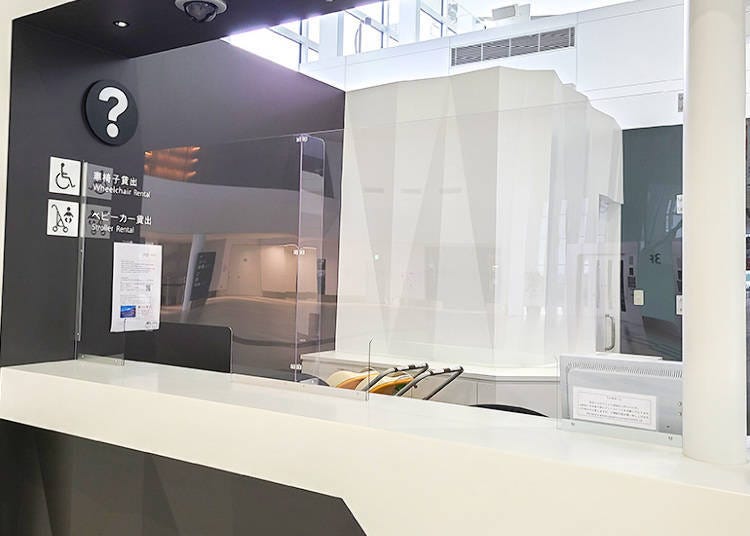 Airport staff, which include staff at the check-in counter, restaurants, and stores, wear masks at all times and wash their hands frequently. Additionally, there are droplet infection-prevention sheets or acrylic panels in areas where face-to-face interaction is unavoidable.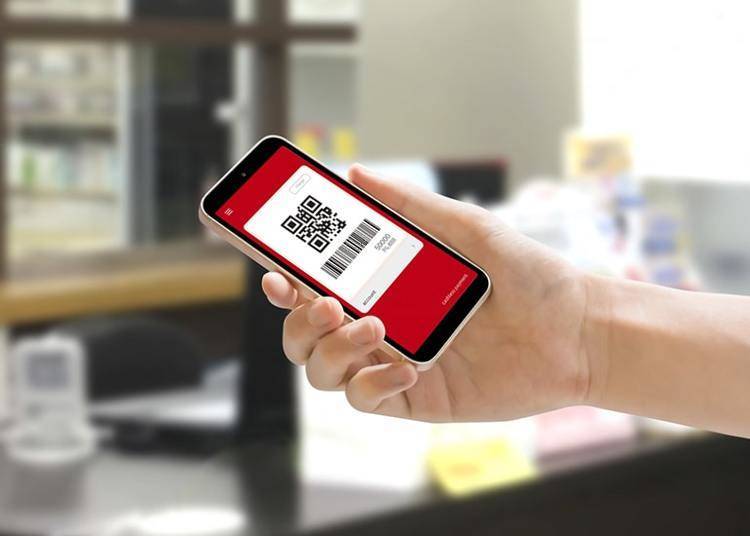 New Chitose Airport accepts credit cards and a wide range of cashless payment methods including Alipay, WeChat Pay, and JKOPAY. These can be used at restaurants, stores, and the power bank sharing service "Charge SPOT"-located on the first floor for domestic flights. Such services are conveniently contactless and don't require any verbal communication.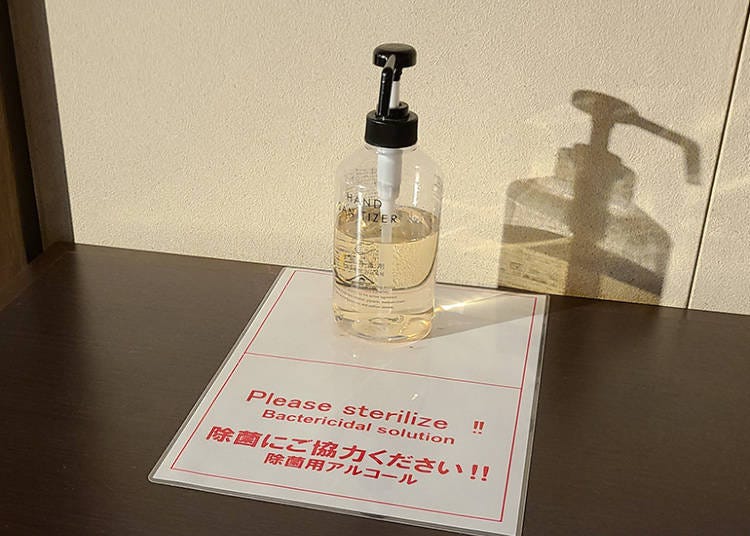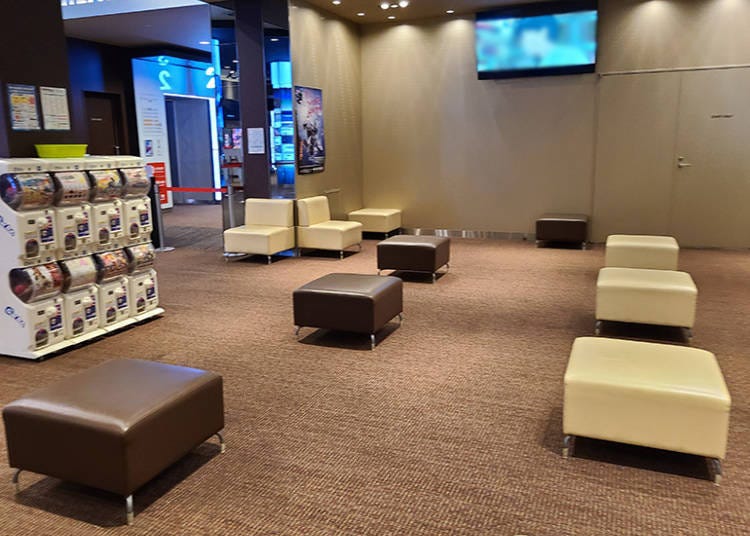 Airport users are asked to cooperate by taking temperature checks and social distancing at ticket counters or sofas. Disinfectants are available at the entrance of each facility and throughout the airport.
Recommended services when arriving at New Chitose Airport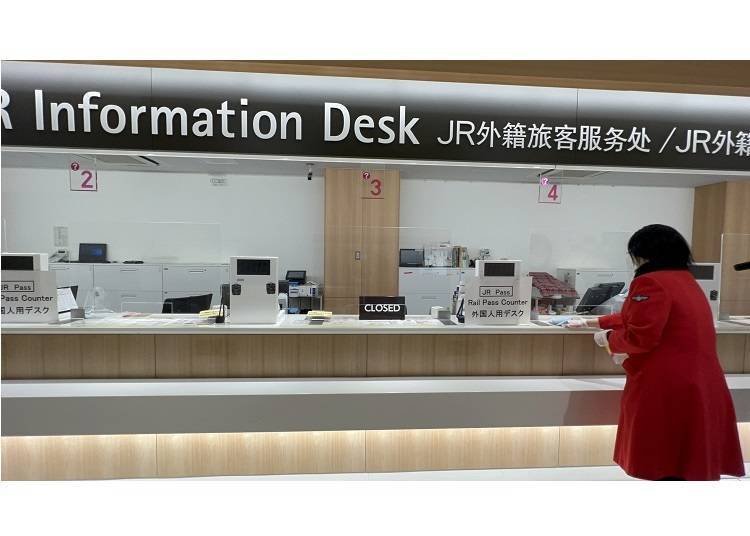 There are various ways to get to cities in Hokkaido from New Chitose Airport.

The JR Line is recommended for quick and easy travel, with the Rapid Airport train offering trips from New Chitose Airport to Sapporo City in as little as 33 minutes.

The JR Line also has a special desk for foreign visitors at their sales counter, letting you purchase tickets with ease.

The JR Line has trains that go to Asahikawa, Hakodate, Kushiro, and many other destinations. Please consult with the information desk if you're planning trips to far-away destinations!
Moreover, there are bus services that go to Sapporo City, Asahikawa, Noboribetsu Onsen, Niseko, and Rusutsu! Whether you arrive via a domestic or international flight, bus stops are located on the first floor.

If you've been assigned accommodation by the quarantine station, please follow the instructions of hired guides on how to get there.
Recommended services when departing from New Chitose Airport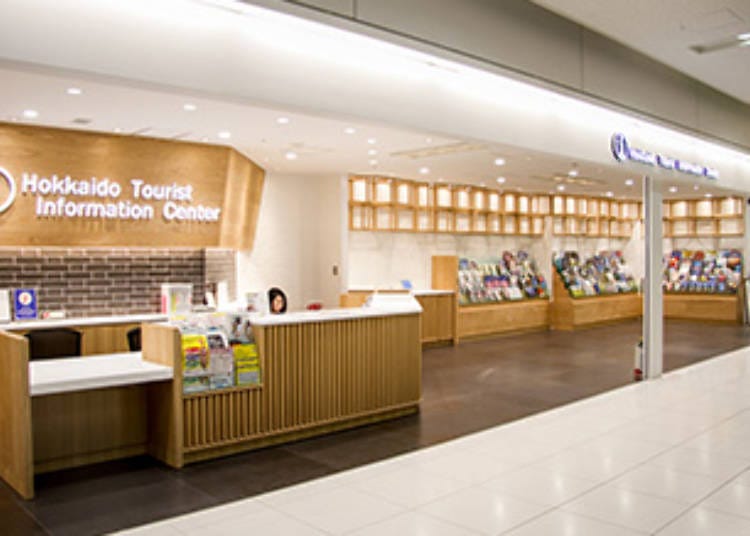 New Chitose Airport offers a wide range of facilities and services to make your time at the airport enjoyable! Upon arrival, we recommend heading to the the Hokkaido Foreign Tourist Information Center.

Staff members speak English, Chinese, and Korean, providing the latest tourist information and recommended spots to visit in Hokkaido. Sightseeing brochures are also available!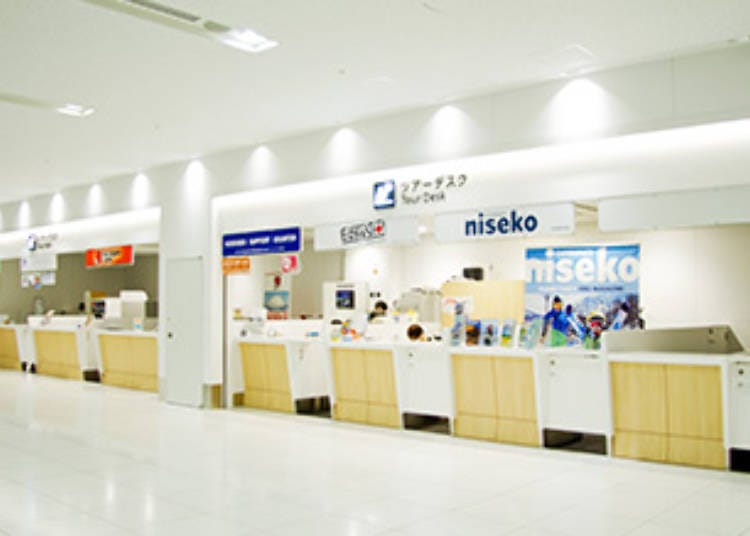 Travel agencies sell optional tours at the international tour counter. It's worth asking for recommendations if you're looking to enjoy skiing, hiking, or other outdoor activities.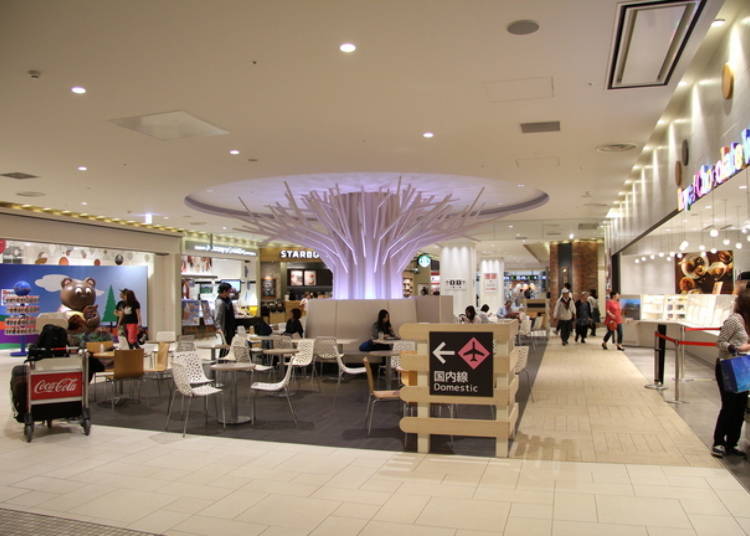 If you have time to spare, enjoy some of New Chitose Airport's entertainment! The first stop has to be Smile Road (a corridor connecting to international flights). There are many shops worth stopping by along the corridor.

Nearby the Domestic Terminal Building, you'll find "Sweets Avenue". Here you can delight in popular desserts such as soft-serve ice cream! What's more, there are also character-themed shops. These shops are a perfect stop for creating last-minute memories in Hokkaido!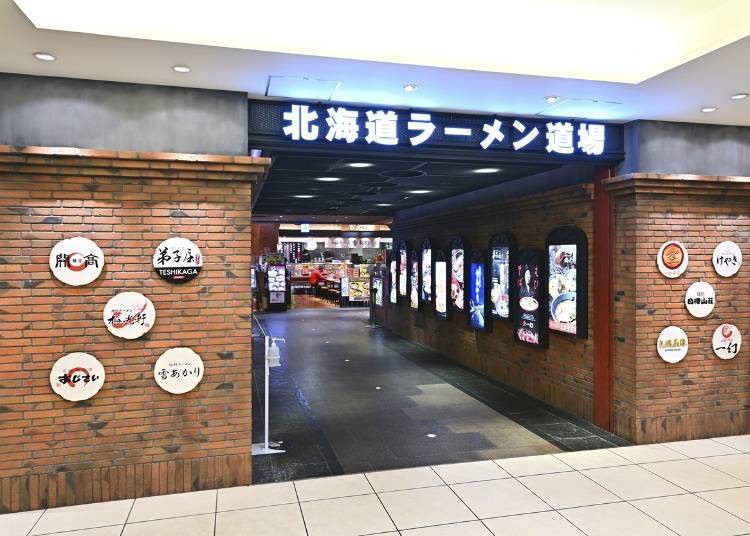 "Gourmet World", located on the 3rd floor of the Domestic Terminal Building, offers a range of Hokkaido restaurants. Visitors will have a hard time deciding which to try!

There's the Hokkaido Ramen Dojo, which features local ramen stores from all over Hokkaido, sushi, pork bowls, soup curry, raclette, and more!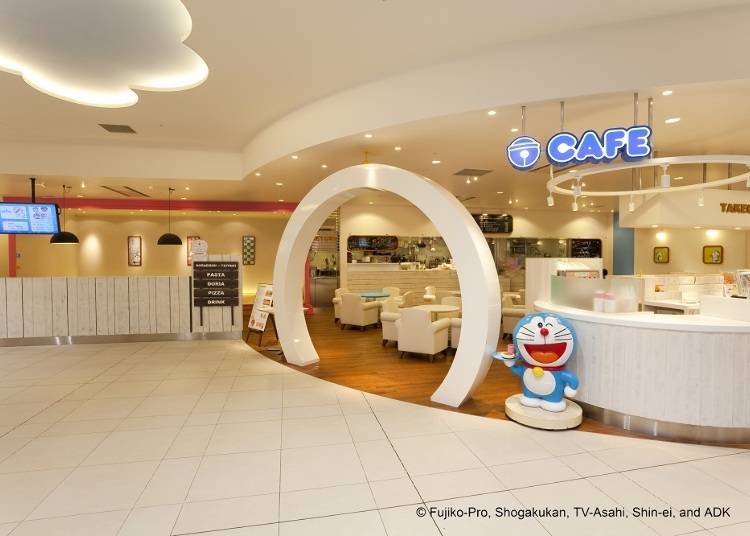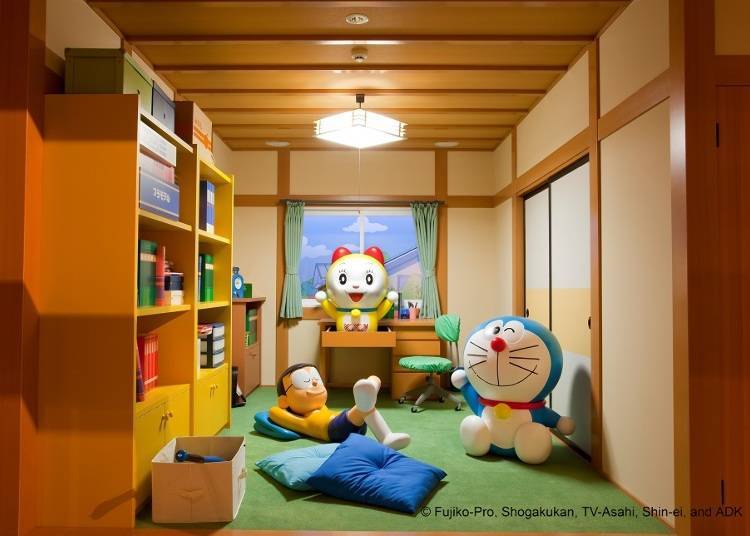 At Doraemon Wakuwaku Sky Park, you can meet Doraemon, one of Japan's most iconic characters, and his friends! This facility is also located in New Chitose Airport.

The "park zone" offers a variety of attractions including ones that are secret tool-themed, a store with many original merch, and a café with cute dishes adorned with adorable Doraemon designs.
If you want to do some last-minute shopping before leaving Japan, head to the duty free store on the 3rd floor of the International Terminal Building within New Chitose Airport. More than 20 types of credit cards are accepted, and you can also easily stop by after you've exchanged currency.

Here we have introduced the arrival and departure procedures for New Chitose Airport, as well as the latest information on airport facilities. Arrival procedures at New Chitose Airport have been designed to be effortless, while implementing countermeasures against Covid-19. In addition to this, there are many convenient facilities and services-enabling you to enjoy delicious food and shopping! Make the most of your trip to Hokkaido!
Please check "GATE TO HOKKAIDO" for sightseeing information on Hokkaido
The Hokkaido Travel and Tourism Information Site, GATE TO HOKKAIDO GATE TO HOKKAIDO, features recommended tours, area guides, themed guides, airport information, transportation information, sightseeing tour plans, and more.

*The information in this article is from November 2022. Please refer to the official websites for the latest information.
Written by: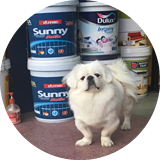 *This information is from the time of this article's publication.
*Prices and options mentioned are subject to change.
*Unless stated otherwise, all prices include tax.