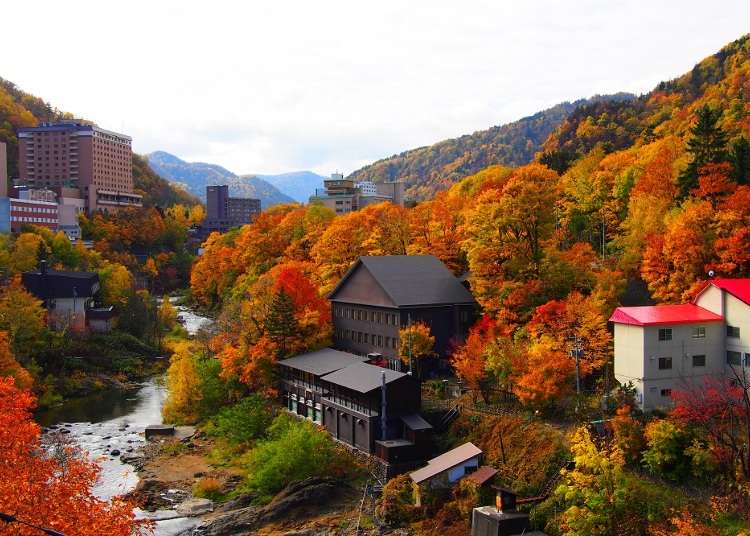 When you think of fall scenery in Japan, your mind might jump to Kyoto. While it definitely boasts some of the best in Japan, there are many other beautiful spots with Japanese vibes for autumn - like in Hokkaido!

As the island is located in the northernmost part of Japan, fall scenery in Hokkaido reaches peak viewing season earlier than the main island of Honshu. According to the Japan fall foliage forecast for 2021, Hokkaido's leaves will start changing color from early November.

Here, a writer from Hokkaido introduces four fabulous places for fall scenery in Hokkaido that everyone should visit at least once!
1. Autumn in Jozankei: Dazzling autumn colors in a Japanese hot springs town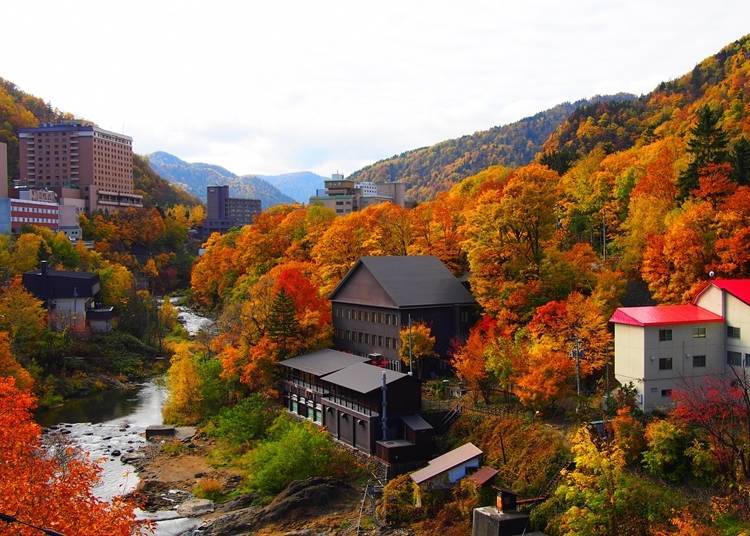 Colorful autumn leaves surround Jozankei Onsen
About 30 km from central Sapporo is Jozankei, one of Hokkaido's most famous spots for viewing the autumn leaves.

The name comes Miizumi Jozan, the priest who built the hot spring resort and contributed to the development of the Jozankei area around 1866. Jozankei Onsen is also known as "Sapporo's Okuzashiki," or the backstreets of Sapporo.

In the fall season, tourists visit from all over, even overseas, to see this beautiful fall scenery in Hokkaido.

Futami Jozankei Road: Birds Sing As You Admire the Colorful Landscape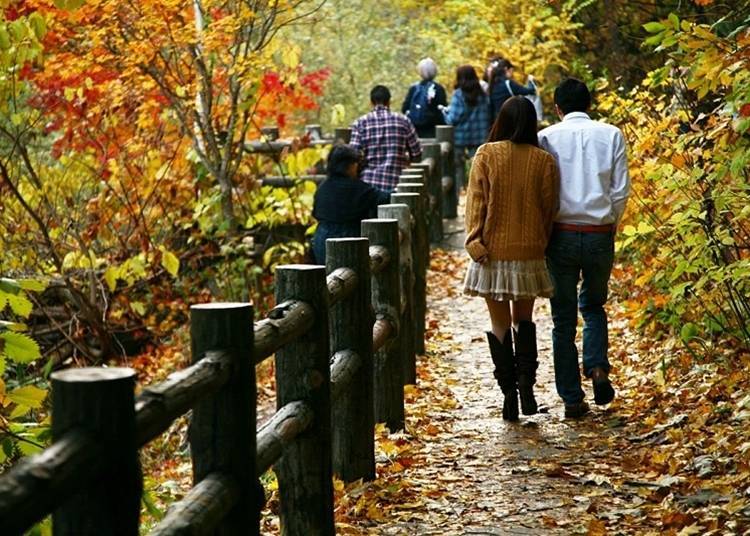 Promenade through a carpet of fallen leaves
If you want to admire the fall scenery in Hokkaido while enjoying a leisurely stroll, we recommend Futami Jozankei Road.

Forget your stress as you listen to wild birds sing and walk the natural path along the Toyohira River. From the bright red suspension bridge, you can see Futami Iwa, two rocks that resemble a married couple, and Kappabuchi, said to be home to Japan's folkloric Kappa.

The entire valley is dyed in yellows and reds throughout the month of October.

Jozankei Nature Luminarie: Amazing Illumination Woven by Humans and Nature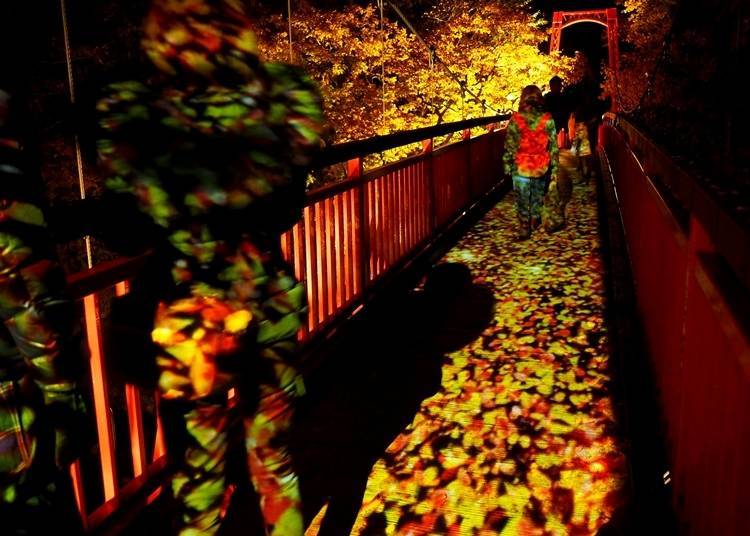 An eye-catching illumination show
Every night from early July to late October, the Jozankei Nature Luminarie lights the path from Futami Park to Futamitsuri Bridge.

WATER LIGHT VALLEY is an illumination show that paints the normally hidden natural views of Jozankei in bright, colorful lights. There are no words that can accurately describe the breathtaking beauty of these autumn colors, woven through humans and nature.

However, admission is limited to guests of Jozankei Onsen, so feel free to warm yourself up at the hot springs before or after your night walk!

Canadian Canoe Tour: Let the River Guide You Through the Autumn Leaves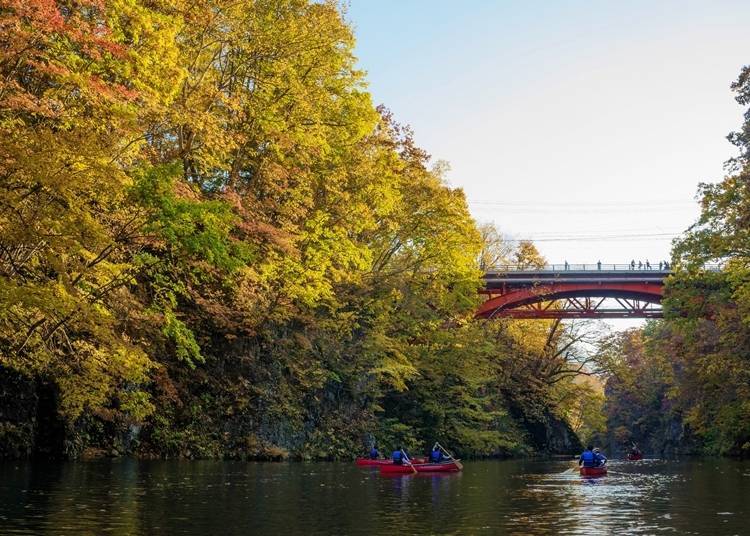 An expansive view that can only be seen from the river
Canadian Canoe Touring is a popular activity that lets you enjoy Jozankei's wilderness from the river's surface. You'll go out on the Toyohira River by canoe, where you'll be surrounded by towering cliffs.

The late autumn trees dye the valley in a beautiful fall palette, as red and yellow leaves scatter on the water's surface. This impressive fall scenery in Hokkaido is unlike any you've seen! Beginners and children alike will also enjoy it, as the tour is lead by a guide.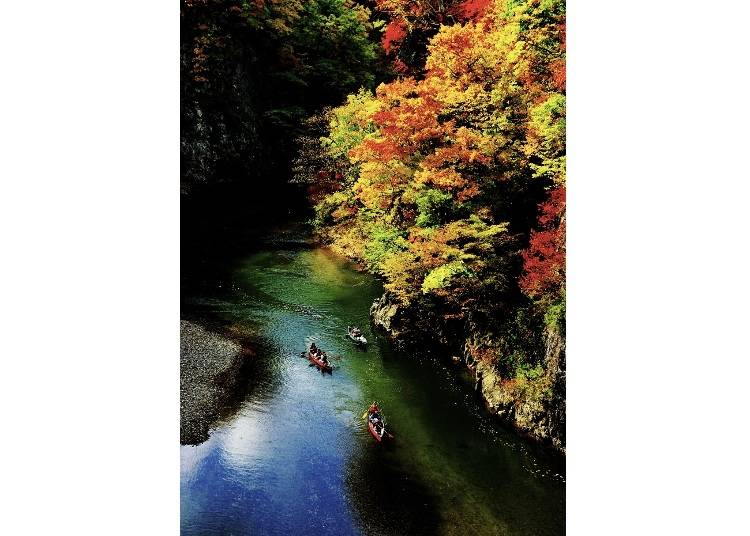 Jozankei Sightseeing Information Center

一般社団法人定山渓観光協会

Address

3 Jozankei Onsen Higashi, Minami-ku, Sapporo 061-2302

Phone Number

011-598-2012
Address

Sadayamakei Onsen, Minami-ku, Sapporo, Hokkaido, 061-2302
View Map

Nearest Station

Sapporo Station (Hakodate Main Line)
65 minutes by bus


Phone Number

011-598-2012
2. Nakajima Park: This Famous Fall Scenery Spot in Hokkaido Will Make You Forget You're in the City!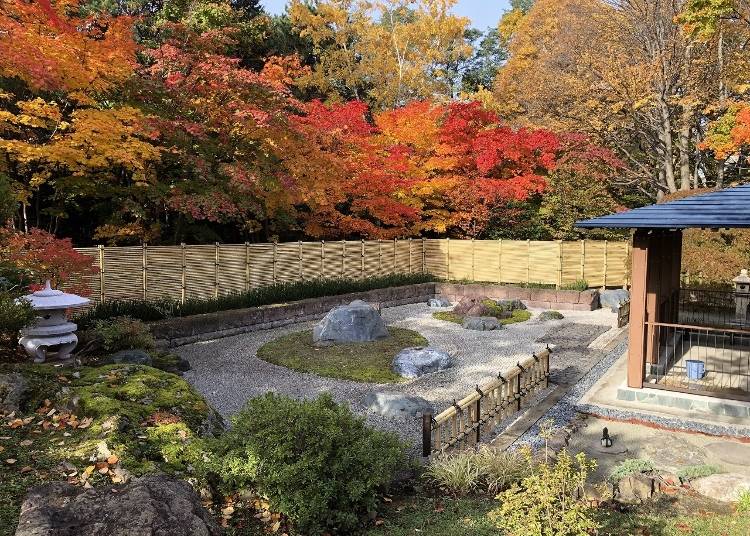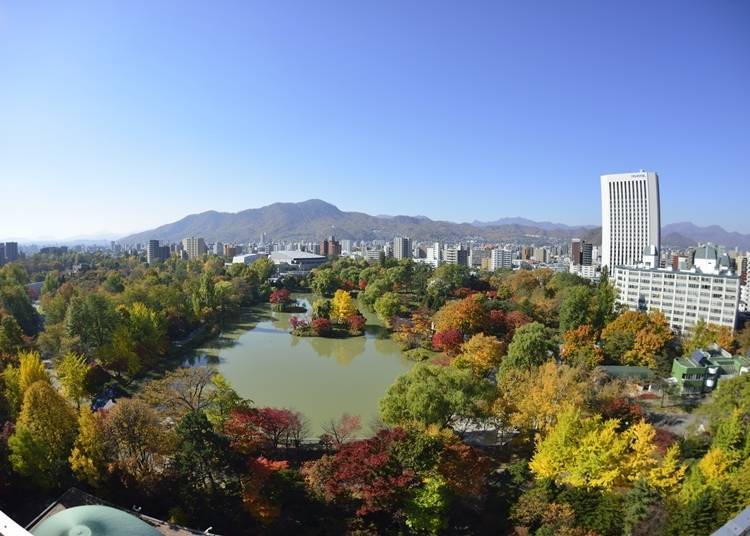 A stunning autumn scene that spreads across the city
Nakajima Park is a peaceful place in the middle of Sapporo where you can enjoy the autumn colors. There's water and greenery, and it has even been certified as one of the top 100 city parks in Japan!

Its expansive 236 square meter garden boasts 43 types of beautifully colored trees, including large Ezoyanagi over 100 years old, Yoshino and weeping cherry trees, and gorgeous ginkgo trees. You'll also see mallards and seagulls flying over Shoubu Pond, which was once part of the Toyohira River.

Hassou-an: A Calming Atmosphere, Just Like A Japanese Painting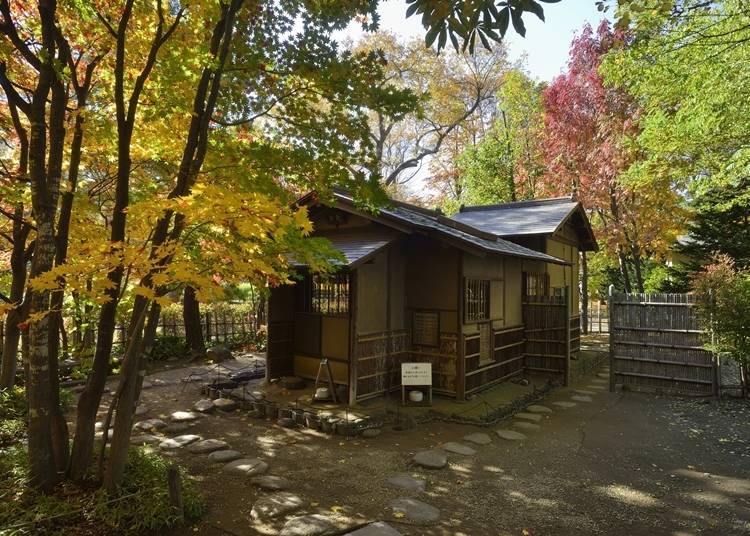 Hassou-an, quietly nestled in peace and tranquility
The park is dotted with gardens and nationally designated important cultural properties. The Hassou-an building, with its beautiful Japanese garden, was relocated to Sapporo in 1919 after a businessman bought a tea room in Shiga Prefecture.

The current new tea room, Sanbunan, was added after its relocation. The historic Japanese-style buildings and beautiful autumn leaves in the background combine to create a picturesque atmosphere, just like a Japanese painting!

Hohei-kan: A Beautiful Contrast between White Walls and Colorful Leaves
Feel the history of Hokkaido's development
Hohei-kan, with its vividly contrasting outer walls and autumn leaves, is an accommodation facility built by the Meiji government in 1880. The first guest was Emperor Meiji, who used it for lodging, celebrations, and various competitions for special guests.

It was relocated from Odori Park to Nakajima Park in 1958 and was even used as a municipal wedding hall for a while. It is now a museum with numerous exhibits that'll make you feel the passage of time.

Nakajima Park is close to downtown Susukino and surrounded by hotels. Wake up early and enjoy the crisp morning air and autumn leaves.
Address

Nakajimakouen, Chuo-ku, Sapporo-shi, Hokkaido, 064-0931
View Map

Nearest Station

Nakajima koen Station (Namboku Line)


Phone Number

011-511-3924
3. Kita 13-jo Gingko Avenue: A Historic Stroll Near Hokkaido University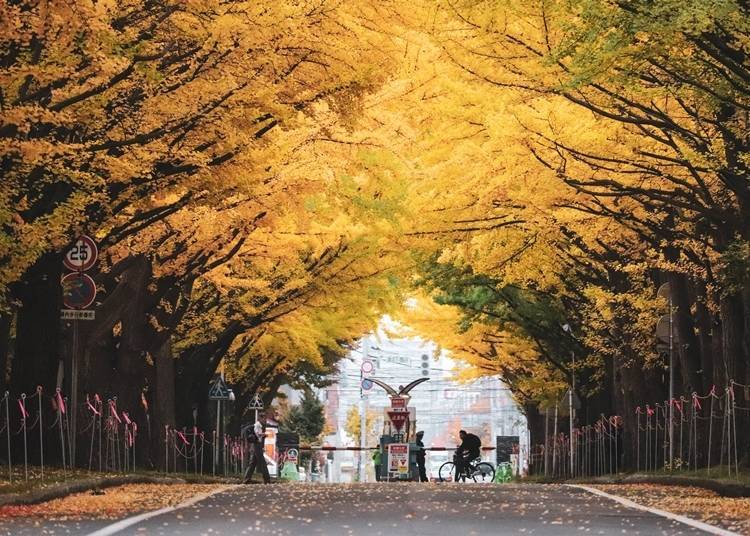 Take a walk through a golden tunnel (Photo courtesy of Hokkaido University)
The Ginkgo Trees on the premises of Hokkaido University is another famous autumn viewing spot near the city center. Hokkaido University is a national university whose predecessor was Sapporo Agricultural College, established in 1876.

Hokkaido University Museum is dotted with valuable structures that have remained since pioneer times and convey the school's academic achievements, including a bust of the famous Dr. Clark, who was invited from the United States to train leaders in Hokkaido's development on the vast Sapporo campus, which covers approximately 1.77 square kilometers.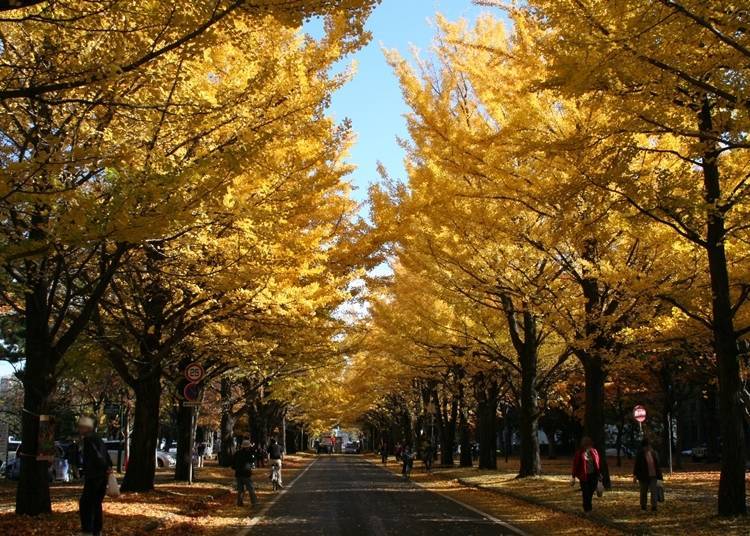 The rows of ginkgo trees extend about 380 meters (Photo courtesy of Hokkaido University)
The row of ginkgo trees on Kita 13-jo Street (Gingko Avenue) is one of the landmarks of Hokkaido University. The trees were planted in 1939 and grew into their current state together with Hokkaido University.

From the end of October to early November, about 70 ginkgo trees in full bloom line the road for about 380 meters, creating a golden tunnel.

Events such as the Hokkaido University Gold Leaf Festival, illuminations, and an autumn campus ginkgo tree tour will be held on the last Saturday and Sunday of October just in time to catch the yellow leaves.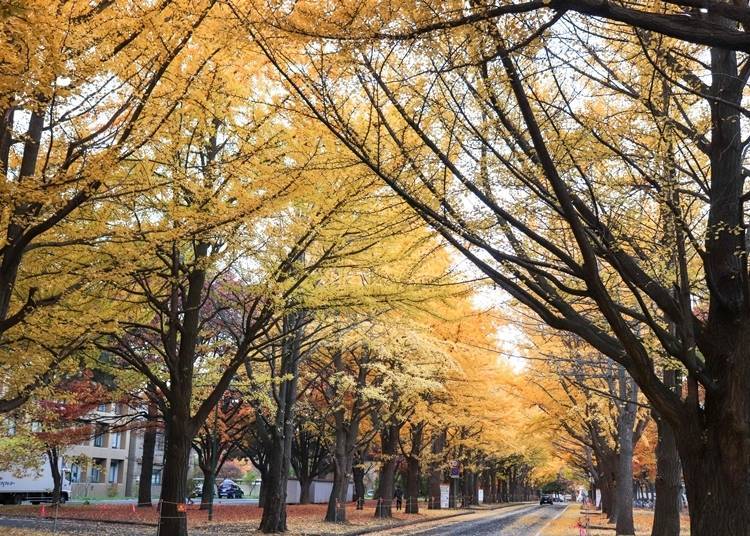 Feel like a student of Hokkaido University at the school cafeteria (Photo courtesy of Hokkaido University)
It's a 15-minute walk from Sapporo Station North Exit to Hokkaido University Ginkgo Avenue, so you can even pass by on your way to the train. There are also school cafeterias and restaurants where you can enjoy Hokkaido foods such as seafood bowls, ramen, and soft-serve ice cream, all at reasonable prices for lunch.

However, remember that Hokkaido University is a place of education and research, so please follow university rules during your walk.

*As a safety measure against Covid-19, the Hokkaido University Gold Leaf Festival, illuminations, and autumn campus tours have all been canceled for 2021 and may be canceled in the future, depending on the situation. Please check the Hokkaido University website before visiting, as entry may be limited to university students.
Address

Kita eight Jo Nishi 5, Kita-ku, Sapporo, Hokkaido, 060-0808
View Map

Nearest Station

Sapporo Station (Hakodate Main Line)
7 minutes on foot


Phone Number

011-716-2111
4. Semmo Line: A Local East Hokkaido Train Running through Japan's Largest Marshlands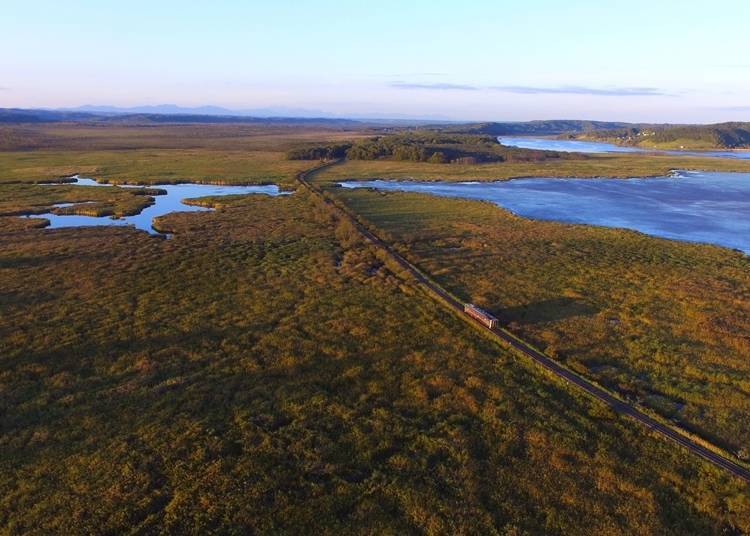 The train runs through Japan's largest marshland (Semmo Line between Toro and Kayanuma)
Hokkaido reaches winter earlier than anywhere else in Japan. Eastern Hokkaido boasts unique autumn landscapes in October that can only be seen here from the train window. The Semmo Line crosses through Japan's largest marshland, the Kushiro Wetlands, which is about the size of the entire central Tokyo.

Many of the adorable wild animals in Hokkaido can be seen along the railway line, including deer and red foxes. The Kushiro Line (between Kushiro and Abashiri) only has a few trains and runs at a leisurely pace, so sit back, relax, and enjoy the view!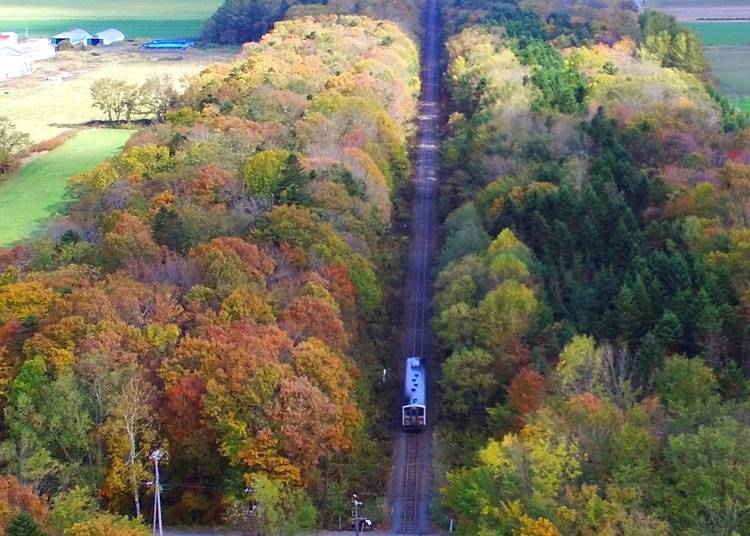 Running through the colorful trees and valleys (Semmo Line Kawayu Onsen-Midorima)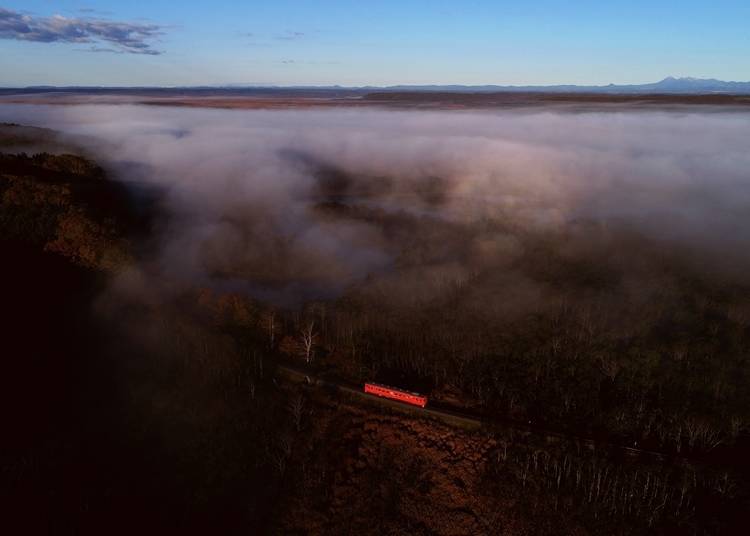 An incredible view of the train running through the fog (Semmo Line between Hosooka and Toro)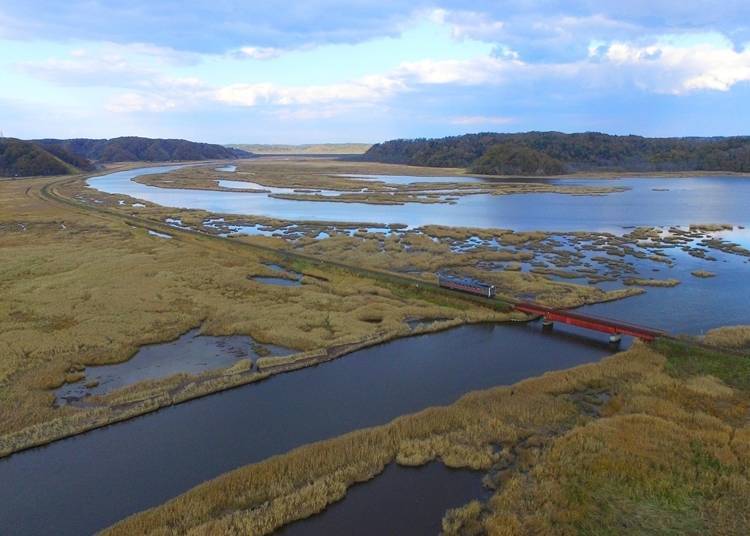 The train leaves with a whistle, heading east
The Hanasaki Line is the nickname of the 135.4km line that connects Kushiro and Nemuro along the JR Nemuro Line (between Kushiro and Nemuro). It is the easternmost railway not only in Japan but in all of Asia.

The area between Akkeshi and Itoizawa, located about 50 minutes from Kushiro Station, runs through the Bekkanbeushi Wetlands, which extend into the inflow of Lake Akkeshi, famous for its high-quality oysters.

Red aquatic plants such as phragmites and sedges scatter like floating islands atop the water's surface, creating a beautifully haunting sight. As October brings you deeper into autumn, the contrast between the marsh's surface and the withered aquatic plants creates an unforgettable scene.
JR釧路駅

Address

14-1 Kita-odori, Kushiro City 085-0015
Remember to check the weather and wear proper clothing before heading out to see Hokkaido's autumn leaves!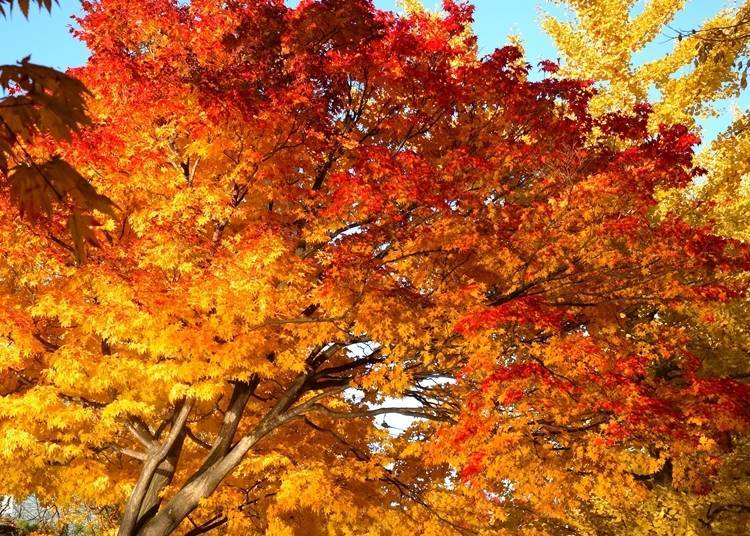 The best season to view the autumn leaves in Sapporo is from mid to early October. Autumn comes early in eastern, high-altitude areas in Hokkaido such as Kushiro and Nemuro, so the leaves may drop early.

Please check online or at the tourist association for the current foliage status before going out to avoid disappointment. Autumn is also a season of large temperature differences, so please take proper measures against the cold, and enjoy these beautiful autumn landscapes!

Text by: Masakazu
*Information in this article as of September 2021. Please see official website for the latest updates.
*This information is from the time of this article's publication.
*Prices and options mentioned are subject to change.
*Unless stated otherwise, all prices include tax.