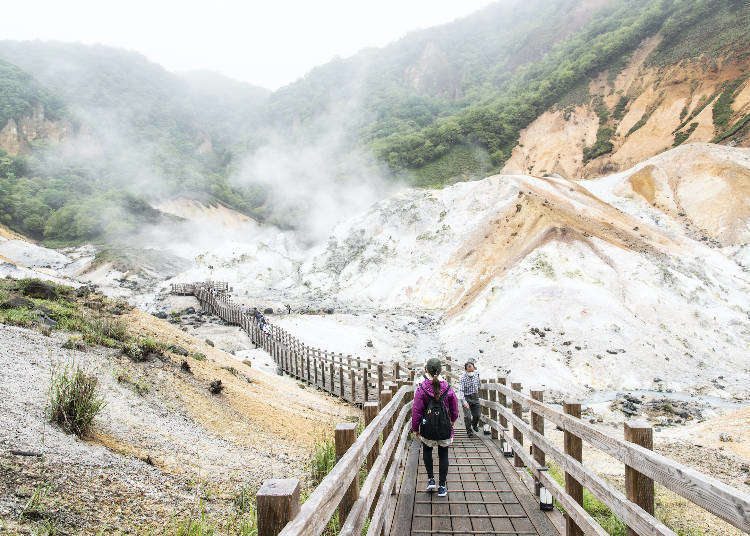 Noboribetsu, located in central Hokkaido, is one of Japan's leading hot spring resorts with the source of its springs found in Noboribetsu Jigokudani.

A promenade in Jigokudani (literally "Hell Valley") makes it possible for tourists to walk safely through this mysterious volcanic area. Read on for our guide to the charms of Noboribetsu and some of the food and souvenirs you can buy there.
What is Noboribetsu Jigokudani?
Noboribetsu Jigokudani is a crater formed by the eruption of the Kuttara volcano. It has a diameter of about 450 meters, an area of about 11 hectares, and is dotted with numerous pools and fumaroles.

The volcanic activity has crated high-quality natural hot springs, with 10,000 tons of water a day flowing to inns and hotels in the Noboribetsu Onsen (hot spring) district.

The origin of the name "Jigokudani" ("Hell Valley") comes from the impression given by the area's bubbling, boiling hot water that's said to look like "hell, where demons live."

As a tourist destination, it is beloved by the people of Hokkaido. It has been selected as a "Hokkaido Heritage" site to protect it for future generations.
How do you get to Noboribetsu Jigokudani?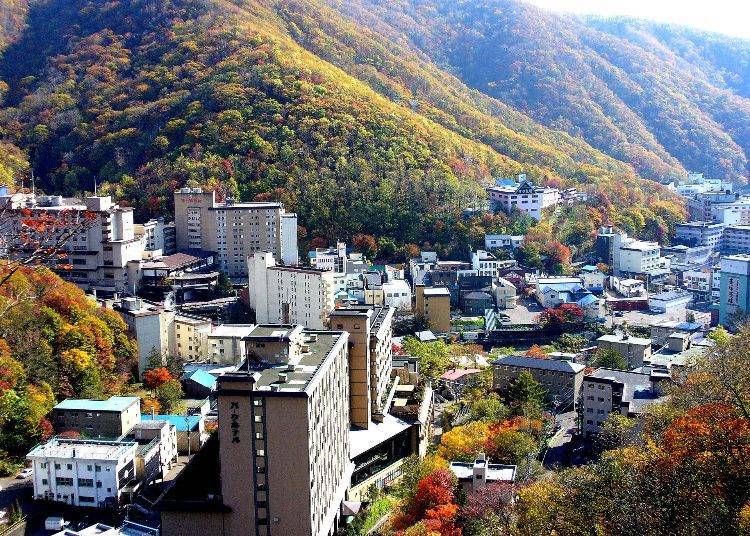 Noboribetsu Onsen Townscape
To reach Jigokudani, take the Donan Bus bound for Noboribetsu Onsen from JR Noboribetsu Station and get off at the "Noboribetsu Onsen" bus stop.

From there, walk through the Noboribetsu Onsen neighborhood and climb a gentle slope where you'll smell the scent of sulfur and see pure white steam rising from Jigokudani. There is also a paid parking area if you're traveling by car.
Before you start your walk
Starting from the Park Service Center in front of Jigokudani, be sure to check the information board and pamphlets for details about the walking course (available in Japanese, English, Korean, and Chinese).

The promenade is made of wood, but gravel and mud can make the path slippery in some places, so suitable shoes are recommended.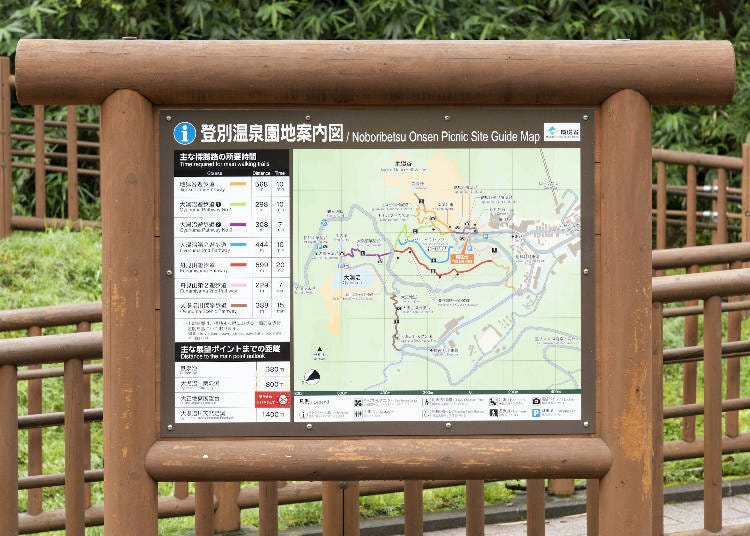 Enjoy a walk around Noboribetsu Jigokudani with a volunteer guide
The time required depends on the course you choose. Seeing only Jigokudani itself takes about 30 minutes, while stopping to enjoying the area's footbaths will make your walk last about 90 minutes.

If you want to learn more about the history and characteristics of Jigokudani, paid professional guides (reservation required) and free volunteer guides are on site.

Volunteer guides are only active from 10:00 to 15:00 from May to October. Several are stationed at Jigokudani Lookout near the Park Service Center.

If you ask, they will accompany you along the walking course. Translators are available to assist the guides with foreign tourists. Reservations are not required for small groups, but advance reservations are required for larger parties.

On the day of our trip, we were guided by Mr. Ishigami, a veteran volunteer.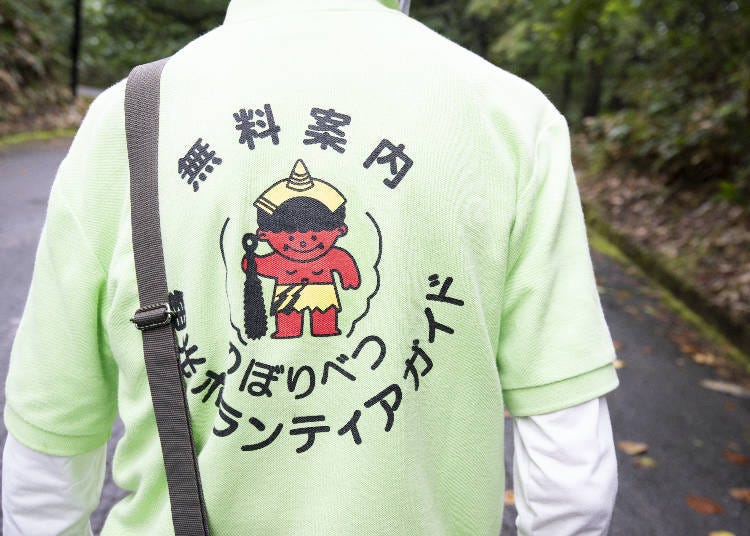 Green tee-shirts with a cute demon logo make volunteer guides easy to spot.
Start walking! Jigokudani Lookout to Tessen Pond and beyond
This walking course takes about 2 hours:
Jigokudani Lookout ➡ Tessen Pond ➡ Jigokudani Haridashi Lookout ➡ Oyunuma Lookout ➡ Oku-no-Yu ➡ Oyunuma ➡ Oyunuma Brook Natural Footbath.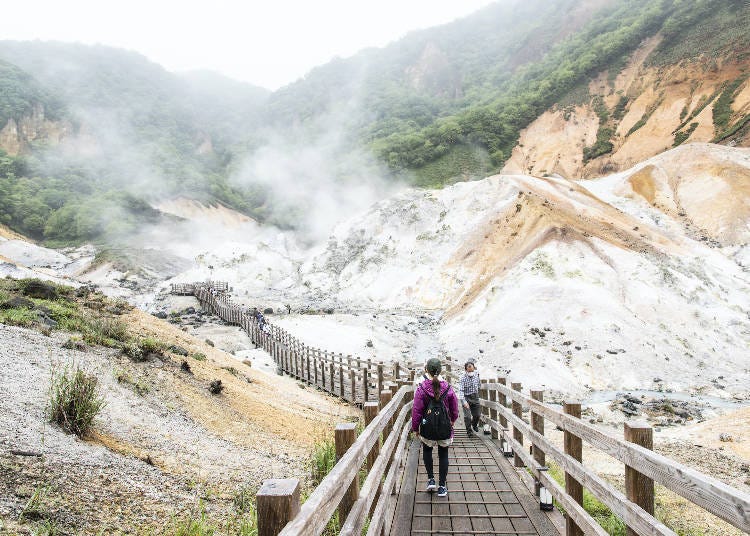 You can feel the heat even on the promenade
First, head from Jigokudani Lookout to the Tessen Pond geyser. There are fumaroles and pools from which you can see the steam rising right next to the walkway. The area beyond the promenade is hazardous, so don't attempt to climb the railing.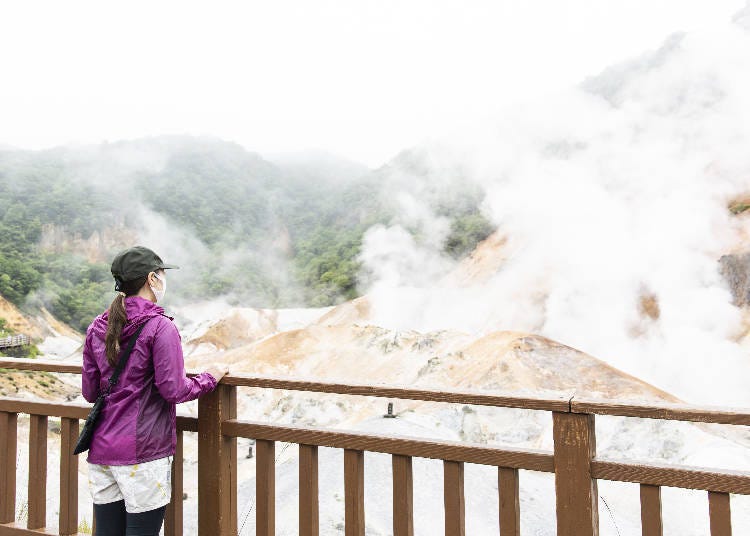 As you proceed, the path will branch into other routes, one of which leads down some stairs to Yakushi Nyorai-do, a small Buddhist altar.

According to legend, those who suffer from eye ailments will be cured if they wash their eyes with water from the hot spring that flows from the altar. A stone monument donated in thanks for being cured is enshrined in the altar.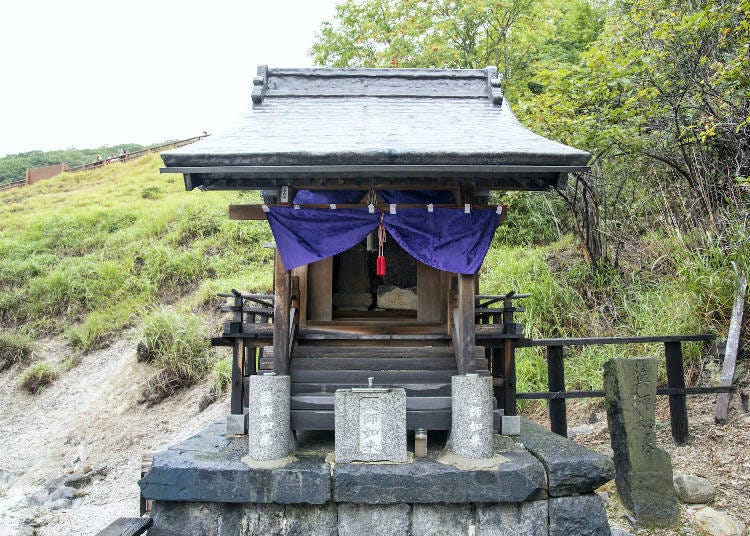 Yakushi Nyorai-do, which is popular as an "eye bath"
Tessen Pond is located in the center of Jigokudani and the boardwalk passes near the pond so you can get an up-close view of both the pond and the geyser. Tessen Pond's temperature is nearly 80°C.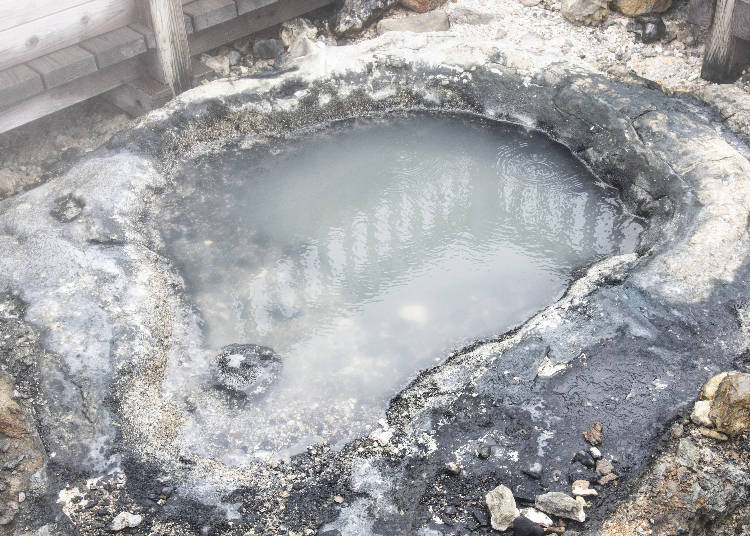 Some travelers throw coins in, but to protect the environment, please refrain from doing so.
The river that flows under the boardwalk is called the Sanzu River, and is named after the mythological river that separates this world from the afterlife. But according to Mr. Ishigami, "In Jigokudani, it is said that if you cross the river, you will live longer."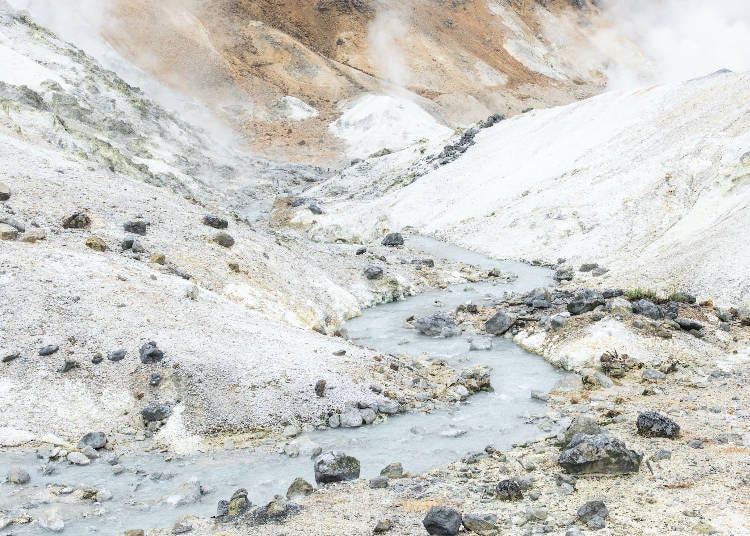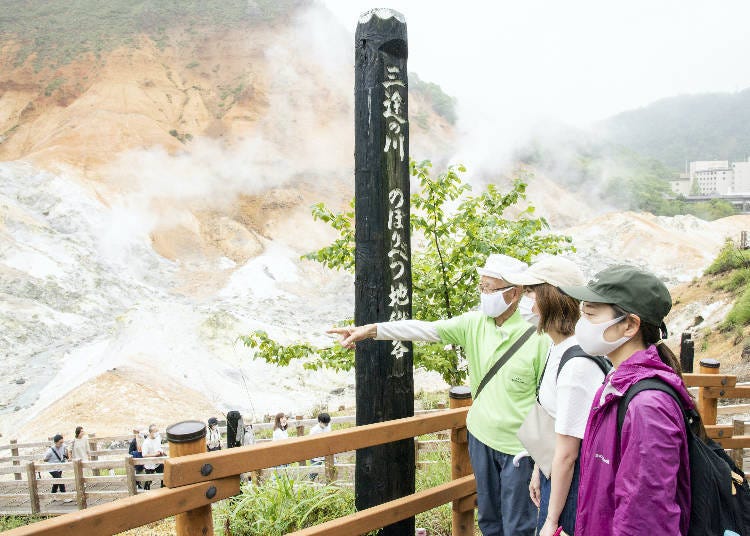 Oyunuma Promenade - Oyunuma
Next, proceed along the "Oyunuma Pathway." The slope will gradually become steeper, so watch your step. Along the promenade, you'll see the Noboribetsu Primitive Forest, which is designated as a natural monument, where you can observe about 60 types of trees and about 110 types of alpine plants like azaleas and gaultheria. If you are lucky, you might even see deer and black woodpeckers.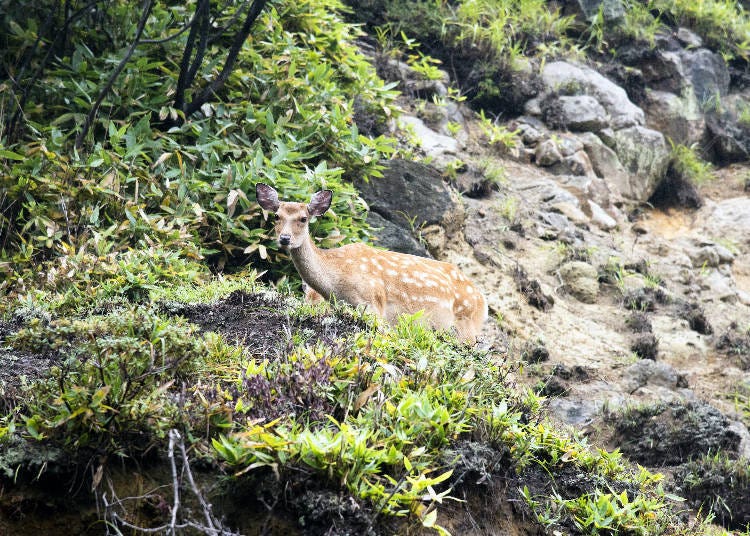 On the way to Oyunuma, there are seven signs with quizzes about Oyunuma, which are also written in English, providing a fun way to learn about Oyunuma.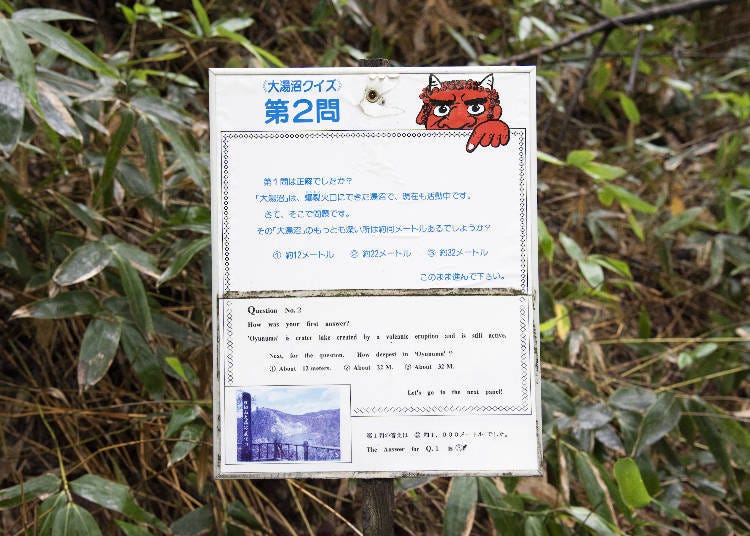 Oyunuma quiz
After walking for about 20 minutes, you'll see Okunoyu and Oyunuma. Oyunuma is a gourd-shaped hot spring with a circumference of about 1 km, fed by a 130°C sulfur spring.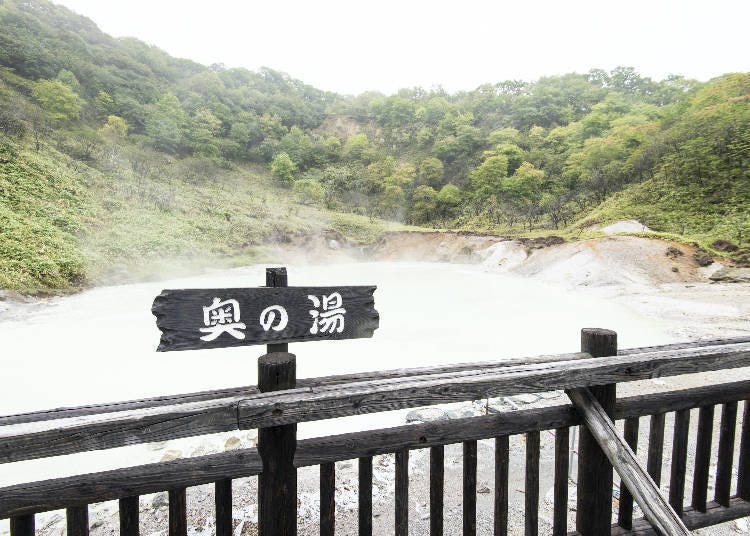 The surface temperature of Oku-no-Yu is about 75-85° C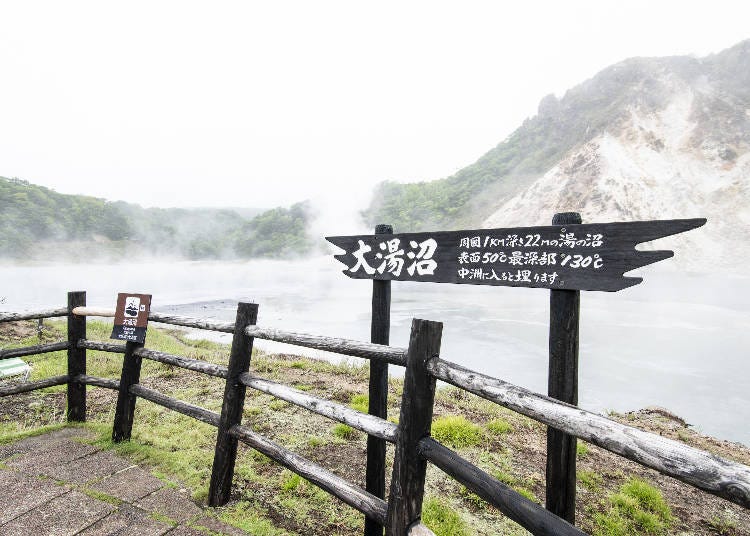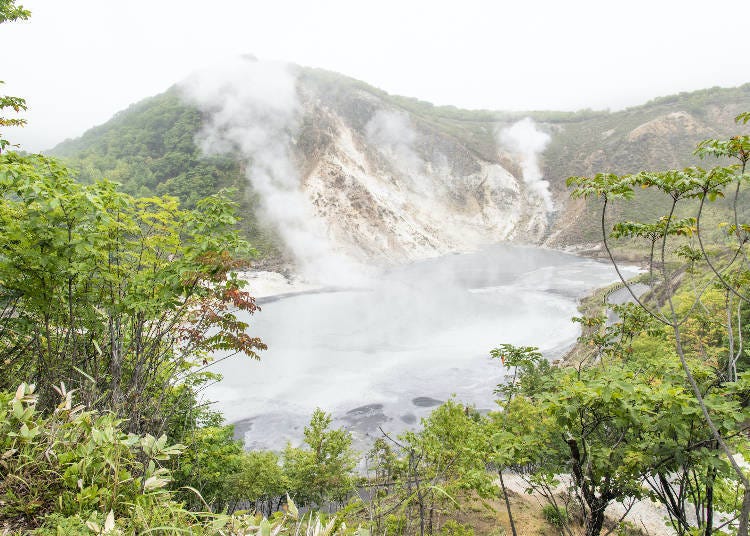 Oyunuma as seen from Oyunuma Lookout
Oyunuma - Oyunuma Brook Natural Footbath
From Oyunuma, follow the Oyunuma Brook Exploration Trail to the next point -- the footbath. The stairs have a high rise, so be careful as you descend.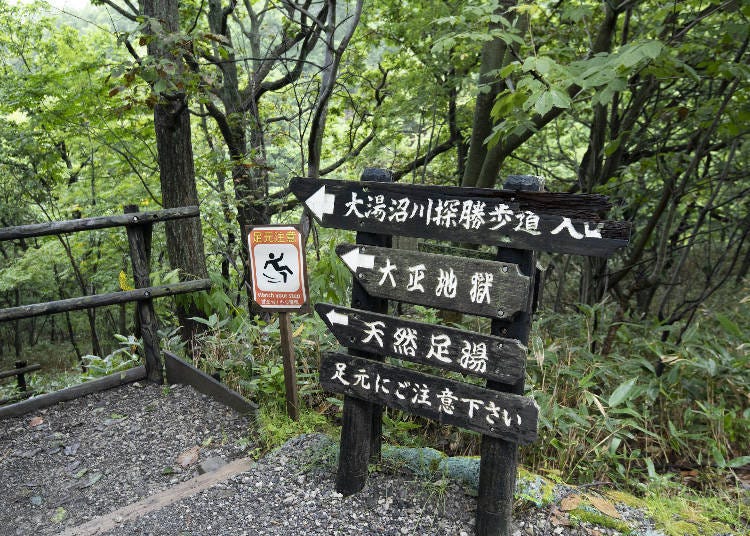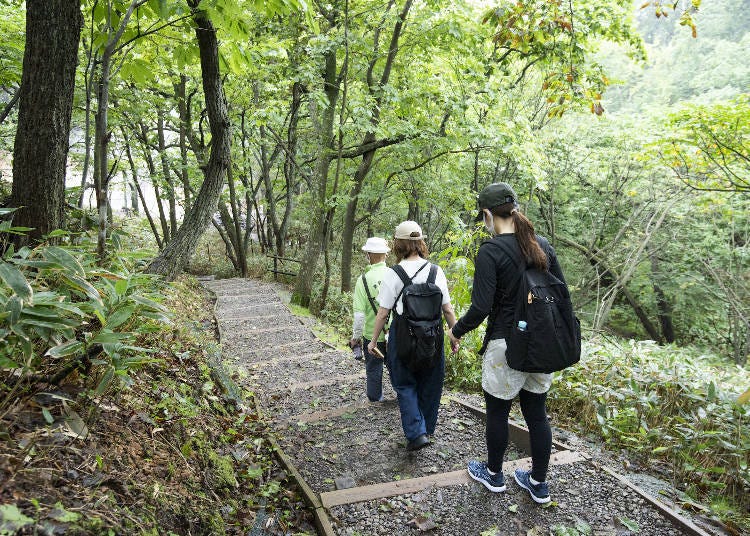 The Oyunuma Brook, which runs by the trail, is white and muddy because it flows from Oyunuma itself.

"The white muddy river like this is called 'Nupurupetsu' ("white muddy river, deep-colored river") in the Ainu language, and it is said that it is the etymology of the name Noboribetsu," says Mr. Ishigami.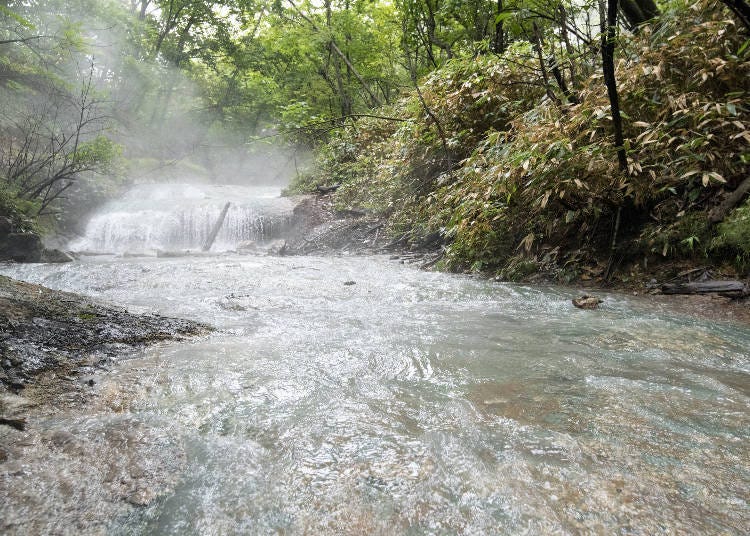 As you continue along the path, you'll come to Oyunuma Brook Natural Footbath. As the name suggests, the waters are used as a natural, healing footbath.

Seating mats are available free of charge so you can stay dry when sitting, but if you want a towel to dry your feet, you'll need to bring your own.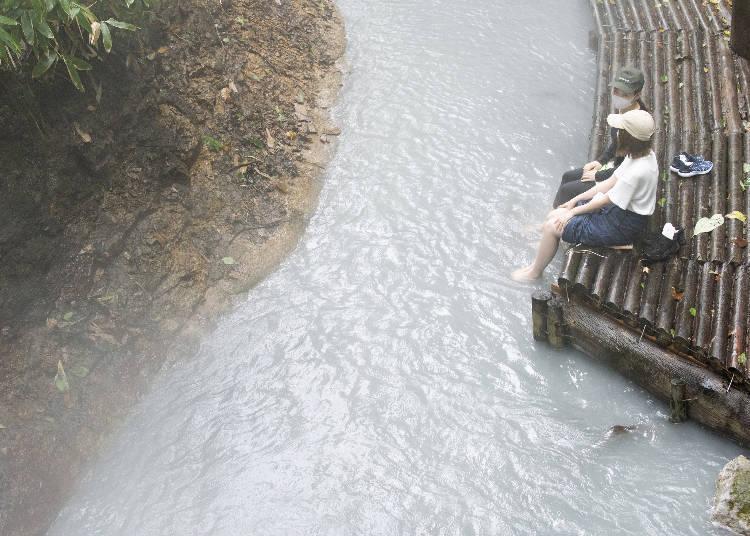 The river upstream near Oyunuma is hotter
After enjoying a footbath, take Oyunuma Pathway No. 2 and return to the entrance at the service center. As you walk along, take note of the volcanic rocks that dot the promenade, which have been deposited by eruptions of the Kuttara volcano.
Seasonal highlights of Noboribetsu Jigokudani
Jigokudani's scenery is beautiful even in the fall and winter. In autumn, the surrounding mountains and forests turn red and create a gorgeous view. The Japanese rowans and their red leaves as a stand-out example of fall foliage.

In winter, steam rises from snowy Jigokudani in a powerful scene that looks as if the earth itself is earth is breathing the cold winter air.

*In winter, all boardwalks except Jigokudani Pathway will be closed due to snow.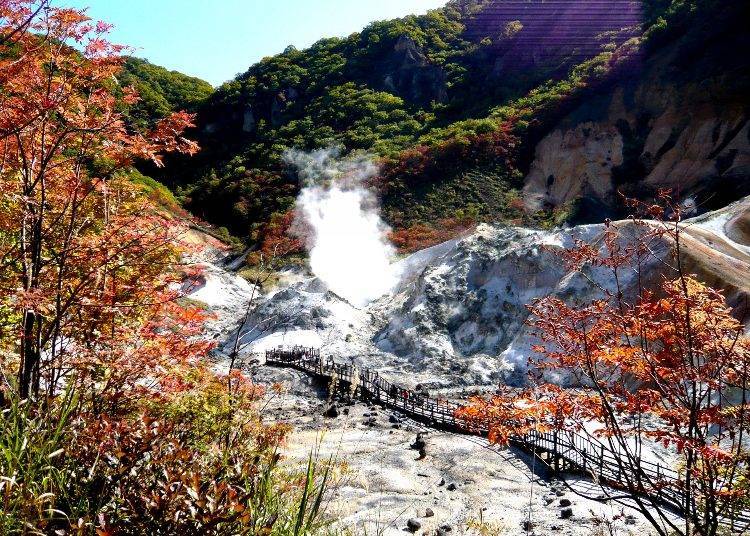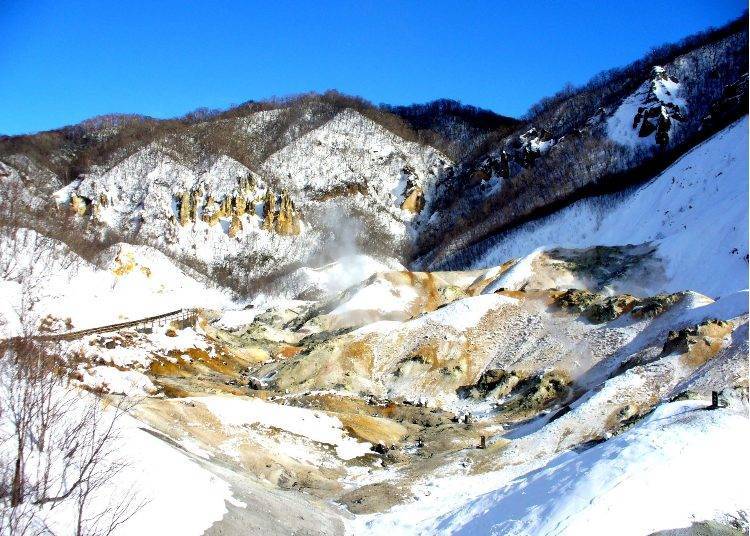 Address

Noboribetsuonsencho, Noboribetsu-shi, Hokkaido, 059-0551
View Map

Nearest Station

Tomiura Station (Muroran Main Line)


Phone Number

0143-84-3311
The taste of Noboribetsu at Onsen Ichiba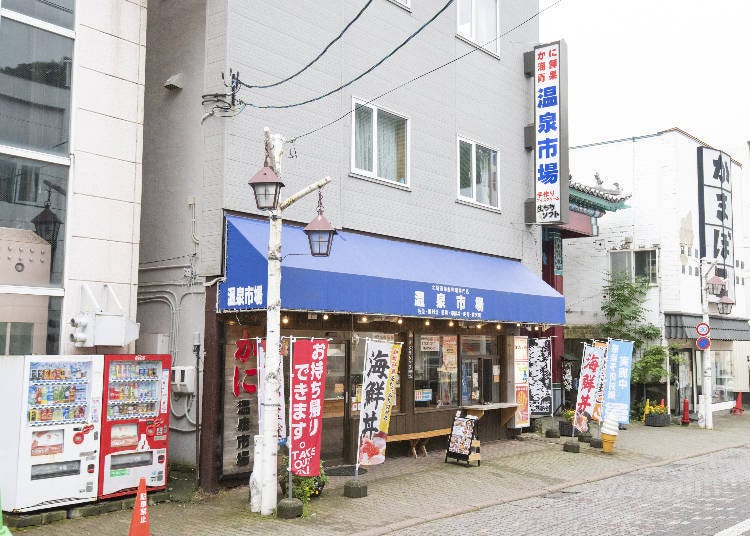 Onsen Ichiba in Noboribetsu Onsen is about a 5-minute walk from Jigokudani. The restaurant offers fresh seafood caught in Noboribetsu port and various parts of Hokkaido. The substantial drink menu includes beer, sake, and plum wine. After exploring Jigokudani, it's a great place to rest and have a drink.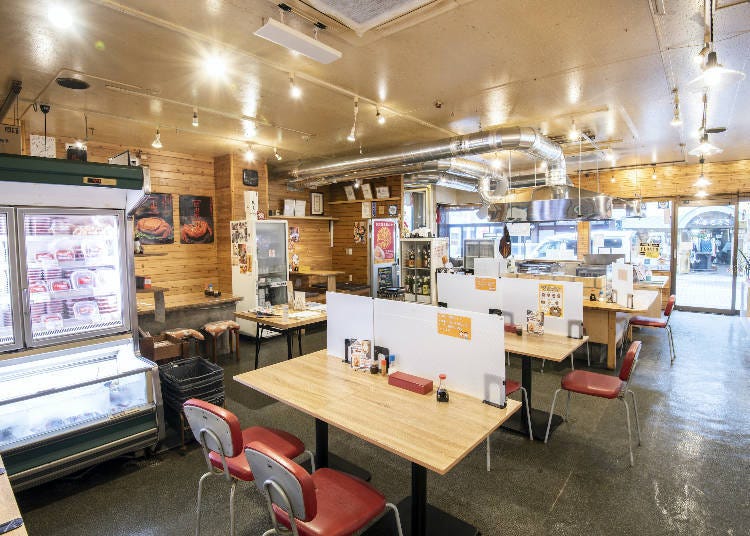 To prevent the coronavirus' spread, staff and guests thoroughly disinfect their hands, partitions have been installed at each table, and the restaurant is regularly ventilated.
The most popular menu item is the "10-color Maehama Don," a luxurious dish with 10 kinds of seafood including shrimp and squid. (2,270 yen, tax included)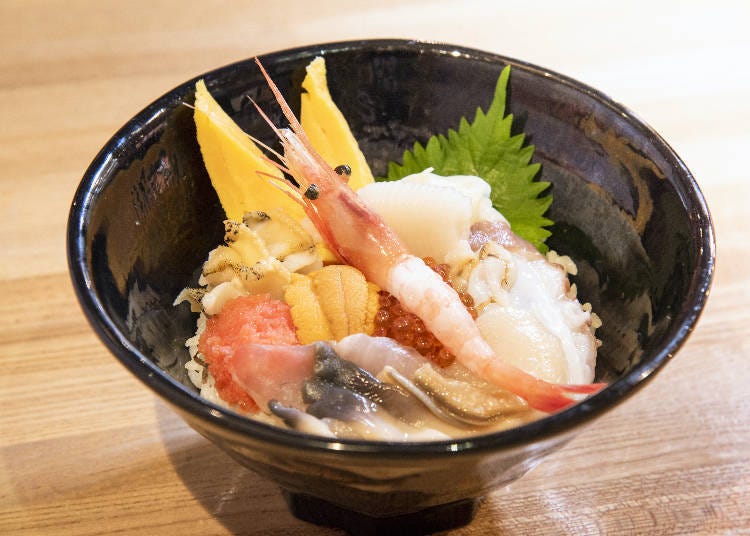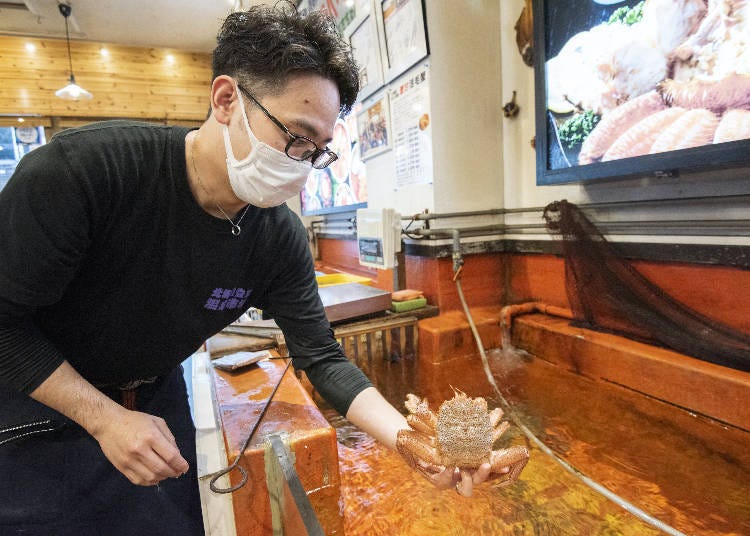 At the in-store tank, you can choose which shellfish or crab you want used in your meal.
Noboribetsu's local specialty is called "Enma Yakisoba" (1,030 yen, tax included). It's available at about 30 restaurants around Noboribetsu, including Onsen Ichiba. "Enma," by the way, is the king of hell, who judges the sins of the dead.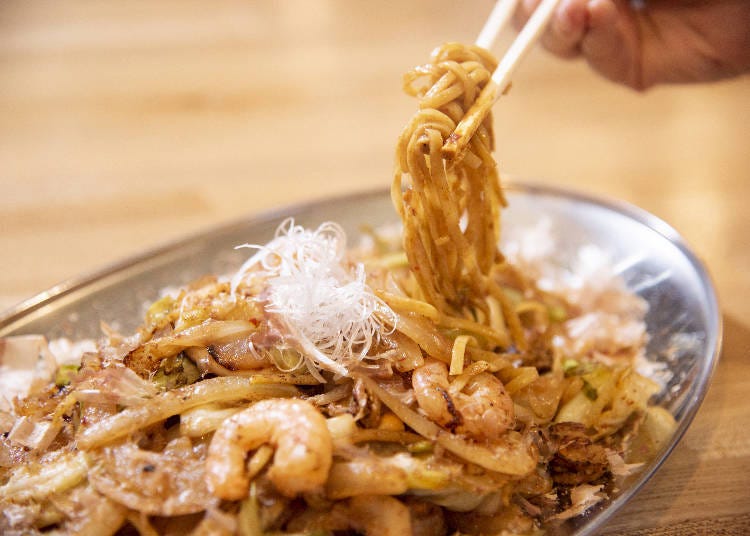 Three rules must be followed to make true Enma Yakisoba: use Hokkaido flat wheat noodles, secret sauce "specified by Enma," and ingredients from Noboribetsu or the surrounding suburbs.

Onsen Ichiba's variety includes scallops, octopus, and shrimp (ingredients vary by season). The spicy seasoning uses shichimi and yangnyeom (Korean spices). Once you try Enma Yakisoba you may become addicted!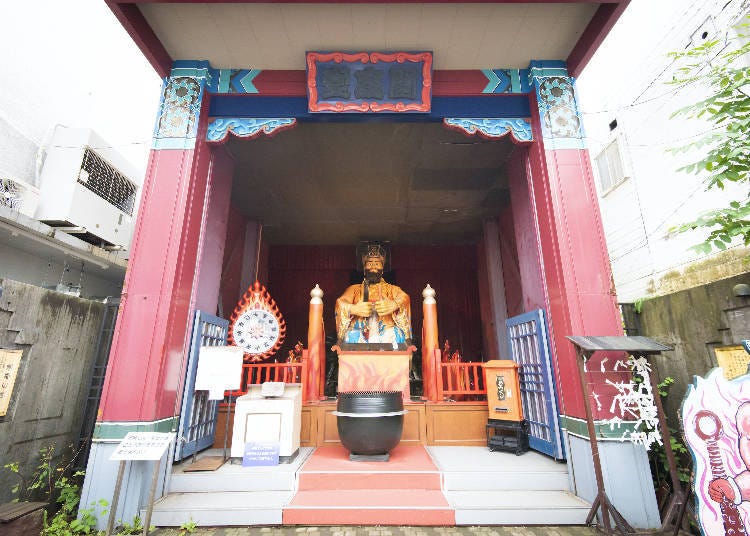 There is an Enmado right next to Onsen Ichiba
温泉市場

Address

50 Noboribetsuonsencho, Noboribetsu, Hokkaido 059-0551

Phone Number

0143-84-2560

Hours: Monday - Thursday 11:30 - 17:00 (last order 16:30); Friday - Sunday and public holidays 11:30 - 20:30 (last order 21:00) * If ingredients run out, restaurant may close earlier than scheduled.
* Monday - Thursday hours currently reduced, due to coronavirus. Please check website for further information http://www.onsenichiba.com/
Select souvenirs at Fujisaki Wasabi Garden, founded in 1915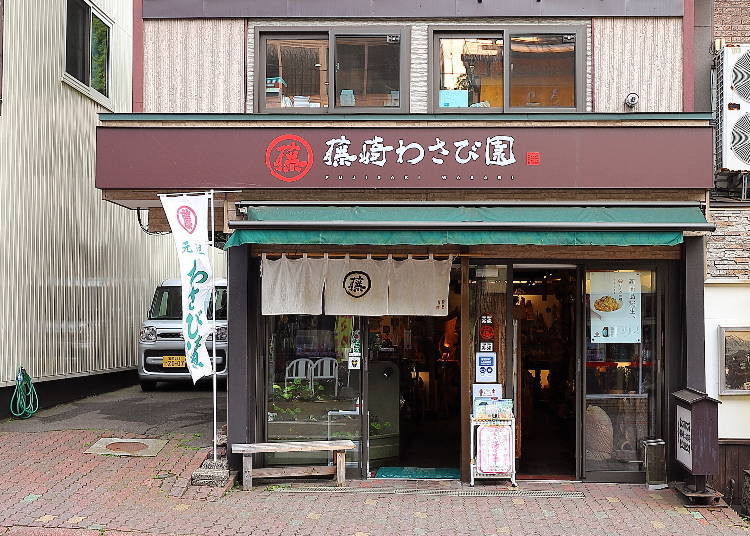 Fujisaki Wasabi Garden, a few doors down from Onsen Ichiba, sells products made with rare Hokkaido wasabi.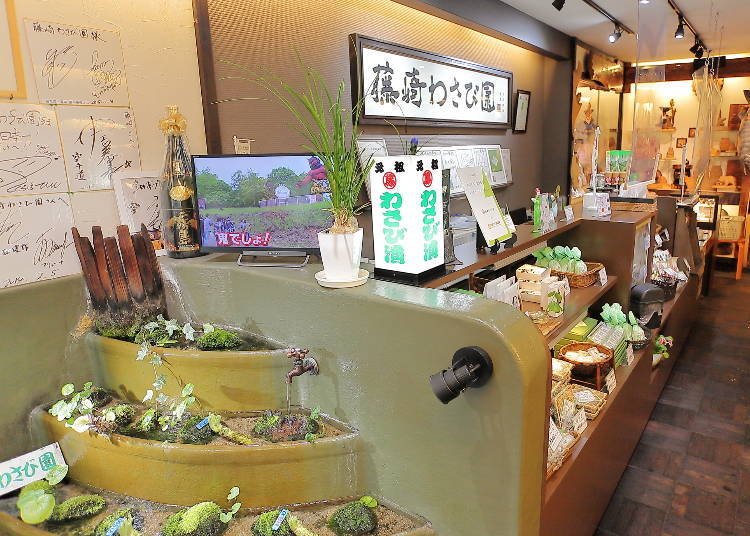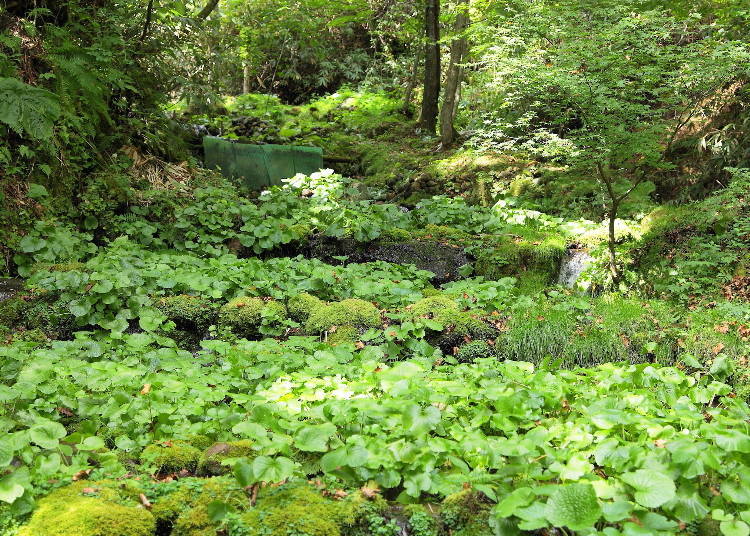 Wasabi field at Fujisaki Wasabi Garden
"Wasabi-zuke," which is made by mixing salted wasabi with aged sake lees, allows you to enjoy the richness and mellowness of sake lees as well as the aroma and spiciness of the wasabi.

In addition to eating it on rice, it's also recommended as a topping for Japanese "hamburger steak" or toast.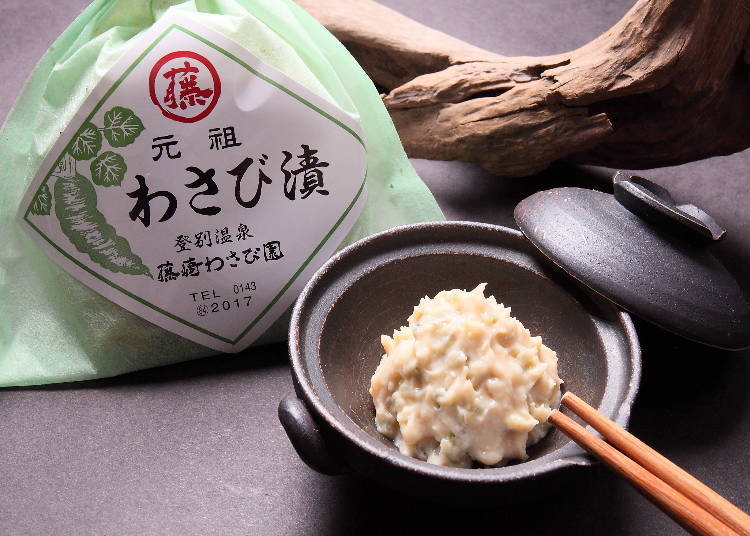 "Kinchaku" wasabi pickles (648 yen, tax included)
"Wasabi miso" is a mixture of miso made from 100% soybeans, rice from Hokkaido, and wasabi stems and rhizomes. It has the deep taste of the miso and the wasabi's spiciness and is a perfect dip for crispy pork ribs or chicken thighs.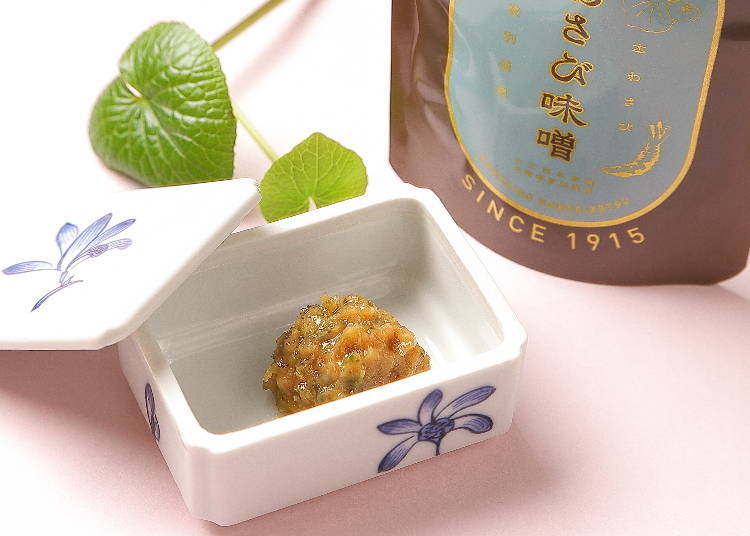 Wasabi miso (756 yen, tax included)
The shop offers foreign language support via a smartphone interpreter app. Hand disinfectant and a cash register partition to distance staff and customers, and other measures are in place to prevent transmission of the coronavirus.
藤崎わさび園

Address

49 Noboribetsuonsencho, Noboribetsu, Hokkaido 059-0551

Phone Number

0143-84-2017

Hours: 9:00 - 22:00 (21:00, depending on the weather in winter)
Noboribetsu's local "Oni Densetsu" beer can't be missed!
"Oni Densetsu" is a local Noboribetsu beer manufactured by Wakasaimo Honpo, which manufactures the famous Hokkaido "Wakasaimo" confection. The factory is located inside the Wakasaimo Honpo Noboribetsu Higashi store. You can also enjoy a drink at the attached restaurant or buy it at convenience stores in the Noboribetsu Onsen district near Jigokudani.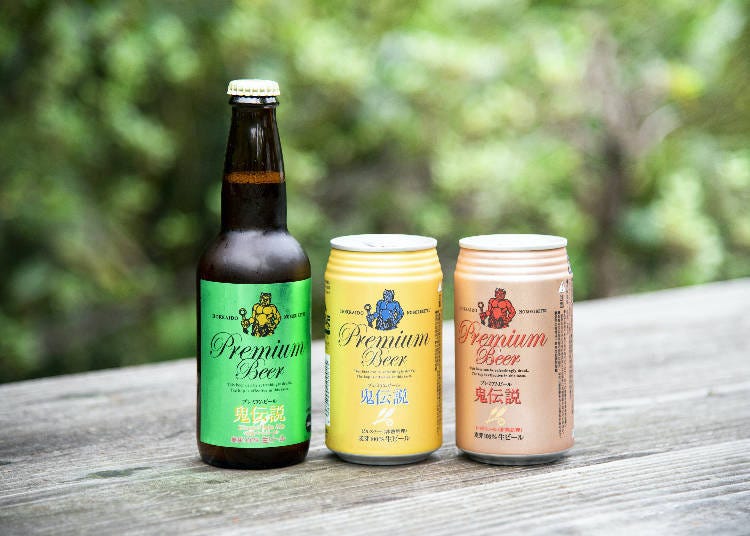 A winner of domestic and international awards
The "Kinoni Pale Ale" (left, above; 495 yen, tax included) is a strong, bitter American-style beer with a citrus aroma. The "Aooni Pilsner" (center, 385 yen) is light and slightly bitter "Akaoni Red Ale" (right; 385 yen) is a less bitter brown ale that's easy to drink with its caramel malt aroma.


In addition to its otherworldly steam-filled scenery, Noboribetsu's Jigokudani has many attractive features like the primeval forest and the natural footbath. It's a great place to visit if you want to travel beyond Sapporo for a half- or full-day excursion, so consider adding it to your Hokkaido itinerary!

Text by: Minna no Kotobasha
*Information accurate as of September 2020.
*This information is from the time of this article's publication.
*Prices and options mentioned are subject to change.
*Unless stated otherwise, all prices include tax.