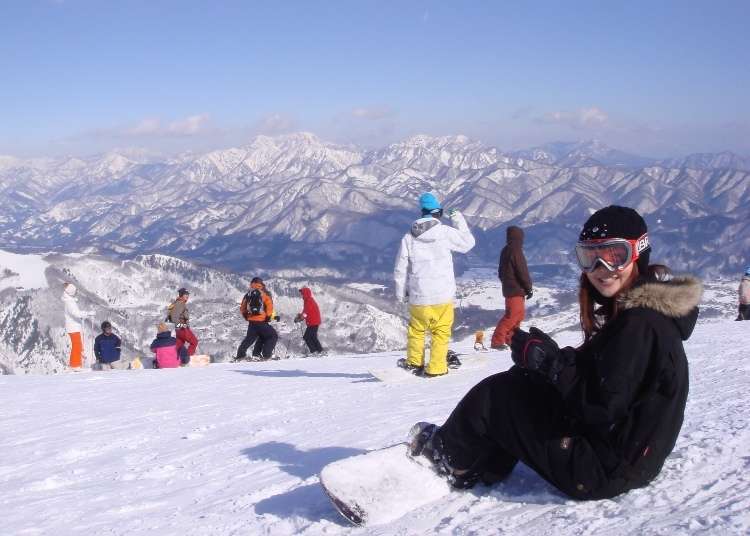 Winter sports like skiing and snowboarding are big in Japan. Japan has held the Winter Olympics twice and is known for its amazing snow. So when the snow hits, everyone rushes to the slopes. If you want to try some pristine Japanese powder, you're in luck. Here are 8 amazing ski resorts in Japan that you don't want to miss!
1. Skiing and Snowboarding in Gunma Prefecture
Tenjindaira Ski Resort
The first ski resort worth mentioning is Tenjindaira in Gunma Prefecture. This off-the-radar ski resort is not only a locals' favorite, but also near Tokyo. So, this choice is perfect if you want to avoid the crowds but can't spend too much time in transit. Tenjindaira gets lots of snow. In fact, the name 'Tenjindaira' means 'powder paradise'. Tenjindaira has a small resort area made up of nine courses. Having said that, the course stats are very balanced with 30 percent beginner, 40 percent intermediate, and 30 percent advanced. But many people don't visit the area to stay in the resort; the main attraction of Tenjindaira is its backcountry terrain, which is large and diverse.
天神平スキー場

Address

Yufukiyamakokuyuurin, Yubiso, Minakami-machi Tone-gun, Gumma, 379-1728, Japan

Phone Number

0278-72-3575
2. Skiing and Snowboarding in Hokkaido
Furano Ski Resort
Furano ski resort offers a well-balanced variety of trails in the heart of Hokkaido. Everyone from beginners to advanced skiers and snowboarders will enjoy a trip here. Furano has plenty of long runs, as well as good off-piste and backcountry skiing options. Hokkaido has plenty of great ski resorts, so what makes Furano so special? Well, to start off, Furano is on the world cup ski racing map; this ski resort has 24 courses that translate to over 900 meters of vertical! And thanks to its inland location, this area gets plenty of fluffy, dry snow that is seldom seen in Hokkaido ski resorts.

Niseko
Out of all the ski resorts in Japan, Niseko is perhaps the most famous resort internationally. And for good reason; Niseko is the largest resort, connecting four separate skiing areas - Grand Hirafu, Hanazono, Niseko Village and An'nupuri. So, you can enjoy plenty of time on the slopes regardless of your level. In addition to its extensive resort area, you also have off-piste, alpine, and tree-skiing options. This resort lies along the coast so the snow is wet, and it's rarely sunny. Due to its fame, Niseko can get crowded in high season but also has one of the best English support available.

Rusutsu Ski Resort
Rusutsu is a wonderful option for groups of all levels and all ages. Rusutsu ski resort has some of the best infrastructure in Japan with 18 lifts and lift ticket readers. The soft and dry snow here is perfect for beginners learning the basics as well as advanced skiers and boarders who just want to enjoy the runs. And there is plenty to enjoy with additional off-piste and tree-skiing options serving as the cherry on top. Rusutsu is a great option for those with little ones in tow and is one of the best ski resorts in Japan for families. This family-friendly ski resort has a kids snow park with plenty of activities for kids.
Niseko Mt. Resort Grand Hirafu

ニセコマウンテンリゾートグラン・ヒラフ

Address

204, Yamada, Kutchan-cho Abuta-gun, Hokkaido, 044-0081, Japan

Phone Number

0136-22-0109
ニセコHANAZONOリゾート

Address

328-36, Iwaobetsu, Kutchan-cho Abuta-gun, Hokkaido, 044-0082, Japan

Phone Number

0136-21-6655
Niseko Village Ski Resort

ニセコビレッジスキーリゾート

Address

HigashiyamaOnsen, Abutagun Nisekocho, Hokkaido,048-1521,Japan

Phone Number

0136-44-2211
ルスツリゾートスキー場

Address

048-1711 Hokkaido Rusutsu Izumikawa 13

Phone Number

0136-46-3111

Vacancy search, reservation
3. Skiing and Snowboarding in Iwate Prefecture
Geto Kogen Resort
Searching for Japan's hidden gems? Then look no further than Iwate in northern Honshu. Geto Kogen is uncrowded and, due to its tucked-away location, doesn't see many tourists. This ski resort has 14 courses and five lifts, with trail stats of 40 percent beginner, 40 percent intermediate, and 20 percent advanced. The advanced trails have a few black runs, as well. Geto Kogen is especially great for off-piste skiing and snowboarding.
4. Skiing and Snowboarding in Nagano Prefecture
Hakuba
One of the top ski resorts in Japan is Hakuba. Hakuba has 11 resorts in the area that total over 200 courses and nine terrain parks. Found in Nagano, a short ways away from Tokyo, Hakuba is great if you want a sunny day on the slopes. The snow is fairly dry, although not as dry as some others on this list. Hakuba is internationally renown as part of the Mountain Collective pass and offers great English support.

Nozawa
More famed for its hot springs, Nozawa has that sleepy onsen town feel rather than the ski resort atmosphere. But, don't let this fool you as Nozawa is considered by some to be the birthplace of ski in Japan. Located near the Sea of Japan, expect an abundance of wet snow. With that said, Nozawa offers great diversity of terrain that is perfect for every level. Specifically, you'll find plenty of beginner and advanced trails. And once you've enjoyed the slopes to your heart's content, Nozawa offers a great apres-ski experience with Japanese-style hot spring baths.
Hakuba Sanosaka Ski Resort

白馬さのさかスキー場

Address

Kamishiro 458, Hakubam-Mura, Kitaazumi-Gun, Nagano-Ken

Phone Number

0261-75-2452
野沢温泉スキー場

Address

7653Toyosato, Nozawaonsen-mura Shimotakai-gun, Nagano, 389-2502, Japan

Phone Number

0269-85-3166
5. Skiing and Snowboarding in Niigata Prefecture
Yuzawa
Just north of Tokyo in Niigata Prefecture, Yuzawa is a popular day trip option for those coming from the city. Known as 'yukiguni', or 'snow country', Yuzawa has 20 resorts in the area, making it a great choice no matter what your skill level is. Beginner courses can be found near center of town, while advanced courses are accessible by bus. Those staying a bit longer or who want to hop around can purchase combination lift tickets.
ガーラ湯沢スノーリゾート

Address

Azakayataira1039-2, Yuzawa, Yuzawa-machi Minamiuonuma-gun, Niigata, 949-6101, Japan

Phone Number

025-785-6543
While a trip to Japan is usually about temples and tradition, ski and snowboard culture are big, too. So, pick up some gear while in Tokyo, and make sure to try one of these top 8 ski resorts in Japan!
*This information is from the time of this article's publication.
*Prices and options mentioned are subject to change.
*Unless stated otherwise, all prices include tax.