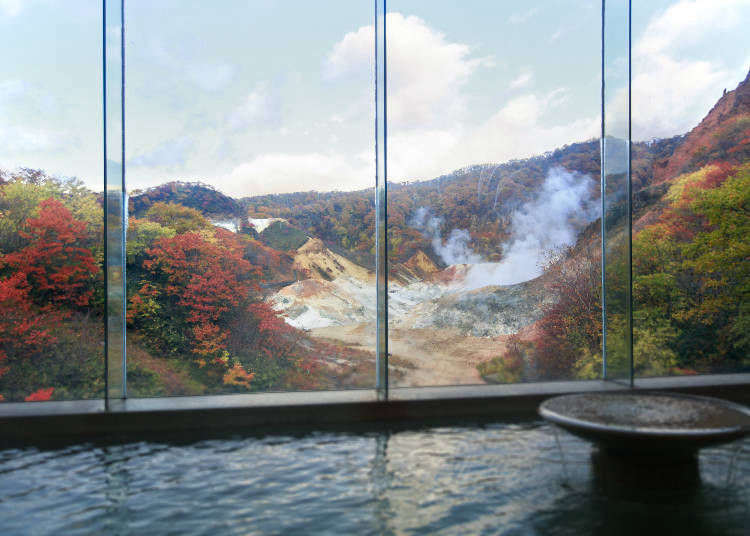 When looking to stay in the onsen town, Noboribetsu ryokan are a popular traditional Japanese experience for many visitors.

Noboribetsu Onsen, one of Hokkaido's premier hot springs resort areas, is just about a one-hour drive from Hokkaido's New Chitose Airport. Natural hot springs containing sulfur and other minerals bubble up from the ground and there are many hot spring inns from which to choose.

Among the many different types of Noboribetsu ryokan with mineral baths, here are three we would like to introduce!

* Article information is as of the date published. Prices and contents are subject to change.
1. Dai-ichi Takimotokan: Making Noboribetsu Onsen Guests Happy Since 1858
The Dai-ichi Takimotokan Hotel is the oldest hot spring resort in Noboribetsu. It was established in 1858 by Kinzo Takimoto when he created it for his ailing wife. Many other hot spring inns have opened in this area since then.

In addition to being long-established, it is also in a great location as it is situated directly in front of the Noboribetsu Jigokudani (Hell Valley), one of the primary sightseeing spots in Noboribetsu! It is closer to Hell Valley than any other Noboribetsu ryokan in the area.

It is also located within walking distance to other inns, gift shops, and restaurants located in the Gokuraku Street Shopping District. It is a seven-minute walk from the Noboribetsu Hot Spring Terminal, the centrally located public transportation hub.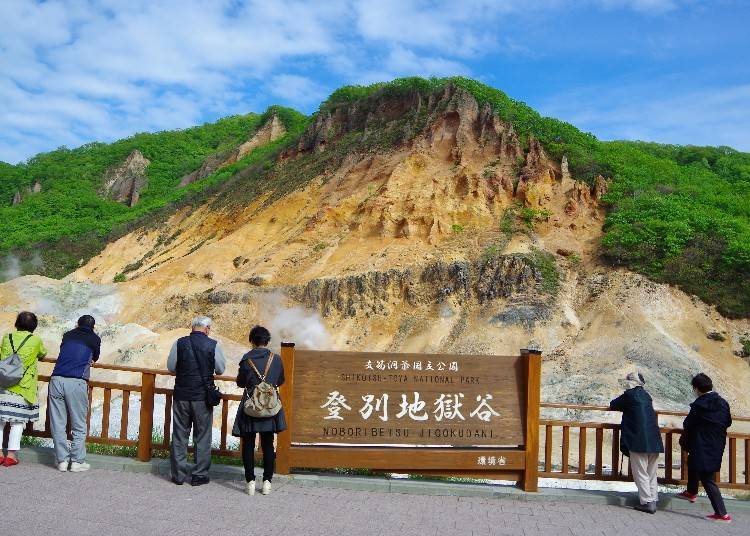 Noboribetsu Hell Valley is only a three-minute walk from Dai-ichi Takimotokan. A variety of mineral hot springs gush from this old volcano crater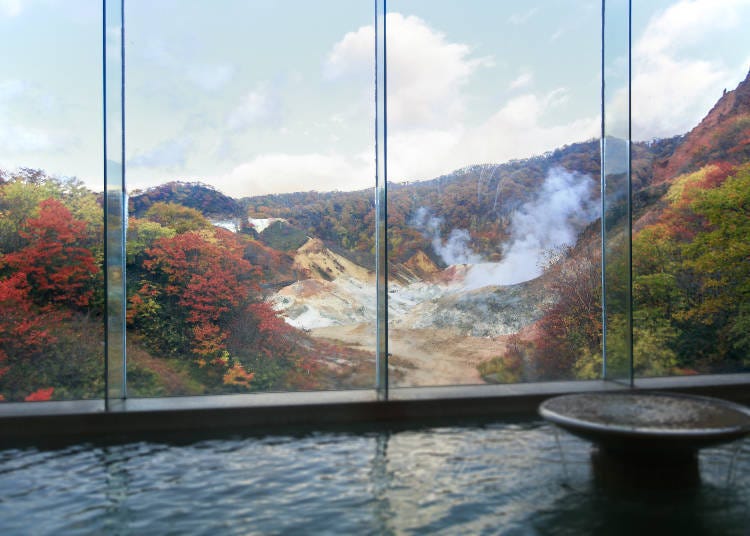 This is the only hot spring inn where Noboribetsu Hell Valley can be seen from a bath!
You will be amazed by the grand scale of the hot spring facility. The hot spring baths are in an annex separate from the main Noboribetsu hotel accommodations and cover an area of about 5,000 square meters. Inside the annex, there are 35 hot spring baths.

According to laws regarding hot springs in Japan, there are 10 types of mineral qualities and of these, five can be found in the baths at Dai-ichi Takimotokan Hotel.
Hot springs having sulfur minerals, that give them a slightly cloudy appearance, are representative of the hot springs in Noboribetsu
The mineral quality of sulfate hot springs (rich in sodium sulfate) make them strongly acidic
Alkaline sodium bicarbonate spring. Also called the "Beauty's Bath" because the sodium bicarbonate makes the skin smooth
The acidic Green Ban spring is strongly bactericidal and is said to be excellent for skin disorders and diabetes
A sodium bath less harsh to the skin. This is good for poor blood circulation and staying warm after leaving the bath
You can enjoy any of these baths 24 hours a day (baths are cleaned daily at which time it is not possible to use them). If you spend a night at the inn you can take as many baths as you like whenever you like.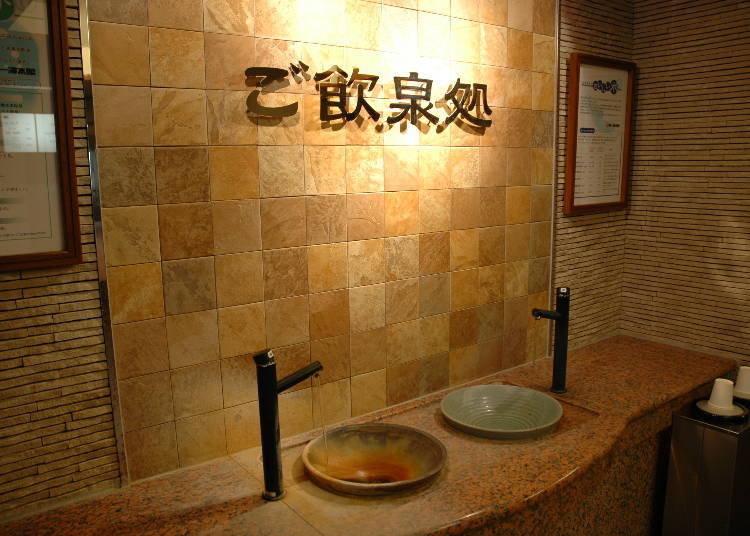 You can also drink the sodium bicarbonate spring water. This is said to be effective for constipation and gout.
There are different types of guest rooms, most being Japanese style, however there are also special rooms as well as barrier-free rooms. The East Annex was renovated in July 2018 making the Japanese-style rooms more stylish and larger.
A spacious special room
Barrier-free room
A view of the buffet (image). The board is laden with crab and other fresh seafood taken from the seas around Hokkaido as well as many types of meat and vegetable dishes.
For dinner, you have a choice of buffet style or Japanese cuisine. Japanese cuisine can either be served in the restaurant or delivered to your room!

The breakfast is buffet style, serving both Western and Japanese cuisine, and the freshly baked bread is quite popular. It is also possible to order either Japanese or Western meal courses from the restaurant.
A Japanese dish (image). Japanese cuisine dishes vary as they use seasonal ingredients
Take a hot spring bath right after you check in. After dinner, take a stroll through the hot spring town and, upon your return, again have a hot spring bath. You can also go to the baths before breakfast, after which visiting Hell Valley and walking in other natural spots is enjoyable. Perhaps you can think of different ways to enjoy the many spas and natural scenery here!
Address

Noboribetsu Onsen-cho 55 , Noboribetsu, Hokkaido, 059-0595
View Map

Nearest Station

Noboribetsu Station (Muroran Main Line)


Vacancy search, reservation

from

17,600JPY

1room, 2adults

Check with our partner site as the latest rates, rate details, and guest room requirements may vary.
2. Noboribetsu Grand Hotel: Luxurious Noboribetsu Ryokan With Private Onsen Baths!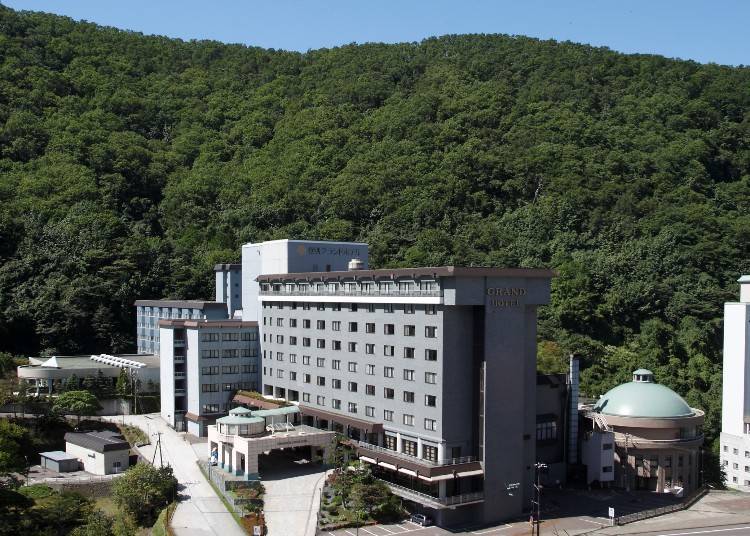 The Noboribetsu Grand Hotel was established in 1938 and since then has earned the reputation as being a luxurious guesthouse in Noboribetsu Hot Springs. Located a short one-minute walk from the Noboribetsu Bus Terminal, it is also only a 10-minute walk away to Noboribetsu Hell Valley.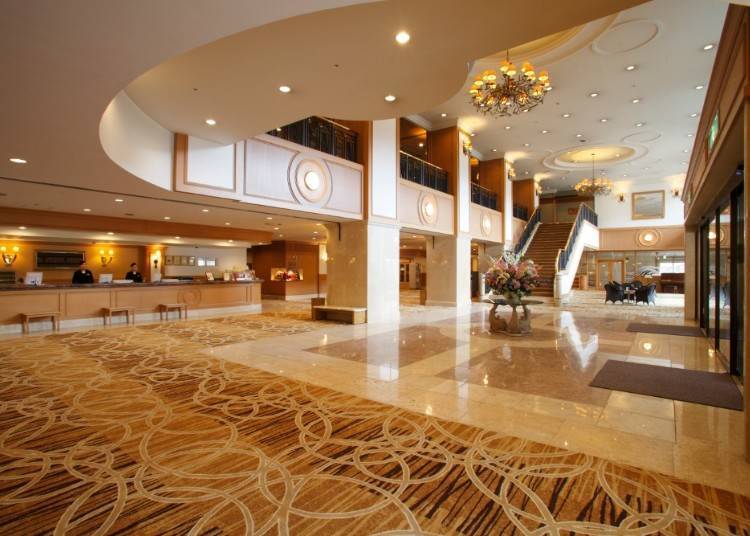 Noteworthy are two of its baths: the Garden Outdoor Bath with View of the Waterfall that has a very Japanese feel and the Roman Baths that evoke images of ancient Rome.

The Garden Outdoor Bath with View of the Waterfall has a pavilion roof so as to make soaking in the bath viewing the Japanese style garden with flowing waterfall before it an enjoyable experience even in the rain or snow.
This is the only outdoor bath with a spacious view of a Japanese garden and waterfall in Noboribetsu Hot Springs
The Japanese bathtub made from Japanese cypress fills the air with its fragrance, and the rock bath evokes a sense of natural beauty. The soothing sound of the waterfall further adds to the relaxing moment.

Japanese cypress wood baths with their sodium salt mineral spring water are noted for maintaining body warmth even after getting out of the tub; the spring water in the rock bath is milky in color, typical of the sulfur hot springs of Noboribetsu.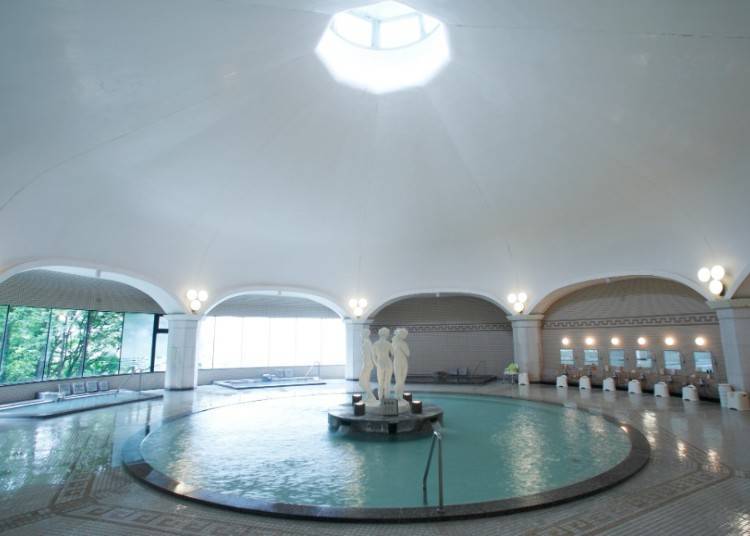 View of the interior of the Roman Bath with its domed ceiling (indoor large bath)
The indoor bath with its pure white large dome and windows high in the ceiling let in streams of light, which are quite impressive. The design is reminiscent of the modern style of the first half of the 1900s. There is a large circular bath in its center with three smaller baths around it.

The circular bath and one of the smaller baths contain salt mineral water, while the other two smaller baths are a sulfur spring bath and an iron mineral bath, which are both excellent for the skin.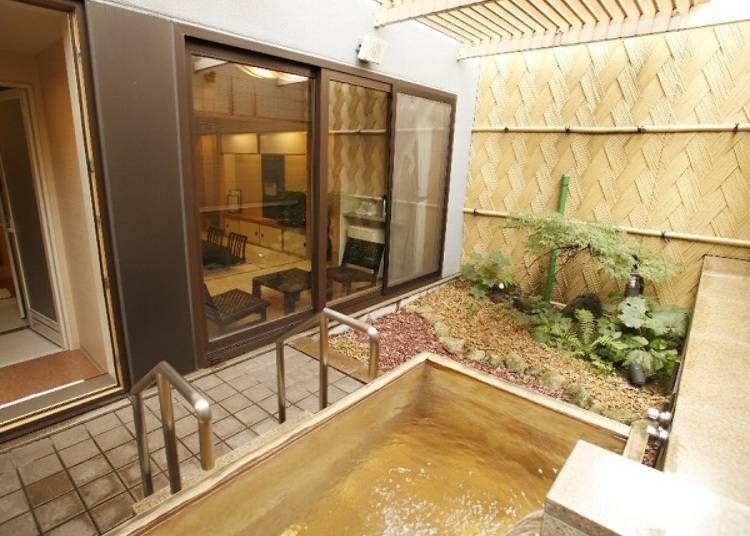 A guestroom with its own outdoor bath!
It is possible to enjoy bathing in privacy as some guestrooms have their own outdoor baths, a few being man-made radium spas.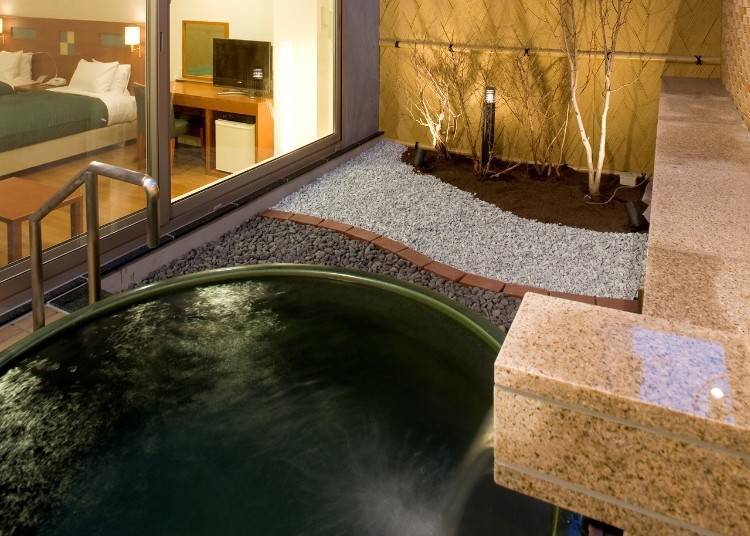 A guestroom outdoor bath. Only the guests staying in this room can enjoy it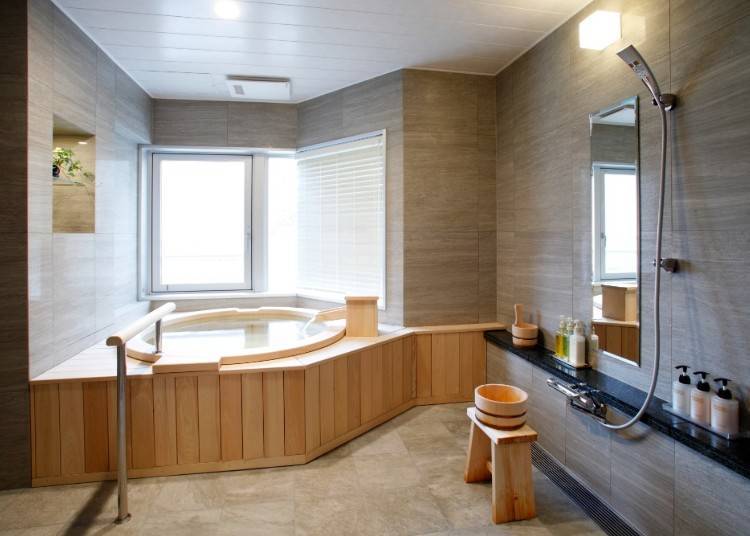 A suite room bath with a view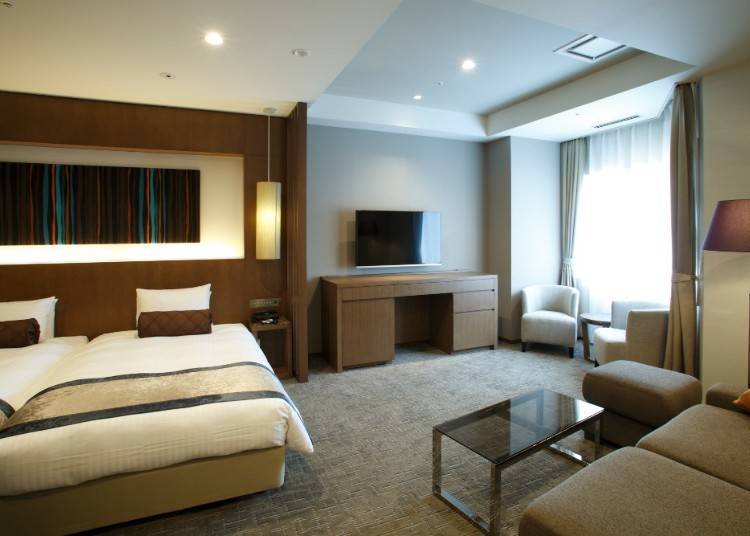 A guestroom that has a bath with a view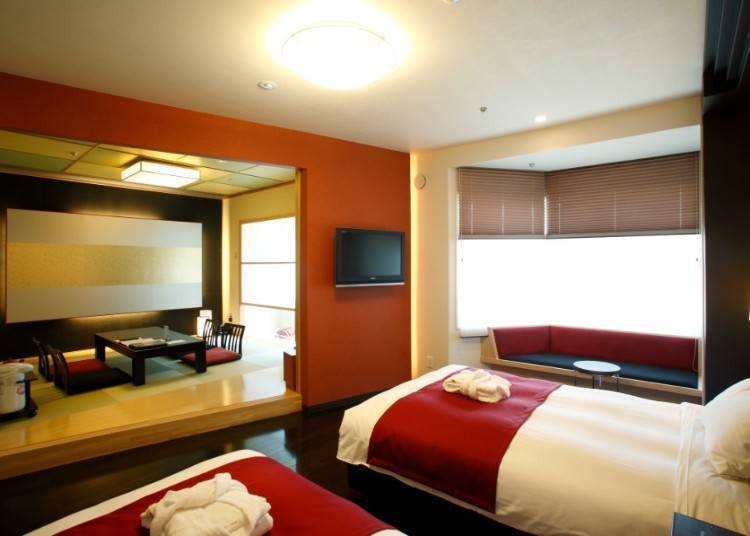 A modern style guestroom having Japanese and Western rooms
A traditional Japanese-style guestroom with tatami mats
Dinner is served in courses, such as a crab course and banquet style. Hokkaido seafood, meat, and vegetables are used in the preparation of the dinner courses. The buffet offers a broad selection of both Japanese and Western dishes to choose from, including Japanese dishes prepared Western-style and Western dishes prepared Japanese-style. Breakfast is also served buffet-style with dozens of Japanese and Western dishes on the menu.
The chefs manning the buffet will prepare juicy steaks cooked to your specification and also prepare crispy tempura before your eyes. This is a dining experience you can fully enjoy.
Address

Noboribetsu Onsen 154, Noboribetsu, Hokkaido, 059-0551
View Map

Nearest Station

Noboribetsu Station (Muroran Main Line)


Vacancy search, reservation

from

24,640JPY

1room, 2adults

Check with our partner site as the latest rates, rate details, and guest room requirements may vary.
3. Park Hotel Miyabitei: Boasting Superb Mineral-Rich Onsen Hot Spring Baths
The Meito no Yado Park Hotel Miyabitei is built over its own bubbling hot spring source. It is located a 10-minute walk from the Noboribetsu Hot Spring Bus Terminal and only a 5-minute walk away from the Noboribetsu Hell Valley.

The longer hot spring water is exposed to air, the more acidic it becomes, lowering its quality, so for that reason, it is best to be able to get the hot spring water into a tub as soon after it leaves the ground as possible. This inn kept that point in mind when it was constructed to ensure that its baths had spring water of the most exceptional quality by having it built over the hot spring. It has five types of baths for guests' enjoyment.
An outdoor milky colored sulfur hot spring bath typical of those found at Noboribetsu Hot Springs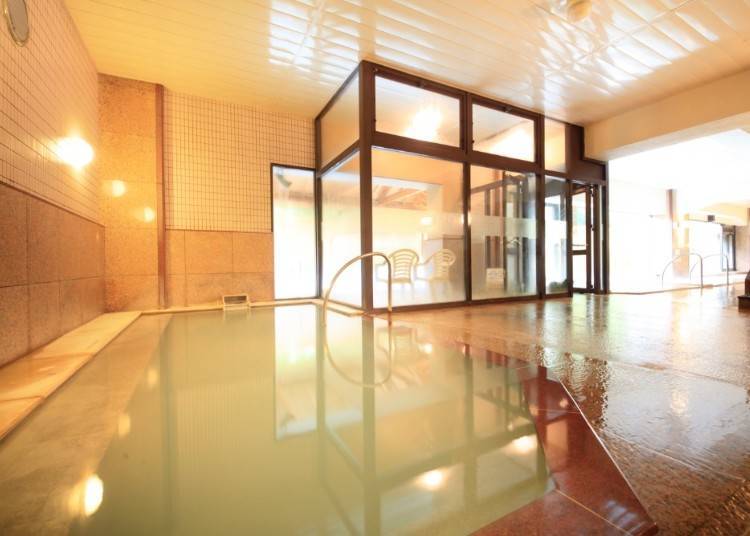 The Kodakara Yu (Bath of Child Treasure) reportedly very effective for female ailments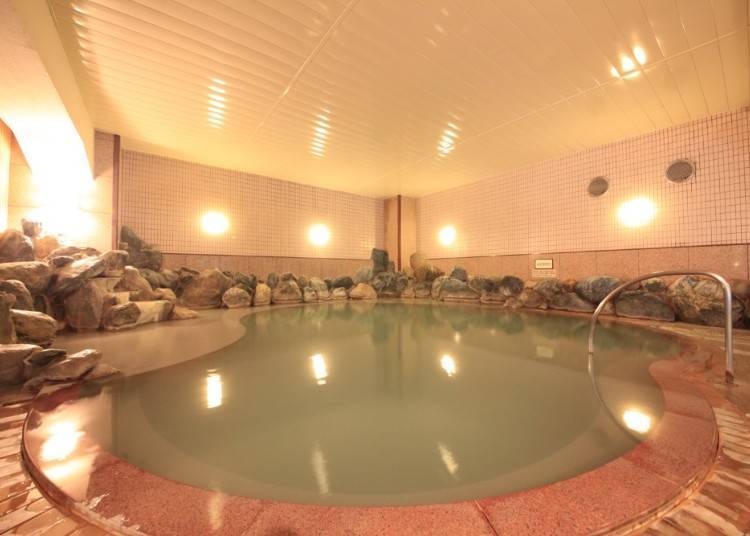 Oku no Yu (Recessed Bath) This bath is said to be effective for many sorts of ailments such as skin disorders and diabetes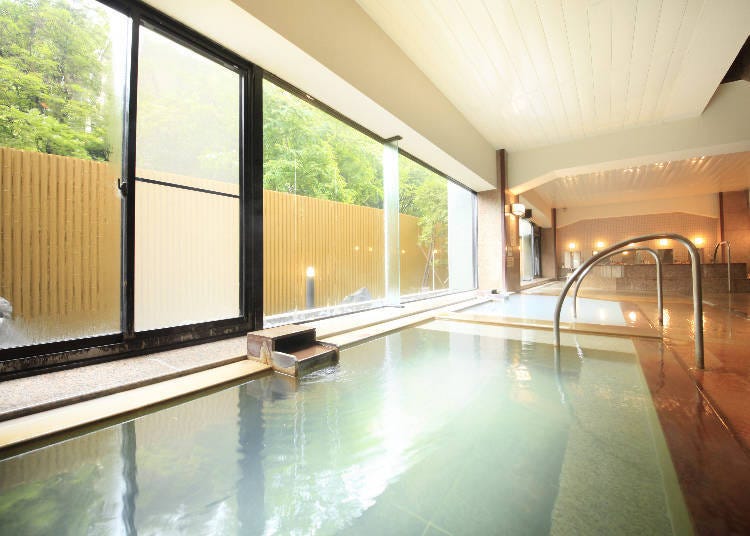 Park Spring. This bath is good for rheumatism and gout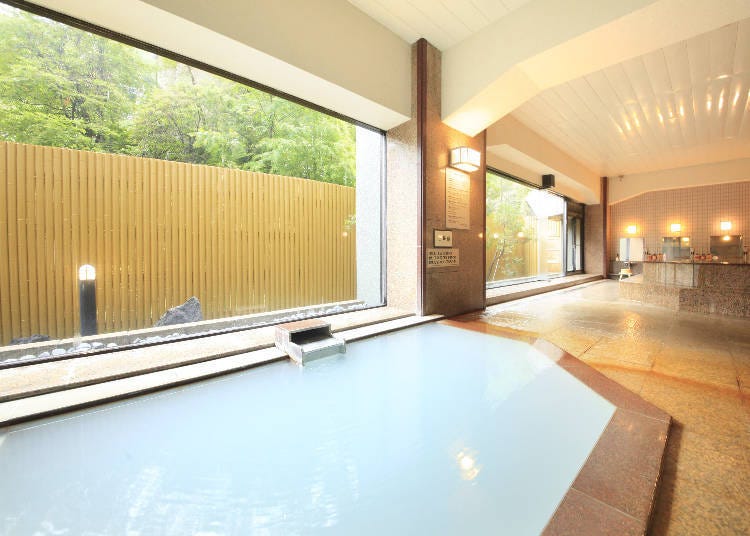 No. 12 Spring. Good for treating external wounds, skin disorders, and allergies
Many of the hot spring inns in Noboribetsu Hot Springs offer day-use of the baths, but this inn only allows overnight guests to use its facilities. For that reason, the baths rarely crowded.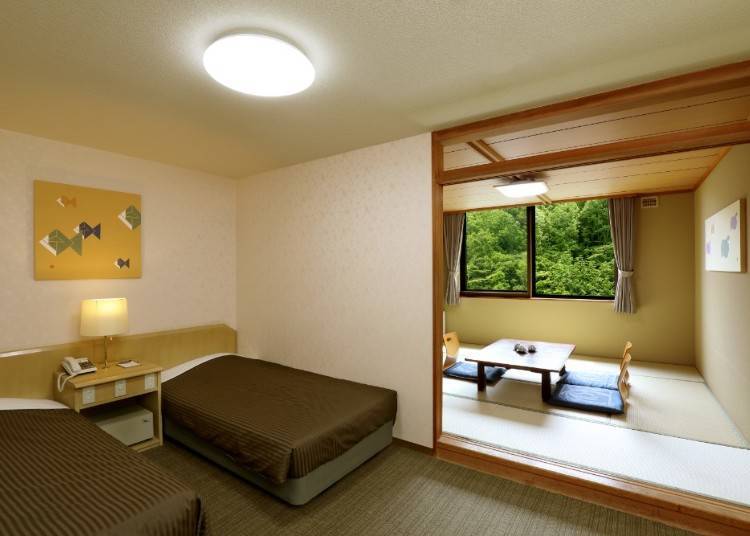 This guestroom with Japanese and Western style rooms can accommodate up to 6 people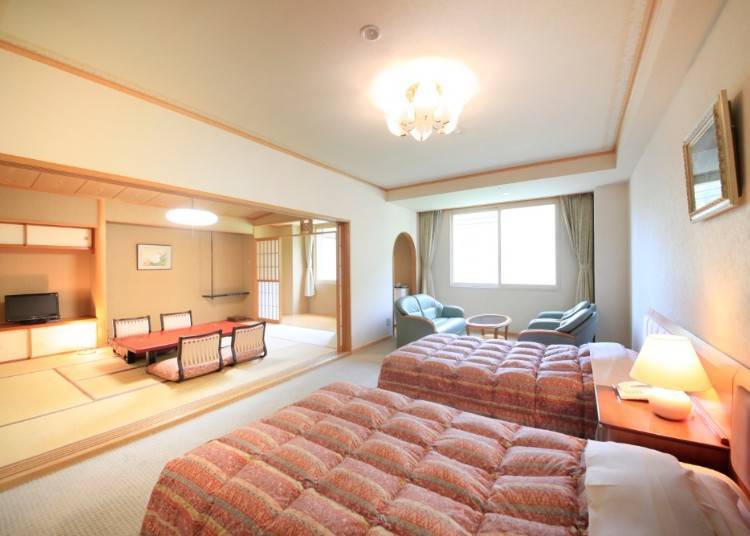 A spacious deluxe Japanese and Western style guestroom
There are various types of guestrooms: Japanese, Western, and a combination of the two.
Dinner is served buffet style. Cuisine, be it Japanese, Western, or Chinese, uses the freshest seasonal vegetables and seafood from nearby seas in the preparation of about 40 dishes offered. The most popular item is snow crab, and of course, you are free to eat as much as you like. Breakfast is also served buffet style.
Appealing

Address

Noboribetsu Onsen-cho 100, Noboribetsu, Hokkaido, 059-0551
View Map

Nearest Station

Noboribetsu Station (Muroran Main Line)


Vacancy search, reservation

from

19,000JPY

1room, 2adults

Check with our partner site as the latest rates, rate details, and guest room requirements may vary.
*This information is from the time of this article's publication.
*Prices and options mentioned are subject to change.
*Unless stated otherwise, all prices include tax.