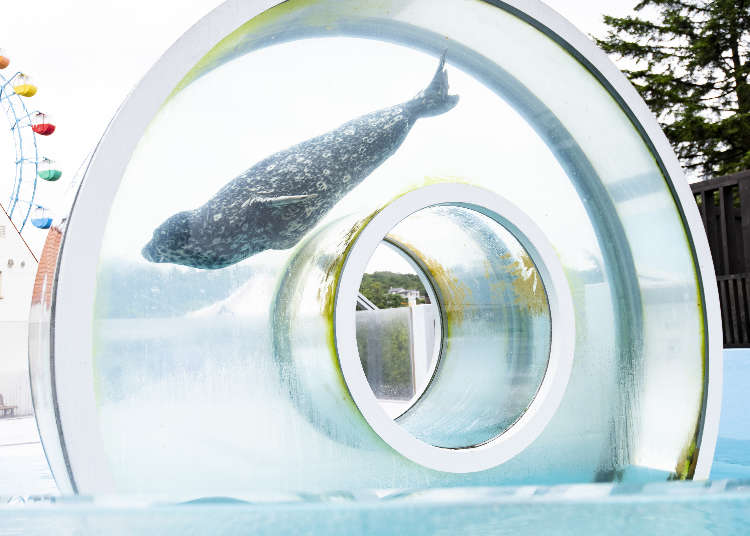 Although Noboribetsu is better known as one of Japan's best hot spring resorts, ask any resident of this Hokkaido town where they spend their leisure time and they may very well point you down the path of some lesser-known theme parks that are especially popular among the locals and worth a visit as well!

Take your pick from the audacious Noboribetsu Marine Park Nixe with its unique exhibits, the traditional Noboribetsu Date Jidai Village cultural park, or the exotic Noboribetsu Bear Park. There's something for everyone here!

Check out our list of must-see park highlights, and get the lowdown on ticket bundles specially designed to give foreign visitors the best value for their trip!
1. Noboribetsu Marine Park Nixe: Amazing castle-shaped aquarium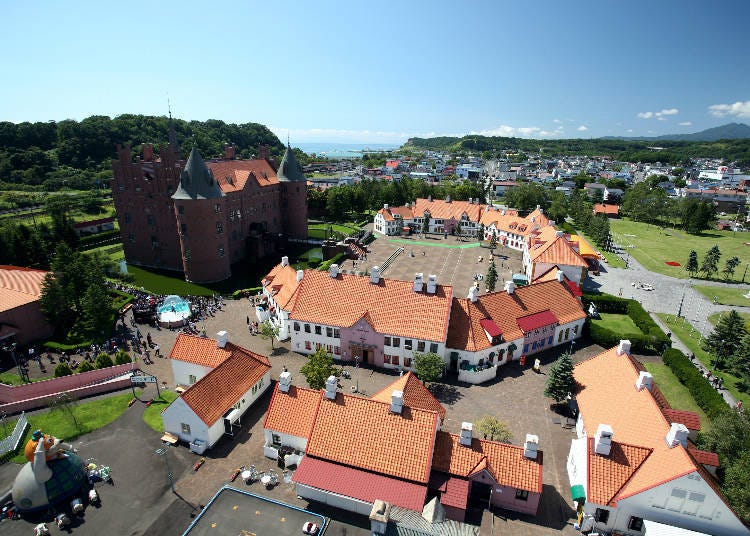 This interesting aquarium has about 20,000 marine creatures of some 400 species on display and is a quick 5-minute walk from Noboribetsu Station on the JR Lines.

Activities at Noboribetsu Marine Park Nixe, such as dolphin and seal performances or special pools where sharks and rays can be touched are designed to allow visitors to come into close contact with these beautiful animals of the sea.

The exhibits here are presented in such innovative ways, they're causing quite a lot of buzz internationally as well! This is an exciting place for people of all ages to walk around in, so it's a perfect spot to visit together with friends and loved ones.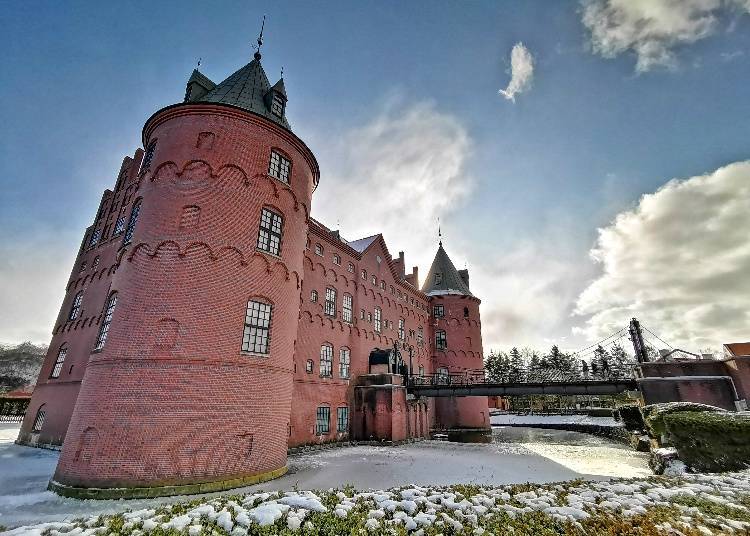 Nixe Castle is based on Egeskov Castle, an actual castle in Denmark!
The first thing that you'll see upon entering the park is the towering Nixe Castle and the sprawling Nixe Square in front of it. This is also the square where the park's famously entertaining penguin parades take place!

The sight of a row of adorable penguins waddling along the road proudly and determinedly will amuse even the most stoic observers, and that's why you simply must find a way to catch a parade if you're visiting the park!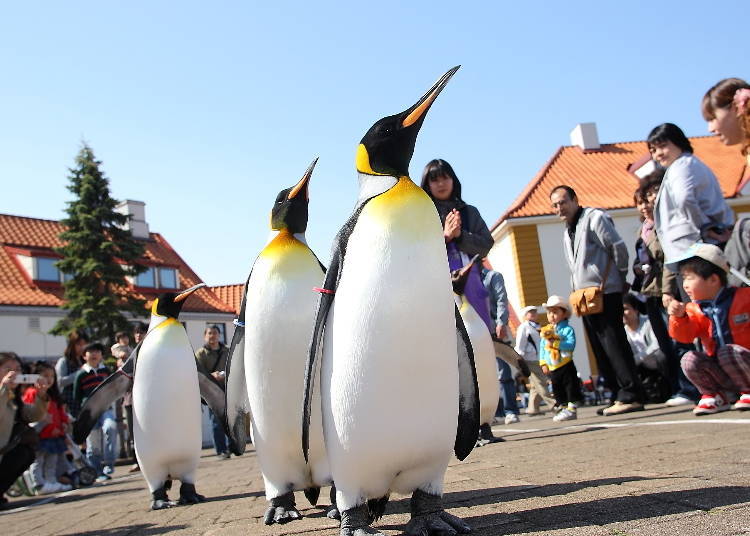 Another must-see spot on Nixe Square is the Seal Ring Pool. As the name suggests, a ring pool filled to the brim with seawater is on display and seals zip around inside the ring skillfully.

It almost seems like they're flying! Visit the pool during feeding times to see the keeper directing these incredible creatures around the ring pool as they await their next meal!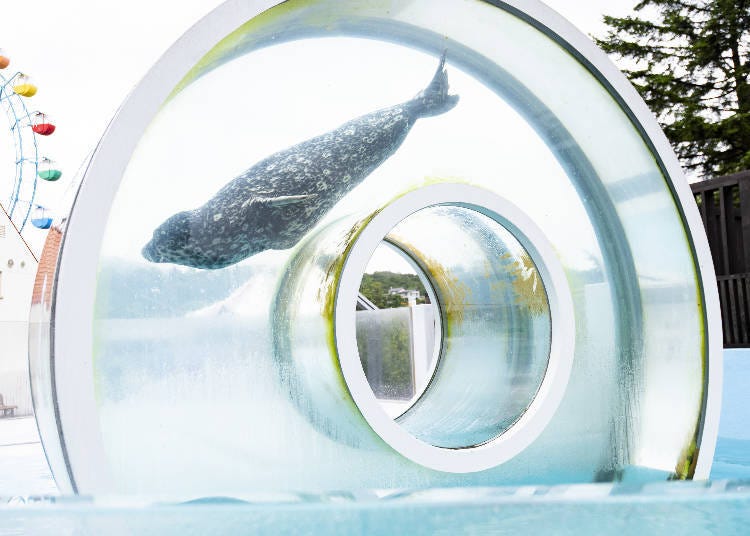 Seal meal time!
Next to Nixe Castle is a building with the Galactic Tank, another must-visit park attraction. The massive tank was given its name because the sight of approximately 10,000 pilchards swimming around inside is reminiscent of the countless stars that glitter in the sky at night.

The lighting here has been deliberately dimmed so that the school of pilchards can stand out even more than they already do.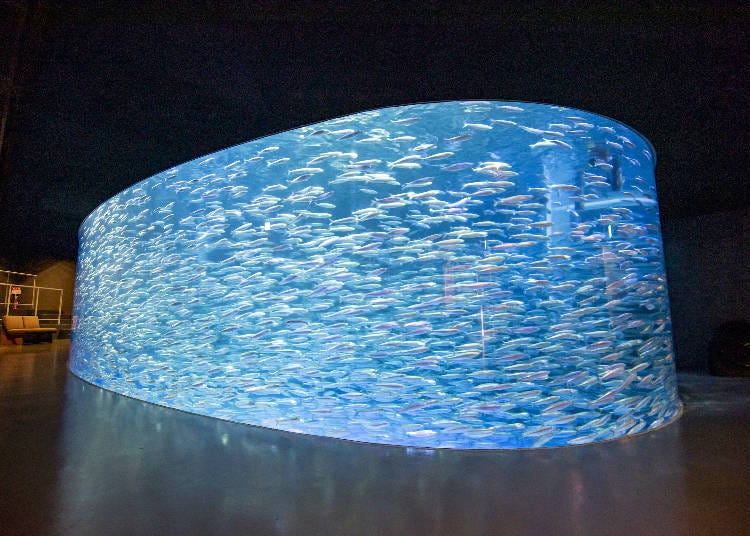 Once a day, a pilchard performance is held here during feeding time. As staff throws food into the tank, the sardines will change formations smoothly to the backdrop of special lighting effects and epic original music.

The choreographies of the performances have been patterned after Japan's four seasons. In spring, the theme is sakura, or cherry blossoms. Summer performances feature spectacular forest green hues. Autumn is all about fall colors. Winter walks you through a landscape of pure snow.

These mesmerizing performances have captivated the minds and hearts of many, and perhaps you will be one of them too!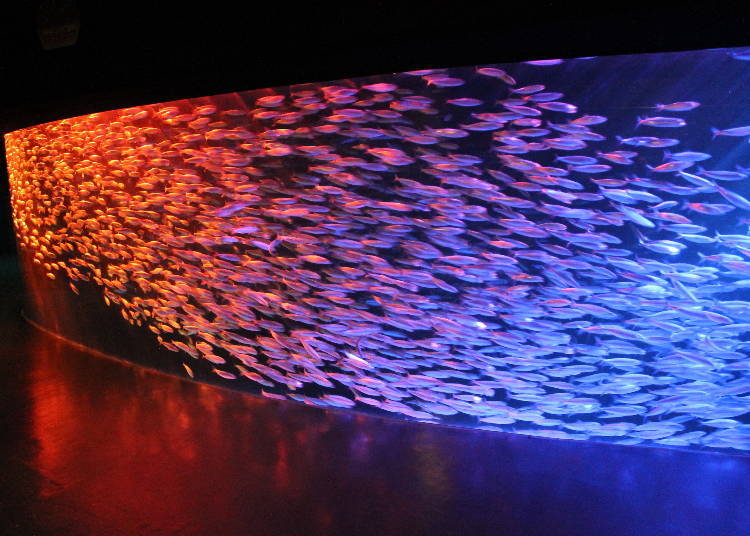 Snapshot of the autumn performance based on warm autumn foliage colors (only available from September to November)
There are plenty of other things you can see and do in this building too! Absolutely check out Jellyfish LABO, the largest jellyfish tank in Hokkaido, where you can enjoy the fantastical sight of jellyfish gracefully bobbing around in a gorgeously illuminated tank as elegant music is being softly played in the background.

You may find yourself lingering here for longer than planned if you're not careful!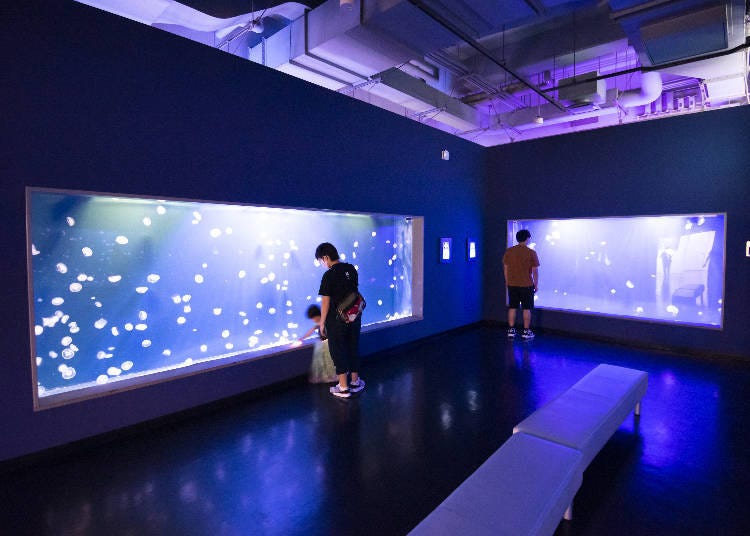 The popular Goldfish Kaleidoscope exhibit is greatly touted for its spiritually healing properties. As the goldfish make their way around the water, their reflections are captured in mirrors that have been installed on the walls and ceilings of the tank, enhancing their flamboyant forms.

According to staff, goldfish, water, and mirrors are all auspicious elements of feng shui that bring prosperity to a person. That's probably why many visitors from the Asia region where feng shui is widely practiced come here to take plenty of photos!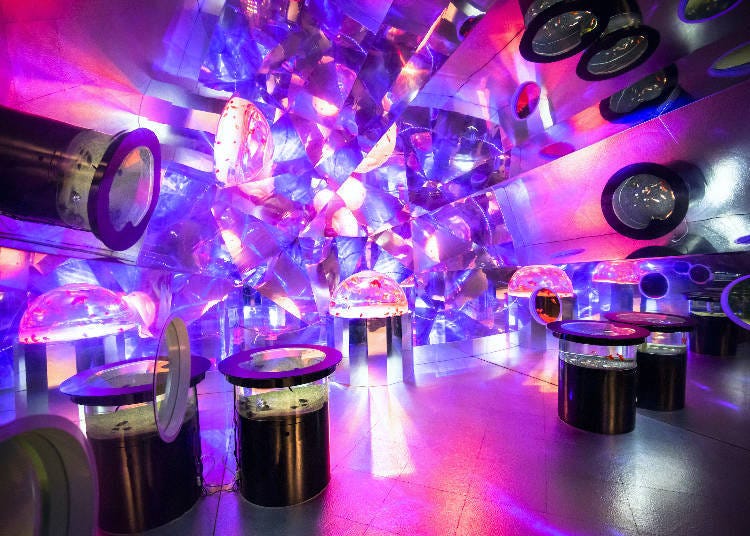 In the deepest part of the exhibit room is a 1-meter wide dome-shaped tank!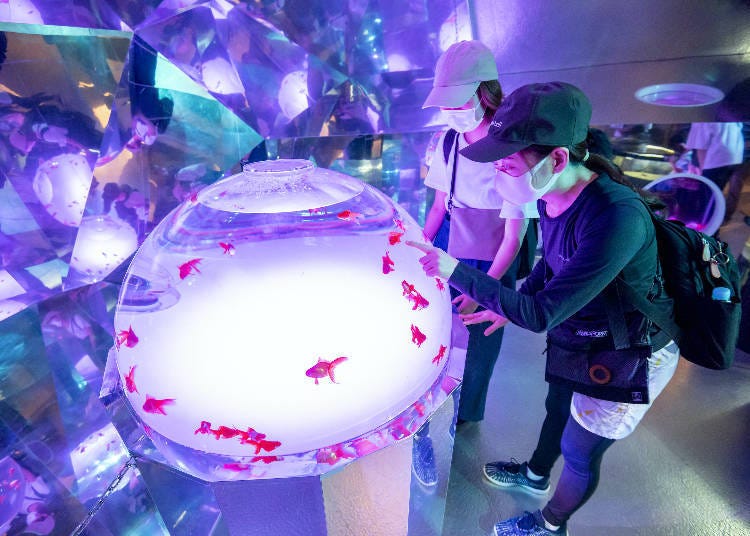 Presently, the goldfish hall's decor is based on the themes of "Noboribetsu Hot Springs" and "Oni" (ogres with horns from Japanese folklore), which will only last until the end of March 2021.

It was created by Hideo Araya, a staff member of the park in commemoration of Marine Park Nixe's 30th anniversary and Noboribetsu's 50th anniversary of the municipality.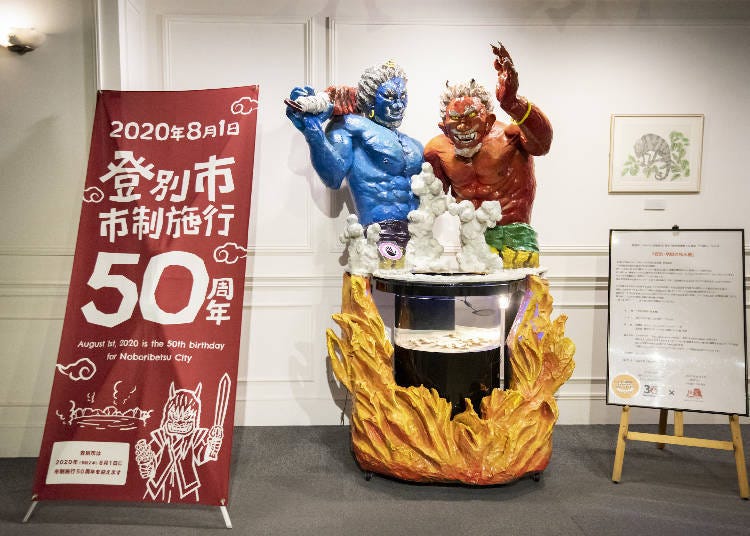 Cassiopeia (upside-down jellyfish) on display in a tank as it looks like the hot spring symbol commonly used in Japan!
Once you're tired from all the sightseeing you've been doing, take a break at one of the restaurants in Noboribetsu Marine Park NIXE or hunt for souvenirs at the shops.

From spring to autumn, an amusement park called Nixeland will be set up on the premises for all to enjoy. You could easily spend an entire day here without running out of things to see and do!

As part of Noboribetsu Marine Park NIXE's measures to prevent the spread of Covid-19, all visitors are required to disinfect their hands before entry, put on their masks, have their temperatures taken, and disinfect their shoes using special disinfection mats.

Only a limited amount of people will be allowed into performance areas. Also, to avoid overcrowding, the official website will be constantly updated with the congestion situation in the park for visitors to check first before heading down.
Address

1-22, Noboribetsuhigashicho, Noboribetsu-shi, Hokkaido, 059-0464
View Map

Nearest Station

Noboribetsu Station (Muroran Main Line)
5 minutes on foot


Phone Number

0143-83-3800
2. Noboribetsu Date Jidai Village: Time travel back to Japan 400 years ago!
In a nutshell, Noboribetsu Date Jidai Village is a theme park that thrusts visitors into a recreated Edo period (1603 to 1868) townscape that's bustling with interesting traditional activities.

The park is a short 10-minute drive from Noboribetsu Station on the JR Lines, or a quick bus ride from the same station via a Donan Bus heading towards Ashiba Iriguchi. Alight at the Noboribetsu Date Jidaimura-mae bus stop to get to the park.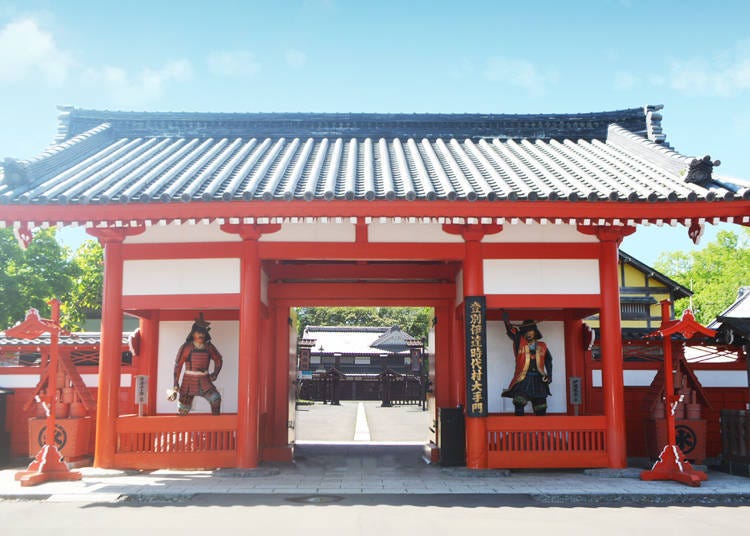 The entrance features a large and brightly-painted traditional-style gate, which leads into a merchant's square with plenty of shops and activity areas.

Try out a throwing star or archery game, hunt for unique souvenirs in one of the shops, enjoy a spot of traditional tea and snacks, or eat a hearty meal of Japanese soba or ramen noodles - all in one convenient location.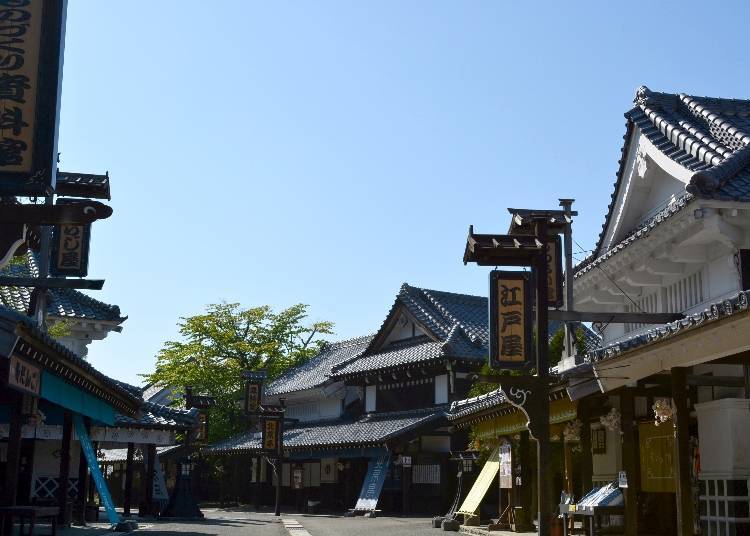 You can also change into the extravagant robes of an ancient Japanese feudal lord or lady in the Utsuroi Hall to take commemorative pictures of your trip here.

To fully immerse yourself in the atmosphere of Noboribetsu Date Jidai Village, visitors are allowed to rent clothes usually worn by samurai, ninja, or noble ladies to walk around in. Now it really feels like you've traveled back in time!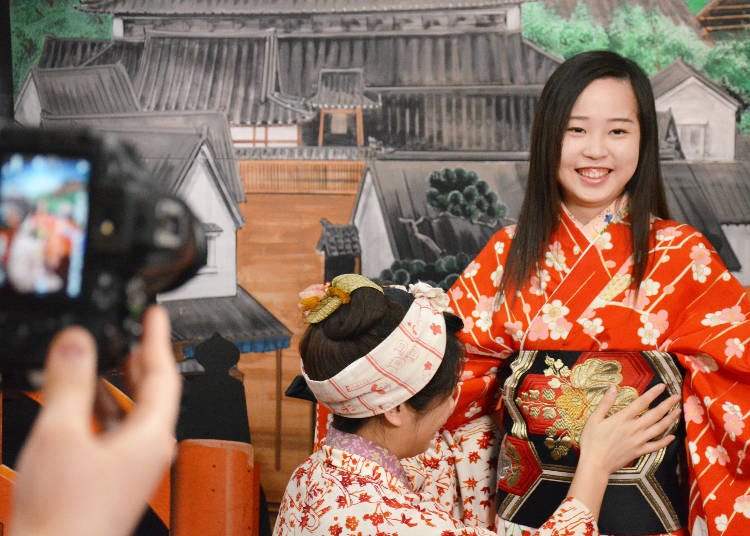 More interesting cultural experiences await in the Edoya building. Here, you'll transform into an Edo craftsman and apply colors to an Edo-style spin top known as the Edo koma or a kokeshi doll.

The result? A unique souvenir designed by yourself that you can show off to your friends and family at home!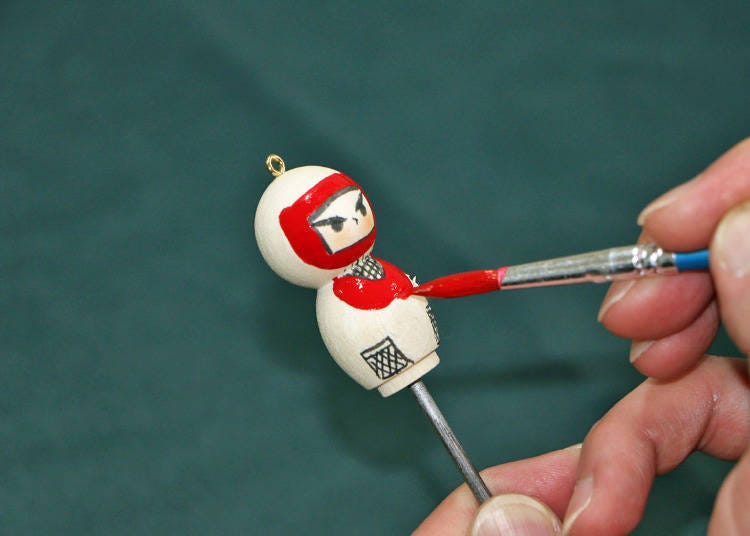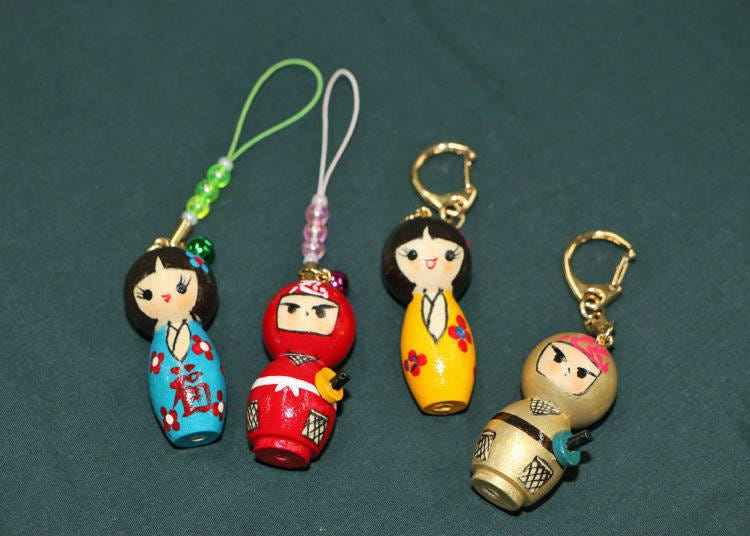 Don't miss the ninja and oiran shows as well! Step into Ninja Kasumi Mansion to enjoy an action-packed show put on by ninja performers as they navigate their way through a trap-filled mansion while battling each other for martial supremacy. Pay special attention to the exciting sword fighting scenes!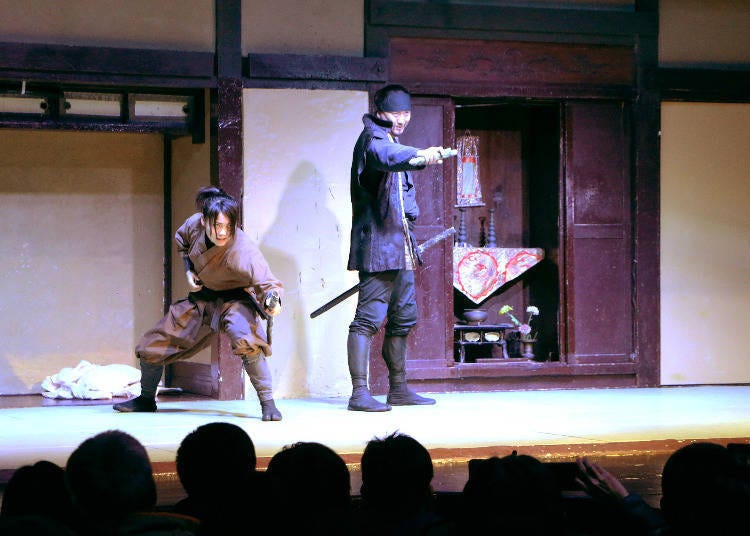 Ninja show
After all that excitement, hop over to the Japanese Traditional Culture Theater for an elegant oiran show, and let this expert in traditional Japanese performing arts calm your heart.

The one playing the powerful general who patronizes the oiran is usually picked from someone in the audience that day.

(Due to Covid-19, this arrangement has been temporarily suspended as of September 2020.)

Other shows worth watching are the Outdoor Action Show where you'll see ninjas flying above the audiences during the performance, or the Nyanmage Comedy show, helmed by the one and only Nyanmage, the mascot character of Noboribetsu Date Jidai Village.

A story guide available in five different languages will be handed out to audiences during entry to the theater so that everyone can enjoy the performances to the full!

*Details about the performances are subject to change due to Covid-19. Some shows are only available during certain periods as well, so please be sure to check for updated information on the official website before making plans.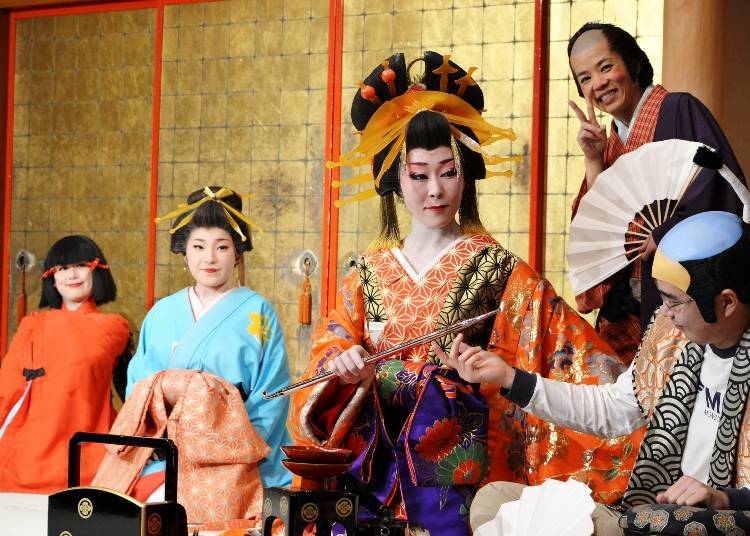 Welcome to the oiran show!
To complete your time-traveling experience, drop by one of the park's souvenir shops to grab a signature product or two that can only be found in Noboribetsu Date Jidai Village. The fact that all items are specially designed to look and feel uniquely Japanese is a very welcome bonus as well!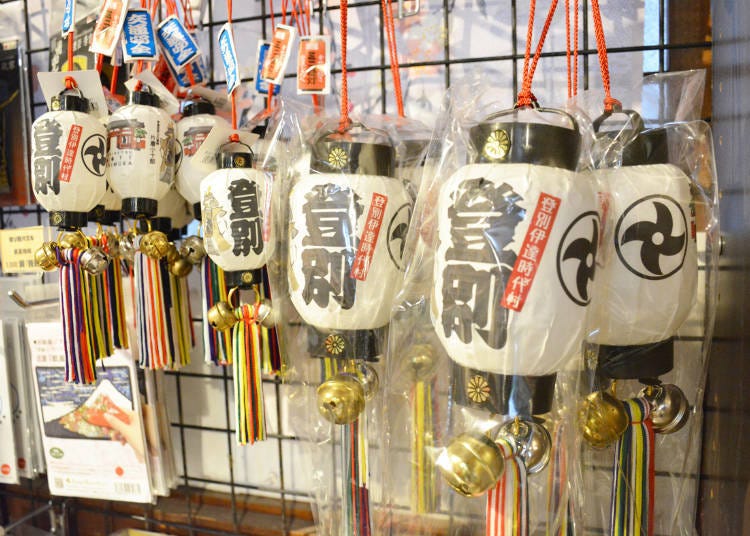 Only found in Noboribetsu Date Jidai Village: "Large Jidaimura Lantern (890 yen, tax included)" and "Small Jidaimura Lantern (450 yen, tax included)"
Oiran Dumplings (680 yen, tax included)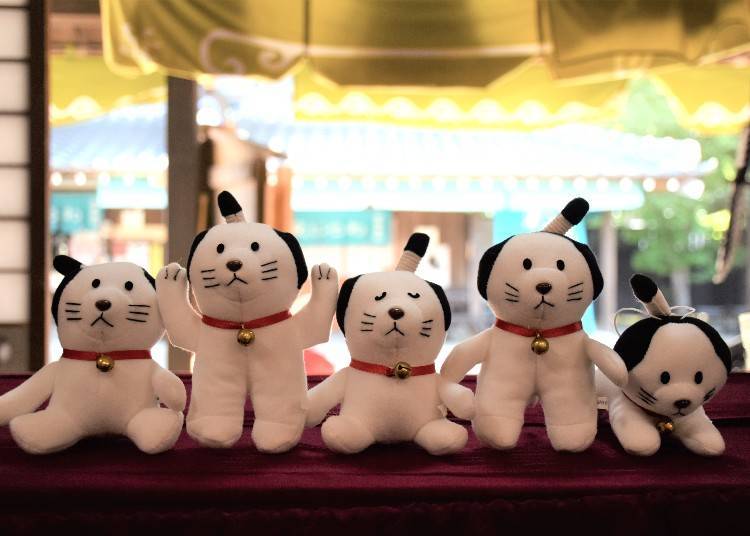 "Nyanmage Style (690 per plushie, tax included)" is a series of plushies of Noboribetsu Date Jidai Village's mascot character Nyanmage in a traditional Japanese samurai hairstyle. Who can resist that adorable face?!
To prevent the spread of Covid-19, staff and visitors are required to put on masks at all times and clean their hands with alcohol-based disinfectants. The facilities are also disinfected regularly, and only a limited number of people are allowed to spectate theater shows at once.
Noboribetsu Date Jidai Village

登別伊達時代村

Address

53-1, Naka Noboribetsucho, Noboribetsu Shi, Hokkaido, 059-0463, Japan

Phone Number

0143-83-3311

Hours: Summer Season 9:00 a.m. – 5:00 p.m.; Winter Season 9:00 a.m. – 4:00 p.m.
Closed: Open daily (except a few days during winter season for regular maintenance)
Parking fee: Bus (large/micro) 1,500 yen; Automobiles 500 yen; Motorcycles 200 yen
Entry fee: Individuals - Adults (above 12) 2,900 yen; Children (7 to 12) 1,600 yen; Toddlers (4 to 6) 600 yen; Seniors (65 and above) 2,200 yen
Groups - Adults (above 12) 2,600 yen; Children (7 to 12) 1,400 yen; Toddlers (4 to 6) 500 yen
Disability discount - Adults (above 12) 1,900 yen; Children (7 to 12) 1,000 yen; Toddlers (4 to 6) 500 yen *1 adult caretaker also enjoys a discounted fee of 1,900 yen
3. Noboribetsu Bear Park: The not-so-secret lives of bears
The animal enclosures in Noboribetsu Bear Park are designed to simulate the original natural surroundings of wild bears while adding plenty of stimulating "environmental enrichments", all for the sake of ensuring the approximately 70 bears here enjoy the best and happiest lives possible.

To get to Noboribetsu Bear Park, hop on a ropeway gondola from Sanroku Station in the middle of Noboribetsu Hot Spring Town.

You can either walk to the station or take a free shuttle bus to conserve more energy for park exploration later! Simply speak to the receptionist at the hotel you're staying at and they'll arrange for the bus to pick you up. As for the gondola ride, it should take about 7 minutes.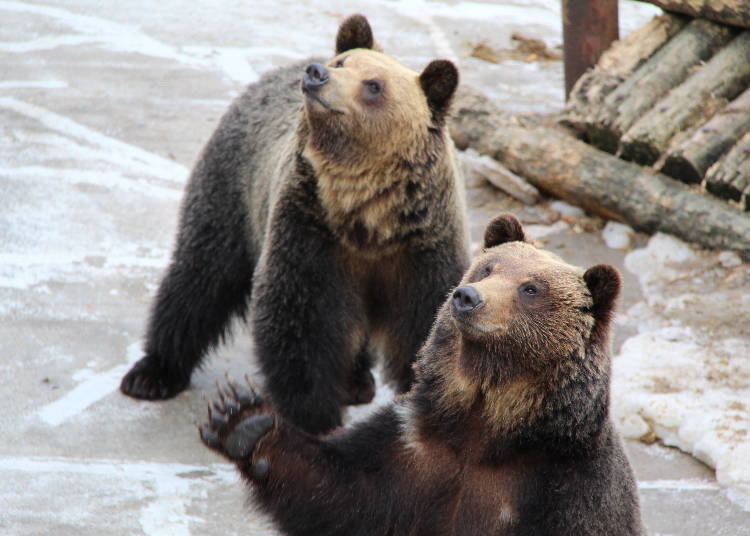 Part of the environmental enrichment project includes setting up play equipment that simulates the action of climbing up trees to drop fruits to eat them. Some environments are designed to make the bears hunt for their food as well, and this is achieved by putting food in things like float balls or tree trunks.

There is a lot of effort put into the equipment of the facility, and it definitely shows! In 2018, in full partnership with Rakuno Gakuen University, cataract removal surgery was performed on resident park bears with cataracts, and the event caused quite a stir among the local community.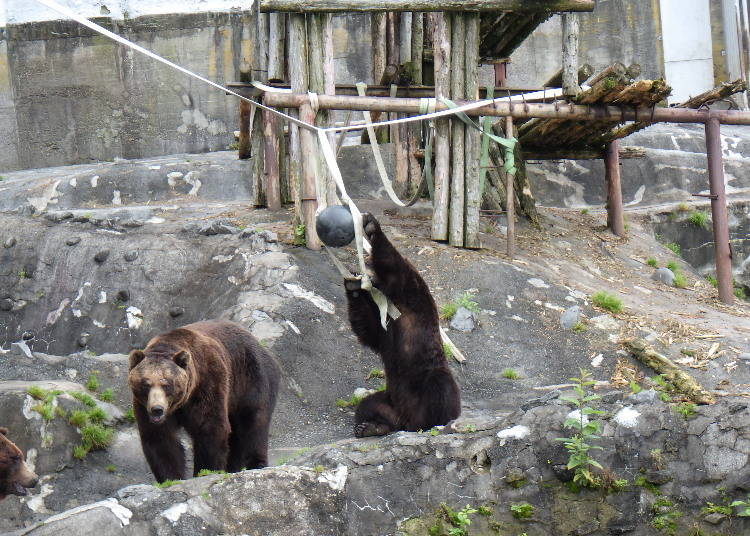 Here's a bear munching on some food that slowly comes out from a float ball!
Treats can be found inside tree trunks as well
The buildings have special viewpoints for visitors to observe the bears in their habitat up close and personally. So close, in fact, you can even see details in the bears' fur, eyes, noses, and ears that wouldn't usually be apparent from a distance!

In years when bear cubs are born, the Cub Nursery is where you'll want to be, in order to see these adorable little bear babies that look just like large and fluffy plushies!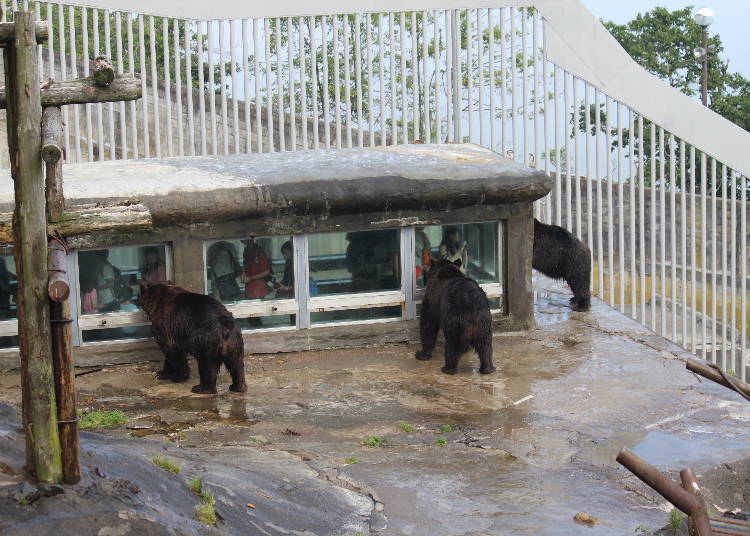 Up close and personal with the bears!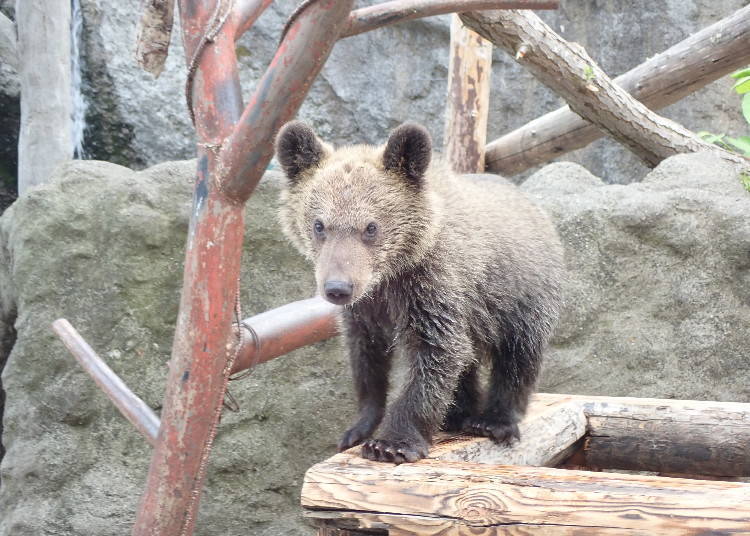 Female bear born in 2020 named Ace
Needless to say, if you're looking for something bear-y special to bring home with, you'll be spoiled for choice in the park's souvenir shop, since many of the items here such as T-shirts, stationery, and even cookies have bear designs! The restaurants here serve jingisukan (grilled mutton) set meals, or you can also go for a local Noboribetsu delicacy, the spicy Enma ramen!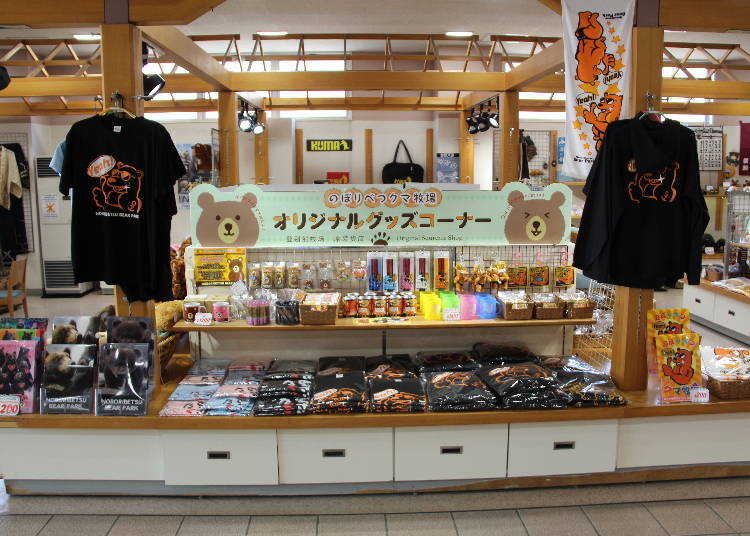 To prevent the spread of Covid-19, the park and gondolas are disinfected regularly, and facilities are kept well-ventilated. Everyone must put on a mask, and alcohol-based hand sanitizers have been installed at intervals for all to use.
のぼりべつクマ牧場

Address

224 Noboribetsuonsencho, Noboribetsu, Hokkaido 059-0551

Phone Number

0143-84-2225

Hours: 9:30 a.m. – 4:30 p.m. (last entry 3:50 p.m.)
*Opening hours have been shortened to prevent the spread of Covid-19.
Closed: Open daily *Except on days when the ropeway service is suspended due to strong winds or legally required maintenance checks
Entry fee: Individuals - Adults 2,650 yen; Children (4 to 12) 1,350 yen *Toddlers 3 and below enter for free
Groups - Adults (10 pax or more) 2,350 yen; Children (10 pax or more) 1,200 yen
Disability discount: Adults 1,350 yen; Children 750 yen *Caretaker 1,350 yen
Parking fee: Large vehicles (above 5 meters or 16 feet) 1,000 yen; Regular cars (below 5 meters or 16 feet) 500 yen; Motorcycles 200 yen
The Noboribetsu Theme Park Ticket: A discount deal made especially for you!
Buying this ticket grants you access to all three parks introduced in this article for a deeply discounted rate. Since it's only available to foreign visitors, it's a deal you can't afford to miss!

You have the choice of two types of tickets that will allow you entry into two or three parks, depending on what you pick. The 3-Parks Ticket costs 6,500 yen for individuals above 13, or 3,400 yen for children between 4 to 12, whereas the 2-Parks Ticket costs 4,400 yen for individuals above 13, or 2,300 yen for children between 4 to 12. All prices are inclusive of tax, and the tickets are valid for three whole days!

This means you can take your time to explore one park each day if you like. You can really tell a lot of consideration went into the planning of these bundles!

These tickets can be purchased from any of the theme parks here, Noboribetsu International Tourism & Convention Association Tourist Information Center, and Noboribetsu Gateway Center's tours. It is without a doubt the best ticket bundle to get if you're planning on going to all three parks.

*Information presented here about the Noboribetsu theme park tickets are accurate until the end of March 2021. Check the official websites of each facility for details after April 2021.

*Visitors using the Noboribetsu Theme Park Ticket are urged to check Noboribetsu Marine Park Nixe's foreign language websites for details on how to use it properly.

*Information presented in this article is accurate as of September 2020.
*This information is from the time of this article's publication.
*Prices and options mentioned are subject to change.
*Unless stated otherwise, all prices include tax.