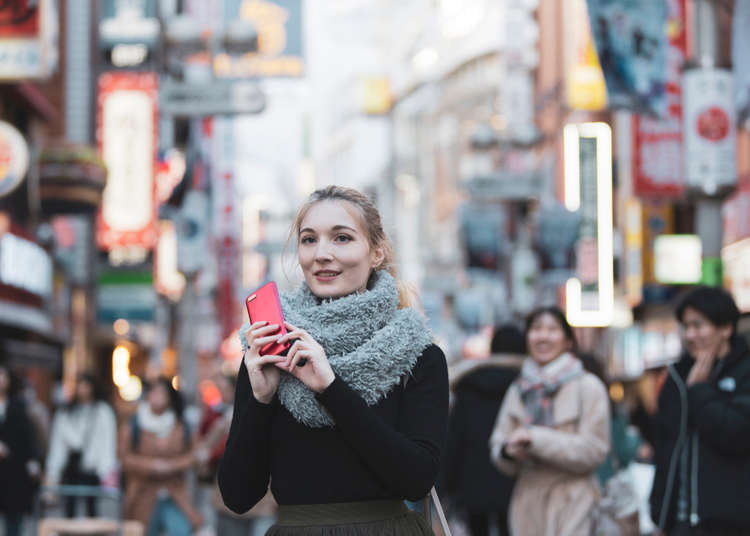 Tokyo is full of free and fun adventures letting you enjoy the bustling metropolis without spending a fortune. From fascinating exhibits, stunning parks, and even free beer, these 20 free things to do in Tokyo are carefully picked to ensure you're getting the most out of your holiday!

Start here to plan your next Tokyo adventure!
1. Relax in the Imperial Palace East Gardens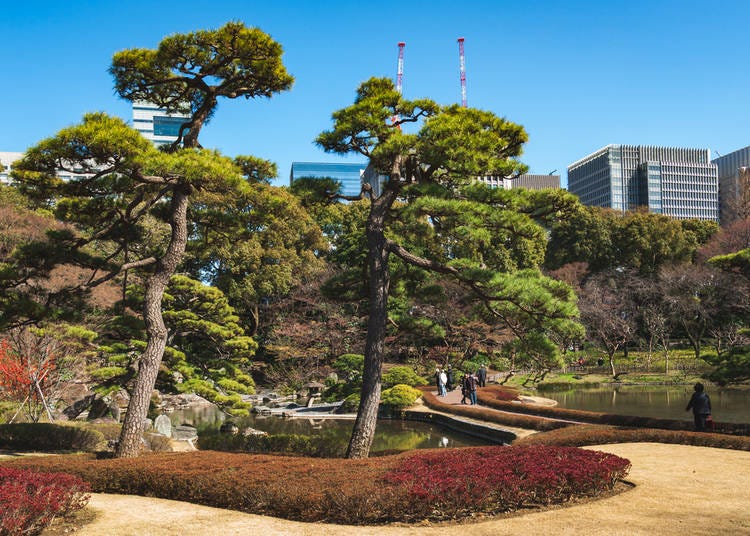 The gorgeous East Gardens of the Imperial Palace are open and free to the public. These sacred grounds are renowned for their painstakingly crafted greenery and meticulously planned layout, making them the epitome of a traditional Japanese garden. Here you can relax, stroll, and catch your breath during a busy day of exploring. Adding a little more excitement are the ruins of the tallest castle tower in Japan, which where once a part of the sprawling Edo Castle complex. The park has alternating closing hours depending on the season, so be sure to check before you go.
2. Take a Free Sightseeing Bus
MMXeon / Shutterstock.com
Walking around can be exhausting, and Tokyo's labyrinth train system can confuse anyone! Thankfully there are numerous free sightseeing busses spread throughout Tokyo letting you take in the hustle of the world's largest metropolis in comfort!

This includes the Tokyo Bay Shuttle covering the artificial island of Odaiba, along with the Marunouchi Shuttle, which circles the sprawling shopping district around Tokyo Station. Another popular free ride is the adorable Panda Bus that will take you around tourist meccas Ueno and Asakusa in the cutest way possible! You can find the timetables and stops of these free sightseeing busses here.
3. Partake in Seasonal Celebrations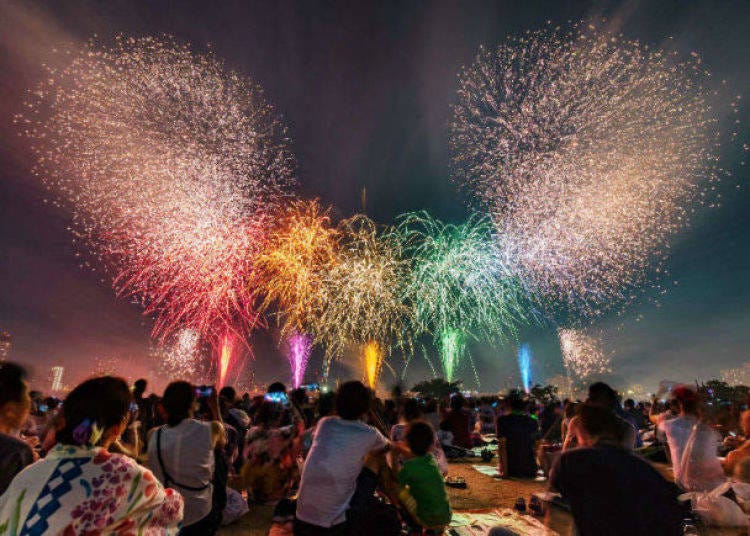 Throughout the year Tokyo holds a range of seasonal events free to enjoy! For nature-lovers, spring is celebrated by the much-anticipated Cherry Blossom viewing parties, generally held from mid to late March. Summertime is filled with dozens of spectacular fireworks shows across Tokyo frequented by locals in traditional yukata dresses. In winter, the city is taken over by stunning free light displays called illuminations, along with several magical European-style Christmas markets that are growing each year! See what fun seasonal event lines up with your trip!
4. Have Fun at Traditional Japanese Festivals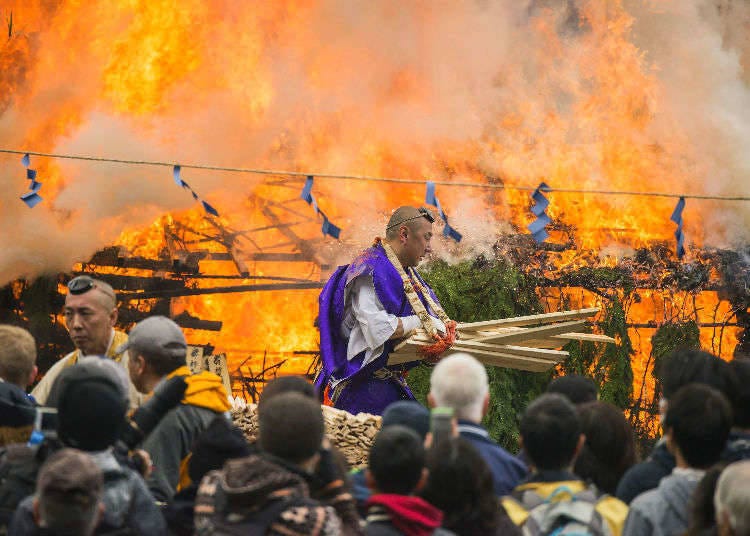 Traditional Japanese festivals, known as matsuri, are enchanting events often spanning days! Many of these festivals occur over summer and involve parades of dancing locals accompanied by classical Japanese instruments such as taiko drums and shinobue flutes.

Street stalls selling merchandise, food, and drinks are often nearby, as are glowing paper lanterns and portable mikoshi shrines.

Many of these festivals have hundreds of years of history, making them a great way to get in touch with a more traditional side of Japan.

Prominent summer festivals in Tokyo are the Shinjuku Eisa Festival, the Bon Odori festival, and the Mt. Takao Fire-Walking Festival. Check if your time in Japan coincides with any of these fantastic festivals!
5. Take Pictures at Asakusa's Kaminari-mon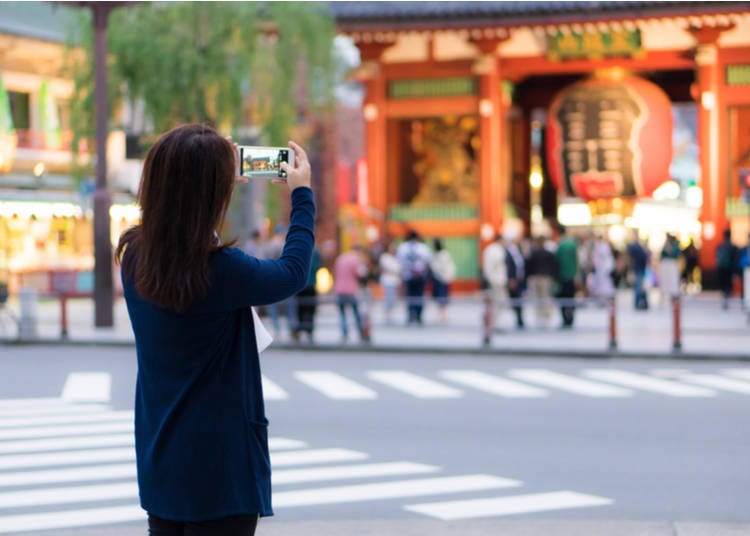 Kaminari-mon, translating as the Thunder Gate, is an iconic historical landmark located in the ancient Asakusa area. The eye-catching gate marks the entrance to the colorful Sensoji Temple, revered for being the oldest in Tokyo. Here, tourists and worshipers alike are captured by the gate's enchanting aura and enthralling historical significance. The gate, temple, and corresponding shopping arcade provide an alluring encounter for those longing to see old Tokyo. The gate's naturally photogenic qualities will definitely produce awesome holiday snaps!
6. Walk the Length of Ameya Yokocho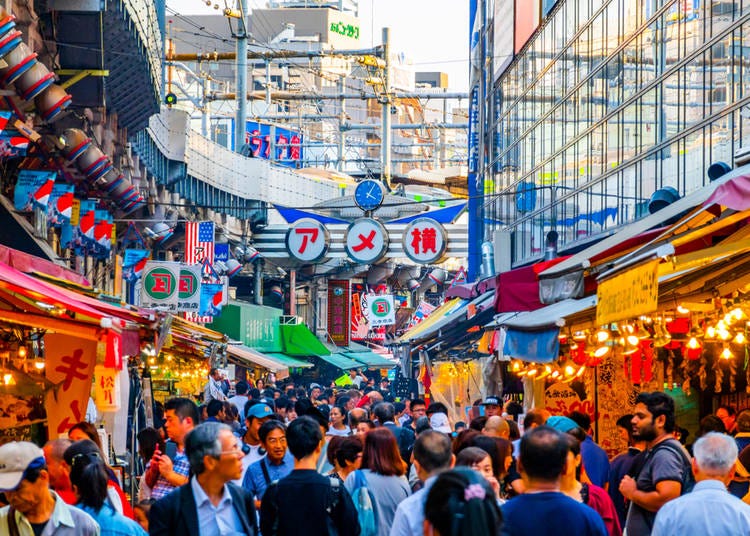 beeboys / Shutterstock.com
Starting from Ueno Station, Ameya Yokocho, locally called Ameyoko, is an enormous street with over 400 shops selling almost everything you can imagine. Even without buying anything, wandering the street and taking in the unique atmosphere is a fascinating experience. Originally a black market opened following the chaos of World War II, the street is a living relic from a long-lost Japan. The area has a lively open-market character rarely seen in Tokyo, and is constantly swarmed with expert bargain-hunters looking for a good deal. Be on the lookout for vendors selling fruit-on-a-stick and other tasty street foods.
7. Enlighten Yourself at Shrines and Temples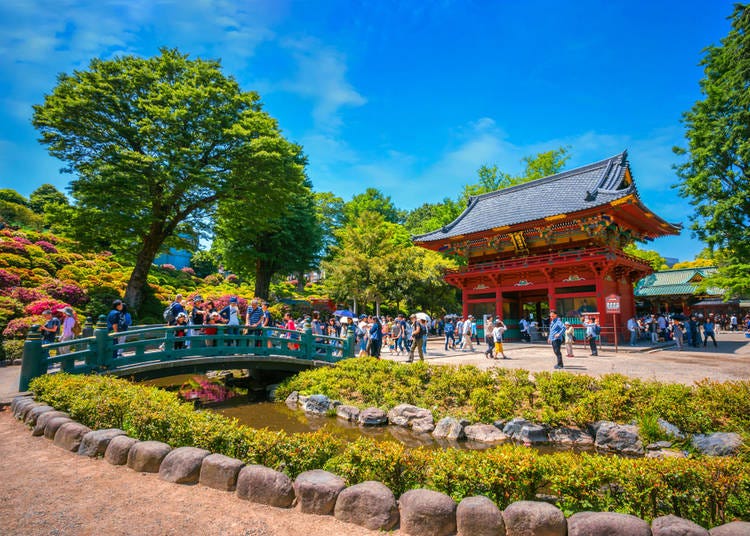 cowardlion / Shutterstock.com
The shrines of Japan's national religion, Shinto, are always free to enter and enjoy! Their striking red torii gates pop out from surrounding buildings, making them easy to find. These divine sanctuaries provide authentic glimpses into this enchanting religion as well as a peaceful place to unwind. Some must-see shrines include the huge Meiji-jingu Shrine in Harajuku, the tranquil Nogi-jinja Shrine in Roppongi, and the radiant Kanda Myojin Shrine in Sotokanda.

Buddhist temples are also common in Tokyo. Many are completely free, while others require a small donation. Buddhist temples can be differentiated from shrines by their muted colors, statues of Buddha, and curved pent roofs. Some fantastic free Buddhist temples in Tokyo include the peaceful Zenkoku-ji in Kagurazaka and Gotokuji - a unique temple full of cat figurines! You'll be sure to stumble upon other hidden shrines and temples during your time in Tokyo, so keep a look out!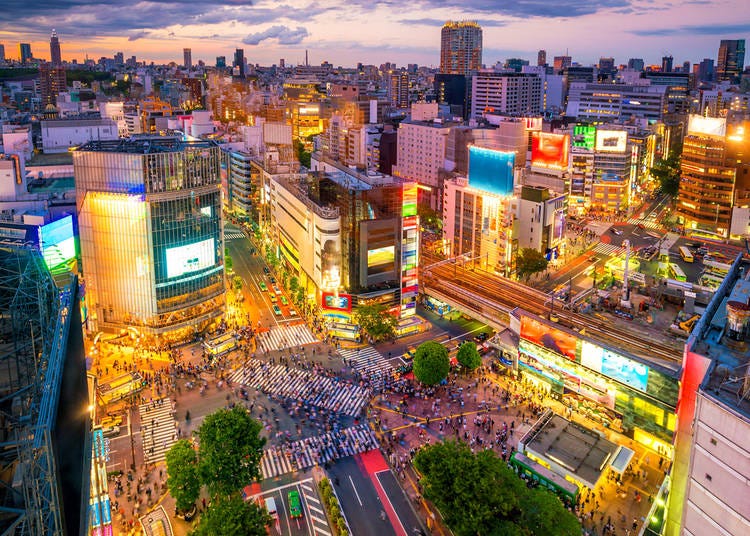 Perhaps the most iconic part of Tokyo, making your way to Shibuya is a rite of passage for all lovers of Japan! It is home to the famous Shibuya Crossing, which has appeared in dozens of film and television shows. You can partake in the crossing yourself, or enjoy the strangely entrancing intermittent scramble from numerus surrounding viewpoints. One free place to watch the spectacle is from Shibuya Station, which has many large glass windows overlooking the scene. For those wanting to dive a bit deeper, there is a free guided walking tour that runs every night from 7:30pm. The tour is hosted by locals eager to show tourists Shibuya's many hidden gems that are often overshadowed by the gargantuan crossing.
9. Taste Free Beer at Suntory Musashino Brewery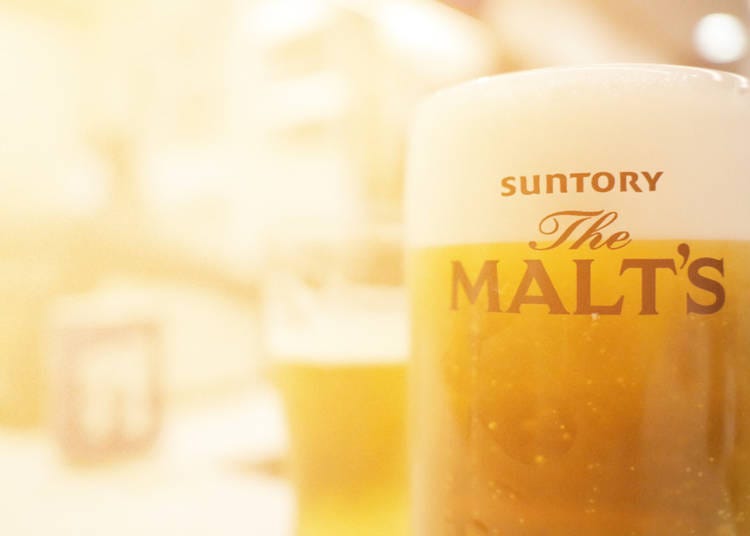 karanik yimpat / Shutterstock.com
For beer-lovers, Suntory offers free tours and tastings at their Musashino brewery in West Tokyo. This 70-minute experience includes exploring the factory, hops and grains tasting as well as stepping inside a real beer vat! You'll also learn Suntory's history as one of Japan's leading companies along with their delicate brewing philosophy. However, the best part is saved for last! 3 mouthwatering beers straight from the factory are served with snacks – all for free! After all that walking, these well-earned beers will surely be appreciated even more knowing all the effort and technology put into their creation!
10. Soak up Nature in Free Parks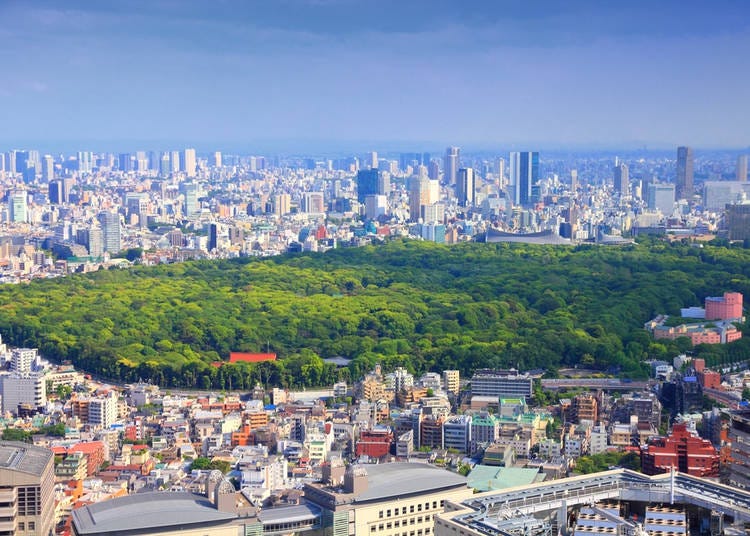 Tokyo is overflowing with free parks set up for residents and tourists to enjoy nature and take a break from city life. These parks are the ideal spot to eat lunch, unwind, and let your mind wander. Many also make for fun attractions, such as Harajuku's Yoyogi Park, a hotspot for eccentric performers and fashionistas where you can catch free shows. Other must-see Tokyo parks include the fresh and breezy Sumida Park, famous for its unique photo opportunities, and Ueno Park, which features a beautiful lake and two temples. Plenty of smaller neighborhood parks are dotted throughout Tokyo just waiting to be discovered, so be sure to consult your map!
11. Wake Up Early for the Tuna Market Auction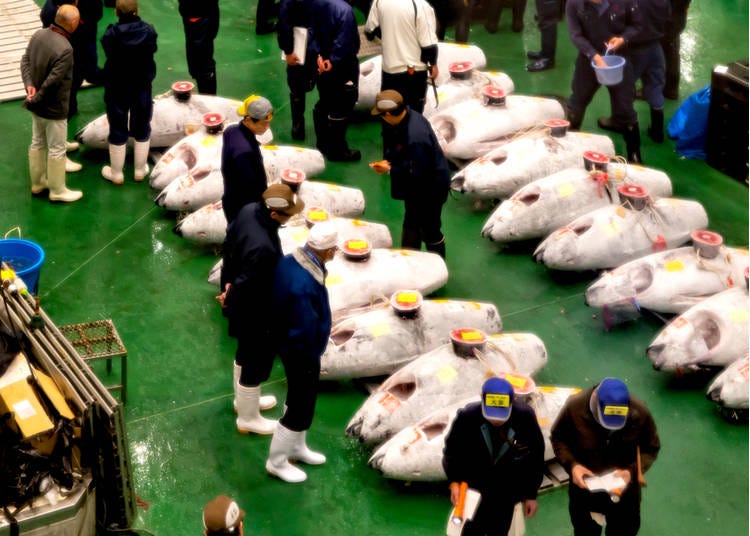 Osugi / Shutterstock.com
While the original Tsukiji Fish Market closed in 2018, the new tuna auction in Toyosu, located in Tokyo's Koto Ward, is a worthy successor! Admission is free, including access to dedicated viewing platforms allowing you to absorb all the frenzied action from above. You can also try your luck applying online for a spot on a special observation deck closer to the action. These tickets, which are also free, are available for about 10 days each month on a lottery system to book for the following month. While the market is open all day, with the exception of Sundays and public holidays, the tuna auction takes place early from 5:30am to 6:30am, so be careful not to miss out!
12. Learn About Broadcasting at Asahi TV Headquarters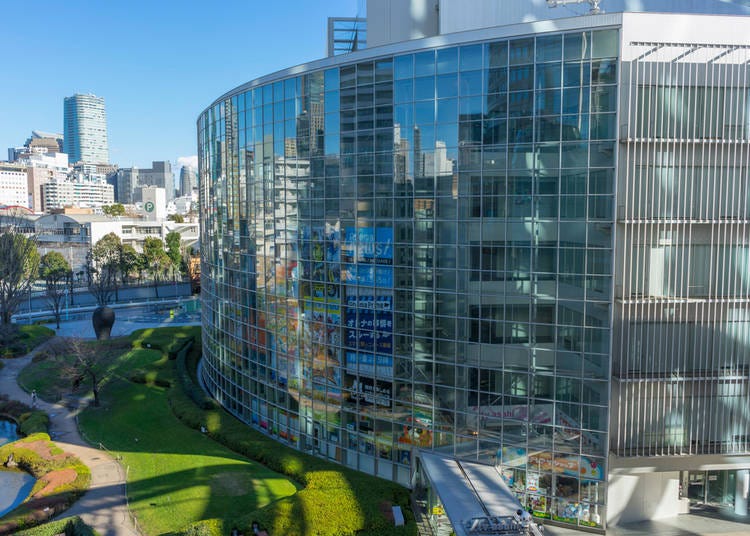 ben bryant / Shutterstock.com
Asahi TV is one of Japan's largest broadcasters, owning universally adored properties like Doraemon and Crayon Shin-chan. The ground floor of their headquarters in Roppongi is free and full of colorful exhibitions and information on the network's 60+ years. Fun interactive arcade games, amusing photo opportunities, and fascinating displays are around every corner. After you've finished exploring, strolling the surrounding Roppongi Hills, an elegant mini-city filled with dazzling architecture, is also highly recommended.
13. Check Out the Torture Museum at Meiji University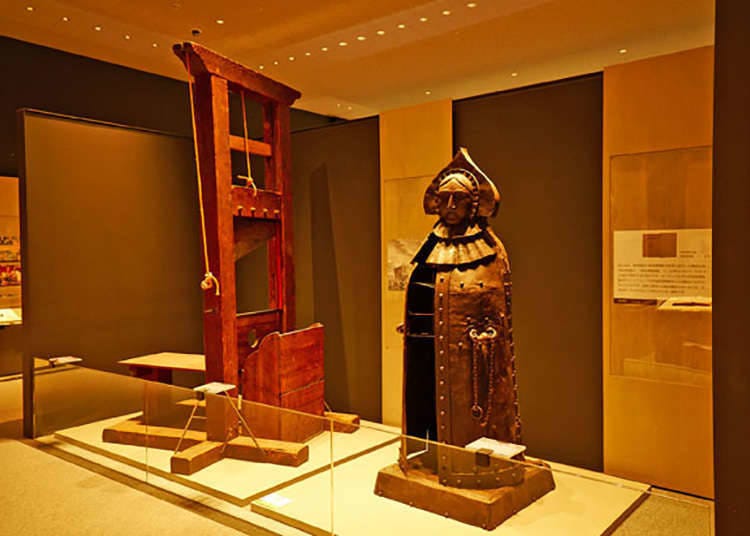 For the history buff, Meiji University Museum's free exhibitions make for an informative excursion! The museum boasts impressive archeological artefacts, ancient Japanese crafts, and its crown jewel: The Torture Museum. Perfect for admirers of the macabre, this popular section features dozens of original and replica tools used in the brutal criminal justice system of our past. The collection contains pieces from both Japanese and worldwide history, including a fearsome Iron Maiden and French guillotine. Detailed explanations in English are provided so you won't miss out on any of the gruesome details!

For those inclined toward strolling around a more upbeat museum, here's a variety of other free museums in Tokyo!
14. Enjoy Views From the Tokyo Metropolitan Government Building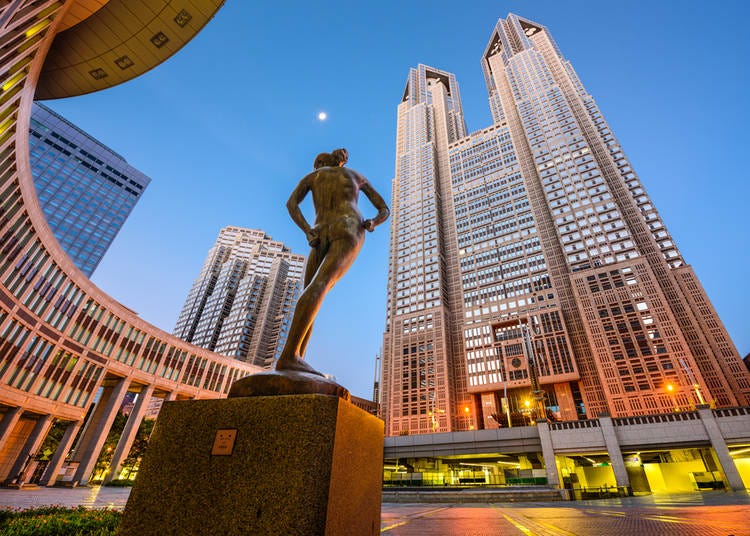 Sean Pavone / Shutterstock.com
For stunning 360 views of Tokyo without paying a single yen, head to the Tokyo Metropolitan Government Building. A 10-minute walk from Shinjuku Station, its distinct double towers make it easy to find. Inside you'll be treated to a breathtaking panorama of Tokyo and surrounding cities. Landmarks such as the Tokyo Skytree and Meiji Shrine can be easily spotted, and, if you're lucky with the weather, Mt. Fuji can be viewed from the west! If you're after night views, the North Tower Observatory is open until 11:00pm.
15. Wander the Anime Paradise of Akihabara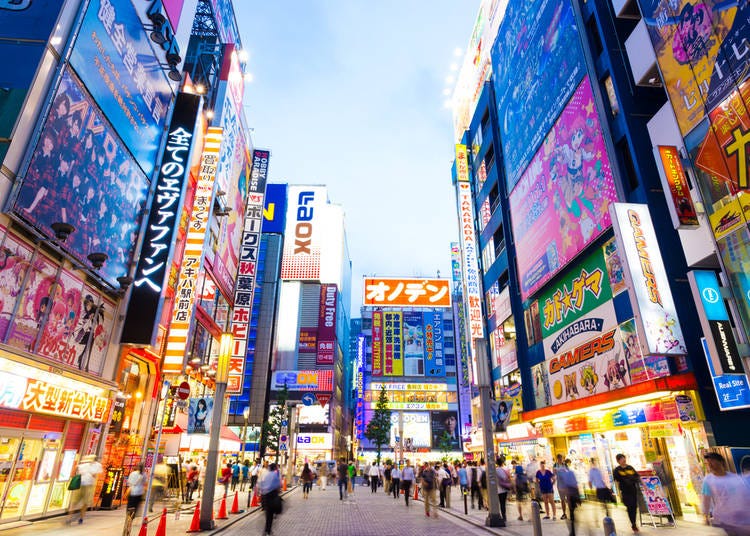 Daily Travel Photos / Shutterstock.com
Akihabara, known colloquially as Akiba, is the anime, manga, and gaming heart of Tokyo. The main strip is crowded with hundreds of specialized stores catering to those deep into their hobbies. Travelers walking the captivating strip will be treated to many surreal and entertaining encounters. You'll be touted by cute girls dressed as maids, see the custom-made attires of anime devotees, and may even catch free performances from local idols! Adding to the experience is the flood of flashing fluorescent lights and catchy J-pop tunes blasting out of every nook. Even within Tokyo, Akihabara feels like another world!
16. Be in Awe of the 1:1 Scale Gundam Model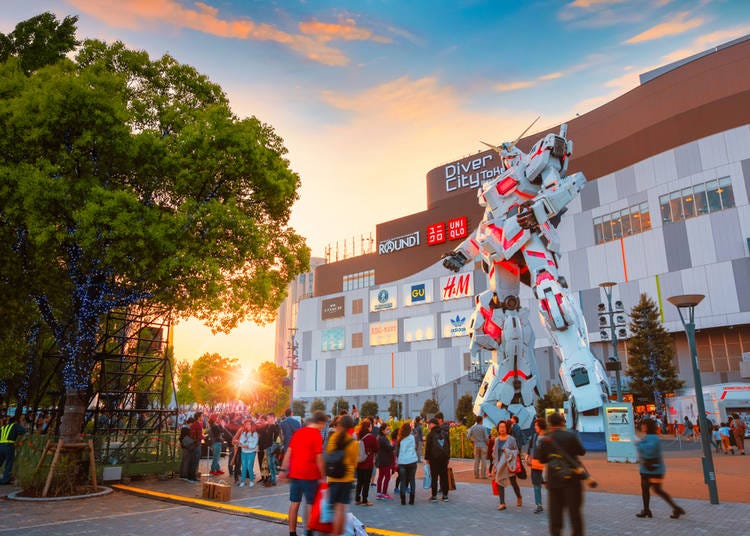 cowardlion / Shutterstock.com
On the artificial island of Odaiba, next to DiverCity Tokyo Plaza, lies the legendary life-sized Gundam! For those not in the know, Gundam is a massive anime franchise that began in the late 70s which defined and popularized the mecha genre. The series is a sci-fi epic set in a future where soldiers battle in giant Gundam robots. This almost 20-meter tall model was made to draw fans from across the world to celebrate the legacy of the still-growing franchise. Best of all, it is more than just a simple statue! At set times throughout the day, the Gundam switches into its 'destroy' mode, where you can see it move along with a thrilling sound and lights display. Once it turns dark, the Gundam will light up every 30 minutes for a few hours.
17. Meet Your Favorite Characters at Suginami Animation Museum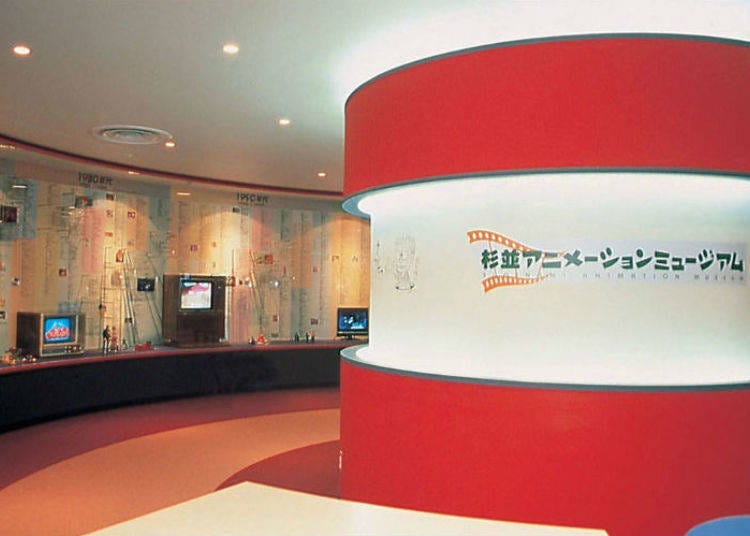 Another must for anime fans, Tokyo's leading animation museum is entirely free! Suginami Animation Museum is full of exhibitions detailing the fascinating rise of the now global phenomenon - starting as far back as 1917. Vintage televisions show off classic anime surrounded by retro merchandise, letting you truly immerse yourself in the sights and sounds of the past. There is also a library screening anime films as well as rotating exhibitions on elements of the industry throughout the year.. To top it all off, there are fun interactive sections, including a recording booth where you play a character in Astro Boy as well as the chance to make your own anime! The museum provides extensive high-tech English support.
18. Experience Toyota at MEGA WEB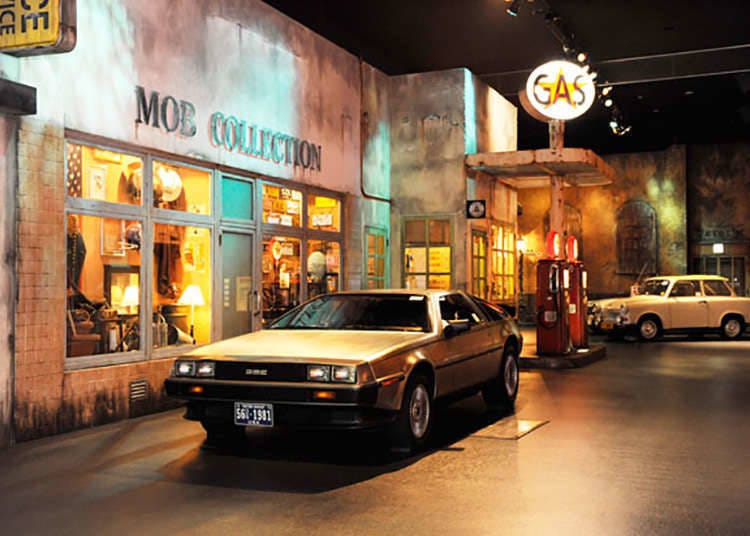 An absolute heaven for car fans, MEGA WEB is a dynamic theme park dedicated to everything Toyota. Inside, at the Toyota City Showcase, you'll be able to admire, touch, and even sit inside the latest and hottest Toyotas, including limited Japan-only models! This practical hands-on approach allows you to familiarize yourself with the incredible range in a way rare to most exhibits. Next door is the History Garage, which holds a jaw-dropping collection of vintage Toyota models spanning the 1950s to the 1970s, including a brilliant 1960s display. Watching real mechanics work on cars, glimpsing into the future of transport, and having a consultation with a car expert are also on the menu at this free experience!
19. Find Peace with Zazen Meditation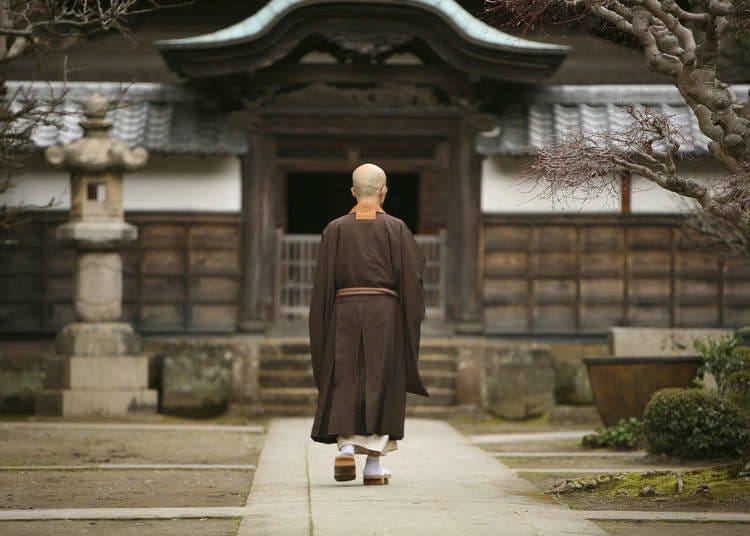 Zazen, the Buddhist art of seated meditation, is renowned for its spiritual cleansing power. Being in Japan gives you the rare opportunity to try this ancient art for yourself, and there are many temples in Tokyo providing this experience for free. This includes Korin-in Temple in Shibuya, who offer free courses every weekday morning from 7:00am and a Saturday-only evening course at 5:00pm. Rinshou-in Temple, a 15-minute walk from Ueno Station, also hold free weekday sessions from 7:30am, which are popular with locals and tourists alike. Search online to discover zazen meditation in Tokyo to get back in touch with your inner-self and reinvigorate your soul!
20. Wander Through History at the Advertising Museum Tokyo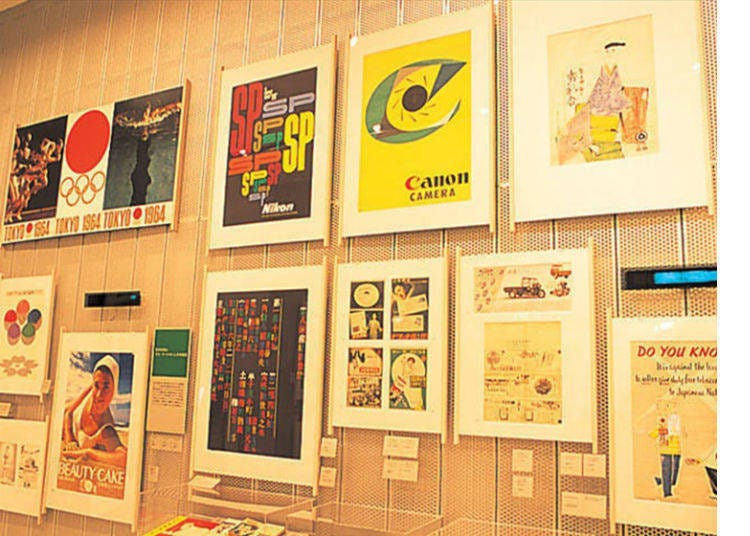 The Advertising Museum Tokyo is a fun journey through the vibrant and dynamic history of Japanese advertising. Beginning with hand-painted Edo era advertisements and continuing until modern television commercials, there's nothing this extensive museum misses. The roughly 300,000-piece collection brings life to the timeline of advertising developments, taking you on a vivid journey through the years of Japan's intertwining pop and economic cultures. Brimming with nostalgic retro posters brandishing artwork good enough to frame on your wall, you'll leave with a new appreciation for the medium! After seeing the collection, head to the audio-visual section to browse through decades worth of television commercials, some of which are absolutely hilarious!

As you can see, having fun in Tokyo doesn't need to be expensive! Tokyo is a goldmine for the thrifty traveler looking to save money while having the time of their life! Use this guide as a base for your next Tokyo holiday so that you'll know exactly where to go and what to see, all for free!
Written by Steve Csorgo
*This information is from the time of this article's publication.
*Prices and options mentioned are subject to change.
*Unless stated otherwise, all prices include tax.
Search for International flights