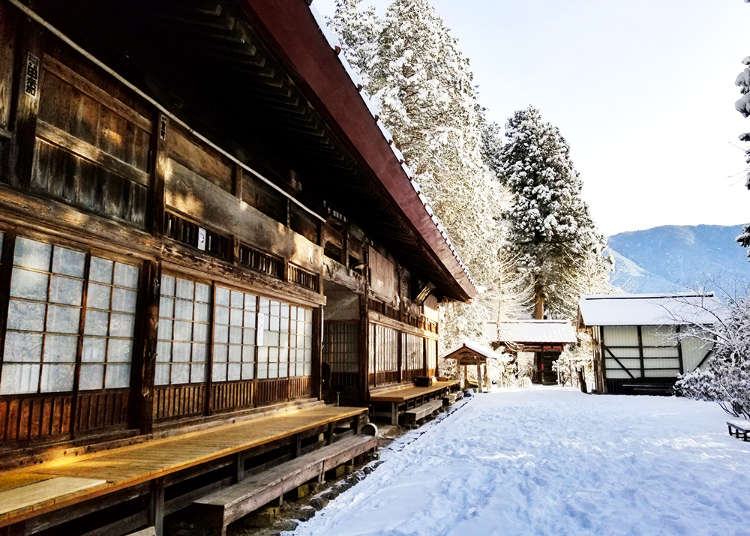 Did you know that Japan's shrines and temples welcome regular tourists to stay for a night or more? Experience authentic Zen meditation, the traditional, vegetarian cuisine called shojin ryori, and explore a fascinating world so different from anything you know.

Shrine and temple stays near Tokyo offer an experience that even a lot of Japanese people don't get to have that easily! Let's get a unique glimpse into the realm of shrines, temples, and traditions.
What is "Shukubo" Temple Lodging?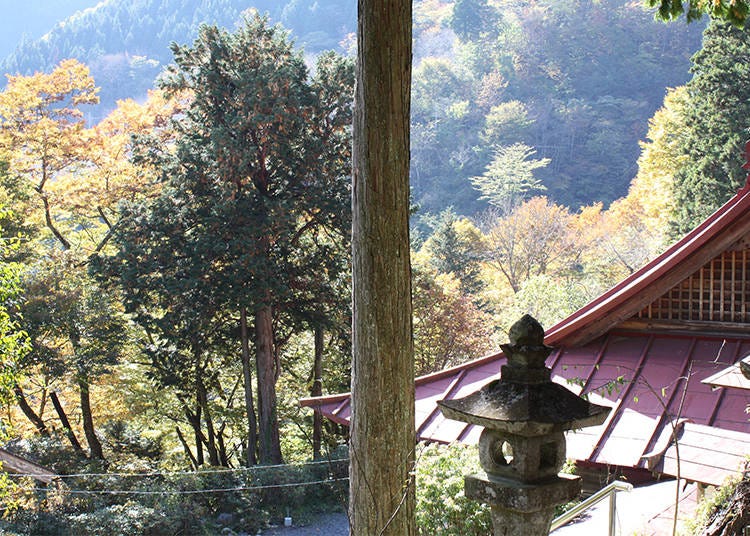 Taiyoji, a temple sitting at 800 meters high in the middle of the mountains
Called "shukubo" in Japanese, temple lodging is a term for places offering both monks and general worshipers a place to stay.

This historic practice has carried over into these modern times and the majority of shukubo places welcome international tourists with open arms.

In some cases, you directly stay at the shrine or temple while sometimes, the temple lodging is a separate building on the premises or in the direct neighborhood.

But why do a Tokyo temple stay? The charms of committing to this experience are innumerable, as you join the monks and priests in their practices, are instructed in meditation, prayer, and ascetic practices.

"Takigyo" is the famous practice of sitting or standing under a waterfall, "shakyo" is Sutra copying and a one-of-a-kind calligraphy training, "zazen" is deep, quiet Zen meditation – these are only the most well-known examples of experiences that await.

Another major highlight of staying at a shrine or temple is "shojin ryori," the traditional, vegetable Buddhist cuisine. Abiding by religious standards, such food is prepared without any meat, including fish.

As every shrine or temple is different, so differs the lodging itself, including amenities, furniture, and so on. It is important to check such details before you book, either by inquiring directly or on the lodging's website. Reservations can be made directly or via booking websites.

Shukubo is a rich, fascinating, and rather intense experience, so prior research is important. Without further ado, let's look at some of the most amazing temple and shrine lodgings near Tokyo!
1. Shukubo Komadori Sanso: A Stunning Mountain Lodge near Mitake Shrine (Ome City, Tokyo)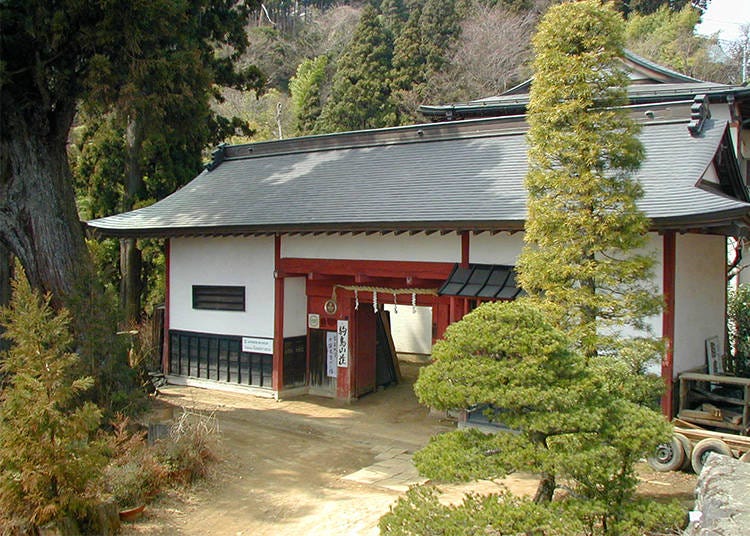 The entrance gate and its vermilion-colored highlights is a famous landmark
Mount Mitake is one of the most famous, scenic mountains in the Tokyo area. It takes about 2 hours to get there from Shinjuku by train, bus, and finally cable car, making it a popular day-trip destination for Tokyoites and tourists.

Musashi Mitake Shrine sits at the top of this stunning, lush mountain, and is said to date back to 91 B.C. From Japan's Middle Ages onward, the shrine became a famous site for mountain worship, training many a great mind of the time. Around 20 lodgings belong to this historic shrine, with Shukubo Komadori Sanso and its "takigyo" waterfall meditation experience being the most famous by far.

The building itself is entirely committed to Japanese architectural styles and as it's nestled on the slope of the mountain, it boasts a breathtaking view over the entire area.

Shower rooms at Shukubo Komadori Sanso provide basic comfort, but the real highlight is the two public baths (separated by gender) and its cypress barrel tubs.

Dinner incorporates local, seasonal ingredients such as freshwater fish and mushrooms, letting you savor the fruits of the mountain in a way you've never tasted before.

While some people prefer to eat dinner outside of their Tokyo temple stay and tend to book a Bed and Breakfast, there is no restaurant or eatery in the vicinity of Komadori Sanso – remember, it is a remote shrine area. We recommend booking both dinner (2,160 yen) and breakfast (1,080 yen).

The famous takigyo waterfall meditation experience takes place at said waterfall directly, which is a scenic 30-minute walk away from the lodging itself. It takes place in the early morning of the next day, before breakfast.

Only in the coldest months, from December to February, this traditional practice is not carried out, but apart from that, any reasonably healthy person is welcome to join, no matter nationality or religion (available for solo travelers, children not allowed).

After feeling the cold waterfall rain down on you, return to enjoy your traditional breakfast before getting the chance to explore Musashi Mitake Shrine itself.

*Please note that the waterfall is worshiped as a Shinto deity, so certain religious customs and practices will need to be followed, regardless of your personal beliefs.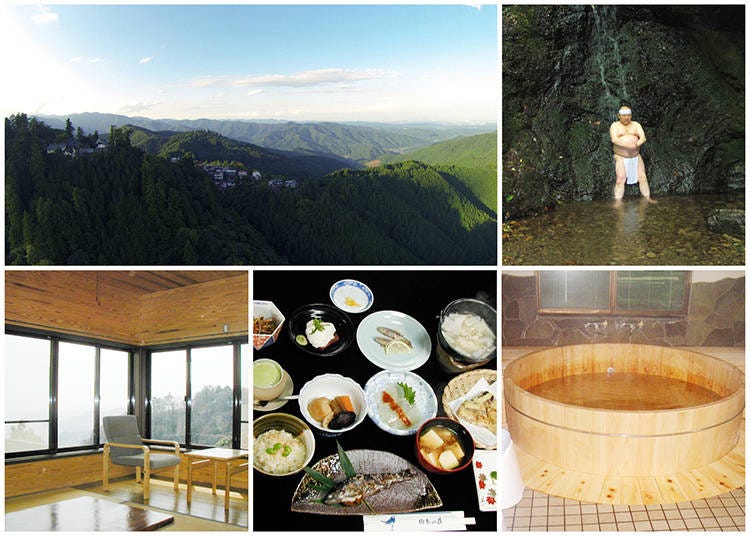 1) Musashi Mitaka Shinto Shrine and Shukubo Komadori Sanso, seen from the distance 2) The "takigyo" waterfall experience 3) On clear days, you can see as far as Enoshima in Kanagawa Prefecture 4) Fresh river fish, konnyaku, and other seasonal ingredients 5) The cypress barrel tub bath
・Price per night: from 8,640 yen (including two meals; from 5,940 yen without meals)
・Number of rooms: 10
・Room size: 10m² ~ 30m² (6 tatami ~ 18 tatami)
・Check-in: from 3:00 p.m.
・Check-out: until 10:00 a.m.
・Wi-Fi: available
・Amenities: yukata, towels, bath towels, two-in-one shampoo, soap, razor, toothbrush set
・Meals: Dinner, breakfast included (may include pork or beef)
・Language support: English. Their website is in English as well.
・Reservation via: phone, email, fax, online (accepted until the day before)
・Recommended: the takigyo waterfall experience (3,240 yen for men, 3,780 yen for women)
Address

Mitakesan 155, Ome, Tokyo-to, 198-0175
View Map

Nearest Station

Mitakesan Station (Mitake-Tozan Cable Line)


Vacancy search, reservation

from

15,400JPY

1room, 2adults

Check with our partner site as the latest rates, rate details, and guest room requirements may vary.
2. Seizan-So: Heal Heart and Mind at Musashi Mitake Shrine (Tokyo, Ome City)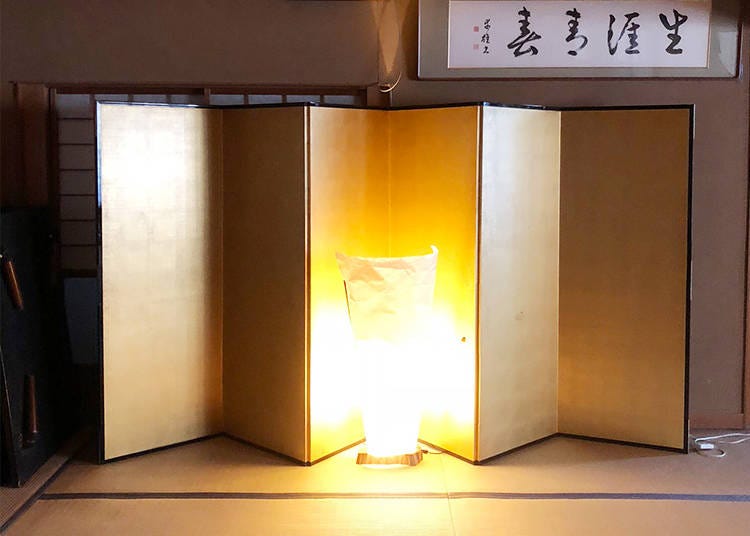 A room for prayers and meditation
Seizan-so is another one of Musashi Mitake Shrine's shukubo lodges, standing right at the approach to the beautiful shrine and across the Mitake Visitor Center. At Seizan-so, you'll get all the information you need for hiking courses in the area, so it's a particularly sightseeing-friendly shrine lodging.

The building itself is impressive as well, constructed in a traditional Japanese architectural style and adorned with a beautiful thatch roof. Seizan-so offers five rooms in total, the smallest are 8-tatami (~13 m²) for two to three people, while bigger rooms can house entire groups of people.

The popular waterfall experience is offered twice a day, both in the afternoon and in the morning. Try it either on the day of your arrival or before breakfast on the next day!

It takes about 30 minutes on foot to get to both the Ayahiro Falls and the Nanayono Falls, so make sure to wear proper shoes and clothes fit for a bit of hiking. Also, don't forget the towels – women need to bring bath towels, men bring face towels.

Before the waterfall experience and after meals, a breathing and meditation experience is offered, a practice to calm and cleanse both heart and mind, let go of stress, tapping your inner strength, and so on.

The waterfall, the mediation, and Japanese classical music performances are wonderful ways to immerse yourself in old traditions and culture.

Both this meditation and the waterfall experience are open to everyone, however, the explanations are given entirely in Japanese. Because of that, we recommend going with a friend or family member who is able to interpret.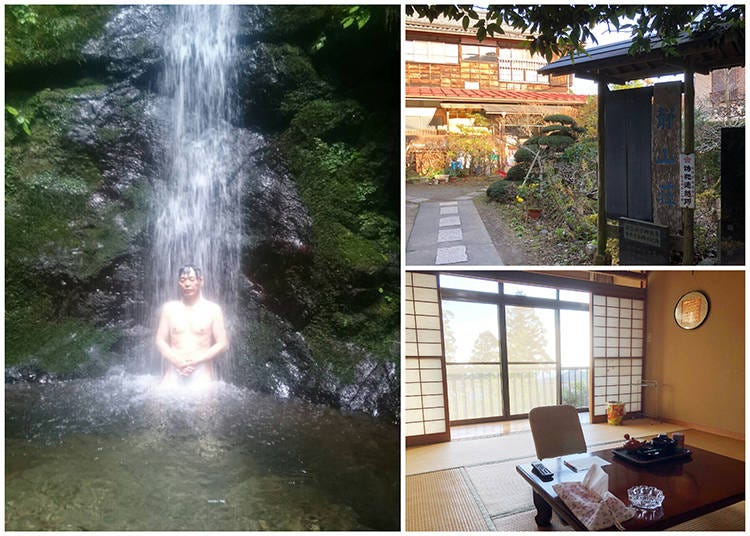 1) The waterfall experience 2) The wooden building with a garden in front 3) The Japanese-style room and its beautiful view
・Price per night: from 8,480 yen
・Number of rooms: 5
・Room size: 13m² ~ 53m² (8 tatami ~ 32 tatami)
・Check-in: from 2:00 p.m.
・Check-out: until 11:00 p.m.
・Wi-Fi: available
・Amenities: yukata, towels, bath towels, toothbrush set
・Meals: Dinner, breakfast included (no pork or beef)
・Language support: basic English
・Reservation via: phone, email (hfrr935@yahoo.co.jp)
・Recommended: the takigyo waterfall & meditation experience (11,800 yen per person, lodging included)
Address

43, Mitakesan, Ome-shi, Tokyo, 198-0175
View Map

Nearest Station

Mitake Station (JR Ome Line)
10 minutes by bus


Phone Number

0428-78-8445
3. Shogakuji Shubukuo: A Buddhist Experience in the Middle of the Mountains (Saitama, Hanno City)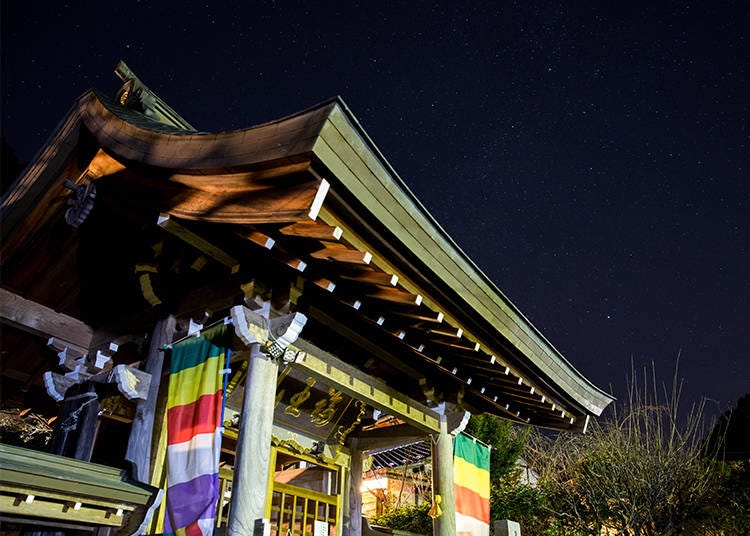 The Mountain Gate before a starry sky
This beautiful temple's full name is Fukuosan Shogakuji and it boasts a history dating back to 1483. It belongs to the Buddhist Soto sect and is nestled among peaceful mountains in the west of Saitama Prefecture, with mainly fresh air, lush trees, and the starry sky around it.

What sounds like a rather remote location can actually be reached in just two hours via the Seibu Ikebukuro Line and a bus.

The main characteristic of staying at Shogakuji is that it offers a thoroughly unique experience of what the life of a Buddhist monk means.

You'll participate in meditation practices, as well as the work of copying sutras for the temple. Because the shukubo at Shogakuji is a two-night experience, it is a popular training destination for martial arts groups.

Guests sleep in the main hall or the meeting hall, so the temple will only provide you with a futon, so you need to bring toiletry, pajamas, towels, and the likes.

Dinner and breakfast are included at this Tokyo temple stay. You'll be served traditional Buddhist cuisine called "shojin ryori," the simple yet wonderfully natural meals of monks. Shogakuji is an incredibly peaceful place, with a clear, starry sky at night, the song of wild birds echoing all around – it's the perfect place to take a break.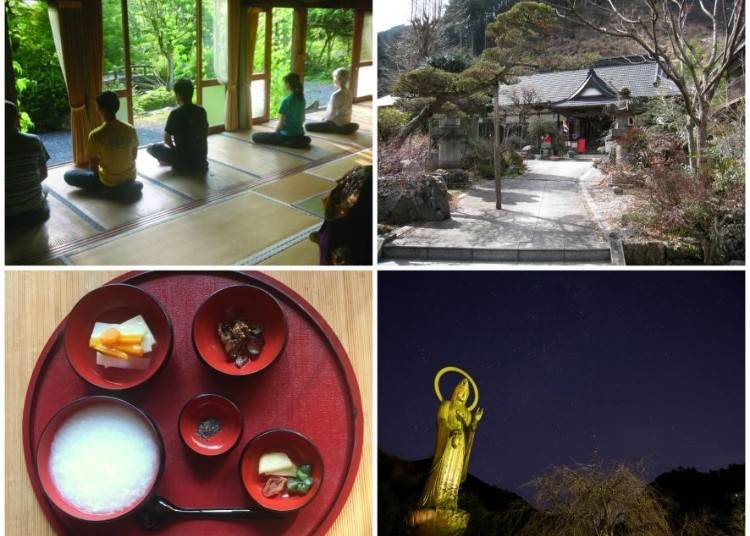 1) The meditation experience 2) The main hall and its premises 3) The breakfast 4) The Kannon Statue
・Price for two nights: from 7,000 yen
・Number of rooms: 5
・Room size: 10m² ~ 132m² (6 tatami ~ 80 tatami)
・Check-in: 2:30 p.m. – 3:30 p.m.
・Check-out: until 10:00 p.m.
・Wi-Fi: available
・Amenities: soap
・Meals: Dinner, breakfast included (lunch available for reservation)
・Language support: basic English
・Reservation via: phone, email (shougakuji@yahoo.co.jp), fax (until 5 days in advance)
・Recommended: the sutra copying experience (1,000 yen per person)
福王山 正覚寺

Address

2326 Kaminaguri, Hannou-City, Saitama 357-0111

Nearest Station

Hanno Station (Seibu Ikebukuro Line) or Higashi Hanno Station (JR Hachiko Line), then Kokusai Kogyo Bus (via Nago or Yunosawa) to Nago (approx. 55 minutes)


Phone Number

042-979-0235

FAX: 042-979-1118
4. Taiyoji: Calm, Buddhist Temple Stay Deep in the Mountains (Chichibu City, Saitama)
The Zazen meditation
Taiyoji's temple stay is especially popular among international tourists and young Japanese women, as the experience focuses on a casual stay and gentle learning. The Nikkei Economic Newspaper has even awarded Taiyoji the title of "Number One Temple Lodging for Beginners."

It is located deep in the mountains of Chichibu, at the westernmost point of Saitama prefecture – standing at 800 meters height, the lush nature and isolation will immediately calm your soul.

The temple was founded about 700 years ago and stands out as one of the few mountain temples during the Edo period that allowed women to partake in its rituals. Guests can check-in until 4:00 p.m. and look forward to meditation practice, sutra copying, and a traditional Buddhist dinner.

The view from Taiyoji is second to none, a peaceful and quiet place that seems a world apart from the buzz of modern life. The night sky above you is full of stars, and to relax not only your mind but also your body, an outdoor hot spring bath can be enjoyed 24 hours of the day – the priest himself constructed it.

The next day starts early with Zazen meditation practice, breakfast, and temple chores, such as cleaning the precincts. Then it's back home, and you might find the farewell to be all too soon.

While the activities of the temple lodging experience at Taiyoji are predetermined, you can freely decide whether you want to participate or not. For those who merely want to spend a quiet time in the middle of calm nature, this is the right choice. Bring pajamas and toiletry.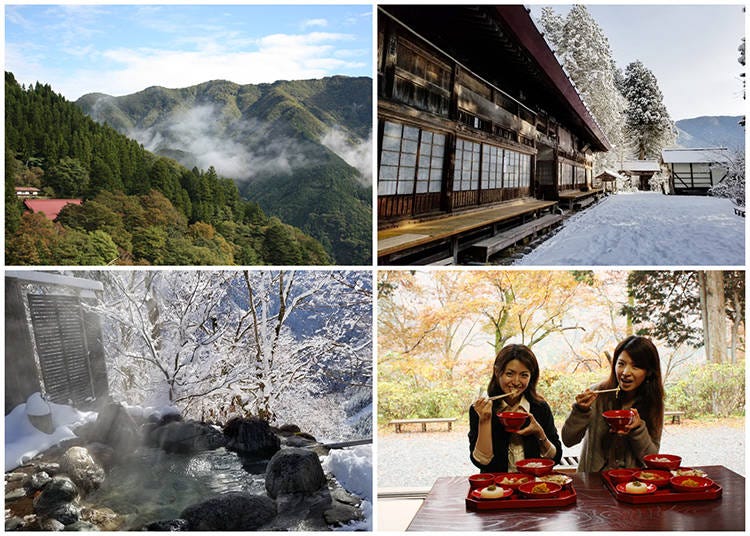 1) At 800m height, in the middle of the mountains 2) The snowky main hall 3) The outdoor bath 4) The traditional Buddhist cuisine
・Price for one night: from 9,000 yen (two meals included)
・Number of rooms: 10
・Room size: about 25m²
・Check-in: from 3:30 p.m.
・Check-out: until 10:00 p.m.
・Wi-Fi: not available
・Amenities: body soap, shampoo
・Meals: Dinner, breakfast included (Buddhist cuisine)
・Language support: basic English
・Reservation via: phone, email (gomasenjyu@gmail.com)
・Recommended: the Zazen meditation, free if you spend the night (otherwise 4,000 yen per person, from groups of 5)
・Access: Mitsumineguchi Station (Chichibu Railway), then Seibu Kanko Bus (via Chichibuko / Nakatsugawa) to Taiyoji Iriguchi. (Guests who spend the night can be picked up at Mitsumineguchi Station with prior notice.)
Address

459, Otaki, Chichibu-shi, Saitama, 369-1901
View Map

Nearest Station

Kumagaya Station (Chichibu Railway)
8 minutes by bus


Phone Number

0494-54-0296
5. Seicho-ji: Experience One of Japan's Most Beautiful Sunrises (Kamogawa City, Chiba)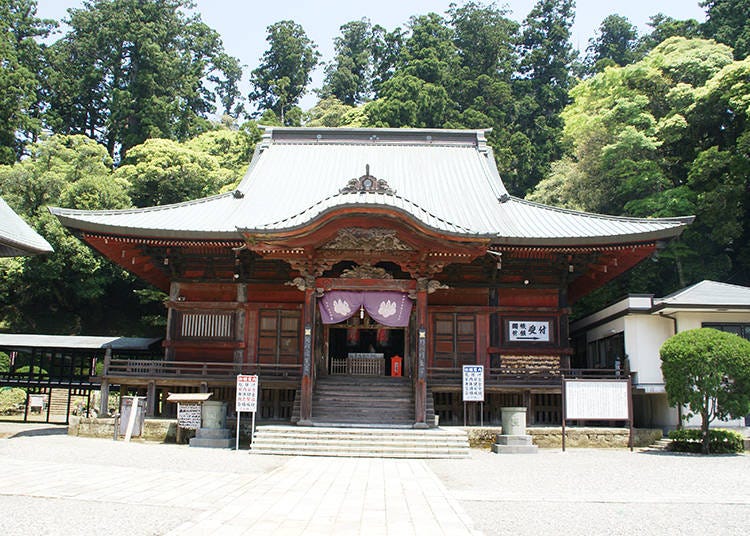 The "big hall," built in 1682
Close to the tip of the Boso Peninsula, east of Tokyo, you'll find Seicho-ji, a temple amidst the mountains of Chiba's Kamogawa City.

Belonging to the Buddhist Nichiren sect, the temple boasts a history of almost 1,200 years. It takes about 2,5 hours from Tokyo Station to the nearby Awa-Amatsu Station if you take the JR Sotobo Line.

The temple lodging of Seicho-ji is the training hall on the precincts, offering 22 rooms in total. It is perfectly okay to use this temple lodging as a regular accommodation!

As such, the temple welcomes a large variety of guests, from solo travelers to groups of adults and even children.

Needless to say, international guests are also more than welcome to join. Basic amenities such as a yukata and a toothbrush set are provided, and Seicho-ji boasts its own guest room bath, as well as a middle-sized and large bath that are assigned depending on the number of guests.

Dinner and breakfast are made up of delicious dishes of traditional Buddhist cuisine, plentiful in both taste and volume.

Early in the morning on your second day, you'll be taken to Asahigamori on the temple precincts. It's a place that is designated as one of Japan's 100 Most Beautiful Sunrises and it is said that Nichiren, founder of the sect himself, first chanted his famous Lotus Sutra as he watched the sunrise at Asahigamori.

Afterward, the head monk invites his guests to join the morning service at the main hall. A special photo experience is also available, from 500 yen extra.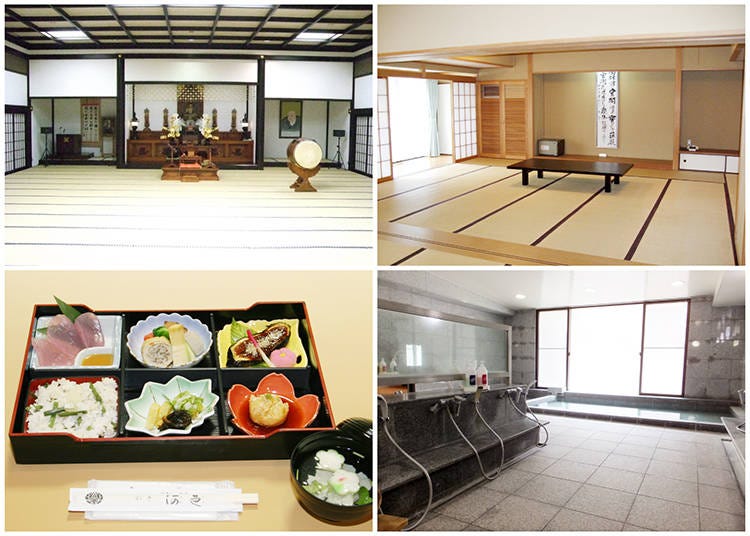 1) The large hall where sutra copying is being held 2) Two of the temple's rooms, connected 3) An example of Buddhist cuisine 4) The bathhouse of the training hall
・Price for two nights: from 8,800 yen (two meals included)
・Number of rooms: 22
・Room size: 16.5m² ~ 29m² (10 tatami ~ 17.5 tatami)
・Check-in: from 3:30 p.m.
・Check-out: until 10:00 p.m.
・Wi-Fi: not available
・Amenities: toothbrush set, towel, yukata, shampoo, body soap
・Meals: Dinner, breakfast included (Buddhist cuisine)
・Language support: in Japanese only
・Reservation via: phone, email (info@seichoji.com; until 7 days in advance)
・Recommended: the sutra copying, meditation, and the tour through the halls
清澄寺

Address

322-1 Kiyosumi, Kamogawa-City, Chiba 299-5505

Nearest Station

Awa-Amatsu Station (JR Sotobo Line), then Kamogawa City Community Bus (Kiyosumi Route) to Seicho-ji


Phone Number

04-7094-0525

FAX: 04-7094-0527
Explore Japan at Your Pace - Rent an RV!
If you want to get around Japan while being as close as possible to nature, an RV might be the best way to do that.
Use LIVE JAPAN's promo code below to get 5% OFF your rental.
・Promo code: LiveJapan_coupon_01
・On the "Request for a Quote" page, enter the promo code to get your discount.
*This information is from the time of this article's publication.
*Prices and options mentioned are subject to change.
*Unless stated otherwise, all prices include tax.