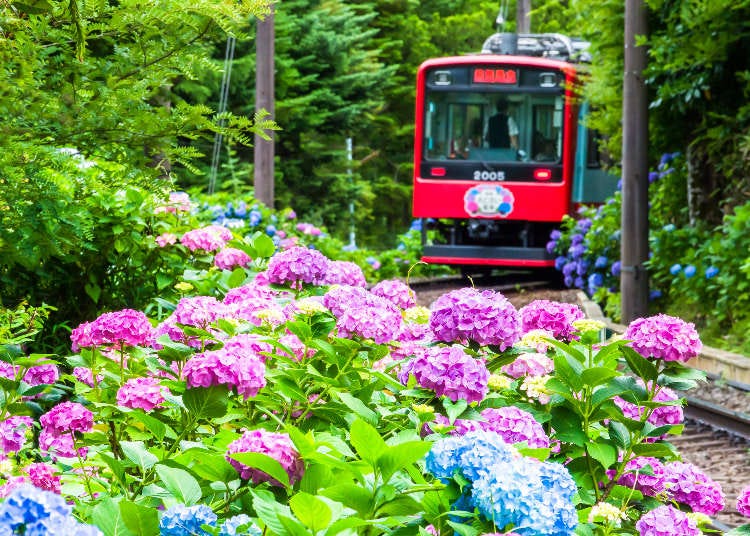 During the rainy season of late May to July, the wet gardens of Japan come alive with the color of hydrangeas! From the temples of Kamakura to month-long flower festivals, there are loads of hydrangea gardens you can see on a day trip from Tokyo.

Here we'll share 5 famous spots in Kanto brimming with thousands, if not tens of thousands of beautiful hydrangeas. With plenty of walks encompassed by these vivid balls of color, you can relish the beauty of Japan's endless summer rain as it provokes a melancholic yet nostalgic sense of contentment.

*Main image: PIXTA
1. Hasedera Temple: Stunning Hydrangea Gardens with Ocean Backdrops (Kamakura)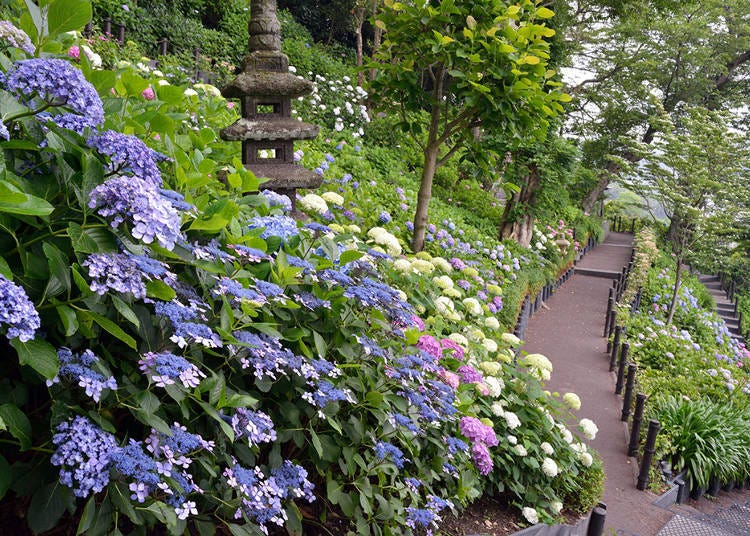 The sides of Kannonyama boast a huge assortment of hydrangea.
Located approximately 70 minutes from Tokyo Station, Hasedera Temple is a short 5-minute walk from Hase Station on the Enoshima Electric Railway. Known as the "Temple of Flowers," Hasedera Temple boasts a stunning landscape that transforms with the changing seasons. Throughout the year, visitors can admire a variety of blooming flowers.

In late May, the temple becomes a spectacle with over 40 different species and around 2,500 hydrangea plants, each showcasing their unique colors, shapes, and blooming times. The temple grounds are adorned with these blooming hydrangeas, creating a mesmerizing sight for visitors to enjoy while paying their respects.

During the peak blooming period, which spans approximately three weeks, visitors are required to have both an admission ticket and a separate "Hydrangea Pass" (priced at 500 yen) to stroll along the Ajisai Walk (Scenic Trail) and fully immerse themselves in the beauty of the hydrangeas.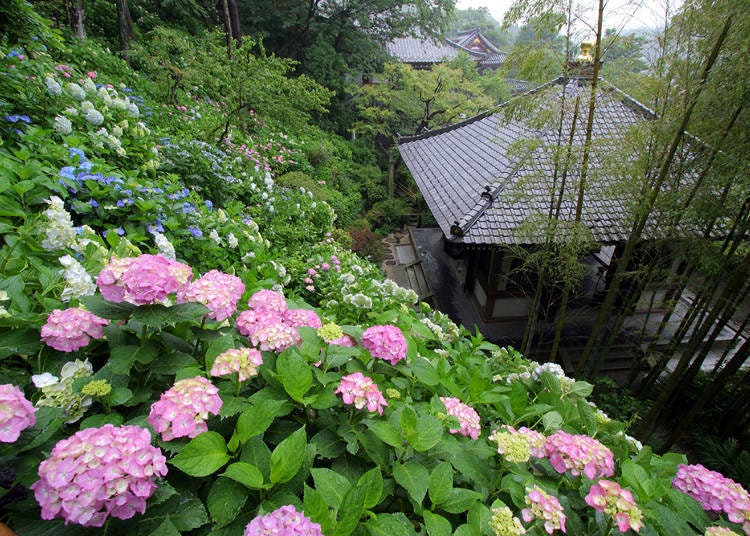 You can view 4 original species of hydrangea that were named at Hasedera Temple.
Within the temple grounds, there is an observation deck that offers panoramic views of the sea and cityscape of Kamakura. On clear days, it is even possible to see as far as Izu Oshima Island. Furthermore, as you continue along the walking path, you will reach a breathtaking viewpoint where you can overlook Yuigahama Beach. The captivating scenery is sure to soothe the hearts of those who visit, providing a sense of tranquility and serenity.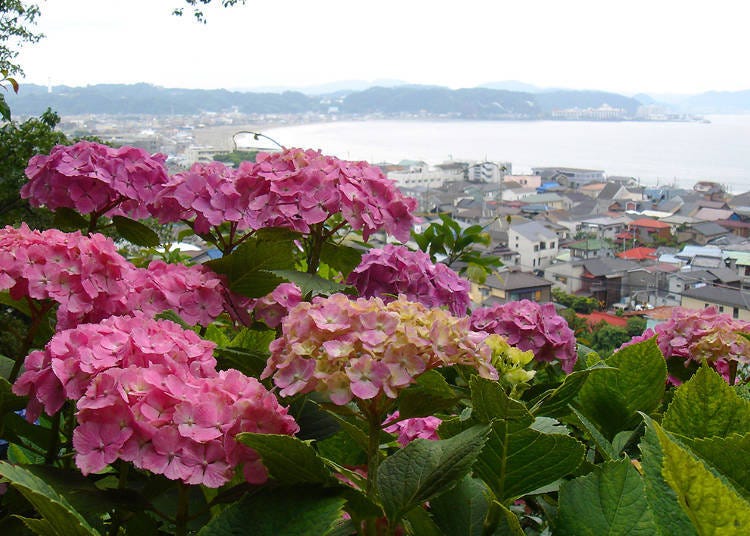 Hydrangea + ocean + the streets of Kamakura = the ultimate Japan views!
Blooming Period: Late May to early July

Admission and Hydrangea Viewing Pass:
・Hydrangea Viewing Pass Distribution Period: From when 5% of the flowers have bloomed until the end of the blooming season (typically in June, based on the blooming conditions)
・Opening Hours: 8:00 a.m. to 4:30 p.m. (Closing at 5:00 p.m.), extended to 5:00 p.m. (Closing at 5:30 p.m.) from April to June
・Admission Fee: Adults - 400 yen, Elementary school students - 200 yen
・Hydrangea Entrance Pass: 500 yen
* Please note that details are subject to change. For the latest information, please refer to the official website.
Address

3-11-2 Hasaya, Kamakura, Kanagawa Prefecture, 248-0016
View Map

Nearest Station

Hase Station (Enoshima Electric Railway Line)
5 minutes on foot


Phone Number

0467-22-6300
2. Meigetsuin: Charming Blue Hydrangeas! (Kita-Kamakura)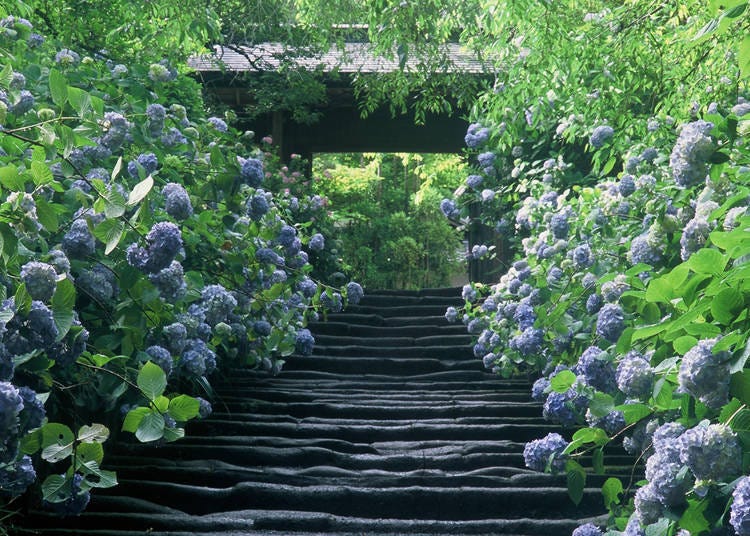 The walkway is lined on both sides by an eye-popping assortment of stunning hydrangea.
A 10-minute walk from Kita-Kamakura Station, accessible after a 50-minute ride on the JR Yokosuka Line from Tokyo Station, Meigetsuin Temple boasts an extraordinary assortment of hydrangeas.

Nicknamed the 'Kamakura Hydrangea Temple,' over 2,500 hydrangea flowers light up the gardens from late May and peak between mid to late June. The most prominent species here is the revered himeajisai hydrangea, which has existed in Japan since ancient times.

Crowds of sightseers flock to view the bold contrast between the gentle blue flower, nicknamed "Meigetsuin Blue," and the vivid greenery of the surrounding forest.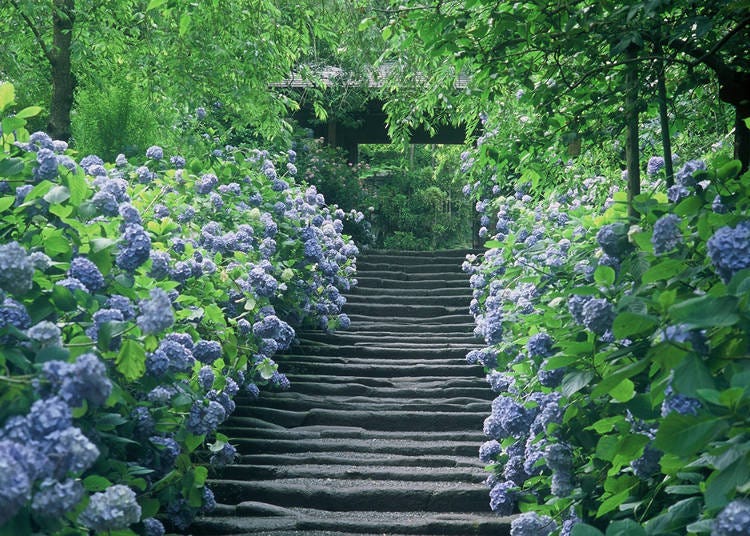 The mountains of Meigetsuin can be explored quietly and slowly if you arrive early during a weekday!
Complementing the hydrangea are blooming Japanese irises spotted at the beginning of summer. To celebrate this wondrous time, the normally out-of-bounds Hondo Ushiro Garden will be open to the public.

Framed like a masterful painting, the beauty of this exquisite garden is best appreciated from the round window in the main temple building. The Hondo Ushiro Garden is only open for the irises of early summer and foliage of autumn, so don't miss the chance to witness this rare gem of Kamakura.

During your strolls, we recommend taking a breather at the 'Gesshoken' teahouse, where you can relish matcha and sweets while soaking in the surrounding garden. Those who take the time to spend a few hours embraced by this pristine natural beauty will leave with deeply nourished hearts and souls.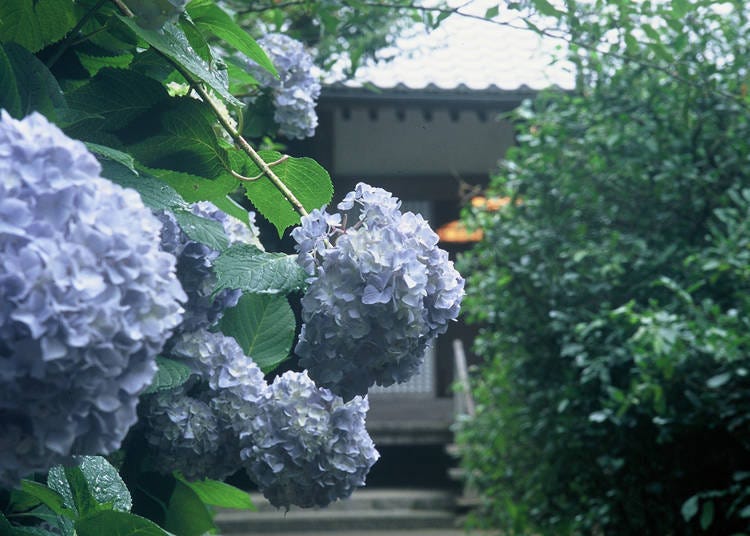 The soft and delicate texture of Meigetsuin Blue.
Blooming Period: Mid to late June

Admission:
・Opening Hours: 9:00 a.m. to 4:00 p.m. (Changes may occur during the hydrangea season in June)
・Admission Fee: High school students and above - 500 yen, Elementary and middle school students - 300 yen

Special Opening of the Main Hall Garden for 2023 is currently undecided.
・Opening Period: During the blooming season of irises (typically starts from late May to early June)
・Opening Hours: 10:00 a.m. to 3:00 p.m.
・Special Admission Fee: 500 yen
* Please note that details are subject to change. For the latest information, please refer to the official website.
Address

189, Yamanouchi, Kamakura-shi, Kanagawa, 247-0062
View Map

Nearest Station

Kita-Kamakura Station (JR Yokosuka Line / JR Shonan Shinjuku Line)
9 minutes on foot


Phone Number

0467-24-3437
3. The Ajisai Train: A Journey Through the Mountainside Hydrangea (Hakone)
The hydrangeas are so close, you could almost reach out and touch them!
Located approximately an hour and a half from Shinjuku, Hakone is a popular tourist destination. Along the railway tracks of the Hakone Tozan Train that runs through Hakone, around 10,000 hydrangea plants bloom beautifully every year.

The train journey from Hakone-Yumoto Station to Gora Station, which takes about 40 minutes, is affectionately known as the "Hydrangea Train."

As the Hakone Tozan Train operates four times per hour during the daytime, visitors can easily enjoy hydrangea viewing while traveling to other tourist spots.

From the window of the leisurely moving train, you can appreciate the hydrangeas without getting wet, even on rainy days. Whether you choose to watch the Hydrangea Train passing through the hydrangea-filled areas or enjoy the view from inside the train, there are double the ways to have fun.

Moreover, this year, after a four-year hiatus, the reserved-seat train "Night Hydrangea Train" will be in operation. The hydrangeas along the railway will also be illuminated at night, adding to the enchanting experience.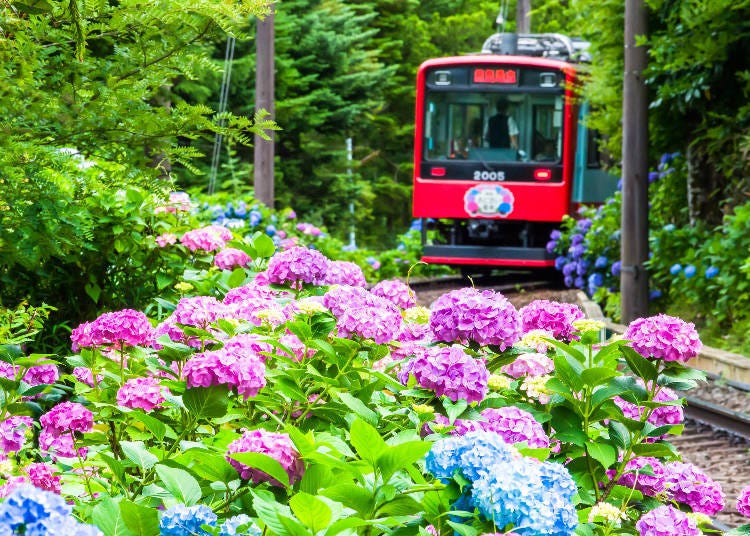 The red train, blue and purple hydrangea, and fresh greenery makes for amazing photography! Photo: PIXTA
The track-side hydrangea blooms for a month from mid-June until mid-July. As this region is full of mountains, the higher altitude flowers bloom later, allowing a larger window for viewing than most places.

After leaving Hakone-Yumoto Station, the train performs a "switch-back" in three different locations, forming a zig-zag path as it ascends the mountains of Hakone.

One of the switch-back locations is Ohiradai Station, which is known as a famous hydrangea hotspot with lots of photo opportunities. Providing a completely different view from the way up, the return ride is also extremely popular, making purchasing a two-way ticket worthwhile.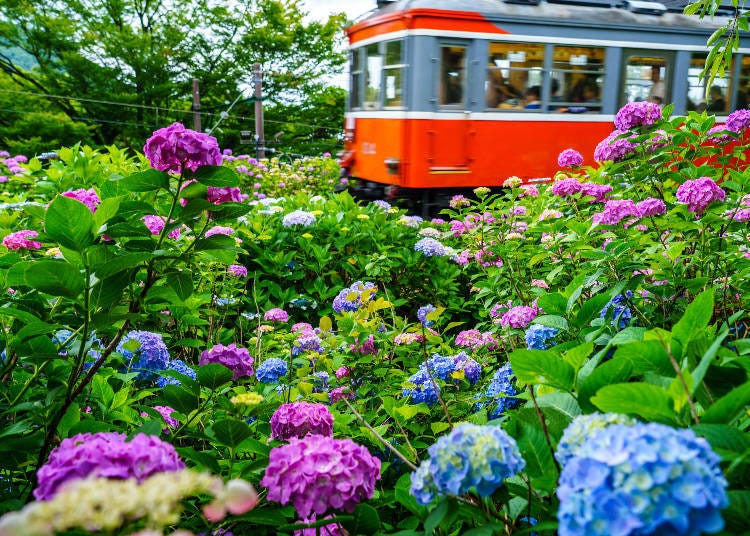 No reservations are required and all seats are unreserved. Photo: PIXTA
Blooming Period: Mid to late June to early July
Blooming Period by Location:
・Hakone-Yumoto Station Area: Mid to late June
・Ohiradai Station Area: Late June to early July
・Miyanoshita Station Area: Late June to early July
・Chokokunomori Station Area: Late June to mid-July
・Gora Station Area: Late June to mid-July
・Along the Cable Car Line: Early to late July
Hakone Tozan Train (Hakone-Yumoto Station)

箱根登山電車(箱根湯本駅)

Address

707-1, Yumoto, Hakone-machi, Ashigarashimo-gun, Kanagawa 250-0311

TEL: 0465-32-6823 (Ajisai Train Inquiries: Hakone Tozan Line Railway Department 9:00am - 5:00pm weekdays)
4. Hondoji Temple: Colorful Hydrangeas with a 5-story Pagoda (Matsudo)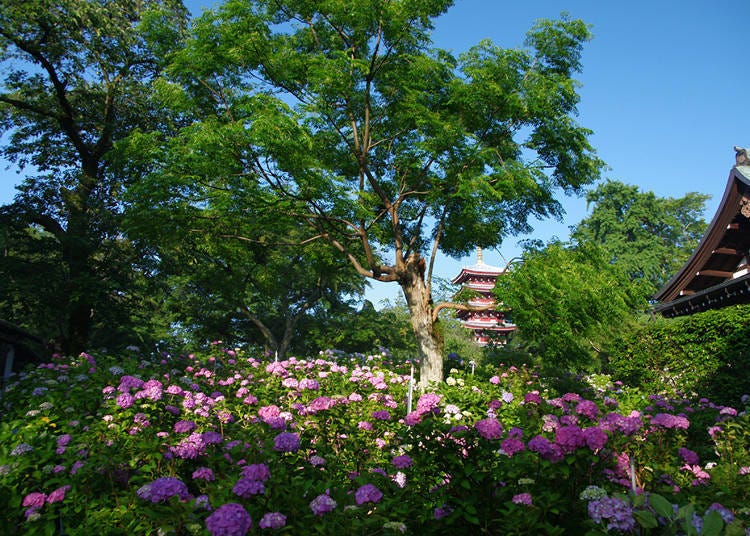 Blue and purple hydrangeas and a 5-story pagoda - a sight unique to Hondoji Temple!
Chokokuzan Hondoji Temple, also known as the "Temple of Seasonal Flowers," is favored for its remarkable gardens blooming throughout the year. The temple can be accessed via a 15-minute walk from Kita-Kogane Station after a 30-minute train ride from Ueno Station on the JR Joban Line. Over 10,000 hydrangeas of 10 different varieties decorate the temple grounds from early June, with their peak beauty occurring later in the month.

Alongside the hydrangea gardens, Chokokuzan Hondoji Temple is known for its towering 5-story pagoda, creating a dynamic backdrop presenting the pinnacle of Japanese beauty.

Early June will also see the blooming of over 5,000 Japanese irises. For the best experience, try to aim for a time when both flowers are at their peak!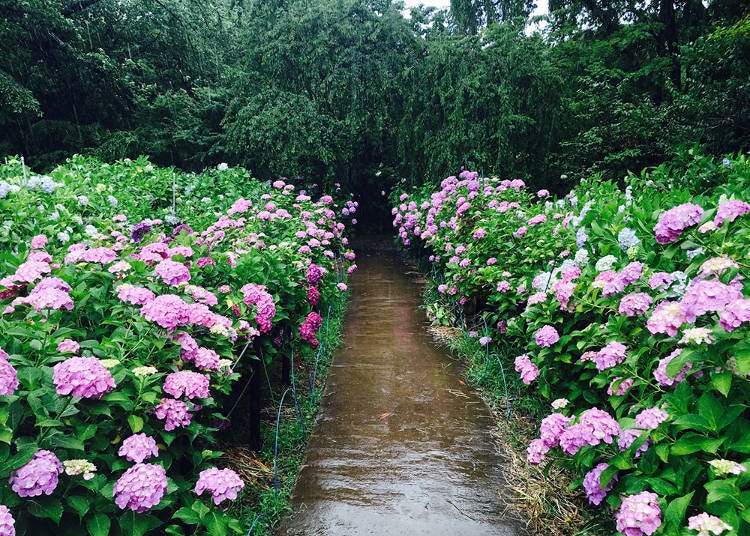 The hydrangeas burst with energy when it rains.
Every year during this time, a limited-edition seasonal temple stamp featuring hydrangea and iris designs is available. To get it, however, you'll need a "goshuin-cho," a special notebook used for collecting temple stamps available for purchase at most staffed temples and shrines.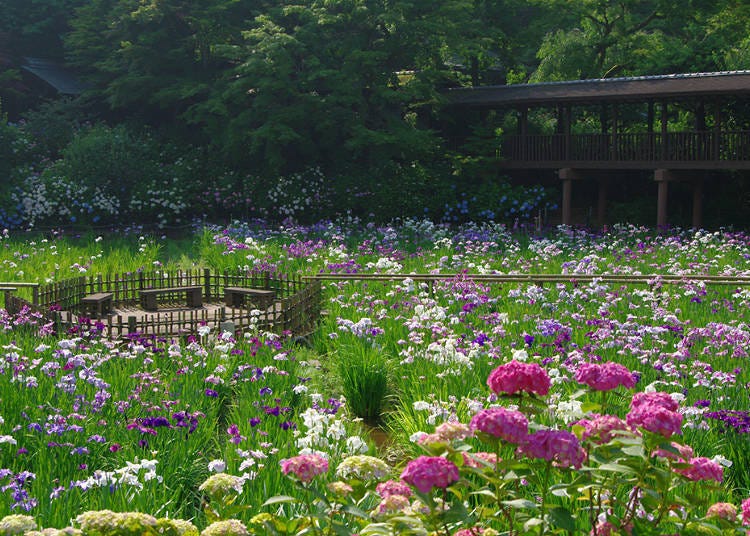 The colorful irises at the central promenade.
Blooming Period: Early June to early July

Admission during the Paid Visiting Period in Spring:
・Opening Hours: 9:00 a.m. to 4:30 p.m. (Last admission at 4:00 p.m.)
・Admission Fee: Adults (junior high school students and above) - 500 yen, Children - Free
・Inquiries: 047-341-0405 (Flower and Autumn Foliage Inquiry Phone Service / Only available in June and November)
長谷山 本土寺

Address

63, Hiraga, Matsudo-shi, Chiba 270-0002

Nearest Station

15-minute walk from Kita-Kogane Station on the JR Joban Line


・Hours: 5:00 a.m. - 5:00 p.m. (Last admission at 4:30 p.m.) *During the paid visiting period: 9:00 a.m. - 4:30 p.m. (Last admission at 4:00 p.m.)
・Admission Fee: Free *During the paid visiting period: 500 yen
5. Gongendo Park: Over 16,000 Hydrangeas of 100 Varieties! (Saitama)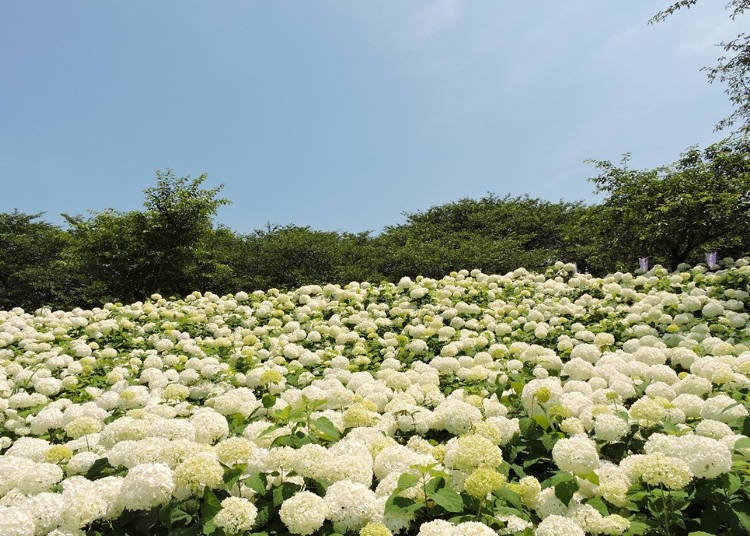 The sloping hills are totally engulfed by the white "Annabelle" hydrangea.
For a fix of hydrangeas in Saitama Prefecture, look no further than Gongendo Park in the city of Satte. This spacious park acts as a haven for locals to unwind in nature and escape the everyday. With a massive assortment of 16,000 hydrangeas of 100 different varieties, it is also one of Kanto's biggest hydrangea hotspots.

Coinciding with their blooming in June, the annual Satte Hydrangea Festival is held in Gongendo Number 4 Park (Gongendo Park Sakurazutsumi) to celebrate this incredible natural wonder.
You can see rows of hydrangea along the Omide Hiroba.
A remarkable diversity of hydrangea can be found inside the park, including the elegant "Annabelle" hydrangea by the car park, the "Dance Party" and "Future" hydrangea in the Omide Hiroba, along with "Sumida Fireworks," "Blue Sky," and plenty of others with equally tantalizing names.

The gardeners, who are all volunteers, have done a commendable job crafting this definitive hydrangea showcase. We recommend visiting when the 3,000 Annabelle hydrangeas are in full bloom, covering the hills in a luscious, pristine white!

Gongendo Park also boasts a teahouse selling drinks, homemade bread, bento boxes, and souvenirs. What better way to enjoy nature than a bento box picnic amongst the blooming flowers and rolling hills! Just keep an eye on the forecast for rain!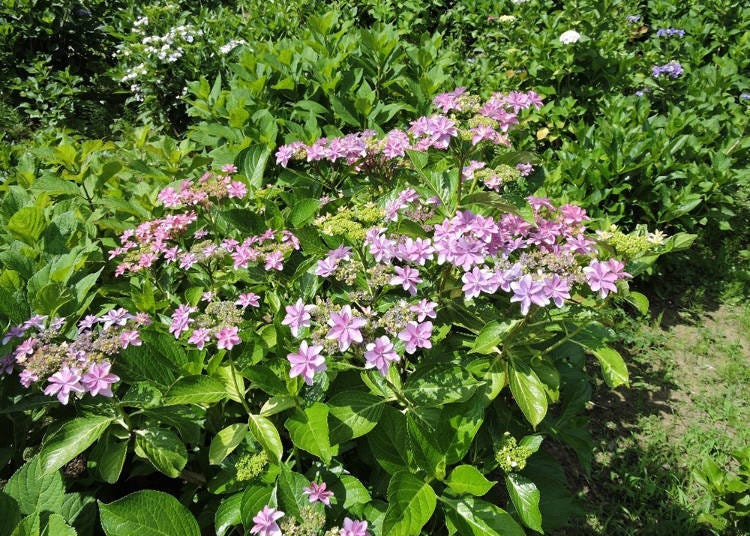 The "Dance Party" hydrangeas have delightfully cute pink petals.
Best Viewing Period: Early/mid to late June

21st Kuki Hydrangea Festival
・Event Period: June 3rd - June 25th, 2023 (*The event period may be subject to change depending on the blooming conditions.)
・Venue: Kuki Gongendo Sakura-zutsumi (Prefectural Gongendo Park)
・Admission: Free
・Inquiries: 0480-44-0873 (Gongendo Park Office)
* The event may be canceled or the details may be subject to change depending on the situation. Please check the official website for the latest information.
権現堂公園

Address

887-3, Uchigouma, Satte-shi, Saitama 340-0103

Nearest Station

- Train: A 30-minute walk or roughly 1,000-yen taxi ride from the east exit of Satte Station on the Tobu-Nikko Line.
- Bus: 15-minutes from Satte Station on the bus heading to Gokamachi Yakuba-mae. Get off at the Gongendo Park bus stop and the park is an 8-minute walk from there.
- Car: A 5-minute drive from the Satte Interchange on the Ken-o Expressway


Phone Number

0480-44-0873
Temples, trains, parks, and mountains - the Tokyo and Kanto area brims with dozens of fantastic spots to check out the wonderful colors of the blooming hydrangea. Add a little life to the gloom and gray of the rainy season with a fun and relaxing hydrangea garden day trip from Tokyo!

*The condition of the hydrangea will depend upon weather and climate; flower blooming periods will change depending upon the year
*Due to the current situation, event times and details may change.
*This article was originally published in 2021 and the information updated in May 2023.

Text by: Clink
*This information is from the time of this article's publication.
*Prices and options mentioned are subject to change.
*Unless stated otherwise, all prices include tax.
Limited time offer: 10% discount coupons available now!