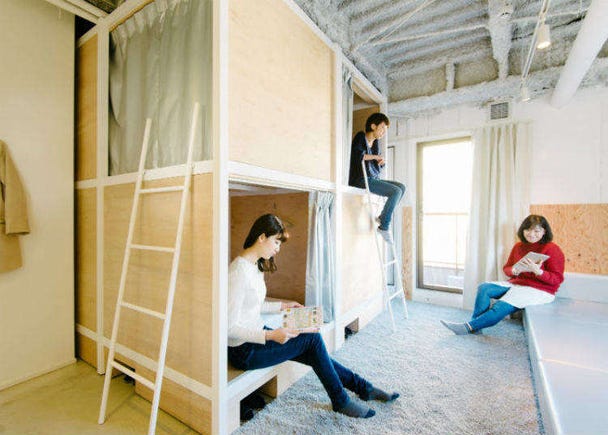 When visiting Tokyo, it is not only important to devise a sightseeing plan with everything that piques your curiosity but also to choose just the right accommodation – and why shouldn't that be an atmospheric Japanese guesthouse? Those can be a bit hard to find from time to time, however, so we've cherry-picked select inns for about 4,000 yen (~US$35) per night, located in the scenic neighborhoods of Nishi-Ikebukuro, Asakusa, and Kuramae. From cozy relaxation to fun and lively events, these guesthouses are sure to help you make unforgettable memories of your Tokyo trip!
Sheena and Ippei / Nishi-Ikebukuro, Shiinamachi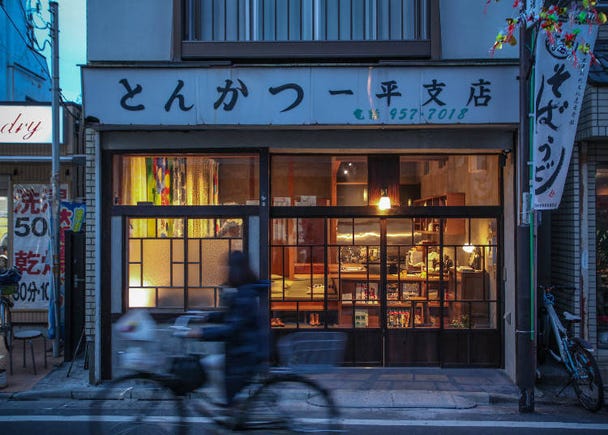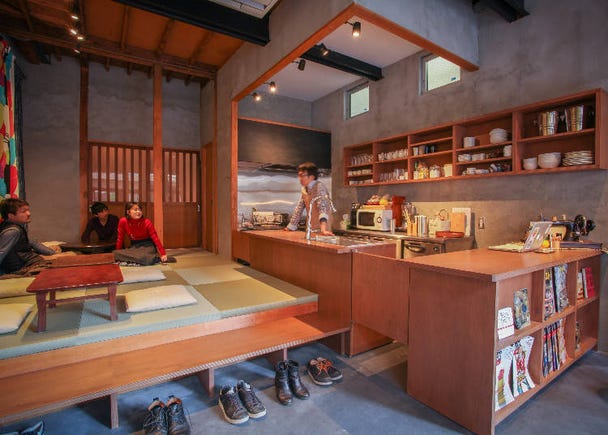 Sheena and Ippei opened in March of 2016 and is thus one of Nishi-Ikebukuro's rather new guesthouses. It is just about 20 minutes away on foot from the bustling Ikebukuro Station, and roughly a 4-minute walk from the Shiinamachi Station on the Seibu Ikebukuro Line. Shiinamachi is one of Ikebukuro's neighborhoods, known for its cozy atmosphere and lively shopping streets – and Sheena and Ippei stands right in the middle of it. The renovated building that the guesthouse is located in was a popular tonkatsu (breaded pork cutlet) restaurant for about 44 years, and this legacy is still maintained by the large wooden signboard just above the entrance.

The owner of Sheena and Ippei, Hikamiyama-san, is actually the manager of a furniture company and dreams of bringing his handmade curtains to all of Japan. He also understands the appealing experience of observing "the day to day routine of the people of Tokyo," hence why he opened a guesthouse. Knowing this, it comes as no surprise that Sheena and Ippei's interior is decorated generously with handmade cloth and fabric, and on the first floor is a cozy little café that follows the intriguing theme of "connecting the world with fabric, connecting the neighborhood with sewing machines." It serves as a wonderfully atmospheric spot for both international and intergenerational exchange. The café is also the place where regular exhibitions of Hikamiyama's works and handicraft workshops are being held, so don't hesitate to stop by for a cup of coffee or two. These unique experiences do play a big role in making your trip a unique and memorable one!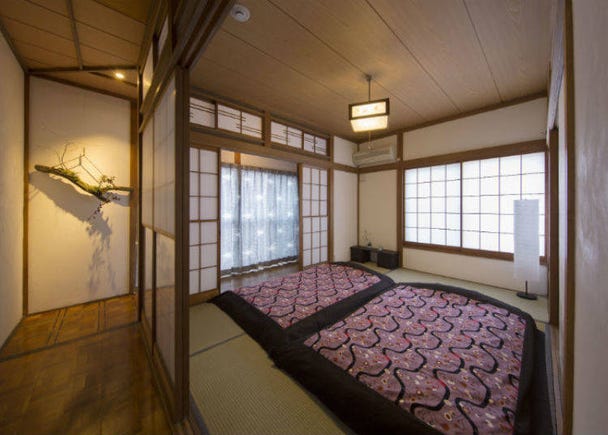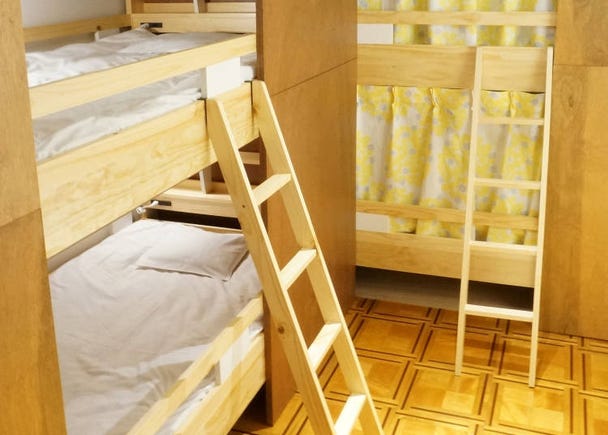 The first and second floor of Sheena and Ippei house the guest rooms that feature authentic and traditional lighting and paper sliding doors. In total, there are four Japanese-style rooms and one dormitory; each of the rooms is wonderfully bright and calm, emitting a retro-Japan atmosphere that you won't be able to forget. Toilets, showers, electric kettles, and the fridge are shared among the guests; every room offers free Wi-Fi access. Relax at the guesthouse and head out into Shiinamachi for some souvenir shopping and to savor the delicious dishes from the many food stalls and restaurants of the area. Sheena and Ippei is particularly recommended to everyone who wants to get a first-hand experience of the daily life of Tokyoites while still being in the middle of the hustle and bustle of lively Ikebukuro.

Dormitory room: From 2,660 - 3,800 yen per night / per person (tax excluded)
Private room: From 10,800 - 18,000 yen per night / per room (tax excluded)
Address

2-12-4, Nagasaki, Toshima-ku, Tokyo, 171-0051
View Map

Nearest Station

Shiinamachi Station (Seibu Ikebukuro Line)
4 minutes on foot


Phone Number

03-5430-9424

Vacancy search, reservation

Please enquire directly about rates.

Check with our partner site as the latest rates, rate details, and guest room requirements may vary.
Tokyo Hiraki Guesthouse / Asakusa Kuramae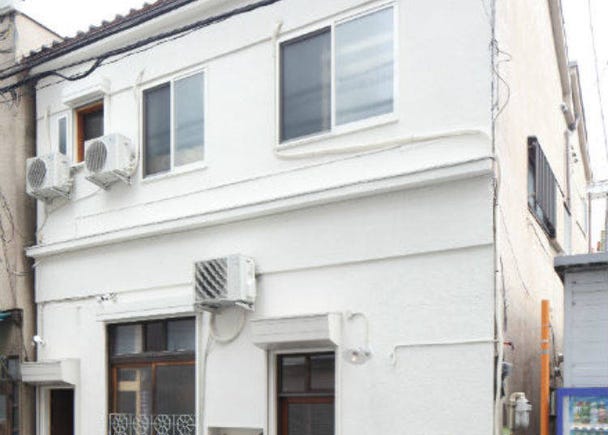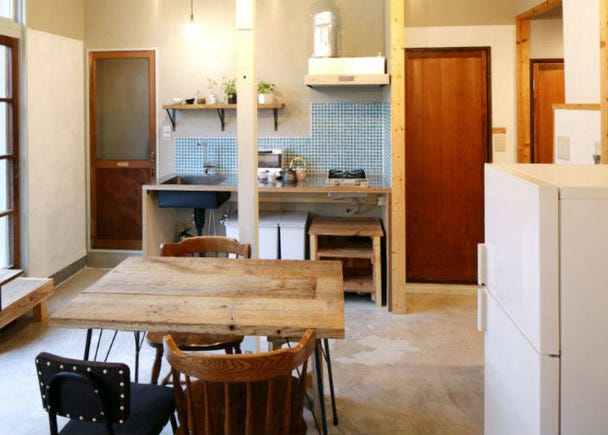 Merely a one-minute walk away from the Toei Asakusa Line's Kuramae Station, Tokyo Hikari Guesthouse opened in October 2014. Its most distinctive feature is the beautiful fusion of contemporary elements and nostalgic charm, creating a warm and cozy retro atmosphere. The building once housed carpenters but the owner and his family renovated it in the course of one year – almost the entire interior, including the furniture and even beds, is hand-made by the owner's wife.

The former carpentry workshop has been turned into a cozy public room with an open atmosphere, due to the 4 meter high ceiling. It offers a wonderful space to relax with a cup of tea and a good book, and also a place for international exchange with both the staff and other guests – why not make a new friend or two? Since the owner used to work at the Tsukiji Market, he offers a free tour of the famous market every Tuesday. Don't hesitate to ask about it when you arrive!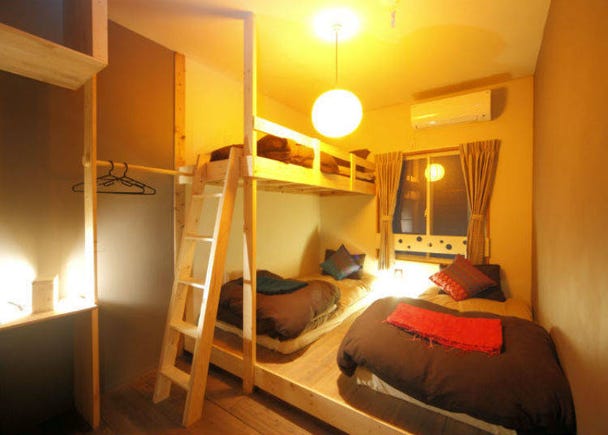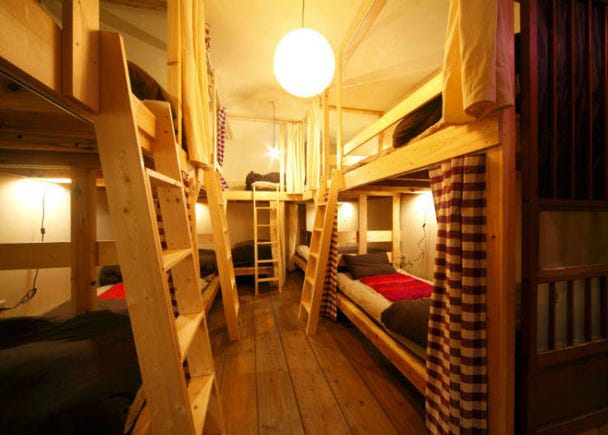 Tokyo Hikari Guesthouse offers a variety of rooms, such as dormitories for up to three people, both mixed and women-only. The toilet, shower, and kitchen are shared among guests and every room has free Wi-Fi available. Additionally, the guesthouse is only about a 15-minute walk away from Asakusa's major sightseeing spots, such as Senso-ji Temple and Kaminarimon, and thus is in an excellent location. With its warm atmosphere and handmade furniture, Tokyo Hikari Guesthouse is the perfect oasis of calm in the middle of Tokyo and is sure to feel like home when you return from your sightseeing tours in the evening.

Mixed dormitory room: From 3,000 yen per night / per person
Women-only dormitory room: From 2,600 yen per night / per person
Private room: From 6,000 - 10,500 yen per night / per room
Address

2-1-29, Kuramae, Taitou-ku, Tokyo, 111-0051
View Map

Nearest Station

Kuramae Station (Toei Asakusa Line / Toei Oedo Line)
1 minute on foot


Phone Number

03-5829-4694
BUNKA HOSTEL TOKYO / Asakusa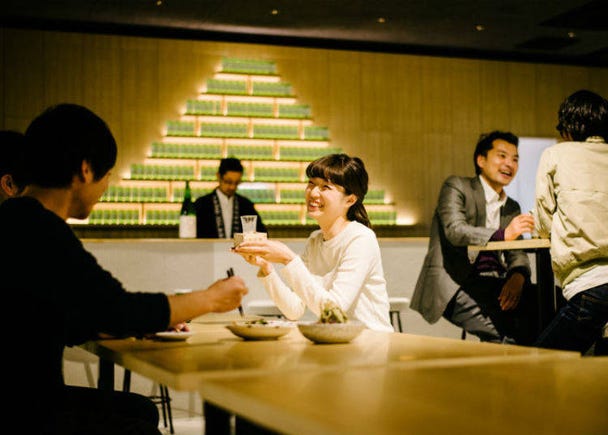 The BUNKA HOSTEL TOKYO, open since December 2015, is located in Asakusa's Sushiya-Dori, a street that quite literally translates to "sushi shop street" and isn't as crowded with pedestrians and sightseers as the rest of Asakusa. In 2016, this guesthouse even won the Good Design Award in the category of regional/community development and social contribution activities.

The "Izakaya Bunka," a traditional Japanese pub, can be found on the first floor of the guesthouse, allowing visitors from all over the world to get a first-hand experience of authentic Japanese pub culture. Its windowed front makes for an open and relaxed atmosphere and not only guests of the BUNKA HOSTEL TOKYO come to enjoy the wonderful design of Izakaya Bunka. Why not stop by to experience "wa" to the fullest, the authentic Japanese spirit, in the warm light of paper lanterns?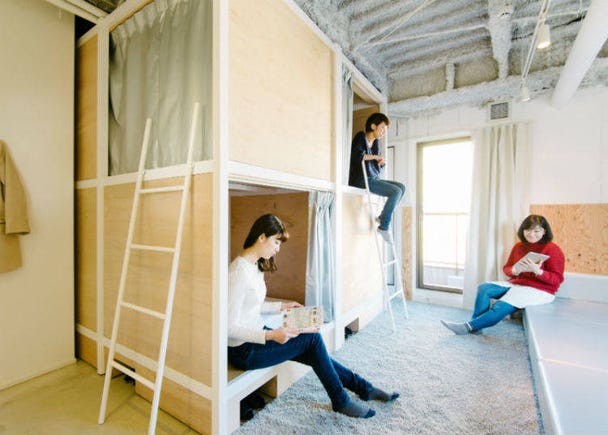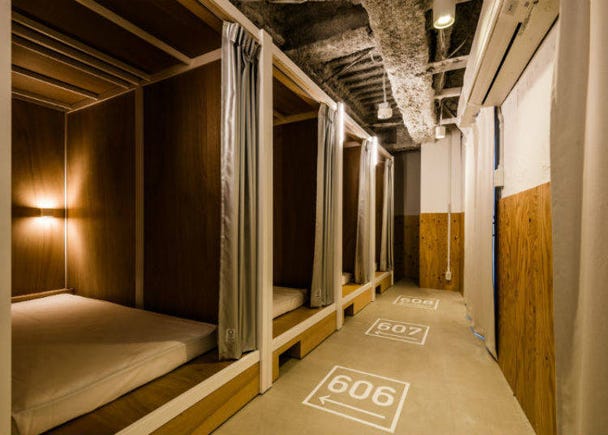 BUNKA HOSTEL TOKYO's guest rooms emphasize both functionality and cleanliness, which is why you'll always find your beautifully furnished and convenient room spotless. This also goes for the shower room, the toilets, and the rest area, of course! In addition to the mixed and women-only dormitories, some featuring bunk beds, the guesthouse also offers so-called family rooms that have their own shower and toilet. Staying at BUNKA HOSTEL TOKYO will also grant you a most convenient and easy access not only to Tokyo Skytree(R) but to a whole variety of Asakusa's most famous sightseeing spots. Apart from sightseeing, however, do not miss out on the opportunity to try authentic Japanese cuisine and sake specialties from all around Japan at Izakaya Bunka on the first floor of the guesthouse.

Mixed dormitory room (bunk bed type): From 3,000 yen per night / per person
Mixed dormitory room (single bed type): From 5,000 yen per night / per person
Women-only dormitory room (bunk bed type): From 3,000 yen per night / per person
Family room (with shower & toilet): From 16,800 yen per night / per room
Unless indicated otherwise, tax is included in rates. Rates current as of January 4 2018. See the official websites for details.
Address

1-13-5, Asakusa, Taitou-ku, Tokyo, 111-0032
View Map

Nearest Station

Asakusa Station (Tokyo Metro Ginza Line / Toei Asakusa Line / Tobu Isesaki Line (Tobu Sky Tree Line) / Tsukuba Express)
5 minutes on foot


Phone Number

03-5806-3444
*This information is from the time of this article's publication.
*Prices and options mentioned are subject to change.
*Unless stated otherwise, all prices include tax.