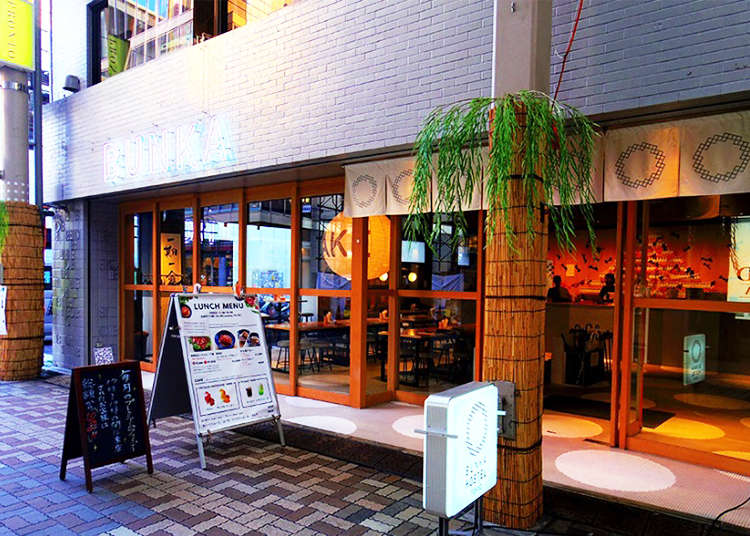 Most visitors to Japan are in search of a unique experience and having a chance to chat with locals while enjoying tasty foods and drinks in a relaxed atmosphere. Bunka Hostel Tokyo offers this and more at its sister pub. With its welcoming staff, multicultural patrons, and authentic home-style menu, Izakaya Bunka is a perfect place to wind down.

Izakaya Bunka's exterior skillfully blends modern glass and traditional Japanese style to create a warm, welcoming space. Whether you're a group of friends or seek to enjoy a drink all by yourself, you'll find your steps drawn to this one-of-a-kind izakaya experience.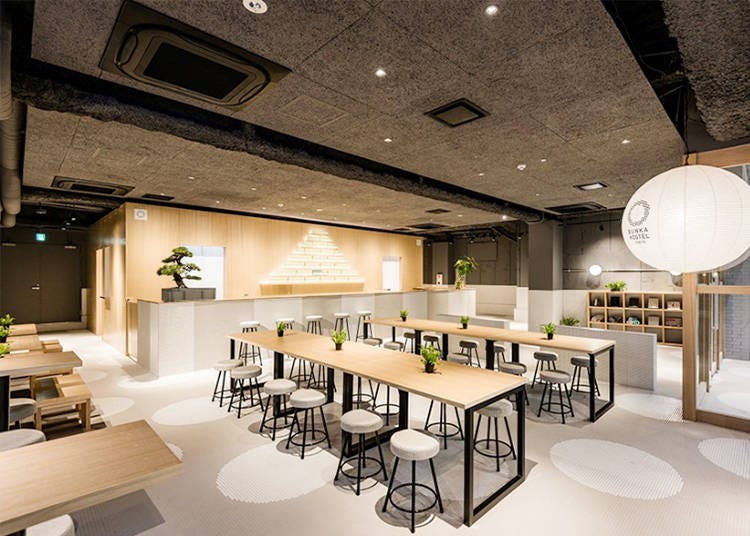 The pub opened in December 2015, so a little over 2 years ago. It was born from the desire to create a place for warm and casual intercultural exchange, a place that both locals and tourists came to love. Izakaya Bunka can seat up to 49 people and even features a little shop corner right next to the entrance.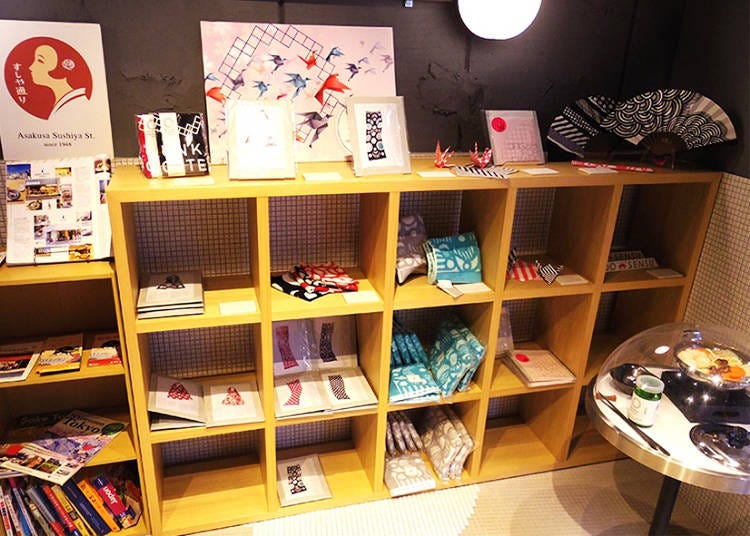 This charming izakaya is actually located right on the 1st floor of Bunka Hostel Tokyo. However, the pub welcomes both guests and those who are just casually dropping by for a drink!

The hostel generally requires a reservation, but if a bed happens to be free, you can stay the night as you are. So if you've had a glass too many and your way home seems too long and too bothersome, just crawl into a bunk without any hassle! This is also majorly convenient if you missed the last train.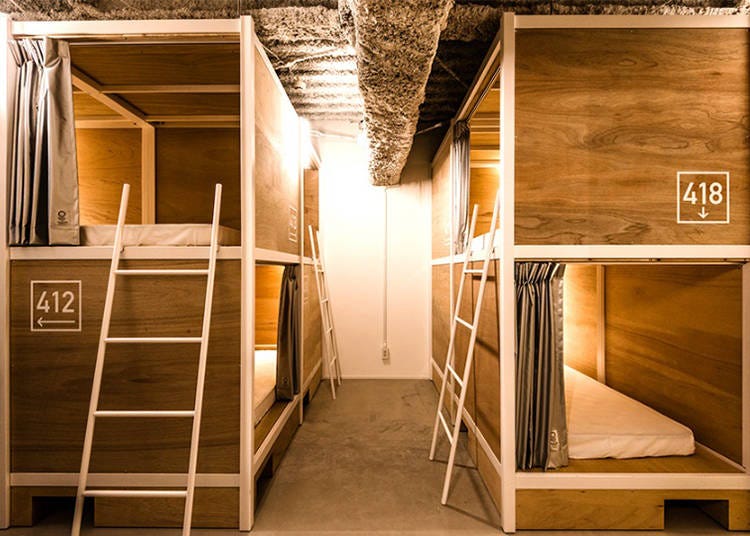 The hostel offers warm and comfortable dormitories, except for one family room. The bunks are separated by solid wood walls, so you'll get to enjoy proper privacy!

There's also a women-only dormitory and the price per night starts at 3,000 yen. Compared to having to rely on a taxi, this is a more than a reasonable fee for a safe, comfy, and hassle-free night of sleep.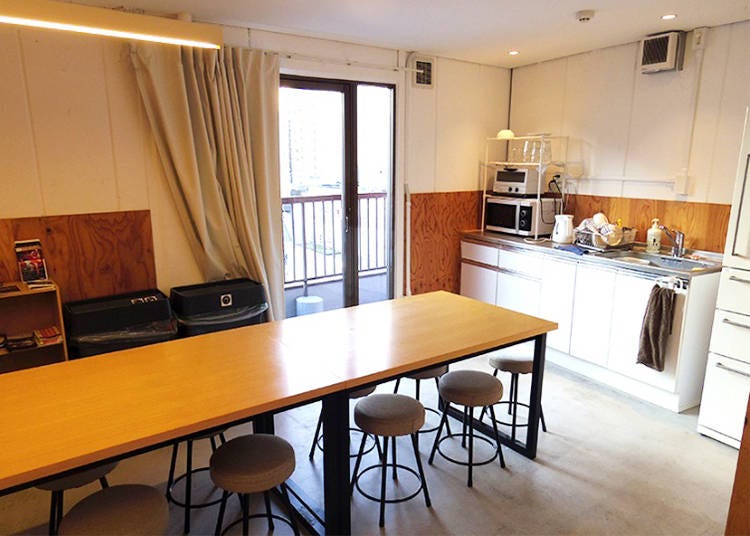 The hostel also features a shower room, coin laundry, and a dining area including a kitchen – everything is free to use for guests. Bunka Hostel Tokyo certainly offers a wonderfully casual, yet authentic taste of Japan's famous hospitality.
The Taste of Japan, Right at the Izakaya!
Of course, Izakaya Bunka also seeks to tickle your taste buds with a variety of authentically Japanese dishes, all true to proper pub culture. Look forward to Kyoto-style home cooking, Japanese hot pot, and all sorts of other delicacies that you'll only find at an actual izakaya.

Regularly, these sorts of pubs can seem intimidating to tourists, as both the menu and the guests are predominantly Japanese. Izakaya Bunka, however, offers a wonderfully welcoming atmosphere and both international and local guests, thanks to it being connected to a hostel. The menu was specifically created to introduce people to authentic izakaya cuisine, so don't hold back!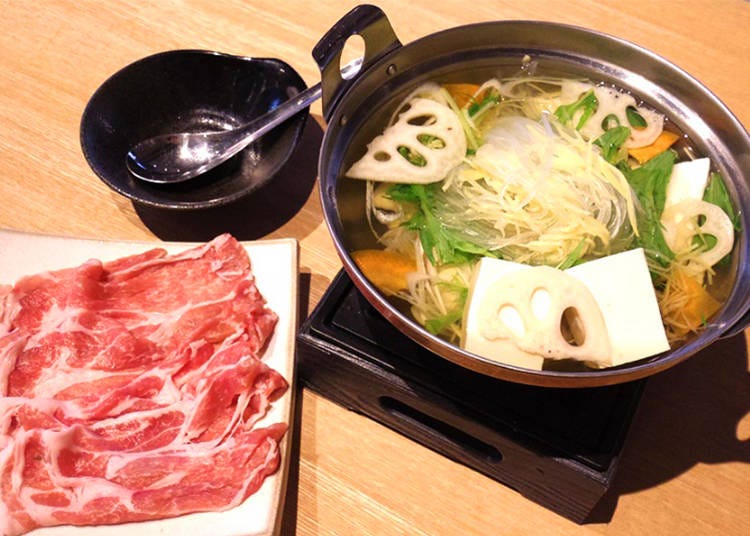 An especially popular dish on the menu is the hot pot, or nabe in Japanese. Even if you're by yourself, the size is just perfect! We particularly recommend the "Pork Shabu-Shabu Hot Pot" for 1,500 yen, as shown in the picture above.

Other than that, the Tomato Sukiyaki with Beef for 1,600, as well as the steamed hot pot with three kinds of shellfish for 1,300 yen is also amazingly delicious! The prices are surprisingly reasonable, so you won't over-strain your budget when diving into the world of Japanese izakaya cuisine.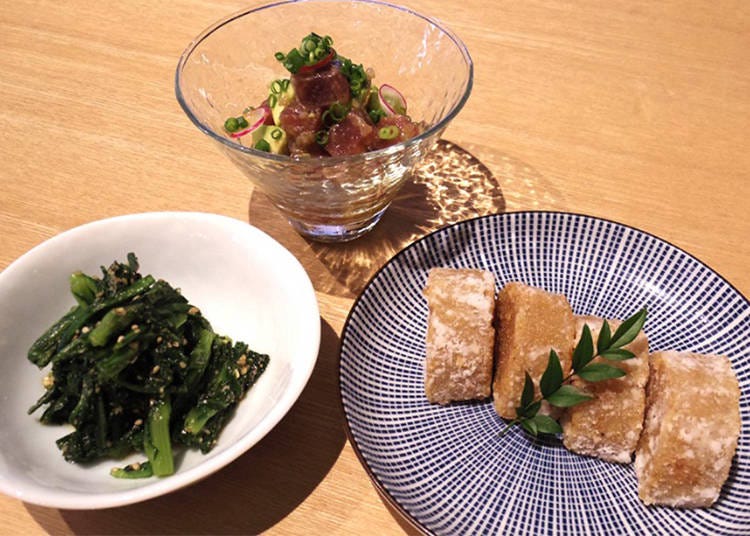 The menu is enriched with plenty of both home cooking and seasonal ingredients, making for wonderful side dishes. Special recommendations are the boiled spinach with soy sauce for 380 yen, the avocado and tuna tartare for 600 yen, or the deep-fried yam for 380 yen. Those little side dishes are an excellent choice if you don't want a full dish but rather seek for something to casually accompany your drinks.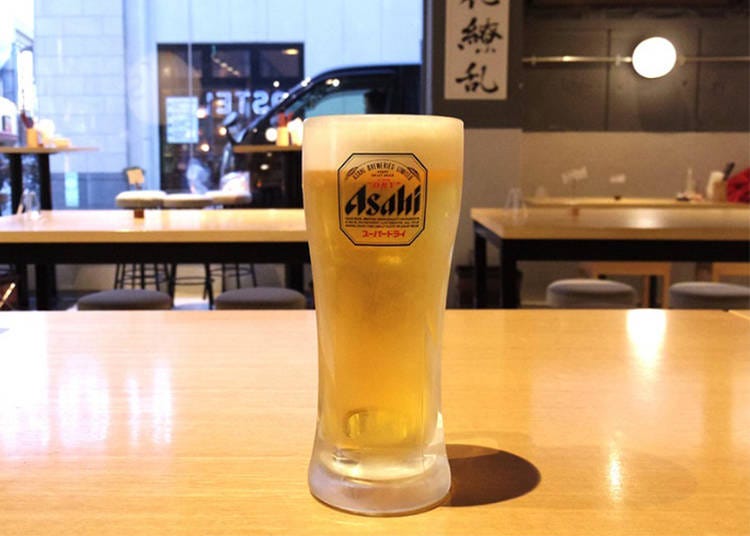 Speaking of drinks – from the medium-sized draft beer for 600 yen, the drink menu offers plenty of choices! Izakaya Bunka especially focuses on Japanese sake and its menu features a lot of explanations and guidance for sake beginners.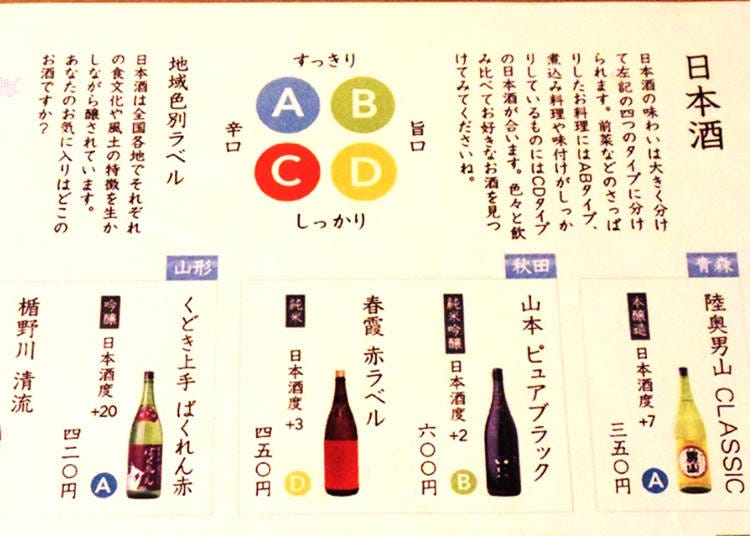 It doesn't only showcase the different prefectures that make sake, there's also an easy-to-understand chart that designates a sake's taste – dry, sweet, light, and heavy. This menu is available in both English and Japanese.

The lineup is made up of about 20 different kinds of sake, depending on the season. On top of that, the izakaya also serves its own original!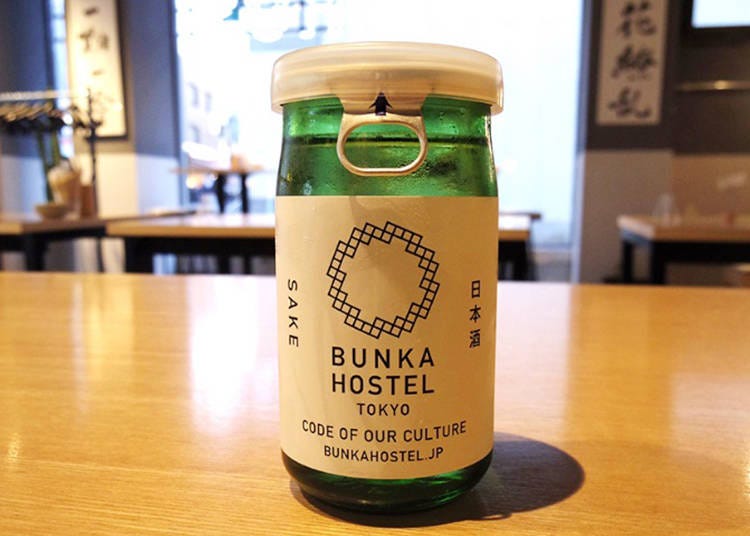 The "Izakaya Bunka Original Cup Sake" for 600 yen is made in collaboration with Niigata's Hokusetsu Sake Brewery. The reason for this is that both the hostel and the brewery's logos were designed by the same person.

The traditional Japanese design of the cup also makes the sake a great souvenir. In any case, Izakaya Bunka is an excellent choice if you want to dip your toes into the vast world of Japanese sake but don't quite know where to start!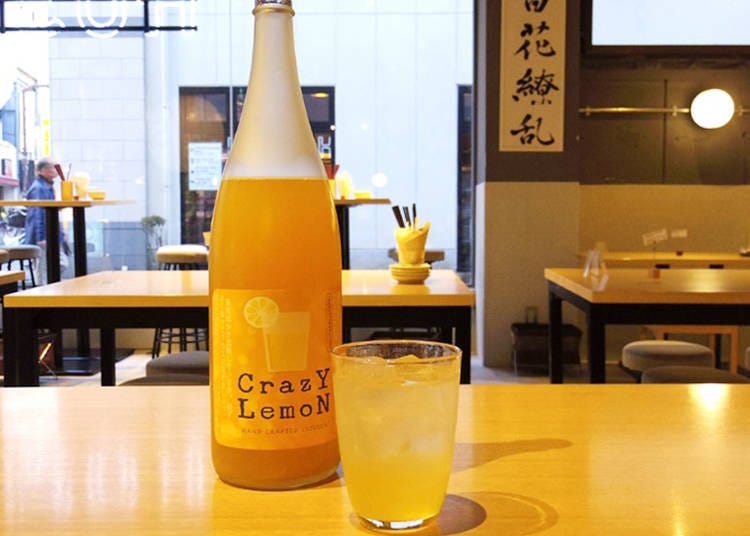 A lighter choice is the variety of sake-based fruit liquors, such as the Crazy Lemon soda mix for 600 yen. The full-bodied fruit flavor blends perfectly with the sake, so go ahead and give it a try.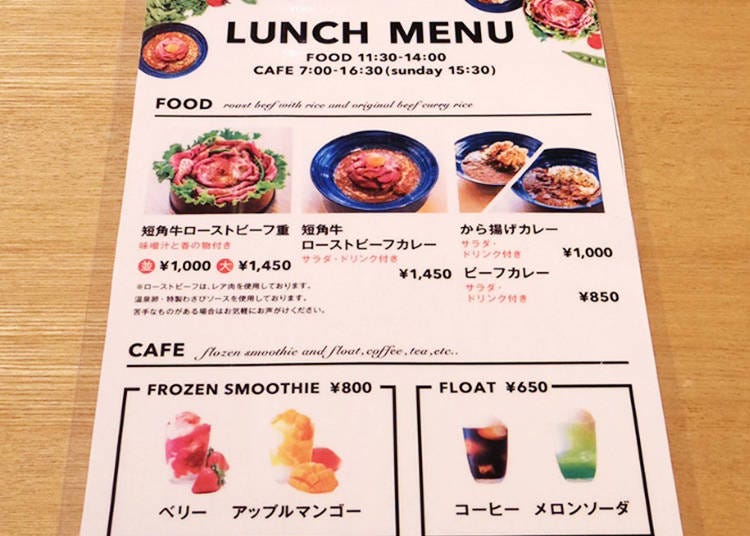 Izakaya Bunka also offers a rich menu for lunch, such as various roast beef choices between 1,000 and 1,450 yen. It's a great choice for a casual yet delicious lunch!
An Authentic, Casual Taste of Japan
For some people, the image of just falling into bed without having to bother with trains or taxis might be the biggest draw of Izakaya Bunka. What we especially love, however, is the wonderfully authentic menu that gives you an honest glimpse into a kind of Japanese cuisine that you don't necessarily get to experience as a tourist. This plus the warm, friendly atmosphere of an actual Japanese pub. Don't be shy and have a drink with the locals!
ブンカホステル トーキョー

Address

1 Chome-13-5 Asakusa, Taito City, Tokyo 111-0032

Phone Number

03-5806-3444
Book an unforgettable experience in Asakusa!
Make your trip extra memorable by booking one of these recommended tours.
*This information is from the time of this article's publication.
*Prices and options mentioned are subject to change.
*Unless stated otherwise, all prices include tax.