Although trains in Japan are extremely convenient and can take you to most of the major sightseeing spots, the country's bus network is very dependable and can help bring you to the more outlying areas.

There are several types of bus services: route buses (which go within cities or towns), highway buses (which often go between large cities), limousine bus (which connect an air/sea port and major bus or train station), and more. Let's take a look at the basics of how to get on and off, how to pay the fare for each bus service, and at some key tips concerning buses.
Getting On and Off a Route Bus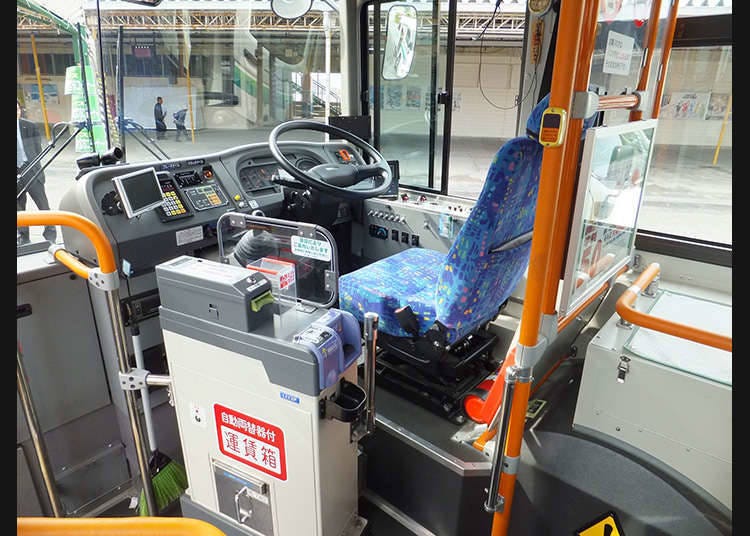 How to get on and off a route bus may vary depending on the route but there are two major ways to board a bus.
1. Get on at the front door, and get off at the rear door. In this case the fixed fare is applied and you pay the fare when you get on the bus.

2. Get on from the rear door, and get off from the front door. In this case, you need take a numbered ticket from the machine near the door when you get on (more on this below).


Using a Pasmo Card
When traveling in the greater Tokyo/Yokohama region, using a Pasmo card is easiest for getting on and off the bus. Loading your card up with at least ¥3,000 (~$30) should cover several rides in most cases. Using a Pasmo on a bus is similar to using one at the train station: simply tap the card when you board the bus, and again when you get off. Generally, when using a Pasmo or other stored value card, you will not need to take a ticket when boarding the bus since the fare calculation is automatic.

(Note that some routes may charge a flat fee and require only one tap. When in doubt, ask the driver.)


Using Cash
Cash is a perfectly acceptable form of payment for the bus, however it will involve an additional step: calculating your fare. First, when boarding the bus, be sure to take a ticket from the machine next to the door.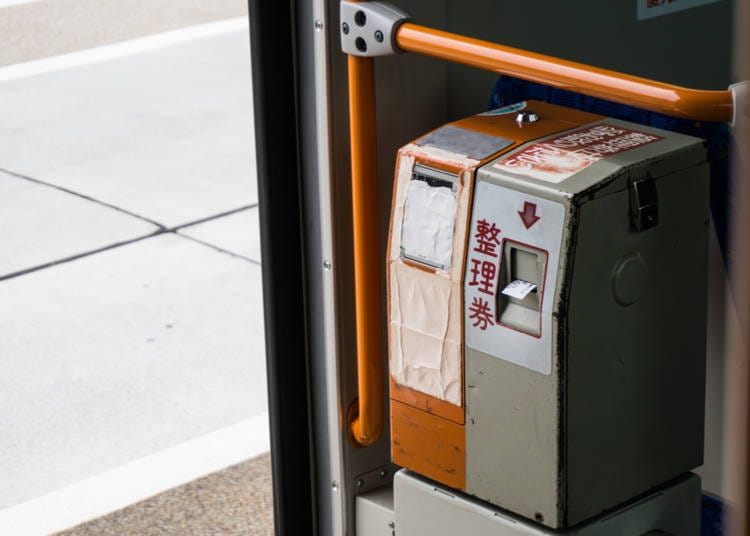 Ticket machine near the rear entrance to a bus
This ticket will have a number displayed on it, which corresponds to the number shown on a display board at the front of the bus.

When you arrive at your destination, simply check the fare on the display and put the exact change and the numbered ticket in the box installed near the driver's seat. Your driver will let you know if you have inserted the correct fare.

Getting change for ¥1,000 or ¥500 while aboard a bus is possible, however most buses will not be able to provide change for ¥5,000 or ¥10,000 notes. To help streamline the process, it is convenient to carry at least ¥1,000 in change before boarding a bus.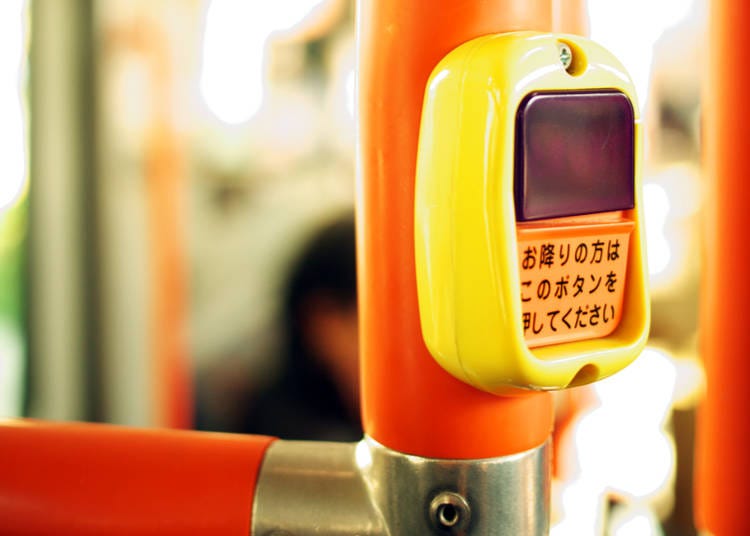 Requesting a stop is very straightforward indeed: buttons similar to the above will be located around the inside of the bus. Simply press the button to request a stop.
Common Buses Around the Tokyo Area
Using a Toei Bus
The Toei bus service operates in Tokyo's 23 wards and the Tama district. In Tokyo's wards, you get on from the front door and put the exact fare in the fare box. In other areas, you get on from the rear door and pay your fare when you get off.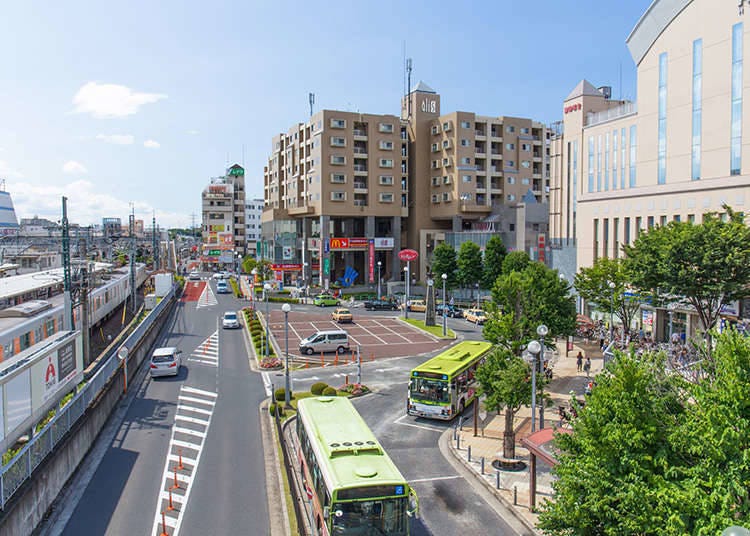 Other Route Buses

・Odakyu bus service operates in the southwest of Tokyo and in a part of Kanagawa Prefecture.

・Keio bus service operates mainly along the Keio railway lines in a wide area of western Tokyo.

・Keisei bus service operates mainly along the Keisei railway lines in eastern Tokyo and the northwest of Chiba Prefecture.

・Keikyu bus service operates mainly in the southern areas of Tokyo between Shinagawa and Kanagawa Prefecture.

・Seibu bus service operates in the northwest of Tokyo and the southwest of Saitama Prefecture.

・Tokyu bus service operates mainly along the Tokyu railway lines in southern Tokyo and Kanagawa Prefecture.

・Tobu bus service operates in the northeast of Tokyo, the south and the east of Saitama Prefecture, the northwest of Chiba Prefecture and the Nikko district.
How to Use a Highway Bus and a Limousine Bus
When using a highway bus or a limousine bus, you need to purchase a ticket in advance. You can book a ticket online or by phone via the bus company or a ticket agency. You may be able to pay with credit card or pay at convenience stores.
Tips & Tricks for Using Buses in Japan
Whereas most of the larger train stations in Japan tend to have clear indications in English, buses tend to have much less English signage. As a result, a little more advance preparation may be needed.

・Be sure to have a firm destination in mind, as well as whether your ride will require transfers. If possible, snap a photo (or screenshot) of the kanji characters for your destination, as they will be quite helpful in communicating exactly where you'd like to go.

・Bus drivers, staff, and even fellow passengers are excellent resources to help you get to your destination - be sure to use them!

・ Be sure to take photos of the kanji for your bus stop when you get off. Note that the return bus will most likely be somewhere across the street from the stop at which you arrived.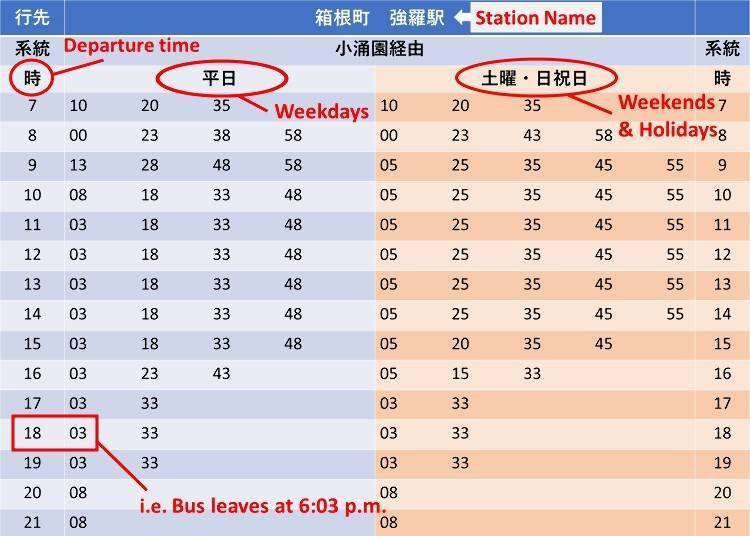 *This image for illustration purposes only
・It is also a good idea to take a photo of the bus schedule so that you will know when you'll need to return to the stop. In certain areas, buses may not come as frequently as they do in Tokyo.

・Also note that buses and trains in Japan typically operate on two different schedules, a weekday (平日) schedule and a weekend/holiday (土日休) schedule. You may also find a schedules featuring three time tables: weekday (平日), Saturday (土曜), and Sunday/holiday (日曜・休日).

・Set an alarm on your phone or portable device as reminder to let you know when it's time to head back to the train station or bus stop. (This tip will especially come in handy if you plan to return to Tokyo on the last train or bus.)
Depending on the bus service, the procedures of getting on and off, payment of fare, and ticket reservation may vary. Knowing basic procedures while staying flexible will make your bus travels as relaxed as they are convenient!

*This information is from the time of this article's publication.
*Prices and options mentioned are subject to change.
*Unless stated otherwise, all prices include tax.
Limited time offer: 10% discount coupons available now!