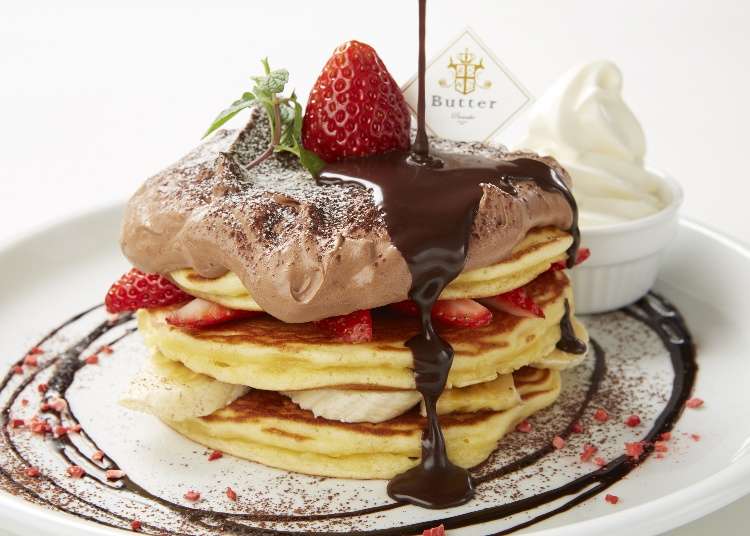 Tokyo is still firmly in the grip of the pancake boom with the locals flocking to pancake specialty stores to find the fluffiest, tastiest pancakes in the capital. One such store is Butter and can be found in Toyosu, Yokohama, and all sorts of other places. From February 1 to March 14, 2018, Butter offers a special Valentine's Day and White Day menu that is all about "thi~ck raw chocolate!" Look forward to luxurious toppings and pancakes so filling, you'll have trouble finding their likes in Tokyo.

This "thi~ck" theme of Butter's menu is mainly represented by creamy, rich raw chocolate sauce found on both pancakes and special drinks. This smooth, luxurious gourmet experience melts right on your tongue and takes you straight to dessert heaven! The rich cocoa taste of raw chocolate will linger on the tip of your tongue hours after...
Mille-feuille Pancakes with Thick and Creamy Ganache
These mille-feuille-style pancakes are enhanced with chocolate chips and plenty of cool chocolate cream while still boasting the original buttermilk taste that Butter is so adored for. Topped with strawberries and banana, this is a treat from pancake heaven.

The dough is made from milk from Hokkaido and beet sugar only before thick, strained yogurt is added. The rich taste of buttermilk makes these pancakes a real experience and topping them with chocolate cream and sauce makes them even better!

Price: 1,280 yen (tax excluded)
Fluffy Pancakes with Thick and Creamy Ganache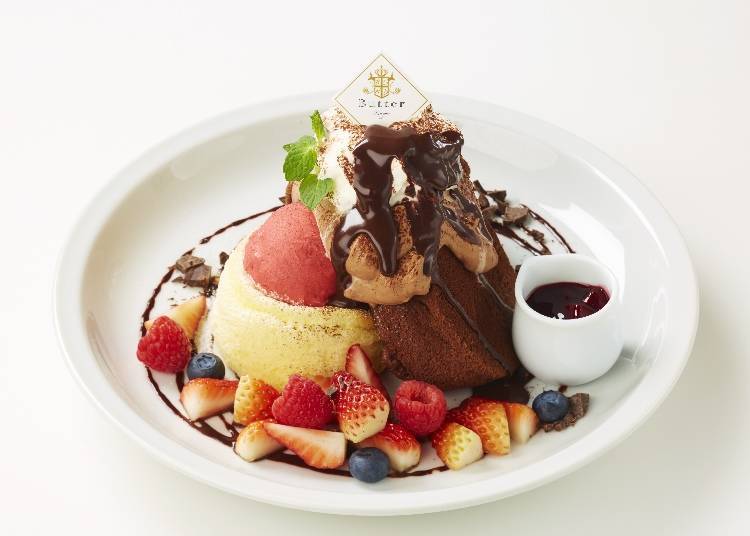 These soufflé-style pancakes come in both plain and chocolate flavor on one plate, along with a generous serving of raspberry ice cream. They, too, feature plenty of raw chocolate sauce and chocolate chips, as well as three kinds of berries. Yummy.

Price: 1,480 yen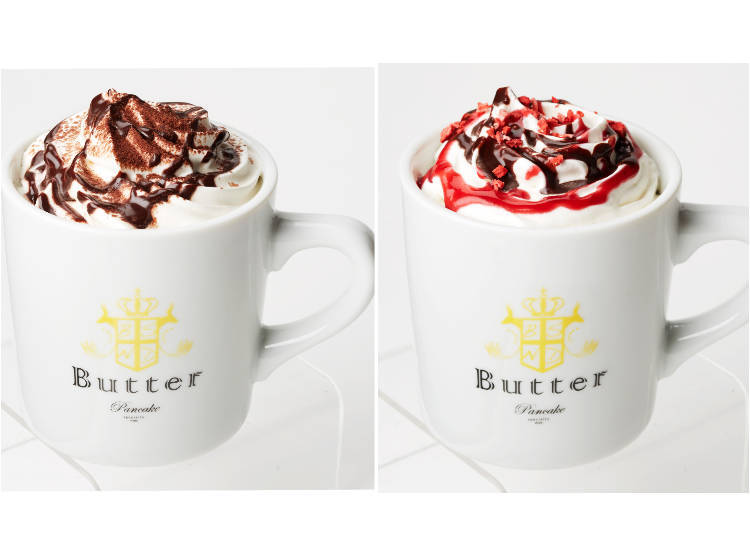 Butter's seasonal drinks are basically smooth, creamy milk with melted raw chocolate – blissfully mellow and with an amazingly rich taste. Choose between raw chocolate and berry sauce, both topped with whipped cream!

※Combined with the raw chocolate pancakes, the drinks only cost 280 yen extra (tax excluded).

◇ Ganache Chocolat Chaud
◇ Ganache Chocolat Chaud & Raspberry Sauce

Price: 480 yen (tax excluded)
Butter's Raw Chocolate Promise
■ Making Raw Chocolate Cream
Butter uses chocolate with 57% cacao chocolate (French Couverture chocolate without any vegetable fats and oils) and cream from Hokkaido. This mixture is then left to rest overnight, and the cocoa butter partially crystallizes, making for a wonderfully smooth finish. Additionally, raw chocolate is slowly, slowly added to the cream which gives it such a rich cocoa aroma and melt-in-your-mouth quality.

■ Making Raw Chocolate Sauce
The sauce is made from the same 57% cacao chocolate, as well as cream and milk from Hokkaido. The gently bitter chocolate boasts a rich taste, smooth mouthfeel, and will definitely leave you craving for more.
Butter, the Pancake Specialty Store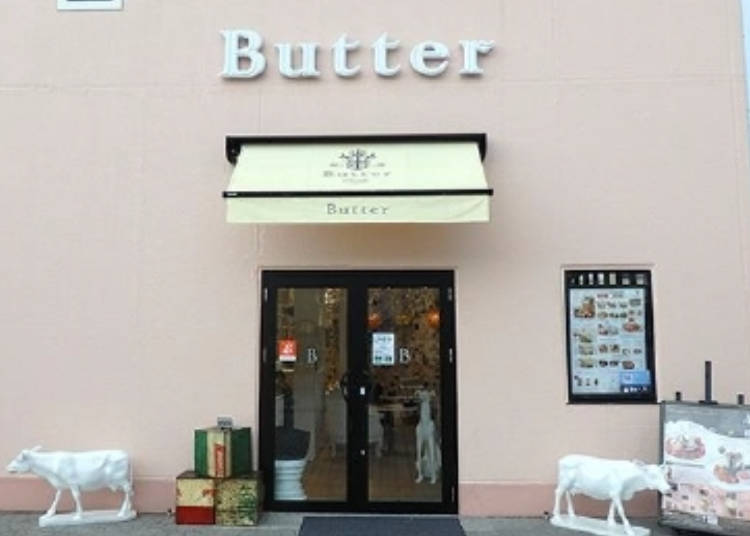 Butter is a pancake specialty store committed to making its pancakes with high-grade fermented butter, fresh cream, and wheat flour, most of the ingredients coming from Hokkaido. Their iconic Buttermilk Pancake, enhanced with strained yogurt, are then baked once before being soaked with fresh cream. After that, the pancakes are baked once more in an oven.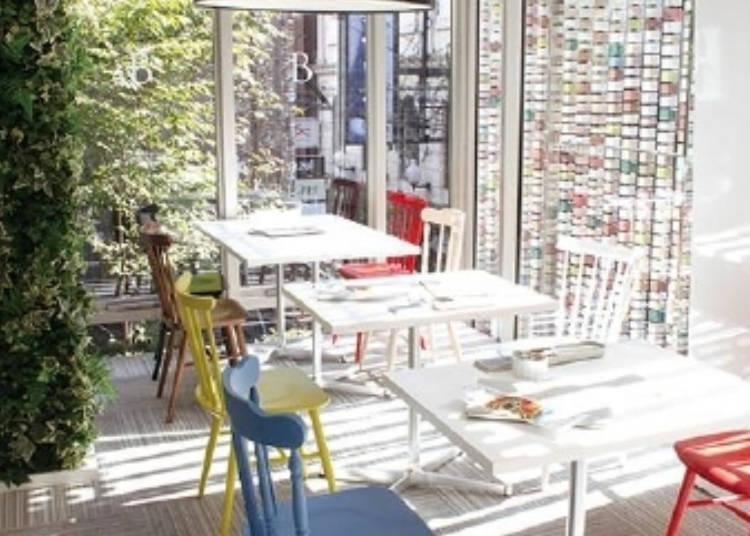 Fluffy, moist, and enhanced with different kinds of cheese, the "soufflé pancakes" are just one of Butter's many delicious pancake specialties. One visit to this charming store is sure to revolutionize the way you enjoy your pancakes, so what are you waiting for? Dig right in!
ららぽーと豊洲『Butter』

Address

1F, ShipⅡ, LaLaport-Totoyosu, Toyosu2-4-9, Toyosu , Koto-ku, Tokyo, 135-0061, Japan

Butter's menu is also sold at Butter Yokohama Bay Quarter, Butter Yokohama LaLaPort, and other places.
Area

Category

Articles Genre
*This information is from the time of this article's publication.