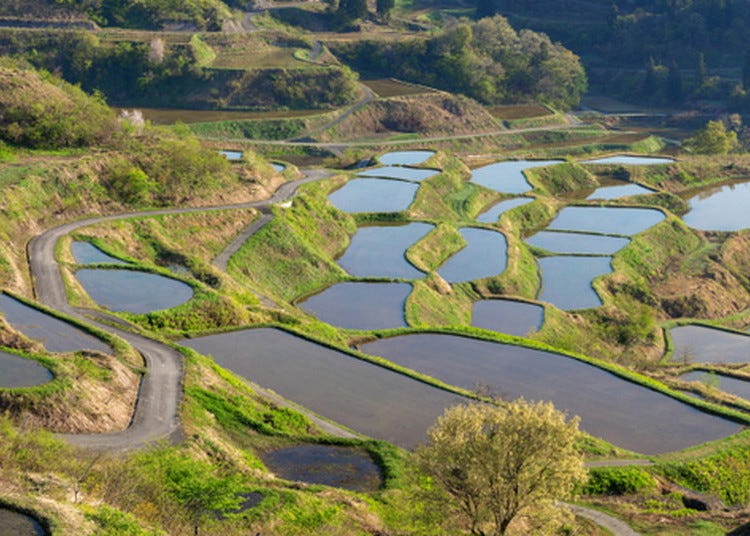 Niigata And Sado
Niigata And Sado:Overview & History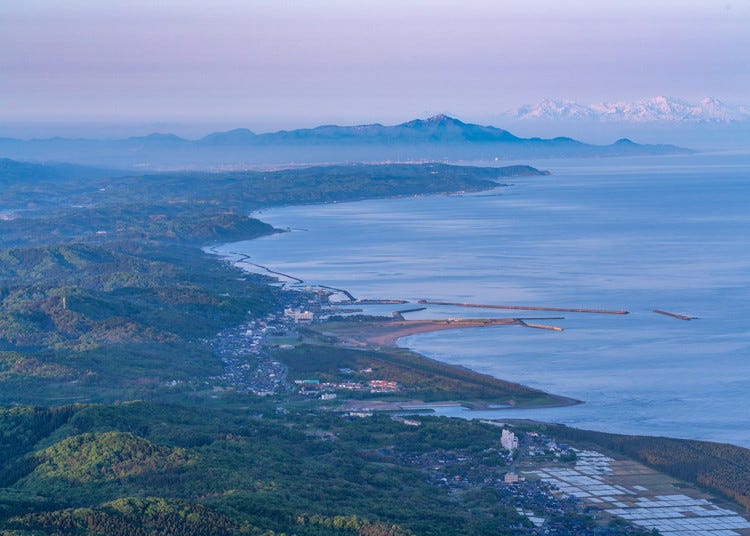 There are many theories as to how the regional name of Niigata came about, but no accurate records are said to remain. Facing the Sea of Japan, the whole of Niigata prefecture receives heavy snows in winter, particularly the mountainous areas. Since ancient times, the seaside districts developed as important marine transport hubs and by 1700, Niigata-cho (Niigata town) became the largest port town on the Sea of Japan coast. Meanwhile, Sado was known from ancient times as an island that yielded gold, and was heavily developed in the Edo period (1603-1868) as a territory under direct control of the Edo government. As Sado's forests were carefully preserved to secure wood for use in the gold mine, the island was also the last habitat of the Japanese crested ibis.
Niigata And Sado:Area Introduction
Niigata Surrounding Areas
This region is famous for producing top-quality rice and sake. If you want to enjoy the best view of Hoshitoge no Tanada (Hoshitoge rice terraces), known for its surreal scenery of rice terraces and a sea of clouds, prime seasons are spring to early summer, when the rice paddies hold water, or late fall. Here you'll see the "water mirror" effect, where the water in the rice terraces reflect surrounding landscapes, sky and clouds.
Sado Surrounding Areas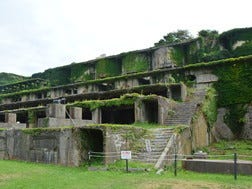 Known since ancient times as an island that yields gold, Sado has a maritime climate with four distinct seasons that bring stunning scenery with every change. The island's active agriculture and fishing industries produce a feast of Sado-brand food items. And visit Sado to experience many unique traditional art performances, including Onidaiko (a drumming performance) that you'll only find on this island.
Niigata And Sado:Must-See Events
August 14 and From August 19 to 20 The Niitsu Summer Festival
The Niitsu Summer Festival is a major annual festival at Horiide Shrine, and said to have continued ever since 1573. On August 16, local dancers dance in the streets singing the traditional folk song "Niitsu Matsusaka," and on August 19 and 20 you'll marvel at seven large floats dramatically careering through the streets and slamming into each other.
Access from Tokyo Station to NIIGATA
From Tokyo Station: Ride the Niigata-bound Jyoetsu Shinkansen for 125 min., and get off at Niigata Station.
Access from NIIGATA Station to Sado
From Niigata Station: Ride the Sado Kisen Line bus for 15 min., and get off at Sado Kisen. Take the Sado Kisen ferry bound for Ryotsu for 150 min.