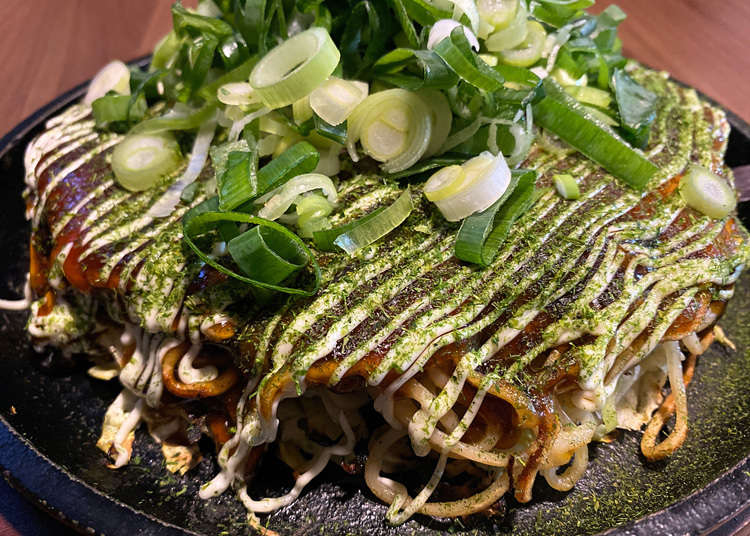 Right within the Tokyo district of Ueno is bustling Ameyoko, where you can find plenty of shops serving up hot and tasty food as late as 10 p.m. and beyond! Start your Japan trip right with fantastic Ameyoko food right from the very first night!

Years ago, well-known dishes like tempura, sushi, and shabu-shabu were among the most sought-after Japanese cuisine by international visitors to the island nation.

As tourists became exposed to the staggering variety of local foods available in Japan over the years, however, this list of most-wanted cuisine has seen more and more exciting additions.

For this article, we've hand-picked three delectable gourmet meals popular among foreigners as late-night meals that we think you'll enjoy as well. Let's take a look!
1. Asahikawa Miso Ramen Bankara Ueno: Hearty helpings of rich miso ramen available until 5 a.m. each day!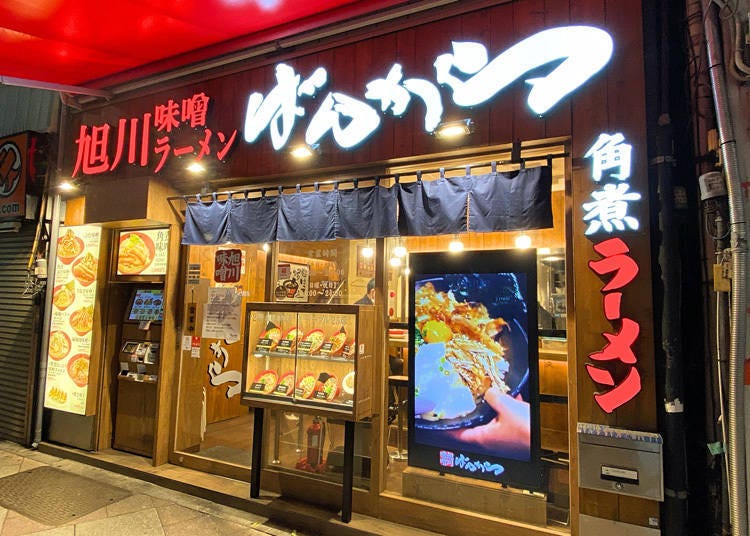 The three primary flavors of ramen broth are shoyu (soy sauce), shio (salty), and tonkotsu (pork bone), but Hokkaido's miso ramen has been gaining traction among the locals in recent years as well.

Asahikawa, the name of this particular restaurant, is, in fact, also the name of an icy region in Hokkaido. The shop's Ueno branch uses rich and flavorful miso soup fermented in an Asahikawa miso storehouse using headwaters from the Ishikari River, the longest river in Hokkaido.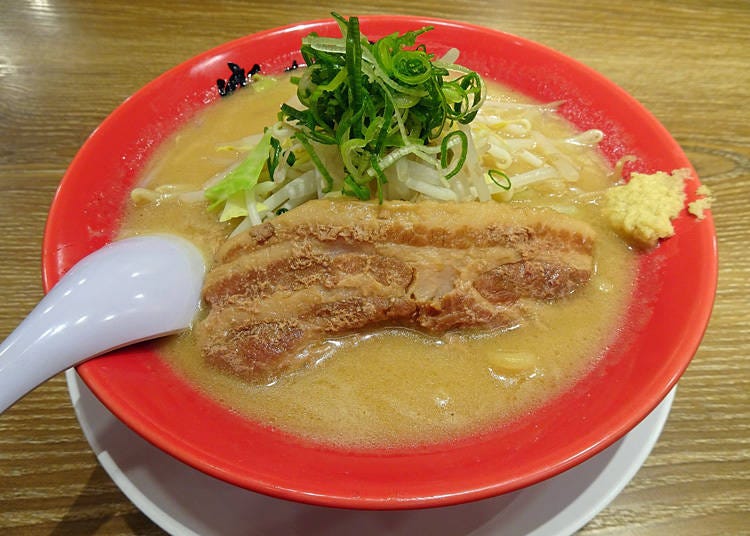 Because Asahikawa's humidity is low all year round, it experiences extreme temperature swings, at times shooting up to 30C (86F) during summer and plunging to -20C (-4F) in midwinter. It has been said, however, that this harsh environment is also what helps the malt used for fermenting miso produce an utterly superior taste.

Shop manager Mr. Yokoyama personally recommends the "Braised Miso Ramen (1,080 yen, tax included)", citing the perfect match between its full-bodied miso soup aroma and the mellow taste of fatty braised pork. Curly noodles of medium length are used to ensure good absorption of soup broth as well.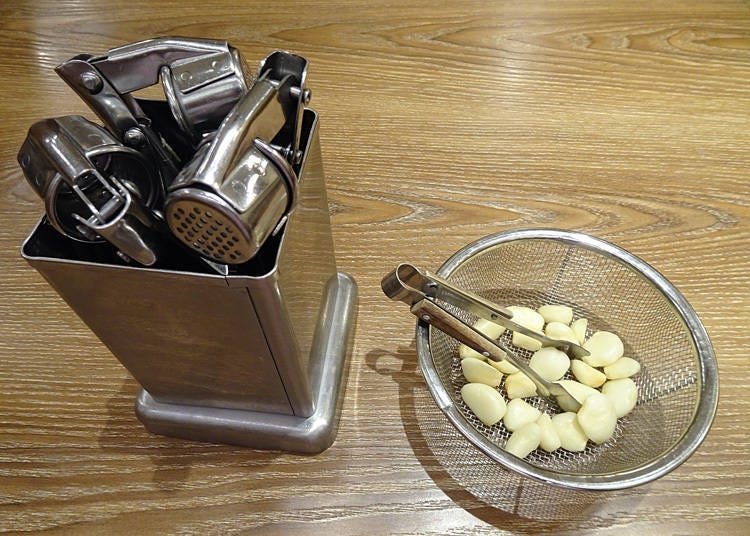 One of the appeals of Bankara's food is how the flavor changes with every bite. Customization is also encouraged! For example, you can always add garlic for more punch.

Other popular ramen items on the menu include "Pork Miso Ramen (1,080 yen, tax included)" and "Miso Butter Corn Ramen (990 yen, tax included)". Chinese customers also love the shop's spicy "Mala Meat Miso Ramen (1,000 yen, tax included)"!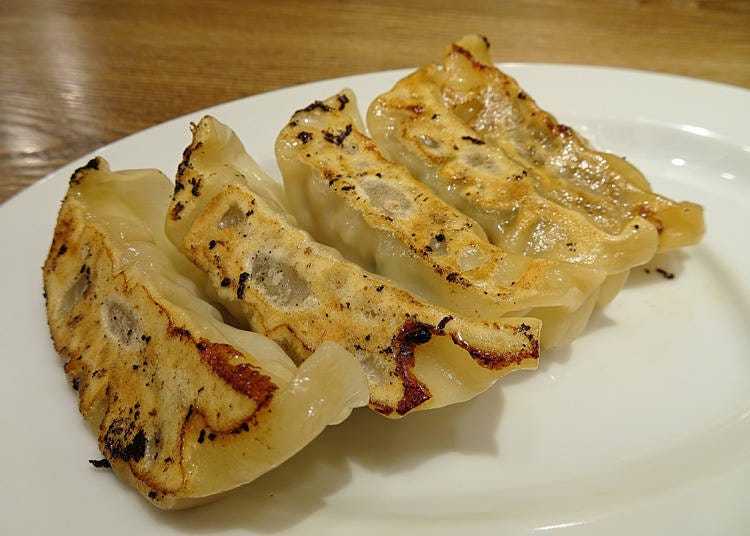 Don't forget to try the "Fried Gyoza Dumplings (390, tax included)" side dish as well! The filling is already chock-full of garlic, making them explode with a zesty tang in your mouth right from the first bite!

Gyoza is usually eaten plain first. Then, put on some vinegar and pepper. Finally, eat them with soy sauce and chili oil. This allows you to enjoy the dumplings with a full array of flavors - the way they were intended to be eaten!

This Ameyoko food shop doesn't settle for run-of-the-mill soy sauce, too. The soy sauce bottles on every table contain kombu soy sauce from Hokkaido, made by soaking richly flavored premium hidaka kombu seaweed into soy sauce to strengthen its taste. Don't be shy! Give it a try!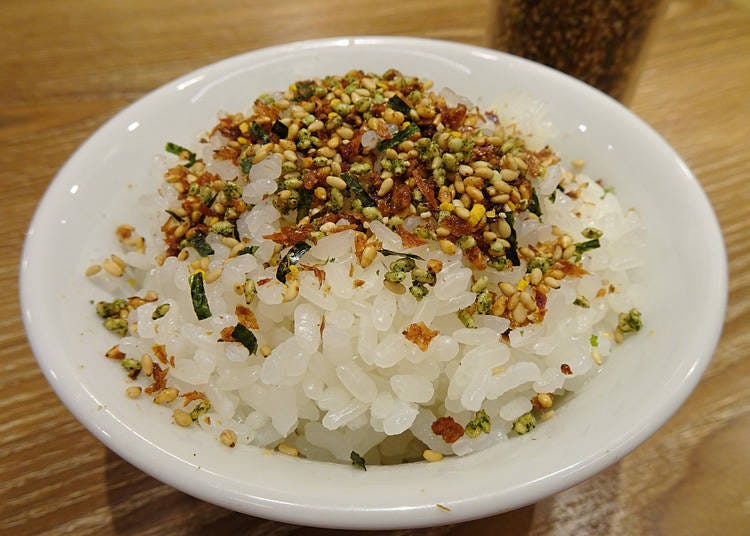 Anyone who orders a bowl of ramen will also get a serving of fragrant white rice free of charge, which goes best with a smattering of the rice seasoning also available on every table.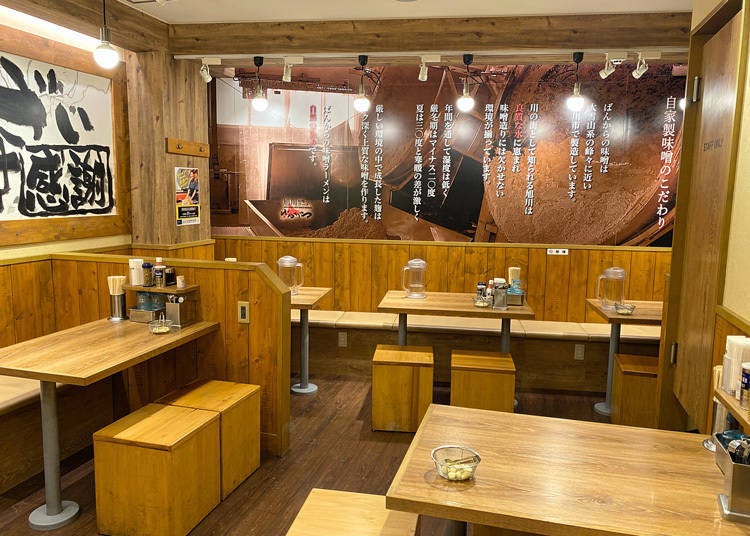 The first floor of Asahikawa Miso Ramen Bankara Ueno is lined with counter seats, while the second floor is decked with tables and chairs for customers to slurp their noodles at leisure.

Orders are taken via a ticket vending machine stationed before the entrance. Besides Japanese, items are also labeled in English, Korean, and Chinese for the convenience of international visitors, so make sure you buy an order ticket before walking in!

Whether you're looking for a place to have your first meal off the plane or something to eat after a drinking party in Ameyoko, there's bound to be something on Bankara's menu that fits!
Asahikawa Miso Ramen Bankara Ueno

旭川味噌ラーメン ばんから 上野店

Address

1F Sakaeya Bldg., 4-2-1 Ueno, Taito-ku, Tokyo-to

Nearest Station

1-minute walk from Okachimachi Station on the JR Yamanote Line
5-minute walk from Ueno Station


Phone Number

050-5597-6463

Hours: Weekdays / Saturdays / Holidays: 11:00 a.m. – 5:00 a.m. the next day
Sundays: 11:00 a.m. – 11:00 p.m.
Closed: Open daily
2. Hanabi Ueno: Full lineup of all sorts of drinks, along with great-tasting okonomiyaki and teppanyaki!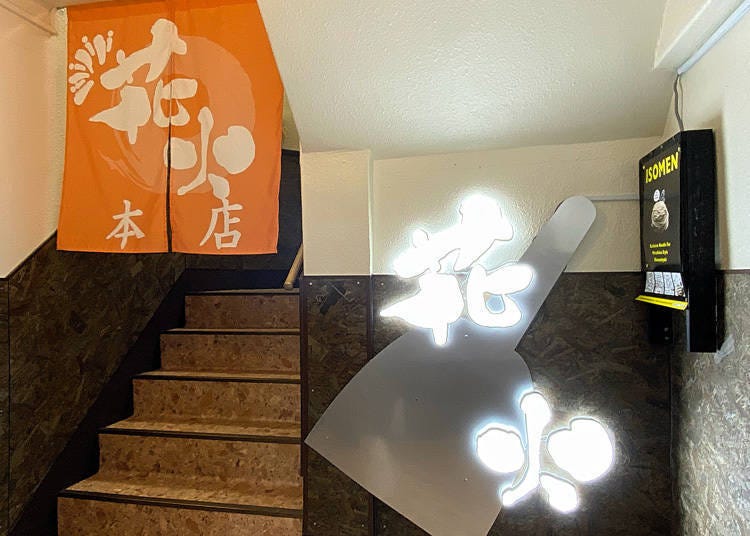 Okonomiyaki and monjayaki, both pan-fried batter dishes, are well-known representatives of downtown Ameyoko food.

Did you know, however, that each region of Japan has its own localized version of okonomiyaki?

As the restaurant name suggests, Hanabi is proud to present okonomiyaki made Hiroshima-style - a delectable mixture of batter and fried soba noodles!

The battle between Hiroshima and Osaka over which style is the exact origin of okonomiyaki has been raging for a while now. Still, no matter who wins, we as customers benefit from it all!
Shop manager Mr. Nagabara's recommendation is the Hiroshima-style okonomiyaki, "Hanabi Special (2,145 yen, tax included)".

Ingredients provided include octopus tempura, onions, beefsteak leaf, seafood, cheese, meat, eggs, and chewy uncooked noodles. If you're interested in the teppanyaki offerings as well, the shop is most happy to prepare some half-sized pieces for you to try out.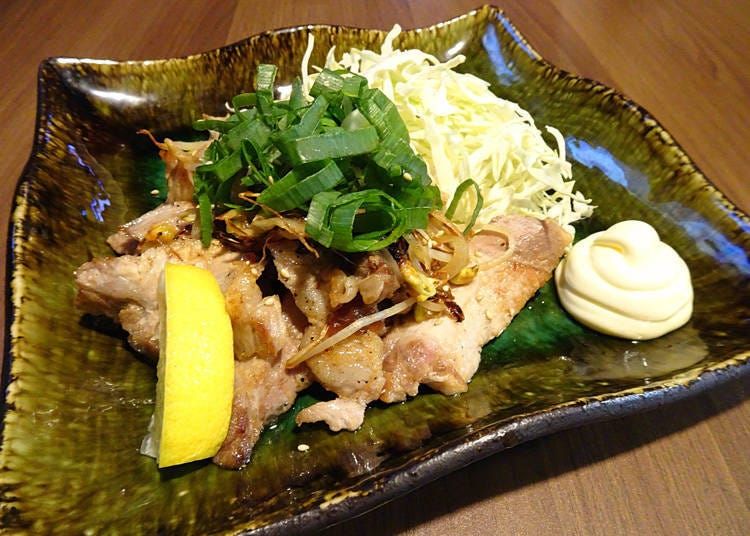 Another item on the manager's recommendation list is the "Hidaka Yongen Kamui Pork Tonteki (1,408 yen, tax included)". The melting point of the fats in Hidaka Yongen's Kamui pork is relatively low, which makes it instantly melt in your mouth in sweet surrender, unleashing a tasty aroma that leaves you wanting more.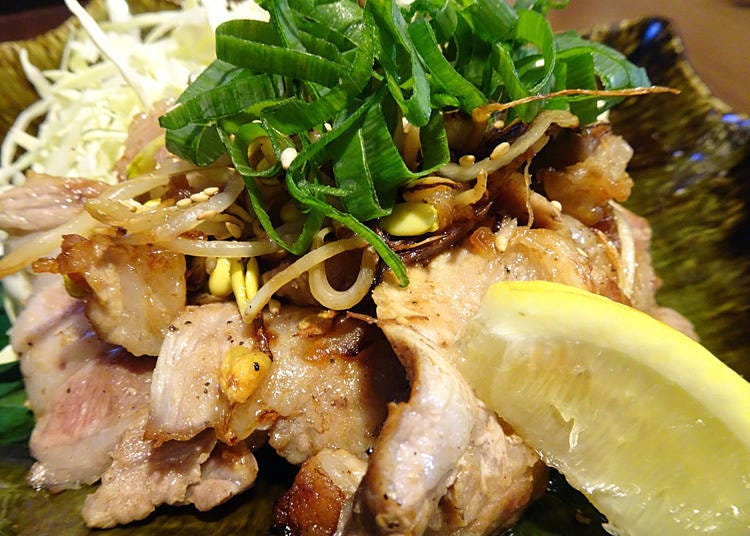 As for the alcohol selection, look forward to a wide variety of beer, cocktails, high balls, shochu (Japanese distilled alcohol), chuhai (shochu highball), hoppy, plum wine, and more! All the Japanese alcoholic beverages here complement the shop's signature "Hanabi Special" and "Hidaka Yongen Kamui Pork Tonteki" to a T!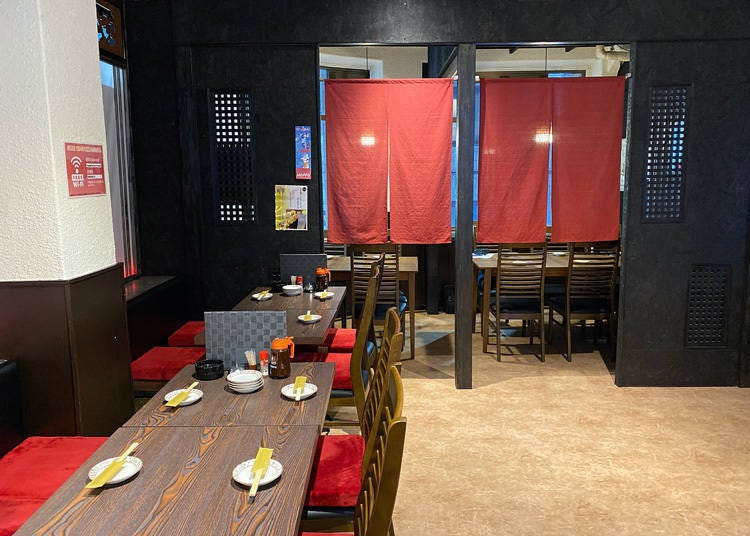 The shop features calm hues in its decor, designed to encourage customers to take their time with their food and alcohol.

The menu also comes with English labels for the convenience of all. Since the shop is open until 5 a.m. every day, it's an excellent place to consider if you're looking for somewhere to hold an after-party!
Hiroshima-Style Okonomiyaki Teppanyaki Hanabi Ueno

広島風お好み焼 鉄板焼き 花火 上野本店

Address

2F Sakaiya Bldg., 2-12-11 Ueno, Taito-ku, Tokyo-to

Nearest Station

3-minute walk from Ueno-Hirokoji Station on the Tokyo Metro Ginza Line
3-minute walk from Yushima Station on the Tokyo Metro Chiyoda Line
3-minute walk from the Ueno-Okachimachi Station on the Toei Oedo Line
5-minute walk from the Okachimachi Station on the JR Yamanote / Keihin-Tohoku Line


Phone Number

050-5456-3654

Hours: 5:00 p.m. – 5:00 a.m. the next day (last order 4:00 a.m.)
Closed: Not fixed
3. ChouChou PoPon Okachimachi: American diner with impressive miniature railway models!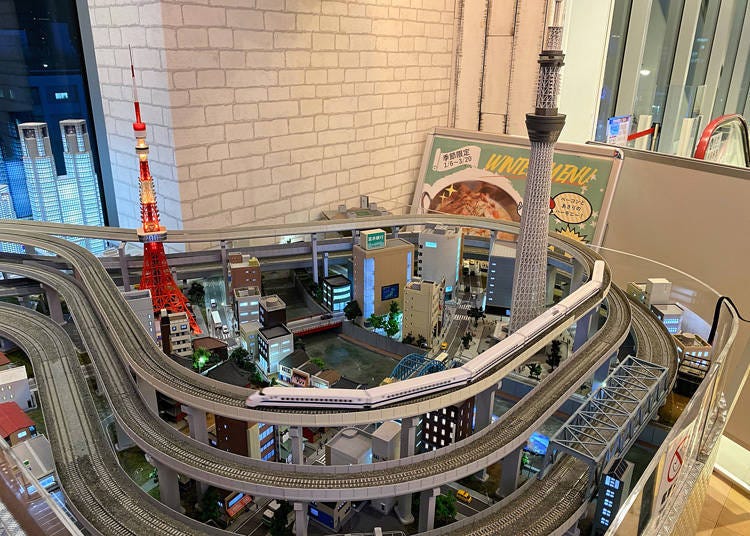 Located right next to Okachimachi Station on the JR Lines, ChouChou POPON is a popular gathering place for railway enthusiasts.

This American-style diner makes each food item individually with love - whether they be steak or burger - especially their premium burger patties, which are carefully cooked on a large iron plate in the shop's kitchen.

There's even authentic drip coffee to go along! If you're looking for a palate cleanser of sorts after binging on too much Japanese cuisine, definitely try this place out for awesome Ameyoko food in a uniquely Japanese atmosphere.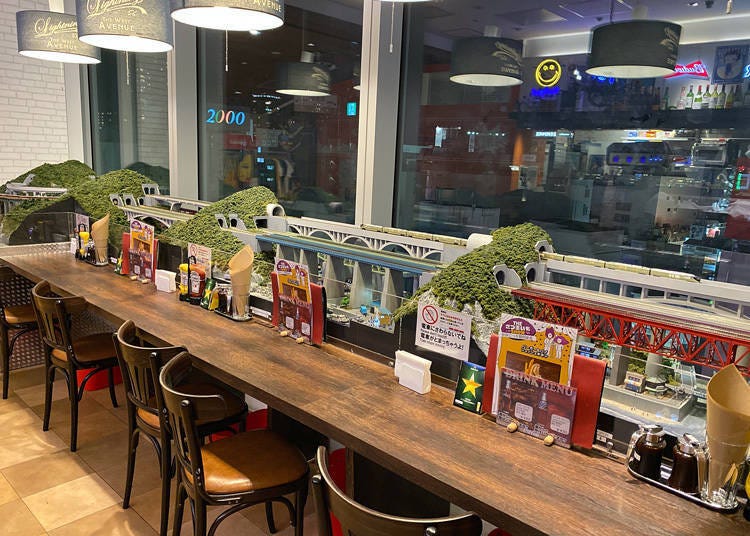 All around the shop are N gauge size railway tracks (distance between rails is 9mm or 0.354 inches) running through an impressive set of miniature models. The total length of all the tracks combined is a jaw-dropping 400 meters (about 1,300 feet)!

As you observe the models depicting the famous regional sights of Japan, such as Asakusa, you'll notice how accurately-made they are, down to the smallest details. It's hard to get tired of staring at these marvelous models, because every time you look closer, there's something new to discover.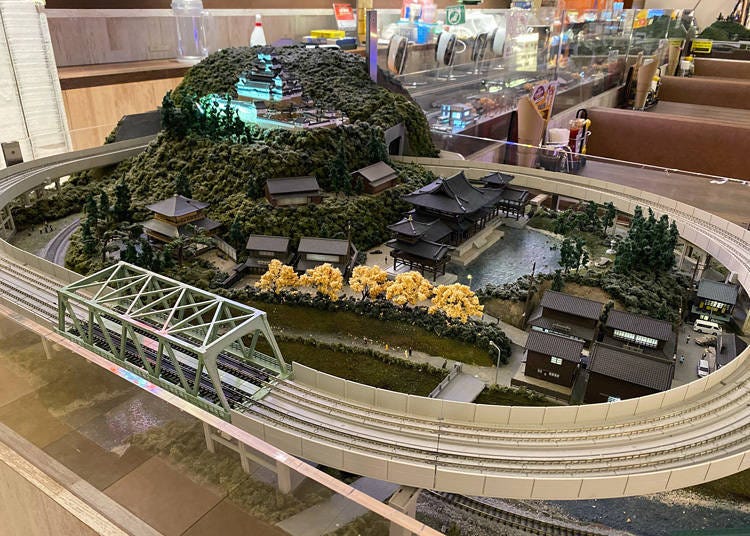 First-time visitors tend to this Ameyoko food joint get so engrossed with viewing the model train tracks that food becomes the last thing on their mind. The place is often packed with office workers on weekdays, but once the weekend hits, it starts filling up with railway enthusiasts as well as families with children instead. We completely understand why!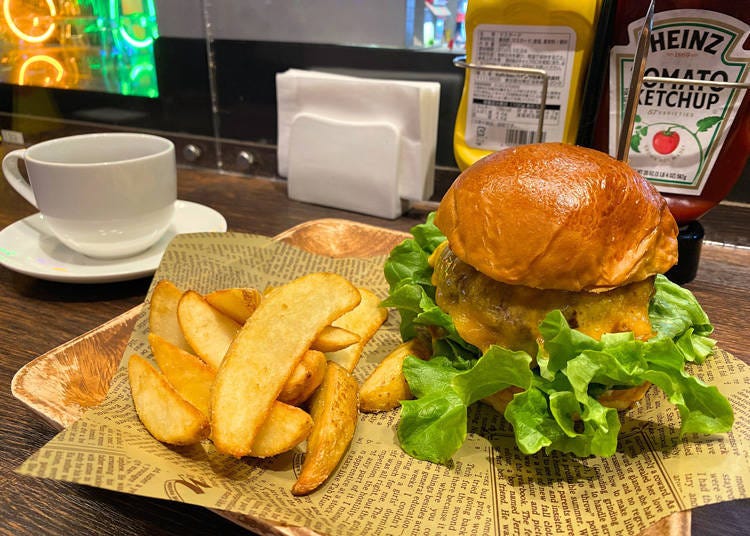 Mr. Suzuki is the manager of ChouChou POPON Okachimachi, and he would like you to take your eyes off the models for a moment to consider his recommended meal: "Premium Cheeseburger (1,210 yen, tax included)".

Beef for the burgers is purchased every day to ensure freshness, and the patties are not made with any onions or fillers - only salt and pepper - which is the reason for its outstanding taste.

The meat patty is clearly the main appeal of this burger, wedged between two buns with only tomatoes, lettuce, and cheddar cheese for accompaniment. This arrangement serves to enhance the patty's overpowering umami flavor even more than usual.
ChouChou POPON's original coffee blend, "Premium Blend Coffee (R size, 528 yen, tax included)" is the perfect partner to go along with the delicious burger.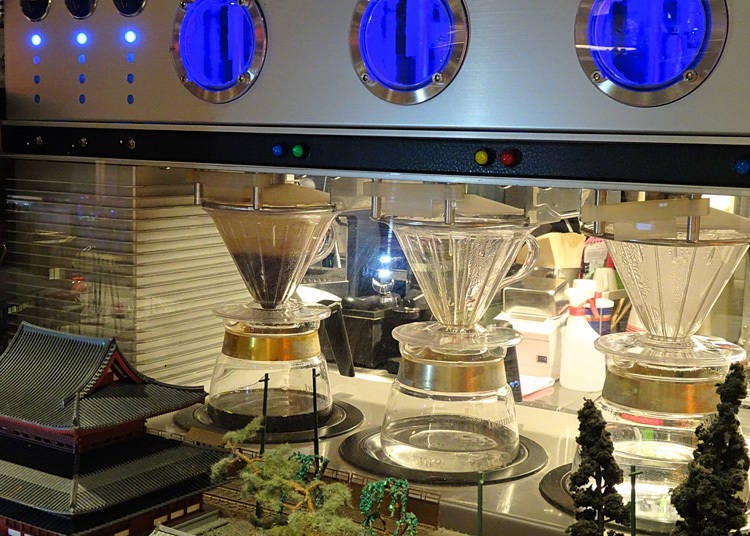 It's not just the blend that makes this cup of coffee so premium - the method of brewing contributes greatly to the taste as well.

Specifically, the shop uses a special drip machine that reproduces the unique taste of hand-drip coffee. Drinking the coffee straight allows the thick flavor to permeate every taste bud on your tongue. Many find themselves having to stop to catch their breath a little to enjoy its profound taste fully.

Cafe hours at the shop are from 3:00 p.m. to 6:00 p.m. daily. Even if you visit this shop just for its premium coffee, it will be a trip well worth the effort.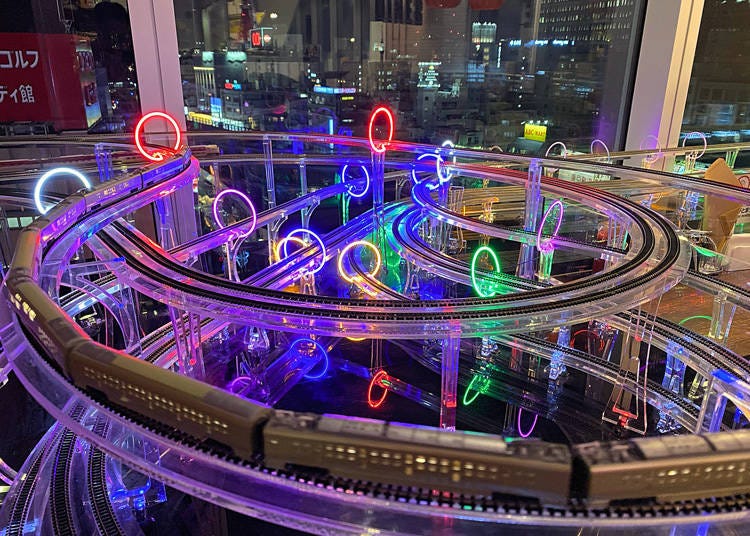 Okay, back to the miniature models. The rails are categorized into four themes: Japan's Famous Landscapes, Nostalgic Showa Tokyo, Ueno Tokyo Line, and the one in the photo above, Fantastical Future.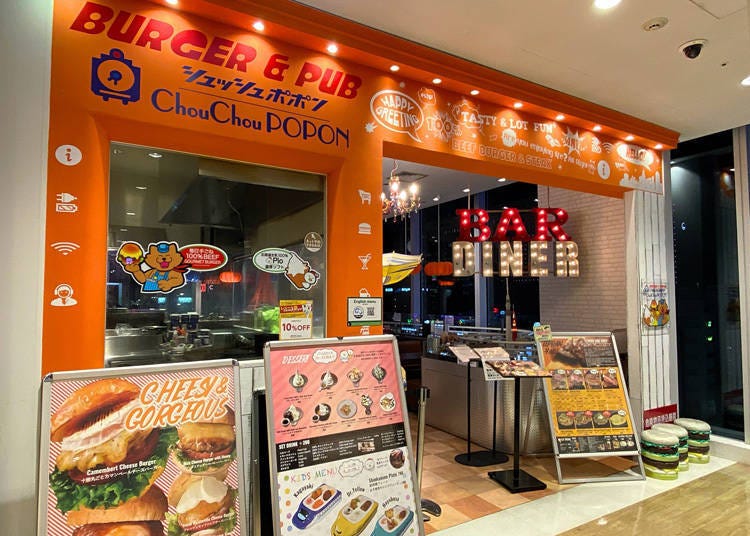 When you do get a chance to gaze upon the precisely-made miniature models that decorate ChouChou POPON, you'll understand why repeat customers make up much of its business.

However, manager Suzuki would like to take this opportunity to remind everyone that the models are for viewing only. Touching any part of the models is not allowed, though that apparently hasn't stopped many from trying to do so - sometimes without even realizing it themselves!

It's truly a testament to how well-made the models are, and why the restaurant is absolutely worth visiting at least once during your trip!
Burger & Pub ChouChou POPON Okachimachi

バーガー&パブ ChouChou POPON 御徒町店 (シュッシュ ポポン)

Address

8F Yoshiike Honten Bldg., 3-27-12 Okachimachi, Ueno, Taito-ku, Tokyo-to

Nearest Station

Right next to Okachimachi Station on the JR Lines (40 meters)


Phone Number

03-5817-4440

Hours: 11:00 a.m. – 11:00 p.m.
Closed: Open daily
Ever heard of the phrase, "feeling peckish"? It's that slight gnawing feeling in the pit of your stomach that often appears in between an early meal and the next big one. Sounds exactly like 10 p.m. and after, if you ask me!

So if you're ever a little hungry enough to peck at something, one of the three restaurants in this article will have something on their menu to satisfy that craving!

Written by: Shomo Nagata, Dali Corporation. Translated by: Huimin Pan.
*This information is from the time of this article's publication.
*Prices and options mentioned are subject to change.
*Unless stated otherwise, all prices include tax.