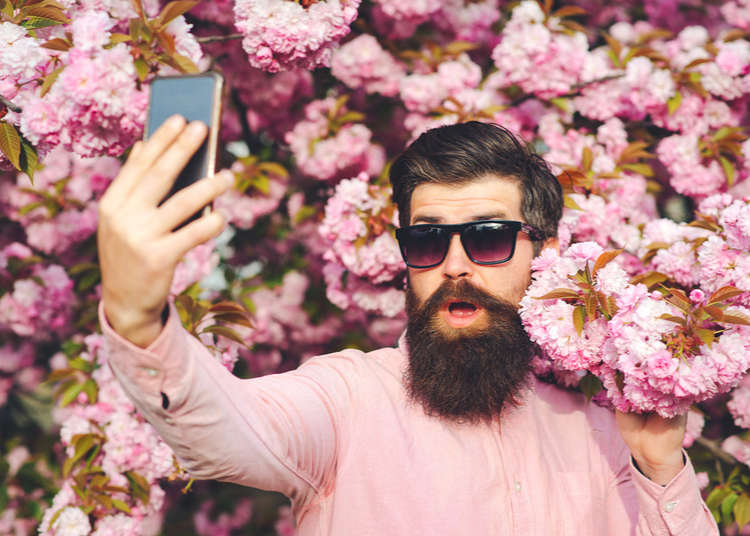 Japan's cherry blossom season is one of the most celebrated occasions. Cherry blossoms symbolize the arrival of spring and are famous and popular among Japanese people because of their beauty. But it's not just Japanese people!

We asked some Canadians to tell us what stuck with them the most about cherry blossom season in Japan.

(The following reflects only the opinion of our interviewee, who was interviewed before the outbreak of the coronavirus. Names changed for privacy purposes.)
Cherry blossom season in Japan is like a festival!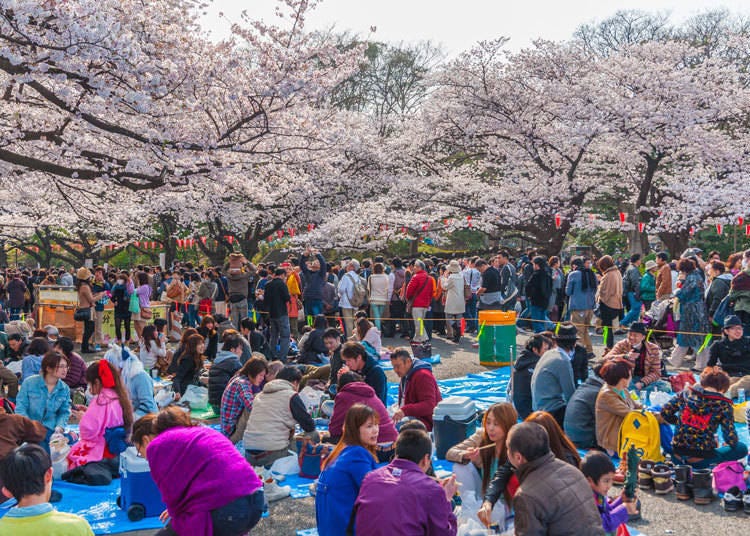 Navapon Plodprong / Shutterstock.com
"During my visit, the famous cherry blossom spots I went to were Ueno Park and Rikugien. Ueno Park was pretty darn crowded, but there were cherry blossoms everywhere which really lightened the mood. It's crazy because people are eating and drinking under the flowers, and there were even food stalls so it felt like a festival. At Rikugien I was surprised because there was a 30-minute line to enter, but the trees and flowers were so beautiful that I really want to go again. There are a lot of parks nearby too, so I go there every year to see the cherry blossoms."

Ueno Park is said to be one of the most visited Sakura spots in the country. Every year, during the cherry blossom season, TVs and newspapers talk about it, making it very well known among Japanese people.

There are a total of 710 cherry blossoms in Ueno Park of different kinds, including Yoshino, Yamazakura, and Oshima cherry trees. Every year, from late March to late April, there's an event called the Ueno Sakura Festival. During the event, you can even enjoy the cherry blossoms illuminated at night. Visitors flock to the park to admire them!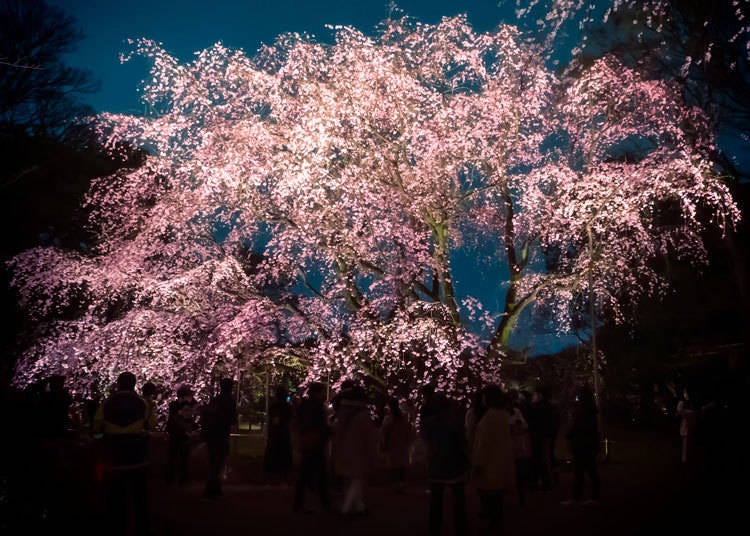 Nat Roslee / Shutterstock.com
Rikugien is also a famous hanami spot. There are more than 40 cherry trees, including varieties like "shidarezakura (weeping cherry)" and "Somei Yoshino." The park's famous weeping cherry tree is lit at night, allowing you to enjoy a magnificent sight in the evening as well as during the day.

To some people, seeing the cherry blossoms can feel like stepping into "the world of manga and anime."
Many people have said that "Japan is really a beautiful place that you can't forget for as long as you live."

I want as many people abroad as possible to come and see Japanese cherry blossoms.
Everyone meets up to do hanami! And BBQs in the park?!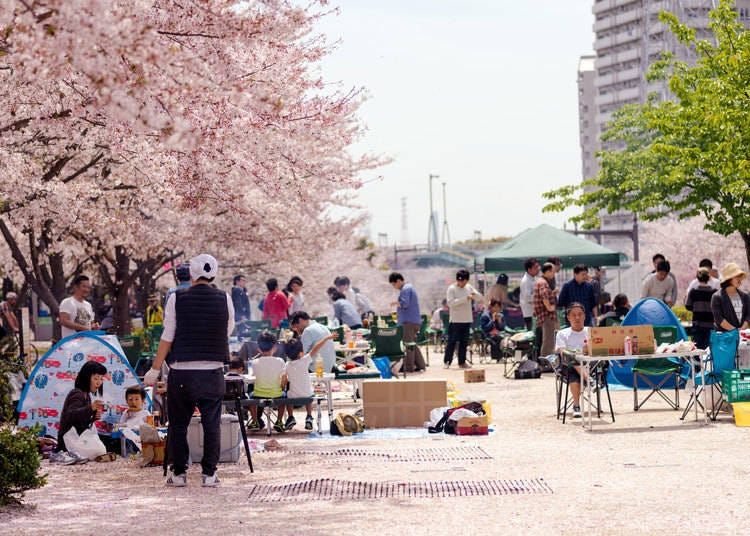 Sean K / Shutterstock.com
"It's fun to do hanami with a large number of people. It's a big event. I was surprised when I learned how big it is. Everyone wants to find a good place for hanami; some do BBQ, others sing, and dance. I've seen people sleeping, too." (Canadian man)

When doing hanami in Japan, you don't just look at the flowers, but also have a lot of food, and BBQ with friends or colleagues. For many Japanese people, this is common, but there are places abroad where drinking alcohol outdoors is prohibited. For this reason, people who are unfamiliar with cherry blossom viewing may be shocked by people who are having fun while drinking.

Something else that is shocking is that people sometimes lineup since the day before to get the best hanami spots. Recently it happens less, but it's still weird for foreigners to understand the enthusiasm of Japanese people trying to get the best hanami spots.

A visitor who has seen the blossoms said, "the cherry blossoms were wonderful, but it's a shame that a lot of garbage was thrown away." "It was hard to see the cherry blossoms."

It's nice to enjoy the cherry blossoms, but it's also important to be mindful of your surroundings. We have to respect good manners so that everyone can enjoy cherry blossoms.
I miss cherry blossom season in Japan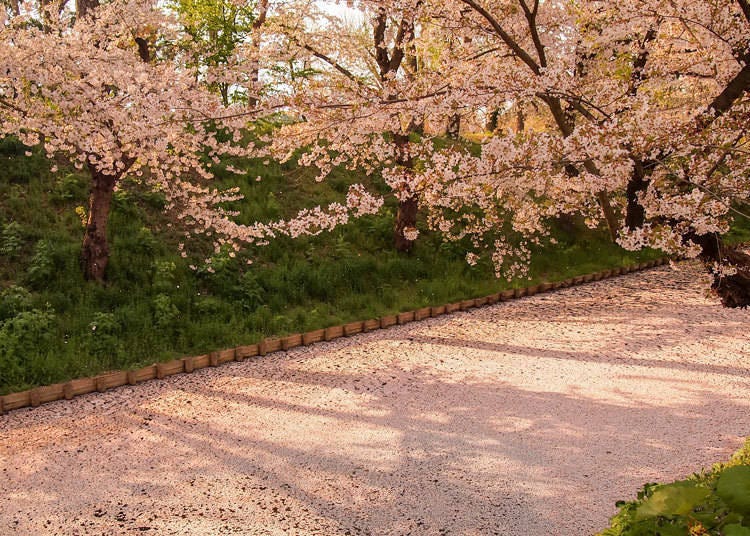 "In Japan, in spring, I was surprised to see that there is a cherry blossom forecast. Japanese people care a lot about cherry blossoms. Cherry blossoms only last a few weeks, so I guess Japanese people look forward to it. When they are in full bloom, it's very lovely, but the following day, when the wind blows, the petals fall. I find myself suddenly missing the flowers when they start disappearing. I wish they stayed on a little while longer. I want to show them to my family one day, although it's hard to time it with the full blooms.

Cherry blossoms in full bloom, gradually disappear as summer approaches. It may feel a little saddening, but the beauty of the flowers is also that they are ephemeral. Since ancient times, Japanese people have found the beauty of life in cherry blossoms.

I think people abroad would love seeing cherry blossoms falling in Japan. I want them to experience their beauty.
Canada has a garden where you can see cherry blossoms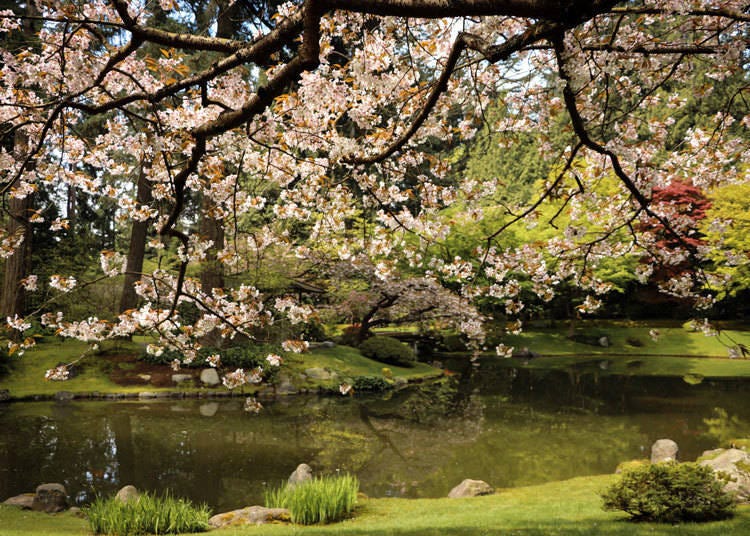 "Vancouver has a lot of cherry blossom spots. The famous places are Stanley Park and Queen Elizabeth Park. There aren't many food stands like there are in Japan, but there are a lot of people in the park. There is also a Japanese garden called Nitobe Memorial Garden at the University of Canada, where you can see cherry blossoms like those in Japan.
At the VanDusen Botanical Garden, we have a Japan Fair during hanami season, with stores and taiko drums playing, like hanami in Japan, and I have been with Japanese friends. I want Japanese people to see Canadian cherry blossoms." (Canadian man)

In the early 1930s, the mayors of Kobe and Yokohama in Japan, in honor of the Japanese Canadians who served in WWI, planted 500 cherry trees at the Japanese memorial in Stanley Park. This gift seems to have been only the beginning, since after that, the number of cherry trees gradually increased thanks to locals planting, and I hear that they are still loved as a sign of spring approaching.

The Japan Fair, the largest Japanese festival in Vancouver, celebrated its 10th anniversary in 2019. There are stores and events that local people can't usually experience so that it can teach a lot about Japan through those events.
Cherry blossoms are not only in Japan but also in Canada, the United States, Sweden, Denmark, and in many other places around the world. However, Japanese cherry blossom viewing is said to be unique, as one of our interviewees mentioned. This may be because of the very different environment surrounding the cherry blossoms, or the people enjoying hanami when compared to those in foreign countries.

I think some foreigners visit Japan to experience "authentic" hanami. You may be looking to enjoy some night hanami, which is rare to see abroad. In any case, please enjoy the hanami that can only be seen in Japan.

Written by: Yuu Sato, Dali Corporation
Enjoy cherry blossom season in Japan for yourself!
Make your trip extra memorable by booking one of these recommended experiences on our partner site, Klook!
*This information is from the time of this article's publication.
*Prices and options mentioned are subject to change.
*Unless stated otherwise, all prices include tax.