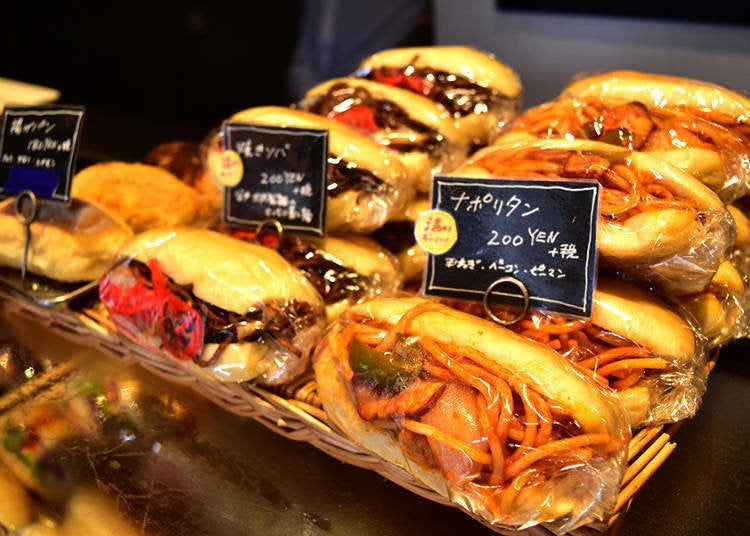 When visiting Tokyo, a leisurely stroll through the city should be on your to-do list, no matter the season. There's hardly anything better than exploring a city and its nooks and crannies simply by walking around and taking in every little street, shop, shrine, and park. To make your experience a genuinely Japanese one, why not enjoy a koppe pan or two as you walk?

Koppe pan is Japan's take on bread rolls or hot dog buns. The work is a combination of the French word coupé, meaning cut, and the Japanese term for bread. It's an extremely popular snack that comes in innumerable varieties, often encountered as a hearty snack for school kids or a quick energy boost on the go for workers and tourists. In any case, eating koppe pan is a tasty experience of everyday Japan, so let's make our way to Iacoupé, a koppe pan specialty store in Ueno!
Iacoupé: a Lovely, Delicious Bread Shop in Ueno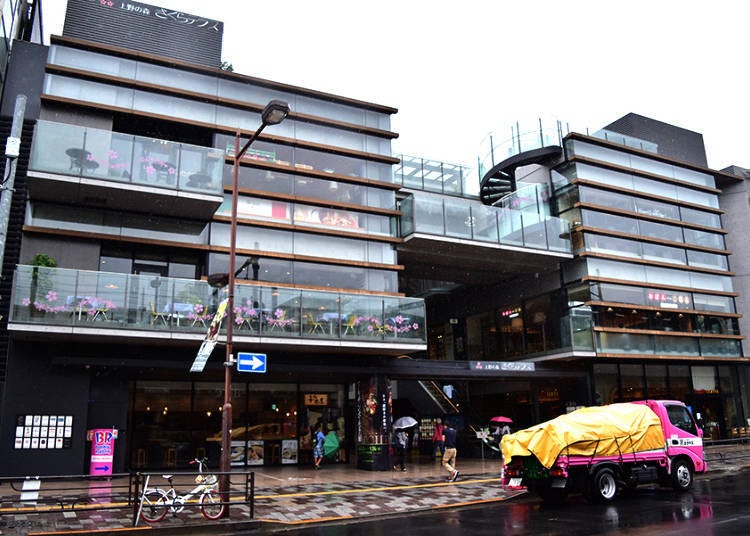 With museums, a zoo, and a spacious park, Ueno is one of the neighborhoods that offer a wonderful scenery for a walk. Iacoupé is a koppe pan specialty store located in a complex called Ueno's Mori Sakura Terrace, just one minute away from the station! It's the perfect spot to stock up on a bread roll snack before exploring Ueno Park.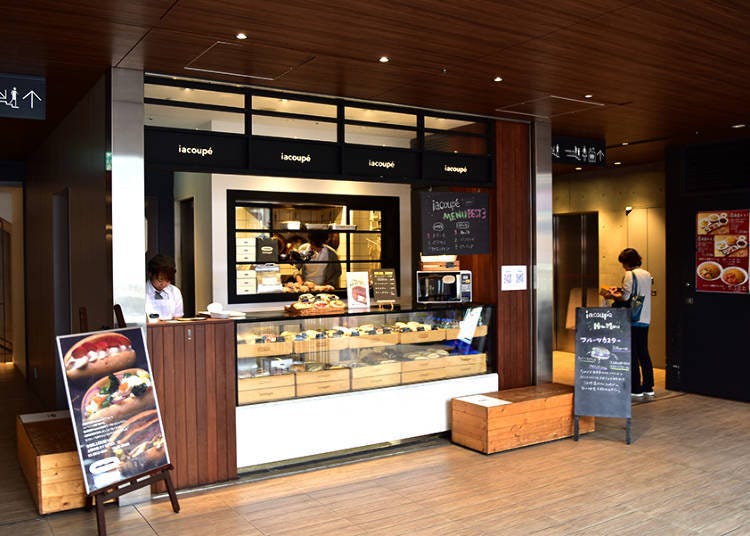 Find Iacoupé and its koppe pan selection on the third floor. The shop was created by the immensely popular bakery Boulangerie ianak! in Nishi-Nippori, so you can look forward to high-quality, delicious bread! Every hot dog bun is baked with home-grown yeast and is characterized by a moist, springy texture. You'll see a lot of people snacking on Iacoupé's koppe pan throughout Ueno Park.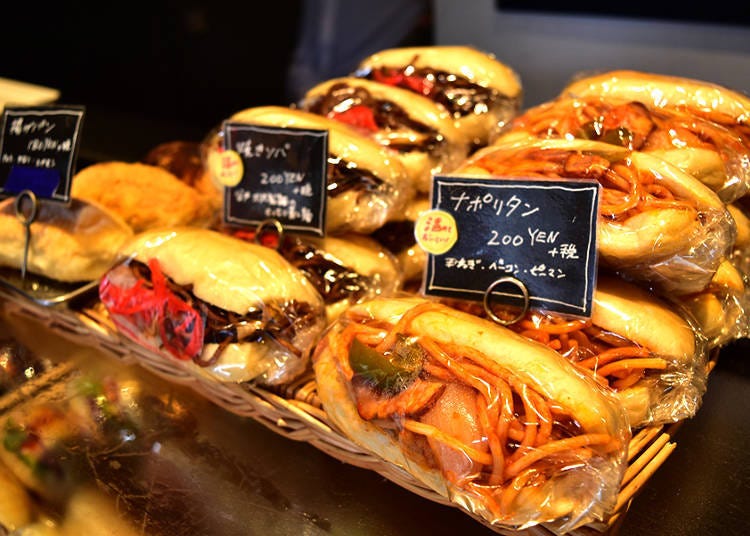 The shop offers koppe pan of a "side-dish type" and a "dessert type," with many seasonal varieties to look forward to. There are always at least 10 kinds of bread rolls on sale, using four different types of hot dog bun: tea, brioche, white, and black. Which type is used is carefully chosen in regard to the ingredients and toppings. Take your time and look for a bread roll that strikes your fancy! For now, let's take a closer look at some of Iacoupé's creative koppe pan creation.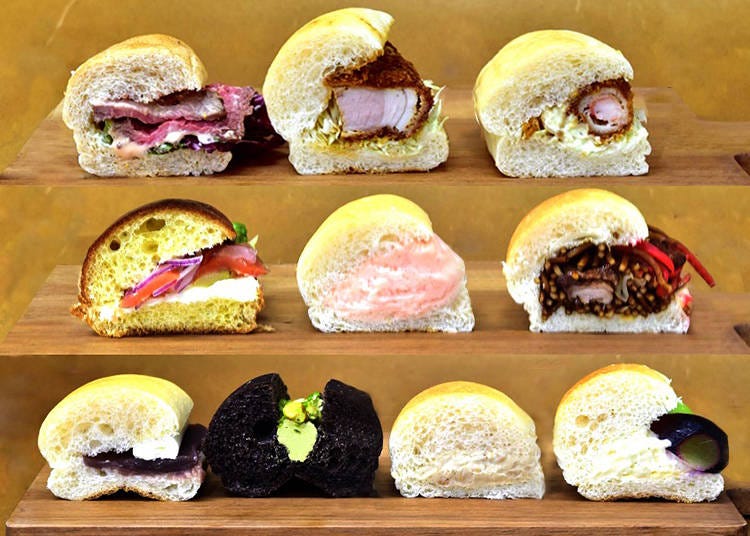 To give you a bit of an overview of what you can expect from Japan's famous koppe pan, we've tried the ten bread roll varieties that Iacoupé sold on the day of our visit. Let's dive right in!
The Best-Sellers: Steak Koppe Pan and Other Savory Snacks!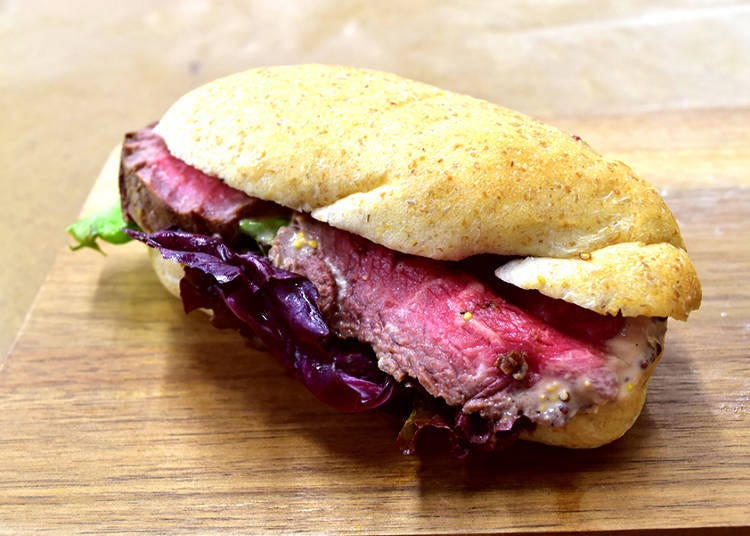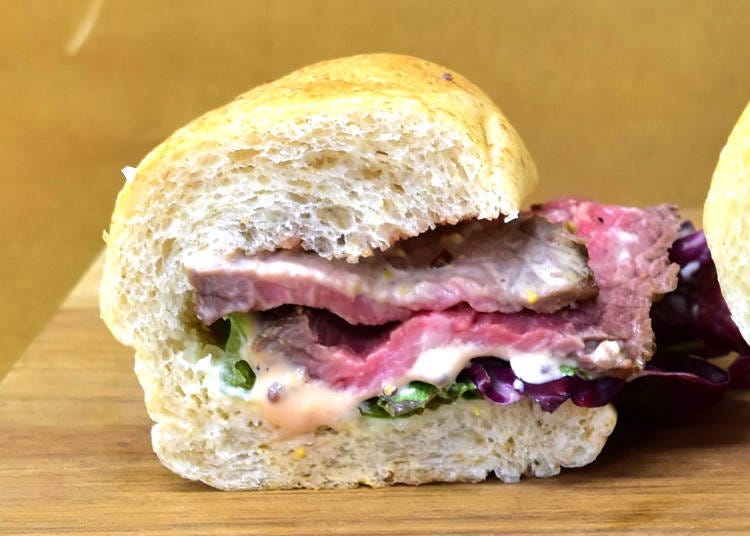 The "steak koppe pan" for 346 yen is the best-seller among side-dish type bread rolls. The bread is infused with whole grains, emitting a flavorful wheat aroma. The star of this dish, however, is the all-natural beef from Australia, roasted to the point of perfection. If you're a fan of beef, this one should be your first pick.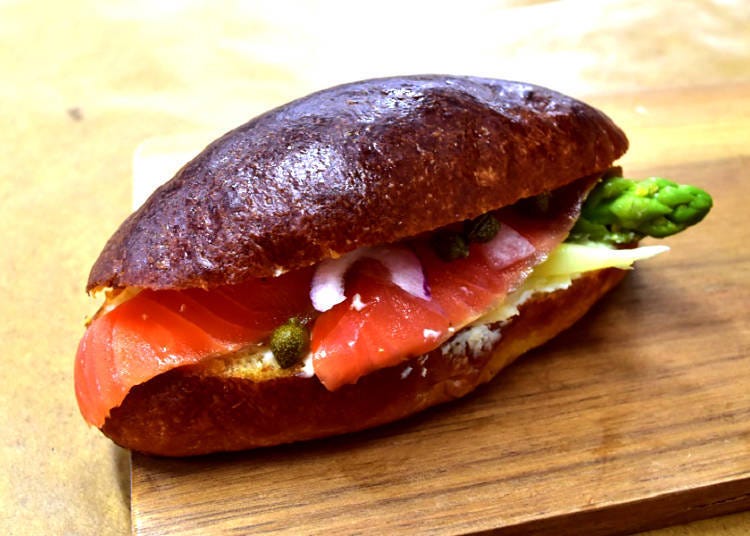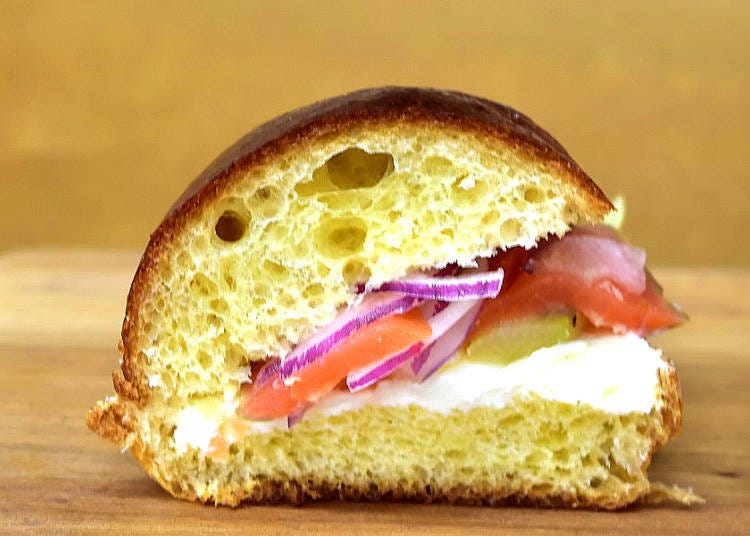 Another savory highlight is the "asparagus salmon cream cheese" koppe pan for 346 yen. The combination of smoked salmon and mellow cream cheese, sandwiched between two fluffy brioche buns is heavenly! On top of that, this flavor bomb is brought to perfection with a hint of butter and honey.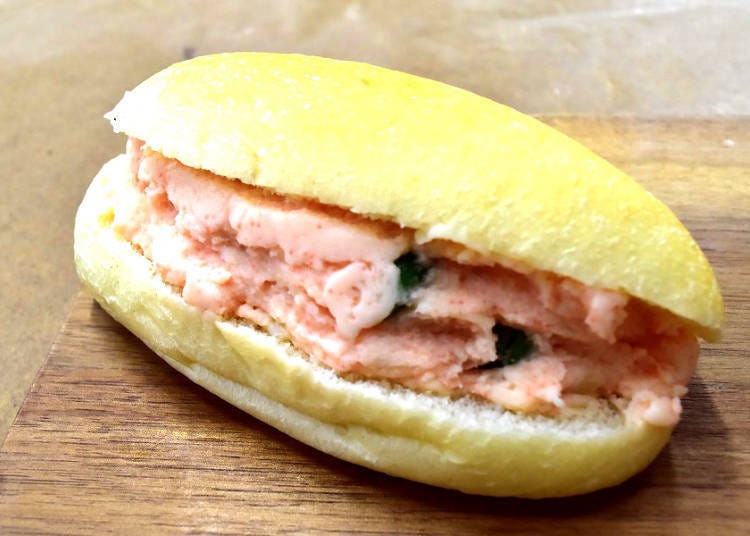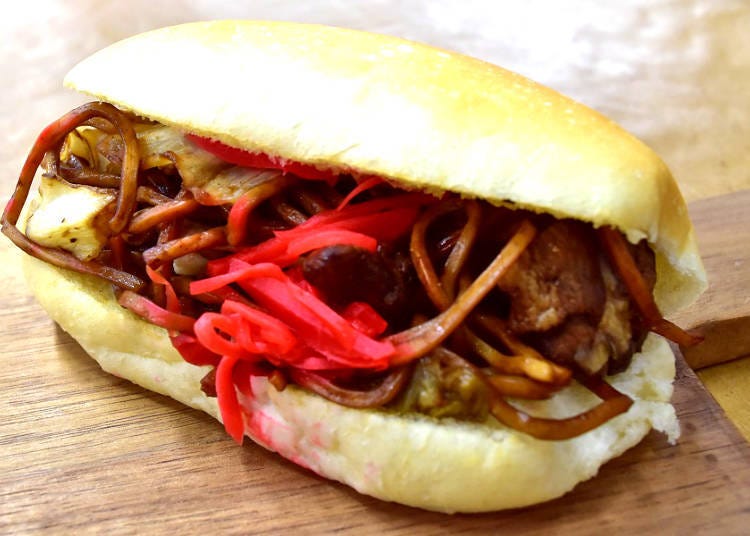 The top photo shows the "taramo (potato salad)" koppe pan for 270 yen. It blends spicy mentaiko (Pollock roe) with potato salad. The regular potato salad version varies by season and time, always utilizing different materials, but the "taramo" has been so popular that it has joined Iacoupé's standard varieties.

Another classic is the "yakisoba" koppe pan for 216 yen, which you can see in the second picture. It features steamed noodles from the famous noodle maker Osawa, rumored to make the best noodles in all of Yanaka. The firm-to-the-bite yakisoba and crunchy vegetables make for an excellent, affordable snack!
Next up are our two recommendations for big eaters.
One of them is the "misokatsu" koppe pan for 410, topped with a juicy, breaded piece of pork loin that practically melts on your tongue. The meat is seasoned with specially made miso, a flavor that can't be compared to any other.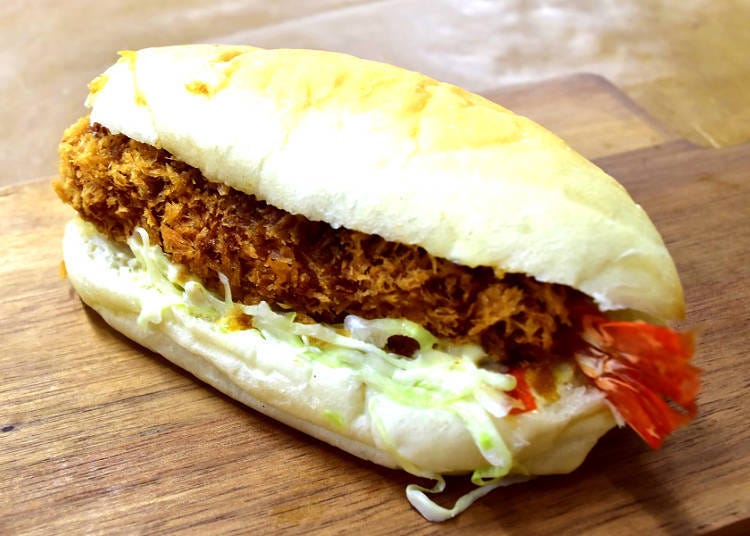 The adorably named "ebi-furya~" koppe pan for 378 yen will tickle your taste buds with a crisply fried shrimp that is crunchy on the outside and wonderfully juicy on the inside. Seasoned with tartar sauce, this one will leave you craving for more.
Dessert-type Koppe Pan will Sweeten Your Day!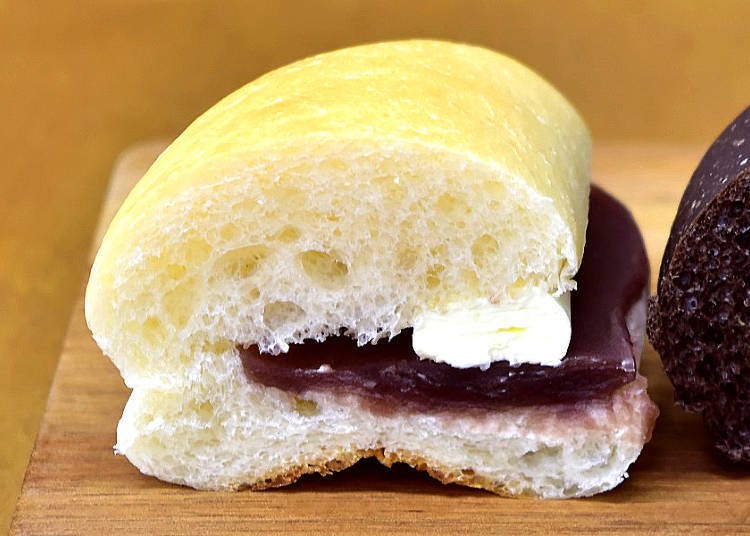 When it comes to sweet koppe pan creations, the absolute number one top seller is "an-butter" for 254 yen, blending creamy butter and flavorful sweet red bean paste. This bean paste is known for its natural, subtle sweetness that isn't as overwhelming as chocolate or honey. Combined with butter, the simple yet exquisite taste is an absolute must-try and a good choice if you feel like trying a more Japanese-style bread roll.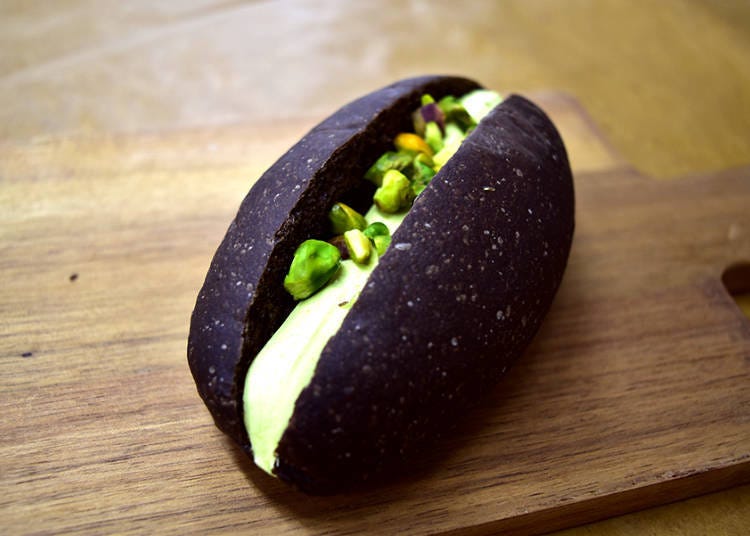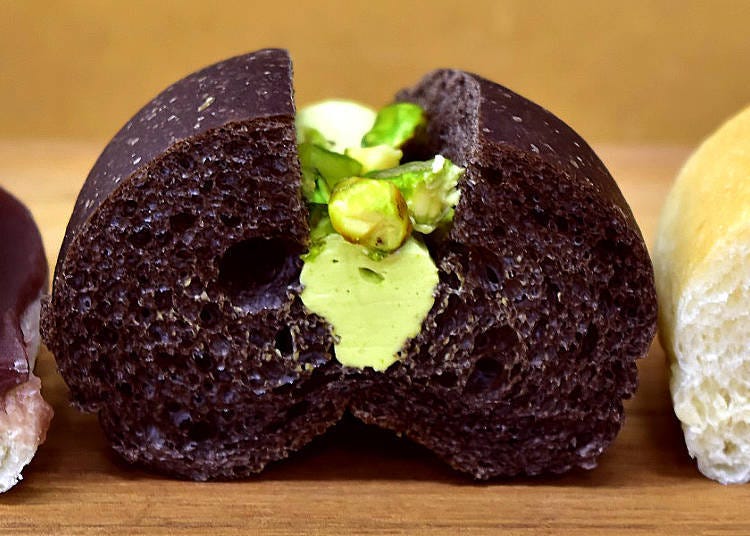 We urge you to try the "pistachio" koppe pan for 302 yen if you happen to come across it. Between these buns is a flavorful pistachio cream with a gentle bitter finish, thanks to the hints of cocoa powder. It's an excellent recommendation for everyone who likes a bit of bitterness in their sweets and the combination of crunchy pistachio and mellow cream is simply to die for.
For a classic choice, opt for either "peanuts" (left) for 216 yen, or the seasonal "fruits caster" for 346 yen. The crushed peanuts make for a wonderful mouthfeel and the cream provides a rich finish with a gentle sweetness.
The fruits caster, on the other hand, is a combination of custard cream and home-made mascarpone, enhanced with fruity Muscat grapes. It makes an excellent dessert or sweet snack for on the go!
Koppe Pan: a Classic Japanese Snack Experience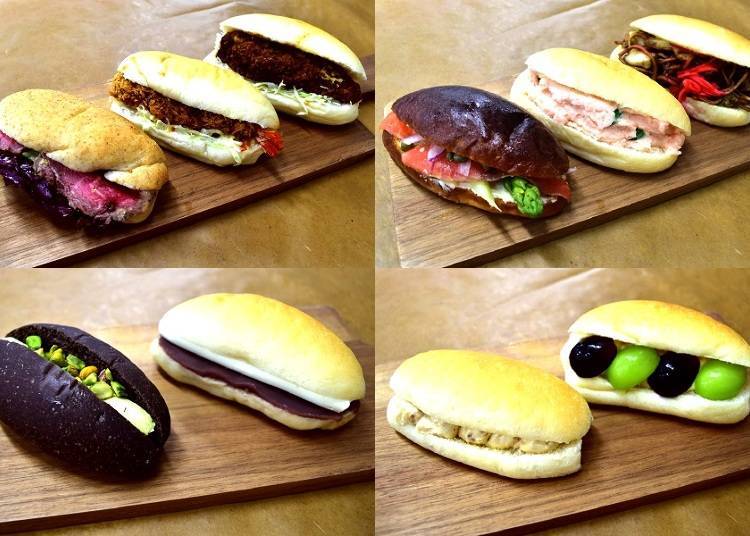 Iacoupé and its numerous creations provide an excellent gourmet experience of Japan's classic koppe pan. No matter what kind of flavor you prefer, the shop is sure to have something that strikes your fancy! Before setting out to explore Ueno Park and its zoo and museums, make sure to get your hands on a delicious bread roll!

Hours: 10:00 a.m. – 7:00 p.m.
Closed: always open

Written by: Yojiro Kurosawa
イアコッペ

Address

1-54, Uenokoen, Taito-ku, Tokyo, 110-0007
*This information is from the time of this article's publication.
*Prices and options mentioned are subject to change.
*Unless stated otherwise, all prices include tax.