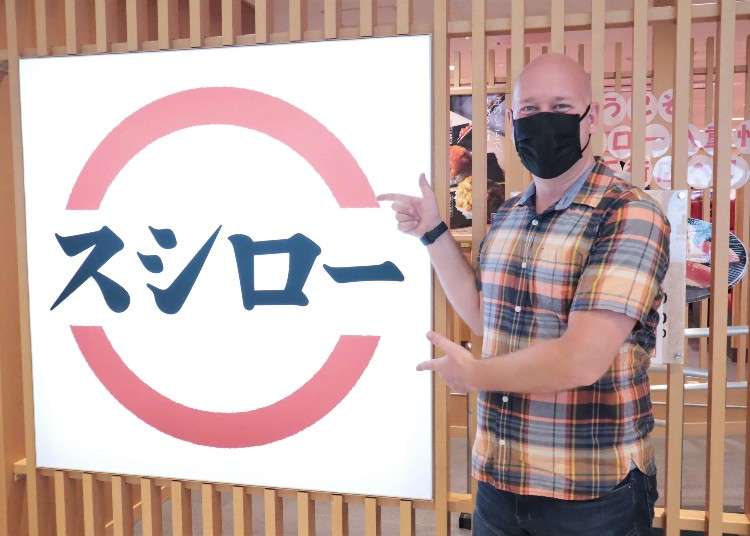 For many, Japanese food equals sushi! In particular, Japan's super famous "kaitenzushi" conveyor belt sushi trains are renowned for being cheap and high-quality, making them a popular stop for international visitors to Japan.

However, many sushi trains in Japan lack private space, making some people anxious about visiting during the COVID-19 pandemic. To discover how they're dealing with these circumstances, we visited Sushiro, one of Japan's leading sushi companies.

Since the advent of COVID-19, Sushiro has undertaken numerous contactless systems to ensure that those in Japan can still relish delicious conveyor belt sushi with peace of mind!
Sushiro is one of Japan's top kaitenzushi companies (management: FOOD & LIFE COMPANIES LTD.). Their beloved chain restaurants welcome a wide range of customers, including singles, couples, and families of all ages, to a luxurious menu of well-priced, mouthwatering sushi with plenty of variety and a bulky side menu packed with sweets and more.

There are currently over 600 Sushiro shops dotting Japan, along with roughly 50 ever-expanding stores across 5 countries in Asia (as of September 2021).

Sushiro also boasts set menu packages, takeout options and holds loads of exciting campaigns. Despite current conditions, they are still opening new stores and expanding their operations without hesitation.
How is Sushiro dealing with COVID-19?
Since its beginnings, Sushiro has actively utilized automatic food lockers, unmanned registers, and reduced personnel. Since the pandemic, they have further upgraded these systems, enacting their new slogan of "delicious sushi, served safe" with minimal contact and thorough health and safety management.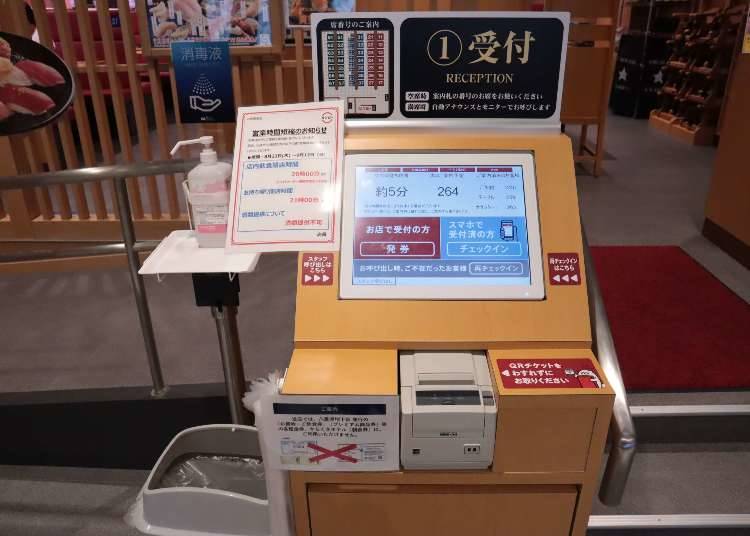 With the above multilanguage touch panel, customers will be automatically received and guided to their seats. Using a number system indicating each person's turn, crowds can be avoided with ease.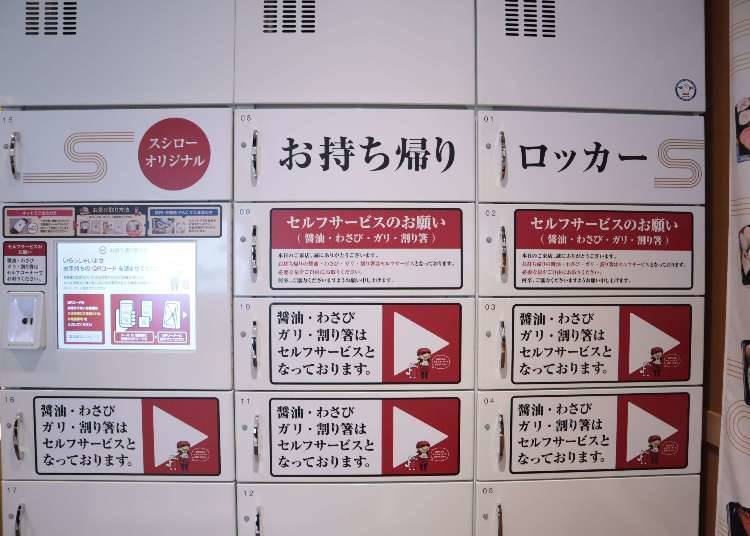 Takeout can be ordered/paid for online and collected from one of the "automatic lockers" without direct contact with others.

*When ordering via telephone or FAX, contactless service is available at the self-serve register.
*Face-to-face service may occur depending on the product or if requested by the customer.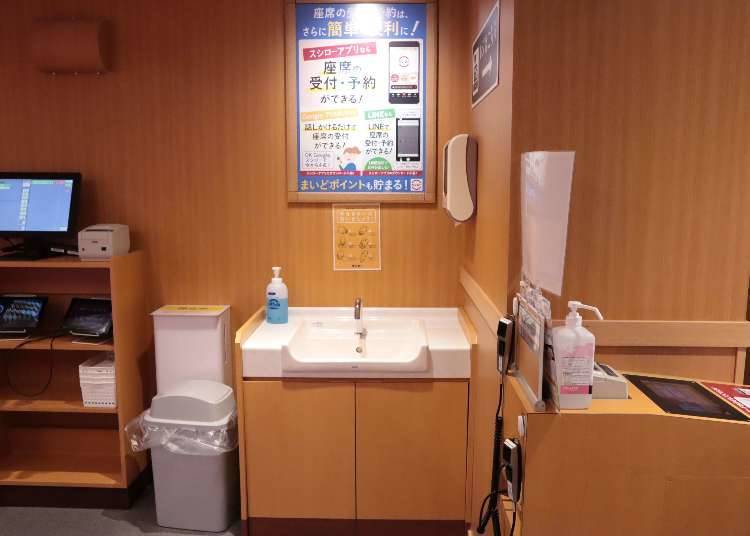 Restaurant and staff hygiene management is also now more thorough than ever before.
Sushiro home delivery service! Stay safe with sushi delivered right to your door!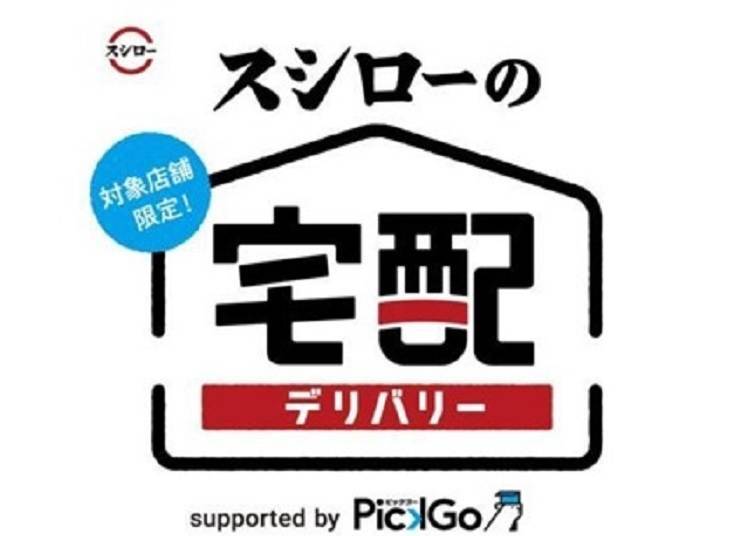 One additional service kickstarted in the wake of COVID-19 is "Sushiro Home Delivery." To meet the increasing demand for delivery take-out, Sushiro partnered with the delivery matching service PickGo along with their own brand-new delivery service in July to bring their flavors directly to customers.

"Sushiro Home Delivery" offers their in-store menu at the same prices starting from one plate with an additional delivery charge depending on distance and a 5% service fee.

You can also order from the special "fair menu" held twice a month, which is extremely popular with families. Delivery is currently available at roughly 290 stores nationwide, with plans for further expansion in the future.

*PickGo is only available in Japanese.
Now open: The takeout specialty store "Sushiro To Go"!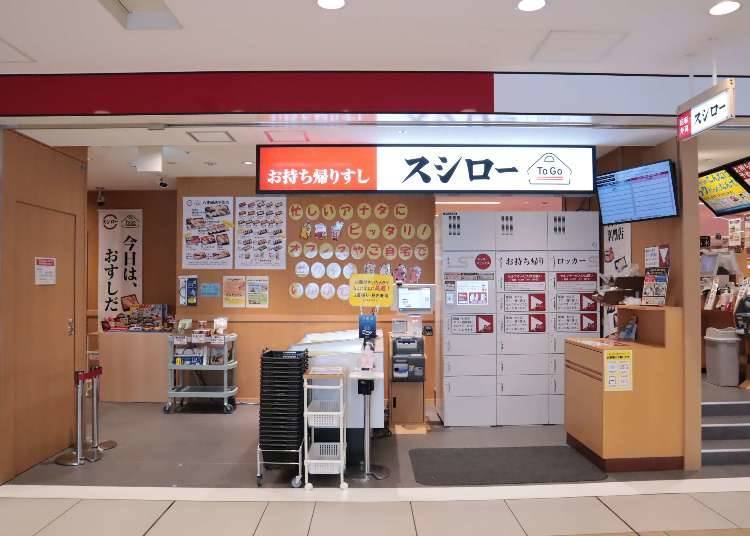 In February 2021, the takeout specialty store "Sushiro To Go" also started operation, with 15 outlets currently open as of September 2021.

These stores offer a special take-out menu full of items that retain their flavor and quality even after time has passed, offering a safe service totally different from dining in or in-store takeout.
In-store broadcasting: Maintaining the lively sushi joint atmosphere!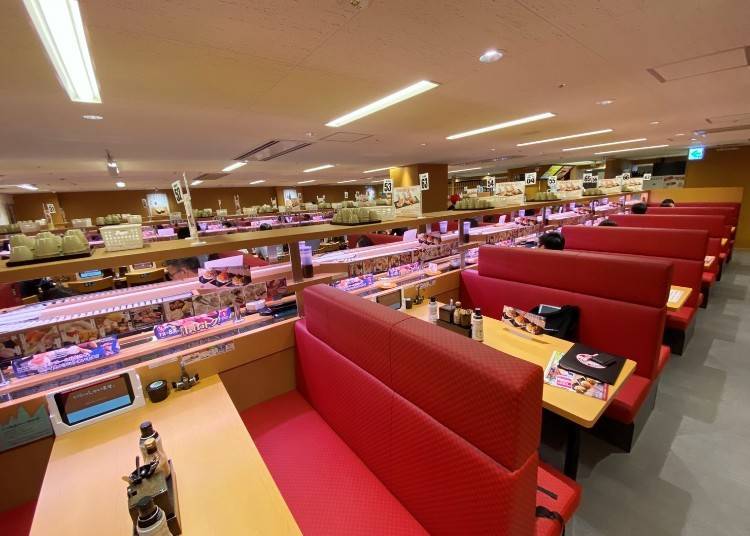 With COVID, it's more important than ever for restaurant staff to reduce their face-to-face service with customers. However, to ensure that the intimate and jovial atmosphere of a Japanese sushi joint remained, an in-house broadcasting system was introduced.

The announcements are full of creative twists to keep patrons entertained, such as announcing when somebody orders a large platter and more.
We checked out the latest Sushiro in Tokyo Station's Yaesu Underground Shopping Mall!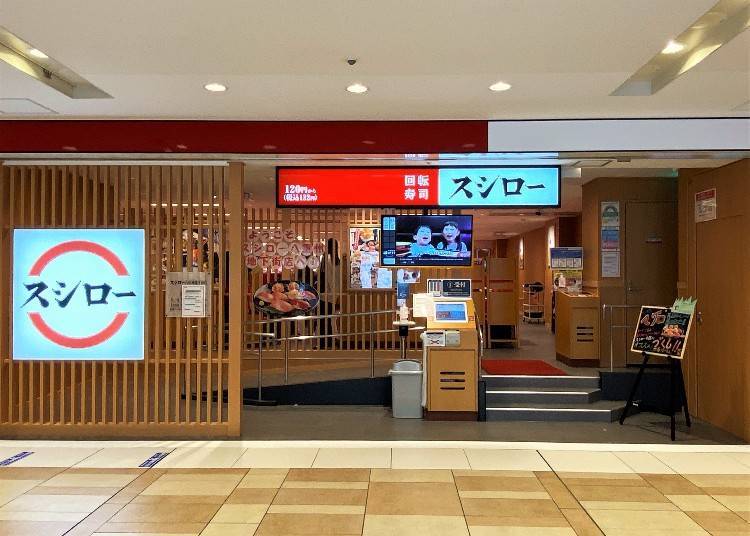 The Sushiro Yaesu Underground Shopping Mall outlet opened in July 2021, with both the dine-in kaitenzushi and takeout Sushiro To Go operating simultaneously in the company's first-ever hybrid store.

Being a brand-new outlet, Sushiro Yaesu Underground Shopping Mall is equipped with all the latest systems and facilities to reduce contact service.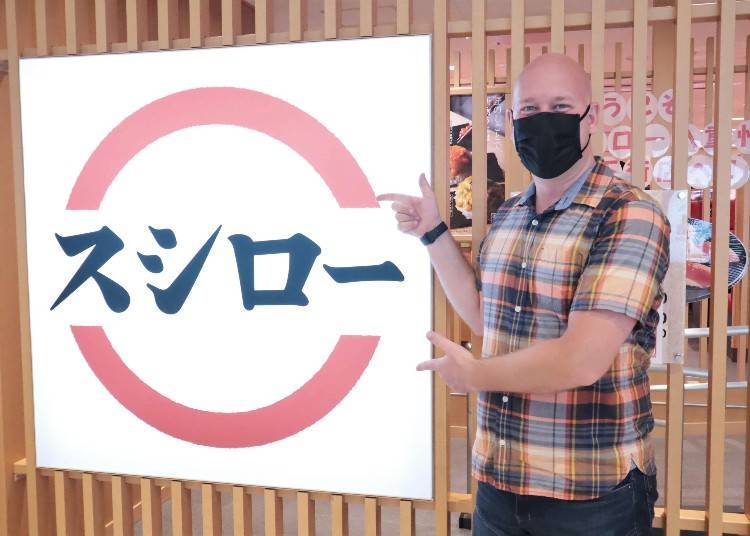 Checking out Sushiro for us was Timothy, our American editor and devoted lover of all things sushi. He had sampled Sushiro's side menu before and was a big fan!
"Given where things are with COVID, a lot of people have been missing the simple chance to dine out. Being able to dine out safely is something that I'm sure all of us care deeply about, and many Japanese restaurants are going to great lengths to ensure health and safety. I'm genuinely excited to see what kind of innovations that a popular chain like Sushiro has put into their new store!" commented Timothy.

If you're also a sushi lover dreaming of dining out in Japan, you'll definitely want to read on!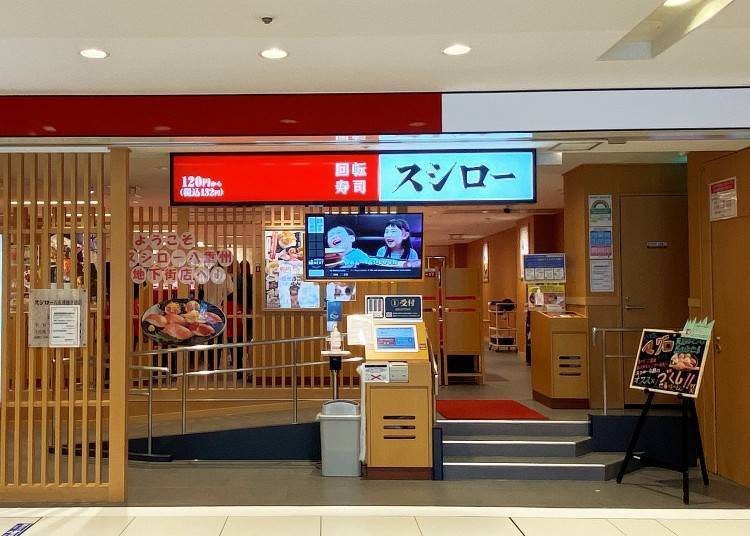 First up is the storefront, which was designed to have a separate entrance and exit. Along with reducing customer interaction, this clever layout also ensures smooth and seamless operation.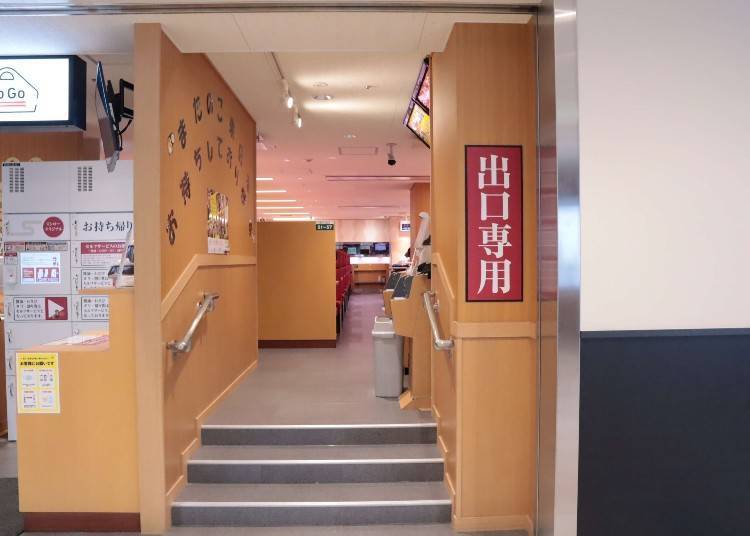 The designated exit area.
The store can be easily spotted after heading down to the underground floor from JR Tokyo Station Yaesu South Exit.

Being near the Expressway Bus Terminal connecting all of Japan, this area hosts a diverse customer base, with business professionals on weekdays, families on weekends, and a constant influx of travelers heading to their next destination.
The refrigerated "automatic lockers" for takeout are separated from the eating space, allowing you to pick up an order from the passageway without entering the store.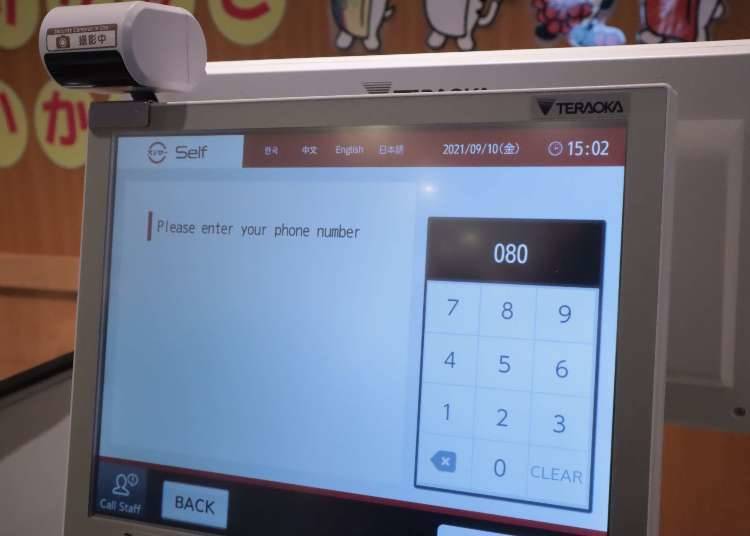 Those who order via PC or smartphone will pay online. Phone or FAX orders will be paid for using the self-serve (unmanned) register.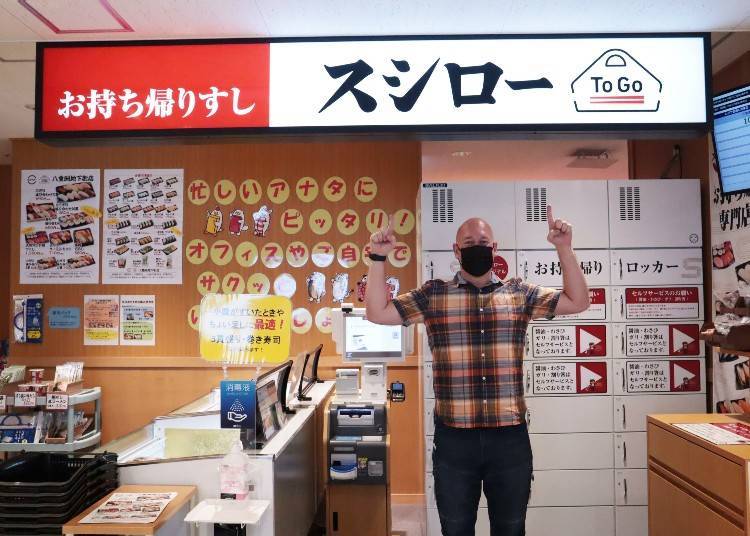 Operating alongside the main Sushiro store is the take-out specialty store "Sushiro To Go." Accommodating a range of customers and meal types, the variety on offer here is one of its main draws!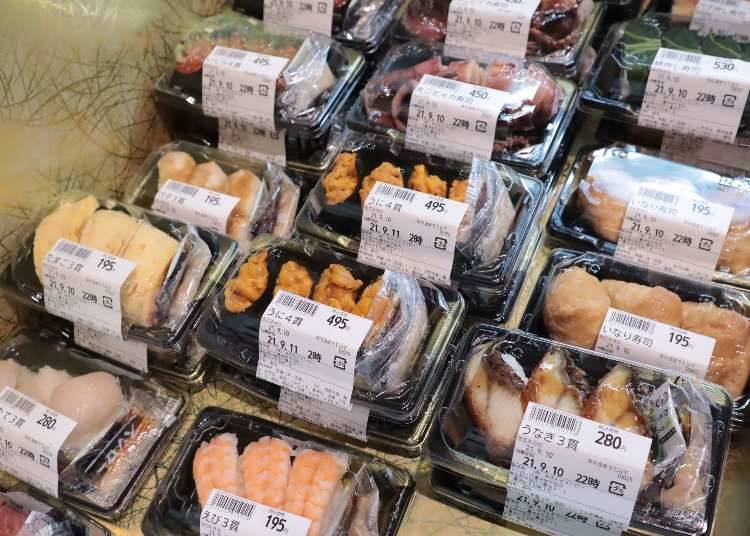 There are also small sets available, such as the 3-piece Maguro Tuna Set, to add a little extra to your lunch!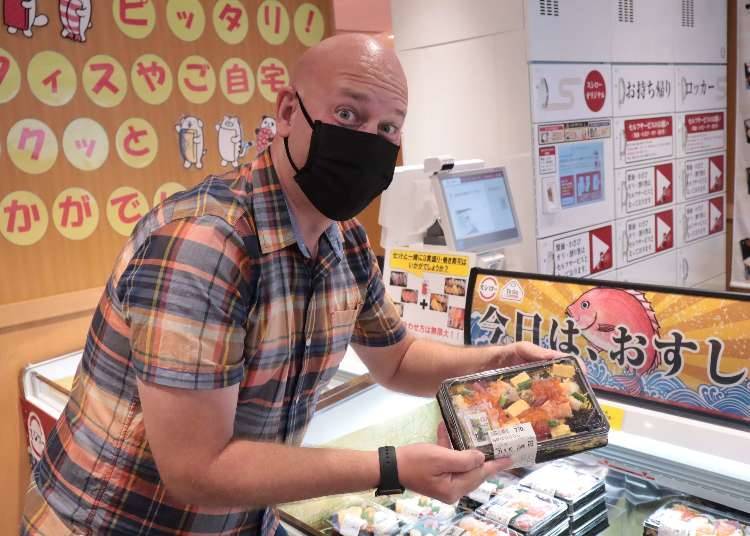 The "Kaisen Bara Chirashi," a brand-new item that went on sale during our visit!
Automatic reception is made even easier with an app!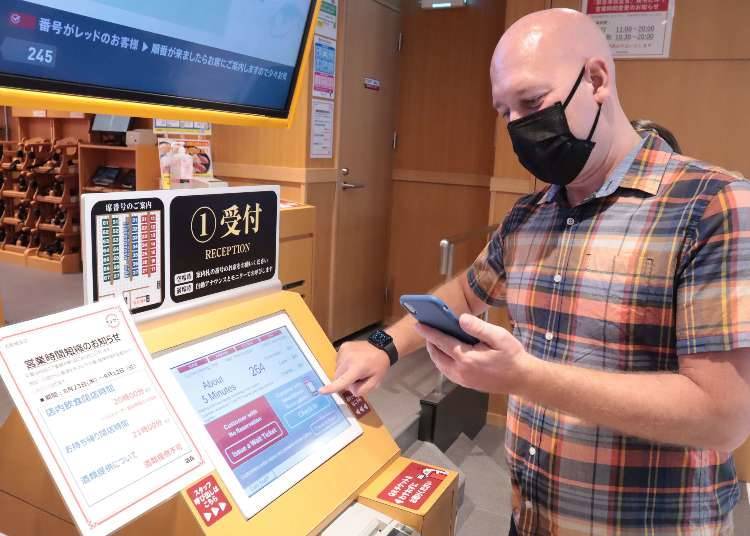 Generally, reception is done by machine.
Sushiro boasts automatic machine reception and guidance, which can be switched from Japanese into English, Chinese, and Korean at the push of a button. Once you're set, all you need to do is wait for your number to be called.

If you download and use the Sushiro app, you can create advance bookings and use the alert function for a smoother process and efficient use of time. When ordering take-out, the app will also let you know when your meal is ready to be picked up (currently, the Sushiro app is only available in Japanese).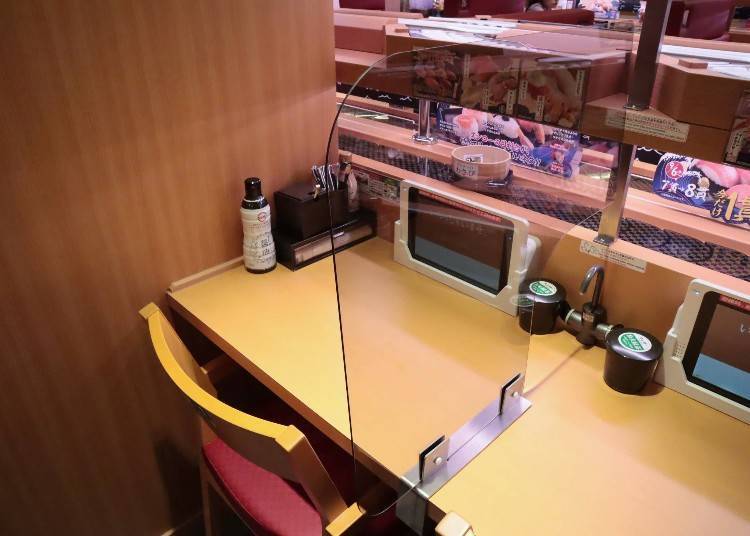 The counters are fitted with plastic barriers.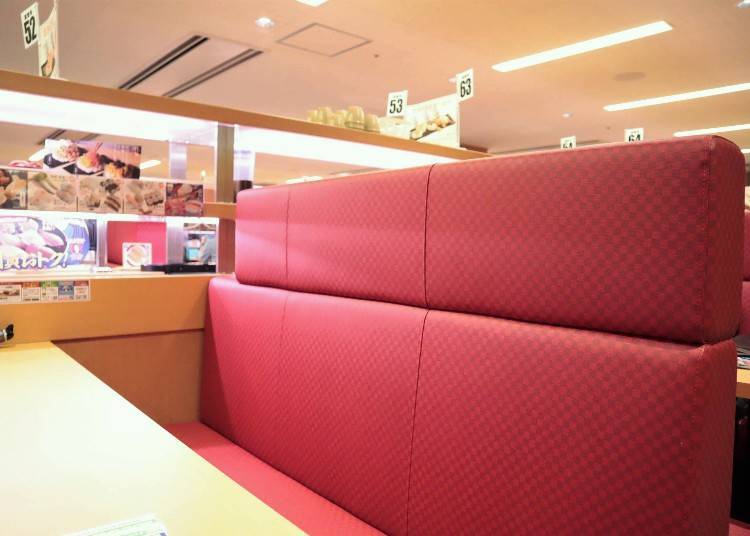 The table seats have a high back, protecting you from the other tables and allowing privacy.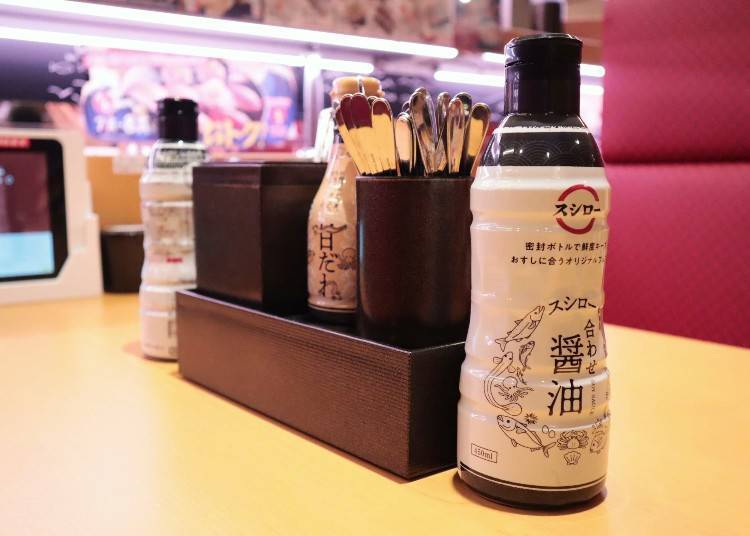 The table, soy sauce bottles, touch panel, etc., are all thoroughly disinfected.
Ordering is a breeze with the multilanguage touch panel!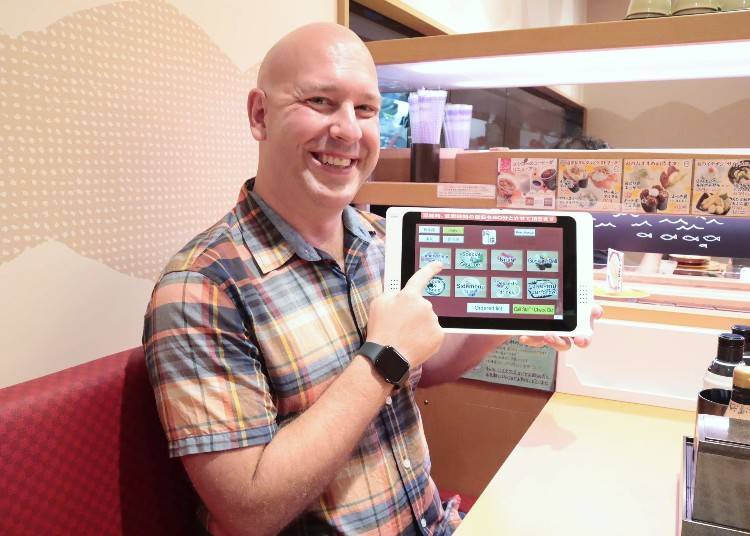 Once you've taken a seat, you can immediately begin ordering via the touch panel, which offers service in Japanese, English, Korean, and Chinese. For our visit, we ordered the 3 most popular items on the regular and takeout menus!
Maguro Tuna: The most popular item on the regular and takeout menu! (132 yen per plate)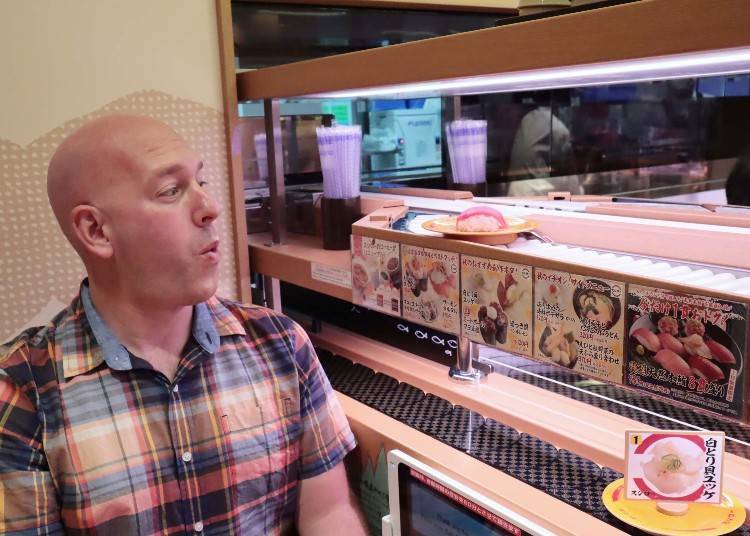 When ordering, your items will be delivered straight to you on a specialized sushi train lane via the "auto waiter" system. With this, you can rest assured knowing that your sushi will arrive fast and freshly made!
The arrival of our order was accompanied by an English announcement. It was very exciting!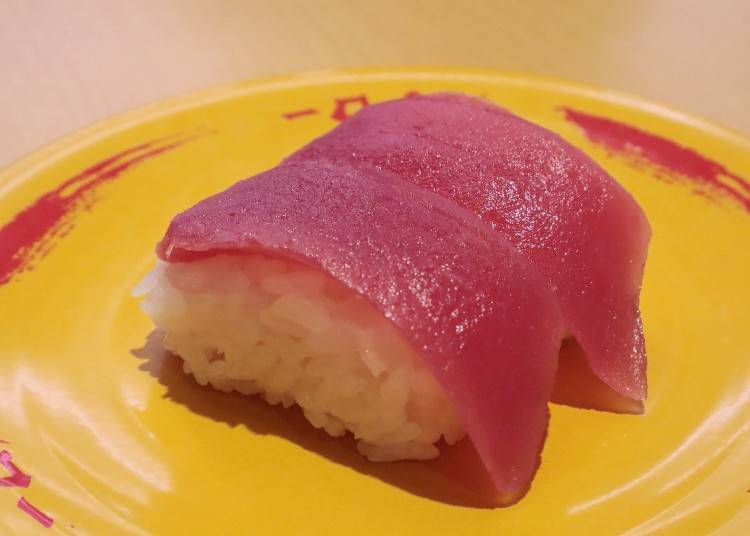 The large pieces of "maguro" tuna radiated with freshness in the light. Let's take a bite!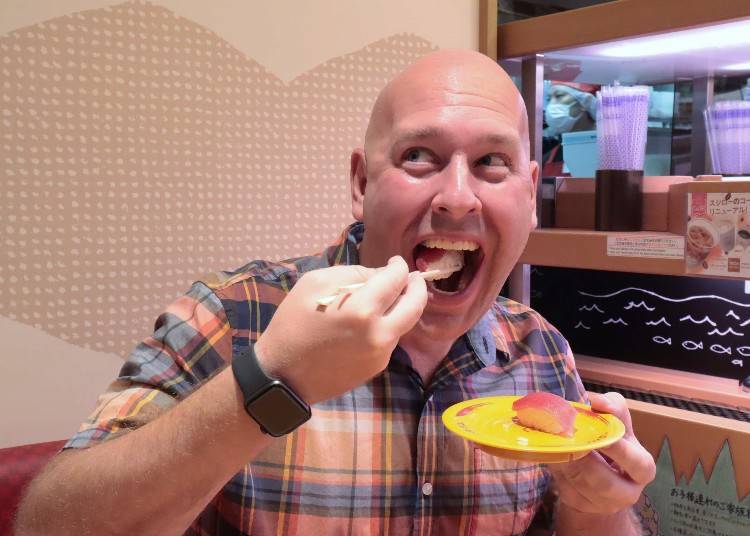 "I totally understand why this is number one! Super delicious!"

Indeed, Sushiro's maguro tuna is undoubtedly the safest selection for guaranteed satisfaction.
Hamachi Young Japanese Amberjack: The #2 most popular item on the regular and takeout menu! (132 yen per plate)
*May be winter amberjack depending on season
*Limited daily stock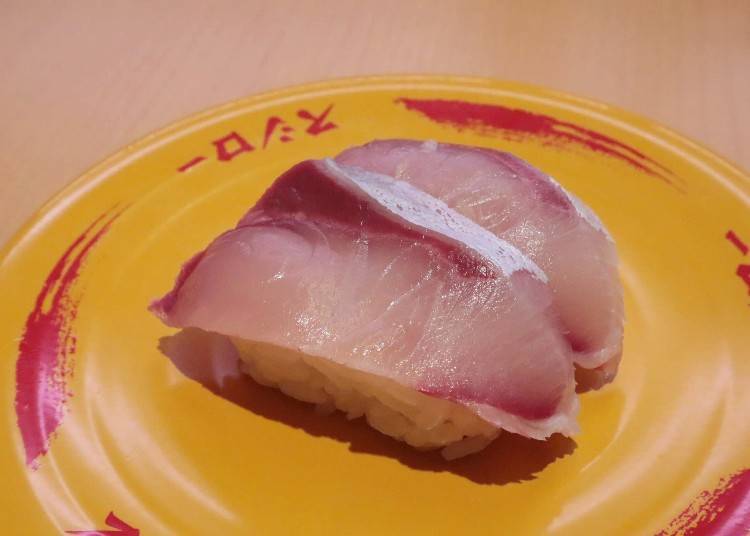 Hamachi is a Japanese amberjack fish caught young. It's particularly loved in the Kansai region for its thick, meaty mouthfeel with a satisfying bite. Hamachi is the second most popular item on both Sushiro's regular and takeout menus.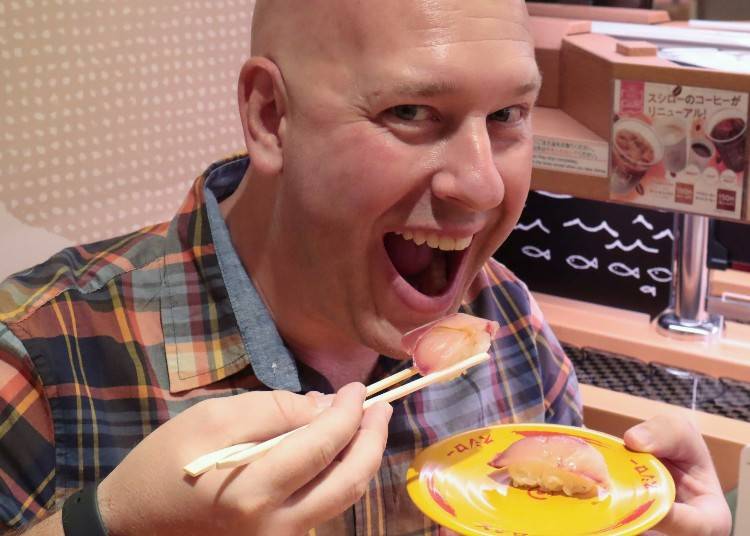 "It's perfectly fatty and delicious even without condiments!"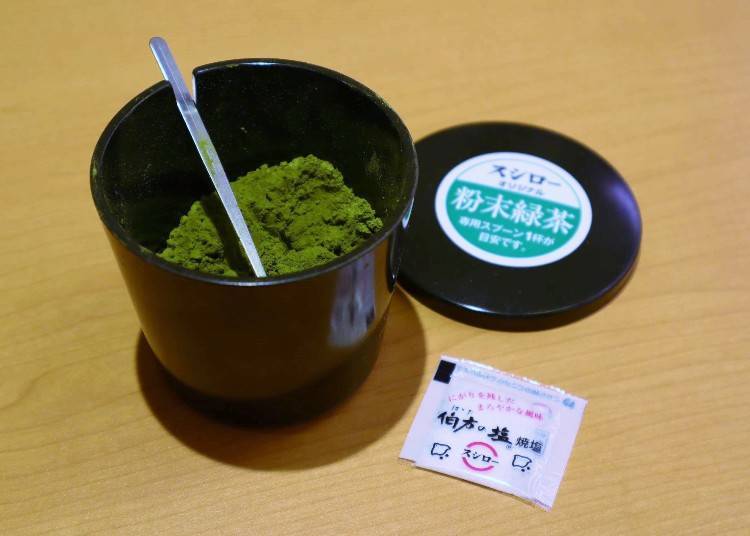 Next, we took a quick detour from exploring the top 3 to get into some sushi flavorings. While soy sauce is the standard, Sushiro allows diners a multitude of ways to enhance or change the flavor of their dishes.

With white-fleshed fish, in particular, we recommend mixing powdered green tea with salt to make "matcha salt!"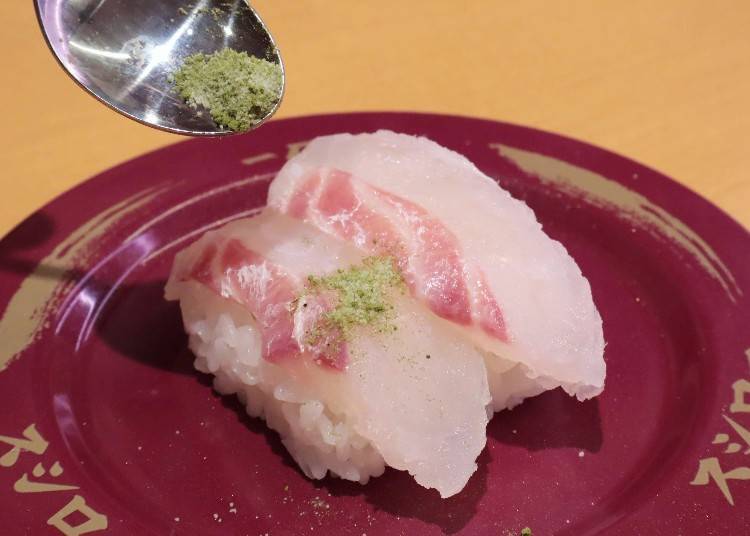 Without hesitation, Timothy gave matcha salt a try on some white-fleshed sea bream sushi.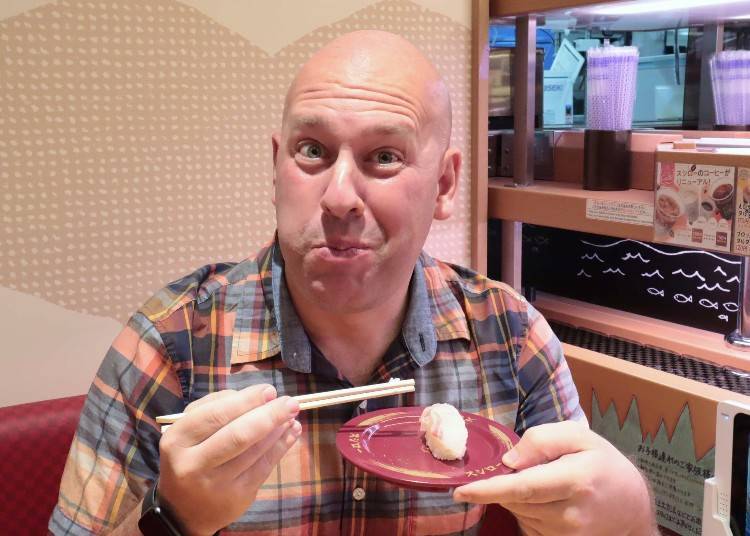 "Hmm, it's a little surprising, but I can definitely feel the matcha salt drawing out the sweetness of the fish! It's very good!"
Shrimp Avocado: The #3 most popular item on the regular menu! (132 yen per plate)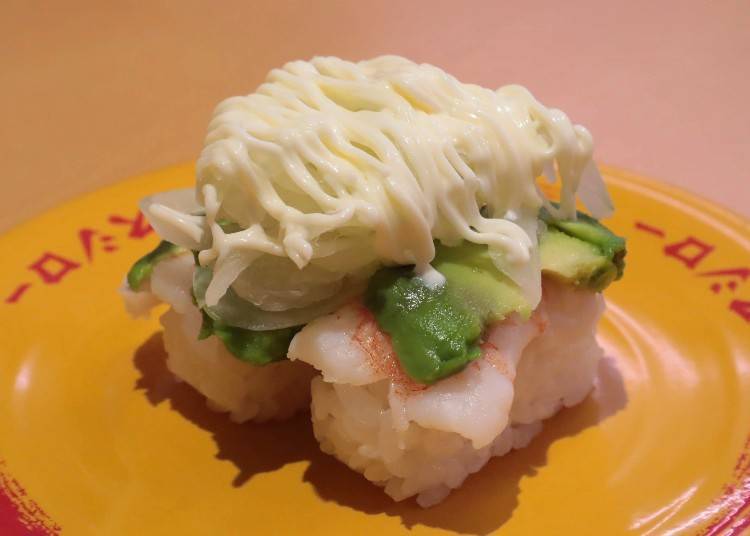 The third most popular item on the regular menu is the tantalizing shrimp avocado! While this trendy dish is currently making the rounds at numerous sushi chains across Japan, it was originally a Sushiro first!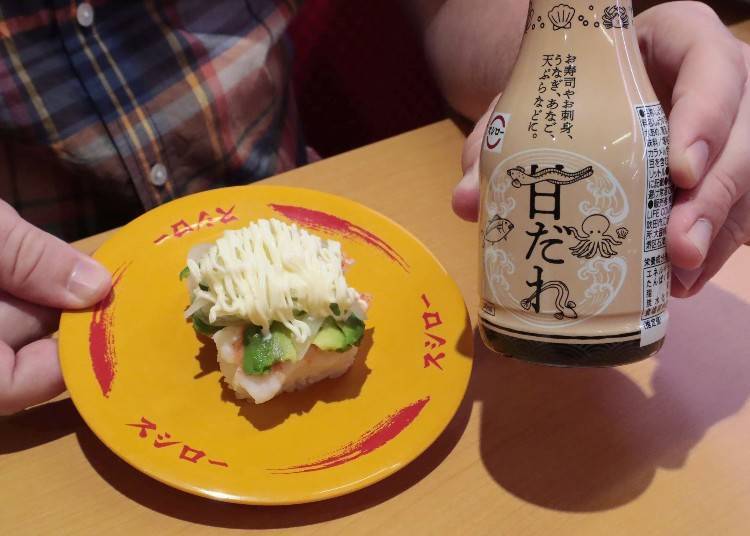 We recommend flavoring the shrimp avocado with sweet "tare" sauce (ama-dare).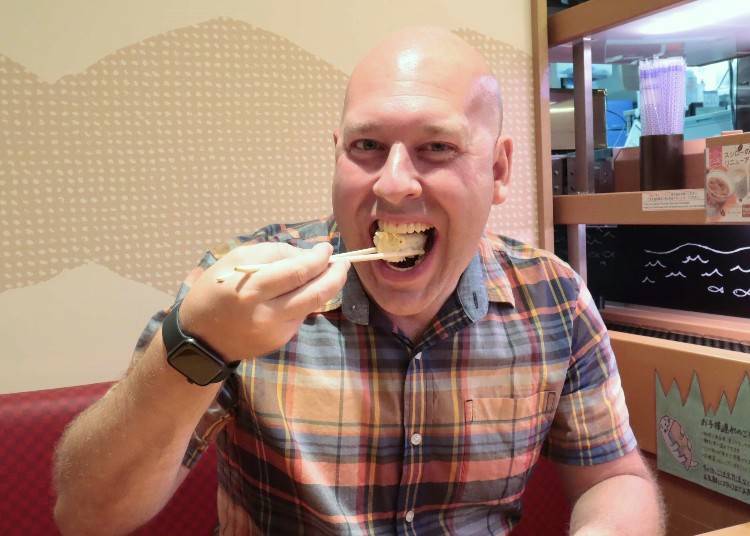 "The onion is crunchy and crisp, and the generous helping of mayonnaise goes perfectly with the sweet tare sauce! I think people from all over the world will like this."
Salmon: The #3 most popular item on the takeout menu! (132 yen per plate)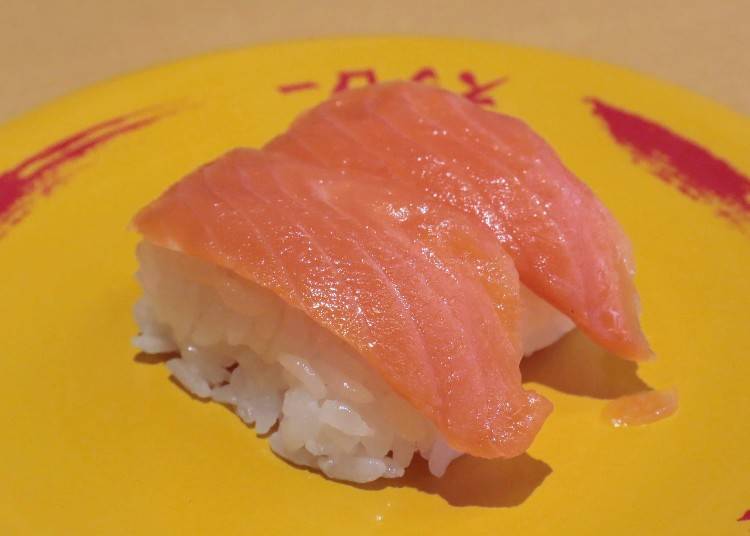 The third most popular item on Sushiro's takeout menu is the humble salmon.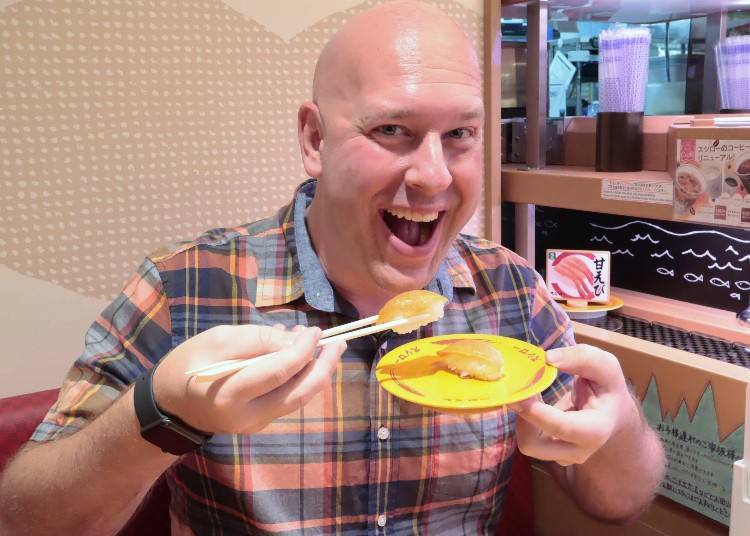 "Salmon also has a simple, refined flavor that would appeal to people who aren't huge fans of fish. Plus, it's probably one of the types of fish that people are used to the most, so I'd personally recommend it"
The Sushiro hand-rolled sushi set: A revived menu item perfect for the pandemic era! (Serves 2-3; 2,570 yen)
Originally unsuccessful and quietly disappearing during its sale in the pre-COVID days, the "Hand-Rolled Sushi Set" was revived in April last year to great popularity to meet the increasing demand for takeout.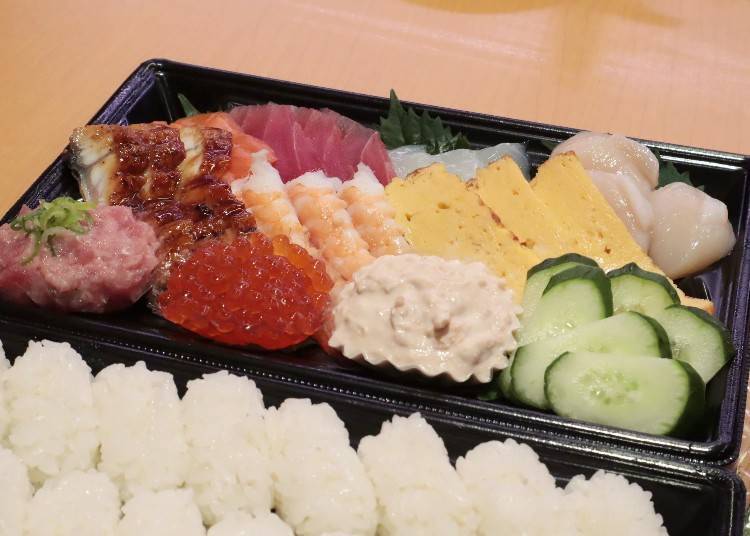 In Japan, hand-rolled sushi is a popular choice often seen at parties or family gatherings. Packed with 10 different kinds of ingredients, this gorgeous set looks as good as it tastes! The accompanying rice can be made into small bite-sized "nigiri" clumps or simply spread out as is.

"Having the sushi rice shaped into nigiri makes it super easy to wrap with nori and eat!" said Timothy.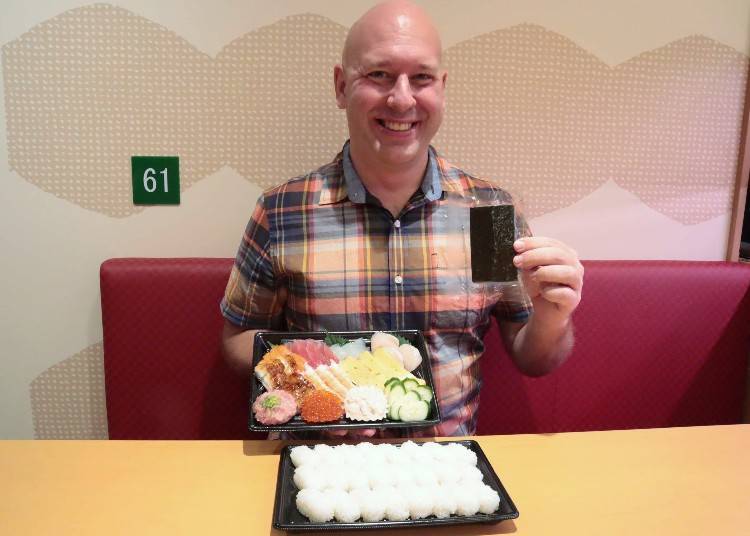 The stellar range of ingredients and easy-to-eat layout makes it great for a wide range of people to enjoy, from children to seniors. Plus, with the nori seaweed and rice, you can craft your own unique sushi to match your palate and appetite!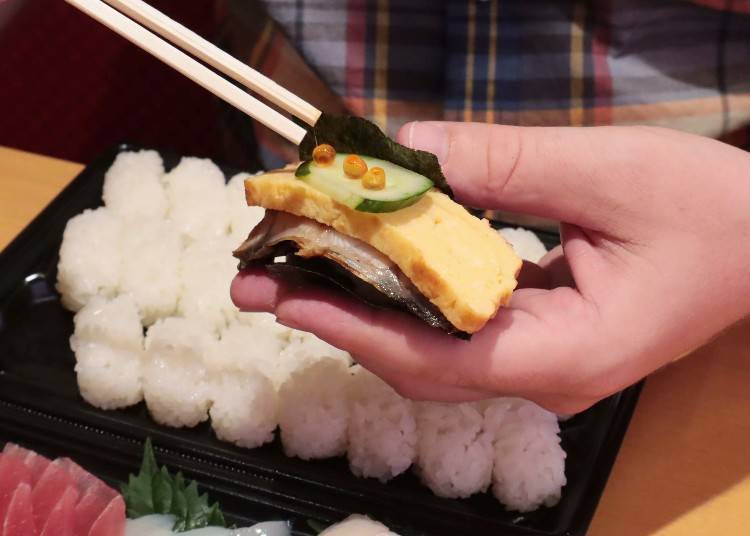 Timothy himself got to work on an original creation featuring eel, egg, cucumber, and salmon roe!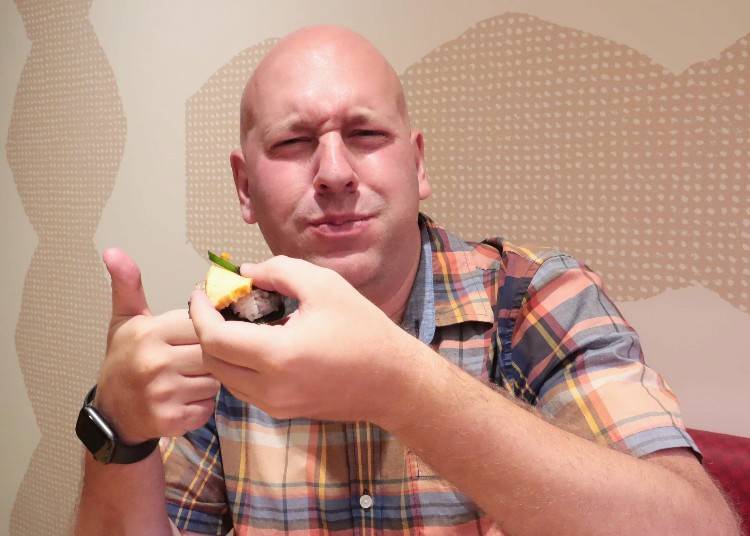 "Soooo good!" exclaimed Timothy.

His expression tells all! Indeed, getting creative is half the fun with hand-rolled sushi!

Whether you're relishing it alone in your hotel room, spending valuable time with family, or creating an Instaworthy masterpiece, this sushi set will allow you to experience the charm of authentic Japanese household cooking!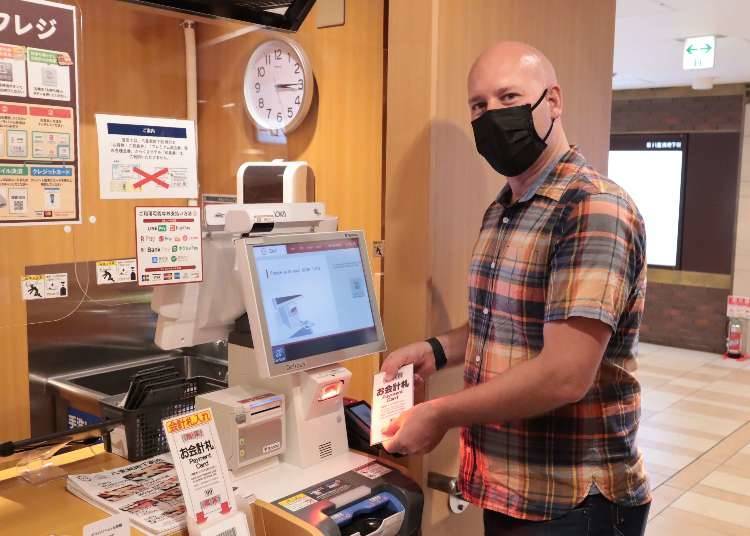 Once you've finished eating, call the staff to have your plates counted. This is one of the few times you'll actually encounter a staff member face-to-face. For payment, bring your card to one of the automated multilanguage registers.
What does an international think of the latest Japanese conveyor belt sushi trends?
After visiting Sushiro Yaesu Underground Shopping Mall, we asked Timothy for his impressions on the current state of Japanese kaitenzushi.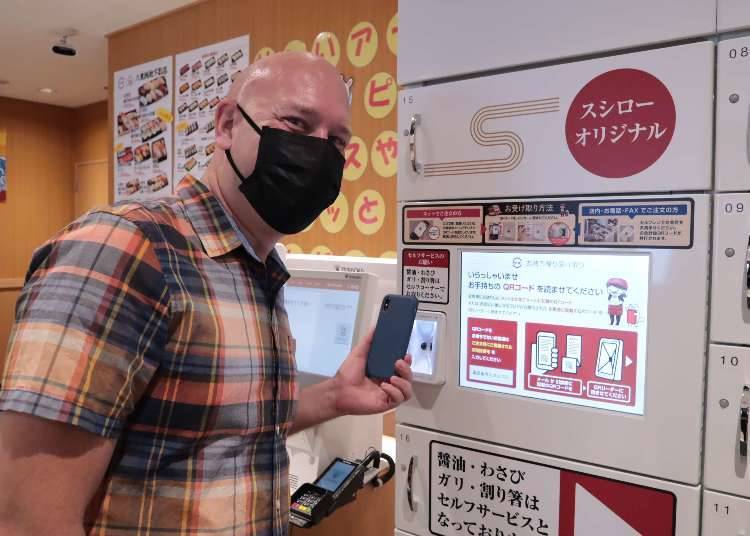 "Sushiro went to great lengths in its health and safety measures. The contactless services really did make me feel safe and relaxed. Having the store separated between entrance/exit and purpose of use was also a fantastic idea."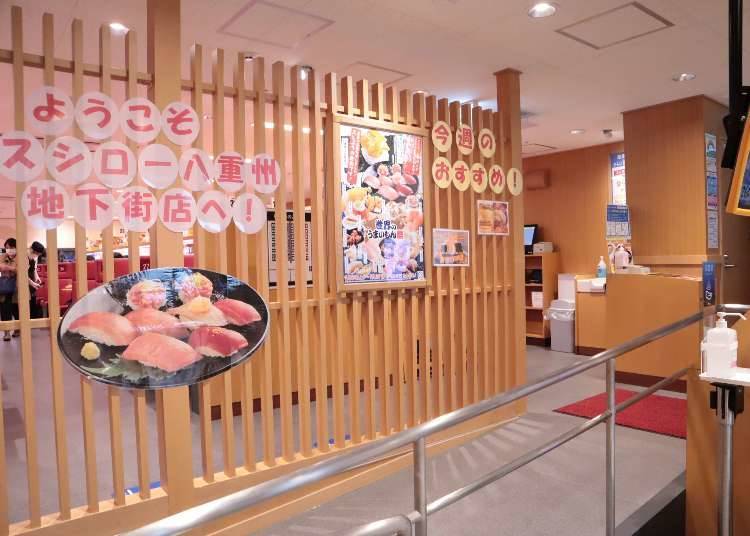 "The ramp by the entrance makes it easy for anyone to use, including those with heavy suitcases and strollers. This gave me an incredibly welcoming impression."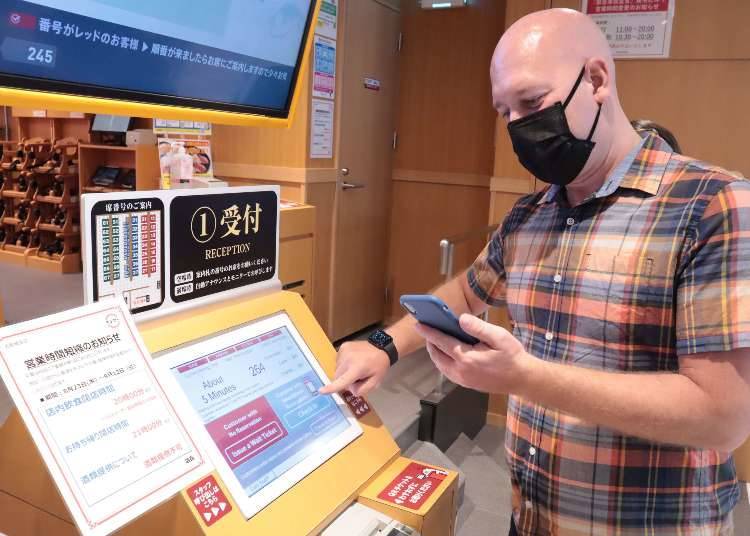 "Reception, ordering, and payment can all be done in a variety of languages, while the main signs inside all have English lettering, making it easy to understand."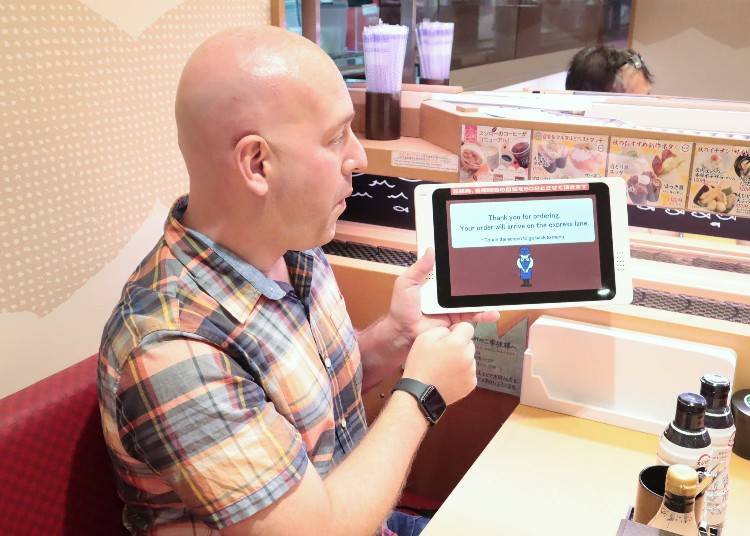 "I was also seriously pleased when, after changing the settings to English, the announcements also came in English! It was a nice touch of hospitality. When I heard that it would be contactless, I imagined the experience would be more systematic and cold, however, through little additions like this, the warmth of human touch and service came through. Overall, I think they have struck a great balance!"
Innovative systems with the flair of a traditional sushi joint!
Alongside IT advancements, Sushiro continues to push forward with automation to streamline its operations and pour everything into making and sourcing delicious sushi. Indeed, it's clear that everyone at Sushiro has the same goal of sharing the joy of sushi with the world.

However, cold machines have not replaced the warm, dynamic aura of a traditional sushi joint. Sushiro has strived to find balance and uncover creative ways of incorporating the energy of human contact into their stores, adding to the myriad of reasons behind their success and popularity.

Next time you're in Japan, relish the heart and soul of Japanese food culture with a visit to one of Sushiro's numerous state-of-the-art, authentic kaitenzushi conveyor belt sushi trains! Your taste buds will thank us!

*The information in this article is current as of September 2021. Confirm the latest on the official website.
Sushiro Yaesu Underground Shopping Mall (Interviewed in this article)

【取材協力】 スシロー八重洲地下街店

Address

1 Yaesuchikagai Minami, 2-1, Yaesu, Chuo Ward, Tokyo

Nearest Station

Tokyo Station


Phone Number

03-3516-1870

Hours:
- Mon-Fri: 11:00am - 11:00pm
- Sat/Sun/Public Holidays: 10:30am - 11:00pm

*Last entry and order is 30 mins before closing.
*The prices indicated in this article are those of a city-type outlet and include tax.
*When ordering takeout, the container fee is part of the tax-inclusive price.
*Depending on circumstances, operation hours may change or become takeout only.

To-Go Hours:
- Mon-Fri: 11:00am - 7:00pm
- Sat/Sun/Public Holidays: 10:30am - 7:00pm
Written by:
*This information is from the time of this article's publication.
*Prices and options mentioned are subject to change.
*Unless stated otherwise, all prices include tax.