Japan's conveyor belt sushi, known locally as "kaiten-zushi," has always been a hit with tourists. It's not just the sushi itself however, but the wide variety of unique side dishes offered specifically at kaiten-zushi shops that tend to attract many customers.

Today we visit Sushiro, Japan's leading conveyor belt sushi shop in the industry for eight consecutive years*, with one of Live Japan's English editors, who will try the shop's recommended side dishes and tell us his thoughts.
Sushiro's Specialty Side Dishes! Commitment to Quality You Can Taste!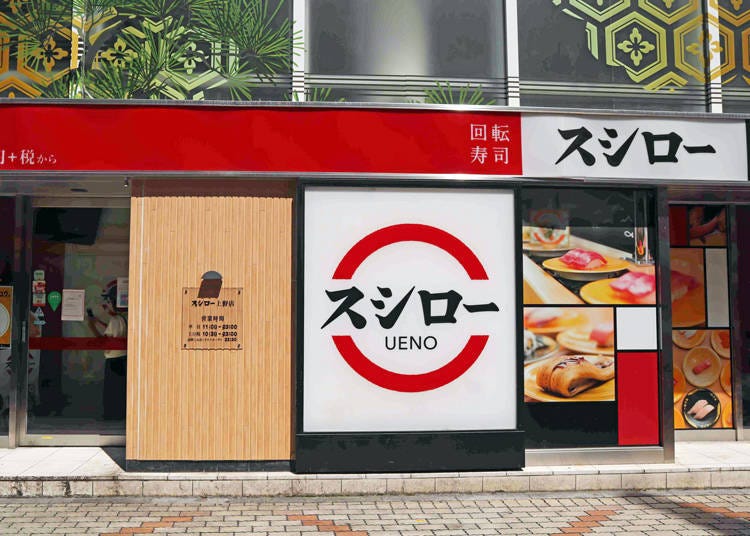 Sushiro began as a popular sushi restaurant in Osaka called "Tai Sushi." With a desire to bring as many types of sushi as possible to as many people as possible, the sushi chef decided to change the style of the shop to that of a conveyor belt sushi place. As of 2019, it has expanded to over 520 branches nationwide including branches overseas

This major Japanese conveyor belt sushi chain is popular with all kinds of people, regardless of age or gender, with affordable prices from as low as 120 yen per dish that maintain the quality of ingredients and taste. (Items and prices vary by location).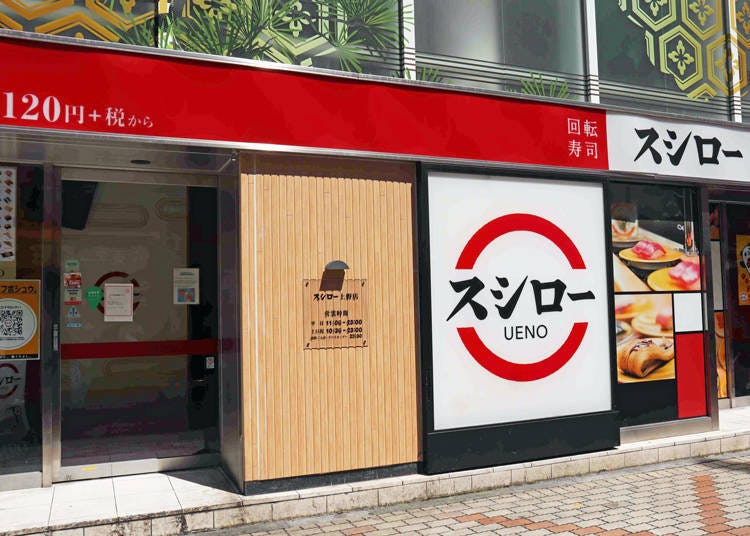 Sushiro Ueno has agreed to allow us to report from here today. Only 3 minutes away from Ueno Station on foot, Ameyoko Shopping Street is also right around the corner, and is another popular place that many tourists visit. This shop also incorporates plenty of easy-to-use technology that makes it more convenient for foreign customers.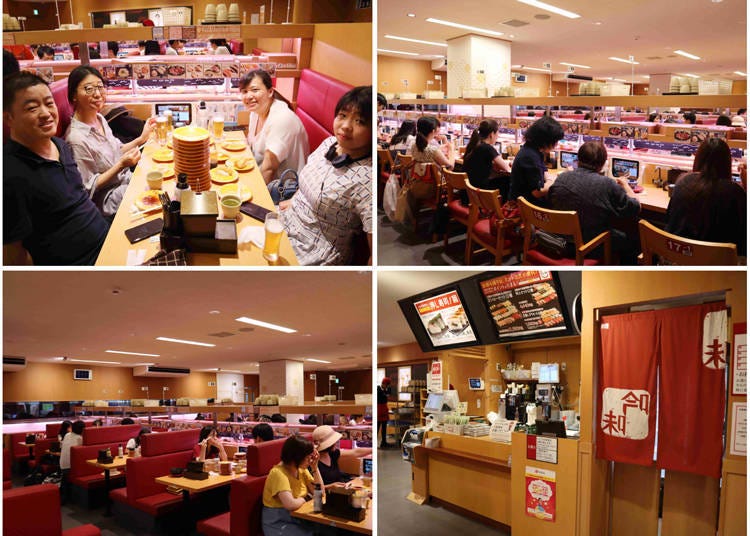 Ueno is a popular tourist destination, bringing in crowds that fill the shop by noon. This shop attracts all kinds of guests, from entire families to couples from countries from all over the world.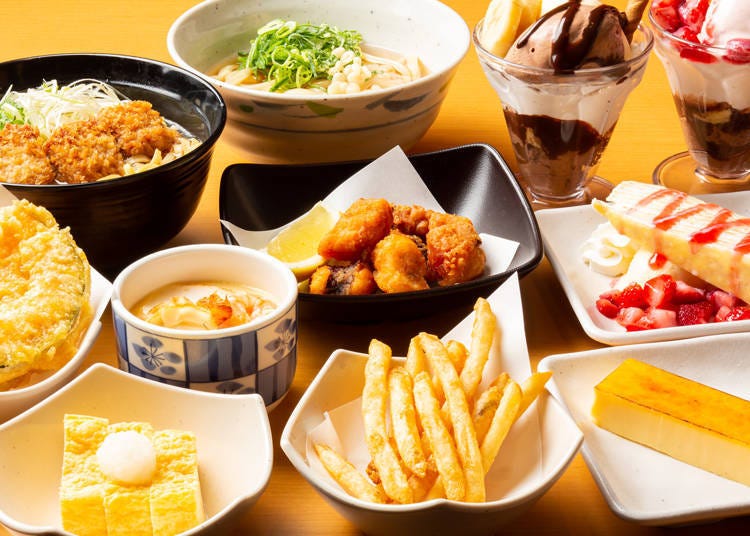 And it isn't just Sushiro's sushi, but their variety of side dishes as well that grab people's attention! Based on the concept of "side dishes that go well with sushi," there is a full-fledged menu of options incomparable to most other specialty shops.

Like the sushi, the side dishes are also high quality and delicious, yet still sold at low prices. Now let's take a look at some of Sushiro's most recommended side dishes.

Today, Timothy, our English editor from America, will be putting these popular Sushiro menu items to the test!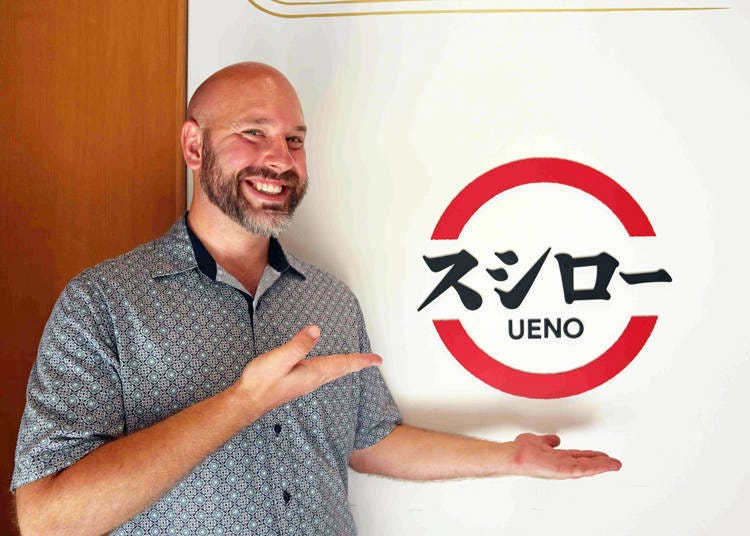 Curious about not just the sushi, but the side menu items as well, Timothy pays a visit to Sushiro to give these items a try! "I want to try the sushi, of course, but I'm also really looking forward to the other menu items, including their ramen and sweets!"
Japanese Conveyor Belt Sushi: Simple and Convenient Services are Easy-to-Use for Tourists, Too!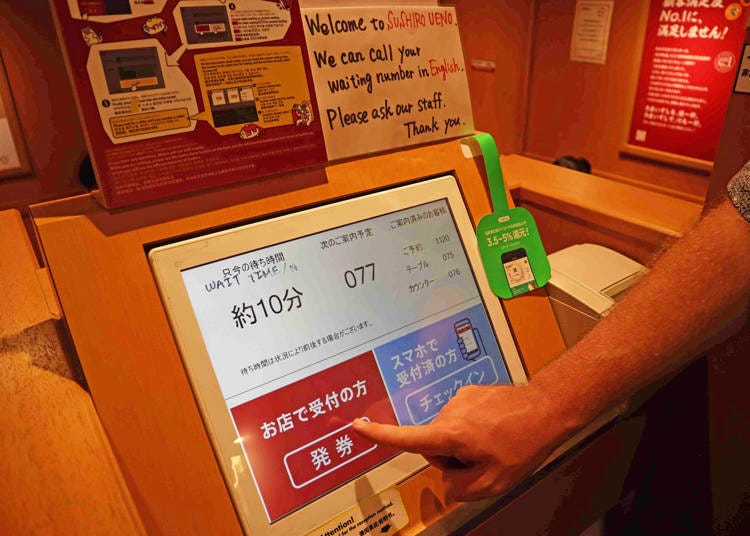 You begin by using this machine as soon as you enter Sushiro Ueno.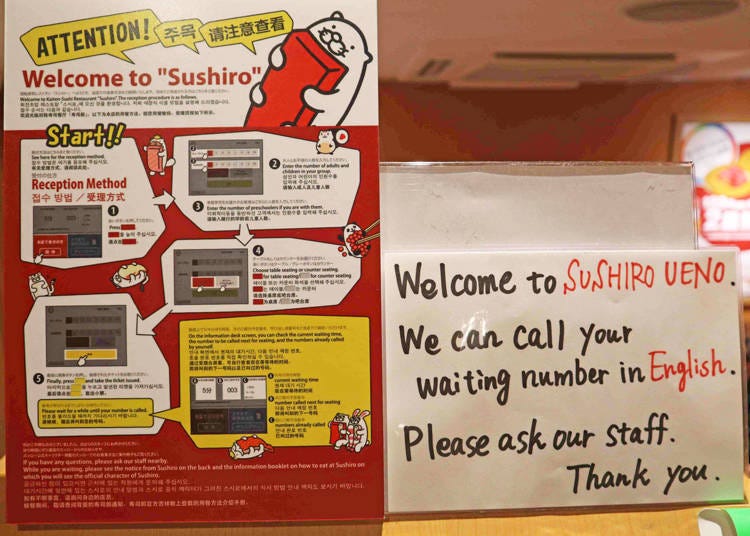 The screen is displayed in Japanese, however, operation instructions are written in English, Korean, and Chinese at the top of the monitor for the convenience of overseas visitors. After entering your customer number and seat preference, your reception number and approximate wait time is displayed. You can even go shopping and sightseeing nearby while you wait.

By the way, Sushiro also has a useful smartphone app (though as of the time of writing, it was only available in Japanese) that you can download in advance; you can even make reservations via app. For reservations made in advance, the waiting time is reduced to practically zero!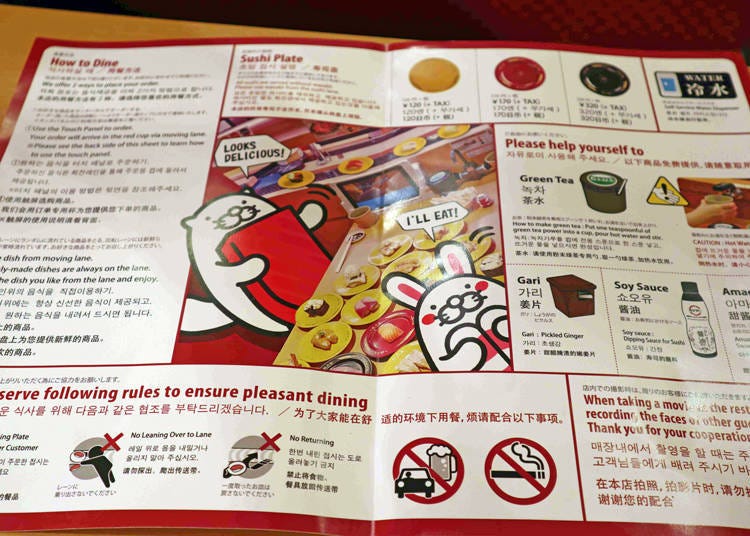 There are also brochures specially made by Sushiro for their foreign customers near the information desk and cash register. Check them out as you enter the shop!
Japanese conveyor belt sushi is really popular with foreign visitors, however, first-timers may be caught wondering things such as "How do I order?" "What do the different colored dishes mean?" "How do we drink the tea and water?" and more.

Many tourists feel a bit confused, uncertain how to order and how to enjoy the food. For this, an informational pamphlet has been created, explaining how to use and enjoy kaiten-zushi, and it is available in multiple languages. Thanks to this pamphlet, the number of order mishaps has been reduced and interactions between customers and staff have become much smoother.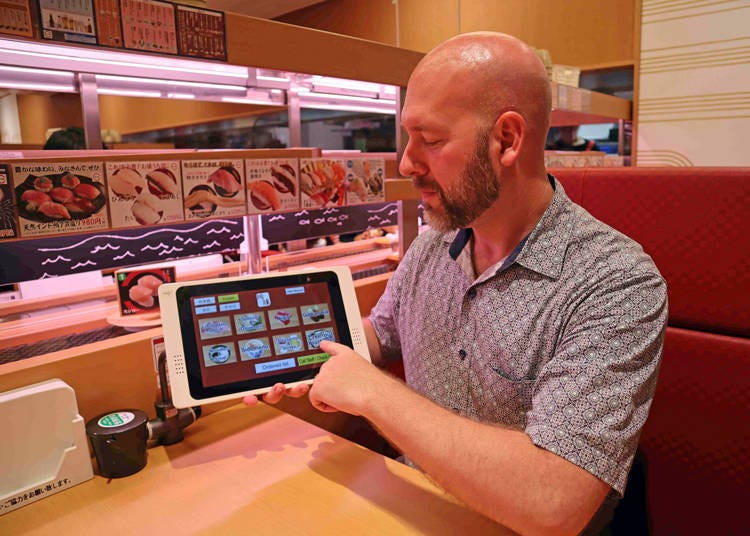 We order as soon as we get our seats. To order, you can simply grab your favorite dish as they come down the belt, or you can order something specific from the tablet. The tablet is available in four languages: English, Chinese, Korean and Japanese.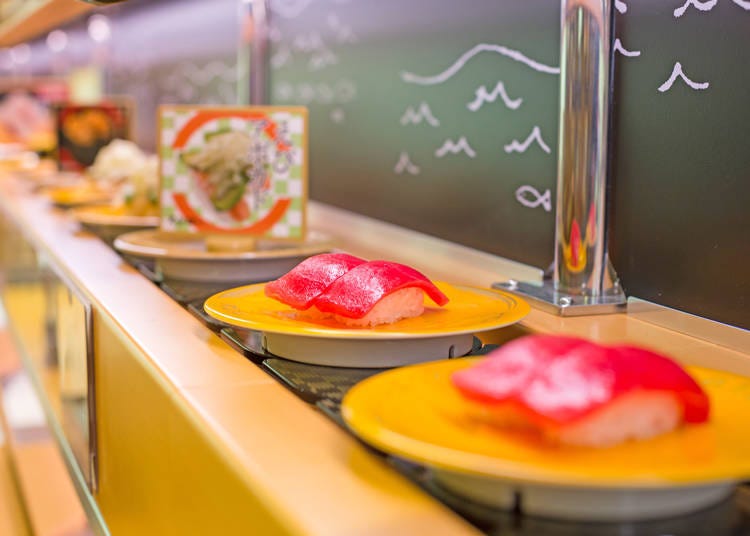 At Sushiro, the conveyor belt is time-controlled with a machine so that each piece of sushi is served at its most delicious state at the time of its appearance, and is automatically taken off when that time has gone over.
Sushiro Recommended Side Dish #1: Dashimaki Tamago - Cooked in Delicious Broth the Japanese Regulars Love!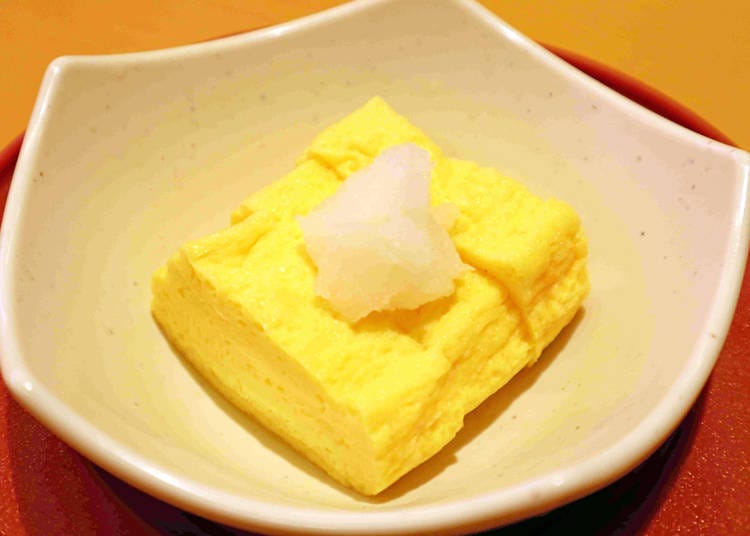 Dashimaki Tamago (120 yen/tax not included)
Sushiro's first recommended item is the Dashiaki Tamago, a unique rolled omelette that is boiled in fish dashi (soup stock) made from sardines, kombu, and bonito. You can taste the full flavor of the dashi soaked in each bite of the egg.

And it isn't just the flavoring of the eggs that is carefully managed, but the chickens from which the eggs come themselves are also given much care. They are raised by experienced craftsmen who make sure to raise only the healthiest chickens for the highest quality eggs to use at Sushiro!
"You can really taste the dashi. It has a delicious, gentle flavor. Many foreign visitors probably don't know a lot about dashi, but they should at least learn about this one!"

This particular dish maintains the original flavor of the egg, and is so delicious and warm, it is easy to see how it could be such an addictive dish!
Sushiro Recommended Side Dish #2: Asari Miso Soup - Delicious Broth and Plump Clams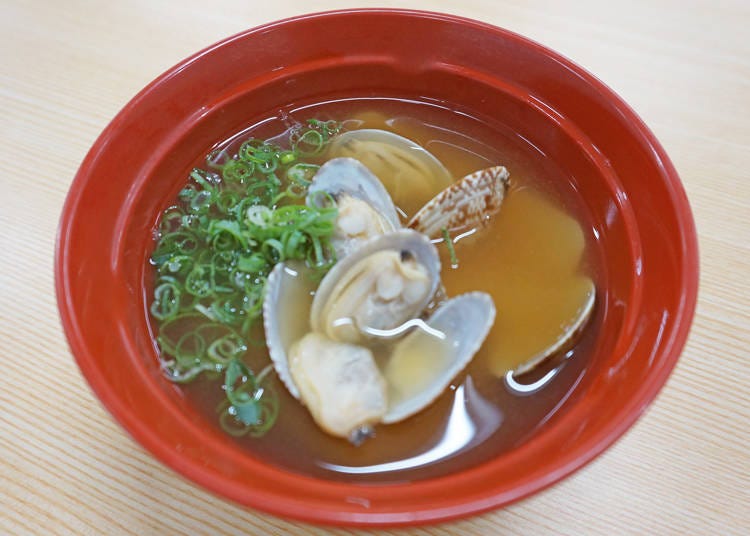 Asari Miso Soup (200 yen/tax not included)
Miso soup always goes well with sushi, and even more so when the broth is as delicious as this Asari Miso Soup. Of course, it is also delicious when eaten by itself, and it includes plenty of delicious, plump clams.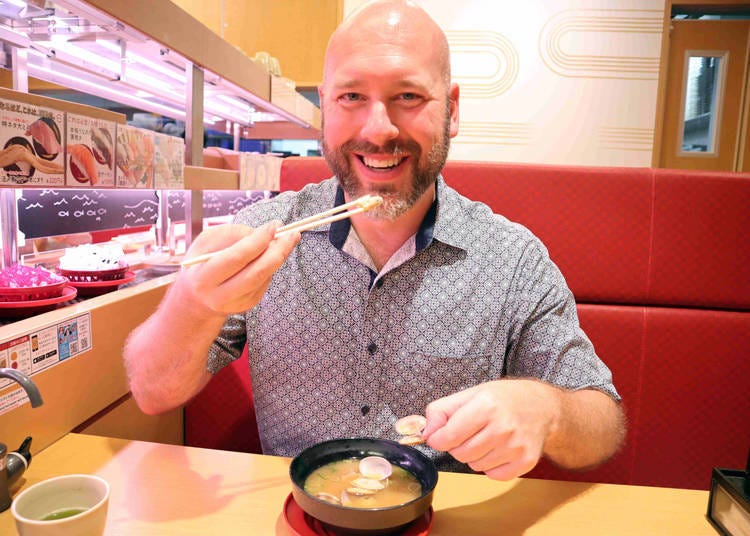 "These clams are plump, have hardly any smell, and are easy to eat! They're really good. I think a lot of foreigners consider miso soup one of the traditional tastes of Japan. The flavor isn't too strong, and it even has a bit of a sweetness."
Sushiro Recommended Side Dish #3: Kabocha Tempura - Freshly Fried and Crispy Japanese Food!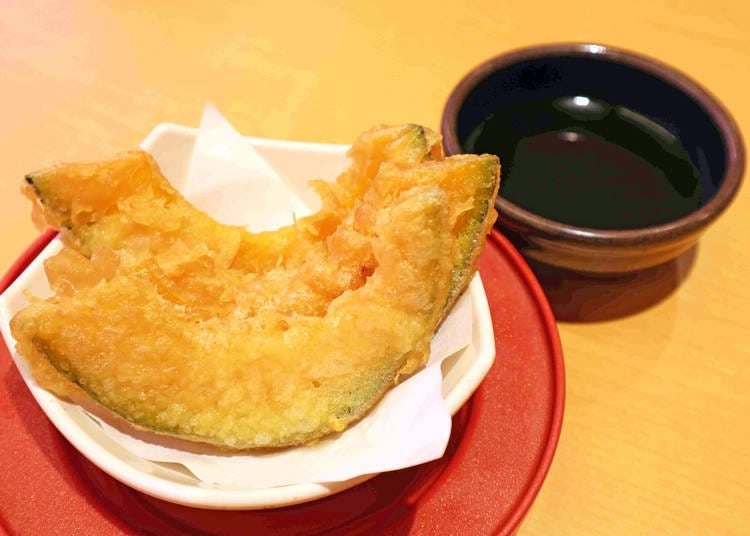 Kabocha Tempura (120 yen/tax not included)
The Kabocha Pumpkin Tempura is a very popular dish amongst foreign customers. It is not pre-fried, and in fact, almost all of the fried dishes here are freshly made the moment they are ordered, resulting in a deliciously fresh and crispy tempura.

Tentsuyu, or tempura dipping sauce, can be ordered at no extra charge using the touch panel, and it is also recommended to try it with salt.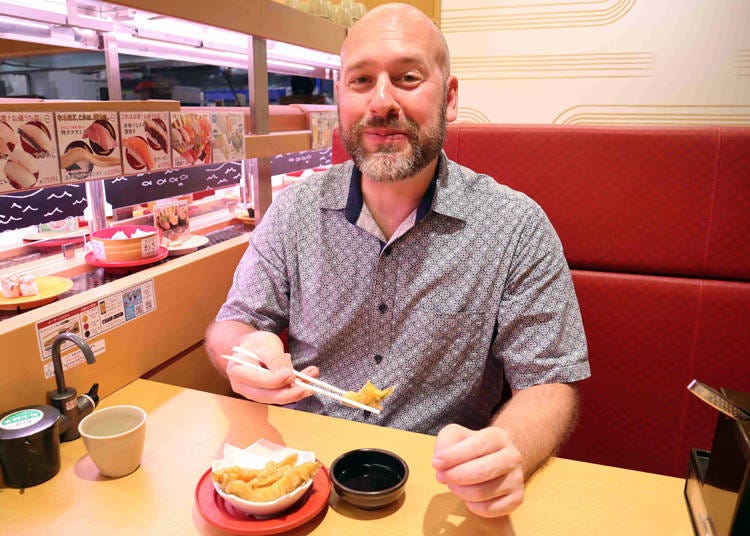 "It's really delicious! The sweetness of the pumpkin makes it a favorite of children and tourists, too. The slices are also cut thin, so it comes out really crispy!" The combination of the perfectly cut thickness of the pumpkin and the oil used for frying creates a balance that makes this the perfect side dish to enjoy with your sushi.
Sushiro Recommended Side Dish #4: Fried Octopus - The Perfect Snack for Sake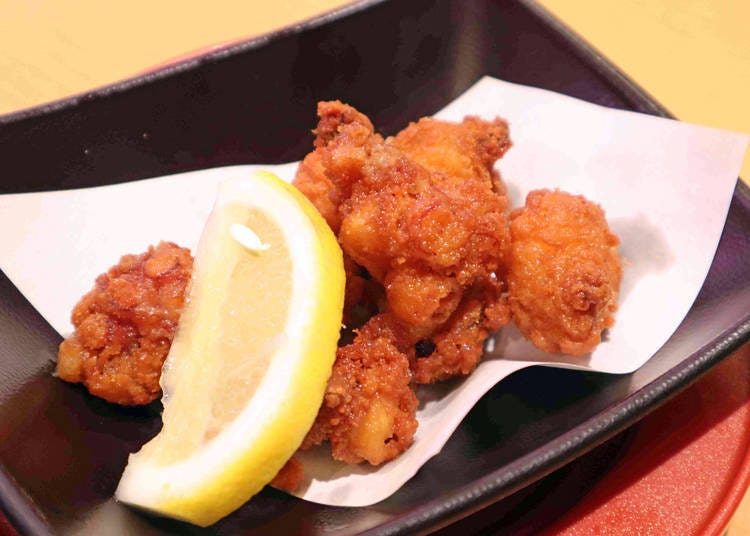 Fried Octopus (300 yen/tax not included)
This deep-fried octopus dish is cooked with a light flavoring so that you can enjoy the taste of all the ingredients. "It is really juicy and lightly seasoned, but you can still taste the delicious flavoring with each bite!"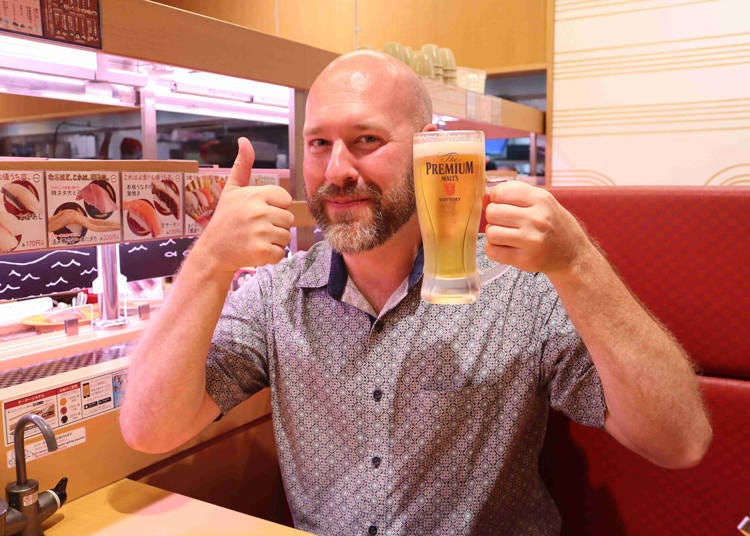 There is no doubt that this goes together really well with beer! It's a great idea as a side snack.
Sushiro Recommended Side Dish #5: Fatty Tuna Soy Sauce Ramen - Just What A Specialty Sushi Shop Needs!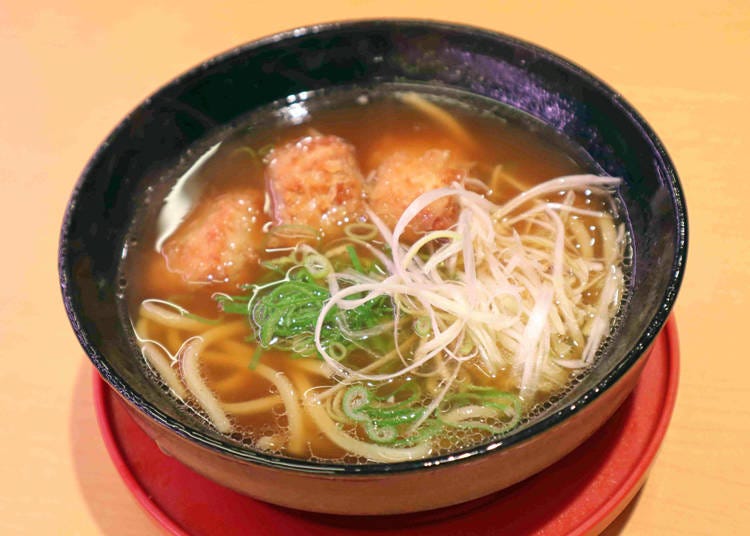 Fatty Tuna Soy Sauce Ramen (350 yen/tax not included)
A popular dish off the Sushiro Ramen Series is the Fatty Tuna Soy Sauce Ramen. The flavor of mackerel is added to the dashi in the pot that is used when making the number one popular tuna sushi. It is a masterpiece of a dish that really brings out the rich, Japanese flavor with the addition of fresh soy sauce. Topped with fresh tuna cutlet prepared right in the shop, this is one of Sushiro's best dishes.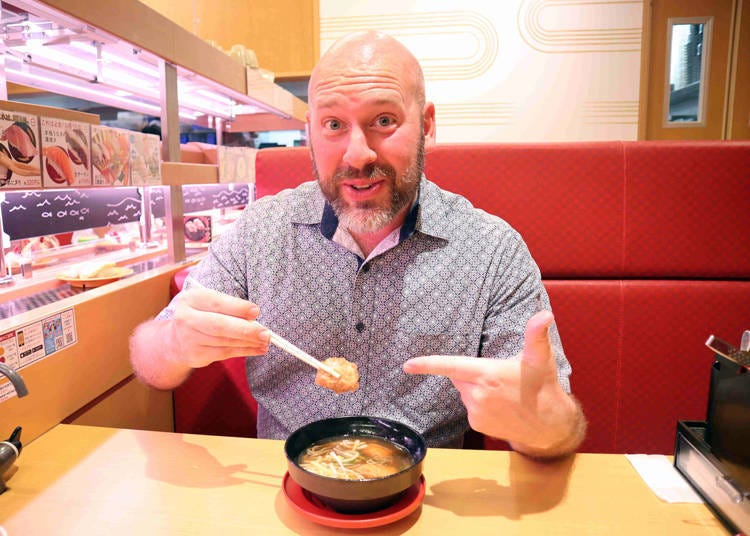 "This soup is super delicious! The fried tuna absorbs the broth, which makes it even more delicious. It boasts the taste of a real, authentic ramen shop!"

With the chef's commitment to flavor and the taste of a full-fledged ramen shop, it is surprising that such a meal is only 350 yen (tax not included). You can also fully experience the real meaning of Sushiro's policy: "We serve only the most delicious dishes here."
Sushiro Recommended Side Dish #6: Sushiro Cafe Original Sweets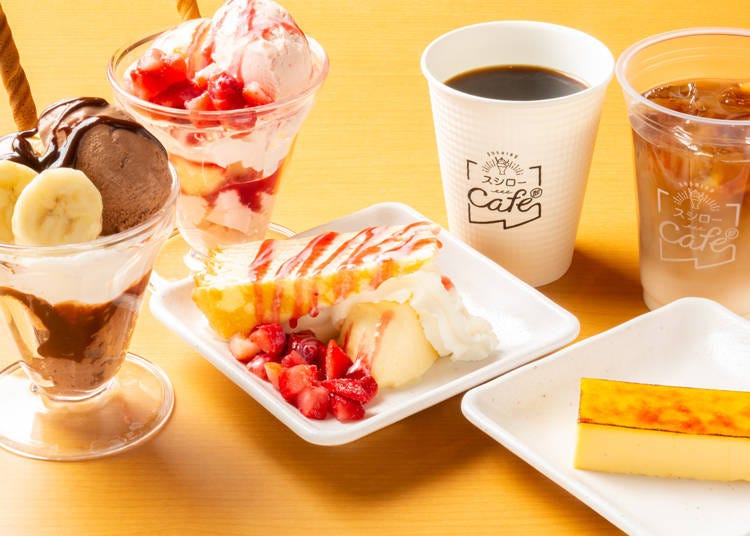 Sushiro also has its own special sweets research and development department that focuses on building a sweets menu that includes items such as pastries.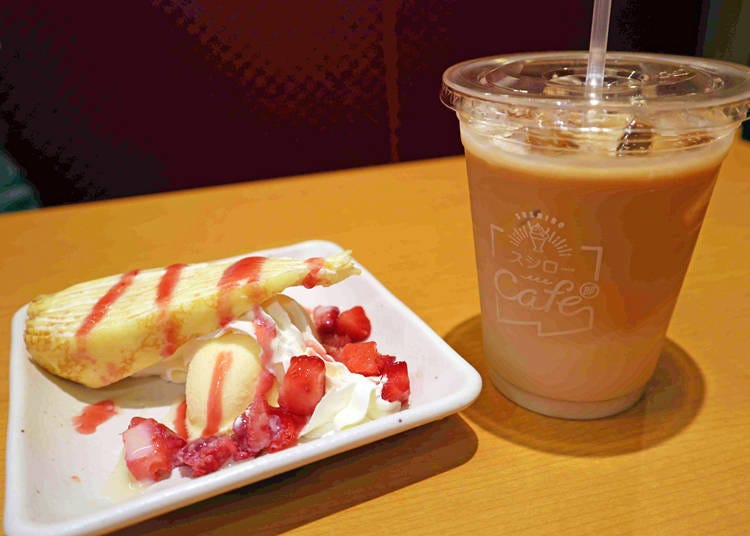 A gentle sweetness and elegantly fluffy whipped cream, "Hokkaido Milk Crepe Melba" (200 yen/tax not included)
The most popular amongst the sweets is the Hokkaido Milk Crepe Melba. Even if you order a latte along with it (150 yen), the entire price totals just 350 yen! (Tax not included) It's surprising how much you can get here for a single 500 yen coin.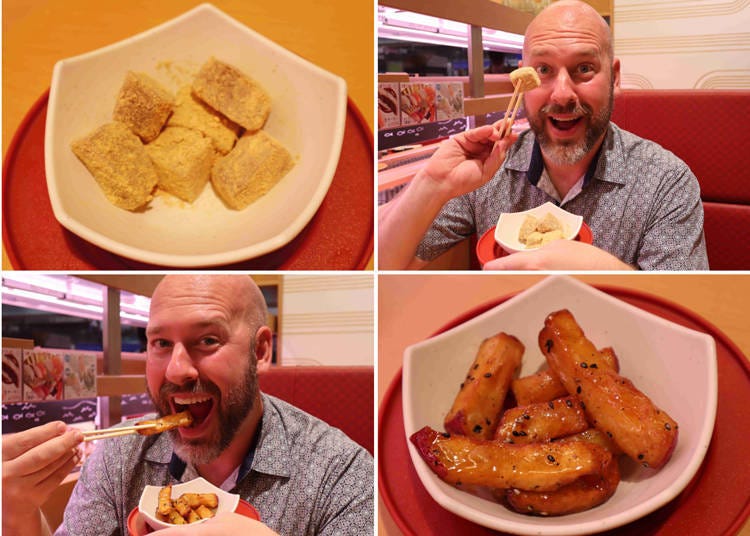 Japanese sweets that could only be found in Japan! "Daigaku-Imo" & "Warabimochi" (120 yen each/tax not included)
This warabimochi (upper left) is sold in Kyoto's popular shop, Hourandou, which usually generates long lines. Here, you can still enjoy this delicious item, but comfortably and without the wait.

"I think there are many foreign folks who have never tried warabimochi. The texture is something between mochi and jelly, and it is very chewy. It even has a mildly sweet aftertaste."

Daigaku-imo (bottom right) is a highly recommended sweet dessert made of vegetables (candied sweet potatoes)!

"Japanese confectionery often use plant-based ingredients, so they are still healthy and not too sweet," explains Timothy. We hope that more and more foreign visitors taste and enjoy the deliciousness of Japanese sweets.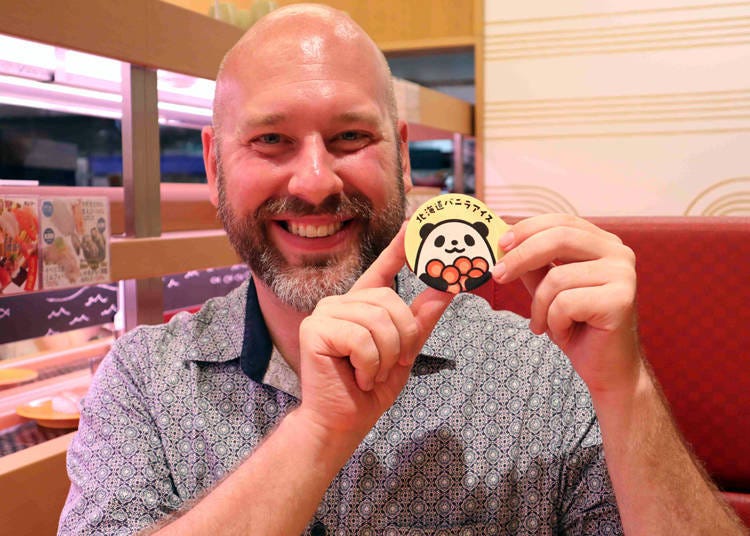 The cute packaging is also very popular with children! "Hokkaido Vanilla Ice Cream" (120 yen/tax not included)
This ice cream is very soft and easy for children to eat. Even Timothy agrees: "It's soft, creamy, and tastes like milk and custard pudding. It's really delicious!"
Bonus: Limited Edition Sushiro Menu Items!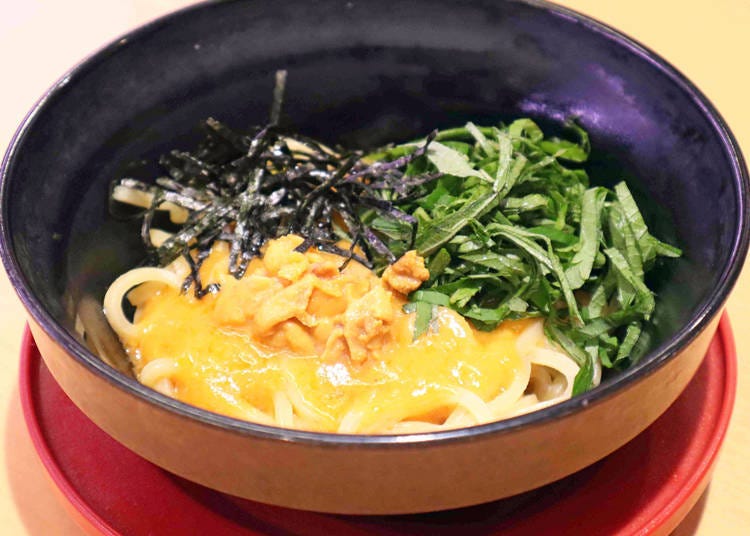 Sushiro regularly develops limited-edition menu items that you can only enjoy for a short time. This is the Thick Uni Maze-Soba (380 yen/tax not included) that was available during the time of this report, from August 9th through the 28th of 2019.

The sea urchin topping the soba have the fresh quality that one could only find at a sushi shop, yet boasts the high-quality that one might expect of a French or Italian restaurant. (*Only high-quality sea urchins are used in the sauce)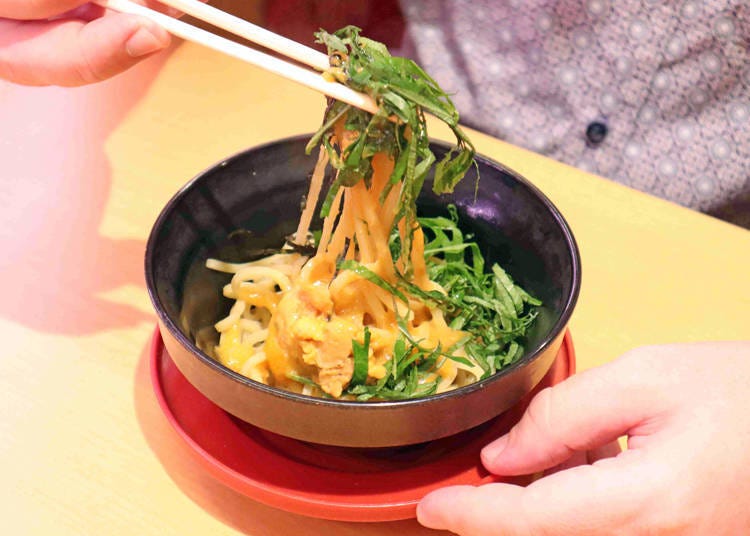 "It's great to be able to try this dish, especially because it's a Sushiro special. The maze-soba and ramen have a delicious flavor that you can only find here. I think many tourists will also appreciate that they develop so many original dishes, and not just ones that imitate French or Italian dishes."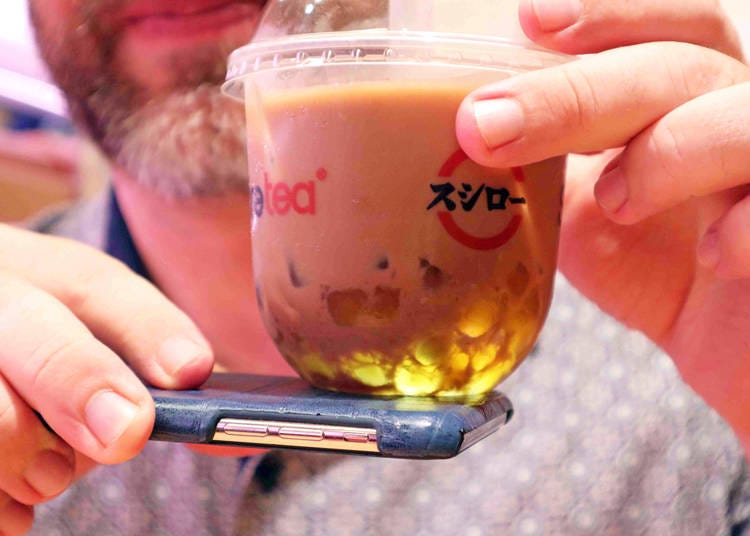 Here is another limited time item that has generated quite a buzz, the "Hikaru Golden Tapioca Milk Tea" (280 yen/tax not included). It is an unusual drink that glitters when exposed to the light. The milk as well as the tea leaves have a strong flavor. Because it is such a popular item, it is pictured in the new arrivals" menu, however it has been selling for a little while. It will only be available until the end of September, though, so we are looking forward to seeing what new flavors will come out next.
What Was Timothy's Favorite Sushi?
Because Sushiro is a sushi shop, we must introduce the sushi dishes as well. Here is Timothy's top sushi pick!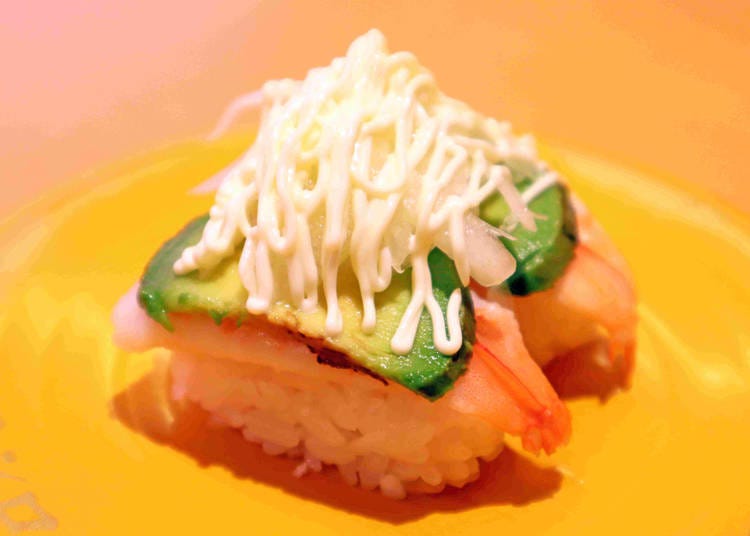 Sushiro Original Shrimp Avocado and the #1 Popular Tuna Sushi (120 yen each/tax not included)
Shrimp Avocado is a classic at many kaiten-zushi restaurants, but it is said to have originated here at Sushiro.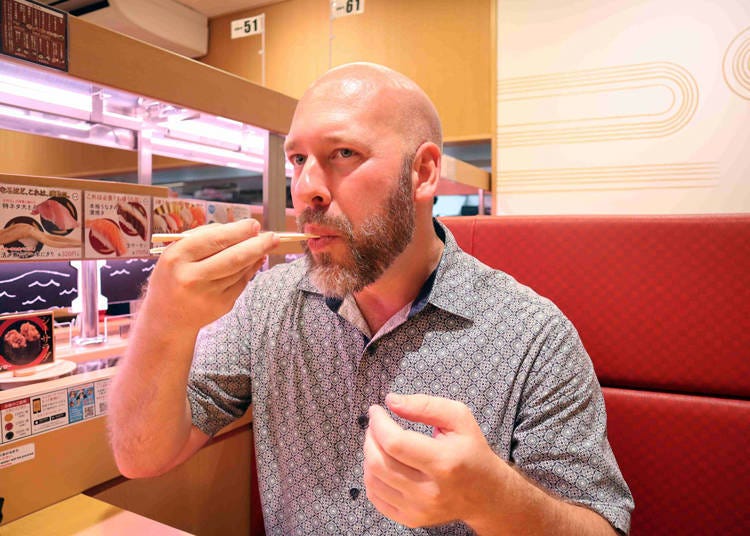 Timothy digs in right away! "Shrimp and mayonnaise are the best combination! The onion also makes a good accent, so the flavors are really well balanced!"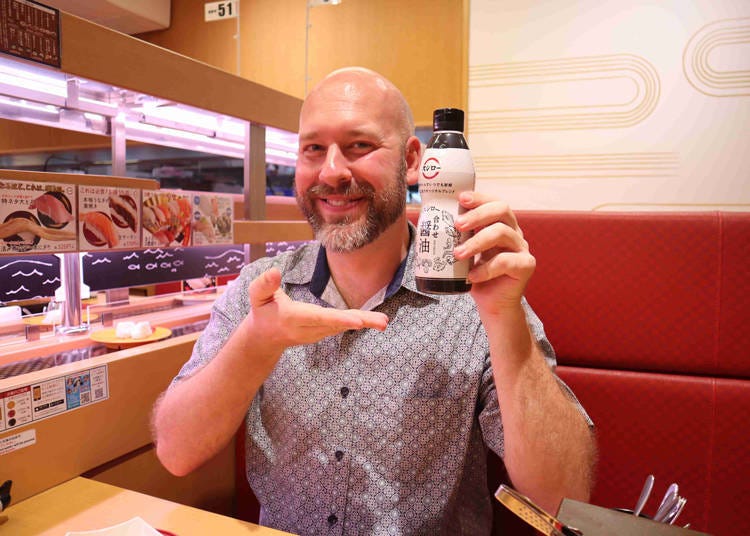 Sushiro is dedicated to the complete seasoning of their menu items. The original soy sauce is not too salty and brings out the flavors of the other ingredients. Using this soy sauce will surely enhance the taste of your meal! "The food really is even more delicious when you use the soy sauce! You can use it on any of the items. It's even a great match for the sweetness of the shrimp and mayo! Even though they use many simple ingredients, you will be hooked from your very first bite!"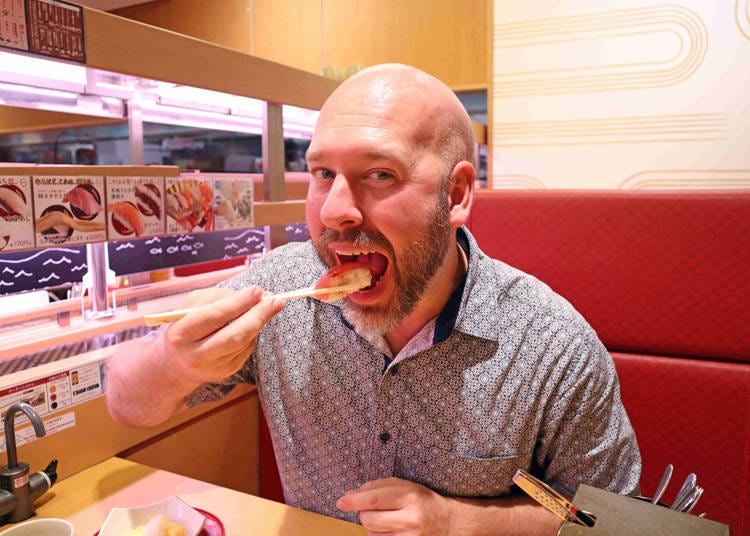 That being said, the tuna is definitely an item you will not want to pass up. "Of course, the tuna is delicious as expected... (laughs)"
What is Timothy's Impression of Sushiro's Side Dishes?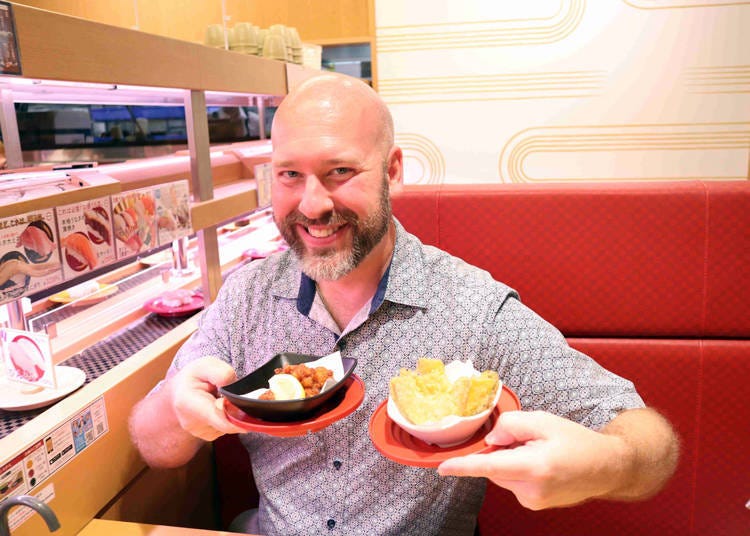 "Usually when you go to a sushi or ramen shop, those are the only things you will find on the menu. But Sushiro is different. Tourists can come here and try just about any Japanese food they hoped to try, including ramen, sushi, tempura, and other items that you might find on an izakaya menu. Also, everything tastes delicious and authentic, and the items are affordable, too. This place is really the best!" As you can see, Timothy seemed very pleased.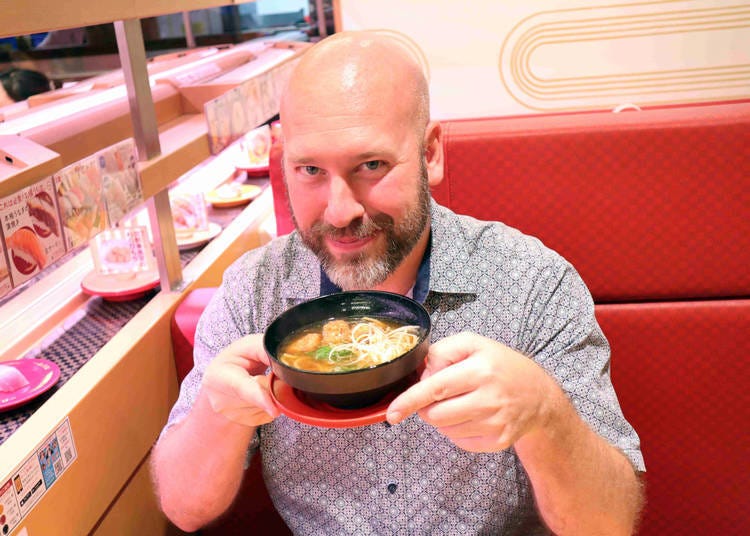 When we asked his favorite dish, Timothy's response was: "It's a tough decision... but I'll have to say the ramen!" As for his favorite sushi item: "The Shrimp Avocado."
If you come here for only the sushi, you're missing out! Please be sure to try Sushiro's other unique items!
Not only the sushi, but the other various side dishes boast a quality that can also be enjoyed as a main meal, and Sushiro is only going to keep evolving. There are also many limited-time-only items to enjoy, so you can try something new every time you visit. It's like a sushi amusement park!

A great point about this shop is that you can come in and order whatever you like. You can order a single dish of sushi, or opt for just sake and side dishes in true izakaya fashion. You can even come just for the cafe and sweets menu.

Also, in addition to today's Ueno location, there are 37 other branches in Tokyo alone, including the Minami Ikebukuro branch and the Sushiro Bigbox Takadanobaba branch, as well as others throughout the rest of the country.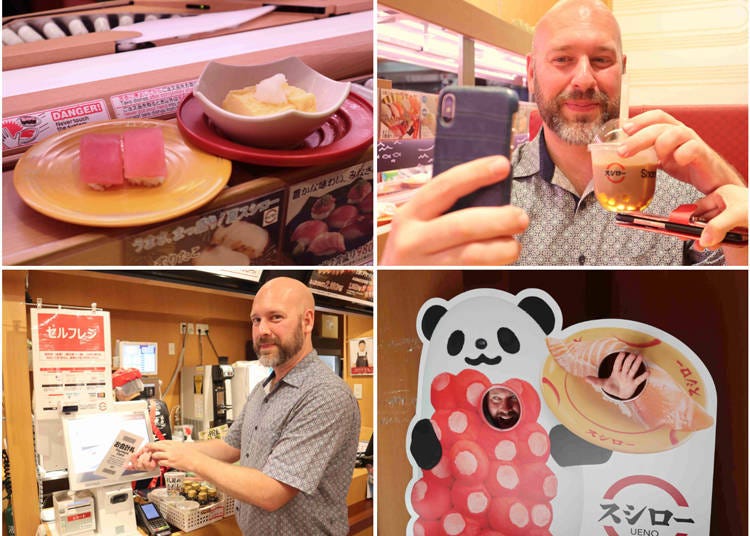 If you visit Japan, make plans to stop by Sushiro first, and enjoy the excitement and deliciousness of the variety of sushi and other Japanese gourmet dishes only available here!

Written by Miyuki Yajima
*Information from Fuji Keizai Food Service Industry Marketing Handbook 2012-2018
SUSHIRO 上野店

Address

Ueno Oriental Building B1 6-9-9 Ueno, Taito-ku, Tokyo

Nearest Station

Ueno Station, Okachimachi Station


Phone Number

03-5846-6077

Hours: Mon-Fri, 11:00am - 11:00pm
Saturdays, Sundays, and holidays from 10:30am to 11:00pm
* Last order and last order 30 minutes before closing time
*This information is from the time of this article's publication.
*Prices and options mentioned are subject to change.
*Unless stated otherwise, all prices include tax.