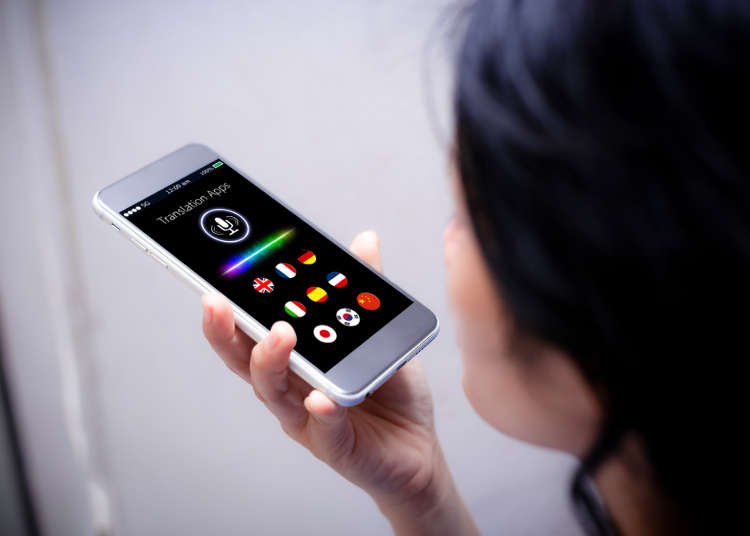 With three different types of written alphabets - Hiragana, Katakana, and Kanji - Japanese is often considered a rather esoteric language. It is not uncommon for those visiting Japan to face difficulties with the language barrier. At times like this, translation tools can be a huge life-saver!

Recently, various types of translation tools and apps have become available, so take your pick from the following carefully selected options as they suit your needs!
Web-Based Translation Tools: Gather Information Before and During Your Travels!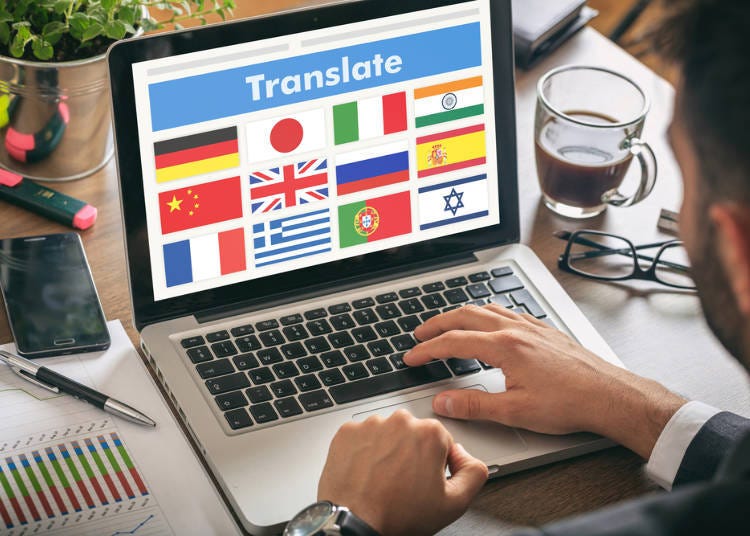 When searching for on-site information of specific locations, you can use translation tools directly on the web. It is perfect for translating otherwise difficult Japanese you may encounter on the sites.

The following are some of the best website-based translation tools:
・Excite Translator
・Google Translate
・Bing Translate
Let's take a look at Excite Translator. Excite Translator is a Japanese translation service that has been around since 2000, and has a reputation for high accuracy in converting foreign languages from/into Japanese.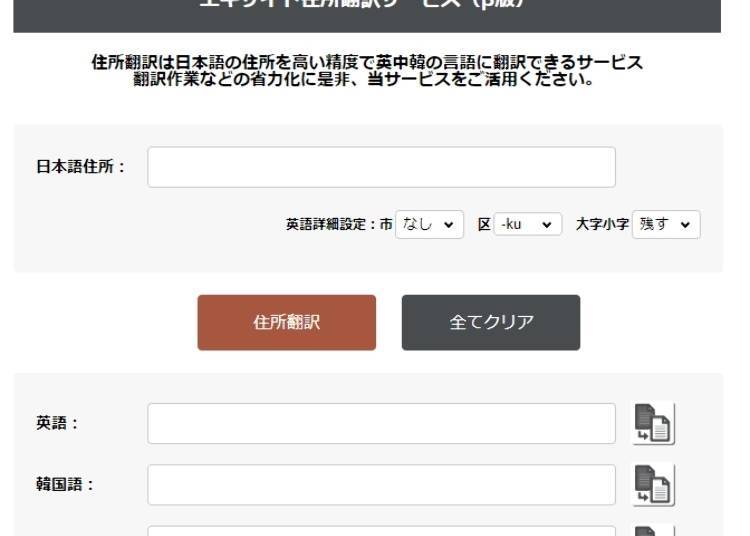 In 2018, a service that accurately translates difficult-to-understand Japanese addresses into English, Chinese, and Korean has also been added, so you can conveniently check the locations of your destination in advance.

For example, the addresses in Kyoto, a popular Japanese tourist destination, tend to have rather unique street names, such as Iru (入ル), Agaru (上ル), and Sagaru (下ル). However, Excite Address Translation Services renders it quickly and correctly into your target language, and can also be easily copied by clicking the button on the right side of the box in the display screen.
Camera Translation Apps: Great for Complicated Train Transfers!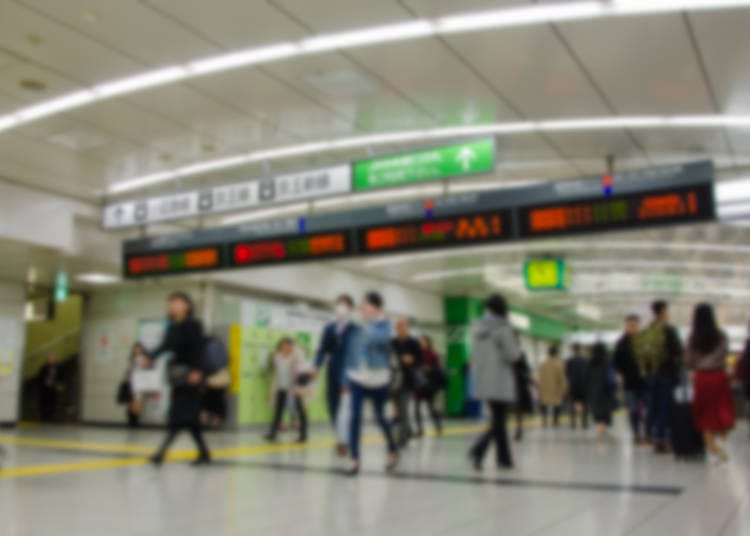 Tokyo, Osaka, Nagoya and other large cities in Japan tend to have complicated train stations. It can be challenging to find the correct transfer locations and precise exits. While information in English has become widely available, people from other non-English speaking countries will want to check this information in their own language.

The following are some of the best visual translation tools that use a camera app:
・ Google Translate Camera Mode
・ Microsoft Translator

Let's focus on Google Translate Camera Mode. Most people have probably used Google Translate at one point, but when traveling in Japan, it's a great idea to take advantage of Camera Mode.

To use this feature of Google Translate, launch the app and tap the "camera input" button.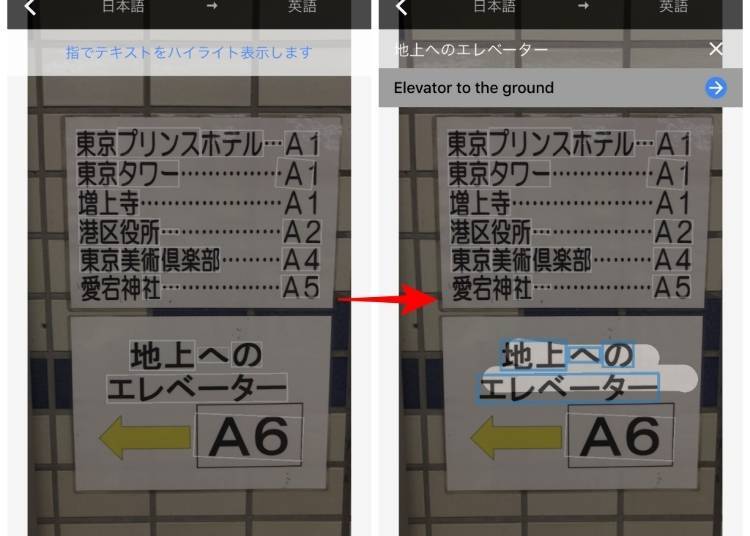 ©Google
Take a snapshot of the sign and trace the area of the text you wish to translate with your finger. Japanese and your local language are displayed at the top of the screen so you can reach your destination with confidence. Also, if you select "real-time" while in camera mode, you can easily translate signs and billboards around the city just by holding your phone up to them. The function works to some extent for menus as well, though for longer lines of text or instructions, it can sometimes result in strange readings.

You will need the Google Translate app to use this feature, so please make sure to download it to your smartphone beforehand.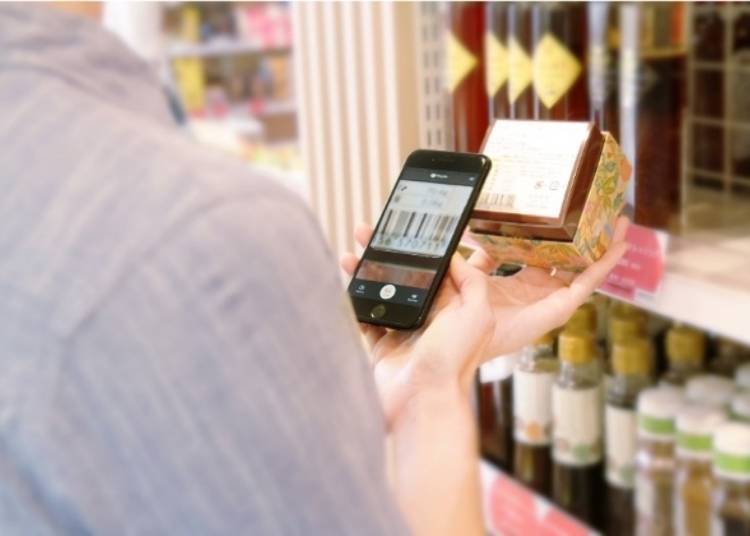 A number of similar camera translation apps for the smartphone have also emerged. A popular one of these is "Payke."

Payke is a revolutionary app that allows you to browse information about a product in your own language by simply scanning the product's barcode with your smartphone. There are over 300,000 registered products. In addition to Japanese, English, Chinese (Traditional and Simplified), Korean, Thai and Vietnamese are also supported.

You can log into Payke with your Facebook account, leave a comment on the product, and rate products on a 5 star scale. Comments from users in other countries can also be viewed in your native language, so you can address any concerns you may have before making a purchase.

If you are yet undecided on whether or not to buy a product right away, you can save the item information to your favorites with the "WANT" button. It is a good option to have so you can take your time looking around and comparing other items you may want, such as when at a hotel or a cafe.
Japanese Translation Devices: No Communication Fees, and Works Without Wi-Fi!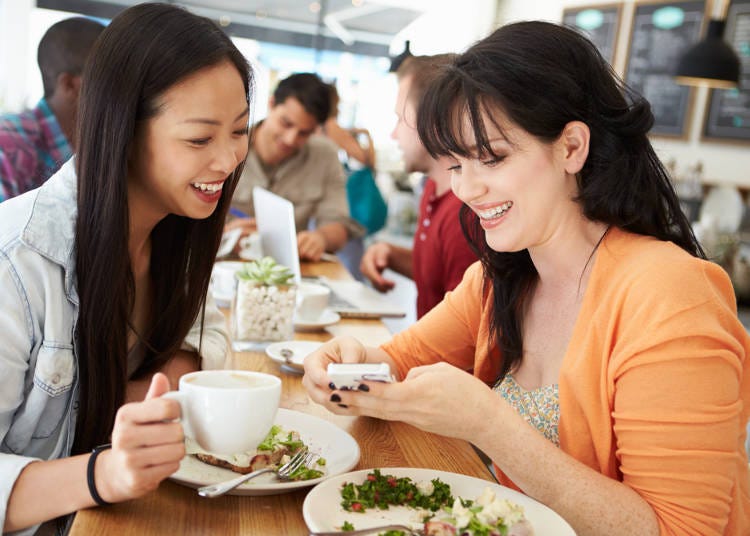 Recently, the number of special gadgets for translation and interpretation have also increased. The advantage of these types of tools is that you don't have to worry about incurring communication charges. Though free Wi-Fi hotspots have become more widely available in many of Japan's urban areas, there are still many other places where you can not use Wi-Fi.

The following are some of the best gadget-type translation tools:
・ Pocket Talk W
・ ili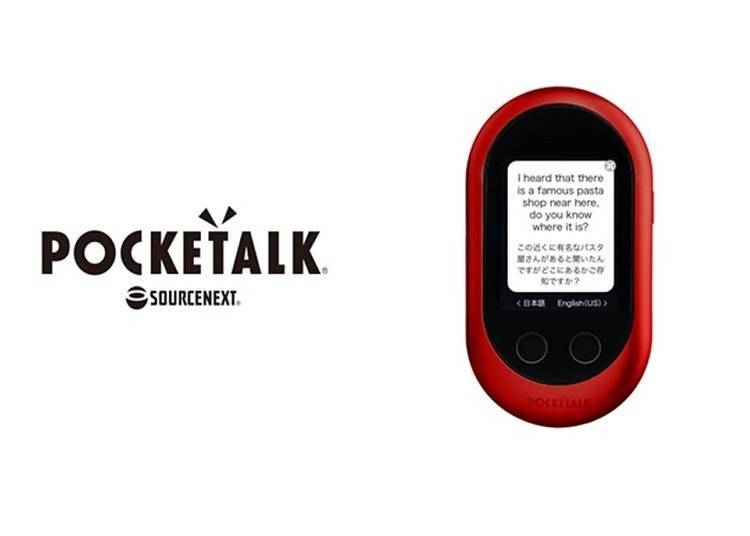 One of the most popular device-based interpretation tools is Pocket Talk W. The reason for its popularity is that it currently supports 74 languages (as of December 2018). You can translate your own language into Japanese and conversely, Japanese into any language you want, by simply pressing the button and speaking into the device.

Because these devices are specifically for interpretation, you want to be particular about the audio equipment. The Pocket Talk W has a built-in dual microphone with a speaker and a noise cancellation function that makes it easy to recognize human voices. You can clearly interpret full conversations, even in a crowded place.

These devices are very useful for simple conversations with Japanese people who may not be very fluent in English, such as at the train station or a restaurant.
Wearable Japanese Translation Devices: Great for Making Japanese Friends!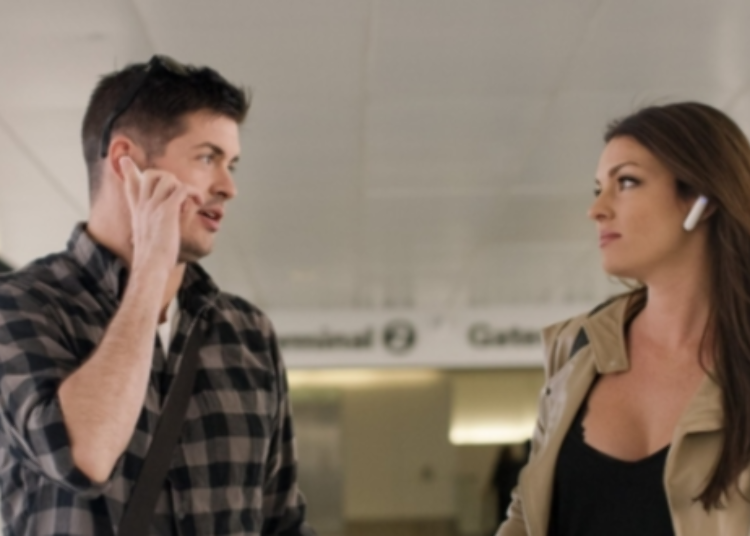 Japanese translation apps and devices are evolving every day to enable smooth, more accurate real-time conversations with people who speak different languages.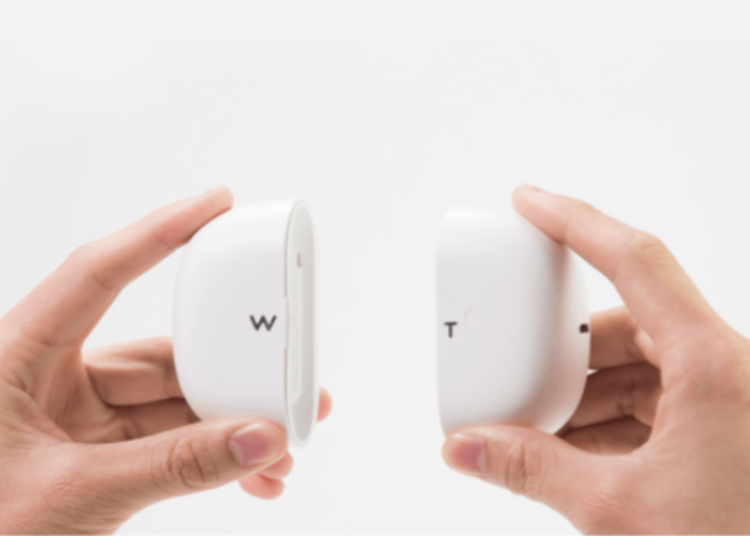 The WT2 Plus Real-time Wearable Translator, launched in 2019, is an earphone device. Until now, most gadgets have translated languages via screens and speakers, but with WT2 Plus, you can now interpret conversations in real time, hands-free, by simply speaking into the earpiece.

There are 36 languages available for interpretation including Japanese, English, Chinese, Korean, German and French. You can purchase it online through Amazon.

To use WT2 Plus, install the WT2 Plus application on your phone and connect the earphones to Bluetooth®. If you use it in places with lots of interaction, such as a hotel, bar, or club, you just might make a new Japanese friend!
Japanese Interpretation Apps: When you need help from a human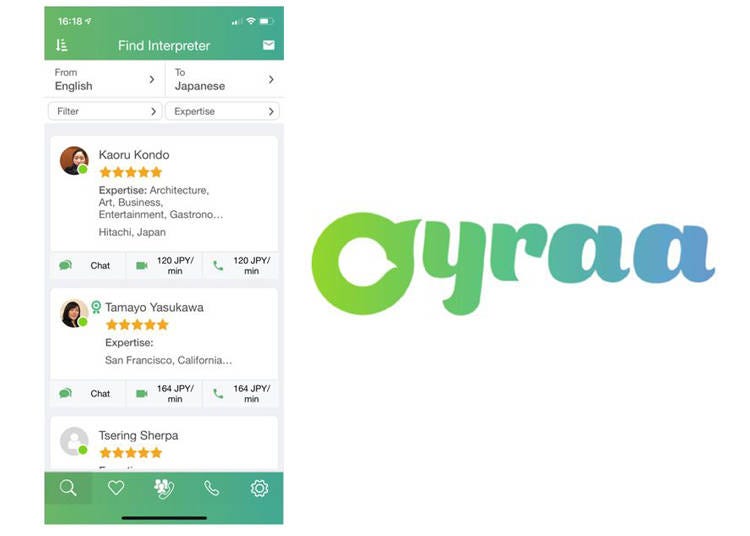 Oyraa is a human-empowered interpretation app (available for iOS and Android phones), where you have more than 700 interpreters to choose from. Using the app, you can make a call to an interpreter immediately. Put the call on speaker (on your mobile) and let the interpreter solve your problem. Or instead if you just need help with reading a sign or other document, you can send a picture of the text to be interpreted and get an answer from a human.

Oyraa's interpreters are ready to take your calls at any time of day or night. Oyraa is a pay-by-minute service, with no subscription fees or booking required. And as it uses an Internet connection, there aren't call costs involved.

Oyraa covers 153 languages and 21 expertise fields, making it the perfect solution for when machine translation just doesn't cut it.
If any of these tools spark your interest, by all means try them out! By taking advantage of any of the translation tools mentioned above, your trip to Japan is sure to be many times more comfortable, as well as enjoyable.
*This information is from the time of this article's publication.
*Prices and options mentioned are subject to change.
*Unless stated otherwise, all prices include tax.