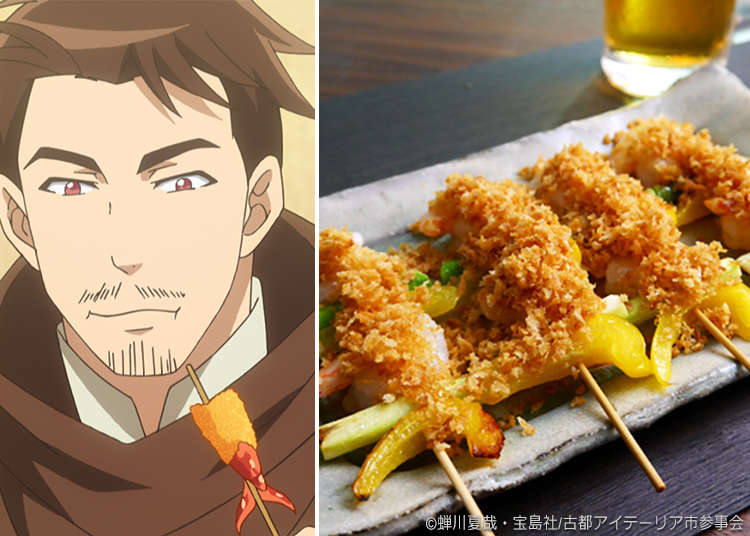 Japanese food isn't always high-class and complicated. Star chef Ryuta Kijima is ready to take you to a world of delicious and casual Japanese cuisine that is easily made at home, without the need for sophisticated cooking skills or extravagant ingredients! Inspired by the recent gourmet anime Isekai Izakaya Nobu, he takes the traditional Japanese pub food out of the anime and creates real recipes based on Izakaya Nobu's dishes. This week, Chef Kijima will show us how to make Japanese-style skewers!
The most popular skewered food in Japan is called kushikatsu and actually is not grilled but deep-fried. They can be made with pretty much anything, ranging from vegetables such as onion, eggplant, and lotus root to all varieties of meat and seafood. Kushikatsu is said to have its origins in Osaka, where it was first served at food bars as a casual snack to enjoy while drinking. Even nowadays, you'll find plenty of places in Osaka that specialize on the deep-fried skewer delight! With such a history, it's no surprise that Isekai Izakaya Nobu treats its otherworldly guests to kushikatsu as well!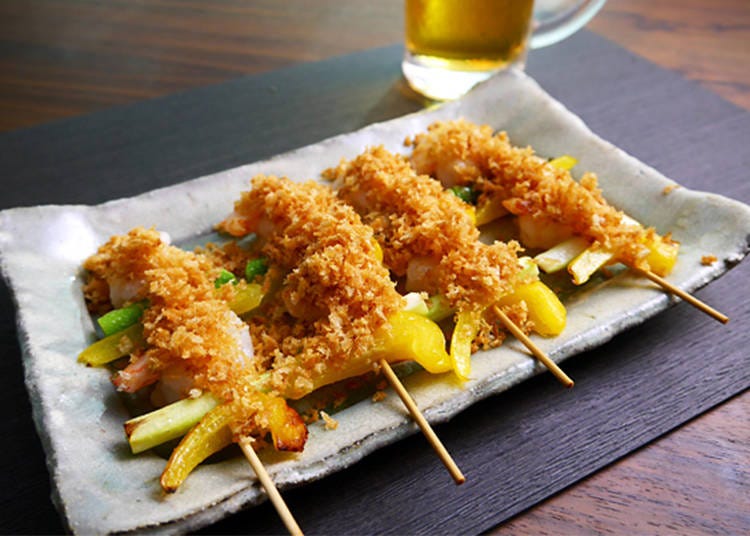 As great as deep-fried skewers are, it can be a bit of a hassle to make them at home. That's why Chef Kijima gave the traditional pub food a creative twist and barbecues them instead of deep-frying them! The flavor is still wonderfully authentic, and the recipe is shockingly simple! Surprise friends and family with this classic Japanese snack, all made by yourself in your own kitchen! Let's get cooking!

Yield
Makes 2 servings

Ingredients
・8 prawns (shelled)
・2 asparagus spears
・1/2 yellow paprika
・1/2 cup of breadcrumbs
・1 tablespoon salad oil
A
・1/4 teaspoon salt
・a pinch of pepper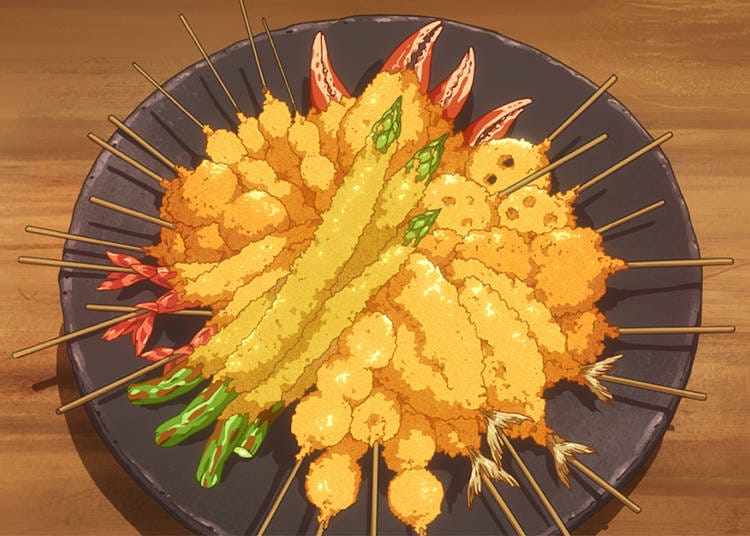 Kushikatsu at Isekai Izakaya Nobu
Preparation
1. Cut the roots off the asparagus, about 1 cm thick. Peel off the skin of the lower half with a peeler and cut the spears into 4 pieces each.
Cut the paprika vertically into 8 even slices.
Cut open the prawns at the back and de-vein it.
2. Dry the bamboo skewers (you need to soak them before barbecuing) and skewer all the ingredients in this order: paprika, asparagus, shrimp. Now apply salt and pepper (A) in appropriate amounts.
3. Put the breadcrumbs and 1 teaspoon of salad oil in a frying pan and turn up the heat. Fry them until they're golden brown, then take them out.
4. Clean the frying pan and add another teaspoon of salad oil. Place the skewers in the pan and grill them until they have a nice color, then turn them over. Cover the pan and fry the skewers on low heat for about 2 minutes. Once both sides are properly grilled, arrange the skewers on a plate.
5. Top the skewers with the fried breadcrumbs. Itadakimasu!

With these quick and easy recipes, you can bring both the taste and atmosphere of Izakaya Nobu to your own kitchen. Whether you enjoy this traditional dish all by yourself or treat friends and family to a healthy, yummy meal, don't forget to savor it alongside a nice drink!
©蝉川夏哉・宝島社/古都アイテーリア市参事会
*This information is from the time of this article's publication.
*Prices and options mentioned are subject to change.
*Unless stated otherwise, all prices include tax.