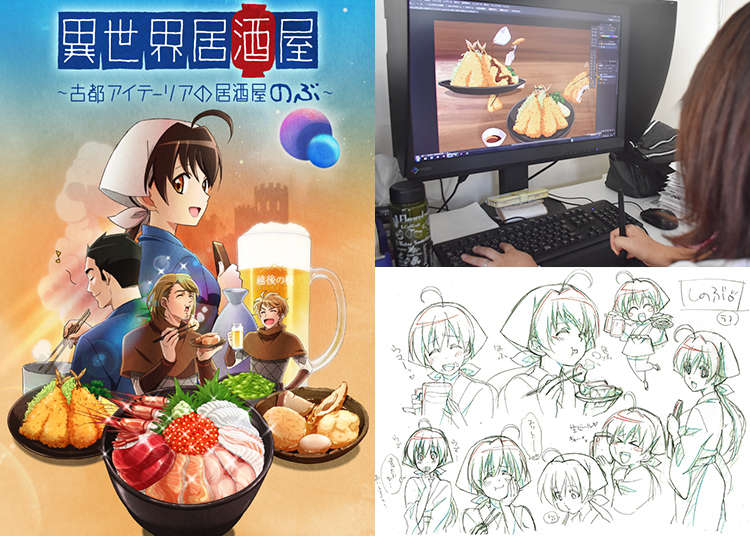 Behind the noren, a fantastic world awaits – one about food, friends, and encounters. Isekai Izakaya ~Koto Aitheria no Izakaya Nobu~ (we'll call it Isekai Izakaya Nobu or simply Nobu) is the newest anime of Studio Sunrise, the makers of Gundam, Cowboy Bebop, Code Geass, and numerous other anime classics. Briefly, the story behind Nobu revolves around an izakaya – a traditional Japanese pub – in a fantastical world. The two owners are regular Japanese people who happened to stumble into Aitheria, a strange country that resembles Medieval Europe, yet is an entirely different world.

We at LIVE JAPAN wanted to take a closer look at Isekai Izakaya Nobu, as fans of the Japanese pub experience ourselves and even bigger fans of the positive, fun message of the anime. Studio Sunrise invited us to take a look behind the scenes, talk to the people involved, and find out just how the food of Nobu looks so delicious!

Before we get into the nitty-gritty of anime production, let's take a closer look at the new series itself!
What is Isekai Izakaya Nobu?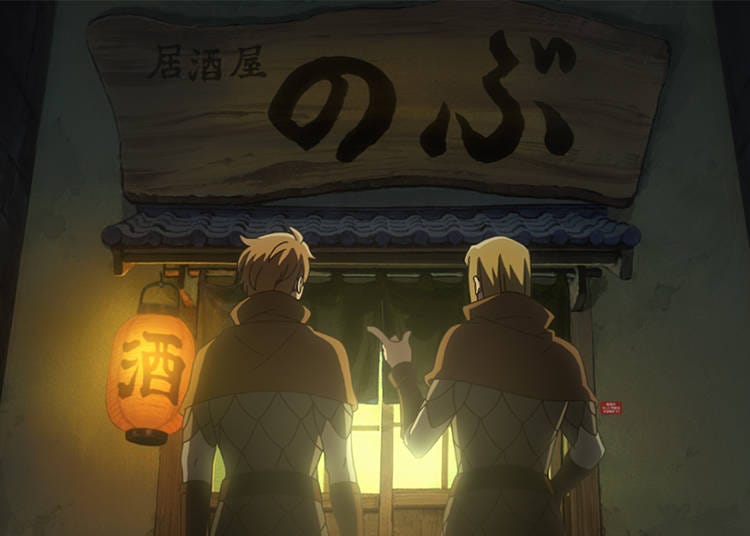 Isekai Izakaya ~Koto Aitheria no Izakaya Nobu~ is about Nobuyuki "Nobu" Yazawa and Shinobu Senke, two modern-day Japanese people who have stumbled into the otherworldly Aitheria, a world that resembles Medieval Europe. There, they set up their own traditional Japanese pub, or izakaya, to delight the natives with modern Japanese pub cuisine. One after another, the inhabitants of Aitheria drop in for the iconic "toriaezu-nama," literally meaning "let's start with a beer," unknown dishes, and plenty of culinary culture shocks.

However, Nobu isn't just about a pub in a quirky parallel universe. Seeing the Aitherians – many suspicious at first – slowly become regulars is a wonderful reminder of the bonds and relationships that people can form over a nice drink and tasty food, no matter where you're from. Even if it's from different worlds.

This is confirmed by Nobu's director, Katsumi Ono (小野勝巳), who told us this when we asked him about the most interesting point about the anime: "That would definitely be the people from this other world trying the food of a modern Japanese izakaya. There are plenty of culture shocks, and I think even a lot of Japanese people themselves don't really know how the different dishes are prepared. Our international audience will definitely be able to sympathize with the otherworlders."
The Making of Isekai Izakaya Nobu – How is an Anime Made?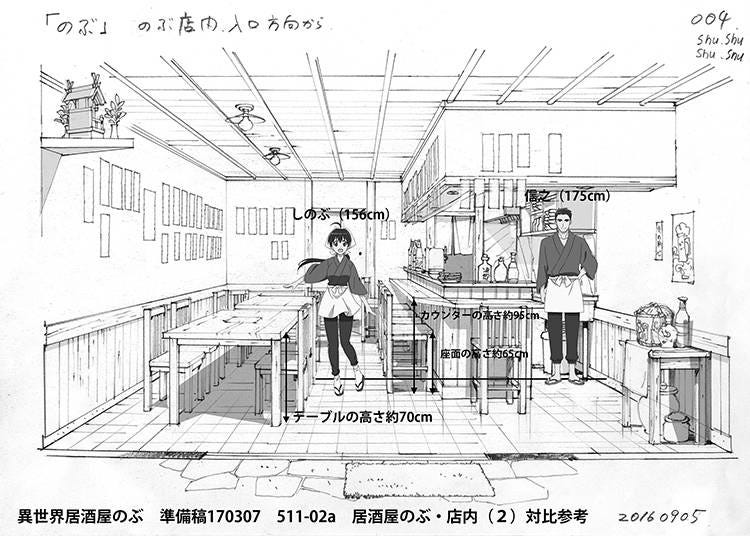 Should you not know Studio Sunrise, you definitely know one of the anime that this long-established studio has created: the Gundam Series, Cowboy Bebop, the Vision of Escaflowne, Outlaw Star, Code Geass, Inuyasha, Love Live! – the list goes on, and on, and on. The process of making an anime can be quite involved indeed, but essentially the following six steps are involved.
1) Planning – Isekai Izakaya Nobu, the Novel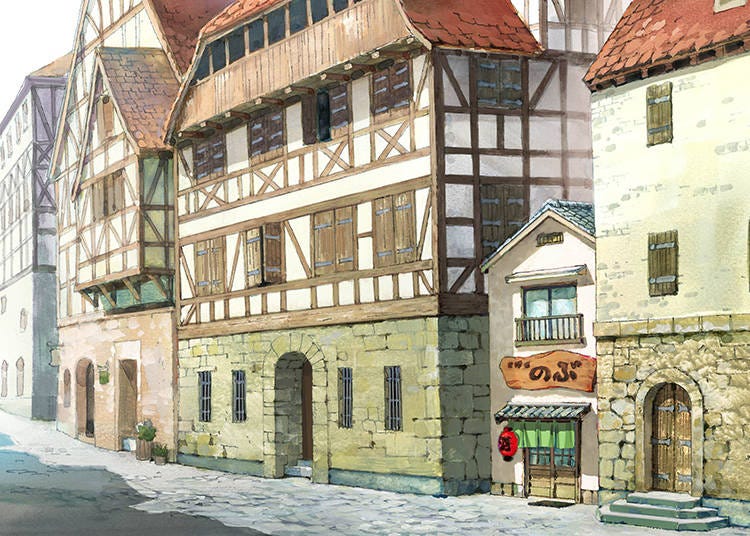 Writing a book takes a novelist and drawing a manga takes (among others) a mangaka – but what about an anime? Like every other anime, Nobu went through many different steps, starting with the planning phase, which came to life at one of the company's eleven studios in Kami-Igusa, a cozy little neighborhood in west Tokyo. But before the Taisho and Shinobu found their way to Aitheria on TV and via stream, it started as an idea in the mind of Natsuya Semikawa (蝉川夏哉). His novels about the charming pub, entitled Otherworldly Izakaya Nobu, took the hearts of Japanese readers by storm and soon got its own manga adaptation. In 2016, the making of an anime version was announced. The studio behind it? None other than the legendary Studio Sunrise!

We already mentioned that Nobu is directed by Katsumi Ono, but what exactly does an anime director do? "Generally speaking, a director allocates work for everyone, checks on everyone and everything, discusses, and sees that everything progresses. Also taking care of the scenarios, backgrounds, and colors. Of course, if there's something that I want to be done, I tell people as well, but regarding Japanese anime, […] a director's job is a lot about asking everyone's opinion. […] Making people think."
2) The Script – Edits, Edits, and Yet More Edits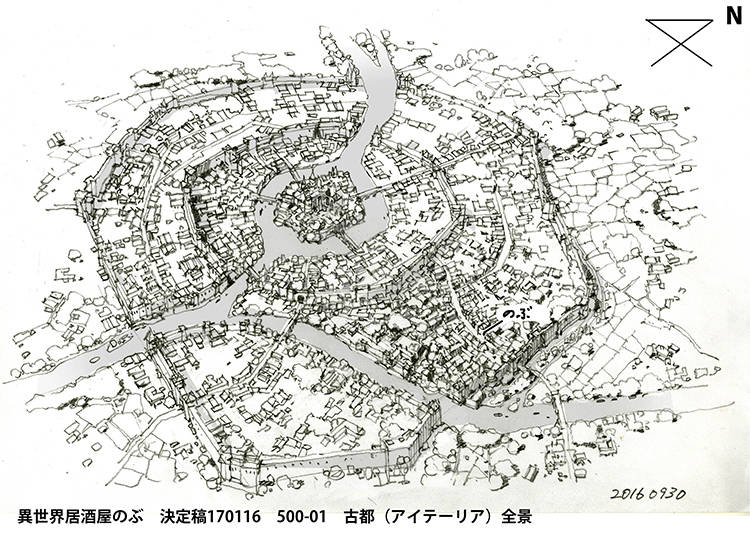 Aitheria
The next ingredient needed to bring color to the charming pub is the script. In Nobu's case, there already was material to work with, both the novel and the manga. However, you'll find that while keeping the original story, the anime does differ from the original, especially when it comes to interactions between characters. Aitheria's own version of Japan's meatball variety "menchikatsu," for example, can't be found in the original novel.
3) The Storyboard – the Anime Starts to Take Shape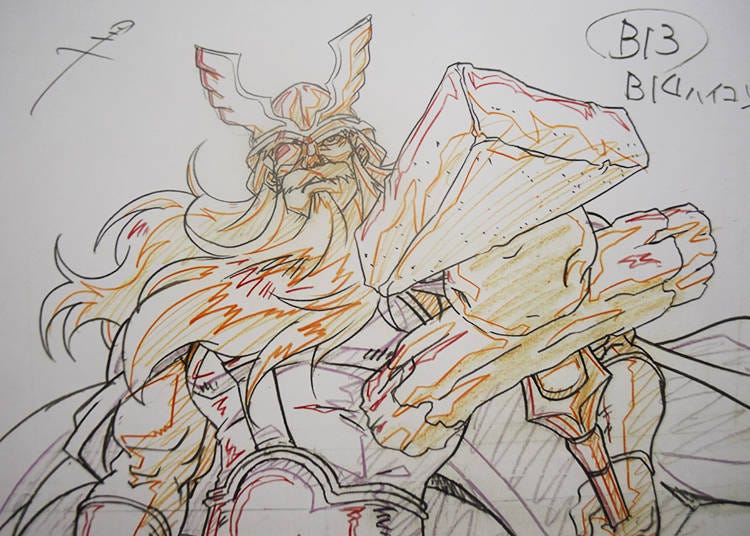 The god "Oden"
Once each episode's script is finalized, it's time for storyboarding. An anime storyboard is like a rough draft for every scene, sketching characters, movement, and, of course, the secret star in Nobu: the incredibly delectable dishes. Visually speaking, this step is the first that gives a hint of what the actual anime will look and feel like. This is also where the important visual role of Nobu's dishes becomes evident.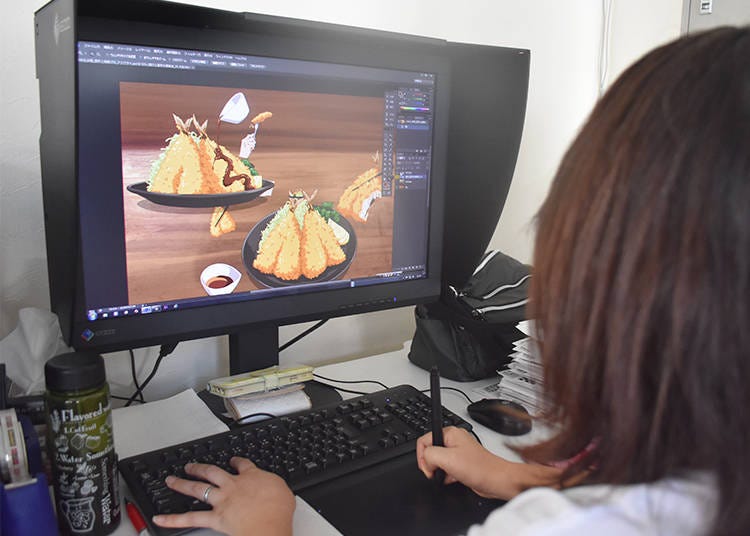 With a finished storyboard, the finer drawing starts. Scenes you will later see on TV or via stream start to take shape, starting with the layout: what happens in a scene? Even off-camera? What's in the background? Once this is decided, the layout is followed by the key art. Where do the beer glasses stand on Izakaya Nobu's counter? How do Taisho's hands move while preparing fried chicken? Key art is used to define fixed points of the anime, and they are then connected by in-between animation to create a fluid scene.

The hand-drawn key art and in-between animation are then scanned for the color setting. What has once been done entirely with brush and paint is now digital: the coloring for every scene is set digitally, in a process called color designation or coordination. While the scenes are being colored, the various backgrounds of the anime are being drawn by hand, such as the interior of Izakaya Nobu, or various sceneries from around Aitheria.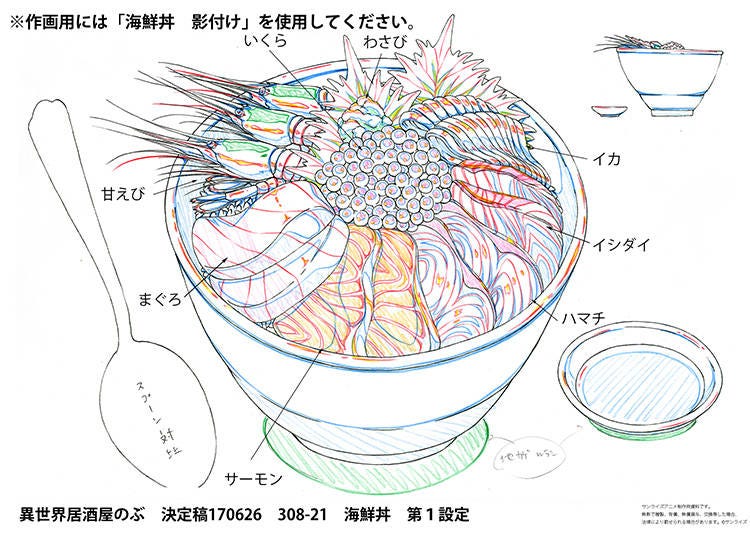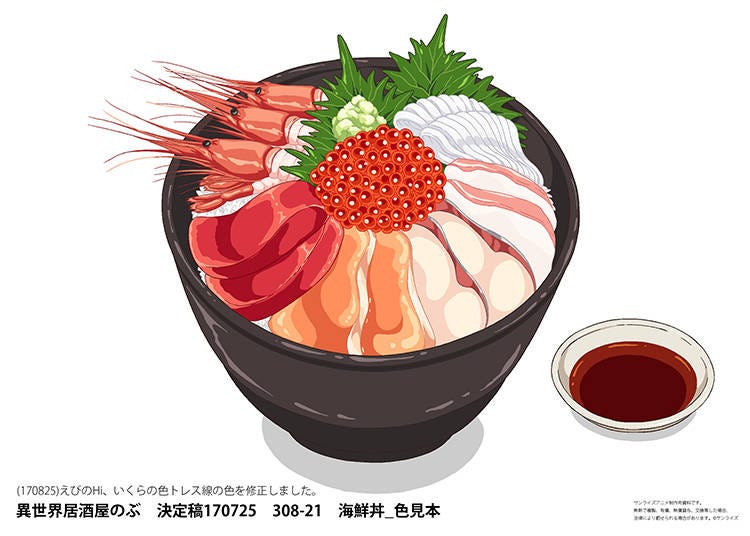 Kaisendon, a rice bowl topped with raw fish, shrimp, and salmon roe
Isekai Izakaya Nobu boasts an amazing menu of classic Japanese pub dishes and, as already explained, those dishes are the secret star of the show. Thus, everything needs to look as scrumptious as possible, whether it's a cold glass of beer, fried chicken, or sashimi. "Color and texture are important. Especially textures and patterns, for example for aburaage. That is all about texture to make it look delicious. Nobu is about food, so it really relies on deliciousness," explains the director.

"We bring food to the studio and take pictures and videos of it. And eat it, of course. Especially photos while eating it. You can't draw while holding chopsticks, as in not looking at your own hand and drawing at the same time. So, we take pictures as we eat. For that, we actually do some light cooking of easy dishes." Apparently, Nobu's team went as far as using a piece of fried fish for scale to find the proper size for hands, plates, chopsticks, and so on.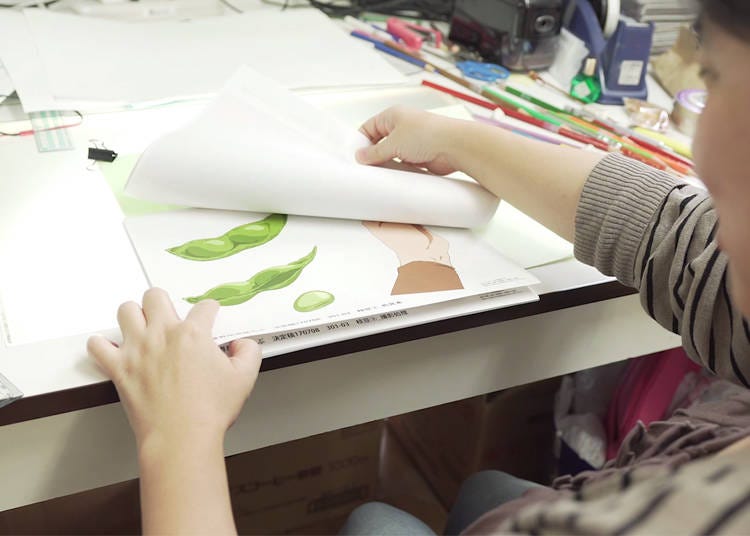 Drawing the food was a unique experience for Kumi Ishii (石井久美), Nobu's food designer. Having mainly done character design before, drawing Nobu's menu was a challenge. "I'm doing this for the first time. I talk a lot to Katsumi-san, the director, to ask 'How should we do it, how does it look best?' and I feel like I am learning a lot! It's different from drawing characters. I'd say it's a different kind of, hm, exploring?"
Apart from actually cooking the dishes of Izakaya Nobu, she says that old cookbooks helped as well. "We bought a lot of cookbooks, but also went to the library to get old ones. Those we scanned. You see, the way of taking pictures was different in the past. Nowadays, you usually don't have the entire dish in one picture anymore while in the past, the full ensemble was depicted. […] Izakaya food is rather old, it has been around for centuries. You could arrange it to look fancy, sure, but the thinking back then was that not doing that is actually better. […] Using this will create a better atmosphere, is what the director thought."

Talking to both the director and the food designer of Nobu, there was one term that kept popping up: "bringing out the deliciousness." "That refers to all sorts of things, such as the composition, camera angle, and the color, of course. That's the illusion of anime," explains Kumi Ishii. "It needs to be real, but not too real. Then it doesn't match the characters."
5) Compositing & Cutting – Getting Everything in Order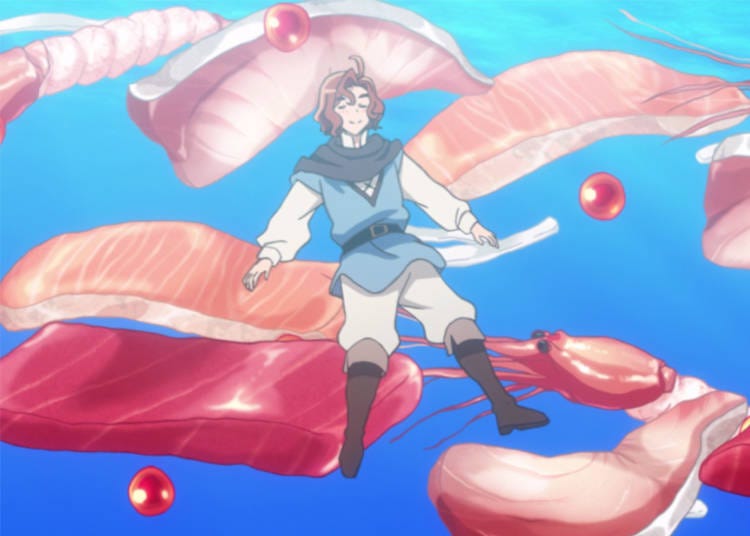 This is the process that brings everything together – backgrounds, art, and animation. Nobu is entirely composited digitally, but older anime had to rely on being shot with a camera one frame at a time. This process is then followed by cutting, which brings each scene in order and each episode to the proper length.
6) Voiceovers & Dubbing – "Irasshaimase!"
Some of Nobu's characters
Until here, the entire anime is still without any sound whatsoever. This is where the voiceovers happen in a recording studio. Voice actors breathe life and love into the characters on screen.

In Nobu's case, this means an almost shocking amount of Japan's most famous voice actors. Among them are veterans such as Suzuko Mimori and Tomokazu Sugita, to name only two.

We were able to watch the pros at work, giving voices to Isekai Izakaya Nobu's different characters. The ten-minute episode was recorded in one go, without interruption. Especially amazing to watch were Atsushi Abe as Hans and Shotaro Morikubo as Nikolaus, able to make the most realistic gulping and drinking sounds as their characters downed a massive glass of beer for a good 10 seconds. To understand the skill required here, try to make a proper-sounding gulp yourself. And now five more times.

After this first run, background chatter and sounds are recorded, and certain sentences redone to change intonation, tone of voice, or sounds. All of this happens in cooperation with and under the direction of directors and producers – even Natsuya Semikawa, the author of the book, was present. Seeing a character gain a voice and thus a good deal of their character and spirit might be one of the most magical things when it comes to making anime.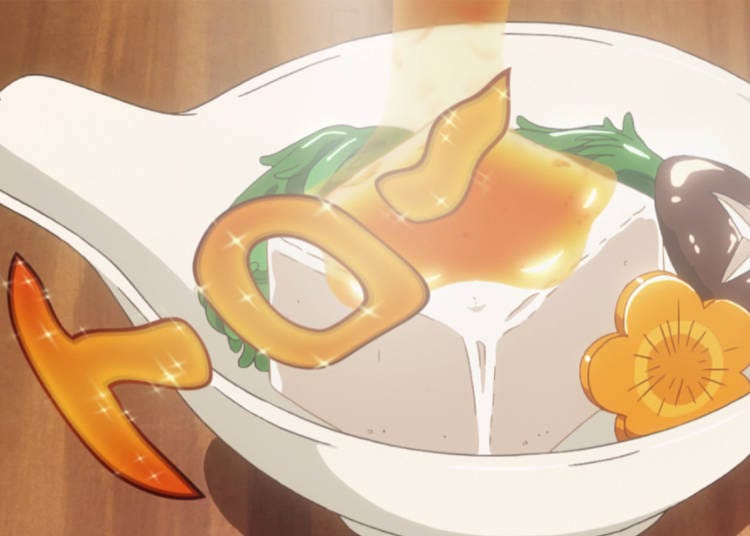 Once voices, sound effects, and background music are recorded, everything is brought together and added to the scenes in a process called "dubbing."
Extra: The Voices of Nobu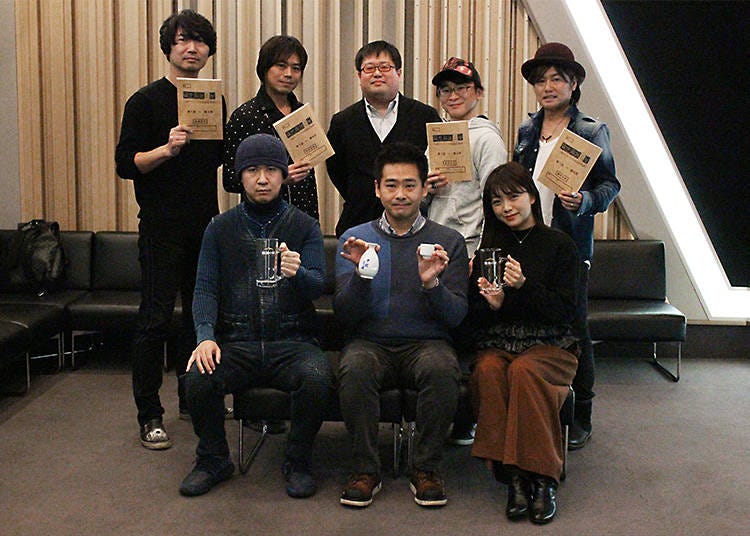 Bottom row (left to right): Tomokazu Sugita (Nobuyuki), Kazumi Ono (director), Suzuko Mimori (Shinobu) Top row (left to right): Katsuyuki Konishi (Berthold), Daisuke Namikawa (Johann-Gustav), Natsuya Semikawa (author), Atsushi Abe (Hans), Shotaro Morikubo (Nikolaus)
Tomokazu Sugita as Nobuyuki "Nobu" Yazawa
There probably is no anime fan who hasn't heard the voice of Tomokazu Sugita. Some of his most notable roles include Gintoki from Gintama, Joseph Joestar from JoJo's Bizarre Adventure, Persona 5's Yusuke, and many more – so many, in fact, that his Wikipedia page seems to go on forever!

His character is called Nobuyuki, generally called "Taisho," and is the owner and chef of Izakaya Nobu. He is responsible for the majority of culinary surprises and amazes with his skill to always find the right dish recommendation.

Suzuko Mimori as Shinobu Senke
Another icon of Japanese voice acting is Mimori Suzuko, most famous for her roles as Sherlock Shellingford in Milky Holmes, as well as Love Live!'s Umi Sonoda. Next to voice acting, she also works as an actress and singer.

Her character is the happy-go-lucky Shinobu, the only other staff at Izakaya Nobu and a big fan of Taisho's dishes herself.

Atsushi Abe as Hans
The singer, actor, and voice actor Atsushi Abe has given his voice to anime and game characters for over ten years. Some of his most well-known roles include Toma Kamijo from A Certain Magical Index, Moritaka Mashiro from Bakuman, Koichi Sakakibara from Another, and many more.

As Hans, he is a curious, kind soldier who is among the first to become one of Nobu's loyal patrons. He also seems to have a bit of a thing for Shinobu.

Shotaro Morikubo as Nikolaus
Most anime fans will likely recognize his voice as Naruto's Shikamaru Nara, but Shotaro Morikubo boasts a long list of voiced characters in both anime and games, as well as a career as a singer.

He voices Nikolaus, another soldier, and Hans' close friend. He quickly becomes familiar with Nobu's fantastic menu and navigates the world of foreign dishes with confidence and charm.

Katsuyuki Konishi as Berthold
A veteran of Japanese voice acting, Katsuyuki Konishi has appeared in innumerable anime, movies, and games, including the Gundam series and the Pokémon series.

His character in Otherworldly Izakaya Nobu is Berthold, a strict but fun military commander whose harsh drills often drive his hungry soldiers to the foreign pub.

Besides these prominent characters, other notable voice actors include Daisuke Namikawa, Misaki Kuno, Katsuyuki Konishi, and many more!
7) Video Editing – Sparkly Sushi and Steaming Soup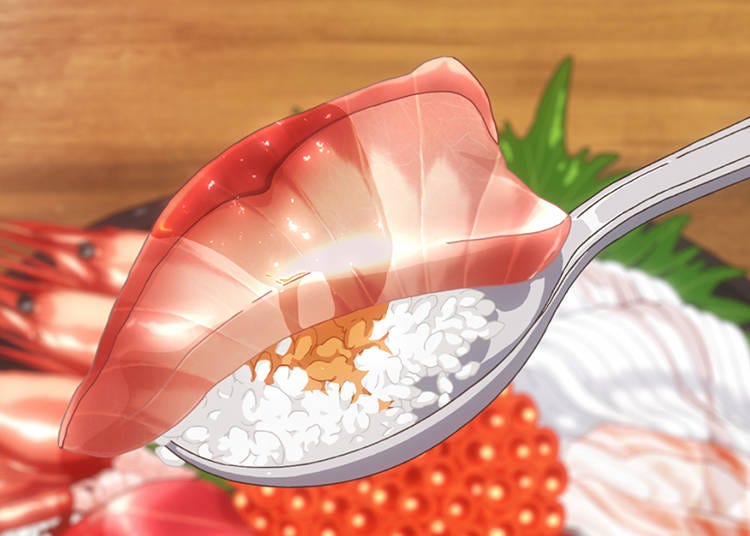 This is the final step. Final touches and certain visual effects are part of video editing, as is the adding of the opening and ending – a must for every anime!
Nobu's theme song is created and performed by the musical trio called Clammbon and is called "Prosit!" You'll often hear the guests of Izakaya Nobu raise their glasses while calling out a hearty "Prosit," the German version of "cheers."
Welcome to Isekai Izakaya Nobu!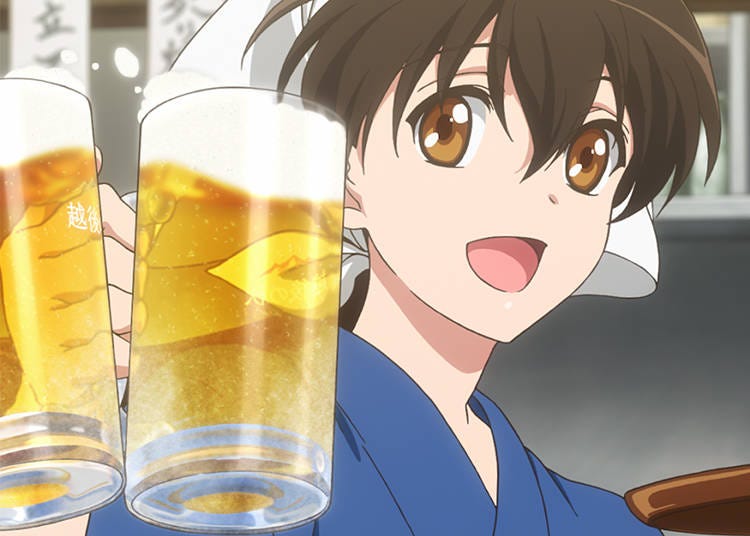 With every step complete, the anime is then ready to be broadcast and enjoyed by fans around the world! For foodies, Isekai Izakaya Nobu is an absolute must-see, but even anime fans who are not extraordinarily passionate about food will find Nobu to be charming, entertaining, and endearing. From bittersweet memories to hope, friendship, and trust, the food served at Izakaya Nobu is about more than amazing taste – for both the staff and the guests.

For both the director and the food designer, the anime is about inspiration. "I hope that Izakaya Nobu's menu inspires you to visit an izakaya in Japan for yourself and try the dishes you've seen in the show," says Katsumi Ono, while Kumi Ishii adds: "I'd love people to watch the anime and think 'this looks really fun and delicious, I want to go to an izakaya myself!'"

Whether you make your way to a real izakaya yourself or simply take a virtual seat next to Hans and Nikolaus at Nobu's counter, one thing is certain: it's best to start with a cold ale!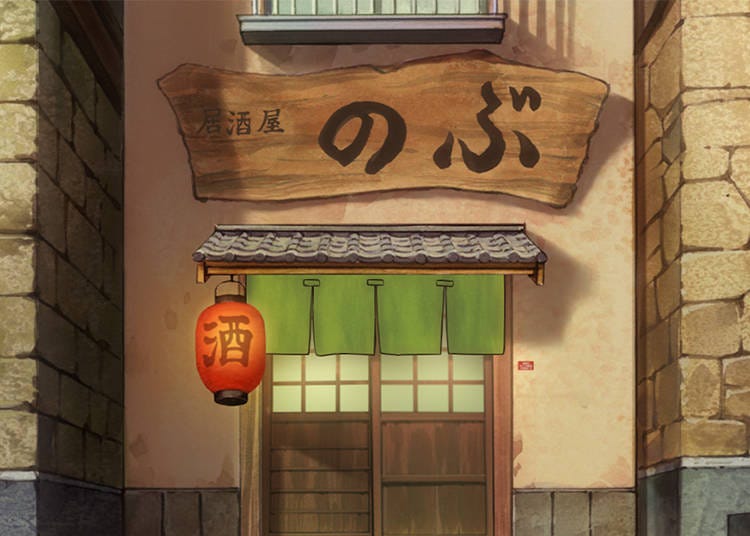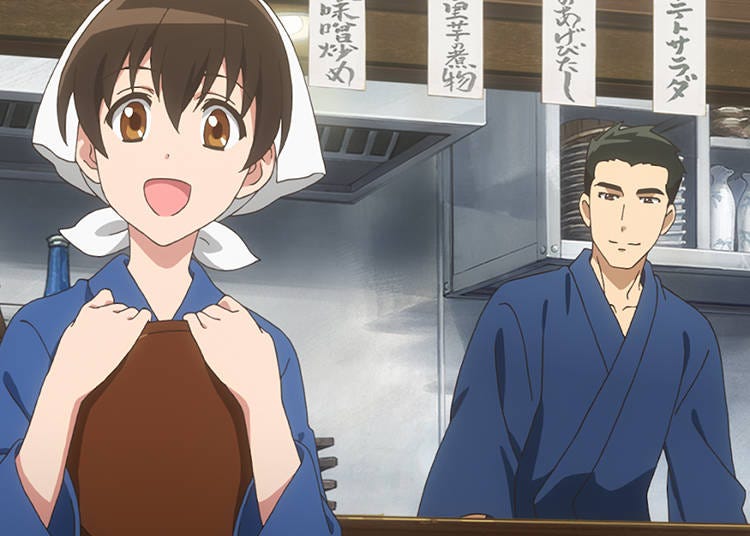 All of Isekai Izakaya ~Koto Aitheria no Izakaya Nobu~'s 24 episodes can be seen via the official website, where they're free to watch for one week after release. Additionally, the anime is available on Bandai Channel, Crunchyroll, BiliBili, and more. When we were invited to witness the voice acting, it was the first time that we got to see Nobu's episodes as a whole. Even after being part of the making of the anime, we were nonetheless surprised by just how entertaining and heartwarming Nobu is! The 10-minute episodes almost seemed too short and had us craving for more!
Speaking of craving: try to have a cold drink and a yummy snack ready as you watch. Just like us, you'll find yourself getting hungrier by the minute!

ⓒ蝉川夏哉・宝島社/古都アイテーリア市参事会
*This information is from the time of this article's publication.
*Prices and options mentioned are subject to change.
*Unless stated otherwise, all prices include tax.